Let's face it, red hair is eye-catching. If your hair is curly on top of that, then you're likely to turn heads fast! However, finding the ideal shade of red for your curly hair can be tricky. It's important to work with your personal needs and skin tone to compliment your fiery locks best.
We always keep this color as one of the hottest, vibrant, and trendy hair colors. All you need is to find the right shade that suits your complexion and style. Consult your hairstylist/colorist to get the best advice for your hair as well as to prevent hair damage. Once done, use color-safe hair products and follow a good hair care routine to keep your locks well nourished.
Try a New Bold Look With Red Curly Hair
Why stay with just red? Play with all its hues and let your curls flaunt like never before. Try each of the listed red curly hairstyles with every salon visit.
From light shade to copper hue, you'll find every shade you can choose from, depending on your skin tone and choice.
Red is bold and if you're looking for various shades, below are 13 red curly hairstyles to inspire you.
1. Curly Auburn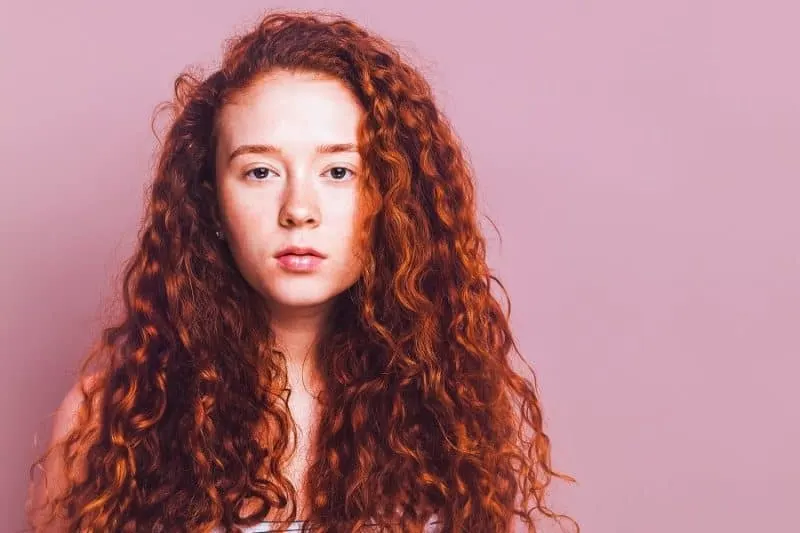 If you're looking for a shade that will provide you with a heavy autumn vibe, then this is the perfect option. This auburn red curly hair is a gorgeous way to flaunt your locks. It is a trendy shade and will give your hair a fuller and healthier look.
2. Short Copper Curls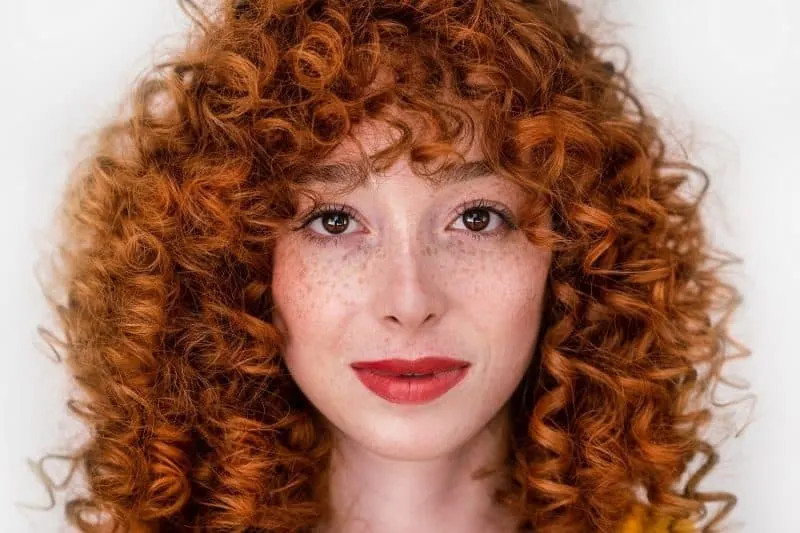 Curls and color go hand in hand, but the combination becomes even more stylish with copper-red. It goes well with any eye color and skin tone.
But, it is the perfect option for women with fair skin tone and brown eyes. The copper tone will create a special, eye-catching look with a few frizzy curls.
3. Wine Mohawk Curls With Shaved Side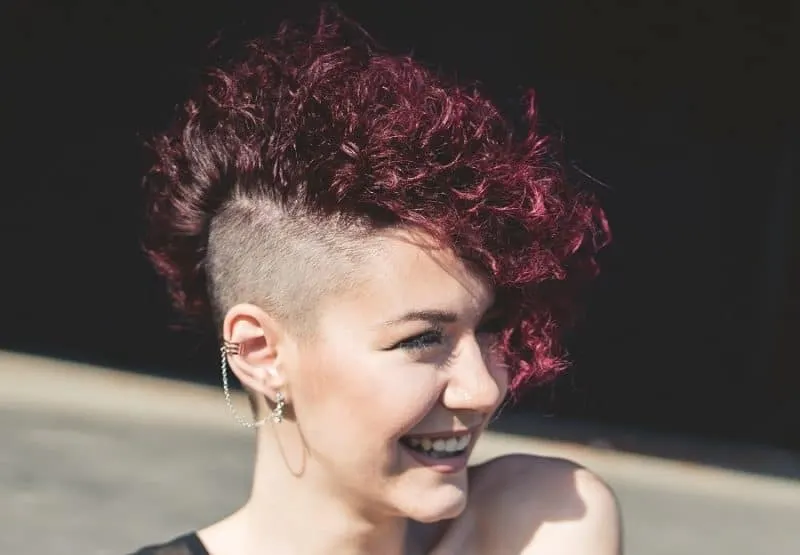 You can even step into a reddish shade of wine to get a bold look. The Mohawk with shaved sides is a quite daring and stunning look that will go well with a fair skin tone. The burgundy highlights the natural beauty of your curls.
4. Scarlet Siren One-Sided Ponytail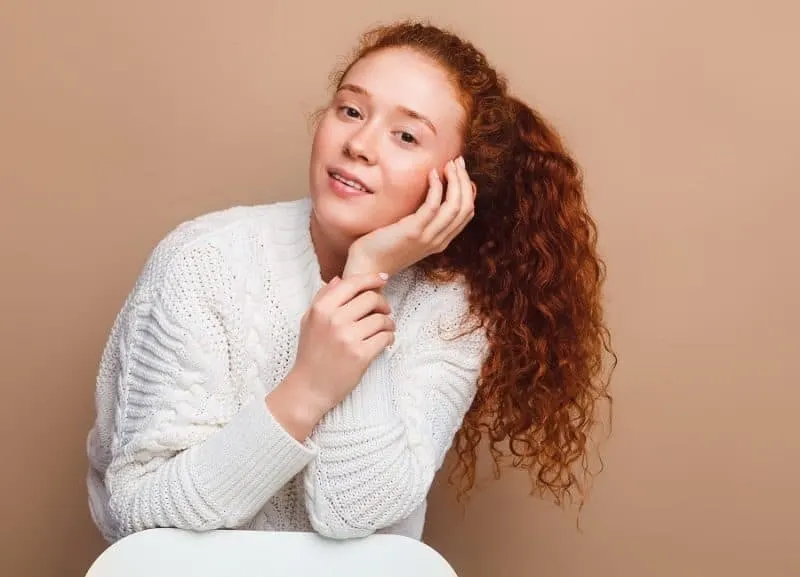 Want to try an elegant and subtle look? Then, we'll recommend you to opt for this shade. Scarlet Siren is a bold and natural-looking color at the same time. It is the perfect shade that goes well with fair as well as warm skin tones.
5. Perm Orangish Curly Bob
Consider a perm with a pop of orange hue. This is the best way to draw attention to your curls.
It is a vibrant shade that will go well with medium to fair skin tone. This kind of red curly perm hairstyle adds volume to your hair and gives a modern and edgy vibe.
6. Orange-Red Balayage With Bangs
To have a bit 60s look, go ahead with these curls with bangs. This shade goes well with almost all skin tones. You can fulfill your childhood dream of being a mermaid and wear the sunset color on your tresses with this shade.
7. Ginger Red Long Curly Hair
If you're looking for a natural-looking hairstyle with a bold touch, then ginger red is the best option.
The shade is hotter than the typical ginger and has a reddish-brown spicy tone. It is an ideal shade for women with fair skin tone and brown or green eyes.
8. Caramel Curls
Caramel curls are another popular hairstyle that can go well with medium to fair skin tone. It is a warm shade with plenty of life and is the perfect shade for getting a fresh summery look.
9. Messy Burgundy Loose Curls
Another shade that can be vibrant and statement-making is the blend of hot burgundy messy curls. It is ideal for bold personalities and can be worn with a fair complexion and blue eyes. It will give you a striking and gorgeous look.
10. Side Parted Curly Bob
The red curly bob is another hairstyle that will suit a fair skin tone and green or blue eyes. It will give you a young, cheerful as well as stylish look. Though it's a spicy shade, it still gives your hair a very natural look.
11. 90s Curly Updo
If you want to have princess-type looks, just give this curly updo a shot. It is a warm shade that adds depth to your locks and looks amazing in an updo. It will go well with a fair skin tone and is perfect for a portrait shoot.
12. Warm Loose Curls
To get a simple casual look, you can try a warm brick tone for your curly hair. It is a subtler color to try and looks playful and cute. This is ideal for a fair skin tone with blue eyes and an oval-shaped face.
13. Hot Orangey Coily Hair
A vivid and intense hair color, orangey-red, goes well with fair skin tones. It is an exciting choice that'll help you stand out from the crowd.
It is a vibrant fiery hair color that can also be combined with other shades through ombre or balayage techniques.
14. Frizzy Red Curls
The frizzy red curly bob hairstyle creates a dramatic look with the two hues. It is a fashionable style and likely to grab attention that will go well with medium to fair complexion.
15. Bronze Long Curls
Bronze is another elegant yet rocking hair color for your long curls, giving your hair a party look for any special occasion. It will create a beautiful look and go well with a black dress.
16. Fiery Orange
Does your skin contain yellow undertones? Orange can complement low sallow tones best, so try this color on your short red curly hair. If you're worried about the vibrancy of this color, maintain dark brown hair at the roots for a miraculously grounding effect.
17. Auburn Red
Whether you've got long red curls or a pixie cut, this auburn color suits those redheads with golden skin that can handle a tan. This color is rich, so you don't need to worry about creating dimensional highlights. Buoyant curls can take care of that!
18. Burnt Orange Color
Pale babes with medium-red curly hair look best with a subdued burnt orange hue. Blue tones in the skin work with blue eyes to provide the ultimate contrast to this brass-colored tone.
19. Deep Brunette Red
Let the new red color look stunning with your natural hue by creating a curly red balayage look. Dark-haired babes will look best with a deep red tone. Let your stylist create a beautiful blend so your red hair fits your typical look.
20. Salsa Red Curly Bob
This bright red color is the best option for pale skin. Brighten a curly bob with this electrifying hue, but don't forget to deepen your color at the root. This color can be overpowering on super long hair, but we love it on a bouncy bob.
21. Burgundy Red for Black Women With Curly Hair
A gorgeous red hair color for dark skin. Bold burgundy locs are the way to go for dark red hair. This color is dark enough for long and voluminous curls. Dye your eyebrows for a beautiful monochrome look that will enhance the natural warmth in your skin.
22. Burgundy + Red + Ombre
A curly red ombre look is perfect for making the burgundy color look good with your skin tone and natural root hair color. Hair becomes that much richer when you can maintain your dark brunette or black natural tone.
23. Dark Red and Plum Space Buns
Okay, you don't have to rock space buns to achieve this gorgeous color combination. Babes with naturally dark hair can work with lowlights in plum tones to deepen dark red hues and add exceptional dimension to your overall look.
24. Natural Plum Red Curls
Natural hair is all the rage these days, so try this natural plum red hair for black girls with curly hair? Red is bold, so let it emphasize your natural texture. Hair can be long for this look, but a short crop with a springy ringlet fringe is fresh and bold.
25. Reddish Brown Curls
Light brown and bronzed skin looks amazing with reddish-brown hair. This color is natural, but can easily be created on your own curls with a little bit of work. Wear hair down or create a luscious top knot with a few pieces left down to frame your gorgeous face.
26. Bright Red Weave
A red curly weave is a perfect way to see if the hue will work for you without causing any damage to your natural hair. This red has slightly blue undertones, so it perfectly compliments skin with cool undertones.
Related Hairstyles:
27. Bright Orange Red Curls
The other orange color on our list was bright, yet brassy. This bright red hair color on curly locs are perfect for warm skin tones and babes that are looking to brighten up their overall appearance. For perfect contrast, hair is slightly darker at the root.
As you can see, curly hair with red hair color shades is of different hues, from bright orange to deep burgundy. Remember to compliment your skin tone and work with your curly texture to create the best red curly hairstyle for you.
Try these red curly hairstyles to get a makeover and bold look. But, to maintain your colored locks, you need to keep them hydrated. Therefore, using a sulfate-free hydrating shampoo and conditioner is important. You also need to pick a shampoo and conditioner that will help keep your curls completely defined.