Let's face it, red hair is eye-catching. If your hair is curly on top of that, then you're likely to turn heads fast! Finding the ideal shade of red for your curly hair can be tricky, however. It's important to work with your personal needs and especially your skin tone to compliment your fiery locks best.
Red Curly Hair Ideas
Red is bold and if you're looking for various shades, below are 13 red curly hairstyles to give you inspiration.
1. Fiery Orange
Does your skin contain yellow undertones? Orange can compliment low sallow tones best, so give this color a try on your short red curly hair. If you're worried about the vibrancy of this color, maintain dark brown hair at the roots for a miraculously grounding effect.
2. Auburn Red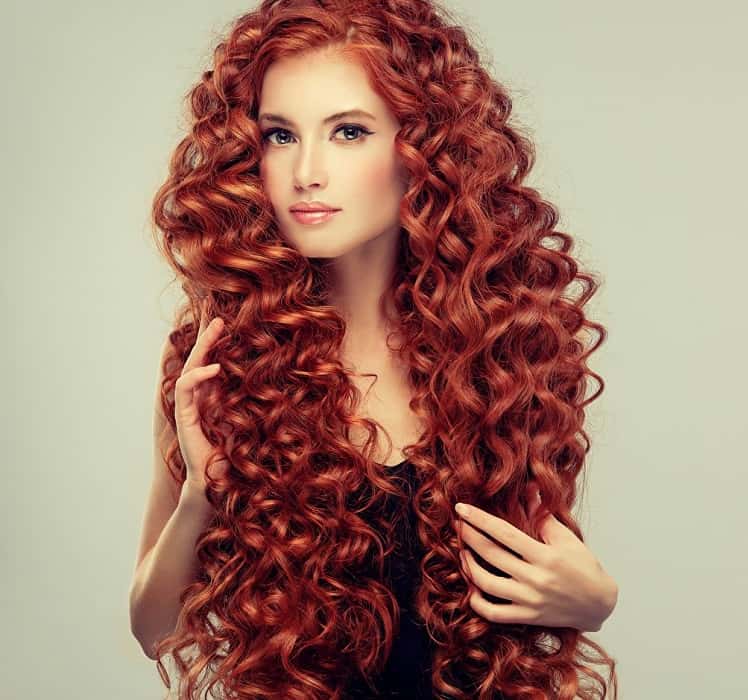 Whether you've got long red curls or a pixie cut, this auburn color suits those redheads with golden skin that can handle a tan. This color is rich, so you don't need to worry about creating dimensional highlights. Buoyant curls can take care of that!
3. Burnt Orange Color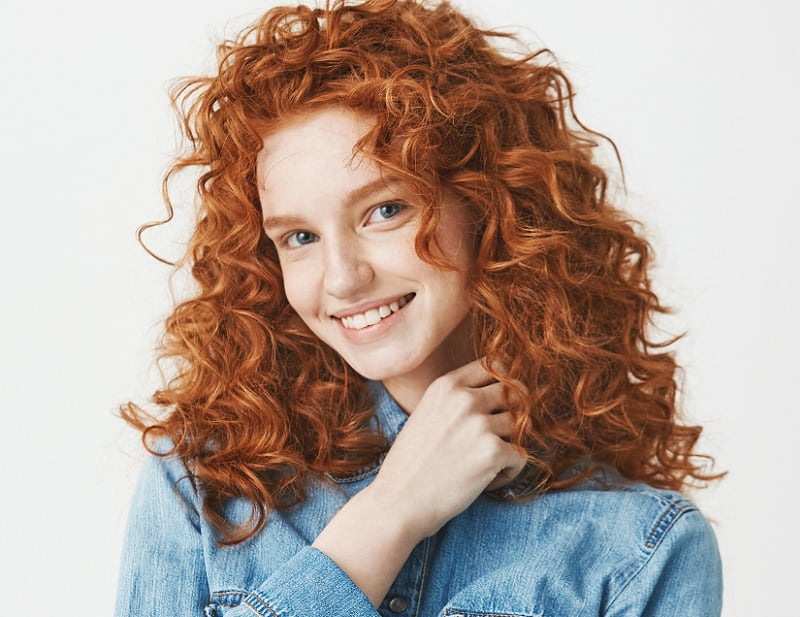 Pale babes with medium-red curly hair look best with a subdued burnt orange hue. Blue tones in the skin work with blue eyes to provide the ultimate contrast to this brass-colored tone.
4. Deep Brunette Red
Let the new red color look stunning with your natural hue by creating a curly red balayage look. Dark-haired babes will look best with a deep red tone. Let your stylist create a beautiful blend so your red hair fits your typical look.
5. Salsa Red Curly Bob
This bright red color is the best option for pale skin. Brighten a curly bob with this electrifying hue, but don't forget to deepen your color at the root. This color can be overpowering on super long hair, but we love it on a bouncy bob.
6. Burgundy Red for Black Women With Curly Hair
A gorgeous red hair color for dark skin. Bold burgundy locs are the way to go for dark red hair. This color is dark enough for long and voluminous curls. Dye your eyebrows for a beautiful monochrome look that will enhance the natural warmth in your skin.
7. Burgundy + Red + Ombre
A curly red ombre look is perfect for making the burgundy color look good with your skin tone and natural root hair color. Hair becomes that much richer when you can maintain your dark brunette or black natural tone.
8. Dark Red and Plum Space Buns
Okay, you don't have to rock space buns to achieve this gorgeous color combination. Babes with naturally dark hair can work with lowlights in plum tones to deepen dark red hues and add exceptional dimension to your overall look.
9. Natural Plum Red Curls
Natural hair is all the rage these days, so try this natural plum red hair for black girls with curly hair? Red is bold, so let it emphasize your natural texture. Hair can be long for this look, but a short crop with a springy ringlet fringe is fresh and bold.
10. Reddish Brown Curls
Light brown and bronzed skin looks amazing with reddish-brown hair. This color is natural, but can easily be created on your own curls with a little bit of work. Wear hair down or create a luscious top knot with a few pieces left down to frame your gorgeous face.
11. Bright Red Weave
A red curly weave is the perfect way to see if the hue will work for you without causing any damage to your natural hair. This red has slightly blue undertones, so it compliments skin with cool undertones perfectly.
Related Hairstyles:
12. Bright Orange Red Curls
The other orange color on our list was bright, yet brassy. This bright red hair color on curly locs are perfect for warm skin tones and babes that are looking to brighten up their overall appearance. For perfect contrast, hair is slightly darker at the root.
As you can see, curly hair with red hair color shades is of different hues, from bright orange to deep burgundy. Remember to compliment your skin tone and work with your curly texture to create the best red curly hairstyle for you.