Guys with colored hair look attractive and fashionable if done the right way. There's no reason men can't have as much fun with their hair as women, so it's time to take a look at the trendiest hair colors for men and pick out a new 'do. Colors are colors are colors.
If you like pale pink, blazing purple, or midnight blue, go for it. It takes confidence and an eye for style to step out with unexpected hair. That's hot, manly, and unquestionably cool. What color on the spectrum are you leaning toward?
Guys With Colored Hair to Get Inspired
Mermaid hair, unicorn hair, dragon hair, oil slick hair — all these trends work as men's hair colors, too. You can opt for darker, dramatic colors that fit into the masculine ideal, or you can buck convention and choose a hue that makes you happy. Whatever you decide, it'll be an eye-catching, statement-making conversation starter.
1. Tawny Red
If this is your natural color, then you're the luckiest guy on this list. Gorgeous reds are hard to come by and even harder to achieve in the salon. This tawny red is great on skin with neutral or warm and golden undertones.
2. Golden Caramel
You'll need warm notes for this blonde hair if your skin is medium with warm undertones, like this guy's. To make it feel natural, focus lighter caramel color on the top of the head to brighten up the appearance of your face. This will help those caramel curls really shine.
3. Playful Pastels
If you're trying to decide between two different fun fashion colors, don't settle on just one. Because this guy has neutral undertones in his skin, he can handle the coolness of both the mint color and the warmth of the metallic gray. To keep things warm, the metallic color should be focused on the top of the forehead to frame brown eyes.
4. Honey Blonde Ombre
Warm skin, rejoice! This gorgeous honey blonde color may be your next perfect color choice. This color works if your natural color is dark but has necessary warmth. This way, whether you choose an intentional ombre style or your natural hair grows out, the look will feel seamless.
5. Purple Ice
Medium skin with yellow undertones, we may have found your next fashion color. Icy hues are very on trend, and this chilly purple makes pastels work for you and your unique skin tone. We love the way these high top curls holds color while the fade and the beard are left natural for background.
6. Spring Green
Look as fresh as new grass in spring with this gorgeous, light pastel hue. Ideal on fair skin, this green is a great way to bring out light green and blue eyes without feeling too 'out there.' For a natural feel, leave your light brown beard as is.
7. Light Cinnamon Highlights
If you're considering a fun, fashion color but don't want to stray too far from your base color, try artful highlights in a neutral tone. These cinnamon streaks are great for dark, warm skin, and look great against black hair. Don't feel like you need to add them all over, either. Focus them over the forehead to frame your face and you're good to go..
8. Electric Pink
Warm skin with pink undertones, you can totally handle a bold and hot color like electric pink. The high fade makes this color feel under control while the shock of the side swept wave up top feels edgy. It's hard to resist this awesome look!
9. Purple Balayage
Surprisingly, purple pairs very well with hair with cool undertones, like gray. So, if you're looking to revamp your gray hair without a total overhaul, try some fun streaks done in a balayage style. As you can see, hair is deep purple on a few sections of hair underneath the neck for a natural vibe.
10. Auburn Red
If your skin is fair with warm undertones, then you can handle the warmth and depth of this auburn hue. This look may seem effortless, but upon closer inspection, you might notice sunnier highlights on top of the head to mimic where the sun hits. It's so easy to add these little details to make color feel natural and look so rich.
11. Neon Green
Green's always a favorite among the guys. After all, green is the color of so many cool things—money, the Joker's 'do, herbs … for real, though, it's a vivid hue that's on-point for summer and fall. A color this bright complements olive and dark skin amazingly well.
Pompadour Hairstyles Trending Right Now
12. Perfect Platinum
Pale platinum is out of this world sexy. You might not be able to bleach your hair so blonde that it appears white, at least not right away, but you can work your way up to a flawless flaxen 'do.
13. Purple Peeks
Thanks to gents like Niall Horan, purple is more widely recognized as a perfectly acceptable men's hair color. You know why? Because colors are colors and they know no gender. Your masculinity isn't tied to a hair color, guys. If you look good in purple, then own it.
14. Pale Rose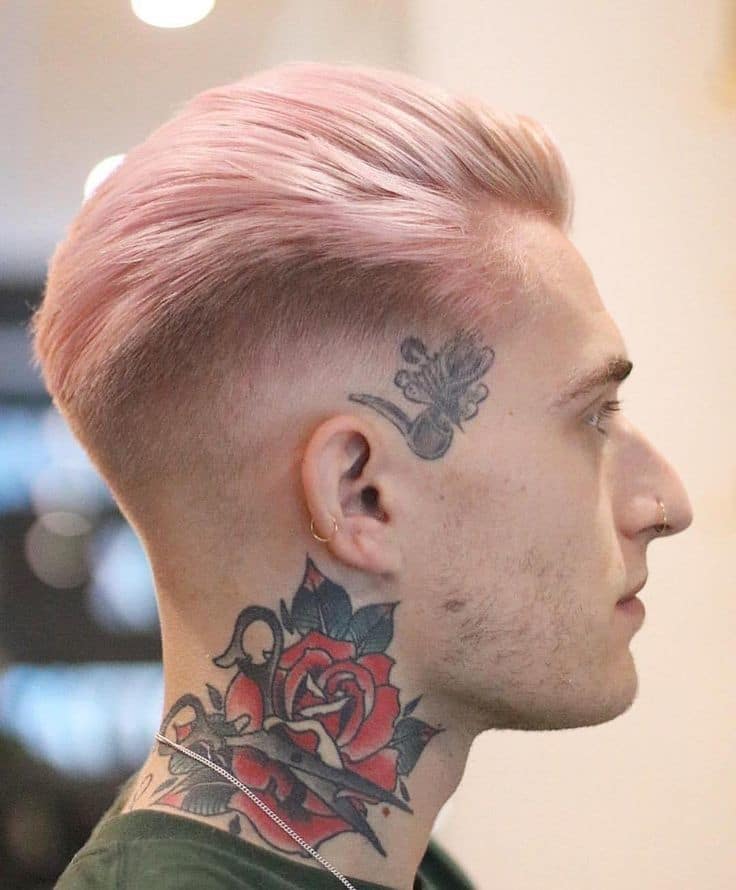 Rose gold is the signature millennial color, with variations of pale pink being perfectly acceptable substitutes. Real men wear pink because it's flattering to a whole spectrum of skin tones and colors. You can get in on the rose gold train, by the way, if you ask the colorist to throw in some subtle coral highlights.
15. Sun-Streaked
Once upon a time, white blonde was the biggest trend in men's hair color—in the form of frosted tips. That look isn't coming back, thankfully. However, guys should feel free to help themselves to a few thoughtfully placed highlights. Look at how they brighten the hair and skin.
Men's Super Cool Curly Hairstyles
16. Retro Orange
An orange this deep is eye-catching but almost natural. Granted, most ginger hues aren't this extreme, but if you want to ease into the world of unexpected hair colors—and if you look good in orange—then this is a fetching shade to get you started.
17. Radiant Brown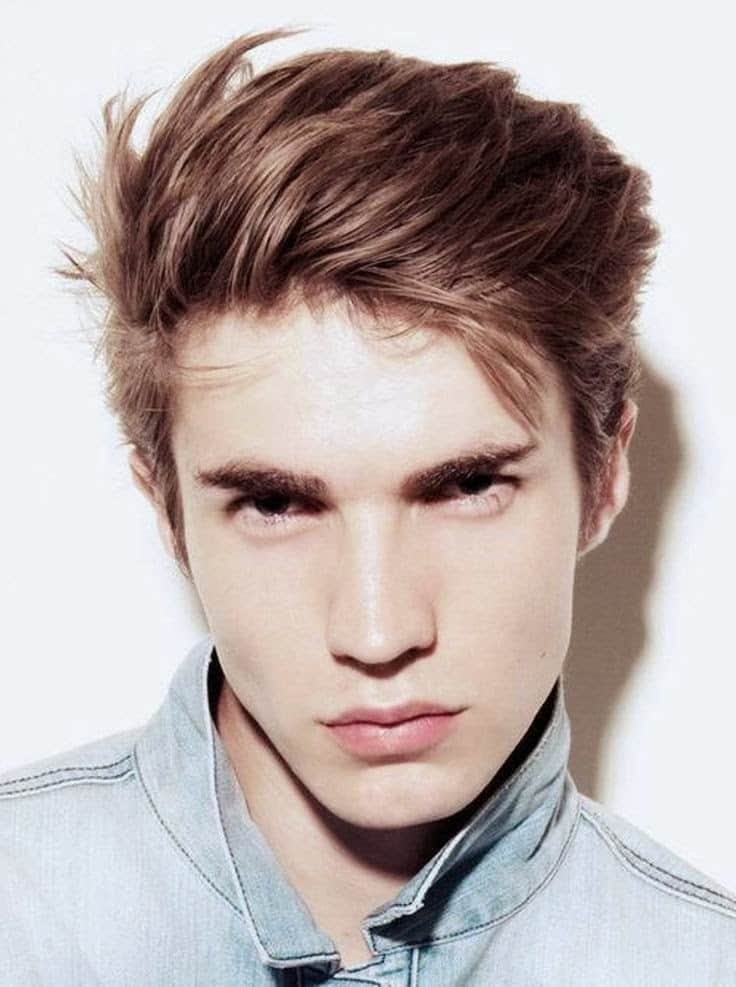 How does brown become "radiant," you ask? With extremely subtle highlights and lowlights, of course. Brown might seem like a boring hair color for men, but give it some dimension and natural facets of color, and brunette becomes a winner.
18. Vivid Violet
Bright colors were made for dark skin, and you'll never convince us otherwise. The closely buzzed crop keeps the powerful purple from being overpowering, and you can't deny how regal it is.
19. Oceans
We are in love with this man and his masculine mermaid hair. See, fellas? That trend isn't just for women. Mixes of blue and green are breathtaking. That dark green is especially on point. Love it! Try these buzz cut hairstyles.
20. Golden Highlights
Guys, never hide your natural hair from the spotlight. Never. Show off your curly coif at every opportunity. Call attention to it, in fact. Golden brown is a classic men's hair color that blends seamlessly with dark brown. Those pops of gold are dazzling, like a blast of gilded champagne bubbles.
21. Color You Blue
You can spot every shade of blue in this flawless undercut, which we love just as much as the pompadour and the streaks of blue themselves. From robin's egg to indigo, the whole spectrum flows through his hair. We're fans. Are you?
22. All Orchid
Who can resist this dusky orchid shade? It's tempered in comparison to other purples, and it complements dark hair exceptionally well. Notice the faint streaks running through the hair on the sides, too.
23. Ginger Revolt
Maybe it's because of Ed Sheeran or Rupert Grint, but red is a stylish men's hair color at the moment. You get all of the sex appeal and none of the jokes about how gingers have no souls. Seriously, though, think about becoming a redhead. We dig this trend.
Soccer Player Inspired Haircuts [UPDATED]
24. Roasted Almond
Notice how men's trends veer from extreme to subtle? Even with natural hair colors, however, guys are stepping back from boring traditional hues. This isn't just brown, you see. It boasts golden undertones and hints of almond color.
25. Too Teal
Teal is a way to wear a vivid shade without being too ostentatious. After all, it's on the blue/green spectrum. It makes an appealing contrast with dark hair, too.
26. Chocolate Brown
Chocolate brown with subtle highlights is an on-trend hair color for men this year. Keep it from being too matte and bland with streaks of a lighter, more golden brown.
27. Sky Blue
Go big and blue or go home, right? You don't have to dye your tongue to match, but dare to step out with your head in the clouds.
28. Silver Fox
Gray is always a good look—always. We're never going to get tired of this trend. Whether it's an undercut or an Ivy League, dye it silver. You'll never have to worry about gray hairs, and honestly, just look at this guy. Just look.
29. Metallic Blue
Artful highlights and lowlights make this hot men's hair color look almost metallic. Ask your stylist to pull off a very light ombre effect. Keep the blue mostly dark—the midnight shade is to-die-for.
30. Whatever You Want
Do what you want—seriously. Start your own trend. What color(s) do you love? What shades go well together and complement your skin and eye color? If all else fails, steal this red and pewter mix.
31. Blonde Hair Color for Men
Mixing blonde hair color with caramel or black hair is one of the hottest pairings a guy can ask for. This textured haircut shows off the color well with the hair combed to one side.
32. Highlighted Hair for Men
If you have brunette hair, like dark brown or black, add blonde highlights. You'll love the way the sun catches it, showing it off in a medium or long hairstyle for thick hair.
33. Long Hair Color for Men
Do you like the surfer look? Opt for blonde hair color to pull of summer vibes. On a long hairstyle, let your natural hair texture take over to rock blonde the best way.
34. Red Hair Color for Men
If your hair is naturally black, consider adding red highlights or a top color to easily add edge. You can choose a muted shade for subtlety or a brighter color for drama.
35. Short Hair Color for Men
Whether it's a comb over or a style with a long top and short sides you choose for your next haircut, this icy blue will top it off well. With notes of white, this color is muted so you can still show up to work professionally.
36. Funky Hair Color for Men
Looking for a haircut that will have all eyes on you? Keep hair on top of the head long and spike it up – a blend of colors like blonde, blue, and maroon will look amazing and super artistic
37. Grey Hair Color for Men
Not happy with how your hair is turning out as you're aging? Whether it's an at-home dye job or a professional job from your stylist, add grey or white all over or as thick highlights to look hot.
38. Hair Color for Black Men
Just because you have black hair, that doesn't mean you can't add your own personal touch of style to it. Try this bleached wavy design that extends from temples to around the head.
39. Hair Color for Men with Brown Skin
Brown skin deserves a hair color as beautiful as it is – try this light brown shade that blends with a tinge of red for copper tint or just stick with a black base and brown for the top.
40. Brown Balayage for Black Hair
Bored with your long straight black hair? Men can try balayage too, as evidenced by the light brown at the ends of this haircut.
41. Brown Hair Color with Fade
While any haircut with a fade looks amazing, dark brown hair color looks especially handsome and sophisticated. This style features long hair on top smoothed back with plenty of volume.
42. Blonde Highlights on Dark Hair
Whether you have short hair or a style similar to this long curly do, add light blonde highlights to dark brown or black hair for a super masculine and rugged vibe.
43. Purple Hair Color
As if coloring your hair wasn't a big enough deal, top that off with a shade of purple that not only graces your thick hair, but continues to your beard for something unexpected.
44. Ginger Hair Color for Men
The best way to pull off ginger hair color is by being born with it. It flatters pale skin and looks best if your hair is at least a couple inches long. If you're really in love with the shade, blend it in with light brown hair.
45. Dreadlock Hairstyle for Men
Although some men get their dreadlocks to form the natural way – by not combing their hair regularly – it's possible to have a stylist install them. These dreads mix light brown with blonde tips for a relaxed vibe.
46. Mohawk Hair Colors
Green and orange are certainly unexpected colors to choose for a men's haircut, but they work great on a mohawk with a hide fade. To style, simply use a comb and some product.
47. Dark and Light Brown Hair Color
Like your current shade of brown but still want a fresh update? Try adding light brown either just to tips or from the mid-shaft to ends. This will look best on hair that is at least shoulder length.
48. Blue Hair for Mohawk Braid
A braided mohawk is edgy just on its own but add electric blue and a pop of color takes the look to the next level. You can keep all the hair braided or just some sections while leaving others loose.
49. Medium and Platinum Blonde
Platinum and blonde are not colors often seen on older men, but it can be pulled off. This longer style features hair smoothed back with platinum roots and medium blonde from the middle to ends.
50. Pastel Red on Light Brown Hair
Another color not often seen on men is this muted shade of red. It's not harsh because it's only highlights, but the style is still noticeable and work-appropriate.
Trendy men's hair colors are evolving to fall more in line with the colors that trend for women. Know what that suggests? That popular hair colors are popular regardless of gender. Wear your hair the way you want!