We all know that hairstyles can completely change the way we look, and nothing holds this statement truer than the mohawk hairstyle. If you're a man who wears glasses, the mohawk and glass combo will give you a bold, eye-catching, and attention-grabbing first impression no matter where you go.
There is no limit to how far you can go to make yourself stand out from others. In this case, you can achieve that goal by growing a mohawk and wearing glasses.
Trendy Mohawk Hairstyles For Men With Glasses
It may seem difficult at first to pick the right mohawk look because there are so many options available. Let's check out some of the trendy mohawk hairstyles for men with glasses.
1. Colored Mohawk with Horned Round Glasses
Let your personality shine through this colored mohawk. What's interesting is that you'll be dying the mohawk not one or two, but three or even more colors—who can stop you?
The black-framed and horned round glasses will be a perfect addition if you have a pointy face and think your mohawk hairstyle could make it seem longer.
2. Undercut Pompadour with Keyhole Bridge Glasses
It's a unique take on the mohawk and it might not look like a proper mohawk at all. The sides are very short with a big pompadour in the middle. It's the difference in lengths that makes it an undercut.
The glasses, if you look closely, are quite oversized. They sit a bit high on the face due to the keyhole bridge which will make your glasses cover some part of your forehead too.
3. Afro Mohawk with Thin-Rimmed Glasses
This mohawk with a glass look is the epitome of playing it low. The afro mohawk isn't too sharp and is rather a flat patch of long hair in the middle of the head.
Similarly, the eyeglasses with the silver metal frame are hardly visible on the face because of how thin the frame is.
4. Wavy Mohawk with Short Sides and Browline Glasses
Focus on the word "short sides" here. Usually, you'd expect the sides to be completely bald, but there is some length to the hair on the sides in this case. Even the hair forming the mohawk isn't too long.
The short mohawk is a clever option when your hair wavy because the longer the hair, the harder it will be to keep them straight. Lastly, the browline rectangular glasses are a great yet subtle addition.
5. High and Tight Mohawk with Rectangular Goggles
So, you have an oval face but you love a mohawk. You've gone with the high and tight version with completely shaved sides and a pointy mohawk right in the middle, making your face look more oval.
With a bubble-braided beard like this, your face will look too long. You take care of that problem with rectangular glasses with a frame so thick that the glasses look like goggles. Problem solved!
6. Frosted Mohawk Braids with Riveted Glasses
Here's a braided mohawk hairstyle for guys who love riveted glasses that will certainly get you noticed as soon as you walk in because of not just the braids but also the frosting effect on one side.
Even the glasses show the fun side of your personality with those double rivets on both sides, making these round glasses look more awesome than they already are.
7. Messy Faux Hawk with Multi-color Glasses
A nice take on the classic mohawk is the faux hawk, which doesn't require you to grow a spiky fence beyond your cranium, and this one is a great example of this style.
The hair all over the head has been brushed inside out to cover the ears and neck. With multi-color glasses, you can surely make a few heads turn.
8. Mahogany Mohawk with Matching Glasses
This is a proper mohawk with completely shaved sides and hair in the middle, but they have been colored mahogany, which is quite a choice.
What gets your attention even more is that the rectangular glasses have almost the same color as the hair. With a short salt-and-pepper beard, it's the look a lot of people will talk about for days.
9. Curly Mohawk with Semi-rimless Rectangular Glasses
It's hard to define this one as just another mohawk hairstyle for men with glasses. You can see a thick mohawk with shaved sides, but clearly the hair is curly, so they are curving to one side.
The semi-rimless glasses are as rectangular as they can get, but there is no doubt that the gigantic handlebar mustache has got your attention.
10. Long and Thin Mohawk with Oversized Glasses
The one thing you can be sure about is that it's not going to be easy keeping this mohawk because of how long and thin they are. Keeping them in a standing position will be a challenge to overcome.
The sides don't are just short, so nothing fancy there. The glasses in this case seem oversized probably to cover the broad forehead that will result from a hairstyle like this.
11. Pyramidal Mohawk with Wayfarer Glasses
This mohawk is unique because first, it's quite tall, and secondly, it's in the shape of a pyramid. The thickness of the mohawk makes the head look quite heavy here.
Of course, such a hairstyle will make your oval face look quite long, so it makes sense to don a pair of wayfarer glasses, which are square and look slightly wider due to the horns on their top corners.
12. Blonde Messy Faux Hawk with Oversized Square Glasses
Here's another style that you would categorize as a faux hawk because the sharky fin adorns only the front and top of the head. The sides of the blonde hairstyle are tapered for a preppy look.
Make your personality known from miles away with these oversized glasses, which aren't really oversized per se but look so because of the age of the boy and hence the size of their face.
13. Tall Rebel Ridge Mohawk with Steampunk Glasses
This rebel ridge mohawk is tall and the sides aren't too short either. You can see that the focus is on the mohawk rather than the sides.
Since the style is supposed to make your face look oblong, the choice of the steampunk glasses is probably the best one you could make.
14. Bald Head Mohawk with Fancy Modern Glasses
This mohawk look is perfect for guys who wear bold and modern glasses. A bald head will make a round face look rounder. However, the ridge in the middle provides some compensation.
What really brings color and vibrance to this style are the glasses. These are fancy modern glasses that are quite rectangular, but it's the fancy temple-tips that get attention due to their unique patterns.
15. Fluffy Mohawk and Braids with Metal Glasses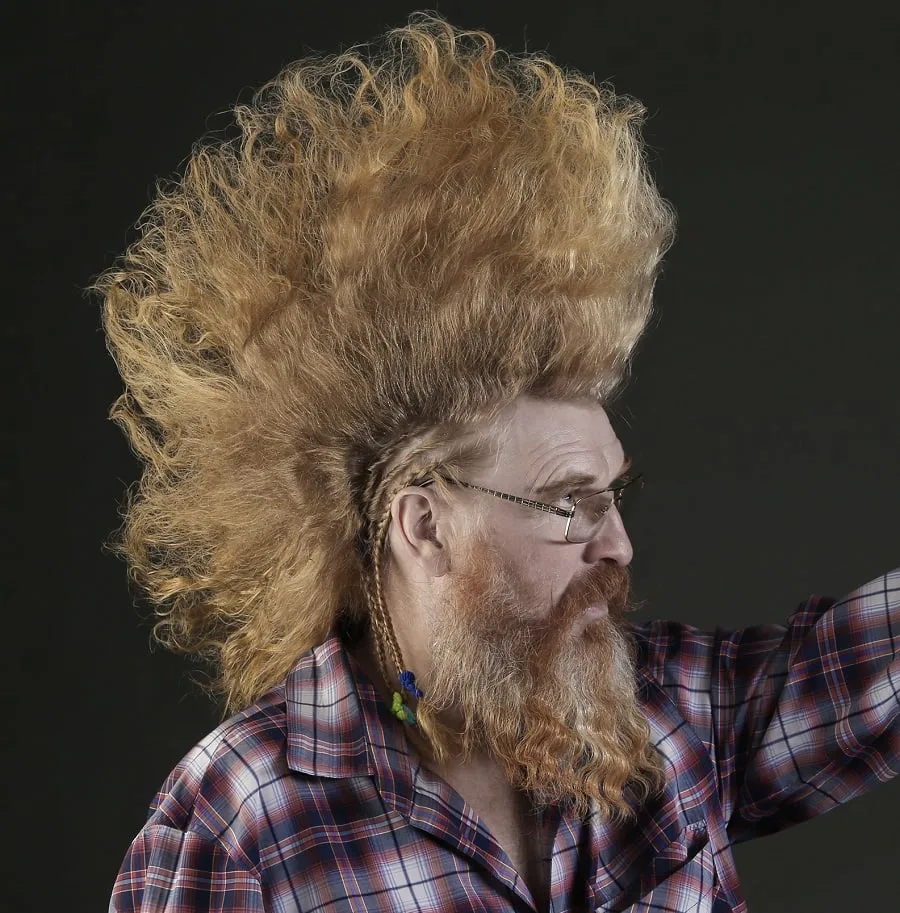 There isn't going to be a person in the room who wouldn't notice you when you walk in with this huge and fluffy mohawk. You could call it the whole-head mohawk because that's all of your hair.
An interesting addition to the style is the braids on the sides with colorful ribbons on their ends. Lastly, the striped metal glasses are just icing on the cake, taking this style to a whole another level.
16. Gelled and Patterned Mohawk with Rounded Glasses
Get this mohawk haircut with glasses if you like to take things up a notch. The gelled hair is standing straight with blunt ends. The sides have these unique geometric patterns as an eye-catching detail.
Your glasses are going to play a huge role in defining your face when you opt for this style. A pair of oversized, rounded, and metal-framed glasses should definitely do it.
17. Brown Mohawk with Oversized Square Glasses
This is a dyed mohawk that has been colored brown. It runs from the front of the head all the way down to your nape. The sides are shaved to be completely bald.
With a full beard and rounded sides of the head, your face might start to look round too. Take care of that with these oversized square glasses with overly thick rims.
18. Yellow Mohawk Mullet with Tinted Glasses
Call it one of the most unique additions to our mohawks with eyeglasses, as this one combines a mohawk with a mullet in the back. Make it more noticeable by coloring it yellow.
With a clean-shaven face, you might feel as though there is something missing. A pair of tinted glasses with small adornments on the temple tips wouldn't hurt.
19. Petit Mohawk with Transparent Glasses
You want to look different, but you don't want to stand out–this is the one's for you if you think like that because of the petit mohawk with a very small ridge occupying only the top and crown of the head.
The glasses are fancy, but quite subtly because of the transparent rims. You might have seen Tom Hanks wearing those glasses. A beard fade is the cherry on top.
20. Mohawk Fade with Black Glasses
The short faded mohawk has been trendy in 2023. This mohawk hairstyle is ideal for men who wear glasses and want to get a 'cool tech guy' look. You can notice a low fade on the sides and the back of the head. Also, the beard is faded near the sideburns.
The mohawk is subdued, not very pointy or too tall. To be consistent with the subdued look, it's best to pick black glasses that are classic and don't shine too brightly on the face.
21. Permed Mohawk with Clubmaster Glasses
It's not the height of this mohawk that gets your attention. Instead, it's the permed hair with consistent curls adorning the top of the head that catches your eye. The shaved sides complement the curls.
If you don't like growing facial hair but want a point of interest on your face, a pair of Clubmaster glasses is the best choice you can make.
22. Textured Mohawk Fringe with Metal Pantos Glasses
Yet again, what you are looking at is a subtle mohawk that's almost not there because the sides are not shaved at all. The sides are only tapered, and the textured hair in the middle isn't standing.
You can see some fringe on the forehead. Pantos glasses are quite a popular choice among young men, and this one's no exception, with metal-framed glasses almost camouflaging with the skin.
23. Red Mohawk with Round Vintage Glasses
The coily hair quality is easily visible here, and the slight burst fade on the temples turns it into a subtle mohawk. The two lines on the temples are not too much, but they do make a statement.
What really stands out here is the redness of the hair. To keep your face from looking too pointy for your liking, you should go with these vintage round glasses that have perfectly circular lenses.
So, the above mohawk hairstyles are perfect for men with glasses and show that mohawks aren't for a particular type of face or hair quality. It's okay if your mohawk isn't towering and pointy.
Sometimes, you can get a mohawk by shaving the sides of the head and leaving a ridge in the middle. Also, you have the modern mohawk and faux hawk for subtler looks.