There is nothing sexier than a braided Mohawk for men. These hairstyles are so fresh and on trend at the moment. Even if you are not huge on experiments, these 7 examples will change your mind right away. They are all so different, but literally, any gentleman can pull them off. Continue scrolling for the best inspiration ever!
Trendy Braided Mohawks for Men
Following men's braided Mohawk hairstyles, our are top take on the modern variations of the classic hairstyles. Have a look and get inspired to get a statement style for you.
If you are a bit skeptic on whether braids are for you, go ahead and test the field with tiny, barely-there styles.
Ideal for: It is definitely a mane on the edgier side, but that doesn't mean you should stick only to boring hairstyles. As you can see, it even works for the office. These days, people can really work any type of hairdo they like without worrying it will not be appropriate.
How to Style: Find someone who can do those braids for you. If you know how to do them yourself even better. Sleek the rest and put it in a topknot. Voila, you will get a modern braided Mohawk for men.
2. More Is Better
When you're past the stage of tiny braids you can barely see, this is another chic hairstyle. This cool braided Mohawk style for guys features a whole range of braids instead of a single one.
Ideal for: It's ideal for gents who really feel comfortable in their skin. They want to try out new things and do it with style.
How to Style: All you need is to learn how to braid. If that's too much you can always visit the hairdresser.
3. Diagonal Braid
This braided Mohawk on men's hair is such a daring style. Not many will decide to try it, but the ones that will are the real fashionistas.
Ideal for: The men who are always in the search for a unique hairdo can feel free to copy this one.
How to Style: You better find someone who is really good in braiding to achieve the low fade Mohawk look.
Continue the Mohawk braid with shaved sides all the way back so that it looks even better.
Ideal for: It would be perfect for guys who have very short hair on the sides and very long on top.
How to Style: If the top part of your hair is long, you have the chance to completely recreate the fun men's Mohawk braids. Just continue braiding and finish off with a hair tie.
Why go for the classic options, when you can find one that really stands out? This guy with braided Mohawk hairstyle is made of so many tiny and cool braids with undercut and dreads.
Ideal for: Guys who are more on the sporty side will be so obsessed with the mane.
How to Style: You will need many small braids put together in a pony.
6. Chic Braided Pompadour Mohawk
Mix several styles so that you will really get a fresh hairdo. Men's Mohawk with braids style give you so much space to experiment.
Ideal for: Will look great on gents with a very long pompadour mane.
How to Style: Give an extra volume boost to the pomp and braid a chic braid on the side.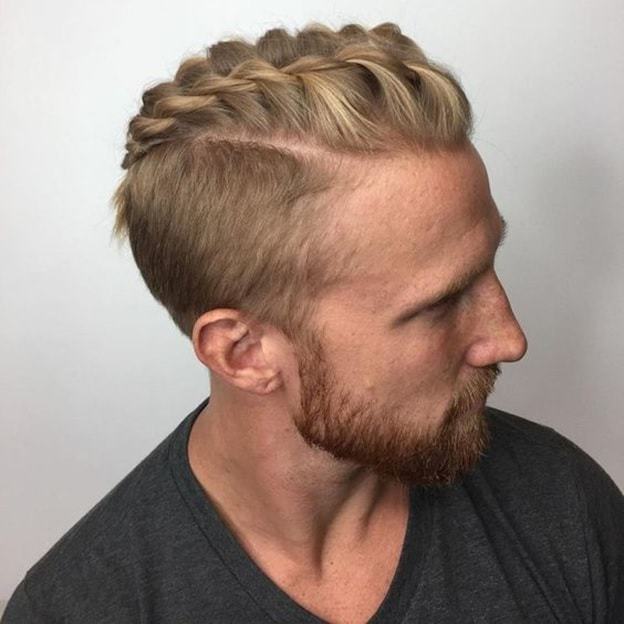 Nothing comes close to the classic. It's an all-time favorite braided Mohawk for men with a voluminous braid on top.
Ideal for: Great for literally any guy, including the ones who are getting a braid for the first time.
How to Style: Choose the type of braid that you like and work it like a pro.
Braided Mohawk for men is a modern take on men's mohawk hairdo. Get inspired try out the styles right away and be the showstopper!