If you're in search of some hairstyle and hair color ideas, drawing inspiration from Hollywood's most fashionable actors over 30 with dark hair can be a fantastic choice.
From classic black to rich chocolate and deep brown shades, their hair colors add an extra layer of charm to their overall look.
We have picked the top Hollywood actors over 30 with dark hair to provide you with a variety of options to consider for your next hair makeover.
Get ready to be inspired by these style icons who prove that dark hair is anything but ordinary.
Actors Over 30 with Dark Hair
Check out the coolest dark-haired celebrity actors who are over 30 and still rocking their signature dark locks with effortless style.
1. Daniel Radcliffe
The beloved Harry Potter star is an actor over 30 with dark hair who never let go of his natural chocolaty mane.
The buzzed sides coupled with a long layered top are perfect to slim down that square-shaped face while putting his chiselled jawline on full display.
2. Kit Harington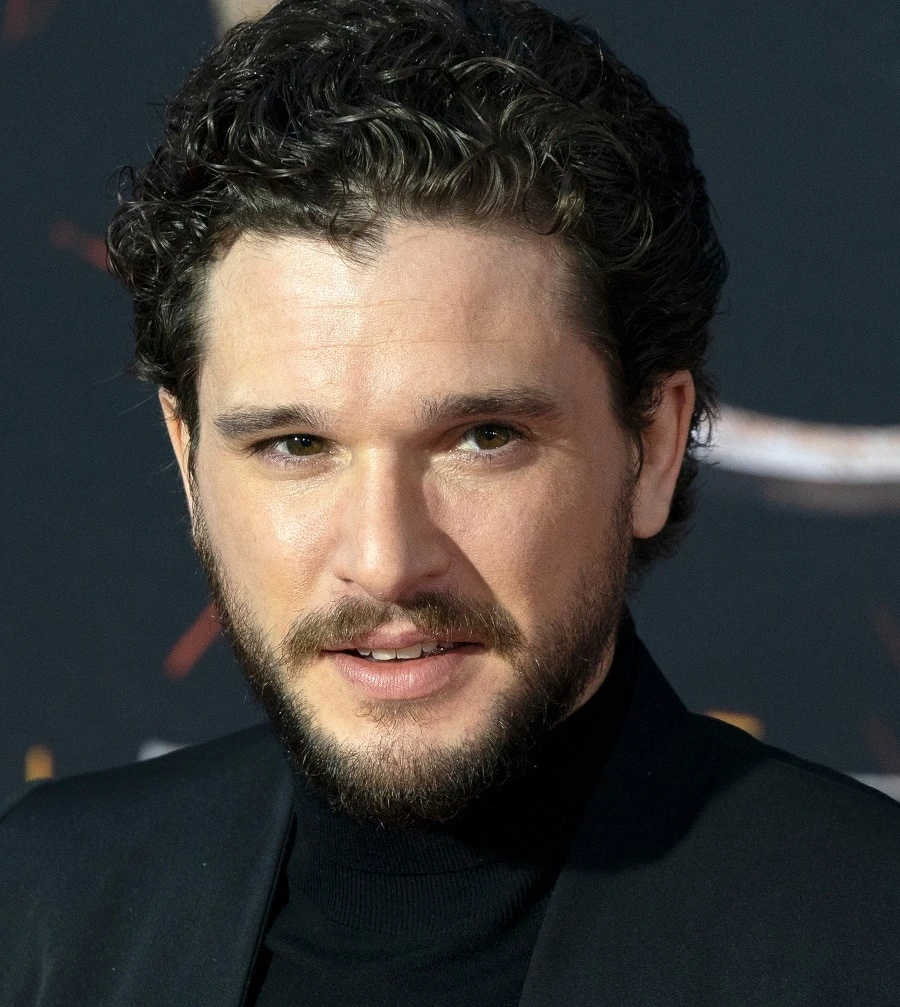 Kit Harington is a true inspiration for all the curly-haired guys out there.
Apart from wearing his long bouncy locks with pride for the Game of Thrones, he has gone short recently with all the strands snipped uniformly all over the head.
Use plenty of hair gel or paste to achieve that sexy on-the-beach wet look the entire day.
3. Hugh Jackman
Next up is another Marvel superstar, Hugh Jackman.
The man synonymous with Wolverine is known for his signature sleek, brushed-back head of black hair. During his Wolverine days, he also rocked killer mutton chop sideburns.
The Australian actor starred in blockbuster movies, such as Real Steel and The Prestige too. Anyone who says Hugh Jackman is a one-dimensional actor just hasn't seen his full portfolio.
Additionally, Jackman had a phase where he went with a full beard. This decision was highly popular with his fans, particularly the female ones.
4. Dylan O'Brien
The dearest Teen Wolf is all grown up and is making eyes pop with his ever-changing hairstyles. He looks so handsome with his long hair.
Here the dark-haired American actor in his late 30s went for a casual yet cool vibe with a shaggy mop top haircut featuring plenty of layers and texture.
5. Tom Cruise
Tom Cruise is yet another Hollywood heartthrob who's been a staple on the big screen for decades. He's been at the center of legendary franchises, such as Mission Impossible.
Cruise has also been nominated for many Academy Awards, an example of which is his recognition for his role in The Last Samurai.
The A-list actor has gone with various hairstyles over the years, some longer than others. However, he's always had a dark head of hair.
We expect Tom Cruise's name to dominate headlines in the upcoming months as the release of Mission Impossible – Dead Reckoning Part Two gets closer.
6. Austin Butler
Not to forget present-day Elvis Presley's dashing dark dirty blonde locks, Austin Butler is keeping it classic with a timeless pompadour hairdo.
Sweep the strands up and sideward and leave the rest to that gorgeous wavy hair texture of yours. Zero regrets guaranteed!
7. Liam Hemsworth
The Australian heartthrob wears his quiff like no one else. The sides and back are clipped down neatly with a several-inch-long top featuring point layers.
Use any suitable styling product on your fingers to set the strands in place. A little mess is all you need!
8. Miles Teller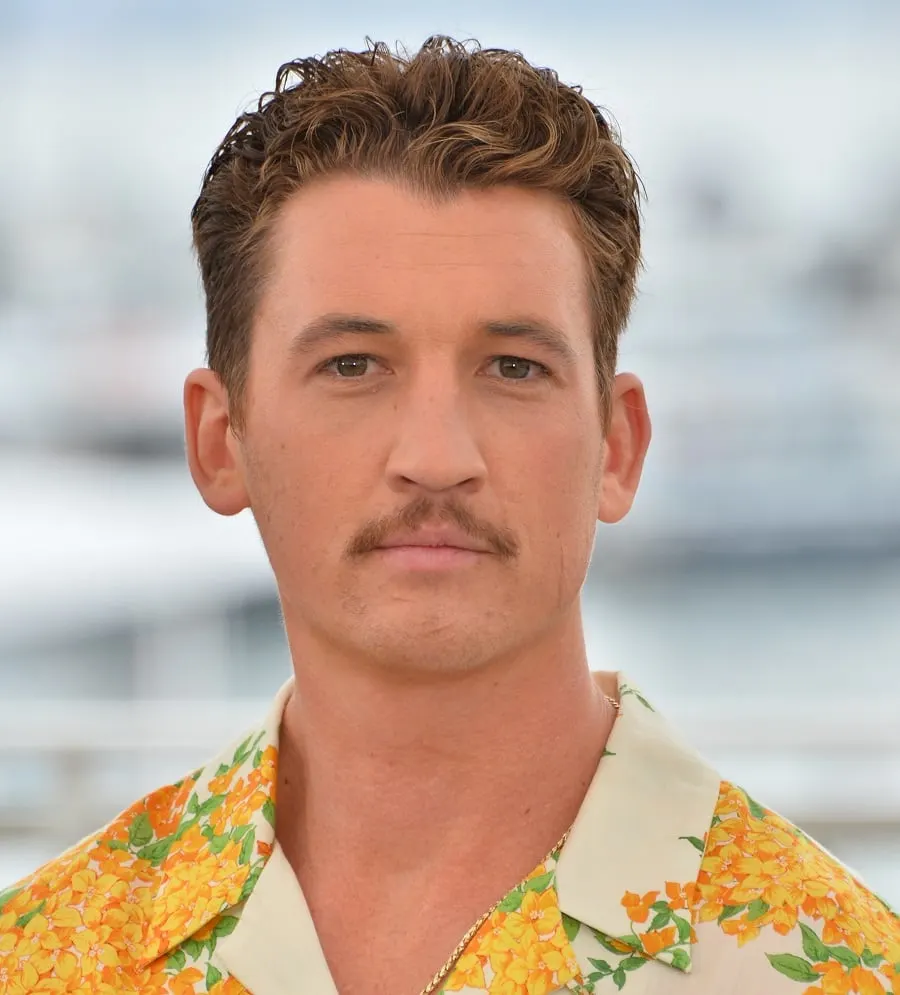 It's impossible to skip Miles Teller in the list of dashing dark-haired actors over 30. He has recently transformed his entire look for his upcoming Top Gun project.
Miles opted for a classy long-top-short-sides hairstyle along with barely-there babylights achieving an iconic bronde mane that won't be ignored. That neatly trimmed moustache is a must-try too!
9. Jake Gyllenhaal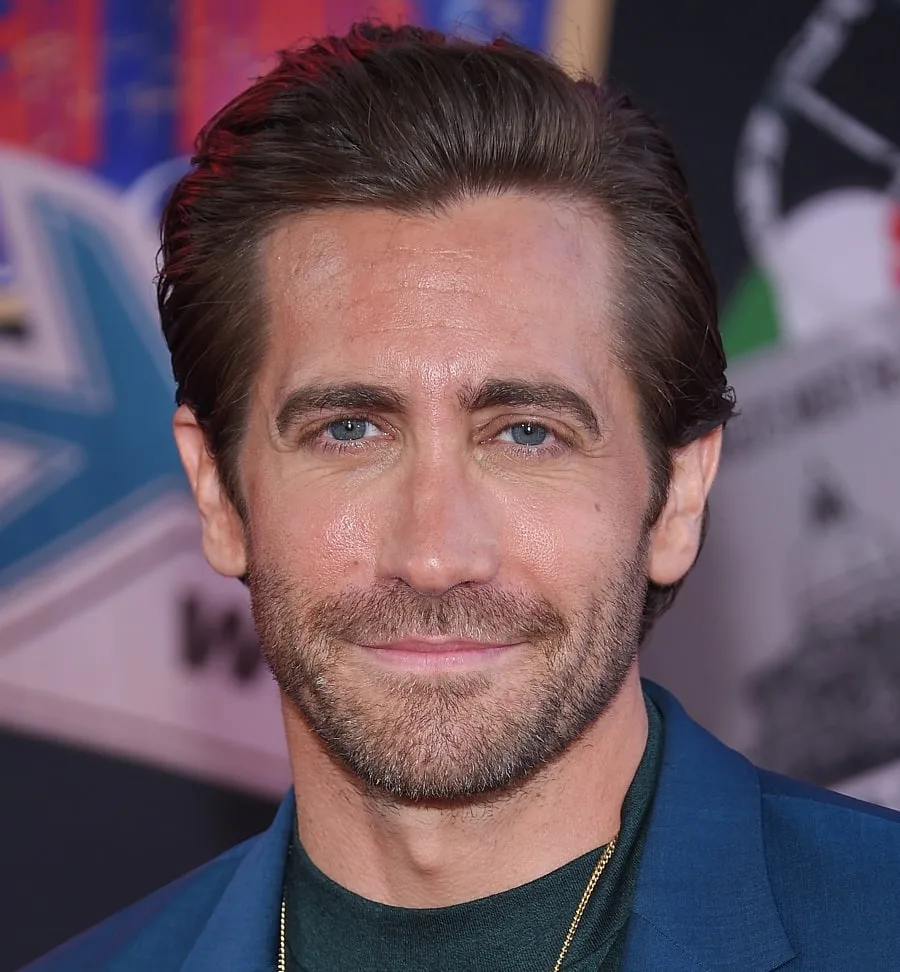 Another dark-haired actor over 30 is Jake Gyllenhaal. The 42-year-old has been on the Hollywood scene since 1991 as a child actor.
He started the new millennium with a bang, starring in Donnie Darko, which is a cult classic to this day.
Since then, he's developed into one of the big screen's brightest stars, headlining movies like Prince of Persia, Source Code, and The Day After Tomorrow.
10. Andrew Garfield
Another dark-haired actor over 30 who is aging like fine wine! The Amazing Spiderman has always styled his gorgeous brunette tresses more or less into a handsome quiff.
The volume on top is perfect to create the illusion of length while that smile is simply the star of the show!
11. Denzel Washington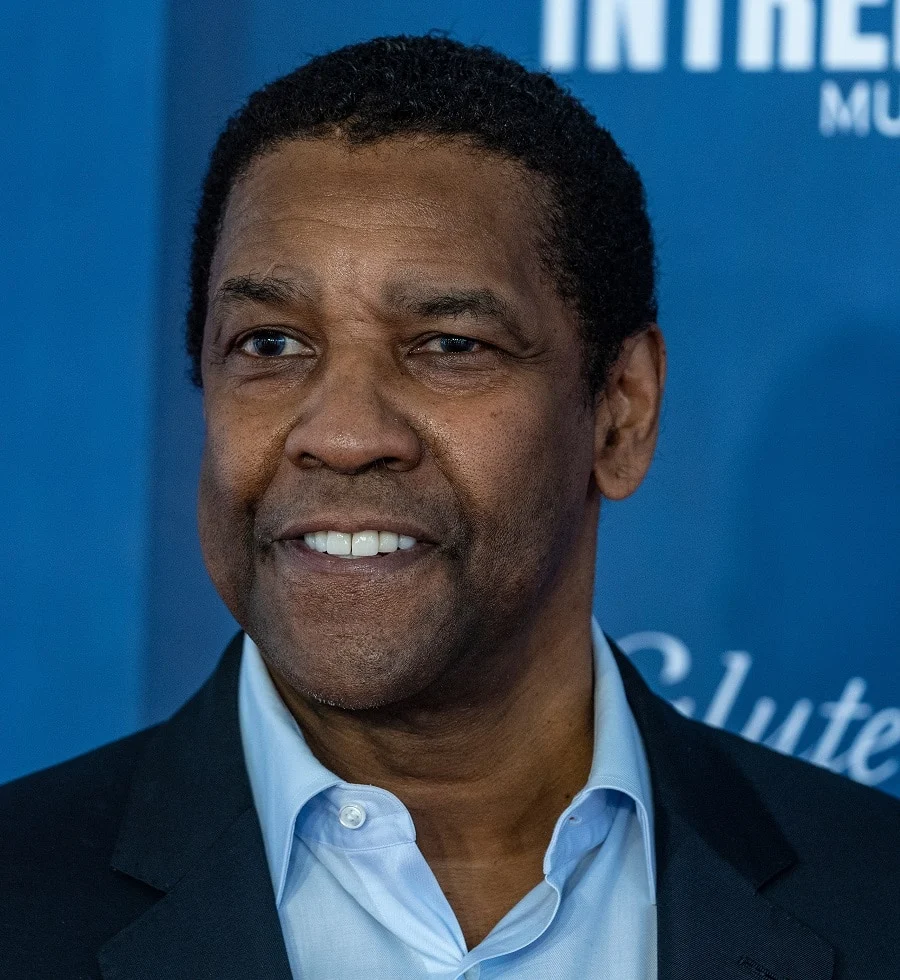 Denzel Washington's movie portfolio is a laundry list of absolute masterpieces.
The 68-year-old legend has had countless roles, and in turn, has rocked many hairstyles. From his afro in Roman J. Israel, Esquire, to his short haircut in Training Day and bald look in The Equalizer, Denzel has done it all.
Additionally, he'll appear in the highly anticipated Gladiator sequel in 2024.
Denzel has captivated audiences for over two decades now. When his career is over, he'll go down as one of the greatest to ever grace the big screen.
12. Robert Pattinson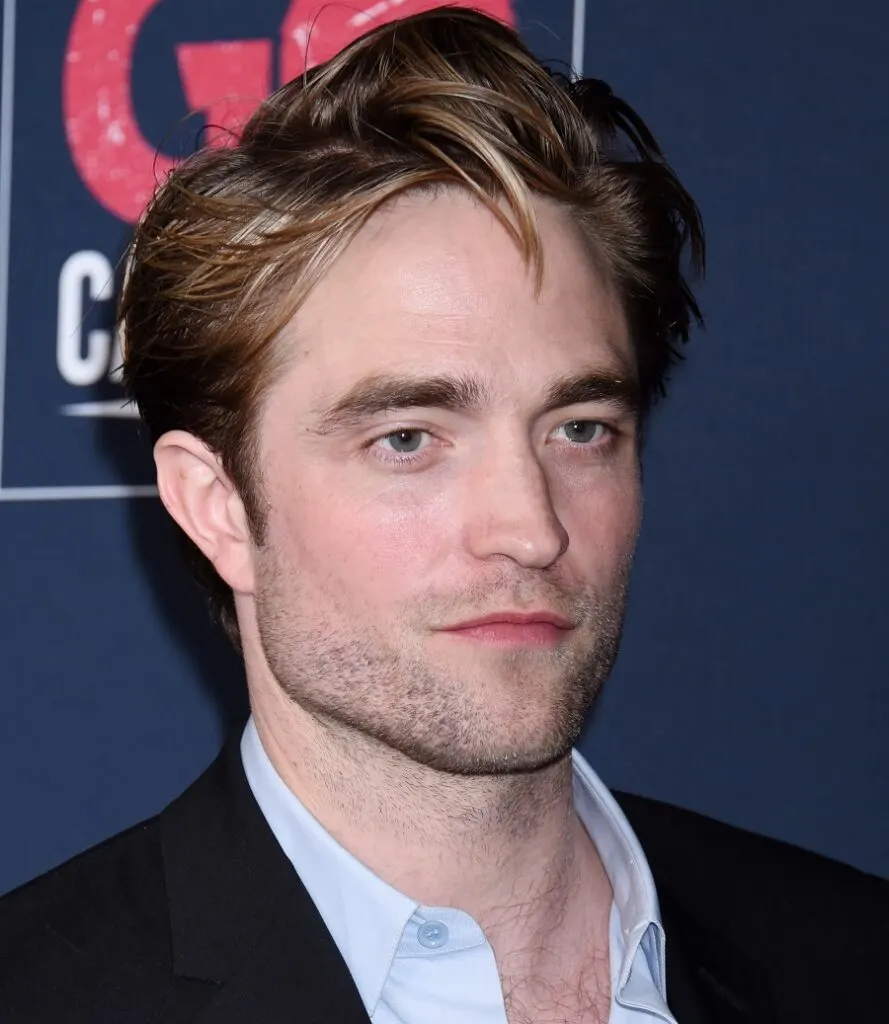 The Twilight actor is a true hair chameleon switching quickly between hair styles and lengths.
Robert Pattinson is a pro when it comes to rocking disheveled hairdos. A long messed-up top tapering towards the sides coupled with natural-looking blonde highlights against a brunette base is all you need to ask for!
13. Damson Idris
Damson Idris is a British actor who has come across the pond and had massive success.
The popular dark-haired celebrity starred in the role of Franklin Saint on the masterful series, Snowfall.
However, Idris has also made his mark elsewhere on the silver screen. He made his mark on the enigmatic Netflix series, Black Mirror. Additionally, he's had prominent roles in The Twilight Zone.
Idris has been pretty consistent with his hairstyle, going with a short fade that he occasionally lets grow out a bit.
Following Snowfall's conclusion, we're anxious to see what the talented young actor has in store for us next.
14. Michael B. Jordan
We wrap up our list with Michael B. Jordan. In a similar fashion to Idris Elba, Jordan also got his start on The Wire.
He was 15 years old at the time and played the role of Wallace in the series' first season. Unfortunately, his character died before we could see more of him.
Over the years, Michael B. Jordan has developed into one of the biggest names in Hollywood. He's the main man in the highly successful Creed franchise. Additionally, his role as Killmonger in Black Panther was a huge hit.
Jordan is known for his short hair these days, far removed from his cornrow days as a child actor on The Wire.
With so many dark-haired actors over 30 with different hairstyles and hair colors, whose style is your favorite? Let us know!
Trending Topics