The Marvel Comics character Wolverine has been famously portrayed by actor Hugh Jackman on the silver screen.
Jackman brings his own brand of handsome good looks to the role, but his Wolverine beard style really defines his look in the Marvel films.
The Wolverine beard is handsome and easy to wear. It can work for nearly any man whose facial hair isn't too thin.
Top Wolverine Beard Styles
You don't have to be Hugh Jackman to have a handsome Wolverine beard. Try the below Wolverine beard styles to get a similar look!
1. The Everyday Wolverine Beard Style
Although Wolverine is obviously a comic book character with a stylized beard that may not work for most men's daily life, you can certainly wear a modified, everyday Wolverine beard style.
Here, Jackman's Wolverine beard is simply trimmed down and cleaned up a bit to create a beard style that is wearable. This easy look flatters many face shapes and can be worn by nearly any man.
2. The Classic Movie Wolverine Beard
The classic Wolverine beard that we see in the Marvel films is stylized and over the top. Obviously meant to mimic the shape of the wolverine's (and we are talking the animal here) face and head, Jackman's look here may not be ideal for everyday wear.
However, if you are bold it can certainly work for you, but certainly, a toned-down interpretation becomes wearable.
3. The Debonair Wolverine
A short, neat Wolverine-inspired beard style can look debonair and perfect for formal occasions or for the office.
Here, Jackman's beard style is accented by his natural grey, proving that this handsome look flatters men of all ages, grey or otherwise.
4. The Outgrown Wolverine Beard
The everyday Wolverine beard style is especially easy and low maintenance in that it requires very little daily grooming. Even when slightly grown out, it can be a sexy, flattering look that's still office-appropriate.
5. The Neatly Trimmed Wolverine
Here, Jackman has taken his Wolverine beard style down to a closely trimmed and very neat variation. This creates a look that is still Wolverine-bad-ass but wears as a cleaner look. It's appropriate for many occasions and is easy and wearable, even if you aren't a Hollywood star.
6. Vintage Wolverine Facial Hair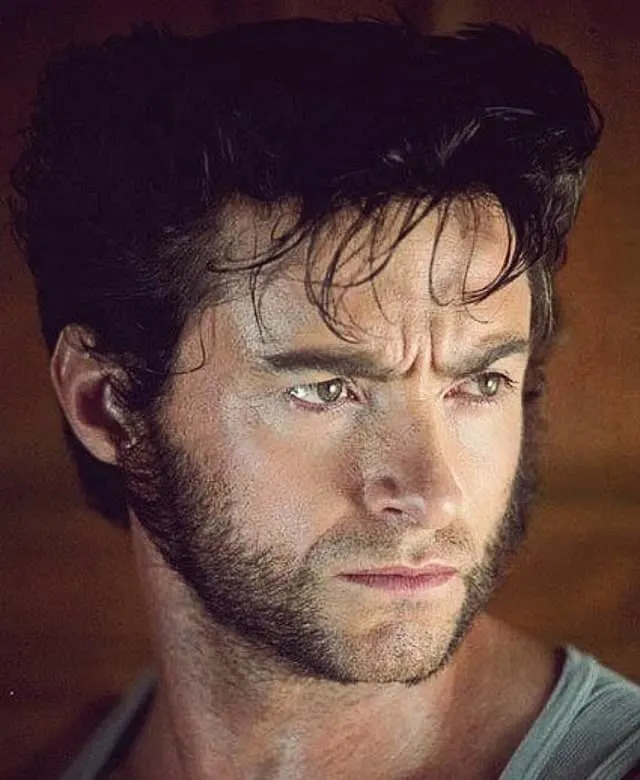 It is neither too thick nor too light; the beard length is exactly like dark stubble. It does not suit all face shapes and is ideal for inverted triangular and oblong face shapes. To meet the vintage approach, style your hair into a wet ducktail hairstyle with a good quality hair gel.
7. Stylish and Cool
This Wolverine beard look is so chic and full of swag. Hugh Jackman has a prominent cheekbone that's why this beard works fantastic on him.
Grow a short beard or stubble and keep the neck hair unkempt to get the cool vibes. Keep the whiskers well-kept by applying beard oil to compliment your everyday life routine with this beard style.
8. Aggressive Look
It is simple and easy to maintain a beard style as you do not have to shave off the hair around the mouth regularly.
This wolverine-inspired beard features thick whiskers and shadows around the mouth zone. Your personality attitude will make the beard speak loudly about your virility element.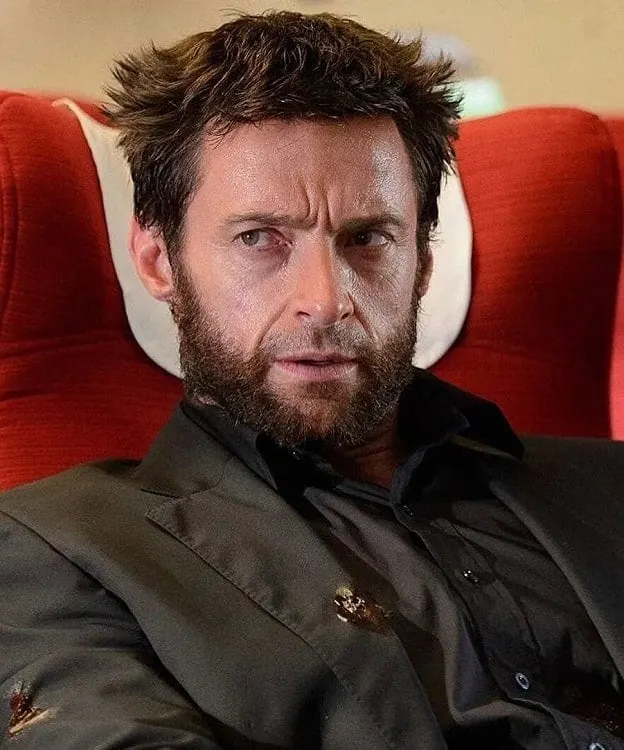 It features a thick, bushy beard, well-trimmed cheek lines, stubble mustache, a slight soul patch, and a patch of hair on the chin tip.
To achieve this look, grow a thick full beard and then, trim the mustache and area between the lower lip and chin tip while leaving a soul patch. It is worth a try beard look, but may not suit every face shape.
After hearing a wolverine facial hairstyle, the first thing that appears at everyone's mind is; the rebellious, unkempt, and belligerent look.
But, look at this above hunk wolverine attire that you can adopt for striking features. It is a well-kept version of Wolverine's beard that is paired up with a quiff hairstyle.
11. Just the Whiskers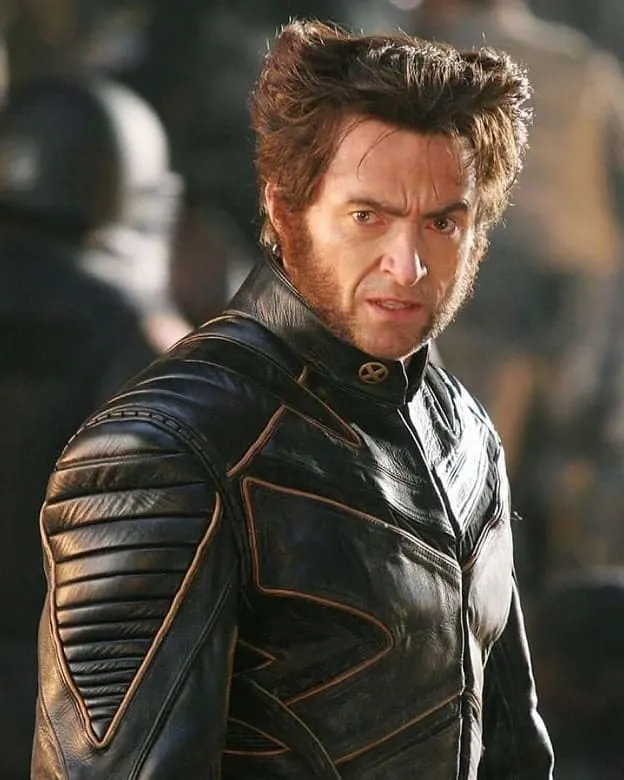 Sure, it is one of the most iconic Wolverine beard styles that consists only the whiskers or mutton chops. The facial hair around the mouth including the mustache and the goatee is shaved off completely which gives the side-whiskers more prominence and noticeably distinctive features to Jackman.
To achieve this look, grow your facial hair without any trimming for at least two to three months to get the desired length of a long beard.
To give your beard unruly vibes just like Logan, keep the cheek lines untrimmed, neither the comb nor brush it and get the shaggy structure by styling roughly with fingers.
If you want to look stylishly handsome but can't invest much time in daily grooming, a Wolverine beard style may be a good choice for you. Because it looks sexy when trimmed shortly or a bit grown out, it's versatile while still being easy. You don't have to be Hugh Jackman to pull of this handsome, classic movie-inspired look.