Elizabeth Olsen can be a great source of hairstyle inspiration as she has done a ton of creative hairstyles in her career. She is the younger sister of Ashley and Mary Kate Olsen and she's been in the spotlight since she was 4 years old. However, her acting career skyrocketed in 2011 with her role in Martha Marcy May Marlene.
Walking the red carpet and gaining media attention was always part of her life, and she pays a lot of attention to her appearances at awards, events, or certain galas. Elizabeth Olsen's hairstyles usually feature waves, bobs and lobs, ombres, and cool buns in the back.
Elizabeth Olsen's Latest Hairstyle in 2023- Sleek Hair Bun
Popular Elizabeth Olsen Hairstyles
Elizabeth Olsen has a rounded face, so she usually gets classic layers, medium-length cuts, and bangs that suit her complexity. Scroll down and discover some of Elizabeth Olsen's hairstyles, haircuts and hair colors.
1. Back Bun
The actress has a fair skin tone and green eyes that she wants to highlight. This time, she wore a blonde ombre with highlights, a middle part, and a rolled-back bun.
The hairstyle looks sleek; the hair is perfectly combed and with no unaesthetic bumps.
2. Curtain Bangs with Layered Waves
In 2019, Elizabeth Olsen attended The Rape Foundation's Annual Brunch in Beverly Hills and she opted for long layered hair that she glamorously curled with a wand.
She added blonde highlights to her dark blonde natural color and chose curtain bangs that create great framing, cutting off the roundness.
3. Wispy Bangs
For Elizabeth Olsen, the best hair color range is between nuances of blonde and a light brown blonde color.
This time she chose a golden brown hair color with blonde highlights and bangs with longer corners on the sides. She also twisted her locks and created a back bun.
4. Side Braid
This darker golden blonde hair color suits Elizabeth Olsen like a glove.
Since she chose to wear an asymmetrical dress with one strap, she opted for a side hairstyle that falls on a different shoulder than the strap.
5. Straightened Hairstyle
For the premiere of 'Avengers: Endgame' which took place in Los Angeles in 2019, the actress went for flawlessly straightened hair and bangs that she spread on the forehead.
The long hair is layered and she wears some of the tresses on her back and shoulders.
6. Wavy Lob
This is probably one of the best Elizabeth Olsen hairstyles because it is glossy enough to suit a fancy event, and still makes her look young and playful.
The hair falls slightly on her shoulders, is loosely waved and her bangs are swiped and styled to the side to create angles.
7. Blonde Wavy Sombre
In 2016, Elizabeth Olsen stunned everybody with a full white dress at the European premiere of Captain America, in London.
She also opted for a lighter blonde nuance for her ombre. The top has a slightly wet look and her waves fall carelessly on the sides of her face.
8. Blunt Bob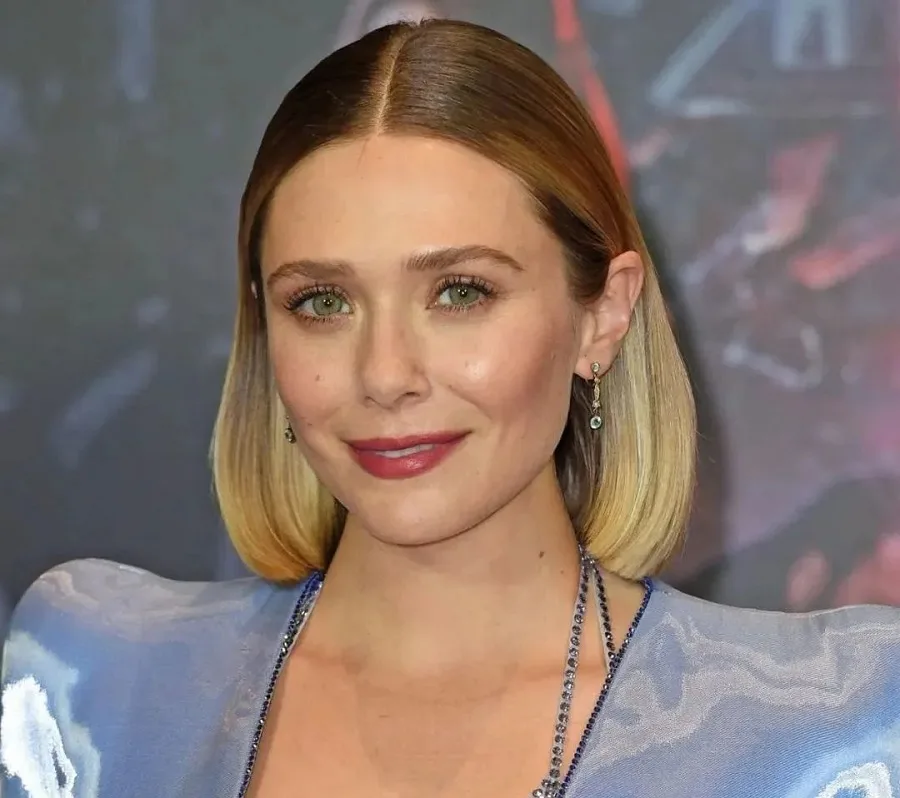 A round face means you might have prominent cheekbones, just like Elizabeth Olsen's. And she takes such pride in her facial figures and many times chooses to highlight her complexity with hairstyles that reveal her face.
If you have similar features, go for a brown blonde ombre and a blunt bob with a middle part.
9. Casual Short Waves with Bangs
Waves are part of Elizabeth Olsen's signature looks as the star loves to pull them off with numerous types of outfits.
The hair looks sun-kissed and the fringe is feathered and spread on the foreheads, kept flat.
10. Middle-Parted Curly Bob
She is one of the most famous blonde actresses in their 30s. Strawberry blonde colors and gigner blonde nuances suit our beloved actress like a glove.
The hairstyle she chose is a shoulder-length bob with a middle part and natural-looking curls.
11. Comb Over
This top-notch look suits Elizabeth Olsen like a charm as it reveals the neckline and her facial features.
The actress opted for a casual comb-over and a short bob haircut for the premiere of Doctor Strange in the Multiverse of Madness, in New York City.
12. Bob with Lifted Roots
With this look and hairstyle, Elizabeth Olsen demonstrated the old saying that sometimes less is more.
She had a spectacular appearance at the Premiere Of Marvel's Avengers Age Of Ultron held at Dolby Theatre in 2015, where she wore a golden wavy bob with copper-ish accents.
13. Side Part and Back Bun
Platinum blonde colors have such a marvelous effect on Elizabeth Olsen because, with proper smokey eye makeup, that green shade is even more eye-popping.
The hairstyle creates angles and reveals her face, as her hair is pinned back in a bun.
14. Bright Golden Blonde
Elizabeth Olsen's hairstyle features medium long hair that is bluntly cut, with a curvature for the ends.
The color is a mix of honey blonde and her natural dark blonde color for the roots.
15. Wavy Half Up Half Down
As you have seen so far, Elisabeth Olsen is one big fan of casual waves that give her hair texture. And why wouldn't she be, as they are such a flattering addition to any of her crops?
Recreate her look by choosing a medium trim and parting the crown hair, securing it in a pony.
If you loved any of Elizabeth Olsen's hairstyles from above, make sure you have a straightening iron and a curling wand at your disposal, as you'll be needing them quite often. Try some of these lovely cuts and look as glamorous as a Hollywood star.
Elizabeth Olsen's hairstyles are always channeling a bohemian and glamorous vibe that you can also easily recreate. Here are some examples!