Although it may seem like every Hollywood actress has blonde hair and blue eyes, you can find a large number of those who don't conform to this look.
Actresses with brown hair and green eyes are more popular than ever, and their unique hairstyles set them apart from others on the big screen.
Now, it might seem difficult to imagine that there are a great many actresses with this combo – after all, you might think, wouldn't you notice?
But in reality, green eyes can often be subtle, ranging from tones of light gray to deep, complex hazel, and there are plenty of green-eyed brunettes gracing the silver screen.
This list covers a wide range of hairstyles that are easy to achieve and maintain even without a professional stylist.
Popular Brown-Haired Actresses With Green Eyes
If you need some inspiration on how to achieve a movie star look with brown hair and green eyes, these ten actresses are terrific examples to imitate.
1. Rooney Mara – Dark Elegance
First up on our list is Rooney Mara, a brunette bombshell who commands attention with her dark brown locks and green eyes that always seem to be in an elegant style.
Whether she has it in a side or middle part, many of her signature styles include a sleek look.
2. Kristen Stewart – Brown Hair with Blonde Highlights
Although Kristen Stewart's hair has adapted through time, her deep brown color and edgy style are what many know her for.
She often appears with a short, grunge look that still remains stylish and professional with multiple layers for added body and texture regardless of the length.
3. Emily Browning – Short Gradient
Emily Browning has one of the most alluring, arresting looks of all actresses with brown hair and green eyes in Hollywood.
Her shorter styles are versatile enough to provide a tousled fun look, while at other times, she keeps her locks sleek and sophisticated.
4. Mila Kunis – Simple Sophistication
Ukrainian-American actress Mila Kunis is known worldwide for her luscious, unmistakable brown locks.
Although she has sported several different styles on the red carpet through the years, her most iconic look is showing off long, straight hair that is simple yet tasteful for any occasion.
5. Lizzy Caplan – Wavy Bob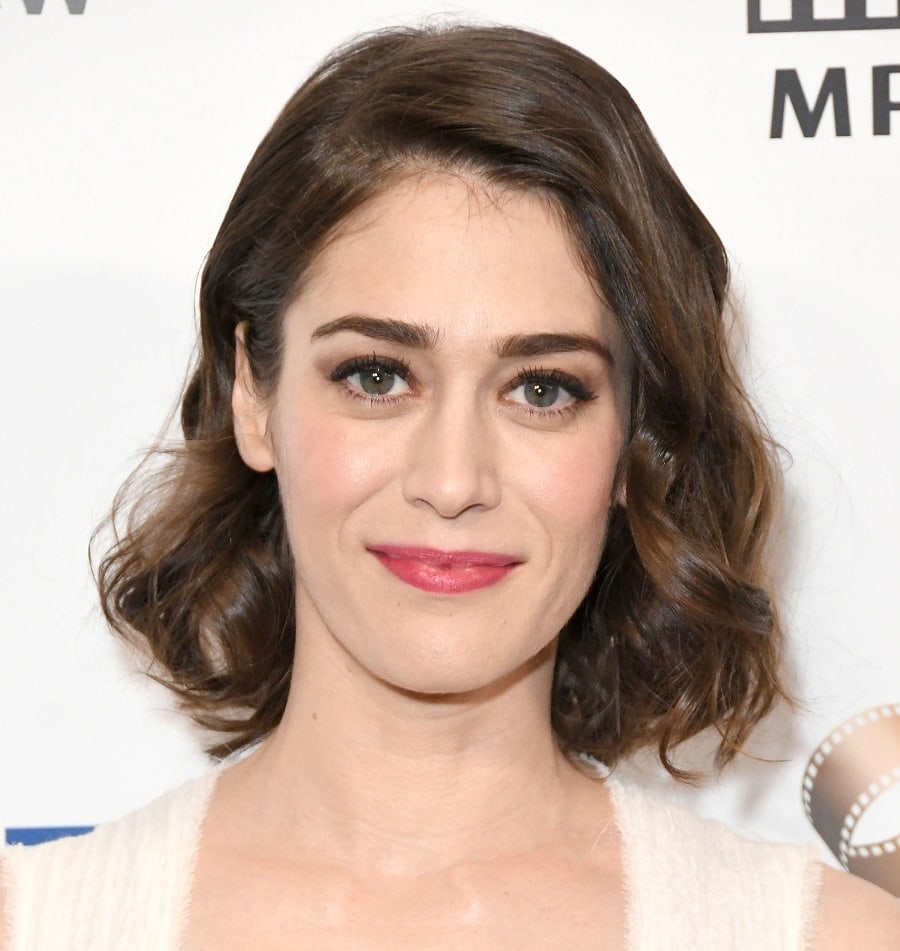 The next actress on our list is the drop-dead gorgeous Lizzy Caplan. She goes against the traditional brunette mold and showcases her hair often in an attractive bob cut.
This celebrity short hair look frames her face and helps soften her look, giving her a fun and playful allure.
6. Elizabeth Olsen – Light Brown Ombre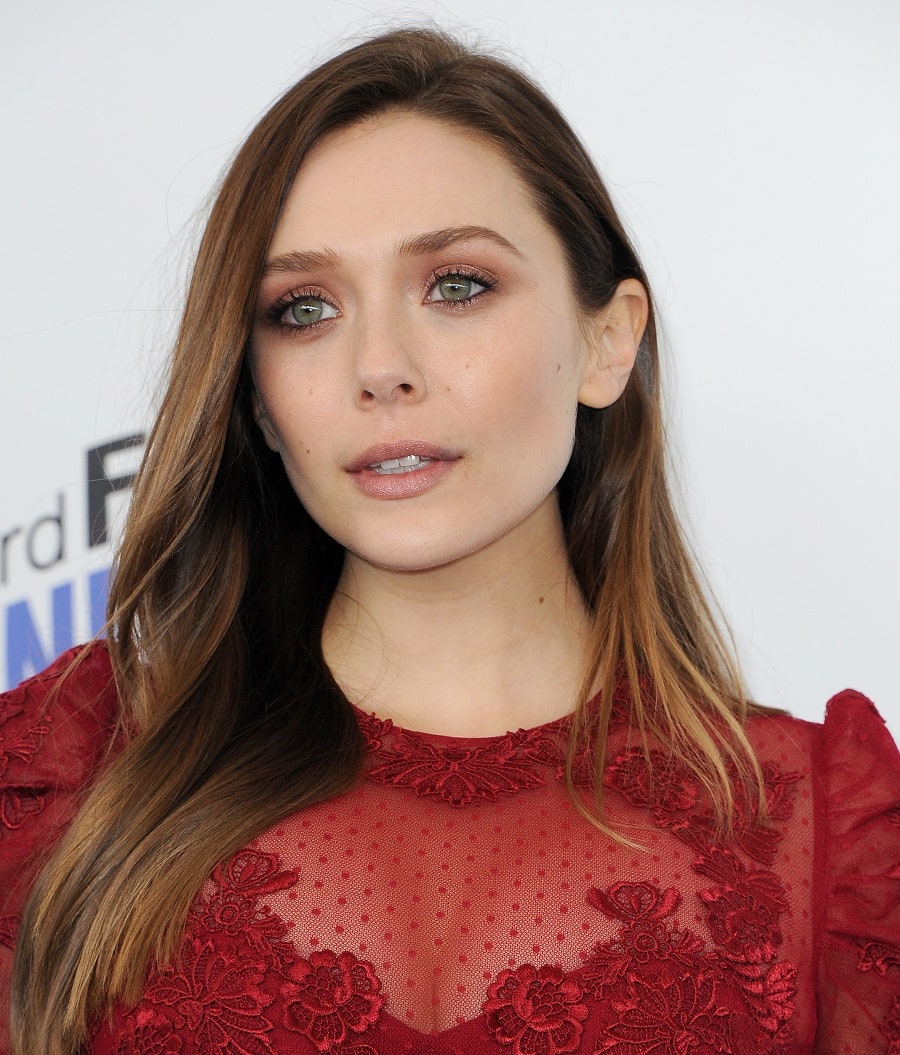 As a brunette in Hollywood, Elizabeth Olsen is well-known for her medium-length light-brown locks with a gentle allure.
She often wears her hair in soft waves or loose curls that don't weigh her locks down and are perfect for any situation.
7. Camilla Belle – Chestnut Layers
As one of the famous actresses with brown hair and green eyes, the alluring Camilla Belle has had several popular hairstyles throughout her career.
The most popular one is her overgrown bangs to compliment her locks that range between medium-length and long.
8. Jennifer Carpenter – Half Up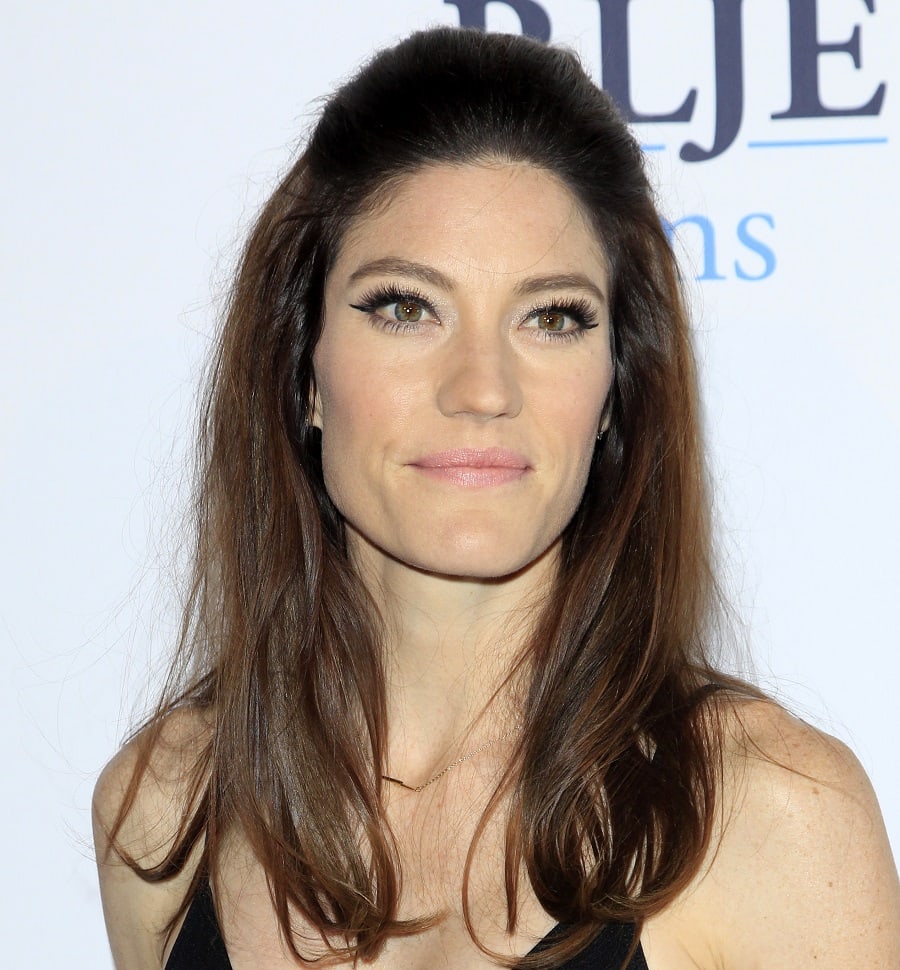 One of the most famous brown-haired actresses over 40. Jennifer Carpenter is well-known for keeping her brown hair in a softer style that is reflective of her personality.
Slight waves with an ombre color help to provide a more relaxed look in a style that is easy to achieve and maintain throughout the day.
9. Emma Stone – Iconic Waves
Hollywood icon and Oscar-winner actress with green eyes has worn many styles over the years, but there is no mistaking her brunette waves in a lengthy bob.
If you have a natural wave-like her, try Emma's smooth, fashionable look with a bob cut for a classic yet notable hairstyle.
10. Alexa Chung – Subtle Body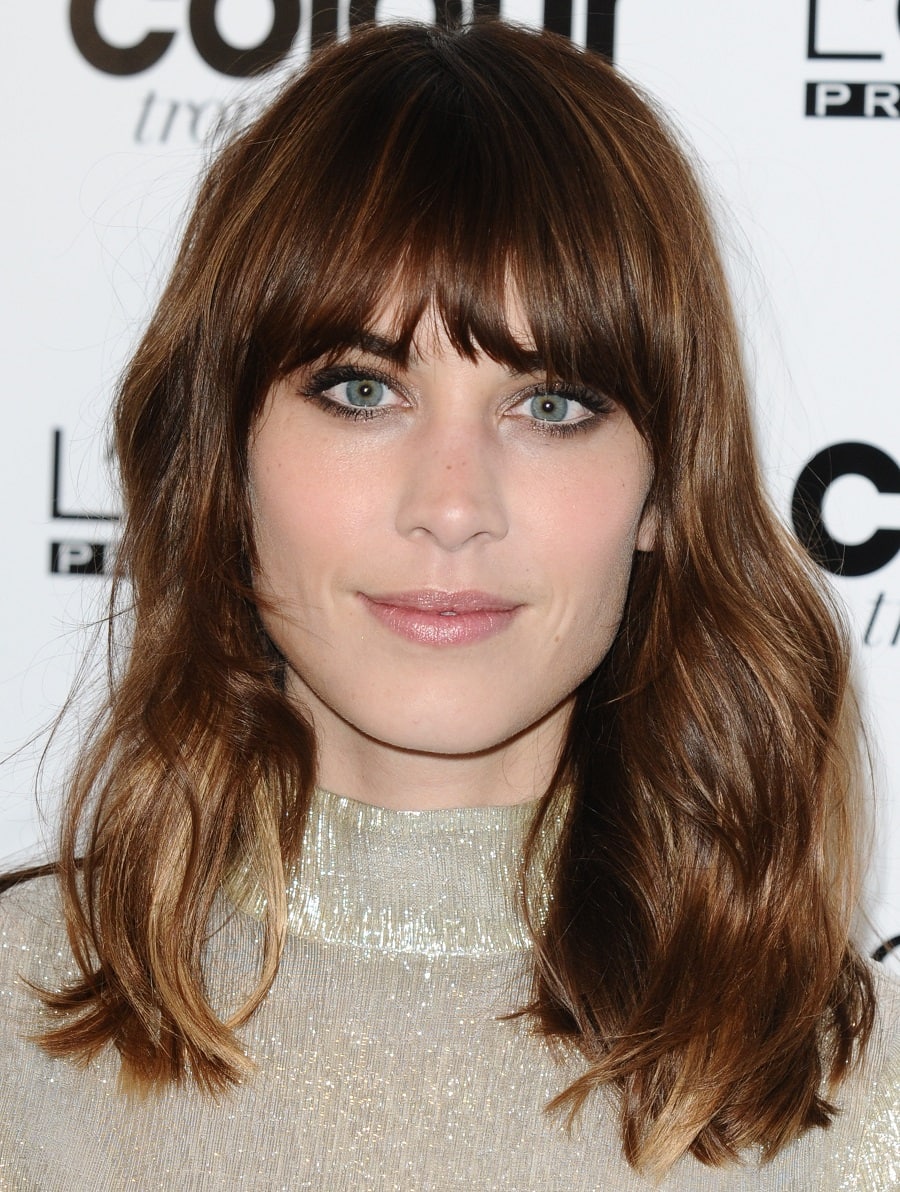 Last but most certainly not least is Alexa Chung. Her medium brown hair always looks terrific with its subtle waves and curls.
This hairstyle pairs well with short or overgrown bangs, making her shoulder-length cut an easy-to-manage style for anyone wanting to replicate her look.
All the actresses on this list are icons in the world of acting, modeling, and entrepreneurship, so it's a no-brainer to turn to them for fashion influence.
But just in case you need a little extra inspiration for brunette hairstyles, we've got you the top 10 actresses with brown hair and green eyes. Check them out!
Related Topics: