Have you ever let fear of picking the wrong haircut for your face shape prevent you from going for that awesome new long hairstyle? If you have, you're not alone. Many women actually end up completely ignoring their face shape and just opt for whichever long hairstyle they're drawn to most!
There's certainly nothing wrong with that, but it has to be said that if you do consider your face shape when choosing a long hairstyle, the result will be better than if you hadn't. If you have short hair, try a hairstyle that'll look good with short hair.
So don't feel stuck or confused! We'll help you figure out if your face shape will look good with long hair. Forget about hair textures and colors. As long as you have the hair length, we can find a gorgeous long hairstyle for your face shape.
Suitable Long Hairstyles for Different Face Shapes
Now that you know your face shape, let's find some fabulous long hairstyles for you to start rocking!
1. Half Up Bun for Long Hair – Round Face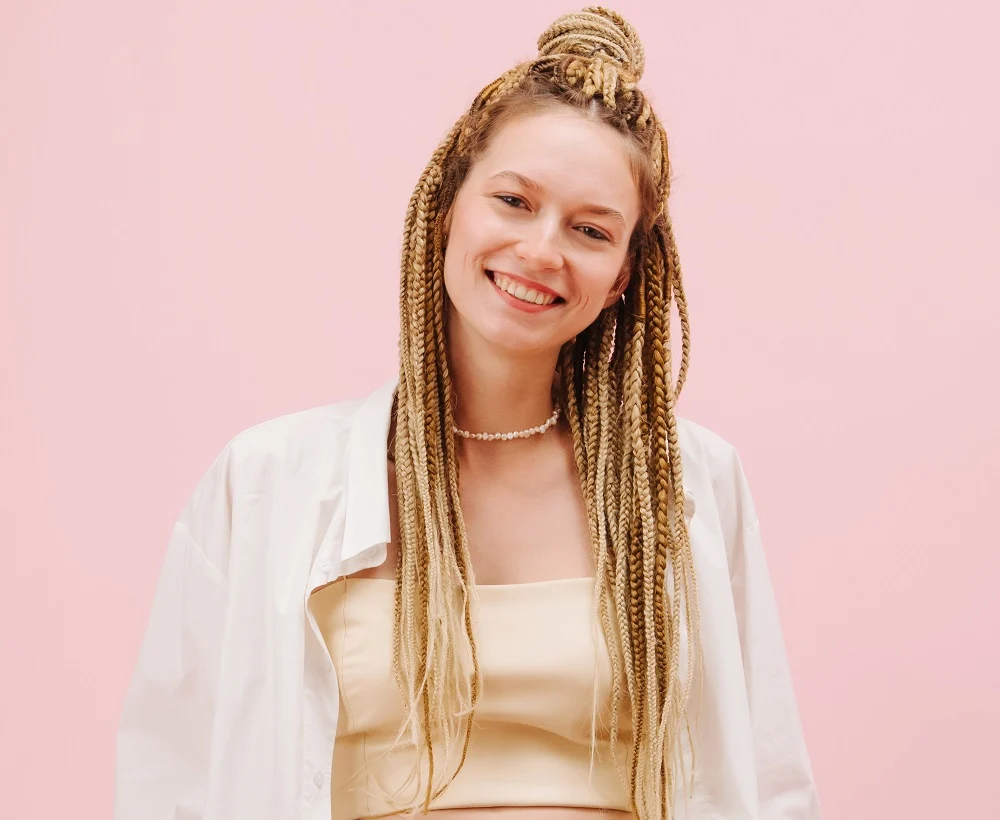 Whether you like rocking braids, twists, or dreads, if you have a square face, then rock a long half up half down hairstyle. This one just involves gathering the hair in a ponytail or bun with the top half of the hair.
2. Thick Curly Hair – Oval Face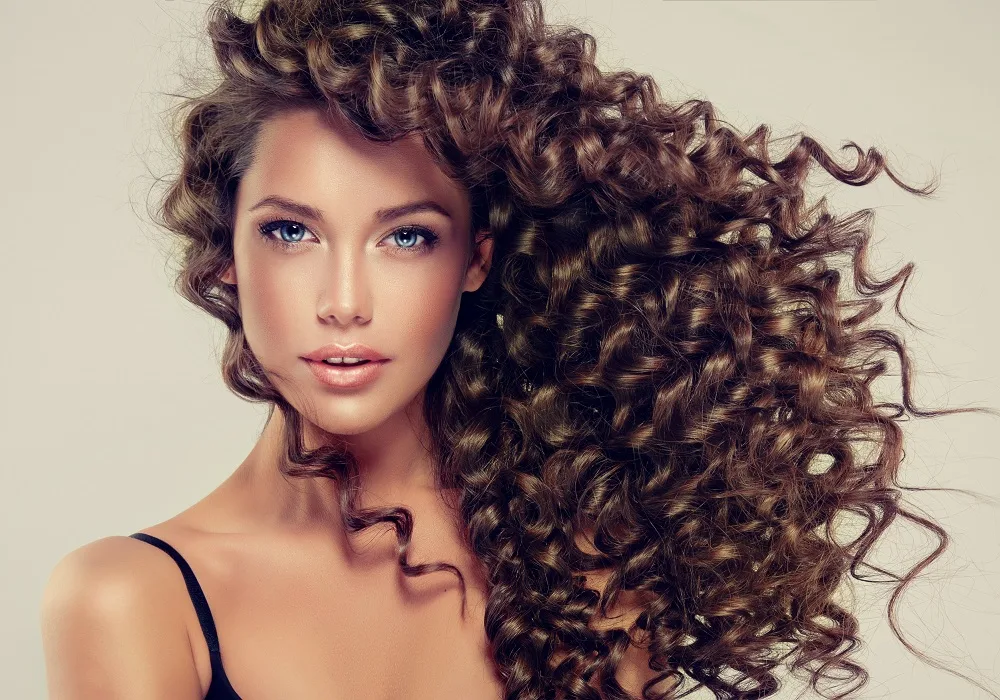 A long face shape is made instantly model-gorgeous with thick long curly hair. You can make natural curls even curlier by scrunching in a curl creme. Otherwise, create the voluminous texture with a curling iron.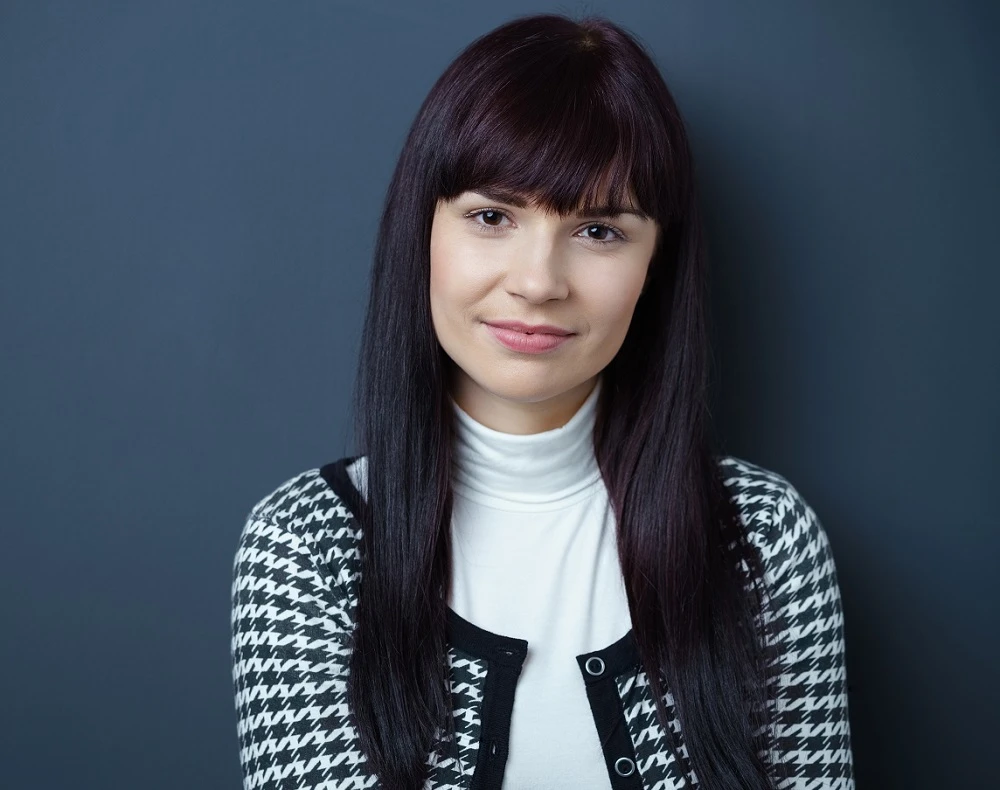 Are you currently rocking bangs you don't want to give up? If you have a square face, there's no need to chop them off. Just straighten them and the rest of your hair and wear it long.
4. Messy Ombre Hair on Oval Face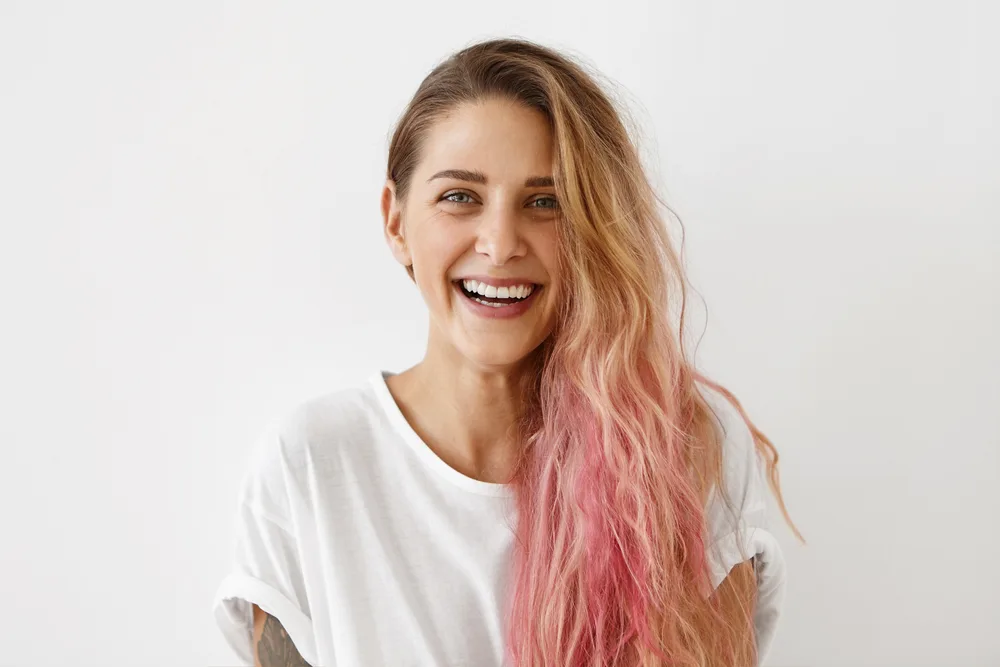 For an oval-faced lady, try this gorgeous long hairstyle. It's light blond with a hot pink ombre, a pretty punch of color to brighten up any skin tone.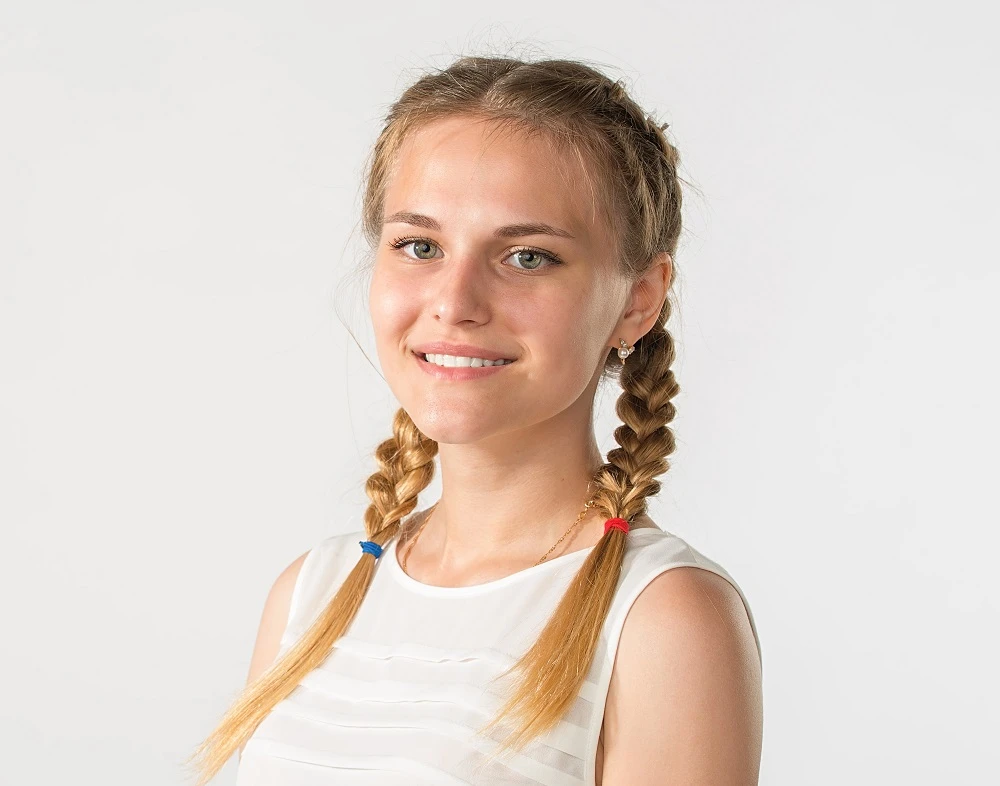 For ladies with a triangle face shape, try a playful and youthful long hairstyle like two low braided pigtails. It only takes minutes to part hair in the center and wind the braids together, securing three-quarters of the way down with colorful hair ties.
A square face shape is beautifully accentuated when you part hair in the center and comb it all back into a low ponytail secured at the neckline. If you have extra long hair, drape your ponytail over the shoulder for drama.
7. Side Bun for Oval Face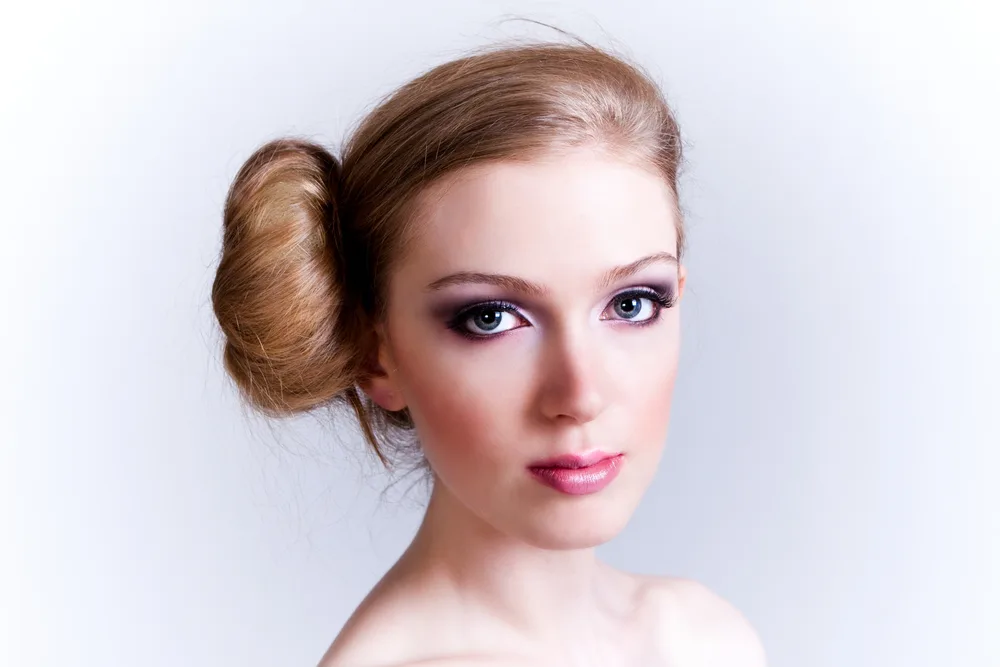 For prom, date night, or a wedding you're attending, an elegant side bun makes for the perfect long hairstyle for women with oval faces. Its volume is noticeable in the shape and it's easily fancied up with a few small flowers tucked in throughout.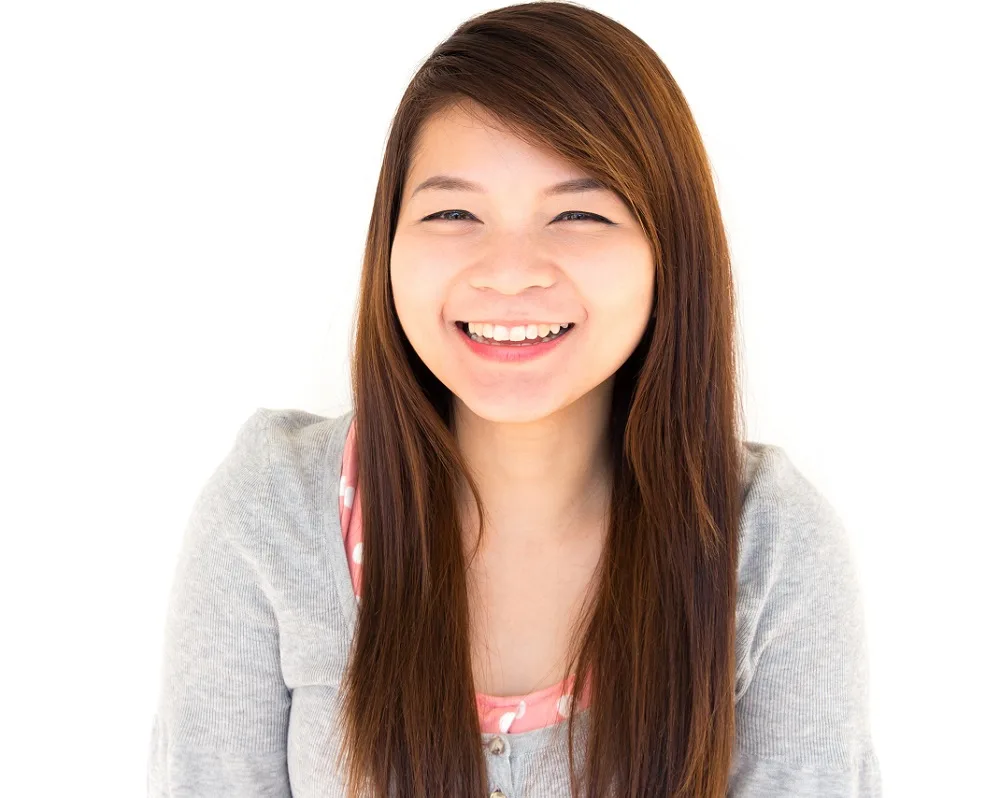 To off-set a round face shape, first add long layers to your hair. Then part hair at the side and watch how the side bangs lie softly across the forehead to break up the dimension.
9. Low Twist Bun Updo – Diamond Face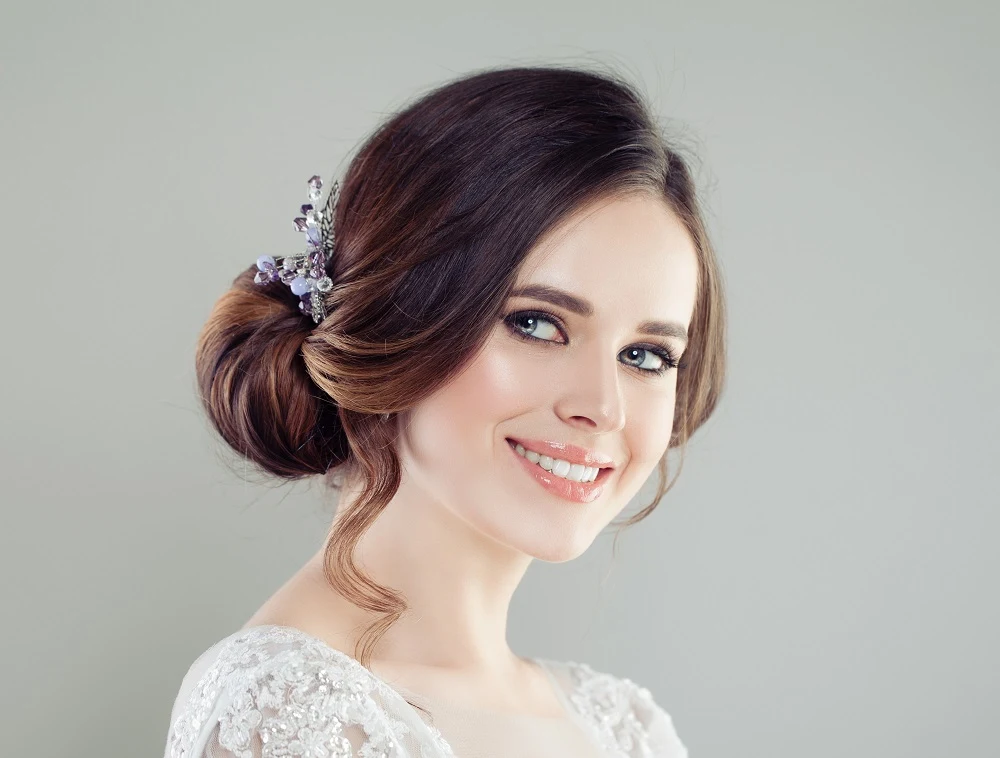 A diamond face will shine with a low long hairstyle like a twisty bun. Secure it loosely either at the neckline or off to the side. A few loose wavy tendrils around the neck make this long hairstyle soft and romantic.
10. Jumbo Braided Bun – Round Face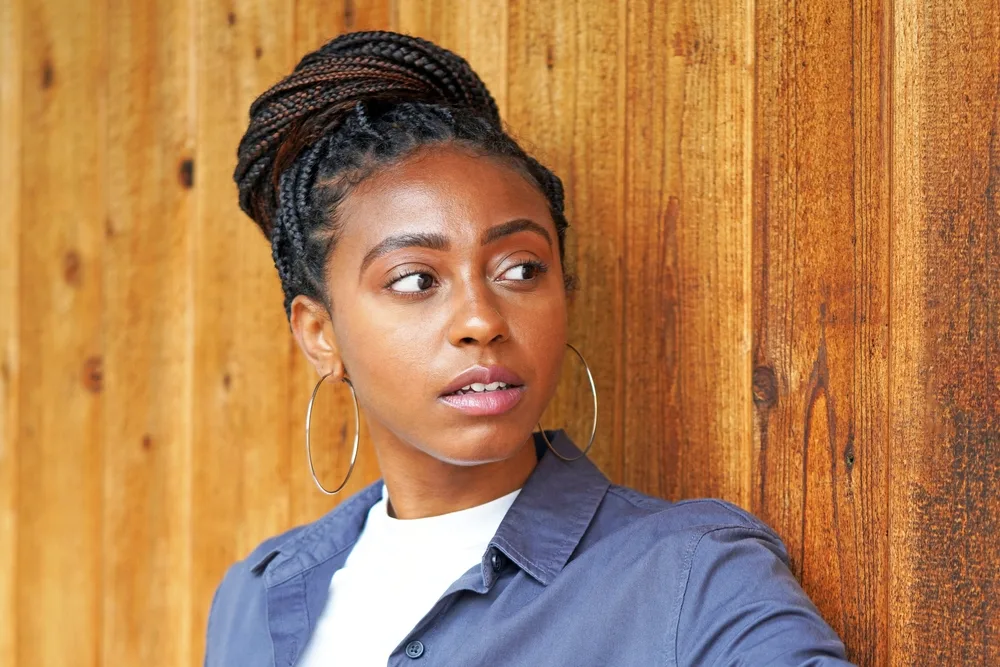 Are you a lady with natural black long hair and a round face? Wear that long hair in box braids or twists and gather it up in a large jumbo bun secured at the crown of your head. The extra shape of your jumbo bun, along with its texture, will beautifully complement your round face shape.
Face Shape Characteristics
Before we jump into long hairstyles for different face shapes, let's talk a little bit about what each face shape looks like to better help you recognize yours.
1. Round Face: Try Half Up with Bangs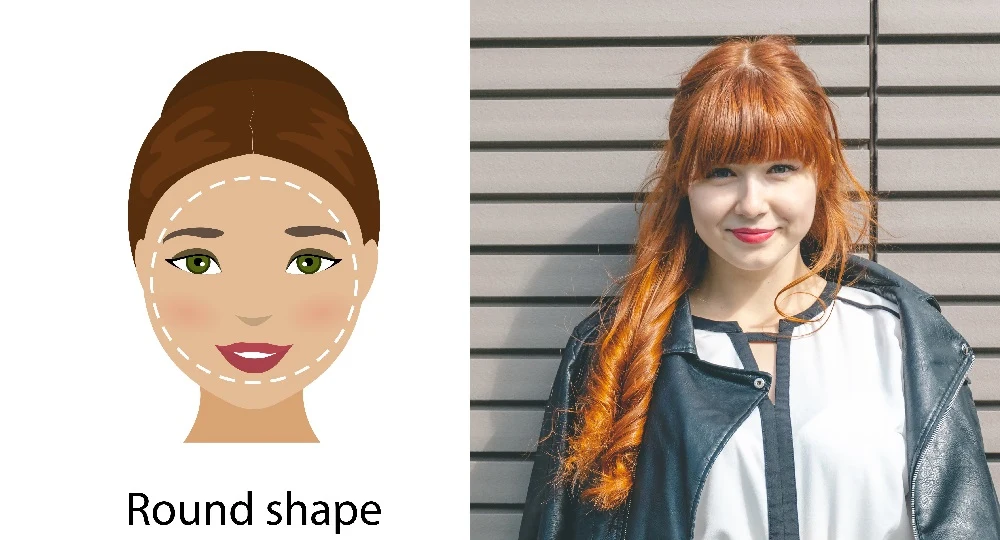 For a round face, the shape is pretty evenly rounded. A long hairstyle with bangs will both distract from the roundness when hair is worn down (like above in the half ponytail hairstyle) or accentuate your face shape when pulled up in a cute ponytail or bun.
For round face hairstyle inspiration, take a look at celebs like Drew Barrymore, Hayden Panettiere, Mila Kunis, and Isla Fischer. These ladies need to be red carpet ready with their round faces so you can count on their long hair stylists!
2. Oval Face: Smooth Ballerina Buns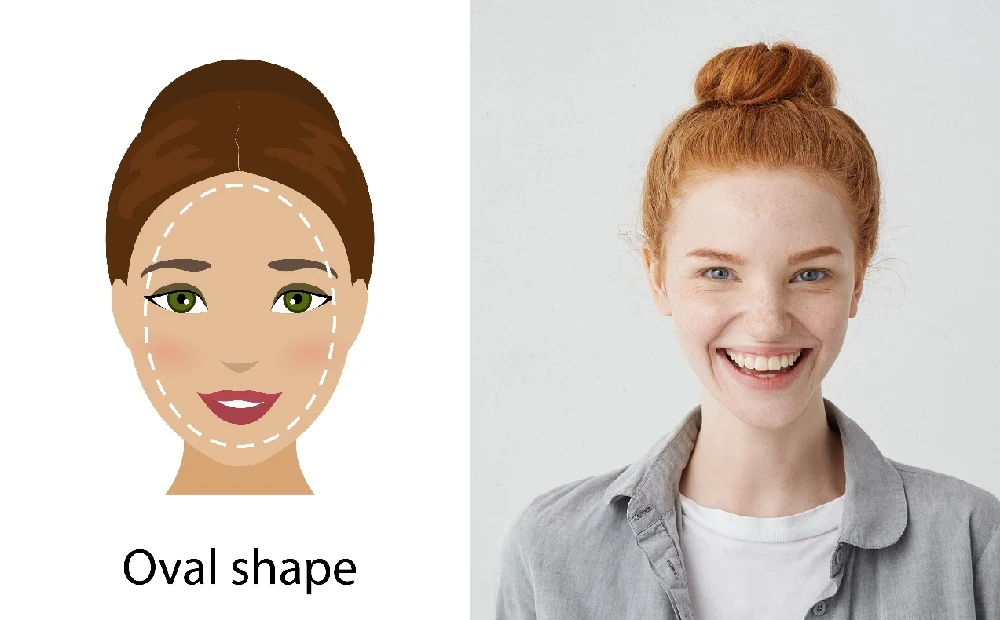 If you have an oval face shape, you're probably aware of its similarity to an egg. The narrow sides and slightly wider top and bottom create the shape. If you don't have bangs to cut up your face's dimensions, don't be afraid of rocking a long hairstyle that accentuates your oval face shape, such as a high bun or ponytail.
Cameron Diaz, Rihanna, Charlize Theron, and Cindy Crawford all have oval face shapes. For edgier long hairstyles, you can refer to Rihanna and for elegance, check out Cindy Crawford.
3. Triangle Face: A Sophisticated Low Pony
The triangle face shape means the top half of your face is wider while the bottom half is narrow and pointed. A gorgeous long hairstyle would be a low ponytail you can drape over the shoulder or pull to the side for showing off the length.
You might think a triangular face shape with a long hairstyle is difficult to spot among celebrities, but think of Reese Witherspoon, Geena Davis, and Shailene Woodley. These classy ladies perfectly model long hairstyles with their triangle face shapes.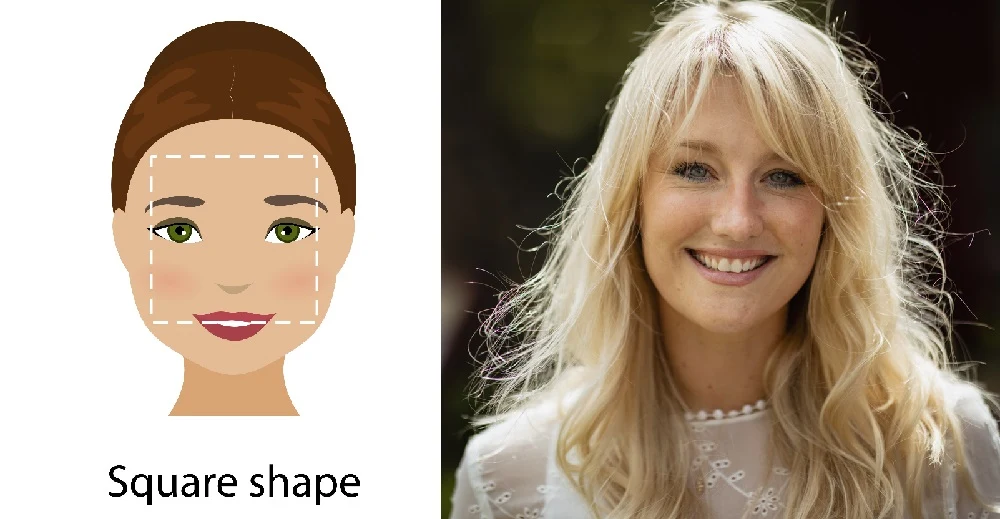 If your face is square-shaped, that means all sides of your face are pretty much equal in length. A long wavy hairstyle with piecey, side bangs or curtain bangs would be adorable on you.
Long hair inspiration on square face shapes can be seen on leading ladies Natalie Portman, Sandra Bullock, and the beloved Jennifer Aniston.
5. Long Face: Low Side Braid Parted in the Center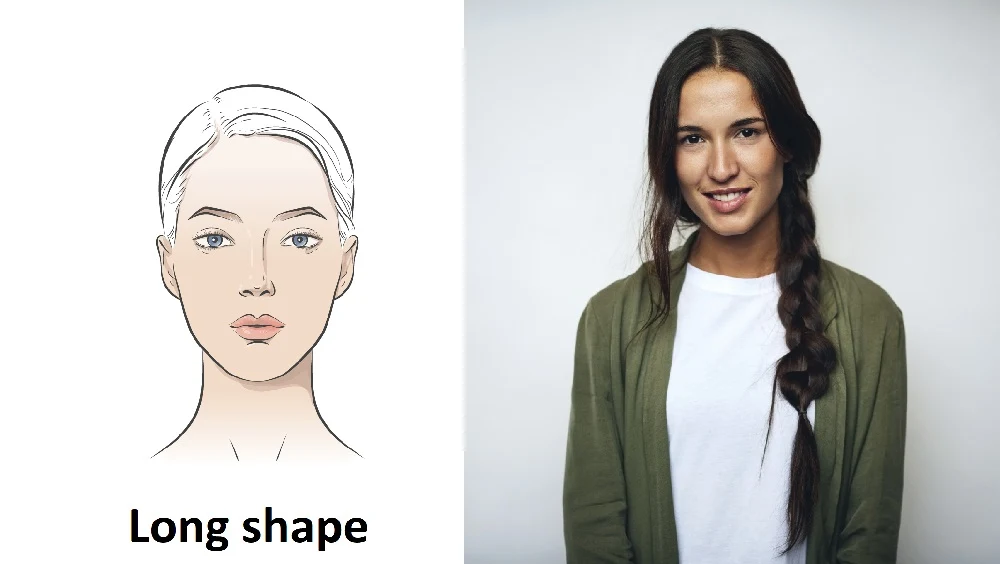 When you have a long face shape, you might notice the narrowness up and down. The width of your face is about the same at each section of your face. Try a long hairstyle like a low side braid that drapes over your shoulder. Pull a thick section of hair loose on the opposite side to create softness.
Sarah Jessica Parker's famous long face wears long hair gorgeously, but you can also check out Liv Tyler, Gisele Bundchen, or Lisa Kudrow.
6. Triangular Face Shape: Space Buns and Thick Fringe
Another beautiful and chic long hairstyle to rock for a triangular face shape are two high space buns. This playful style is made chic with the long thick bangs that come past the eyebrows.
A diamond face shape is very versatile in all the hairstyles you can rock, so consider yourself lucky! The symmetry of a diamond face shape means you'll look gorgeous with a long hairstyle full of waves or curls and parted in the center or slightly off center for extra volume.
For long hairstyle inspiration for your diamond face shape, you can count on everyone's favorite Jennifer Lopez, Megan Fox, and Tyra Banks.
By now you must be feeling inspired to choose a beautiful long hairstyle for your face shape. It's true, there are many face shapes in the world, but choosing a flattering long hairstyle doesn't have to be difficult!
When in doubt, look up celebrities with your face shape for some long hairstyle ideas. If they can rock your face shape with a beautiful hairdo, so can you!