Flip bobs are back, so if you want to be that cool girl, babe, you have to sprint to your favorite hair salon and get this amazing new cut. This retro look faces a great comeback, and all your favorite artists and stars are embracing it on the red carpet.
But you might wonder what a flip bob is and why it's so popular. Let's learn more about this flattering bob hairstyle.
What is Flip Bob?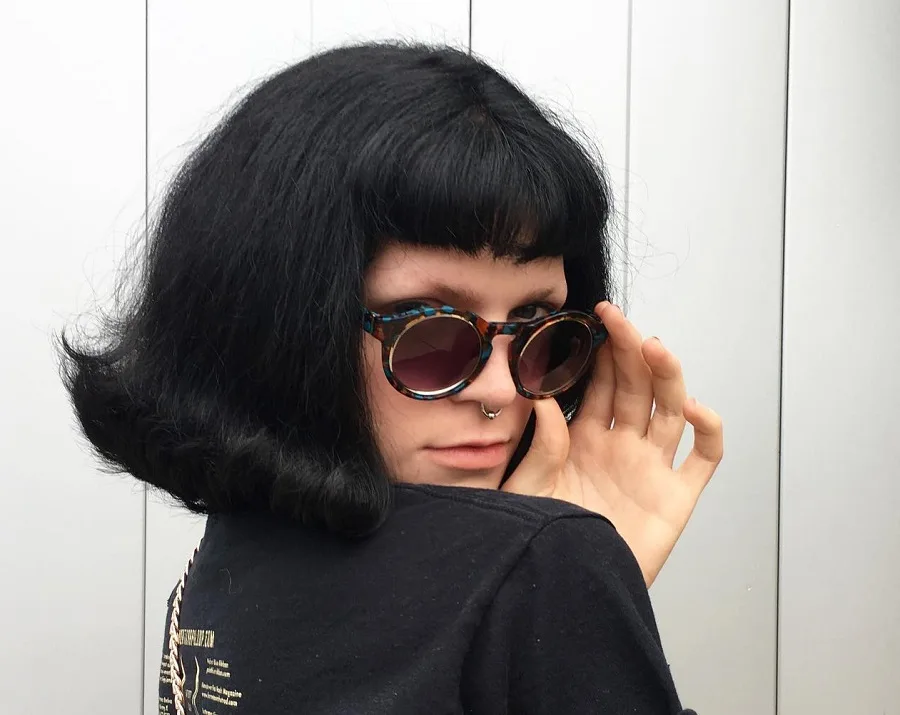 A flip bob was a signature look for Jacqueline Kennedy, the first lady in the 60s who was well known for her grace and style. She always had elegant and head-turning appearances and inspired many women from her period to adopt this hairstyle, layer their hair, and twist those ends to obtain more volume.
And the reason this bob hairstyle is back in trend after so many decades is because the cut is too good to be ignored! It will channel your feminine side and is a fabulous option for those who pay a lot of attention to their tresses.
The hairstyle usually keeps the hair straightened and, with a twist for the ends, a flip that goes inwards or outwards.
We gathered a collection of flip bob haircuts that can suit any face shape and style, so scroll down to discover them.
History of Flip Bob Hairstyle
The flip bob hairstyle has stood the test of time and continues to stand out even in 2023.
Many iconic celebs have worn this bob hairstyle, including former First Lady Jacqueline Kennedy Onassis and actress Jane Fonda, solidifying its place as a timeless classic.
The flipped bob became popular in the 60s because of First Lady Jacqueline Kennedy. Popular host Mary Tyler Moore also made this hairstyle famous through her popular show 'The Mary Tyler Moore Show' & 'The Dick Van Dyke Show' in the 60s and 70s.
The popularity soared in 1978 after Olivia Newton-John sported the look in the classic film 'Grease'.
Throughout the 1980s, the Flip Bob evolved by women adding colorful headbands and accessories.
However, in the early 2000s, Pop singer Dido's modified version of the Flip Bob got popularity as "the Dido flip." This version of the Flip Bob featured lots of layers and a more whimsical, playful vibe, setting the stage for a new era of the classic style.
Gorgeous Flip Bob Hairstyles
The Flip Bob is still a go-to hairstyle for women who love a chic, sophisticated vintage look. This beautiful bob hairstyle has been worn by many famous celebrities throughout history. Check out our roundup of the best Flip Bob hairstyles, from classic to modern variations.
1. Back Flip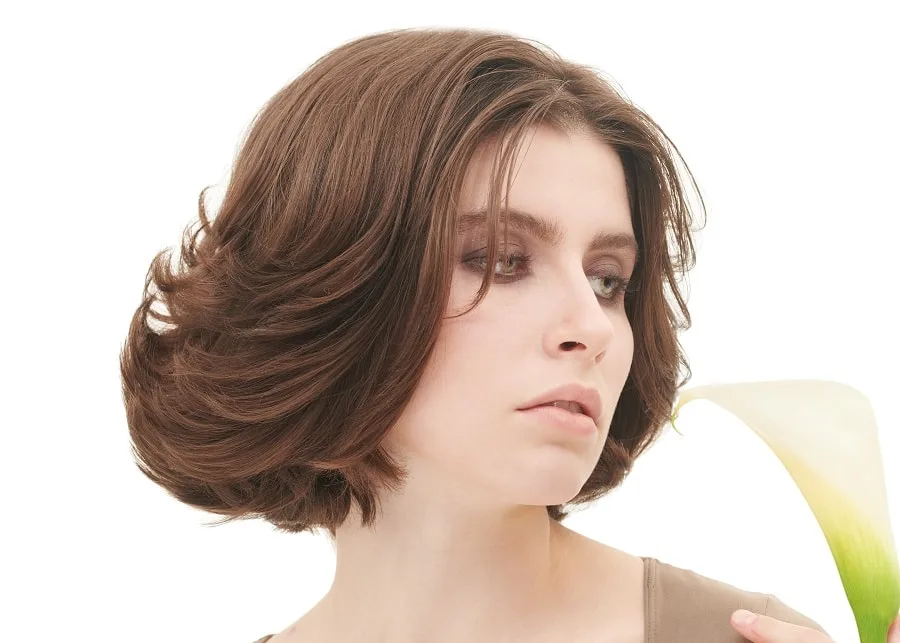 A flipped bob needs many layers to help you create that curved texture. It is not a low-maintenance hairstyle because it requires your daily attention and effort. If you like more practical haircuts, a flip bob is probably not your best option.
2. 70's Hair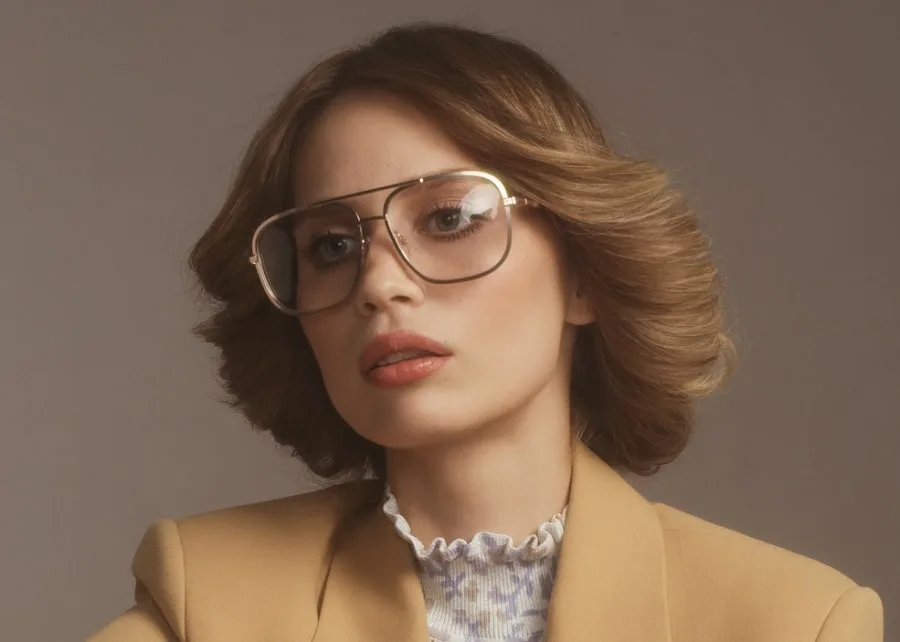 You know how fashion works, all trends come back one way or another, and a flip bob is no exception. To recreate this 70's look, you will need hair rollers or a wide curler.
You can achieve this twist by using a round brush when drying your hair. You will build more texture and such amazing volume.
3. Bright Red Twist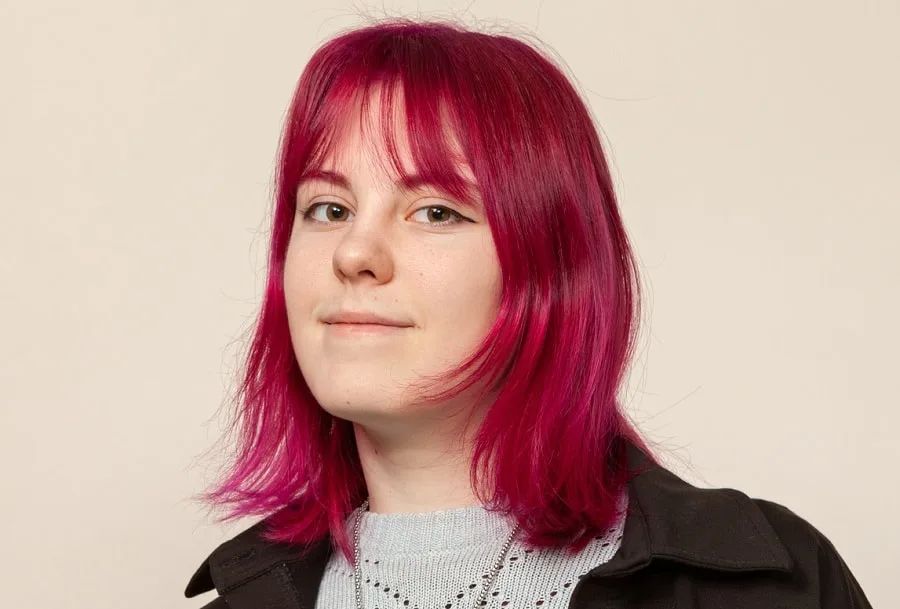 Layering your hair is a good idea when you want a little bit more volume and body. Go for a bright hair color like this pink-red vivid nuance. Curtain bangs are also a symbol from the 60s, and they will look great with a medium cut with flipped ends.
4. Short Asymmetrical Bob
Asymmetrical bobs will probably always be in style because they are so easy to adapt to hairstyling trends. So get a short bob with long bangs flipped on one side. On the other lateral, which is considerably shorter, use a curling wand to give your ends an outwards twist.
5. Side Back Comb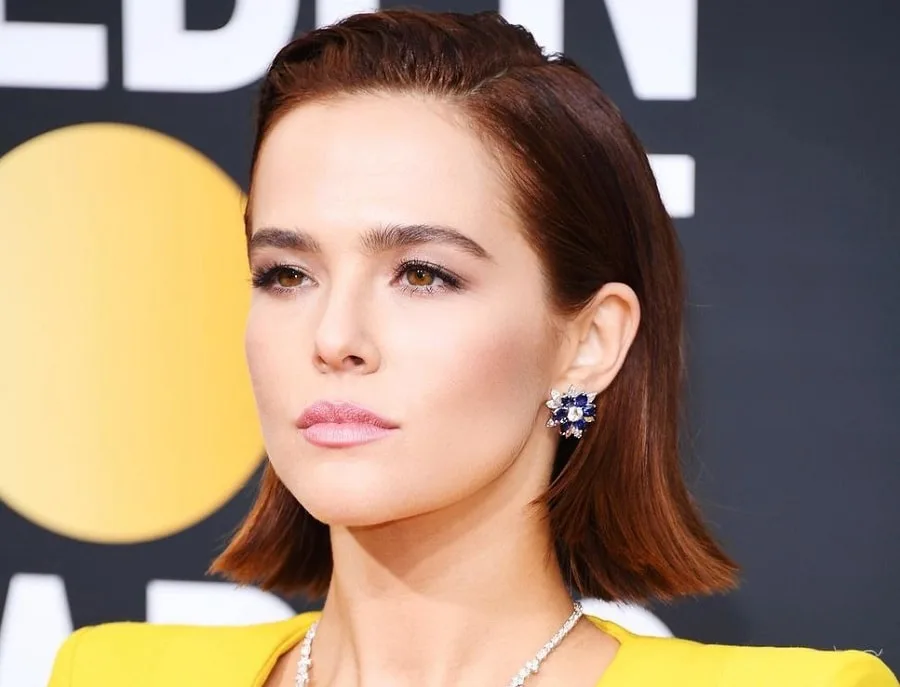 Zoey Deutch is not the only actress with a soft spot for flipped bobs. And you can't blame her when you see her on the red carpet looking so spectacular.
She went for a straight bob cut, with flawlessly straightened hair and slightly twisted ends. For the top, she opted for a side comb over with a little bit of height.
6. 70 s Curled Ends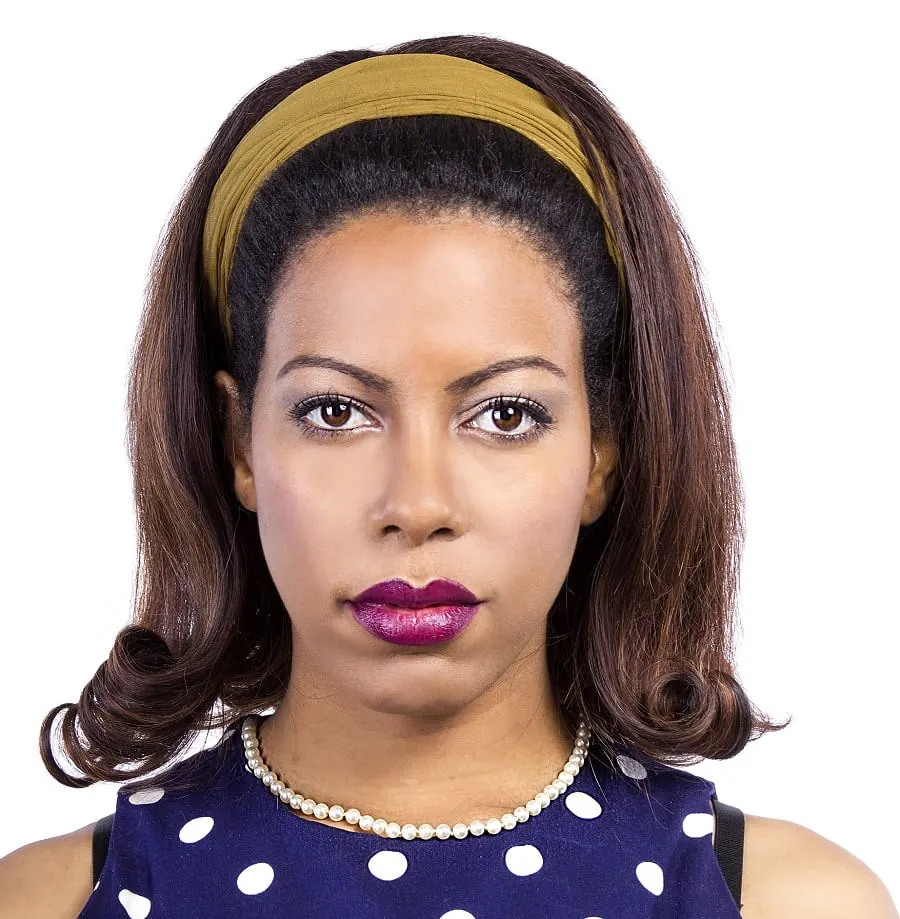 Back in the 60s women used to curl their ends with heated hair rollers. Nowadays, you will only need a straightening iron and a curling wand to achieve this retro look.
And don't forget to pull your hair back with a headband. If your hair is coarse, don't straighten the roots to preserve that volume.
7. Hairstyle for Fine Hair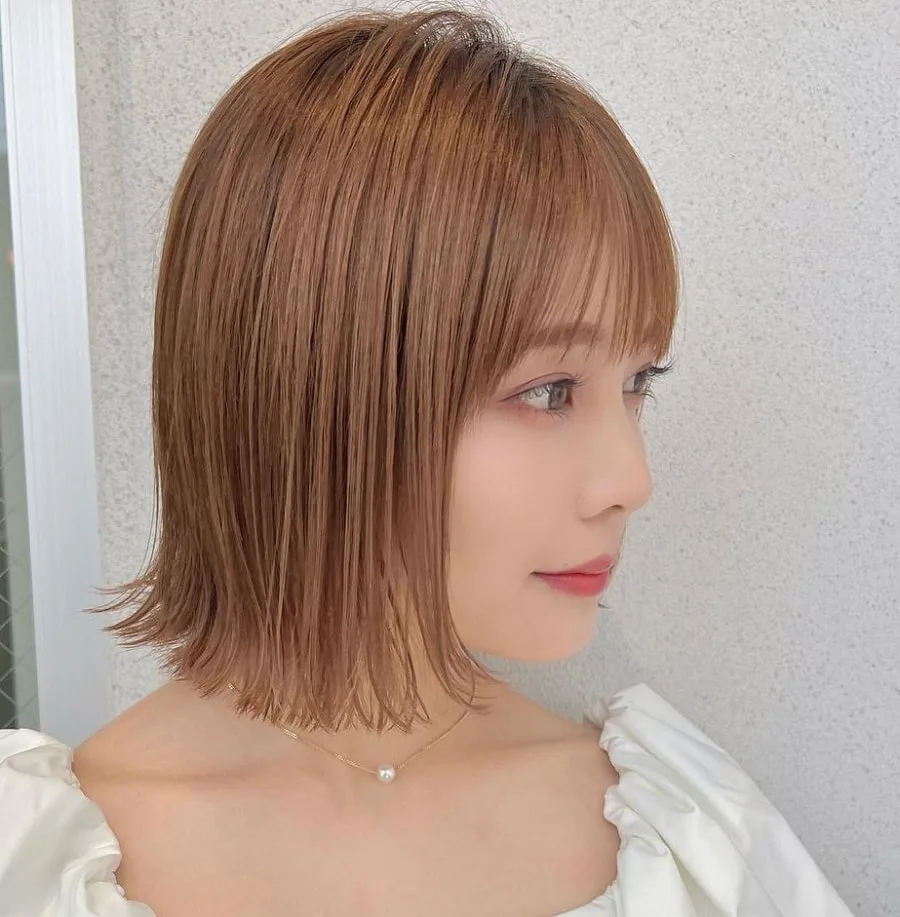 Get a straight-line bob that reaches the jawline. Apply wet gel that gives your hair a shiny effect and twist your ends. Get long straight wispy bangs that cover your eyebrows and choose a side part. Tease the roots to give them more height.
8. Romantic Look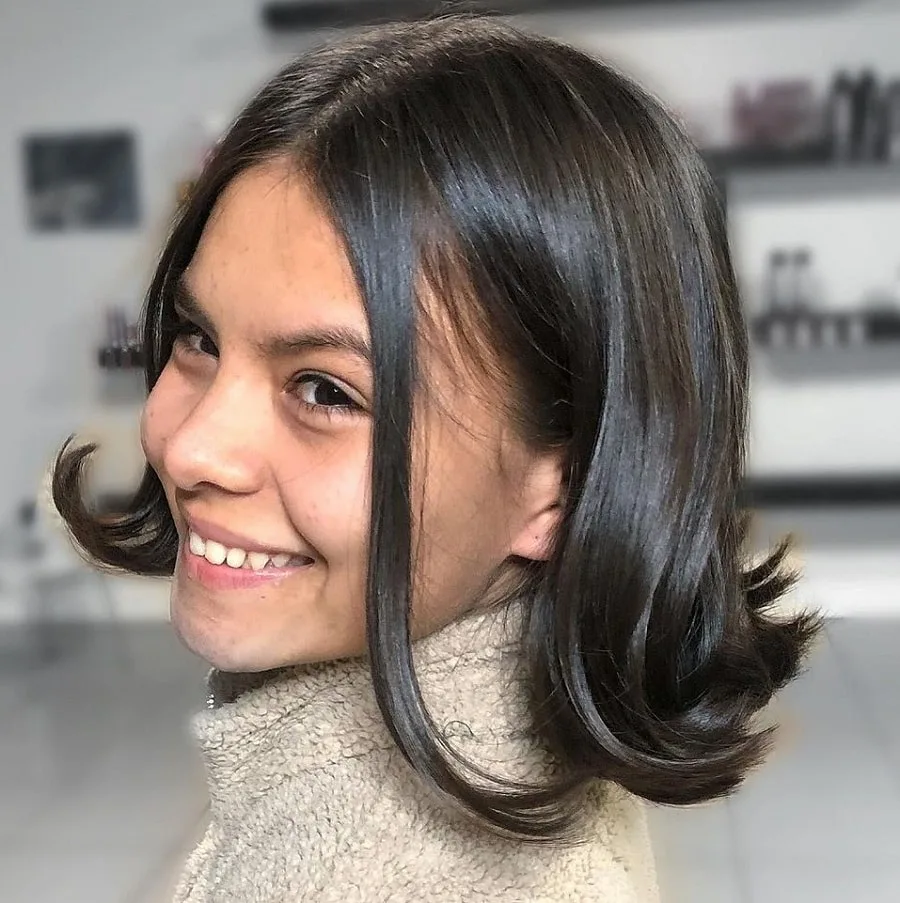 This hairstyle is a great idea for women of all ages who want a cute change that is easy to style. You can twist these ends with rollers, a rounded brush with an applied heat source, or a thick wand. Also, go for a middle part to frame your face properly.
9. Messy Layered Bob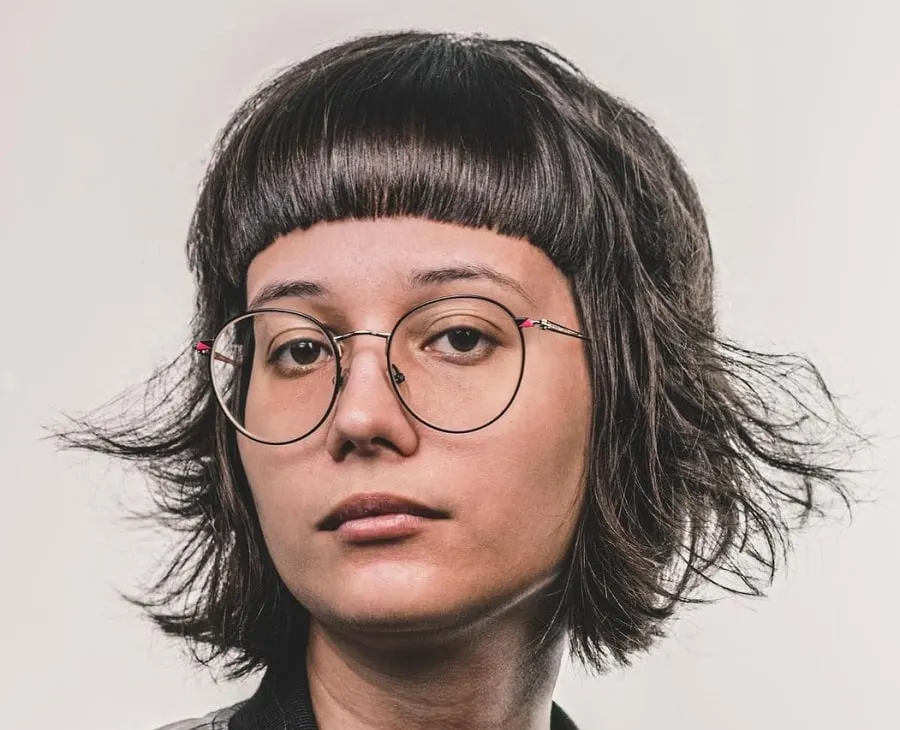 Layers are your best friend when you want a messy look. Tousle your bob and apply hair gel to preserve the shape. Get short bangs that are slightly rounded and cut them one or two fingers above the eyebrows. Your fringe should look straightened and bouncy.
10. Copper Bob with Bangs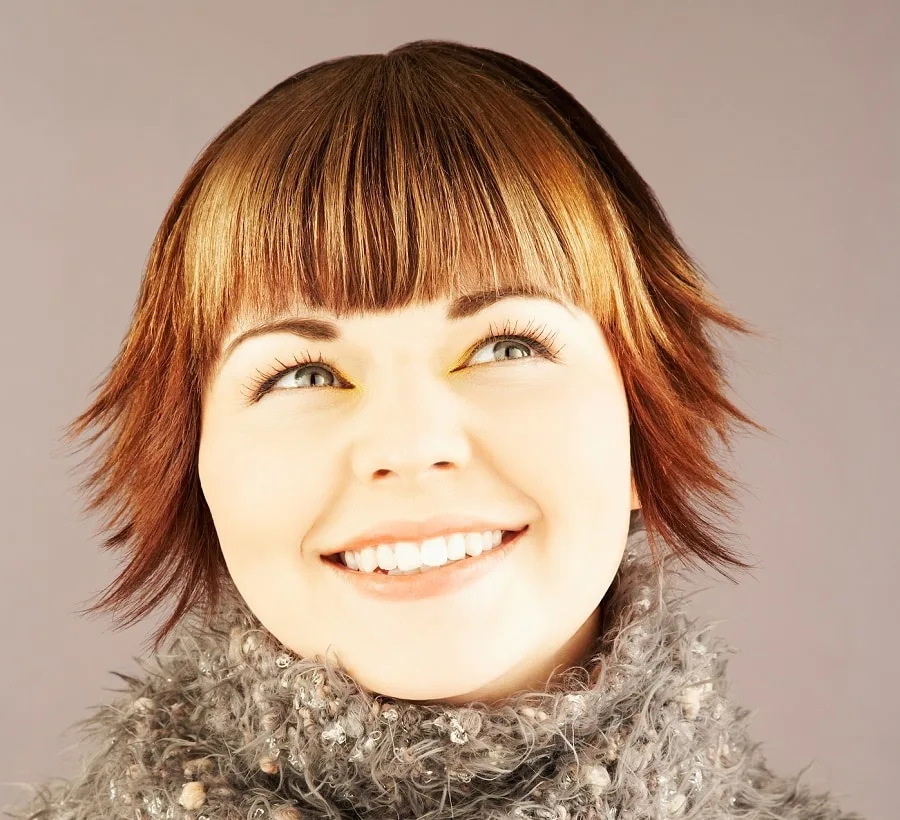 A flip bob makes such a great team with bangs. Get layers and style the ends upwards, messily. To create more warmth and contrast, pick a lighter nuance for your bangs and spread them on your forehead.
11. Casual Look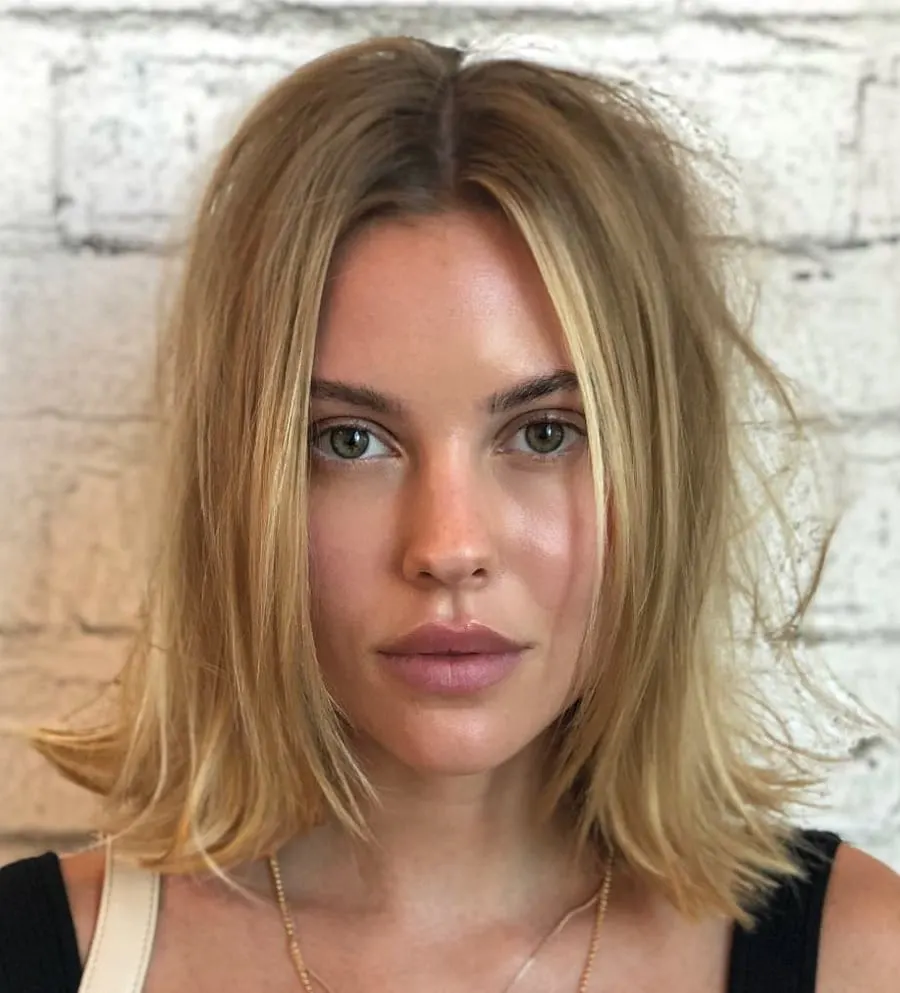 Sometimes a little mess can look so damn fine, especially when the base haircut is a trendy one, like this flip bob. All you have to do is use your curling wand to twist the ends and tousle those hair strands. Go for a honey-blonde color with darker roots and a middle part.
12. Jet Black Hair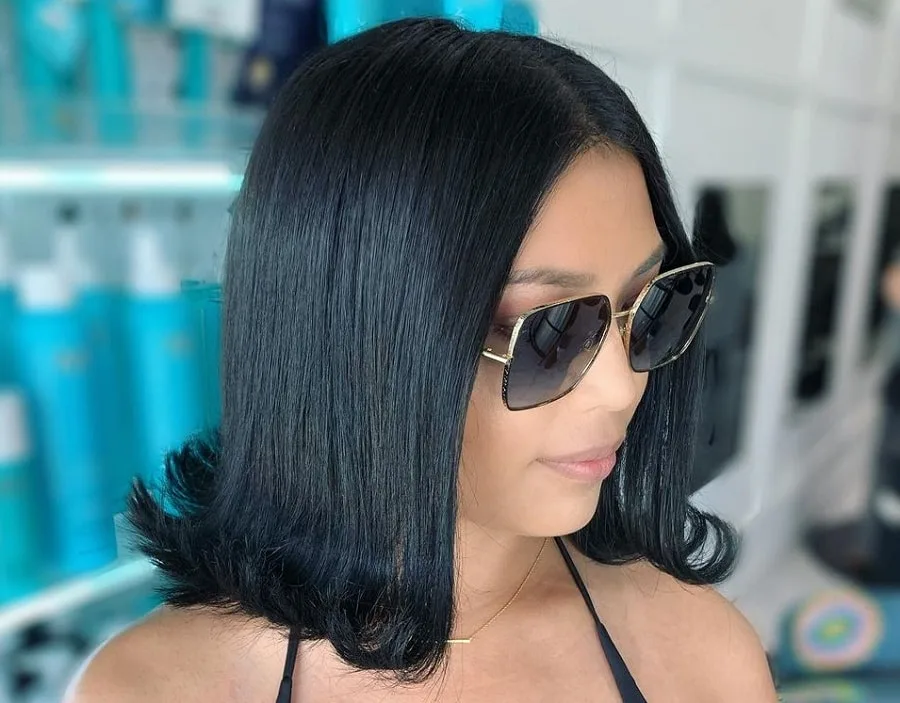 When retro meets modern, the result is this stunning flip bob hairstyle. Get a jet-black color that elongates your face and makes you look thinner, and straighten your hair if you want to achieve perfection. Twist the ends, grab your glasses, and you are ready to rock.
13. Smooth Waves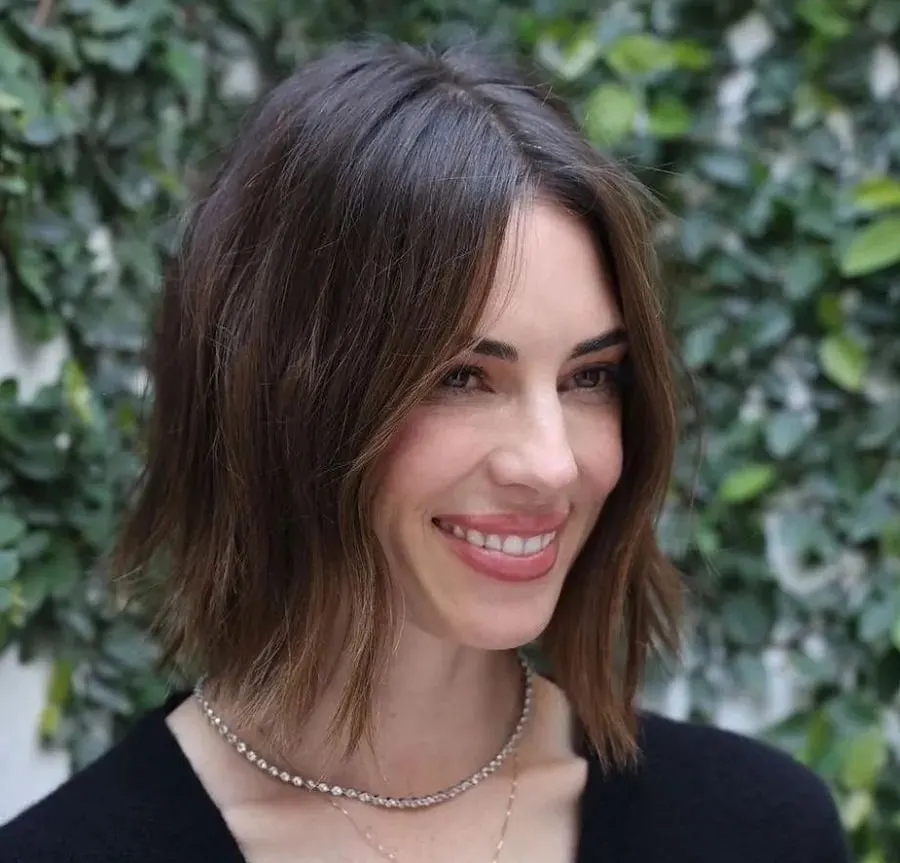 Smooth waves are so romantic and elegant and ideal for those who want to encapture that natural beauty allure. Get an A-line bob and a sombre to lighten up those ends. Instead of letting them fall flat, slightly twist the tips upwards.
14. Messy Waves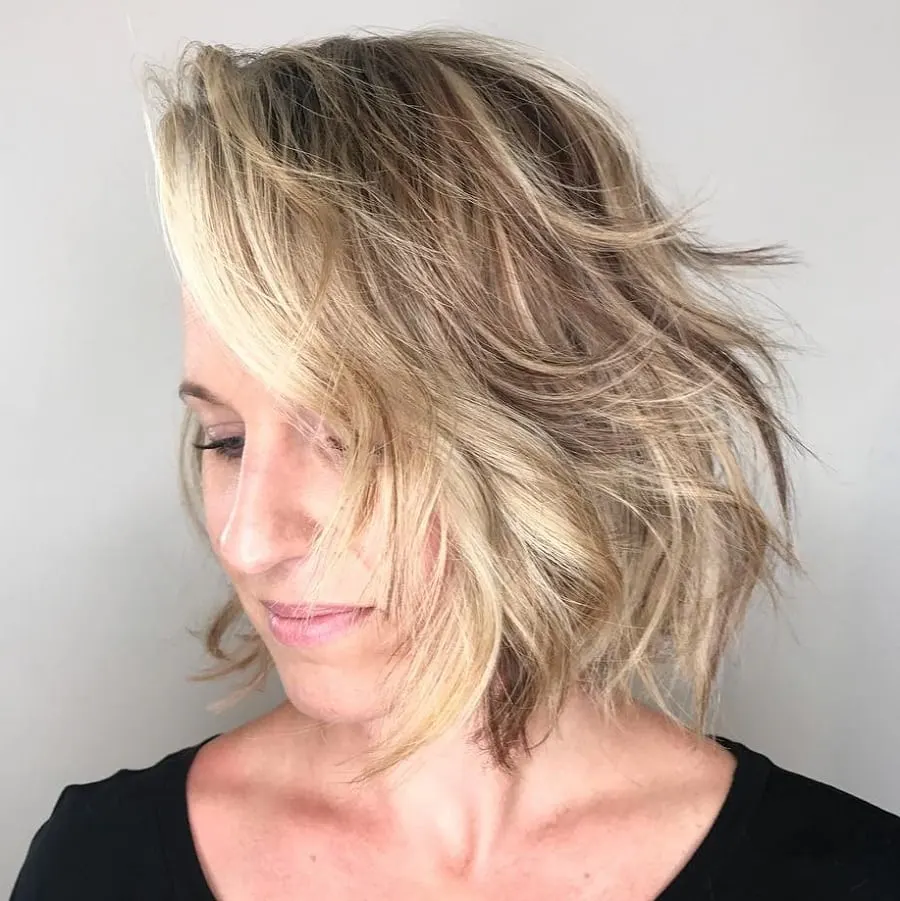 Combine honey-blonde nuances with ashy sandy tones if you want your bob haircut to look absolutely mesmerizing. Toss the top to one side and create some delicate, smooth waves. Twist some of the ends inwards for more texture.
15. Bob Hairstyle for Kids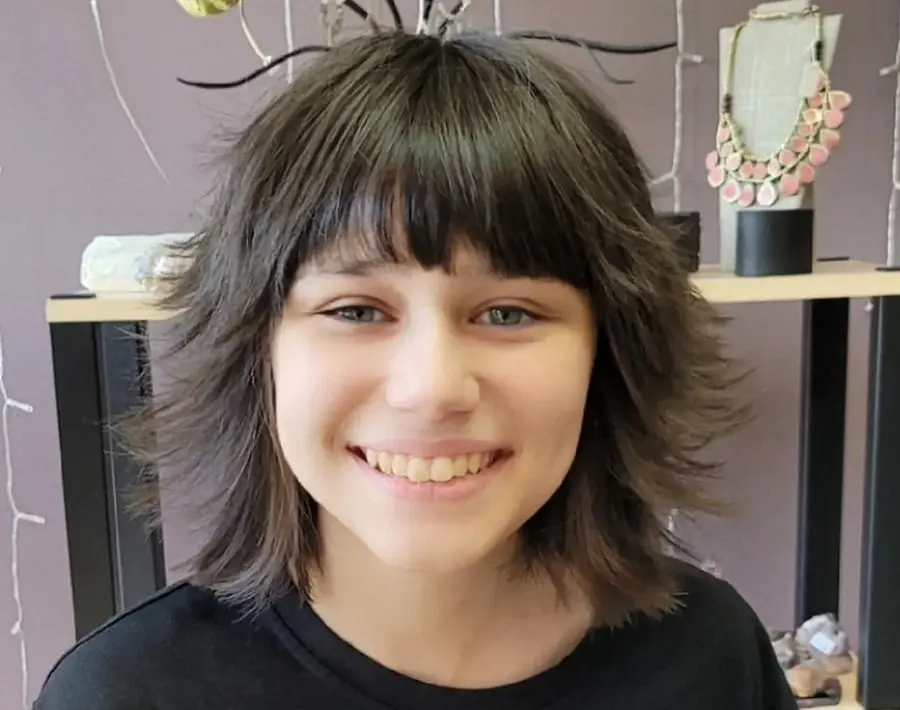 Building loads of layers will allow you to play with those ends and make them stand out, obtaining more volume and shape. Go for bangs and cut them on the eyebrows level. This is a fun hairdo for a kid, and we're sure your girl will love this trendy bob.
16. Bob For Rounded Faces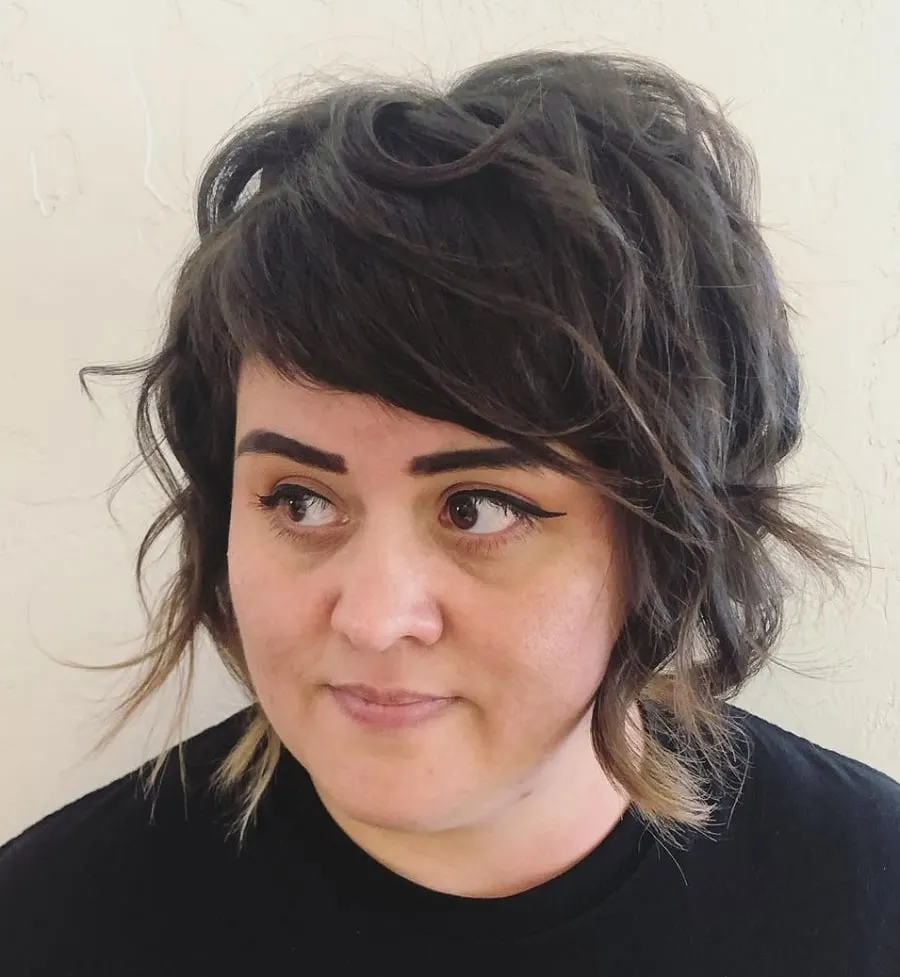 Building more volume for the apex is a must when you want to cut off that roundness of your face. Go for side bangs that will create angles and waves. Style the tips slightly outwards and sprinkle some curls on the top too.
Flip bob haircuts are back, and they look better than ever. When getting such a trim, the outcome is gorgeous and highly versatile. You will certainly turn some heads with that modern twist and retro ends. So enjoy this popular cut and get the change you need to boost your confidence!
Meta: Want something cool and modern that gives your hair more value and texture? Here's why you should pick a flip bob!