Jane Fonda's hairstyles are the epitome of hairstyle evolutions. This Hollywood legend, political activist, and fitness guru demonstrates that every woman should take a little time to change her look from time to time.
Jane Fonda's hairstyles and wigs are variations that range from blonde hair to brunette hair to short hair to long hair, which is the testimony that a woman is entitled to change her mind and hair. Here are the 25 best hairstyles donned by Jane Fonda.
Jane Fonda's Hair Through the Years
#1. Salt and Pepper Glamour
Jane Fonda embraces her salt and paper hair like no one else. She went for an outgrown pixie look for a shaggy appeal with the black strands standing against the silver ones. The hair was side-swept with defined layers falling at varying lengths.
#2. Silver Pixie
At one of her film premieres, Jane rocked a shiny silver short pixie haircut. The layers at the front were spiked up for a sassy appeal with some of the strands falling on the forehead as bangs. This look is surely an inspiration for women over 50.
#3. Dirty Blonde Curls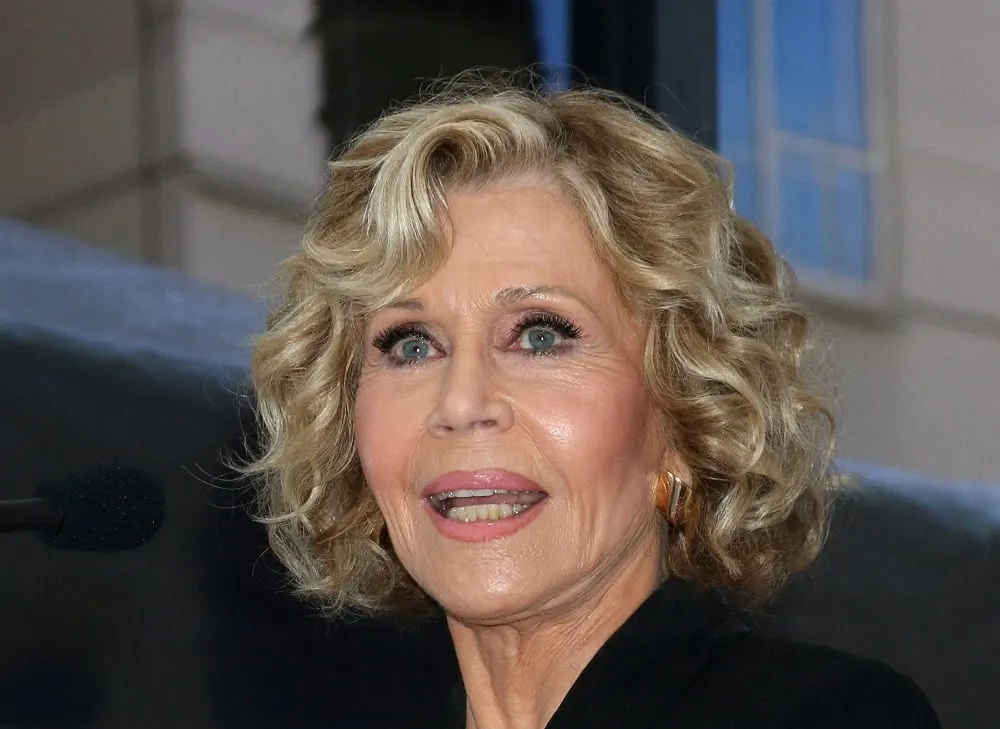 One of the best classic hairstyles of Jane Fonda is this chin-length bob dyed in a dirty blonde hue with light blonde highlights. The short strands are curled up with the front side-swept bangs setting off this classy look.
#4. Layered Bangs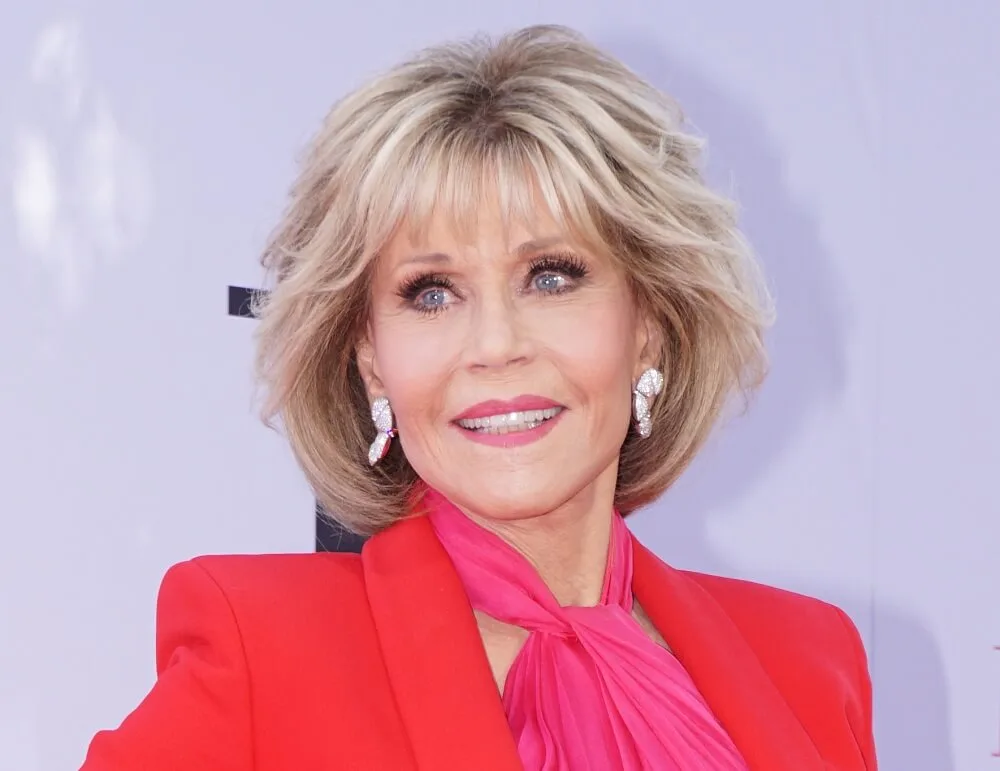 The American actress knows how to keep all the attention on her face. The hair is dyed in a beige blonde shade. Considering the haircut, the bangs are light and textured to accentuate the thick rounder bob flawlessly.
#5. Voluminous Comb Over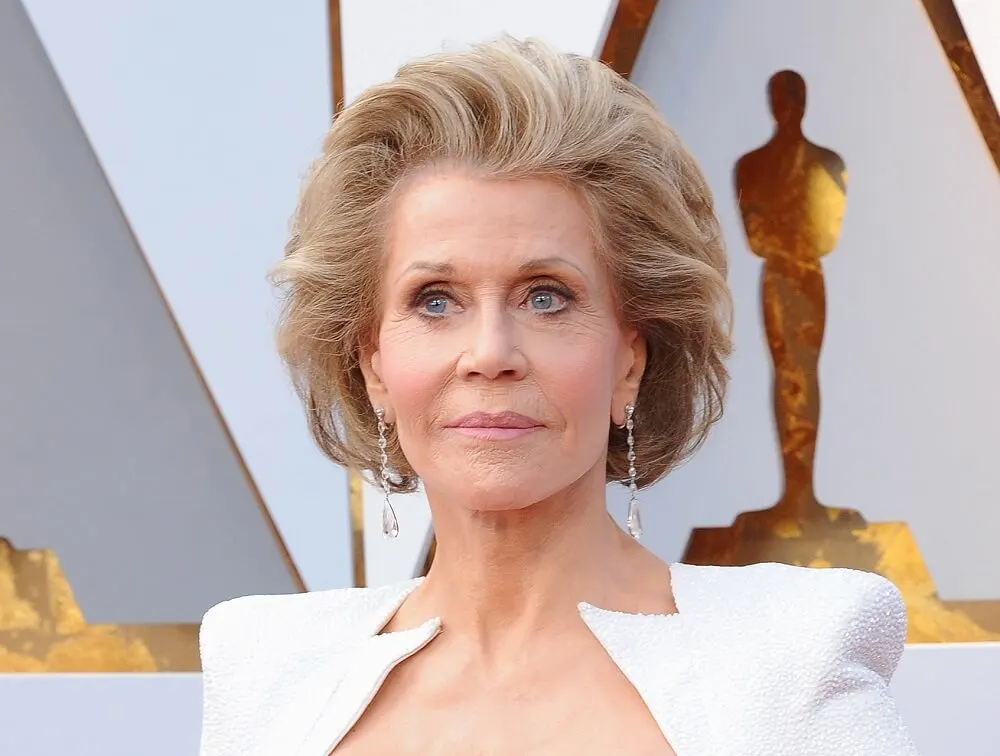 Here the former fashion model went for more youthful vibes. She took a few years off her age by combing back her short blonde bob achieving a natural volume. This is one of Jane Fonda's simplest hairstyles that are easy to achieve.
#6. Sleek High Ponytail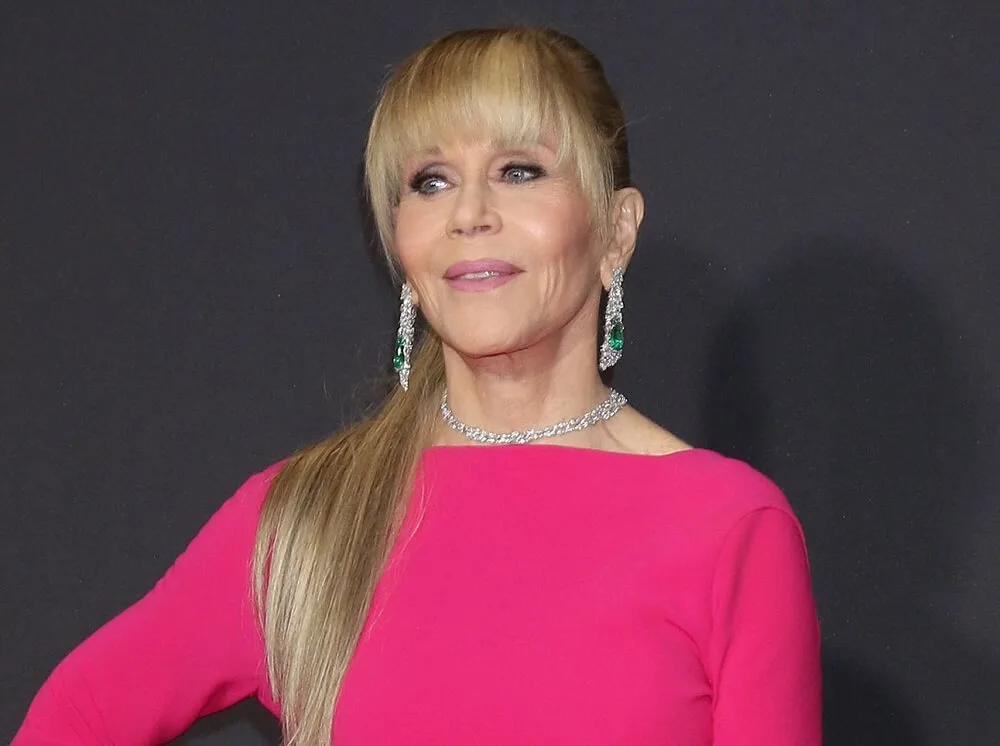 Jane flaunts lowlights as elegantly as highlights. Here she has proved that a sleek high ponytail look has no age limit. The long mane is slicked back with a chic eyebrow-grazing front fringe.
#7. Soft Look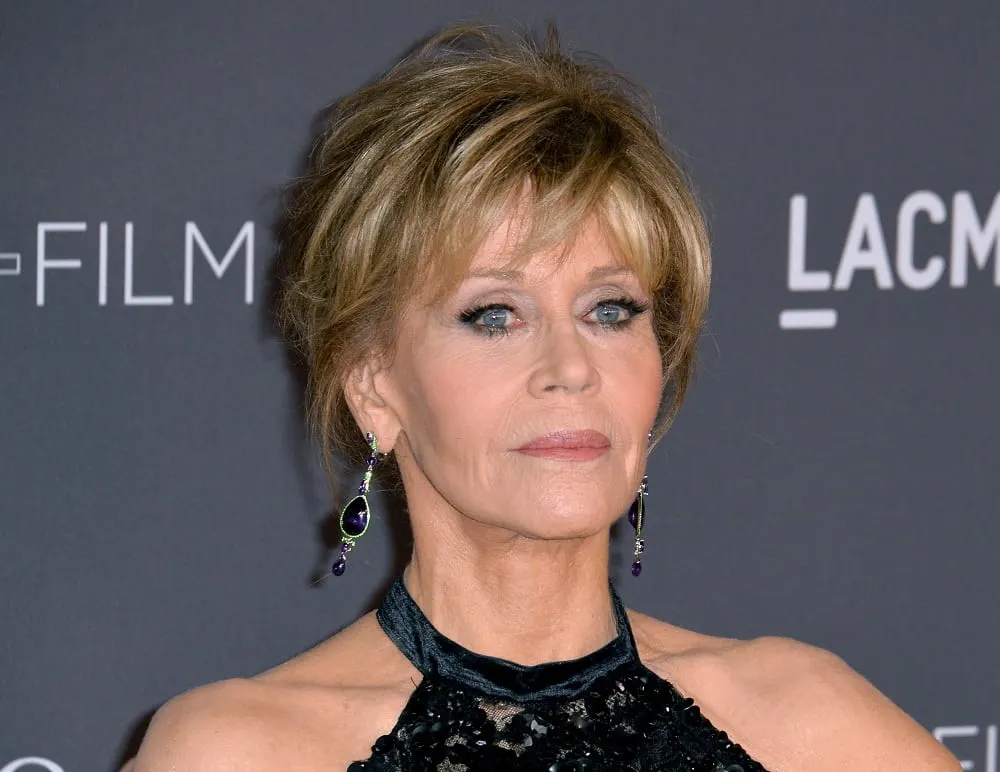 The television star knows how to style her short locks elegantly each time. At a film gala, she went for a low bun with a choppy front fringe. Her feathered bangs were hand tousled for an undone appeal.
#8. Romantic Updo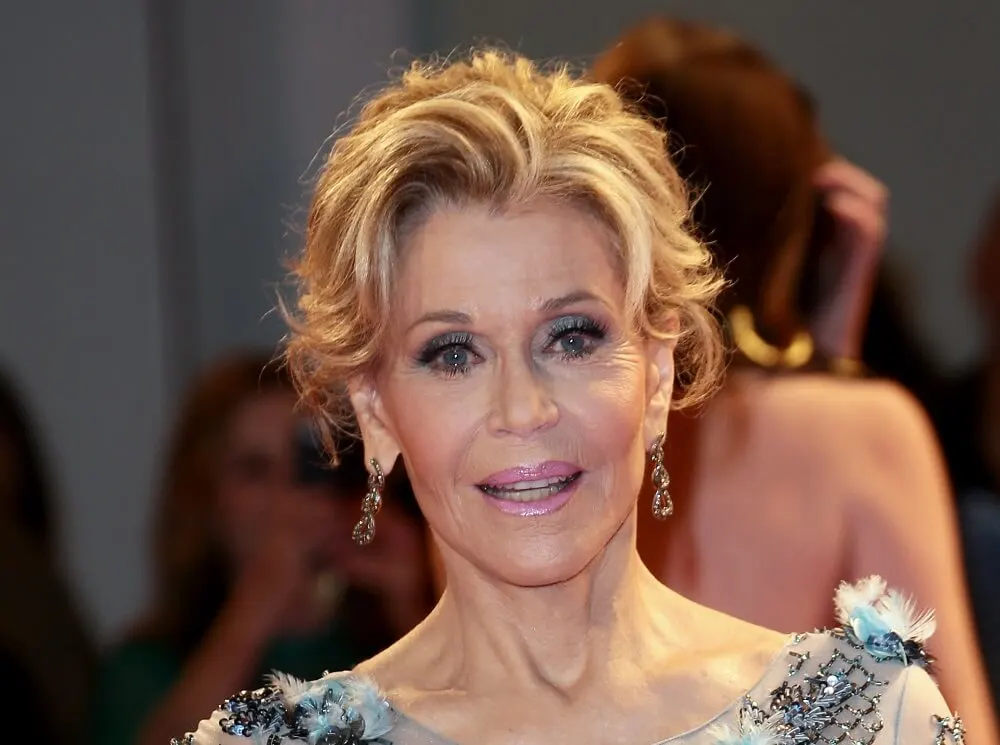 Jane Fonda accentuated her blonde highlight with piece-y waves and styled them in a graceful loose updo retaining the wave shape. The strands at the front are side parted and curl in an S shape while falling on the sides of the face.
#9. Rounded Bob + Highlighted Fringe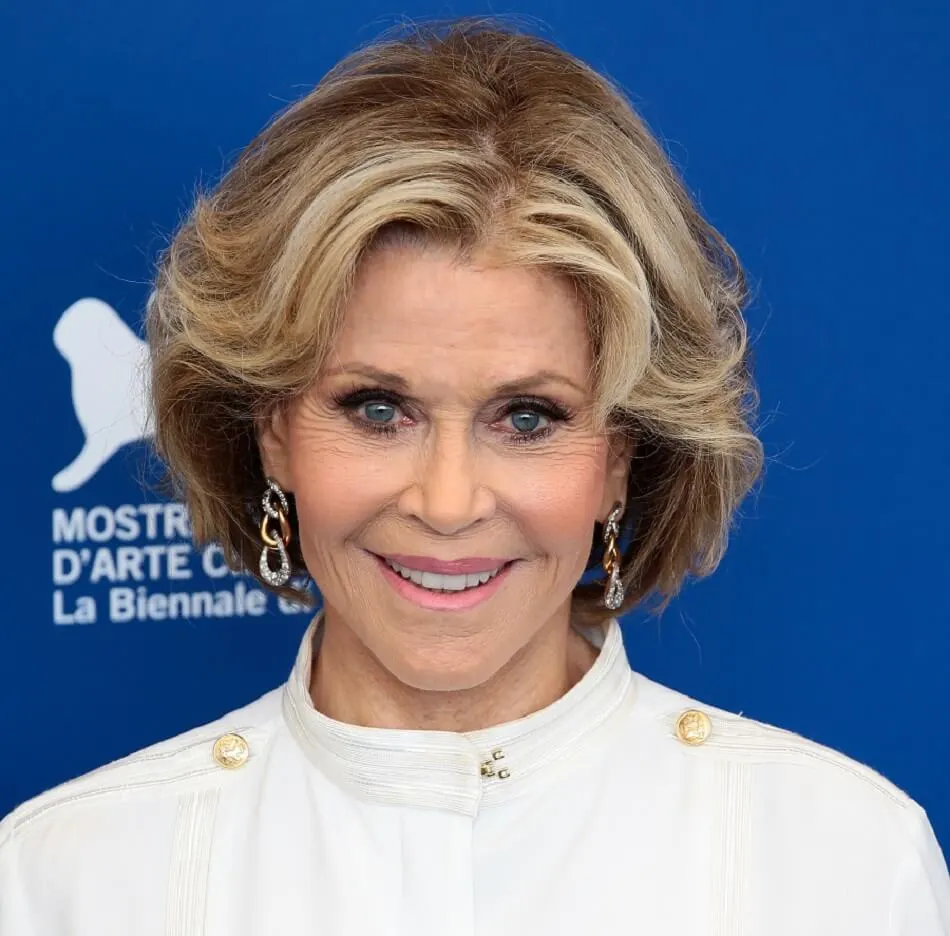 The political activist has always kept her hair short but knows how to slay a new look each time. The light brown hair is chopped into a short bob bending around the face with a light blonde fringe curled outward.
#10. Slick Bun with Side-Swept Bangs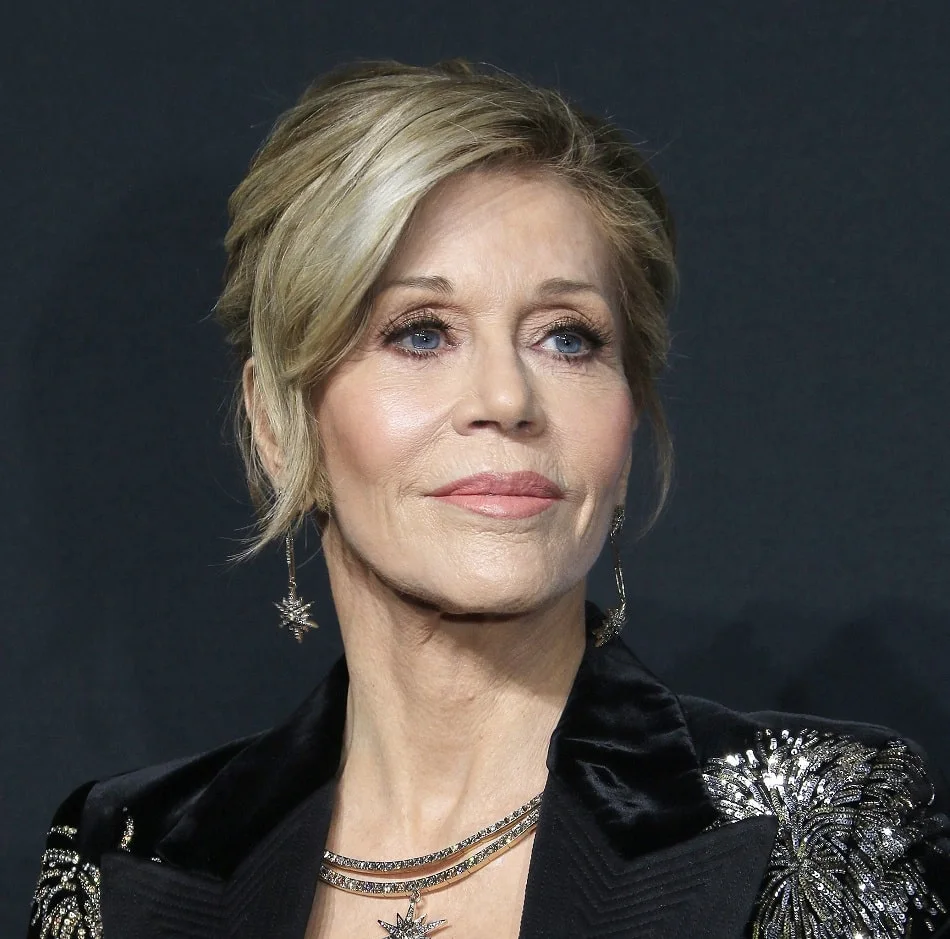 Here she combined light brunette hair with light chunky highlights and styled it in a modern updo keeping all the eyes on her triangular-shaped face. For a change, she went for side-swept bangs with some strands subtly flipped out near the ears.
#11. Half-Up Look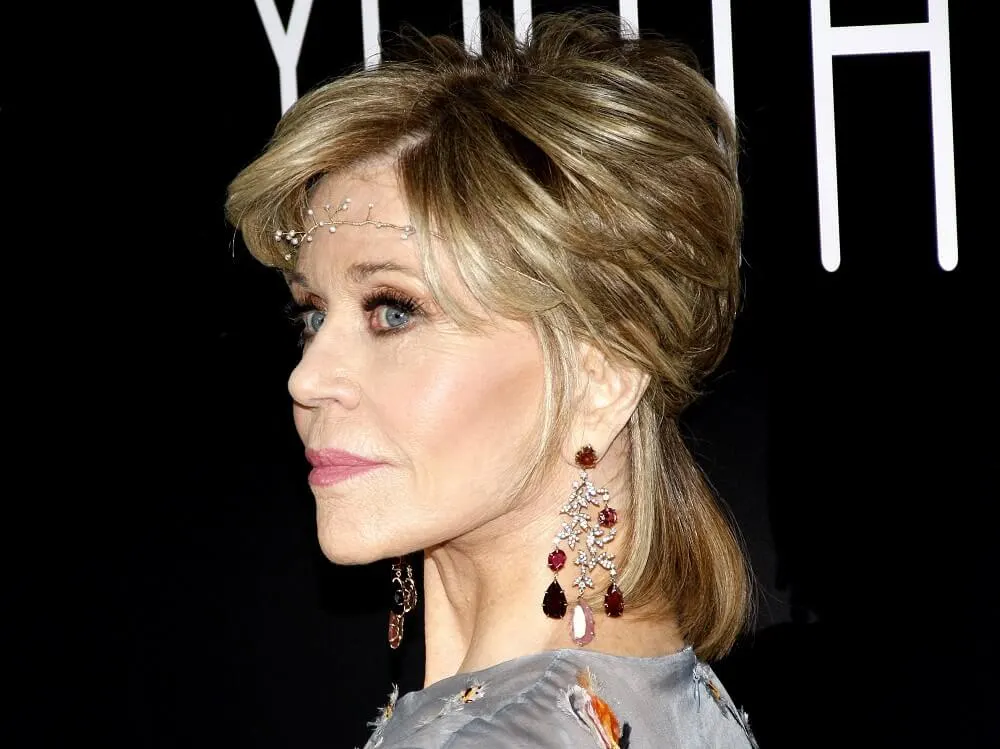 Fonda knows how the keep it simple and chic. The side-parted textured layers are secured at the back creating the half-up look. The voluminous crown and face-framing bangs with the delicate headband complete this bohemian look.
#12. Messy Updo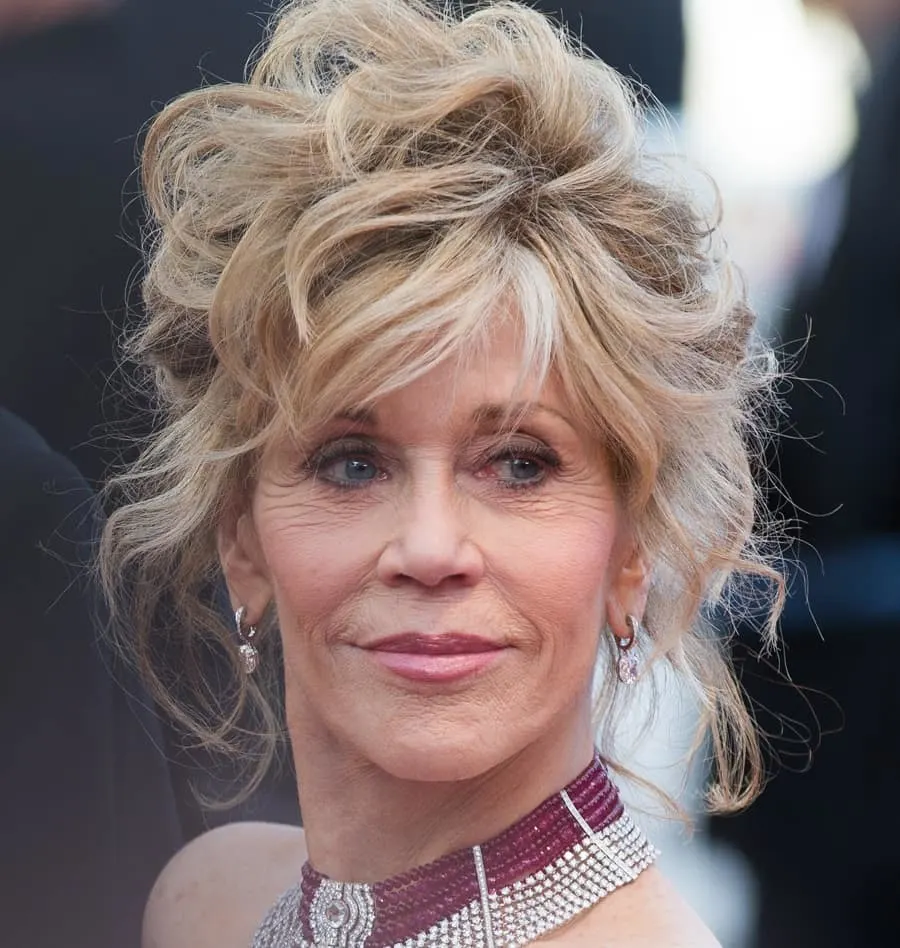 The film star is cool and her hairstyles are even cooler. To achieve this messy perfection she went for thin layers and a light blonde hair shade accentuating her facial features. The waves help in creating a voluminous updo with ruffled strands falling all over the head and face.
#13. Face-Framing Layers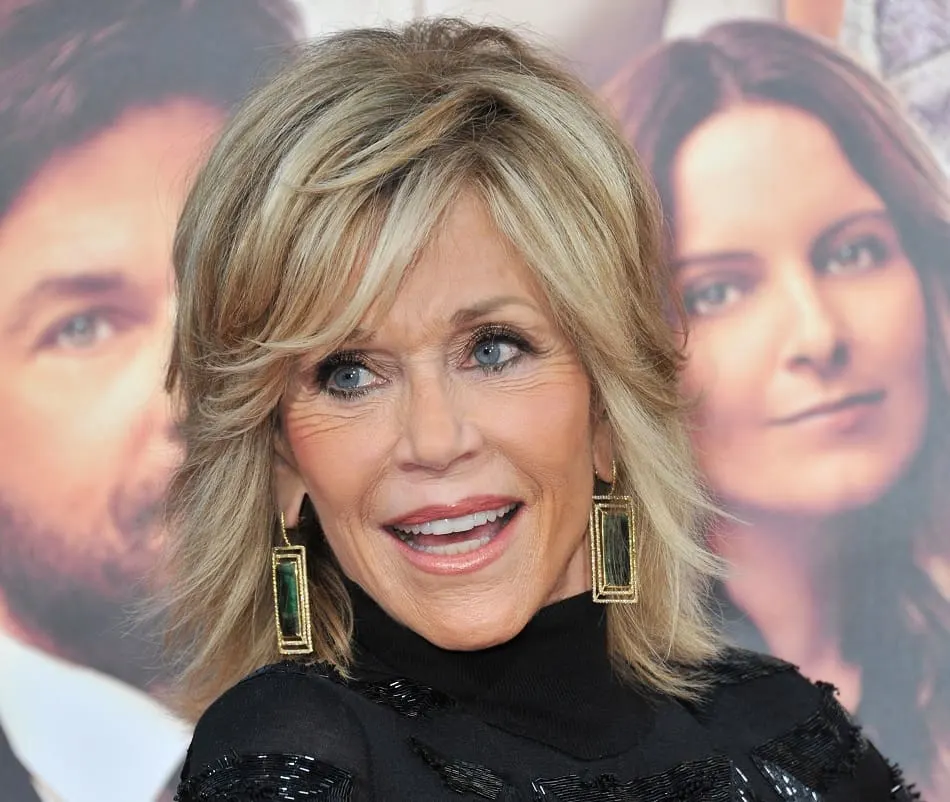 Here she went for a sleek and straight look rather than her iconic curls and waves. The medium-length hair was layered beautifully and combined with the sandy blonde highlights it proved one of the best Jane Fonda hair looks at her film premieres.
#14. Feathered Lob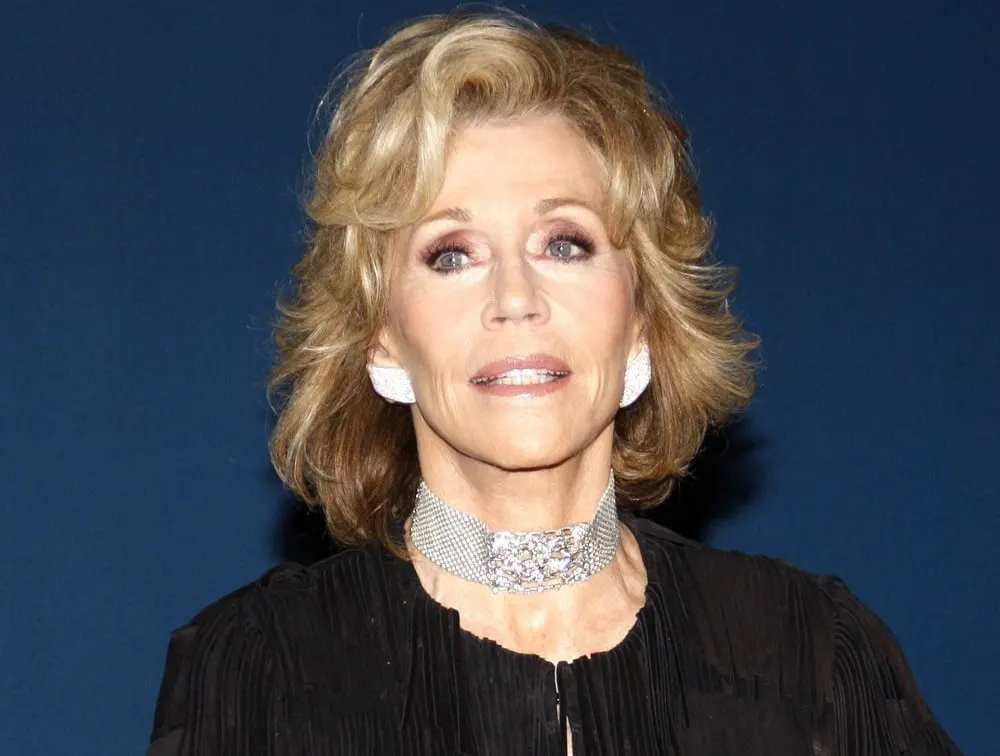 Blonde hair color has remained Jane Fonda's choice for decades and she knows how to rock it perfectly. This look features a softly feathered lob dangling just above the shoulders with curly side-swept bangs framing the face.
#15. Retro Look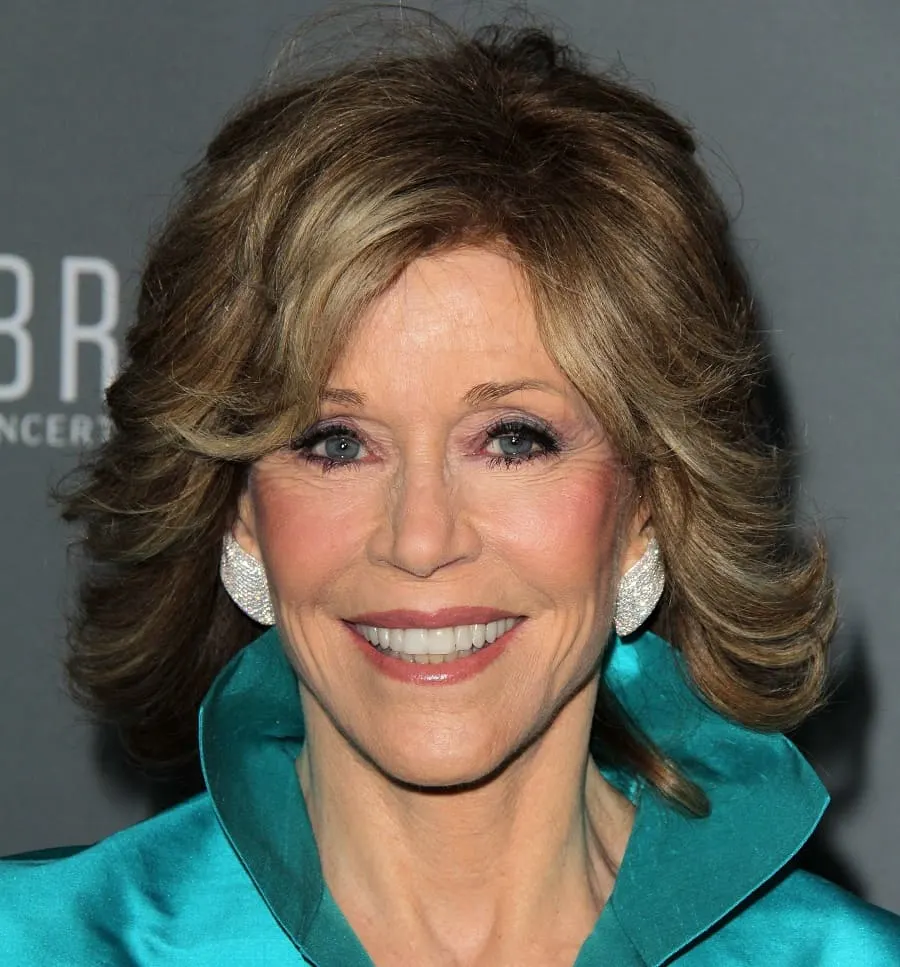 The American actress appeared in front of the cameras with an ashy brown hair shade that added a warm touch to her skin tone. Paired up with heavy out-grown layers and side-swept bangs the hair was blow-dried creating subtle flicked-out ends.
#16. Homemaker Hair Do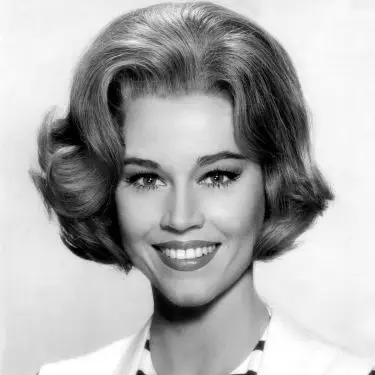 Jane Fonda's 1960s hairstyle is a throwback to the classic, feminine Suzy-homemaker hairdo of its time. These were the days in which big rollers were a must to achieve this fabulous hairstyle.
Delightful Short Hairstyles for Teen Girls
#17. Fonda Bangs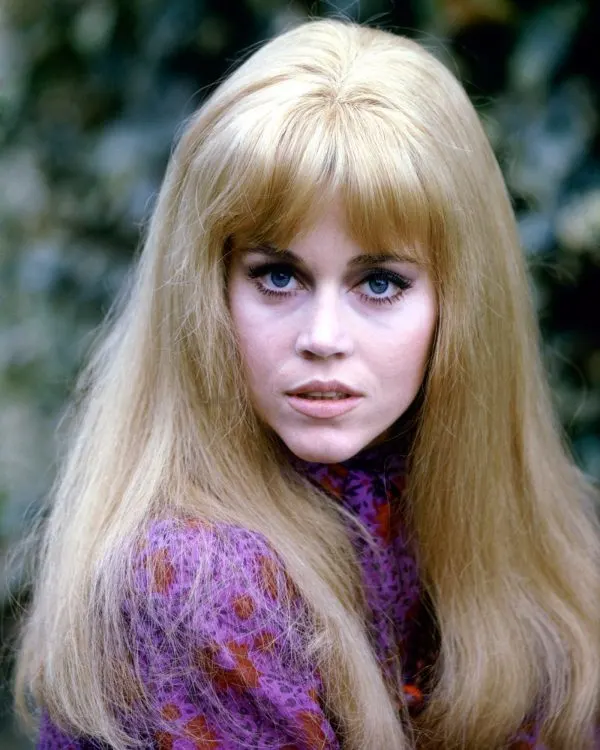 This Jane Fonda hairstyle is one from the time capsule of long hairdos. While hair is, long and flowing, this style is all about the bangs. Bangs have a way of giving a youthful look; and for some creating a clean appearance and for others, bangs can create an air of mystery. Jane Fonda's bangs in this image give us an air of womanly mystery. Browse our list of best beehive hairdos.
#18. 60s Pin Up Hairdo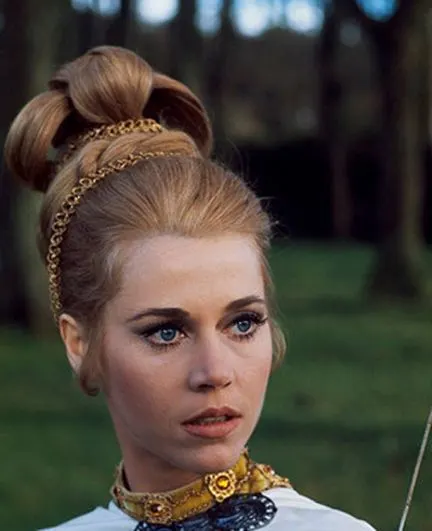 This Jane Fonda updo shows all the ways that hair can be an accessory. Also, the style demonstrates that you can create texture within a single hairstyle. We should all strive to step outside of the box and create a look that is absolutely as regal as this one. From curls to braids, this updo is ripe with versatility.
Hair Colors Katy Perry Wore Well
#19. Feminine 70's Mullet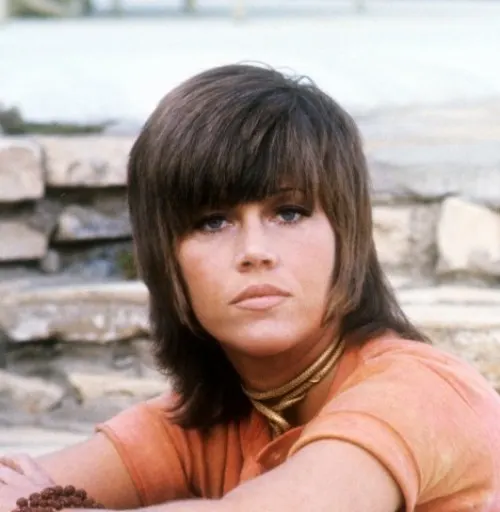 Jane Fonda's mullet is an understated and undoubtedly purposeful casual hairstyle that spoke of a movement. Jane Fonda is known for being a strong political activist during the 1970s. Along with the issues she rallied against at the time, this Jane Fonda Hairstyle rails against Hollywood glamor.
#20. 80's Big Hair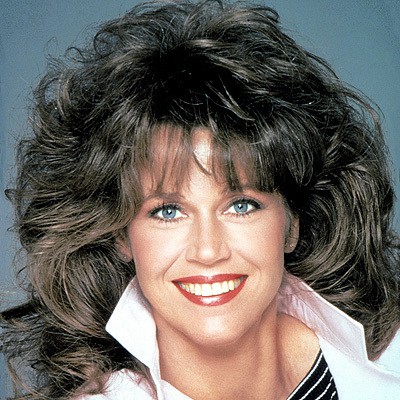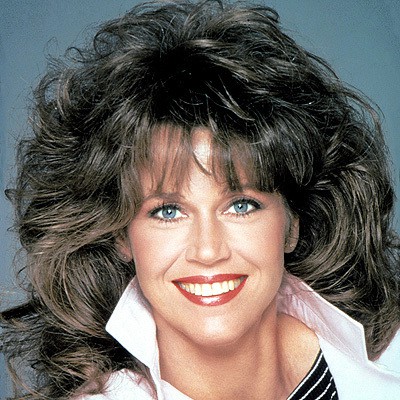 This 80's hairstyle is a perfect representation of the big Hair trend. This Jane Fonda throwback makes a girl want to get out her hairbrush and blow dryer. To meet the criteria of big hair, the core mix of it must contain sizeable curls, a balance of hair feathering and good bangs.
10 Exotic Miley Cyrus Hairstyles to Rock
#21. Sophisticated Blonde Layer Medium Cut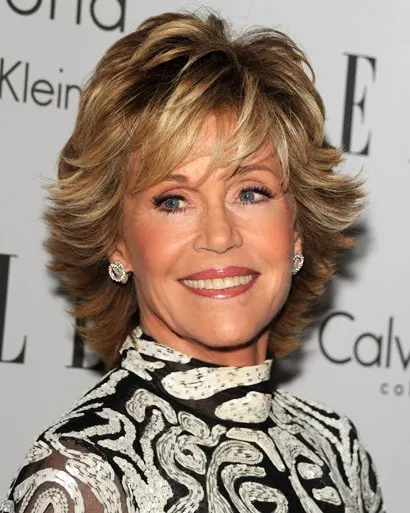 This Jane Fonda medium cut hairstyle is rich with trendy layers, flip-action, and blonde tones. This hairstyle works especially well with hair that is thick and healthy.
#22. Jane Fonda's Simple Short Haircut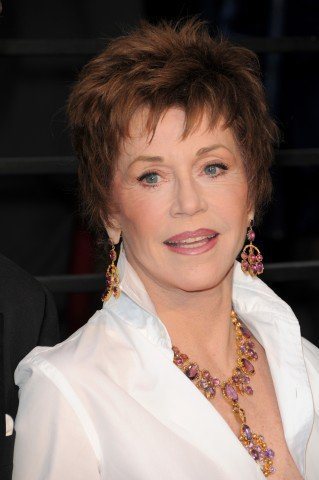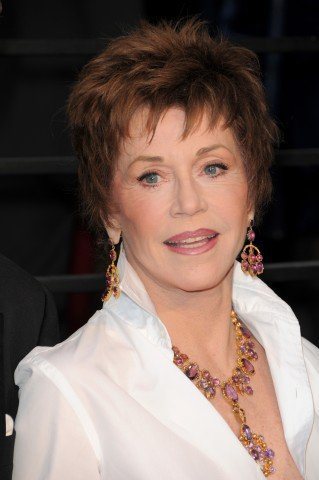 Here, we find a deviation from the big hair. This short haircut is an edgy mix of layers and curls. The sides are combed forward so that the hair frames the face.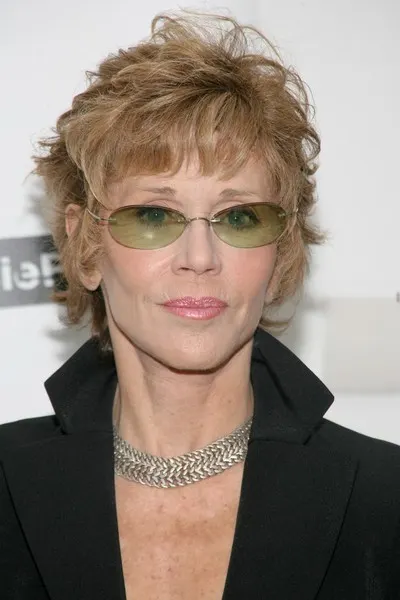 This variation of short haircut provides an alternative look to a darker version of the hairstyle.
Kelly Ripa's Top 10 Greatest Haircuts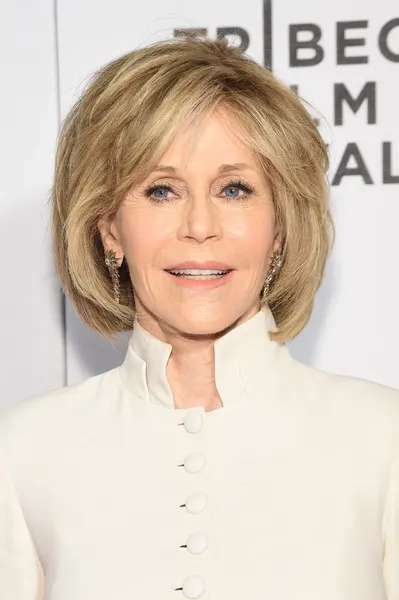 This blonde bob hairstyle is a confection of loose, large curls that complement medium hair length. It's a simple style but one that celebrates medium hair with a bit of length and volume.
Jane Fonda's medium to long hairstyle in this image is a perfect style for the corporate woman. Also, it is yet another Jane Fonda hairstyle that contains multiple layers and dimensions of feathering a large curl. These are just ten wonderful hairstyles that Jane Fonda wore well over the last fifty years.
More Celebrities to get Hairstyle Inspirations: