Although the 1970's is marked by several important cultural and political revolutions it was also the time when many changes occurred in the beauty, fashion, and hair industry resulting in the creation of some of the most iconic and versatile hairstyles that are giving a tough time to the modern ones even today.
Whether it comes to rocking a fluffy afro, hipster braids, messy shags, or feathered layers we have brought together 35 of the best 70's hairstyles for women below. Keep on reading and you will be the next in line to recreate one of these retro looks!
Best 70s Hairstyles for Women
To get a throwback hairstyle you'll love, you can't go wrong with this list of the best 70s hairstyles for women below!
1. Feathered Bob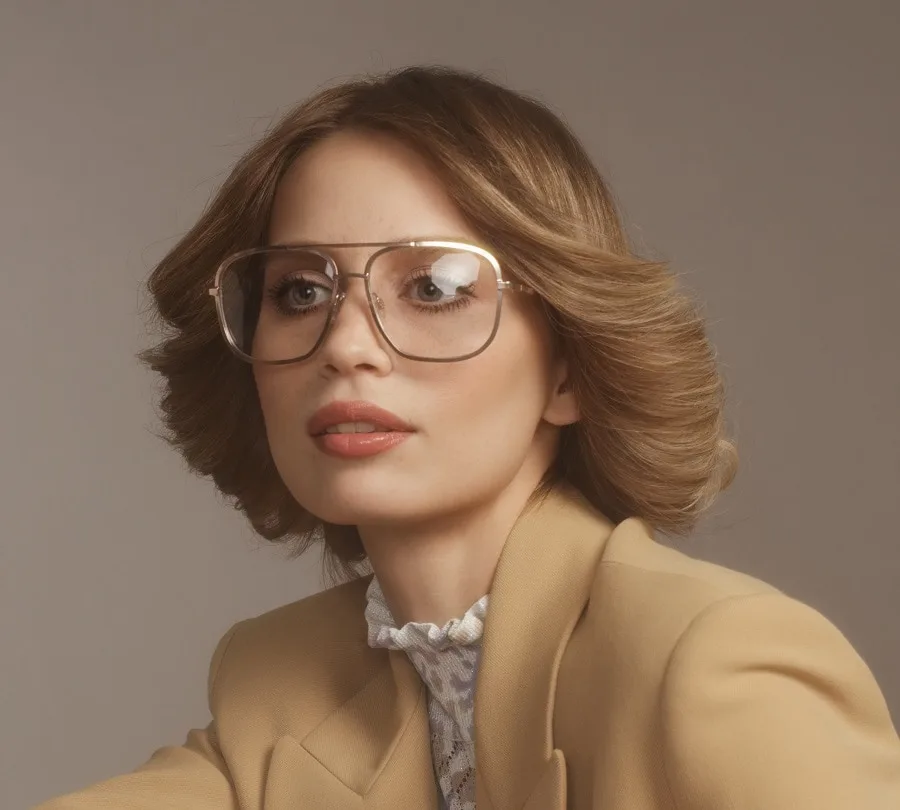 Feathering is one of the biggest hair trends popular since the 1970's. Recreate the look by cutting delicate layers into a bob that is shorter at the front and longer at the back. Use a round brush and hair dryer to roll back the ends creating tons of volume. Elegant, right?
2. Flicked Ends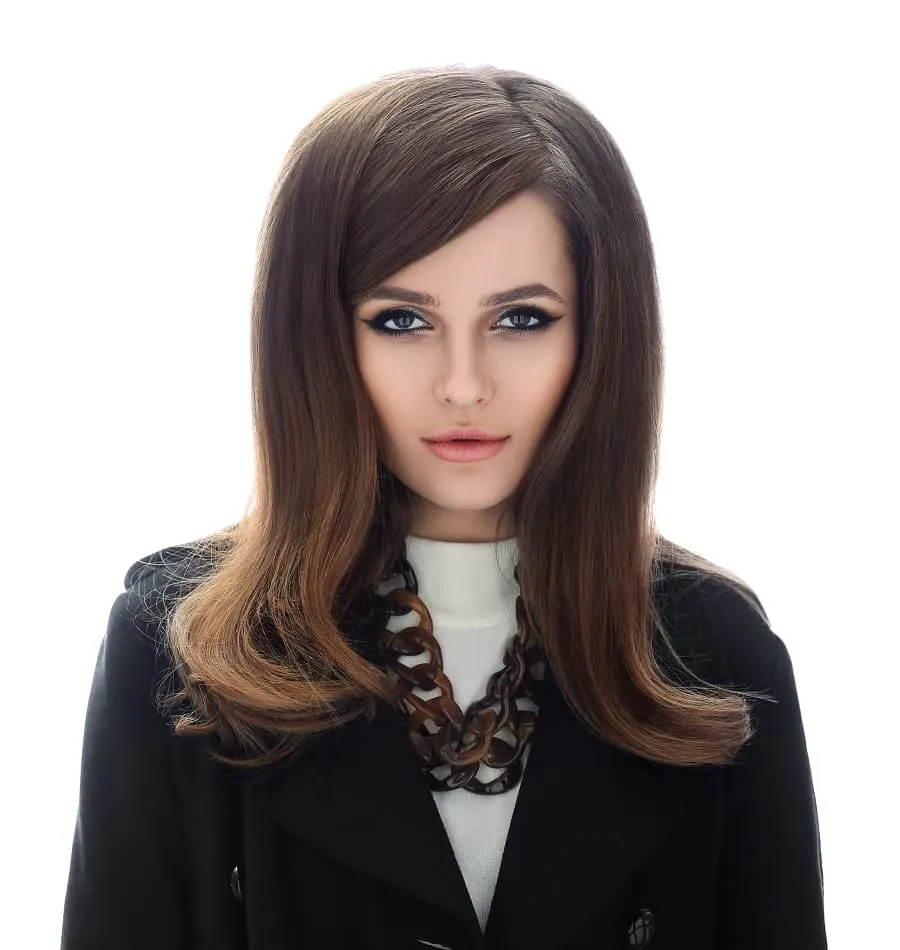 Instead of going all crazy, try something sleek and simple to turn around some heads. Add some volume on the top by backcombing the hair with a deep side part while flicking the ends resulting in barely-there curls falling at the front. Easy-breezy!
3. Sexy Side Bun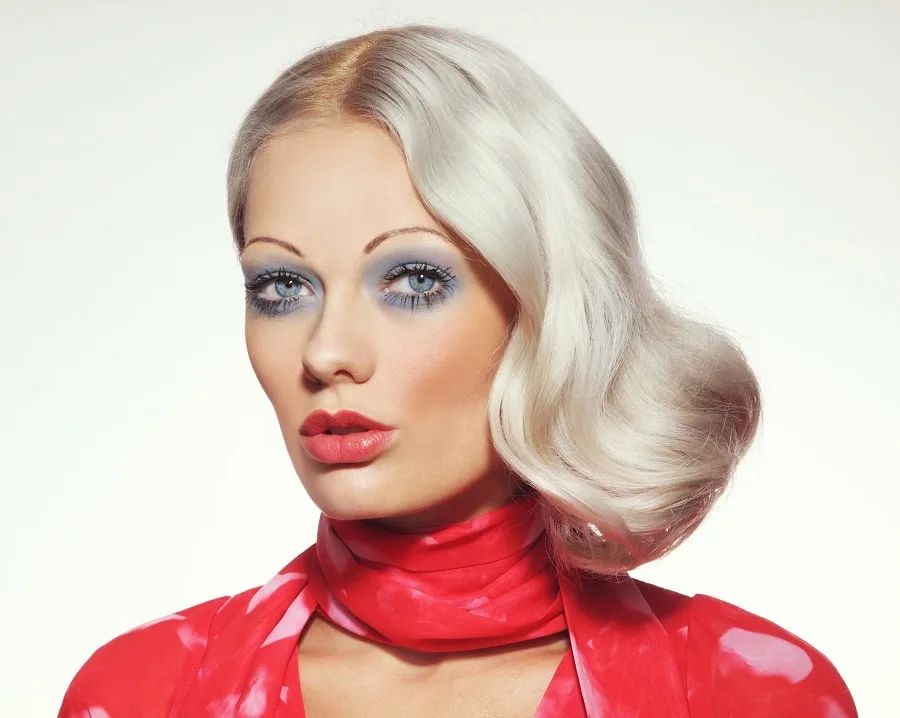 Fun and playful, side updos are perfect for any occasion and talking about the hair shade, platinum blonde is in full swing this season. Tousle the strands on one side and gather them in a bun using a hair donut while leaving some strands loose to frame the face. Voila, you'll get a classic 70s look!
4. Perfect Perm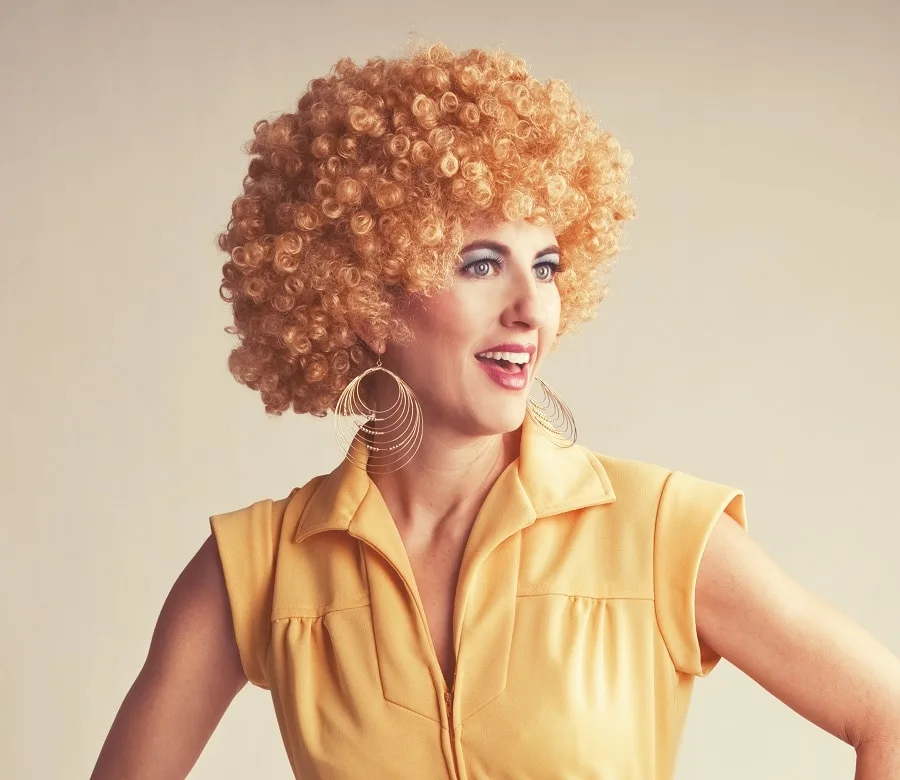 Blessed with natural curls? If not, get a perm for a change and layer the strands to fall flawlessly around the face giving off disco vibes. Couple the blonde locks with chic hoop earrings, vibrant eyes, and glossy lips and you won't regret it.
5. Voluminous Curls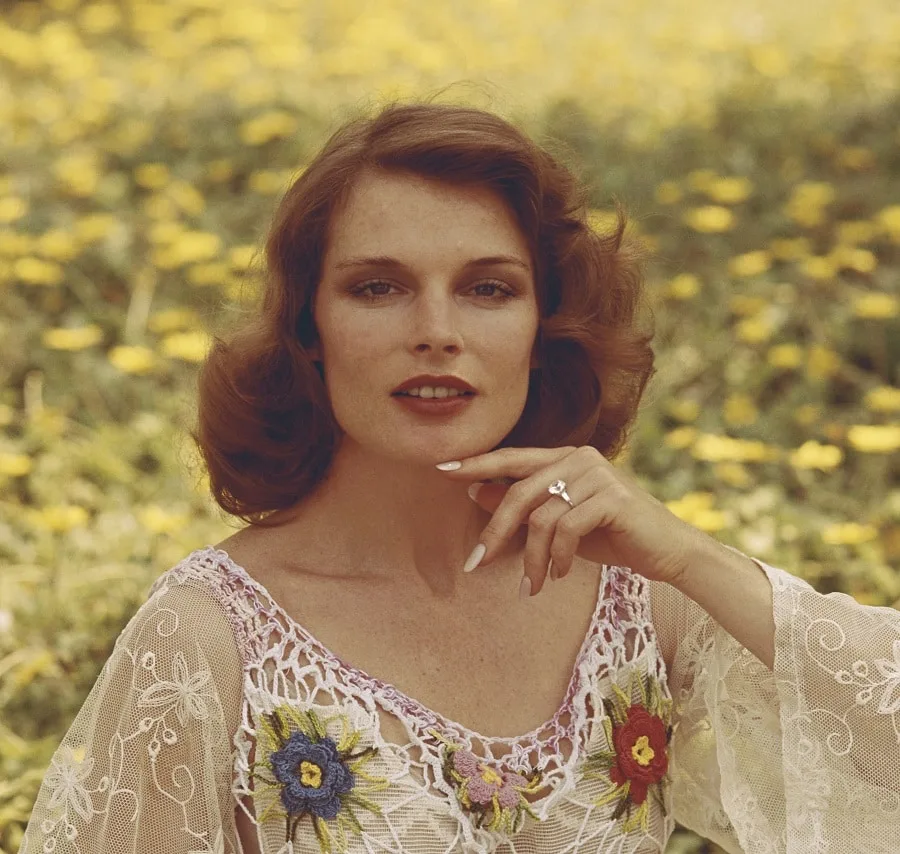 Another 70's hairstyle for women who prefer short tresses. The top is side swept and comparatively flat with big curls accentuating the layers along the sides creating a lot of volume and movement. Finish off with a spritz of hairspray to keep the look intact all day long.
6. 70s Short Hairstyle
Women with short hair will love this flipped hairstyle. Waves near the front and curved ends make this a fun, flirty choice.
7. 70s Popular Long Curly Hairstyle
For thick, curly hair, fashion it into a center part and let it go wild. Use a curling iron to add in extra curls and pump up the volume.
8. Medium Hairstyle of the 70s
Thick bangs are the cutest complement to an updo like this. Wear it as a bridal hairstyle or for date nights, pairing it with a sparkly tiara headband.
9. 70s Black Hairstyle
The 70s were all about thick, voluminous hairstyles for women. If you have black natural hair, this layered and wild-child look will show off that beautiful texture.
10. Disco Hairstyle
A disco hairstyle features a headband that brushes hair back and teases the crown. It takes hair to new heights, literally, and works best for curly and wavy hair.
11. 70s Shaggy Hair
For both thin and thick hair, shaggy haircuts are a great option for thinning locks out or thickening them up. Use fingers to mess up hair so it looks like bedhead.
12. Feathered Hair
Feathering the hair gives a hairstyle a soft, flirty look. For the ultimate 70s style, keep hair shoulder-length and add bangs.
13. 70s Curly Hair
Whether your hair is naturally kinky-curly or you'll use a curling iron to get these ringlets, a center-parted loose hairstyle is hair goals.
14. Straight Hairstyle
Straight hair can still have all the movement and shape you desire. Ask for long layers to create easy texture you can style in less than 5 minutes.
15. 70s Hippie Hairstyle
Pair your favorite printed bandana and tinted sunglasses with a medium or long wavy hairstyle to get the hippie look that was so popular in the 70s.
16. Braided Hair
Two tiny braids are the centerpiece of a wavy hairstyle Decorate them with a couple flowered beads for "flower child" vibes.
17. 70s Hairstyle with Scarves
If there was any staple to mark the 70s, it was hair scarves. Get an easy pop of color on your brunette wavy hair with a bright patterned scarf.
18. Bob Haircut
Wavy bob with choppy ends adds major body for any woman with thin or fine hair. Side bangs with a bit of wave frame oval faces beautifully.
19. 70s Updo
This 70s updo features a tall ballerina bun accented with a pretty pink hair clip. You can either simply twist the hair up or braid it first and then wind it up.
20. 70s Bollywood Hairstyle
Bollywood hairstyles typically feature long dark hair and a lot of teasing to get volume. Use hairspray on a layered hairstyle to pump up your texture and pair it with a fun headband.
21. 70s Rock Hairstyle
If you like rocker hairstyle vibes, try this shaggy short hairdo. Keep hair above the neckline and ask for a choppy cut and blunt bangs which will give you that messy rocker look.
22. Thick Hair
These blonde ringlets and pinned back sides are perfect for women with thick hair. Not only is it a fashionable nod to the 70s, but you can wear this look to the office or out on the town.
23. 70s Hairstyle for Kids
Your mini-me can look just like you! Curl all of her hair, then pin back the top right or left side with a clip-in bow so you can see her pretty face.
24. 70s Hairstyle with Bangs
This look works for both men and women: a center-parted straight hairstyle that comes just past the shoulders. Subtle curtain bangs frame the face in an attractive grunge way.
25. Bowl Cut
If you thought bowl cuts were just for men, you haven't seen how cool they can look on women. Let the back meet the neckline to keep it feminine and add a gorgeous shade of blonde color.
26. Wedge Hairstyle
To get the retro wedge hairdo, ask for a short layered bob with soft bangs. These hairstyles look best on women with small oval faces and straight hair.
27. Long Layers
You'll look like one of Charlie's angels if you have long hair and tease the crown for maximum height. Long layers around the face add super cute framing.
28. 70s Ponytail
One easy way to ease into 70s hairstyles is with a ponytail full of blonde length and beachy waves. Subtle shaggy curtain bangs will have you looking like a flower child.
29. 70s Wedding Hairstyle
Match thick straight bangs with long hair and curled ends for a fancy 70s hairstyle. Complete it with a flower headband for hippie meets romance.
30. 70s Pixie
Curled ends on a cute brunette pixie are adorable on women with oval faces. All you need to do is comb in a side part and use a little hairspray for a touch of volume.
31. Afro Hair
Your natural hair will thank you for letting it go loose and wild in this afro. Use plenty of conditioner when washing to keep your black hair shining and healthy.
32. Messy Hairstyle
What do you get when you mix long messy waves with a thick headband? A super cute throwback to the 70s. With or without side bangs, this look is low maintenance yet ultra-stylish.
33. 70s Pigtails
Pigtails that begin just above ears are the perfect height for an updo on all face shapes. Comb in a center part and smooth everything down before securing the hair in an elastic for a lump and bump-free style.
34. 70s Blonde
Be the blonde bombshell you've always wanted to be. Curl your long hair, paying close attention to the bangs, and add a red lip to be a show-stopper.
35. Wavy Hairstyle
This ear-length hairstyle features wavy locks with choppy ends and a sparkly clip to pin it all in place. Keep this look in your book for both formal and informal occasions.
Remember that layering will help frame your face, especially if you have a square face or one with sharp angles. And oval and round faces will pull off shorter 70s hairstyles better. Follow the style guidelines above for your favorite 70s hairstyle for women and this decade will soon become your favorite to reference for new hairdos.