You have to be careful when picking out the perfect hair colors for women with a light skin tone. The last thing you want to do is overwhelm your fair complexion. Hues that are too bright or brassy can do that, as can shades that are too light or dark.
Think about whether you're a spring, summer, autumn, or fall in terms of your complexion. Do you look better in cool colors or warm ones?
Can your fair skin handle dramatic shades? Do dark colors wash out your face and make you look drab or swallow? Check out women who have similar skin tones, then see what you think of their hair.
Ideal Hair Colors for Light Skin
If you have light skin, you should pick your hair color following some rules. Every person is different, so consider your own skin tone first and foremost.
Are the undertones cool? If so, then dynamic hues with equally cool undertones are perfect for you. You can make almost any shade work as long as you tell your stylist what you want while she or he mixes the dye.
Similarly, if your skin is warmer, then think about shades with red, orange, or pink undertones. Here are some hair color ideas for light skin.
1. Bright and Dark Red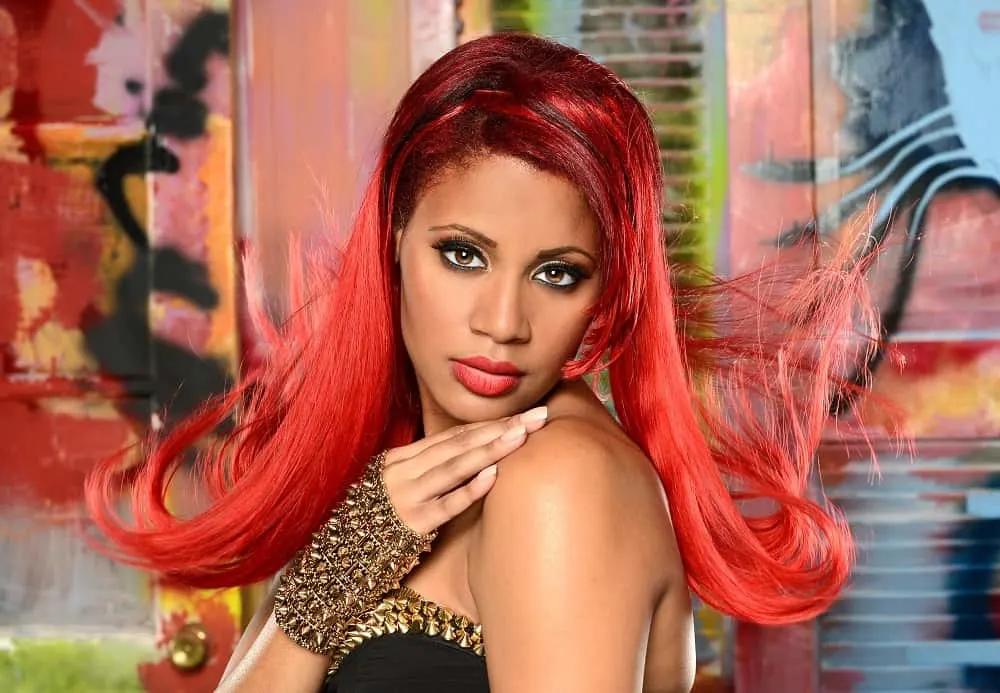 A bright red hair color on its own would be a bit much for a woman with a light skin tone, but when you add in darker red streaks to offset the bright red, you'll be able to pull it off beautifully!
2. Dark Brown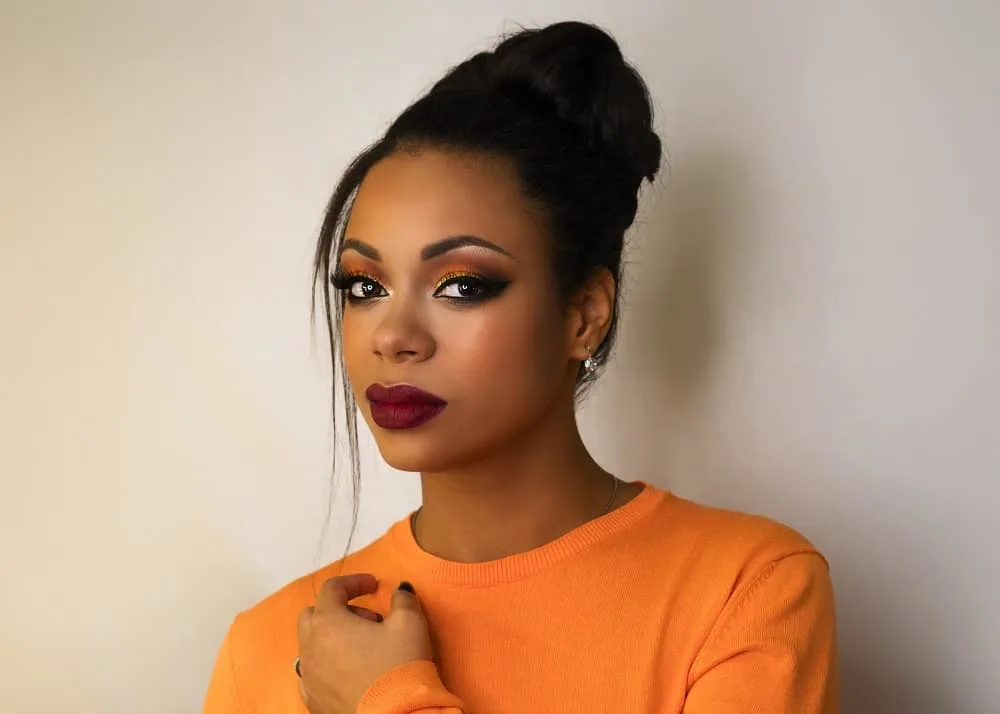 If you're a woman of color whose skin tone is on the lighter side, you can already add dark brown to your list of flattering hair colors! Work with it even more by using brown-shaded makeup.
3. Light Red, Pink, and Caramel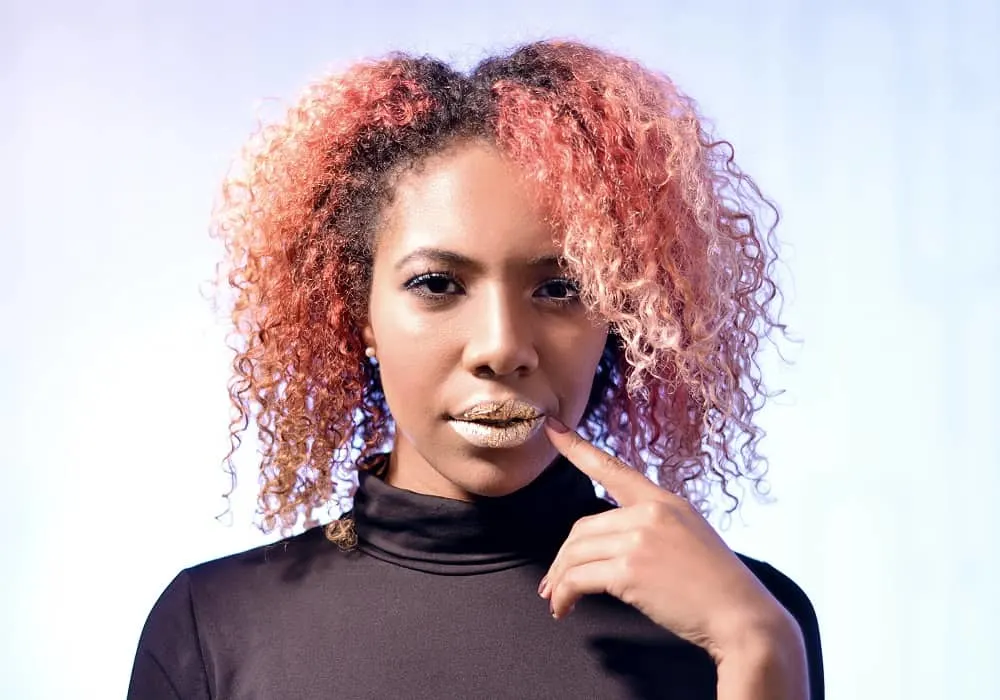 If your natural hair color is black or brown, bring it to life on your light skin tone by opting for a fun light red mixed with a little pink and caramel. On this curly hairstyle, the red and light pink is seen mid-shaft, and ends are tinged with caramel.
4. Dark Blue and Sea Green
Here's another great color combination for women with a light skin tone and dark hair. When summer rolls around, give your hairstyle a beachy vibe with a dark blue and sea green. Woven in with braided black hair, the colors are stunning!
5. Magenta Ombre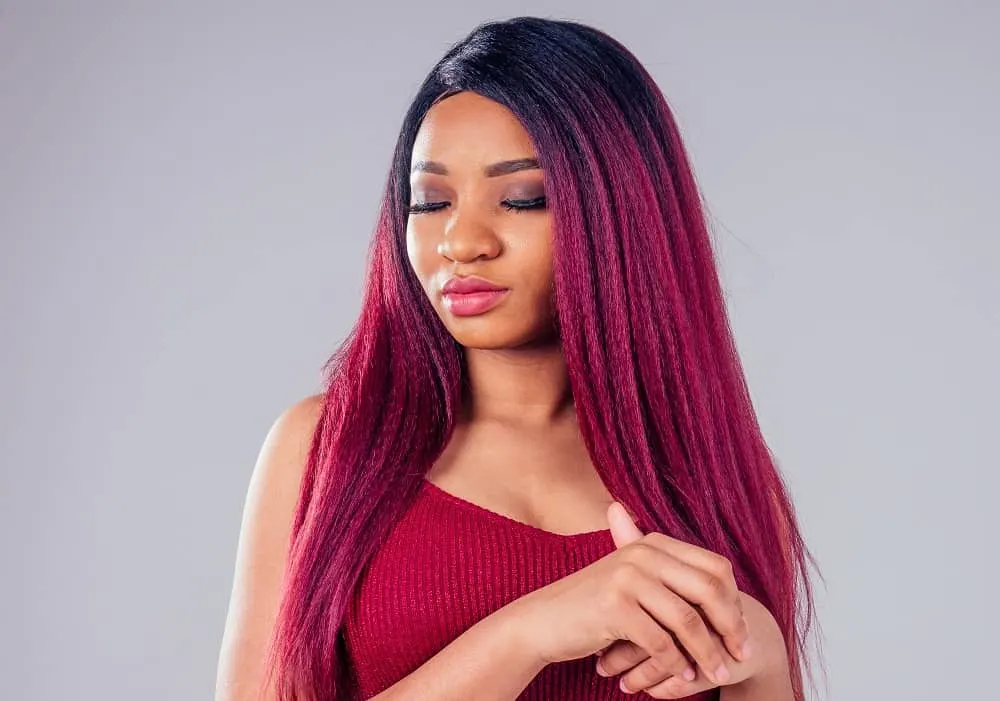 How gorgeous is this magenta ombre on long hair with a natural black base? It's true you need to be careful when playing with dark color on a light skin tone, but this one is done right and hits it out of the park!
6. Turquoise Curls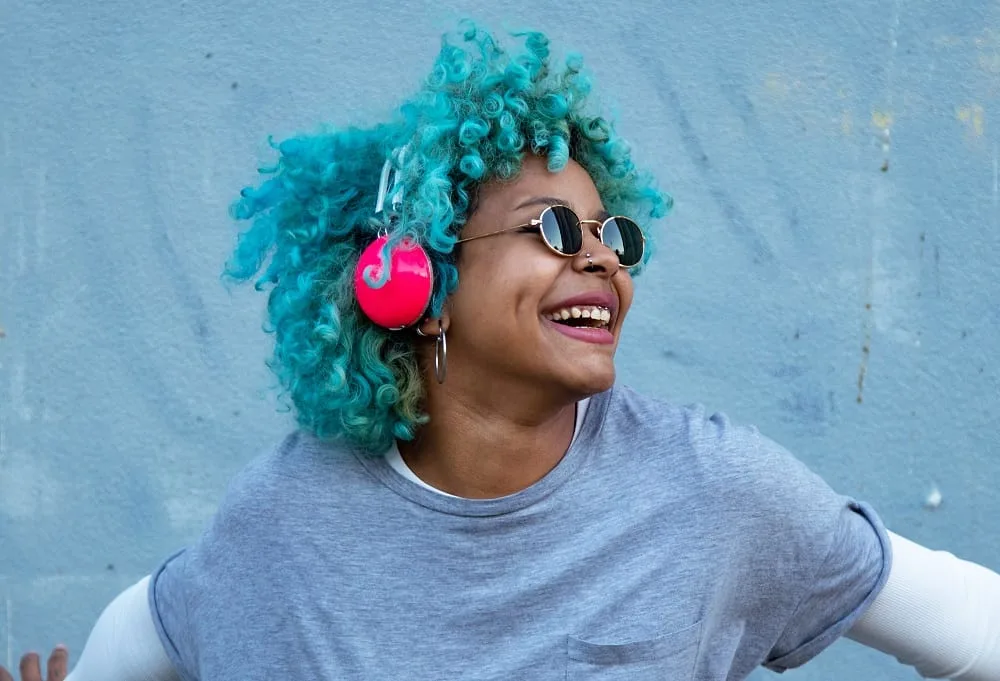 If you consider yourself a fun, playful lady, dare to be bold with a light green and light blue hair color! This short curly haircut makes a statement instantly and is sure to catch everyone's eye.
7. Light Brown and Blonde
If you'd rather play it safe and stick with a neutral but classic hair color, you can maintain a brown base but liven it up with some caramel and light blonde highlights. These colors combined work together to warm up a light skin tone.
8. Salt and Pepper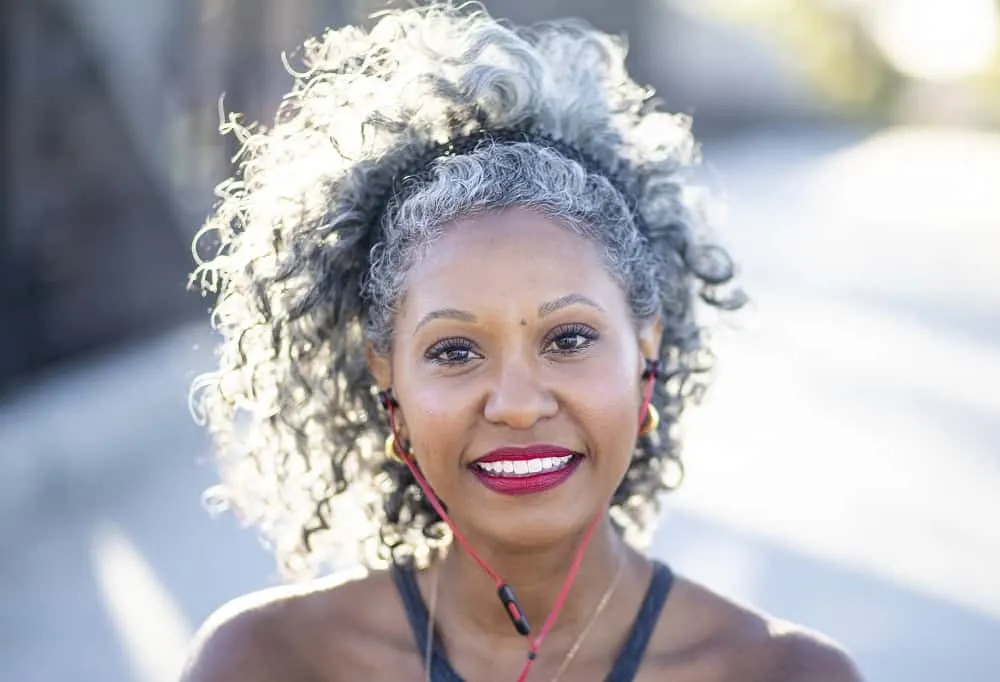 Older ladies, don't fear those grey hairs coming in! The salt and pepper hair color is always in! No matter your hair texture, let it go wild and loose, swept back with a headband, to show the world age is just a number.
9. Bright Red Braids
Another gorgeous look for women with a light skin tone and dark natural hair is bright red! Since you aren't coloring your entire head of hair in this color, it won't be too overpowering. Opt for extensions to rock the shade without a long term commitment.
10. Dark and Light Purple
Haven't we proven by now the power of light and dark hair colors on light skin tones? Plum purple is no exception! Just take a look at this stunning natural hairdo that shines in the light.
11. Curly Caramel Hair
If your hair is kinky-curly, accentuate those curls with caramel hair color. The super subtle highlights blend beautifully on dark brown hair and won't take much time or money to maintain.
12. Medium Blonde Straight Hair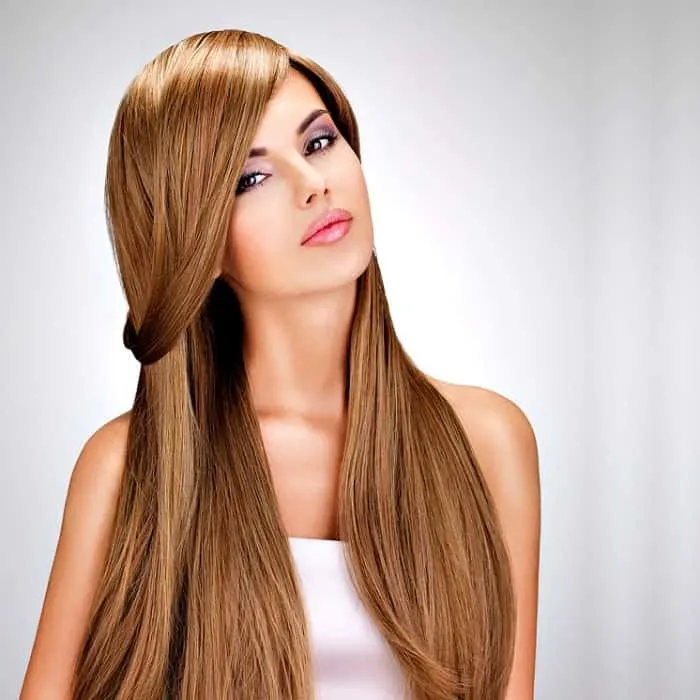 For straight hair, you'll love your locks even more when it's colored with medium blonde. Smooth frizz with a nourishing anti-frizz serum that will also protect against the use of hot tools.
13. Chocolate Brown Bangs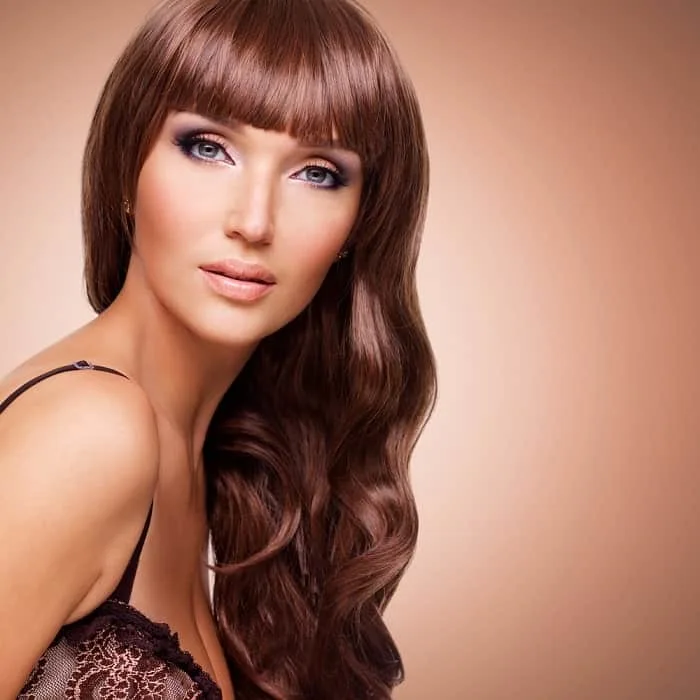 These straight blunt bangs and long wavy hair look very glossy and magazine-worthy with chocolate brown color. For consistency, ask your stylist to match your eyebrows in the same color or a shade similar.
14. Curly with Blonde Highlights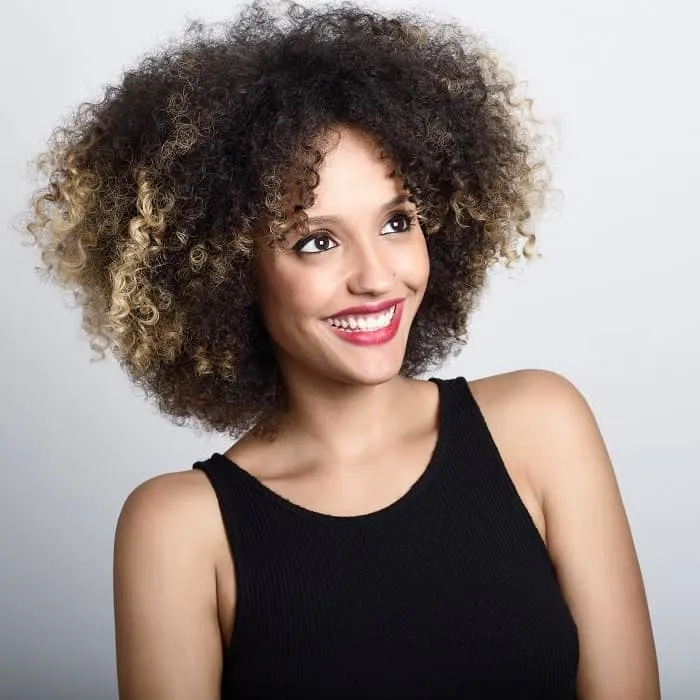 Black hair is always gorgeous when given blonde highlights. For a curly bob, highlight just the ends of the hair to show off your hair's texture. Contain frizz with a hair oil that also acts as a conditioner.
15. Blonde and Orange Ombre Hair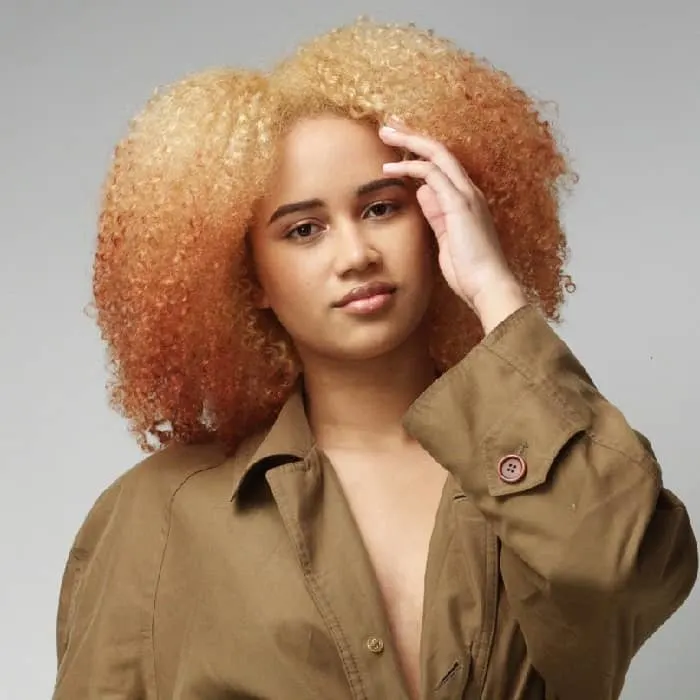 Blonde and orange is one color combination not many women think about, but as an ombre it works. Rock it on your thick curly hair and leave locks loose to make a statement.
16. Burgundy Box Braids
Treat yourself to burgundy box braids, another color that flatters dark skin. Magenta, purple, and burgundy mix with black for a feminine and sophisticated hairstyle great for both formal and informal occasions.
17. Rainbow Shaved Pixie
The shaved shapes of this pixie become even more edgy with bright colors. To keep the colors from being too overwhelming, keep the choices to three. This will help you stay presentable-looking.
18. Turquoise Short Hair
Pair turquoise with white on a short hairstyle for thin hair. Hair is layered throughout, but there's a small shaved area on one side at the temple as well. Tease the layers near the crown to get extra volume when wearing it down.
19. Black Curly Hair with Green
These thick black curls have a slight green tint to them. On dark hair, sometimes it's necessary to bleach the hair first when adding color, but this dark forest green is noticeable and gorgeous.
20. Light Brown Braids
Long braids for women growing out their natural hair come in light brown as well. The ends are full of curls, which look gorgeous when bunched together and worn over one shoulder.
21. Magenta Thick Braid
Feel like an updated Rapunzel with a high thick side braid in magenta. Slick the hair back with product to banish frizz, then add in gold hair cuffs all along the braid.
22. Light Blonde with Underlayer
There's a beautiful blend of dark and light on this wavy hairstyle. With dark brown underlayer, the light blonde on top stands out even more. Worn down or up, this blend will always be easy to show off.
23. Thick Blonde Curls
Is your curly hair needing a revival? Treat it to a gorgeous blonde. If your skin is light or pale, this color will flatter your complexion while making curls look rich and soft.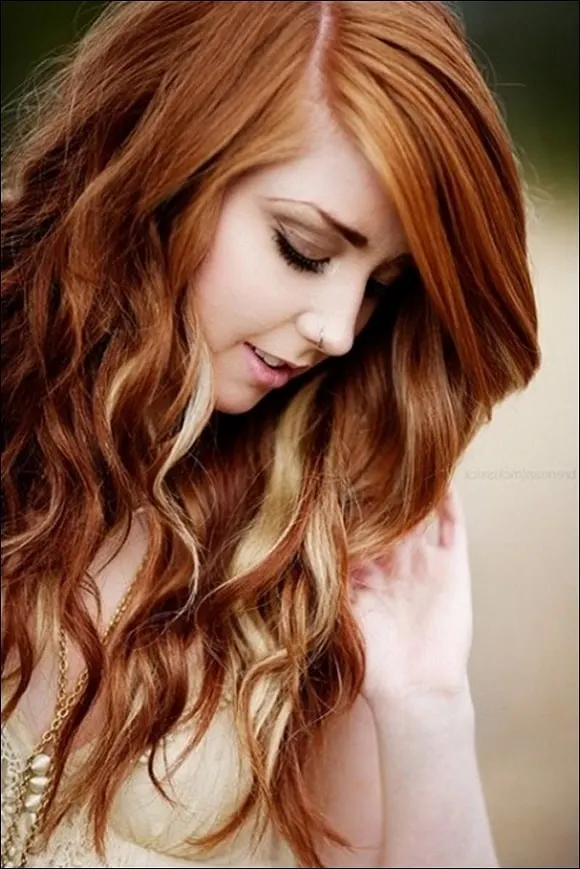 Red is one of the most popular hair colors for light skin, and it doesn't hurt that so many natural redheads have fair skin. The creaminess of a pale complexion against the fiery tones of a beautifully blended red shade is just to-die-for. This hue, with its orange tones, is perfect. The sneaky blonde highlights add brightness.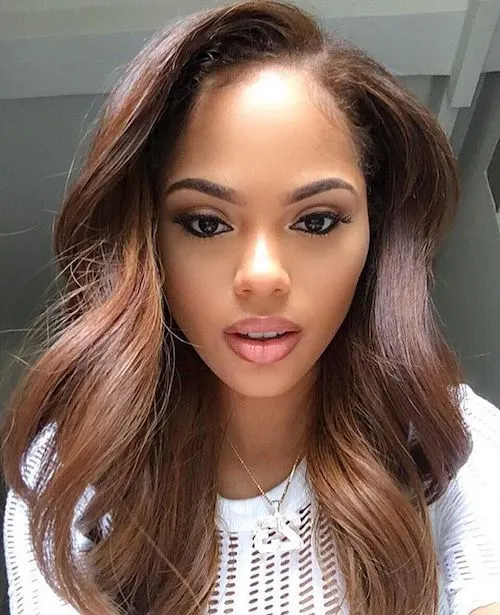 Although this lovely head of hair is more dark, lustrous brown than anything, it has a reddish aura. Well-placed highlights and lowlights create a flawlessly blend of colors that come off looking cinnamon sprinkled and stunning.
26. Milk Chocolate
One of our favorite hair colors for pale skin. Brunette shades are more dynamic and multidimensional than you might think. Starting with a milk chocolate base, pale blonde and honey highlights add vanilla swirls to her sweet coiffure. You don't have to pair pale skin with dark colors—medium shades are just as complementary.
27. Toasted Almond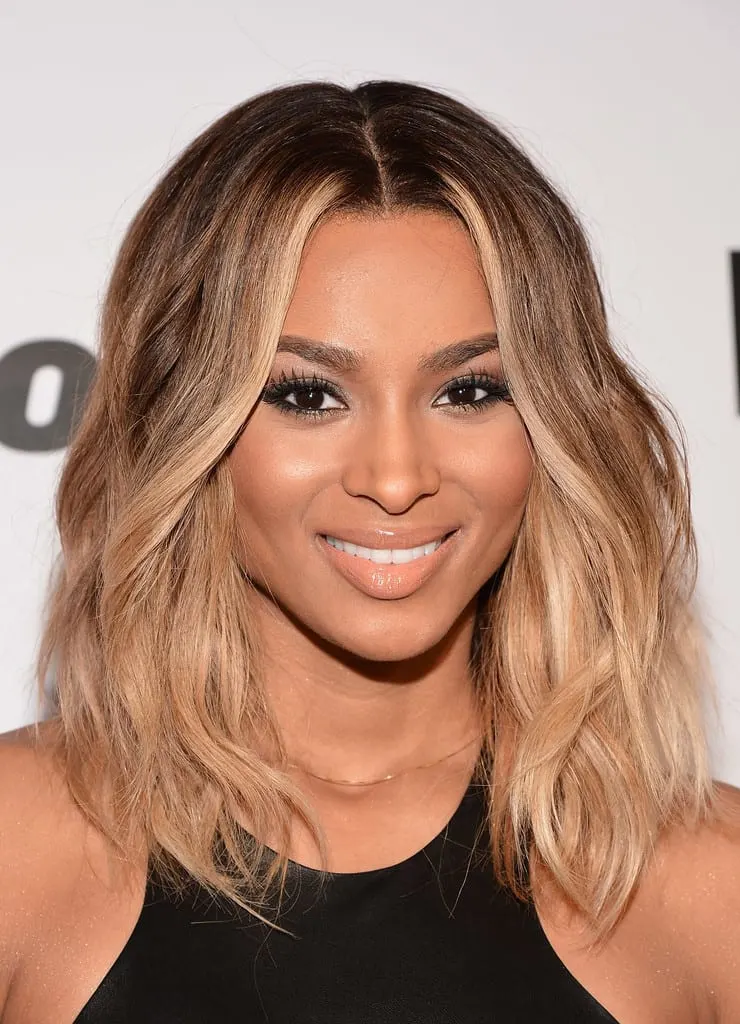 Hair colors for light brown skin run between light, dark, and medium, as well. This gorgeous toasted almond effect is the work of the balayage technique. The blonde streaks around the face draw attention to the face, plus they illuminate the roots.
28. Lovely Lilac
There's just something about purple and fair skin. Perhaps it's because the blue half brings out the cool winter undertones in pale complexions. Either way, a deliberately faded lilac looks fabulous against fair skin.
29. Gray Hair Color
We just can't get over Amandla Stenberg's foray into gray, and we're night sorry. You can't deny that it looks luminous against light brown skin tones. It's so silvery that it creates an eye-catching contrast with the warm golden undertones of her skin.
Balayage Hair Colors On Short Hair
30. Extreme Brunette
Take it from Zoey Deschanel, who's quite knowledgeable about the most complementary hair colors for light skin—she's tried most of them, after all. She keeps going back to dark brown with subtle highlights of a barely lighter shade. Hey, it works.
31. Black Velvet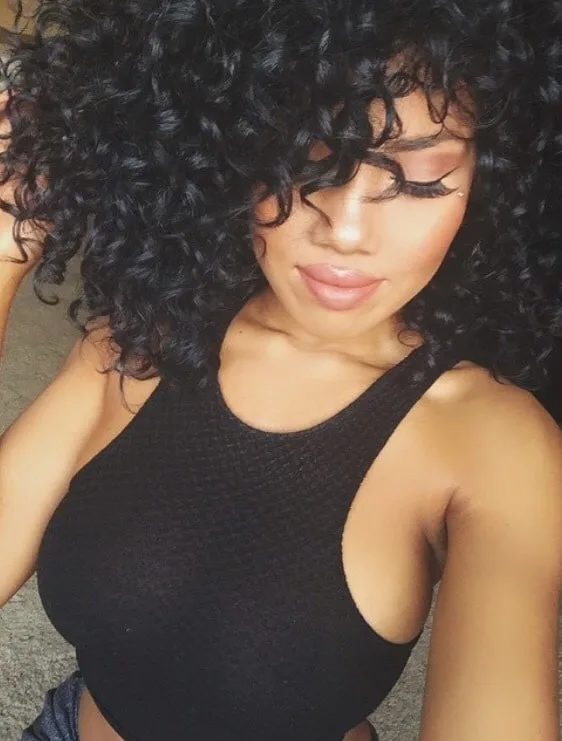 Light and dark, chiaroscuro—this combination is always a winner. Combine light brown skin with inky black hair, and the contrast stuns. It's gorgeous. Black hair with a blue or purple cast counts, too.
32. Icy Blonde
You might not think pale hair colors go with pale skin, but that's not so. An icy shade of blonde against a fair, creamy complexion is high fashion all on its own. You'll feel—and look—like an entirely different person.
33. Golden Brown
A warm, natural golden brown is a gorgeous hair color for light brown skin. A few streaks of blonde can brighten the shade even more. To be honest, this entire look is lovely beyond words.
Our Most Favorite Short Hairstyles for Girls
What are some of your favorite hair colors for light skin? How about the best shades for light brown skin? Tell us what you've experimented with and what looked amazing.