Developments in hair color technology mean that you no longer have to stick with the hair color that you were born with. Caramel, violet and cinnamon brown hair colors are some of the most popular shades of hair color in the world for those who are planning on dyeing their hair. Take a look through this inspirational list of caramel, violet and cinnamon brown hair color ideas to try to find inspiration for your next color.
Caramel, Violet and Cinnamon Brown Hair Color Ideas
It is now possible to dye hair almost any shade that you want without causing much damage to the hair. However, if you are planning on changing your hair color dramatically then you should consult a trained stylist. They will use the best products and techniques to make sure that your hair is not left feeling brittle and dry. To keep your new hair color looking fresh, you should make sure that you treat your hair with special hair color care products.
#1: Highlights and Lowlights
Cinnamon brown hair colors can be built upon with a combination of gorgeous complementary highlights and lowlights. These colors can help to give the illusion of more texture and volume to any women's hairstyles.
Caramel Highlights on Brown Hair Ideas
#2: Messy Sexy
A messy sexy style looks super hot whichever hair color you are rocking. Although this look may be a little bit extreme for your everyday look, you can rein it back in a little bit and still look amazing.
#3: Long Lush Chocolate Brown
This brown hairstyle is deep and sumptuous. When teamed up with this gorgeous haircut, the color looks amazing and full of body. Rich chocolate brown colors suit thick but subtle women's hairstyles. Treat your hair with styling products to prevent the look from becoming "flyaway".
#4: Warm Cinnamon
Warm cinnamon brown colored hairstyles go really well with a lot of different skin colors. Whilst cinnamon tones help to make pale people look rosy-cheeked, they also look great on tanned beauties too!
#5: Loose Waves with Sweeping Bangs
Loose waves are gorgeous for a casual hairstyle or for a woman's hairstyle for a formal event. Sweeping side bangs can really help to open up your face and show off your favorite facial features.
#6: Mahogany Hair Color with Soft Waves
Mahogany hair color straddles the line between red and brown. This is a great choice of color for anyone who can't make up their mind! The reflective color also enhances any soft wave style.
Light Brown Highlights You'll Love
#7: Black-Brown with Big Curls
These big bold curls are super fun and funky. You can wear this hairstyle down when you are having a casual day out or you can pull it up into a gorgeous high ponytail for work.
#8: Waterfall of Curls
This truly glamorous style is made for the red carpet! Pull your hairstyle up into a high ponytail and then allow the big curls to come cascading down. This hairstyle looks amazing with cinnamon brown hair colors.
#9: Cinnamon Brown Highlights with a Signature Curl
Brown hair color with cinnamon highlights looks deep and rich. Change up your hairstyle by adding a significantly curled area to otherwise straight hair. This helps to create a beautifully varied yet gorgeously subtle style.
#10: Subtle Violet Hair Color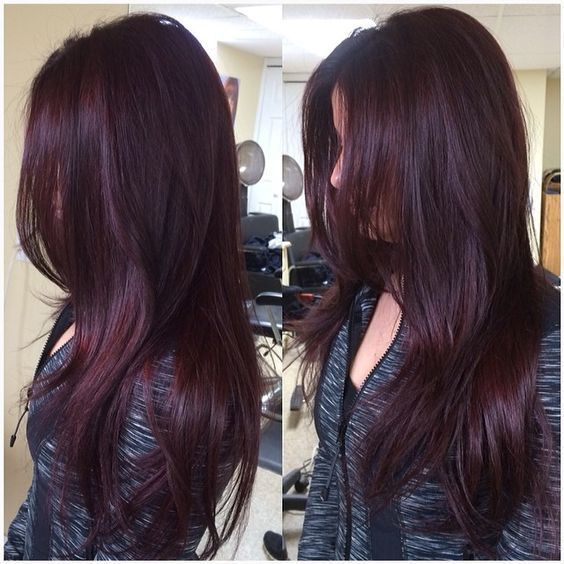 Add subtle violet hair color shades to a dark hairstyle to give your hair an amazing unique look. This will look like a normal black or dark brown hair color until it catches the light and then it will shine purple.
Beautiful Hair Color Ideas for Girls With Class
#11: Blonde and Brown Hair Color with Fishtail Plaits
A Fishtail plait looks especially textured if your hair has lots of highlights and lowlights. Blonde highlights layered over a brown hair color base is an amazing choice for any plaited hairstyle. The differences in color really help the plaits to stand out.
#12: Beautiful Beach Hair
For beautiful beach hair, add a few light caramel or blonde streaks. If you go out in the sun a lot, your hair may even be bleached by the sun! A little lemon juice on your locks is said to help this process along. Boho waves complete the beautiful beach look.
#13: Short Curly Bob
A bob hairstyle like this one looks great whatever hair color that you choose. To give the look an ultra-modern twist, make sure that your hair is longer towards your chin than at the back of my head. This sloped style looks seriously hot.
#14: Light Brown and Blonde with Loose Curls
Mixing blonde and light brown hair colors is an amazing way to add depth and texture to your style. Light brown and blonde complement each other rather than contrasting each other. They create a perfect thick mossy look that you will want to run your fingers through all day.
#15: Ombre Styling
In this take on the Ombre look, the brown hair color is more intense at the top of the style whilst it slowly becomes more blonde in color as it moves downwards. This is a light and refreshing look.
#16: Dark Brown Hair Color with Caramel Highlights
Dark brown hair looks good as a sleek and controlled style, but dark brown hair color can be overwhelming if it is a solid block of color. Add a little bit of a lighter touch by including some caramel colored highlights.
#17: Multi-textured Caramel
The look is really cool because it works multiple different textures, colors and lengths. Having darker undertones really helps to give the style depth. It is a great semi-casual look that can be worn to the office as well.
#18: Chocolate and Caramel
Chocolate and caramel hair colors are well known for being an amazing flavor combination, and the combination works just as well for hairstyles! Gorgeous caramel highlighting looks perfect on chocolate brown hair with a loose curl.
#19: Shades of Cinnamon Brown
This women's hairstyle is built around different shades of cinnamon brown hair color. Although the model actually has quite thin hair, the various different shades of hair color actually make her hair look quite thick and voluminous. Darker roots really help to enhance this hairstyle effect.
#20: Strawberry Blonde
On a hair color chart, Strawberry Blonde sits part way between caramel hair color and cinnamon hair color. It is a great hair color idea if you have pale skin and petite features. It also looks really natural on people with a subtle tan.
#21: Cinnamon Hair Color with Brown Lowlights
Lowlights are a great way to give any hairstyle more depth and texture, although they work best with a loose wave hairstyle. Chocolate brown lowlights go really well with a fiery cinnamon hair color.
#22: Shrinking Violet
This hair color is very nearly black. It only has the smallest hint of violet hair dye in it. Although "shrinking violet" can be used to mean shy, you will feel anything but shy if you choose to use this hair dye color idea!
#23: Dusky Violet
If you have dark hair, a dusky or pastel shade of violet hair color may stand out a bit more. You can color all of your hair in this shade or you can choose to color a select few strands instead. If you only decide to color a few strands, you can use these strands to draw attention to your facial features.
#24: Thick Hair with a Hint of Violet
Thick hair looks perfect with a subtle hint of violet that only shines through when the light hits your looks. A dark shade which radiates violet dye will look instantly luscious and touchable. A women's hairstyle which is this thick will offer maximum styles with minimum effort.
#25: Chocolate Violet Hair Color
Is it chocolate or is it violet? This brilliant shade of hair color is perfect for those who can't make up their mind. Whilst the shade is an unnatural hair color, it is also subtle enough to wear at work without causing any trouble.
Caramel, violet and cinnamon brown hair colors can give your friends and admirers something to talk about. You are sure to make a big impression whether you choose a simple and subtle style, or whether you choose to give your 'do an out of this world color. Check out some of our other lists for more inspiration about color and styling.