Who says that 50 to 60 years old women with glasses can't have fabulous hairstyles? In fact, when these women choose the right hairstyle for their face shape and their glasses, they can look absolutely stunning.
Don't let anyone fool you, over 50 years old women have the experience of life and know exactly what they're doing when it comes to their hairstyle too.
Hairstyles for 50 to 60 Years Old Women with Glasses
Most women in their 50s, 60s or even 70s choose shorter haircuts. This is especially true for those women with glasses.
Glasses with a shorter haircut is a great combination because it makes these women look playful and fun while still looking professional. Easy maintenance is the other reason why women in their 50s, 60s and above love these hairstyles.
#1: Layered Bob
One of the most popular hairstyles for 50 to 60-year-old women with glasses is most certainly a layered bob. Wearing this hairstyle with subtle cat-eye shaped glasses creates a sophisticated look. Hair colors that are great here are blonde and walnut brown.
Fashionable Hairstyle Ideas for Women Over 50
Women with smaller faces should, of course, choose smaller glasses. Along with this, it's a great option for them to focus on the volume of their hair. Adding layers and highlights to your hair will definitely add to that volume.
#3: Pixie Cut with A Fringe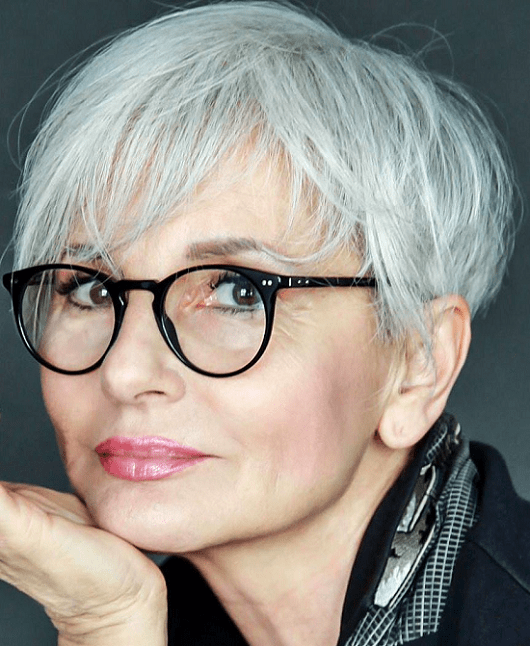 Wearing round glasses is a statement and what better way to take that look to a new level than with a pixie cut. Pixie cuts with a fringe have become trendier than ever among women in their 50s to 60s. That's not surprising since this haircut makes them look very unique.
#4: Faux Hawk
Older women above 50 years old who wear simple glasses often tend to look a bit boring and plain. This is why they should take some extra time when picking a hairstyle. Faux hawk with round glasses is for those women who enjoy embracing their rebellious side.
#5: Subtle Pixie Cut
Sometimes, less is more. A choice to accompany regular-shaped glasses with a nice looking pixie cut is one that many women make. Pixie cut looks the best on 50 to 60-year-old women when they color their hair in ashy blonde or light-strawberry blonde.
#6: Long Bob
Rectangular shaped glasses go really well with simple hairstyles. That's why long bob with naturally grey hair is an excellent choice.
#7: Wavy Faux Hawk
Women who wear cat glasses are aiming to look classy. Looking classy doesn't have to exclude daring hairstyles. It's a great idea to curl your hair and wear it in a faux hawk.
#8: Elegant Ponytail WIth Bold Black Glasses
If you're one of those over 50 aged women who like special details in their accessories, you're probably wearing basic looking glasses that have a special detail. Here, that detail is elongated edges. When you have something so special and subtle, it's best to stick to basic hairstyles such as ponytails.
#9: Short Bob for Older Women
Cropped and symmetrical bob haircuts look the best on older women who are striving to look attractive. This is why it's so great to have this hairstyle with cat style glasses, it makes you look like an attractive teacher.
#10: Curled Short Bob for Women Over 60 With Glasses
Most women in their 50s and 60s want to look professional and well put together. They often wear beautiful edgeless rounded glasses for that reason. Following the shape of the glasses, they should also curl their bob towards their face.
#11: Short Bob With A Fringe
Glasses with sequins can be difficult to incorporate into your look. They require you to have special haircuts and unique clothes. One unexpected choice for a haircut in women in their 50s, 60s and 70s is a short bob with a fringe. This is why it's so great to wear it with these glasses.
The Best Short Hairstyles for Round Faces Over 50
#12: Sharp Pixie Cut
Women with strong facial features have the luxury to embrace their beauty even when they get older. They can do this with sharp-looking glasses that perfectly frame their face. With that, they should also choose a sharp pixie cut that they will maintain well.
#13: Bob Haircut With A Long Fringe
Wearing glasses with purple-tinted lenses can be paired with an appropriate hairstyle. Otherwise, these glasses can make you appear older. A great hairstyle choice here is a bob with a longer fringe. To fully embrace your appearance, keep your hair's natural color.
If you have a smaller face, you need to wear smaller glasses. But, that doesn't mean that those glasses can't be unique and gorgeous. Round glasses on a smaller face are perfectly suited for a pixie cut with many layers.
#15: Long And Slicked Back
When older women comb their hair back, it means that they want to look serious and sophisticated. Slicked back hairstyle is a perfect choice for women who wear edgeless cat-shaped glasses.
#16: Very Short Bob With Circular Glasses
Cutting a very short bob can be a rebellious act. That's why you need to also have rebellious looking glasses. Here, the goal is for those glasses is not to take over your face, which makes rounded glasses a great pick.
#17: Long And Wavy
Older women who still have long hair and aged over 50 to 60 should love the above hairstyle. When you care about your hair that much, it's best to wear glasses that won't take over your face. Wear round glasses with frames in subtle color for that reason.
#18: Warm Tone Bob
When they reach their 60s, many women want to still look very vibrant and fresh, so they color their hair in warm-toned colors. Of course, this means that wearing glasses with warmly toned frames is a must.
#19: Short And Slicked Back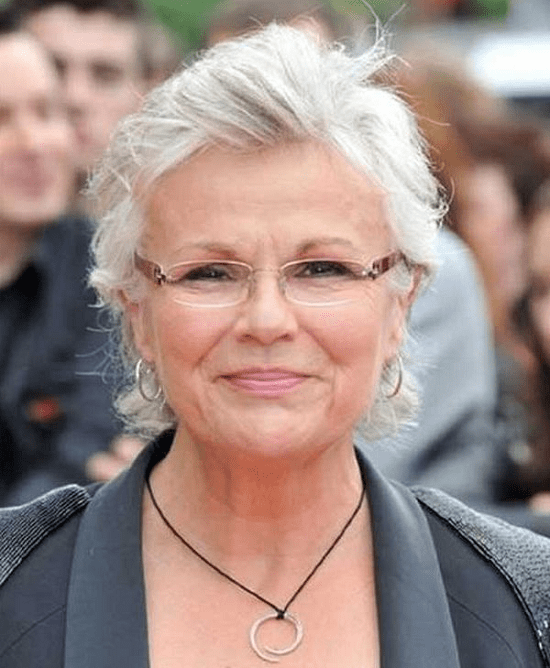 Combing short hair backward isn't reserved only for men. However, you should be careful when you're choosing a hairstyle with this. Picking more serious glasses is a must here. The best choice is edgeless glasses with brown hinges because they will make a perfect balance between appearing classy yet still fun.
#20: Hair Behind The Ears
This simple glasses with a simple hairstyle combination is awesome for women who don't want to put too much effort into their look. Yet, with this combination, they can still look trendy and well put together.
#21: Bob With A Fringe
Women with high-quality hair will want to embrace it even when they're older. When 50 to 60-year-old women decide to wear sunglasses they have permission to be as wild as they want. Add these two statement pieces and create a stunning image.
#22: Short And Natural
Women with cool-toned skin often wear warm-toned glasses to add some color to their face. When you have orange glasses, it's best to stick with a more simple hairstyle. Keep your hair shorter and natural.
#23: Crazy Amazing Faux Hawk
Wearing rectangular glasses with leopard print is a statement by itself. It's clear that you have a unique personality and what better way to highlight that even further than with a faux hawk.
#24: Round And Curly
If you want to look younger, you should search for anything that will add curves to your face. The simplest option is to wear round glasses. Curl your hair and maintain a round shape of it.
Women Over 60: The Most Versatile Hairstyle Ideas
#25: Classy Waves
Many women who want to look serious and professional tend to wear glasses with dark-toned frames. The best addition to this classy look is the wavy hairstyle. Your hairstyle will look even more elegant if you color your hair in a warm color.
When you have modern-looking glasses, you should style your hair in a similar way. Your best option here is a very classy yet simple short bob with all parts of your hair being the same length.
The easiest way to create that seductive and playful appearance is with cat eyeglasses. One hairstyle that will take this look to the next level is a longer pixie cut. If you let your hair be wild and color it in a bold color, you will look like a million dollars.
#28: A Messy Bun
Women aged above the 60s, who are proud of their age tend to wear monochrome clothes and accessories. While they're trying to embrace their mature look with monochrome glasses, they should choose a sophisticated messy bun.
#29: Silver Hairstyle
Whoever said that women in their 50s to 60s can't have fun with their appearance, they're wrong. If you're a true daredevil, try out and see if silver hair suits you. Go all out with some silver glasses as well.
#30: Voluminous And Curly
A lot of over 60-year-old women struggle to maintain volume in their hair. The easiest way to create a great volume is with curls. This hairstyle is perfect for those women who wear glasses because it just adds to the fun appearance.
#31: Medium Lenght And Layered
Picking plain white glasses is a statement by itself. If you're looking to really spice your look, even more, keep your hair medium length and add some layers to it.
#32: Sleek Short Bob
Women in their 50s and 60s often want to look as wise as they are. In order to create that wise teacher look, you should combine regular looking glasses with an easy hairstyle. Comb and style your hair until it looks well put together.
#33: Side Swept Hairstyle
If you want to change up your appearance, it's always a great idea to comb your whole hair to one side. This hairstyle goes exceptionally well with cat-eye shaped glasses.
#34: Crazy Amazing Curls
Preparing for a special occasion always requires some creativity. If you're someone who already has unique looking glasses, then it's time to pick a perfect hairstyle to go with them. In this case, you should strive to create perfect looking curls.
#35: Crop Haircut
One of the most commonly seen hairstyles for women over 50-year-old. Modest looking glasses go great with an equally modest-looking hairstyle. If you want to keep things easy and simple, get a cropped haircut and call it a day.
#36: Curly With A Fringe
If you're someone who loves to play around with colors, you probably have glasses with tinted lenses. If this is true, then you should choose a hairstyle that will frame your face really well. A hairstyle that can do that the best is curly hair with a fringe.
#37: Spikey Hairstyle for Over 60 Women With Glasses
When you're above the 50s or 60s, you really can't go wrong with a spiky hairstyle. This is the only time after your teenage years when you can experiment with this hairstyle. It looks best on women who wear bold looking glasses because it adds to the drama.
#38: Pushed Back But Left Wild
When you have glasses with very thick frames, everyone knows how daring you are as a person. Since it's clear that you're not afraid of looking unique, push your hair to the back, but leave it wild.
#39: Intense Curls
It's often hard to express your fun nature when in your 50s or 60s. Wearing glasses can hide that personality trait even more. This is why creating intense curls is always a perfect option.
#40: Voluminous Ponytail
Older women who wear classy looking cat eye shaped glasses will look special no matter what. This is why they have the luxury to pick more simple hairstyles such as high ponytails.
With short, tousled layers, you get the texture that makes thinning hair look much fuller. The platinum color looks chic and modern for a style that isn't stuck in the last century.
There's nothing wrong with letting your natural hair color shine through, and we love this look that boldly grabs on to the salt and pepper color of aging hair and makes it look cool with glasses.
The natural texture of her hair here looks and feels liberating, as it should, because over 50 or 60, you know more of the world and what's most important. Feeling confident and happy in the way you look? Now that's beautiful and priceless.
If you aren't keen on looking like an all-American typical grandma though, try this look. Pixie cuts are always stylish and with this sandy blonde hair color, you'll hide your age well.
Bangs are great for girls. But they're also iconic on older women with glasses who want to look their best. We love this platinum bob with short bangs. It's classic, which never goes out of style!
If you've always loved curling your hair, you don't need to stop now that you're over 50and have to wear glasses. This style brings in short, round curls and blondish highlights on sandy-colored hair for a mature look that doesn't look old-fashioned.
If you don't want to go all white, go for a blondish look instead. It will add more sheen and texture to your hair to keep it from looking thin and wispy. This simple haircut looks fantastic with color controlled in this way.
This is another fantastic example of how you can steal a youthful look without trying too hard. With a bit of shag and layered cut, grays are jazzed up with a light purple which adds dimensions and shines and looks urbane, cool, and fun.
#48. Strawberry Shortcake
Remember when you were young and you swore you'd never dye your hair that neon red that older people always used to do? That's what makes this red perfect. It looks natural without having that overdone feel. A little teasing and tousling give this style dimension and flair old ladies with specs.
#49. Short and Blonde
The trick with blonde hair as you age is to choose a warm tone if you're going to leave length to it. Like here. Keep it no longer than a bob for a smooth and sleek look if you're not ready to leave your blonde locks behind.
#50. Snow White
Some women in their 50s/60s consider ahead of short white hair a blessing. After all, it hasn't fallen out, and you can still style it. Soft curls add volume and look lovely, giving you the kind of style that makes your grandkids want to reach out for hugs and ask for cookies.
Women in their 50s, 60s, 70s or even 80s have many more hairstyle options than they could ever imagine. With all of these options, it's easy to find a perfect hairstyle that will go well with your glasses.