There are many great hairstyles for women who wear glasses all or most of the time. Many of these great hairstyles include bangs. Not only do they help frame the face, but with so many varieties of bangs, it's easy to put a woman's own personal touch on them to use them as another way to express herself.
Here is a table showing different bangs hairstyles and suggested glasses for your consideration.
| Bangs Hairstyle | Suggested Eye-Frames |
| --- | --- |
| Wispy Bangs | Round Frames |
| Blunt Bangs | Cat Eye Frames |
| Side-Swept Bangs | Square Frames |
| Curtain Bangs | Aviator Frames |
| Baby Bangs | Geometric Frames |
| Textured Bangs | Wayfarer Frames |
| Long Bangs | Rectangular Frames |
| Choppy Bangs | Oversized Frames |
| Layered Bangs | Oval Frames |
| Straight Bangs | Bold Colored Frames |
| Angled Bangs | Tortoiseshell Frames |
| Feathered Bangs | Clear Frames |
| Arched Bangs | Metallic Frames |
| Asymmetrical Bangs | Half-Rim Frames |
| Fringe Bangs | Vintage Frames |
| Curly Bangs | Colorful Frames |
| Micro Bangs | Minimalist Frames |
| Pixie Bangs | Round Frames |
| Voluminous Bangs | Bold Frames |
| Faux Bangs | Rimless Frames |
| Braided Bangs | Embellished Frames |
Bangs With Glasses
You won't need to worry so much about your face shape so much with these looks because glasses are already square-shaped, which helps to frame your face that way as well. Just look at these 18 hot bangs hairstyles for women with glasses.
1. Wispy Bangs with Glasses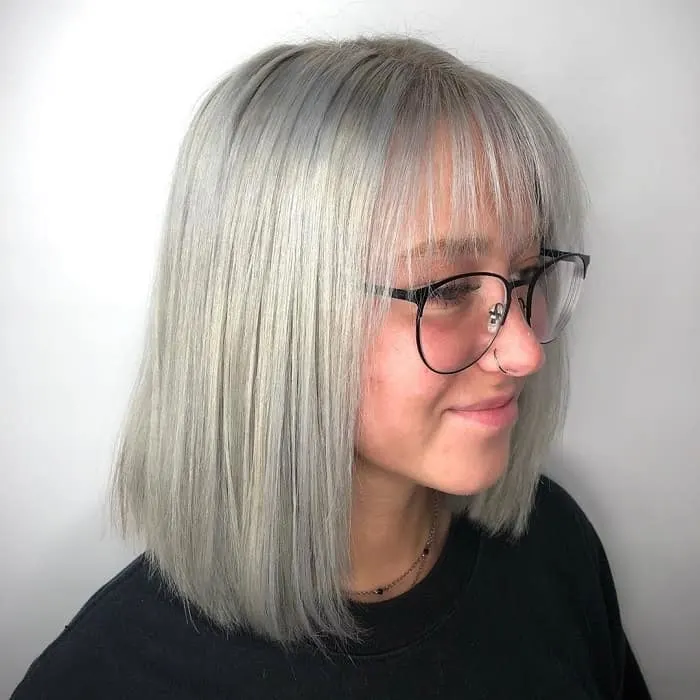 Wispy bangs aren't too thick so they aren't overpowering for small faces. When the rest of your hair is pulled up into a pony, the wispy look is super cute as well.
2. Blunt Bangs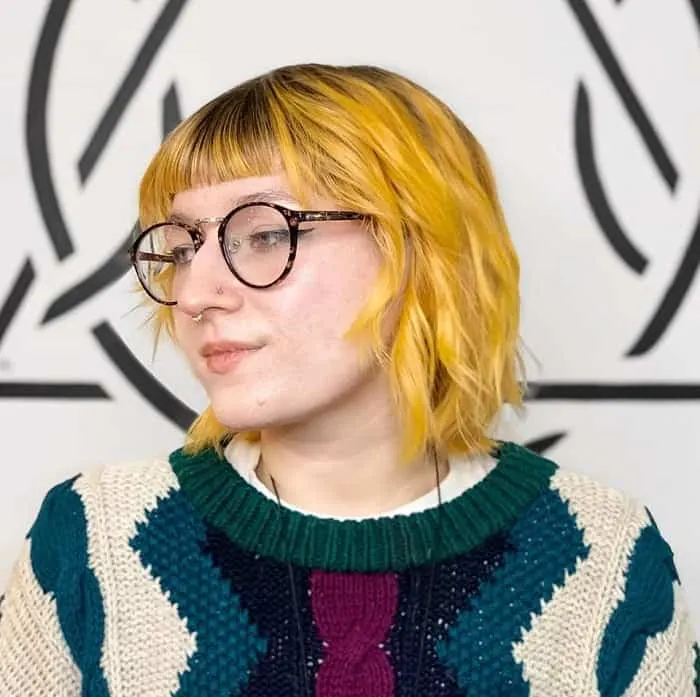 Short blunt bangs on a cropped shoulder length haircut stand out, especially with their pop of yellow color. With dark frames, this look is impossible not to notice.
3. Curtain Bangs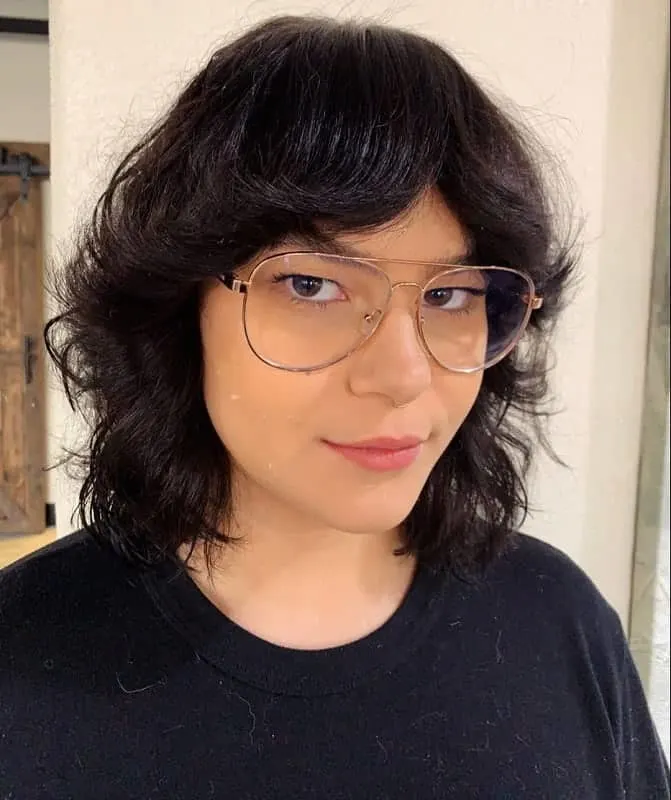 Old-fashioned frames and a wavy hairstyle with curtain bangs are a fun nod to 70s haircuts. Go vintage for awhile and rock this feminine fashion.
4. Side Bangs with Glasses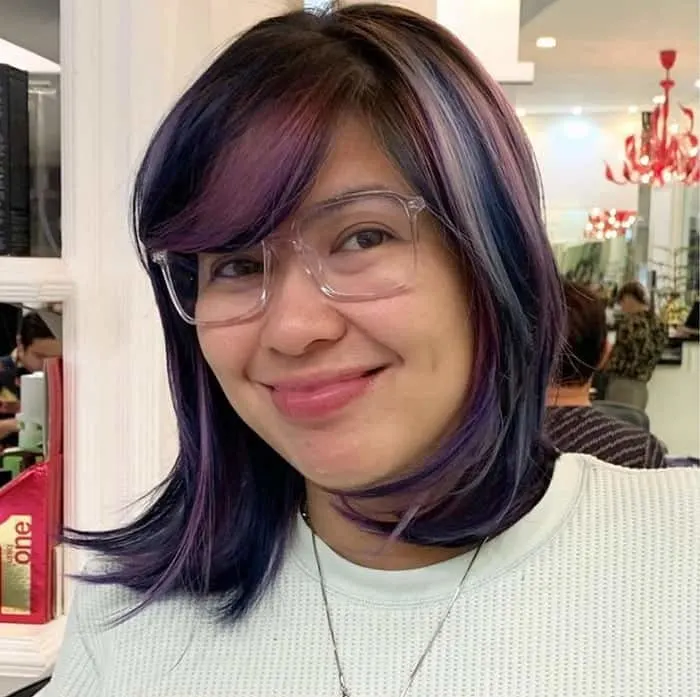 How can you update your naturally black hair? Purple highlights are still work appropriate and can even work in subtly to side bangs so everyone notices your cool style.
5. Long Hair with Bangs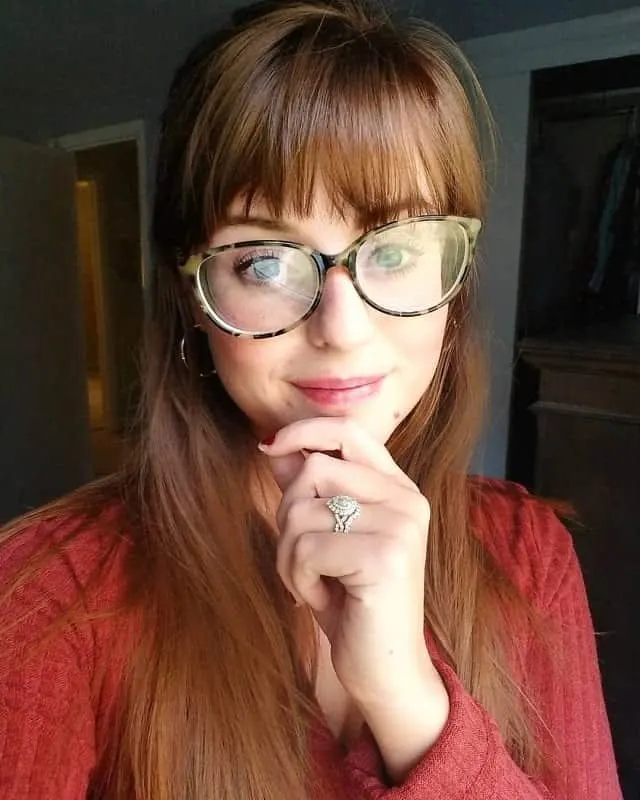 For long straight hair, let your bangs grow down to the eyebrows and use fingers to create body. A half updo will pull back a lot of your hair, leaving beautiful bangs to be the first thing everyone sees.
6. Short Bangs with Glasses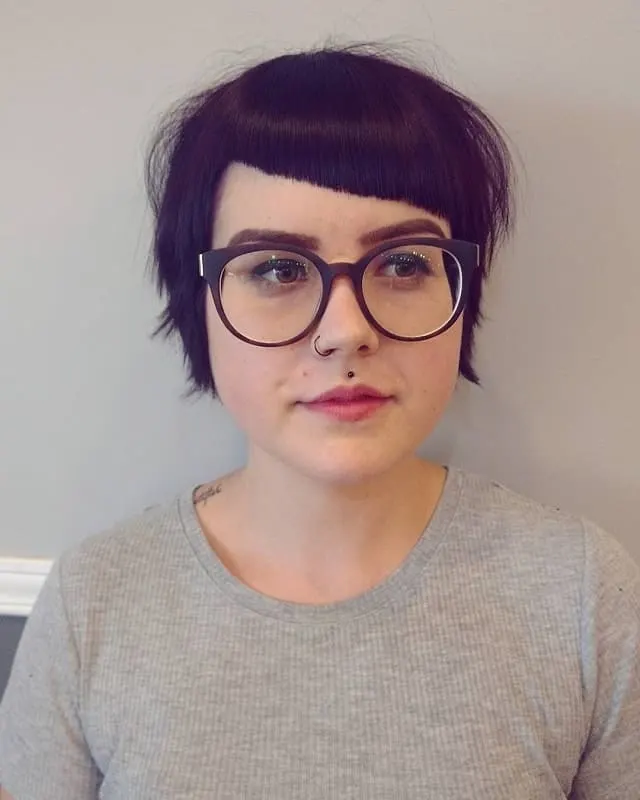 These unevenly cut short hair bangs were made for women with an artistic side. If you're looking for a modern hairstyle with hipster flair, this one was made for you.
7. Shoulder-length Hair with Bangs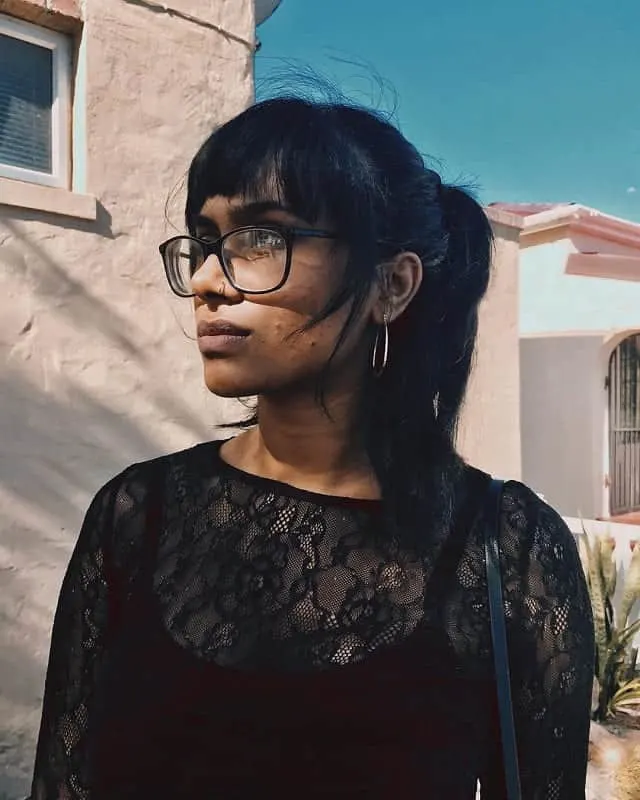 For hair that meets the shoulders or comes past it, try these bangs that are trimmed evenly in the center of the face but have longer length at sides for face-framing flattery.
8. Bangs for Round Face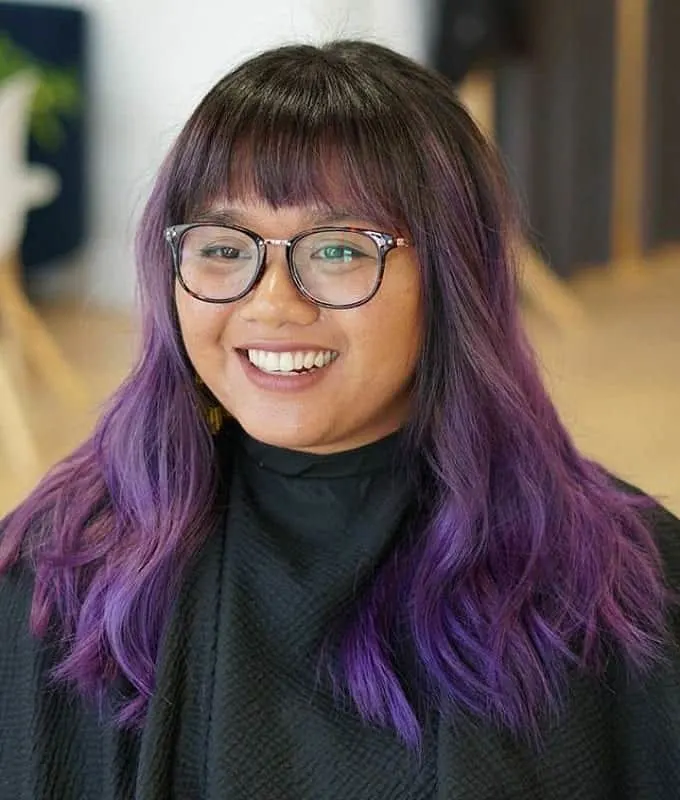 If you've never had bangs but you have a round face, you need to try bangs. They'll distract from your face shape and playing it up with pretty purple will have you falling in love with your hair again.
9. Bangs for Square Face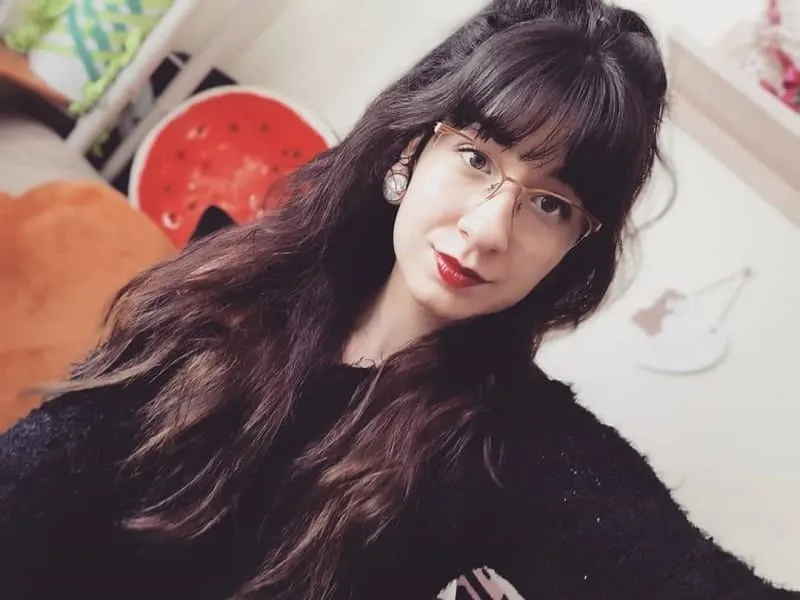 A square face would do well to have bangs with a bit of volume, meaning they don't lie flat across your forehead. Use a round brush to achieve this look; you'll look great no matter how you wear your hair.
10. Long-Faced Woman with Bangs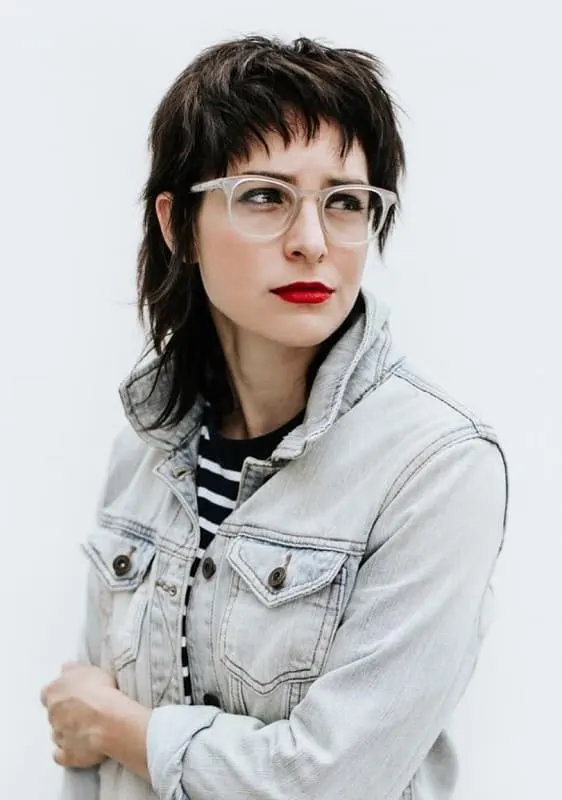 A long or rectangle face looks especially good with choppy bangs. For a cute and chic pixie cut, they're just the touch to have you looking like you stepped out of a magazine.
11. Bangs for Oval Face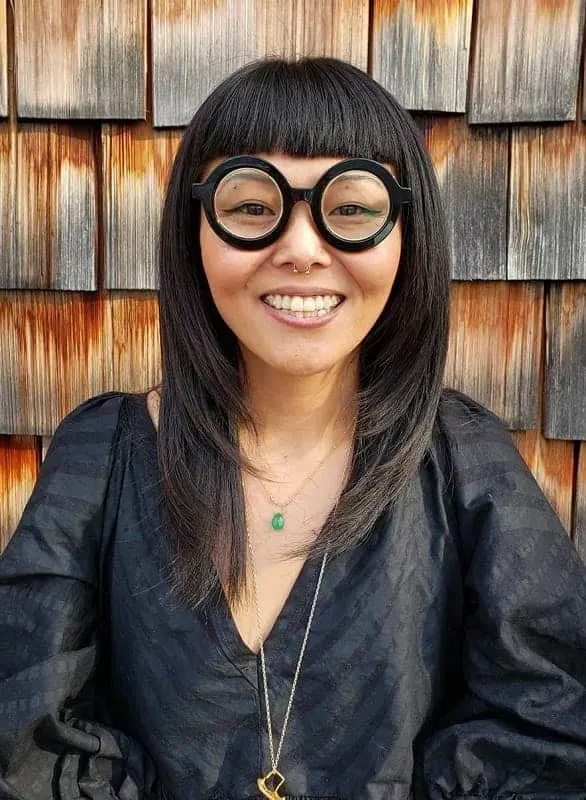 Long layers and blunt bangs that meet the middle of your forehead is a favorite for women with an oval head shape. Bonus: try round-framed glasses for dimension all around.
12. Side Swept Bangs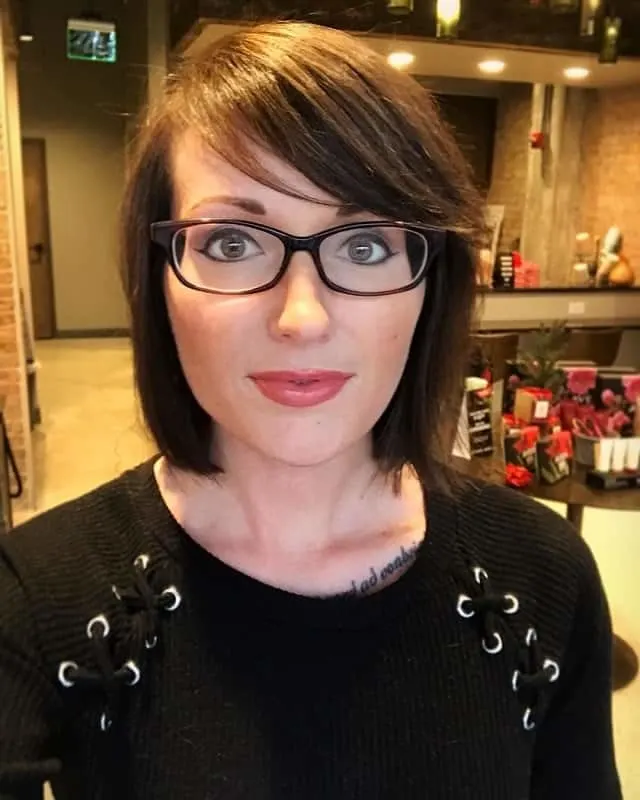 The quickest way to break up how you normally do your hair is by parting hair heavily at the side and sweeping bangs to the side as well. It's a softer look and they'll fall gracefully over glasses. Older women will also look bold with this bangs hairstyle with glasses.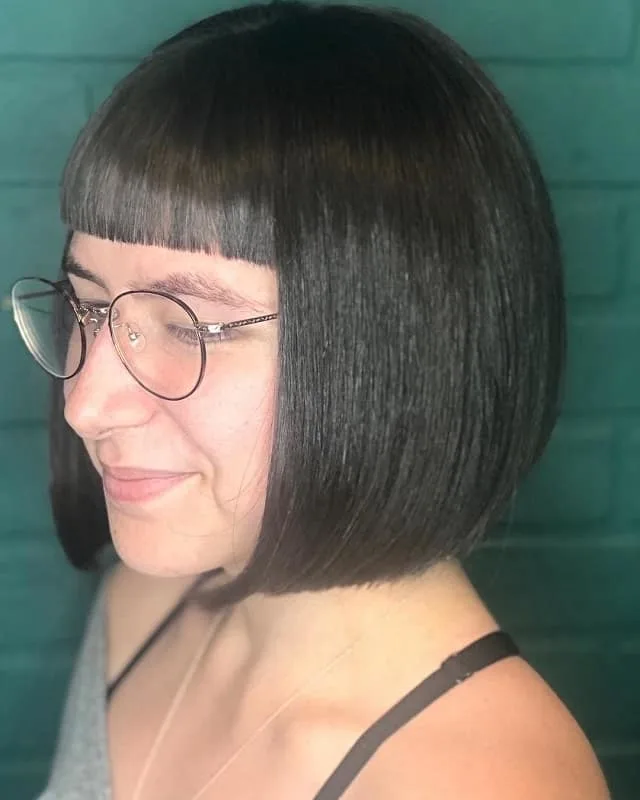 This bob has soft flipped ends and a blunt bang for another modern hairstyle option. Women with naturally straight hair will love how low maintenance it is.
14. Straight Bangs and Glasses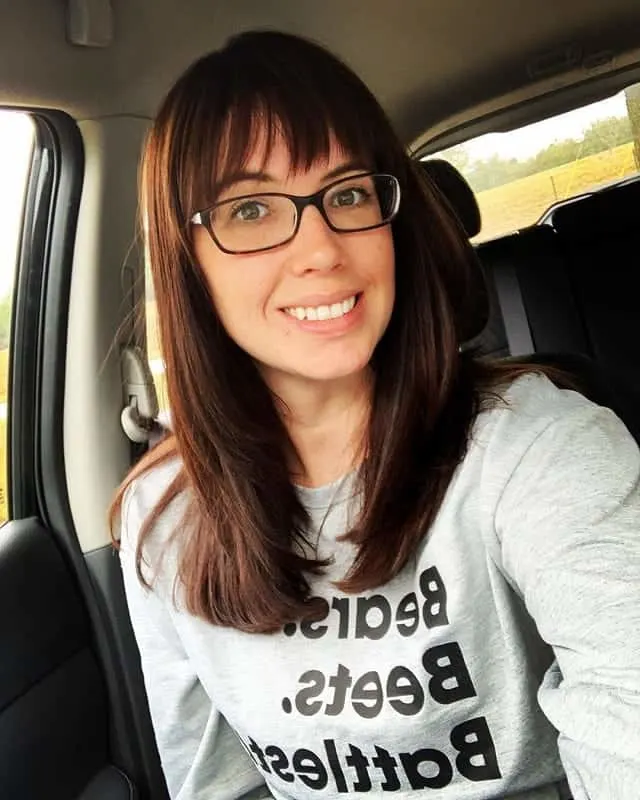 Straight bangs with a bit of choppiness make for unpredictable cuteness. These can be easily parted in the center for curtain bangs or just brushed straight for that classic style.
15. Curly Hair with Bangs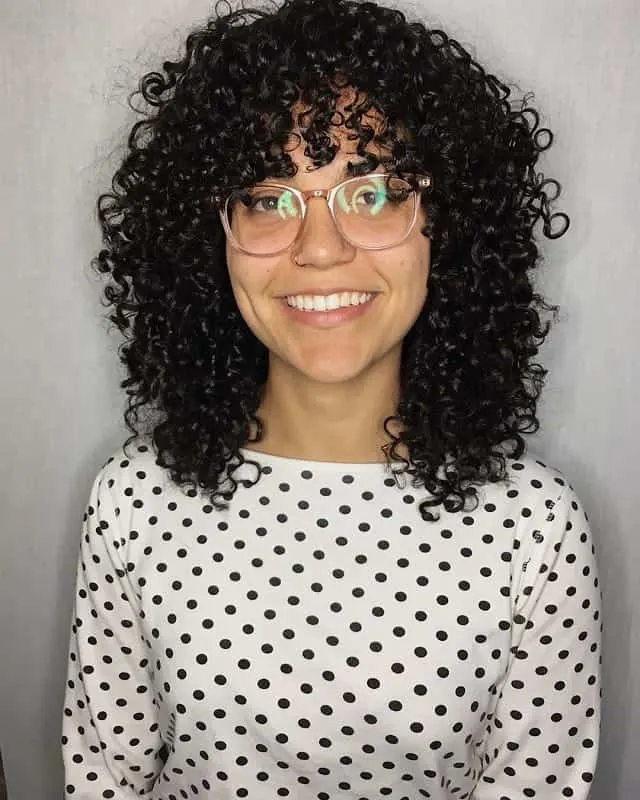 Super curly hair will rock equally curly bangs. Avoid having your stylist cut them too short though and have him/her cut them while they're dry. Finish with a style product and you're gorgeous!
16. Short Bangs with Glasses
The surest way to have your eyes be the first thing anyone notices about you is to have short bangs. Your cute pair of glasses will also be more noticeable with nothing to hide them.
17. Pixie Cut with Bangs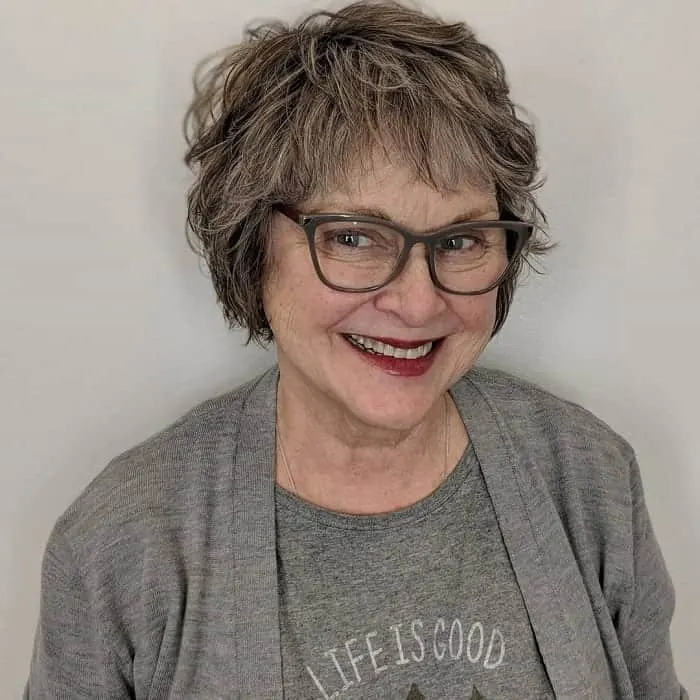 If you're over 50 and wear glasses, Try these bangs hairstyles for ladies over 50 with glasses. A wavy pixie cut is the envy of all women with choppy tousled bangs. The simple cut of them means less styling for you and more feeling cute and confident in your new do.
18. Baby Bangs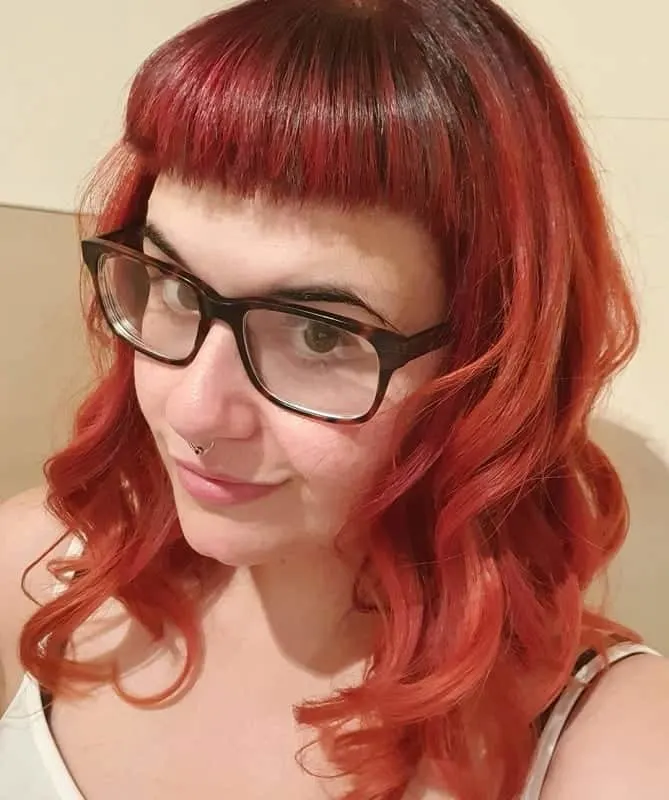 Who doesn't remember baby bangs? They feature short, blunt bangs, that pair well with just about any haircut. A soft, feminine wavy hairstyle gets a hipster touch from its mini bangs.
As you can see, all of these bangs hairstyles look beautiful and super stylish with glasses. Take your look one step further and experiment with the frames of your glasses as well.
If you buy cat-eye glasses, see how side-swept bangs change your look; the same is true with oval-shaped glasses. You never know what new style you'll stumble on!
Frequently Asked Questions
Here are some of the most frequently asked questions about styling bangs with glasses.
Can I get bangs if I wear glasses?
Yes, you can get bangs if you wear glasses. Various bang styles suit eyeglasses well. When you get your bangs cut, it's a good idea to bring your glasses with you to ensure the bangs won't interfere with your frames.
Will bangs with glasses make me look older or younger?
Bangs with glasses will make you look younger. In general, bangs make the face look young and fresh. A hair bangs will emphasize your eyes and cheekbones, lifting your facial structure.
What glasses shape looks best with bangs?
Different glasses shapes work best for different bang styles. For instance, glasses with a thick, flat top look great with blunt bangs. On the other hand, thin cat-eye glasses look best if you have a middle part or side part bangs.
Do bangs with glasses go with a round face shape?
Yes, bangs with glasses go great with a round face shape. Both the glasses and bangs will help draw attention to the top portion of your face, which will make your face appear narrower and more angular.
Trending Topics