Women today wear glasses not just when they are prescribed but also as a fashion accessory. And, with the option to choose from different types of glasses, women sure have the opportunity to flaunt different fashion styles.
No matter why you wear glasses, what you should remember is that you need to have the right hairstyle to fully enhance your overall look. One combination that works well, especially for women over 50, is short hairstyles with glasses.
Now, if you are looking for some much-needed inspiration for short hairstyles that pair well with your glasses, we have you covered! We are sure that you will fall in love with the styles that we have curated for you.
Short Hairstyles for Women over 50 with Glasses
To make your choice easier, we have created this list of top 23 short hairstyles for women over 50 with glasses. Go ahead and scroll down to find some of the top trending hairstyles in this category.
1. Bixie with Glasses
Women over 50 who wear glasses and prefer low-maintenance hairstyles should try this super short bob hairstyle.
This cute hairstyle with its inverted ends gives you ample opportunity to flaunt your glasses and your facial features. Make sure that the hair length just about covers your ears.
2. Elegant Pixie with Fringes
If elegance is your go-to style, this elegant pixie with side-swept fringes will surely be on the top of your list.
Pair it with a pair of super cool glasses like these and you are ready for any gathering.
3. Asian Bob with Glasses
Cute and simple bobs like these look pretty on Asian women over 50. The gently swept-back hair in its salt-and-pepper glory paired with a pair of black-framed oval glasses is a great minimal-maintenance hairstyle.
4. Thick Curls
A full head of natural, gray curls looks fantastic on women with round or oval face types. The curls add a softness to your overall look, so make sure you opt for glasses that complement your hairstyle.
5. Tapered Bob with Inward Ends
Tapered haircuts add a sense of volume, which is important as women tend to lose hair as they age.
This wavy tapered cut with inward ends and bangs is a good choice if you don't want to spend too much time styling your hair every day.
6. Feathered Pixie
Feathered pixies look amazing on women over 50! This short hairstyle with long layers on one side gives off a very edgy vibe when paired with a unique pair of glasses like these.
7. Purple Textured Bob with Bangs
Bangs look classy on women over 50 who wear glasses. Textured bob cuts are ideal for women with square and long face shapes, where the bangs help cover the forehead.
You could make your textured bob stand out by opting for bright hair colors, such as this purple color, and pairing the hairstyle with unique white-framed glasses.
8. Blonde Spikes
If you are over 50 and are in the mood to try an edgy and funky short hairstyle with your glasses, this blonde short spikey haircut is perfect for you!
Make sure to keep the sides short so that the spikes and your glasses are in the limelight here.
9. Voluminous Bob with Frameless Glasses
Bobs will always be one of the best short hairstyles for old ladies no matter with or without glasses. This beautiful voluminous bob paired with frameless glasses looks fabulous
Don't miss out on the unique feature of this bob, as it is a bit longer in the crown area and shorter at the back.
10. Close Cropped Cut
We love this uber cool, close-cropped short haircut with its micro bangs styled towards the side!
This entire look, with its rectangular-framed glasses, emanates professional vibes while maintaining the fun element of the overall look.
11. Salt and Pepper Puffy Bob
This puffy, wavy bob is a short hairstyle that looks beautiful with its combination of white and gray strands.
The natural waves of this hairstyle look really appealing and alluring. You can opt for any type of glasses with this short hairstyle.
12. Blonde Bob with Glasses
This blonde bob is ideal for women with thin hair, as the different layers and fringe make your hair look voluminous and bouncy. Complete this look with a pair of thick, black-framed glasses!
13. Razored Bob with Bangs
If you have a round face and want to add some edginess to your look, we recommend this textured razor bob with long bangs. You can opt for rectangle-shaped glasses to complement this edgy hairstyle.
14. Natural Tight Curls with Glasses
We absolutely love it when the curls just fall and frame the face naturally. As in this natural hairstyle, go for a side partition that makes the hair look fuller and bouncier.
Try to match the color of your hair and the frame of your glasses for a unique look.
15. Short Wispy Hair
If you have thin hair, are over 50, wear glasses, and are searching for a low-maintenance short hairstyle, then you should give this round curly wispy haircut a try!
With the curls spread across your head, you don't have to worry about your hair looking thin and lifeless.
16. Thick Shag
Messy shags are the ultimate go-to short hairstyle for women over 50 with glasses as they suit women with all face shapes, are easy to maintain, and require minimal styling efforts.
Wear black framed glasses to compliment your look here!
17. Red Highlights with Bangs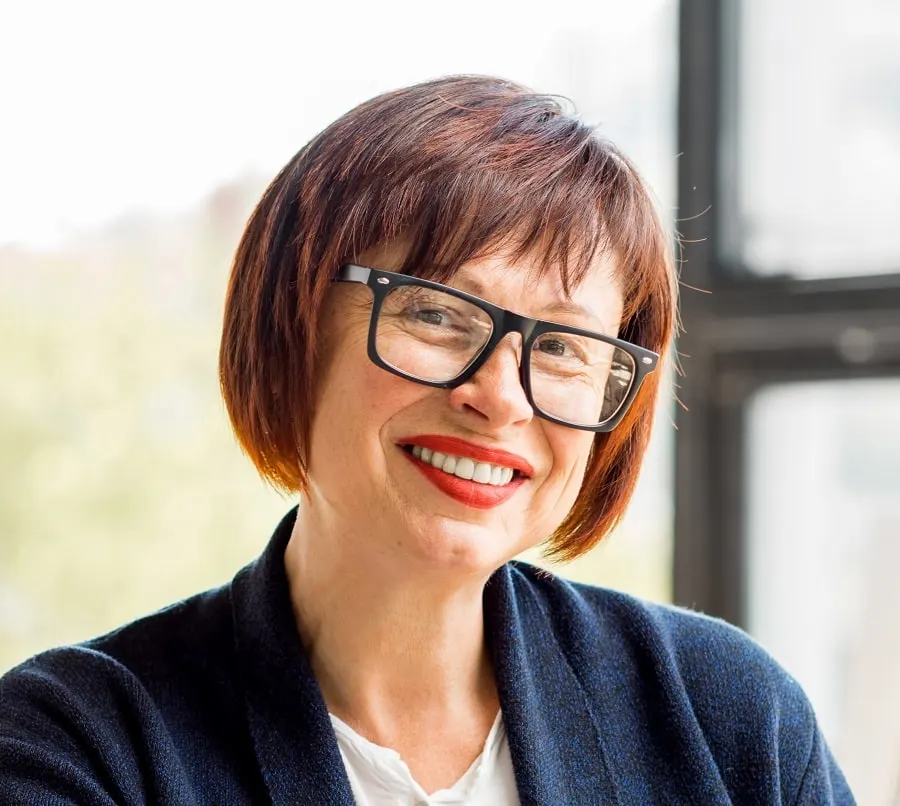 Bobs are quite popular because they can be easily styled in different ways. For example, this cute bob looks a bit edgy because of its razored edges. Go bold with a pair of oversized glasses to complete your look.
18. Mushroom Cut
This mushroom cut is a great option for women with fine hair as the cut makes your hair look thicker than they are.
To get the right look, make sure you have longer hair strands on the sides and also long bangs which will accentuate your glasses.
19. Long Bob with Uniform Edges
For a classy and simple look, we recommend this long bob with its uniform edges. Just brush your hair a few times, tuck them behind your ears, and finish off the look with a slightly oversized pair of glasses.
20. Wavy Hair with Texture & Bangs
This wavy hairstyle with added texture and bangs is yet another popular short hairstyle for women over 50 with glasses.
Suitable for women of all hair density, this slightly messy hairstyle is easy to maintain and looks good with a pair of gold-rimmed glasses.
21. The Sassy Look
Here's how you serve sass and style in your 50s! Up your glam quotient with this super sassy pixie paired with frameless glasses. This short hairstyle is definitely a showstopper in this entire list!
22. Curly Blunt with Glasses
Women over 50 with curly hair may not have the time and patience to style their curls every day.
If you are one among them, then opt for this curly blunt hairstyle which requires no styling efforts. Also, ensure you get a pair of oval-shaped glasses to go with the hairstyle.
23. Wavy Pixie Cut
And to end our list of best hairstyles for women over 50 with short hair and glasses, we have this wavy pixie with soft bangs.
Ideal for women with thick as well as thin hair, this hairstyle would look amazing with rectangle-shaped glasses.
With so many options of hairstyles and glasses available, it can get overwhelming for you to decide on the right style for you.
Hence, we recommend that you shortlist a couple of styles from this list of top 23 short hairstyles for women over 50 with glasses and ask your hairstylist to suggest the one that will suit you the best.
You can also keep your options open and change your hairstyle and glasses every couple of months.