Ariana Grande is not the only one who can rock a sexy, high ponytail, and you can do the same. What we love about ponytails is that they're practical as they get the hair out of our way, but at the same time they look hot.
Many black women and girls wonder whether they can rock pony because their hair is thick and can be challenging to control. Of course, you can! We bring you some of the most awesome black ponytail hairstyles you should definitely try.
How to Do a Ponytail on Black Hair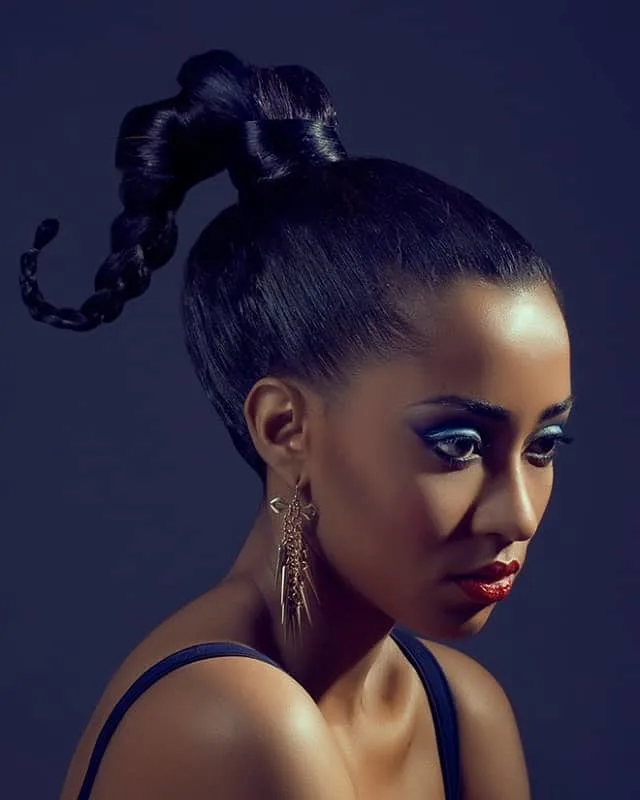 Black or natural hair can be quite difficult to control, but it's still quite easy to do a perfect ponytail. In fact, you don't even need to spend hours working on your pony, and you can get a perfect hairstyle in about five minutes.
To make it happen, you'll need a comb, brush, and spray bottle with water. Just flip your hair to the side where you want the parting to be on. Now, spray your hair to make it easier for you to create a sleek and sexy black ponytail.
Once you're done spraying your hair with water, use the brush to straighten your hair. Tie your hair in a nice little pony before you spray it again to detangle it. Brush your hair thoroughly to get a sleek look.
You're probably thinking "it would be easier with hair straightening iron," but the less heat styling, the better. If you're using the weave or something, create a low ponytail, make a bun, and place your weave around it.
When you're done making the ponytail, use a little bit of styling gel and gently rub it in your hair to avoid frizzy hair. Use a toothbrush with styling gel to control the edges i.e., baby hair. If you want the ponytail to appear in sexy locks and waves, use a curling iron.
Tips to Get A Perfect Ponytail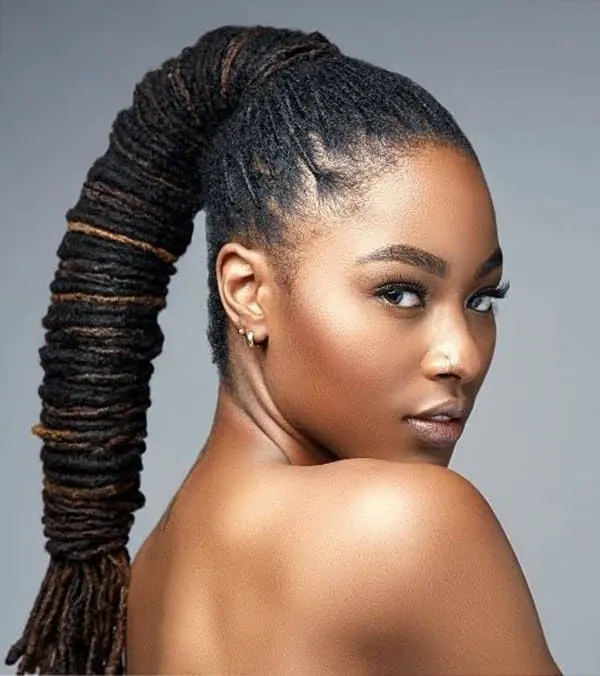 The perfect ponytail for black hair is entirely achievable, and it's not something that only famous hairstylists can create. These tips will help you get an awesome ponytail every time:
Before you even start, you need to determine where to place the pony. High ponytails that are level with temples or above give your hair more bounce while lower ponys have less movement
Always make sure you brush your hair thoroughly before you go ahead and make a ponytail. Ideally, you should brush hair in the direction of where the pony will be
To avoid messing up hair as you're tying it, you need to be patient. First and second ties are easy, but third or fourth (depending on the size of the hair tie) can be tricky. The secret is to bend the hair that's already in the ponytail tightly to completely go through the third and fourth loop as easily as it's possible
Use mousse to boost the volume of your hair, or gel to avoid the frizz
Use accessories such as headbands to spice things up
To make the pony look fuller you can opt for a double ponytail look. For this purpose, you'll need to create two ponys, one of which is hidden i.e., one is higher and the second is lower
Avoid sloppy and saggy ponytail by using bobby pins. Simply slide the bobby pins over the hair tie at the bottom part of the pony. Place the bobby pins at a steep, diagonal angle
Best Black Ponytail Hairstyles
Now that you know how to achieve ponytail hairstyles it's time to get inspired for the look you're going to rock on the next night out. Scroll down to see 41 amazing ideas for black women.
1. Smooth but Casual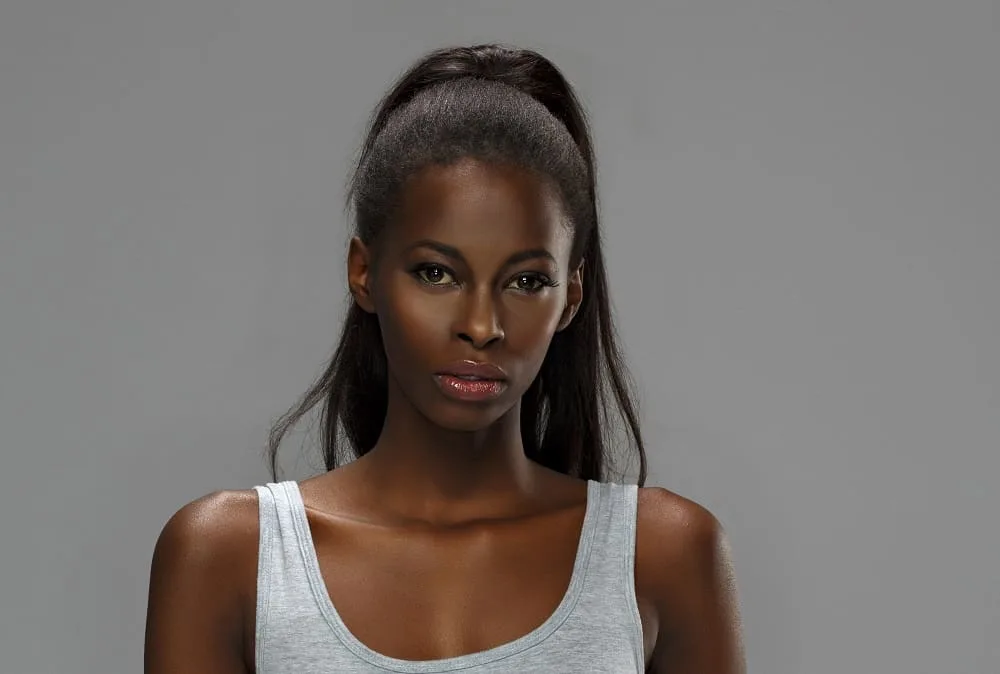 To make a casual weekend ponytail look its best and not like you just rolled out of bed and scooped your hair up, comb back the hair so it's void lumps and bumps before securing high up!
2. Crimped Bubble
A bubble ponytail means the hair is sectioned off with hair ties. To make a black ponytail pop on a night out, use hair ties in a contrasting color (like gold) to create your "bubbles."
3. Side Pony and Side Bangs
When rocking a black ponytail on the weekends, pull it over to the side to switch up your face dimension and give a little personality to your look! A side bang will soften the style.
4. Low Thick Pony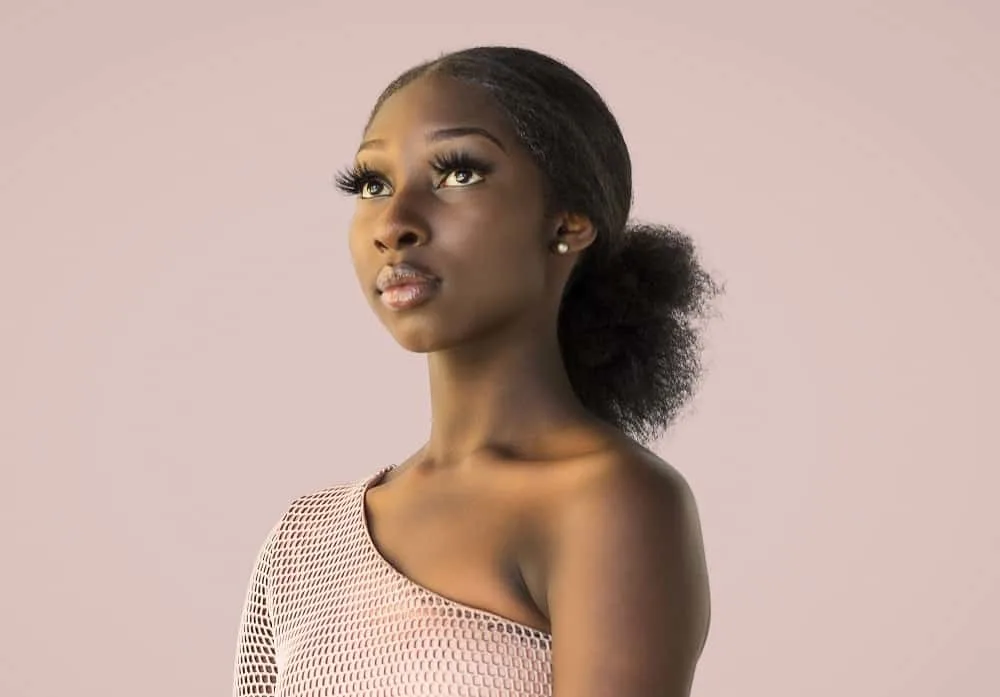 Whether you're just looking for a quick style for your thick hair on the weekends or a more glamorous style on a night out, a low black ponytail is a classic choice for thick hair. It's parted in the center before being combed smooth and secured, leaving the beautiful texture to pop.
5. Twist Side Ponytail
If you're wearing your hair in twists, gather them loosely into a side ponytail up high. Securing it off to the side will make the hair appear layered, which in turn gives it more shape!
6. Curly Pony with Thick Side Bang
Before gathering long curly or wavy black hair into a ponytail secured at mid-height, make sure you pull loose a thick section of hair to wear as a side bang tucked behind the ear. This will make the sleek ponytail appear less flat and bald-looking.
7. Extra Long Red Pony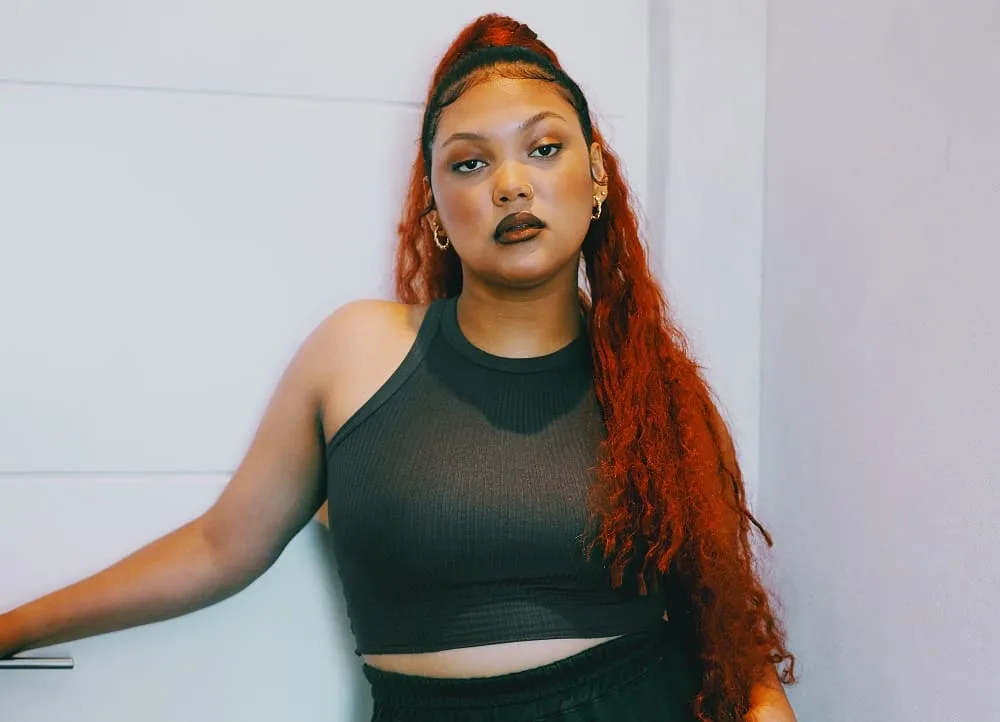 Is there anything more fierce than a bold red hair color? Rock it on an extra long ponytail secured right at the crown of your head. Be sure to comb those baby hairs smooth around the edges of your face.
8. Half Ponytail Braids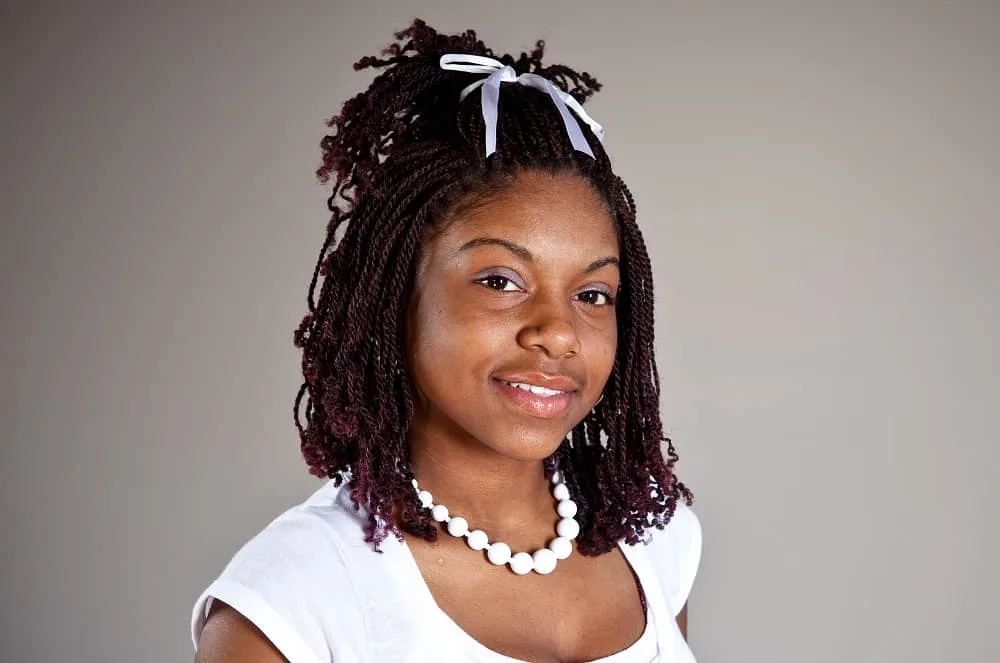 If you or your little girl are rocking thin braids that also feature their natural curly texture at ends, show them off by choosing a half ponytail. A brightly colored bow is just the accessory to secure it with instead of a boring old hair tie.
9. Locs and Braids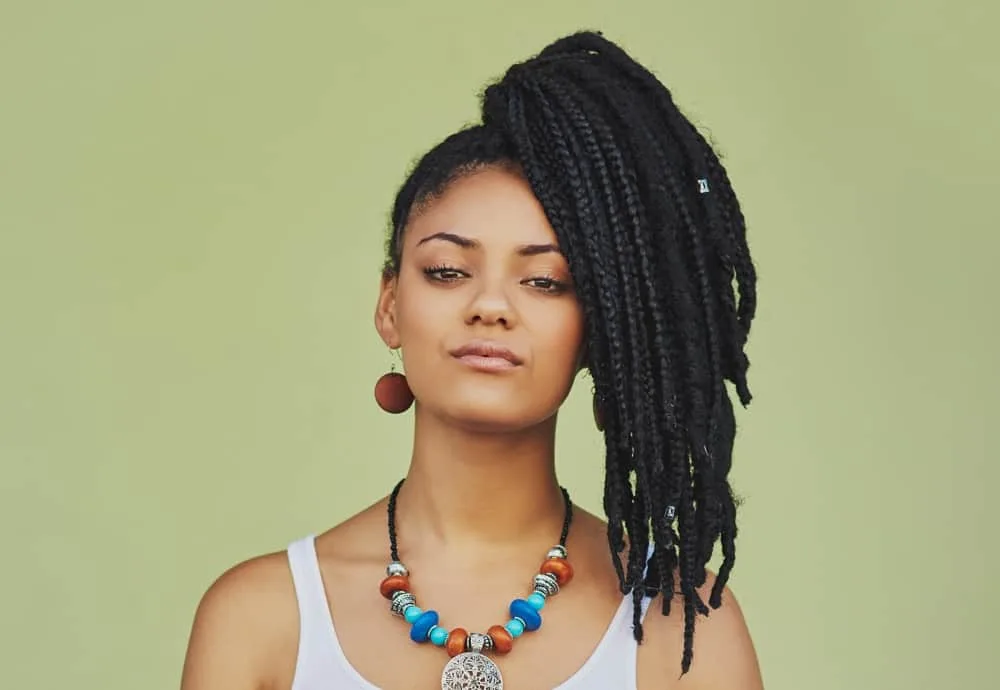 Can't decide if you like dreads or locs better? Feel free to wear them both! While wearing them down makes a statement on its own, you can also pull them into a large black ponytail. A few silver hair cuffs or beads will personalize the look.
10. Messy Low Pony and Hat
One of the best ways to rock a hat is as an accessory to a low messy black ponytail. This one is secured low and loose with tendrils for face-framing. The black fedora gives the style major boss girl vibes.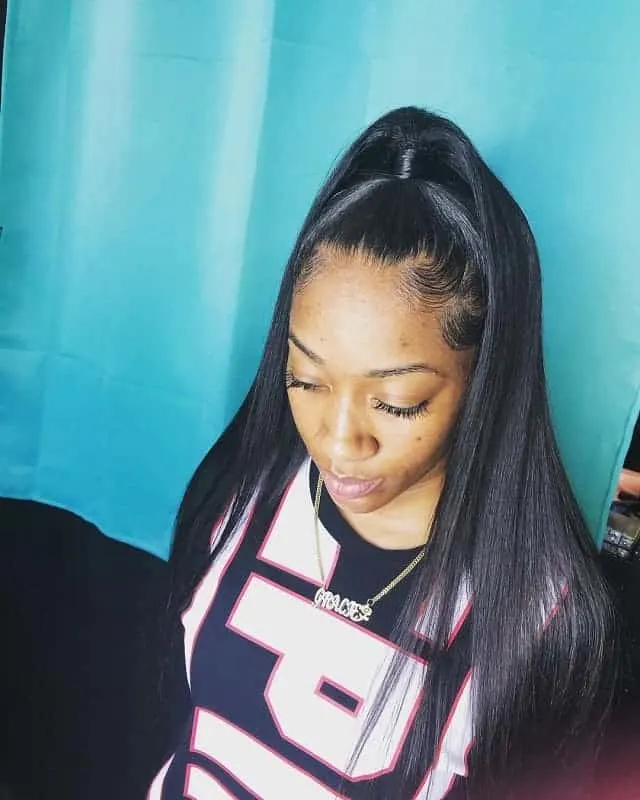 Probably the easiest way to style ponytail for black hair is to opt for a straight and sleek updo. In order to make this hairstyle happen, you'll need to follow the instructions provided above in the post; spritz your hair with water, brush thoroughly, and pick up your hair carefully.
If you don't want hair tie to show, use one strand of your hair and wrap it around the hair tie for a sophisticated look.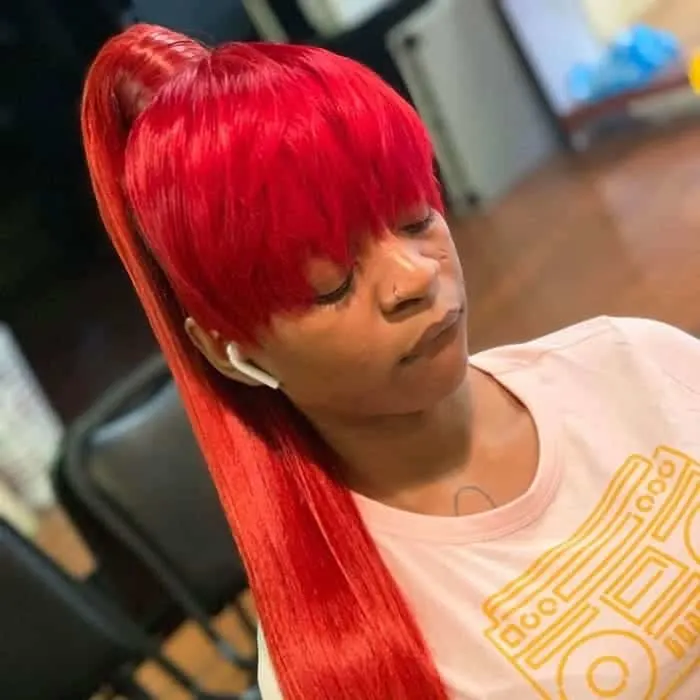 Do you like to experiment with different hair colors? If so, then you should definitely try vibrant red. Fire-like red is wild, edgy, adventurous, and yet so elegant at the same time.
This is the type of hair color that you could rock on different occasions. Rock your hair in a sleek high pony and complete the look with long, choppy bangs. Of course, this ponytail black hairstyle with bangs would work just as easily with any other hair color.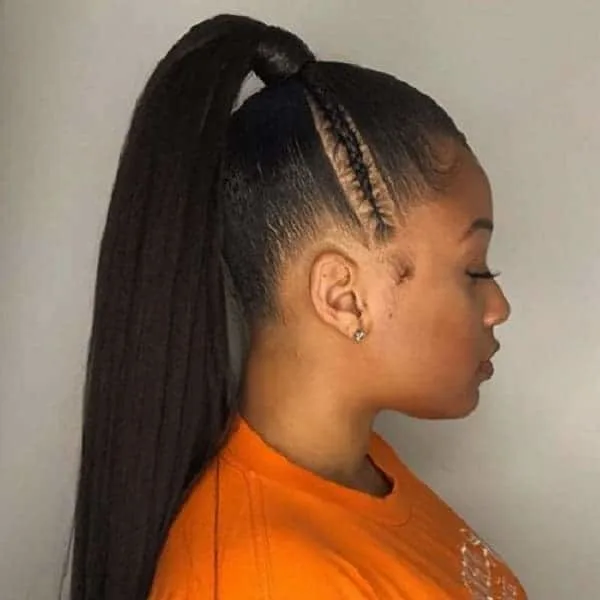 Ponytail styles come in different shapes and sizes, and that's, definitely, a good thing because you have tons of options to try. One way to rock ponytail is to add a braid into the mix. For example, you can make a high and sleek pony with a thin braid on the side. How cute!
You're a fun-loving person and want your style to show it? Besides the fun and edgy outfits, you can also make sure your black hair perfectly depicts your personality. Make a high pony and create a huge braid that you'll decorate with accessories. Look how awesome it is.
The black ponytail doesn't have to be sleek in order to look sexy and fabulous. A curly pony can be a picture of elegance, as well. Start by making braids on top of your head and as you reach the crown, simply pick up your hair in a high ponytail.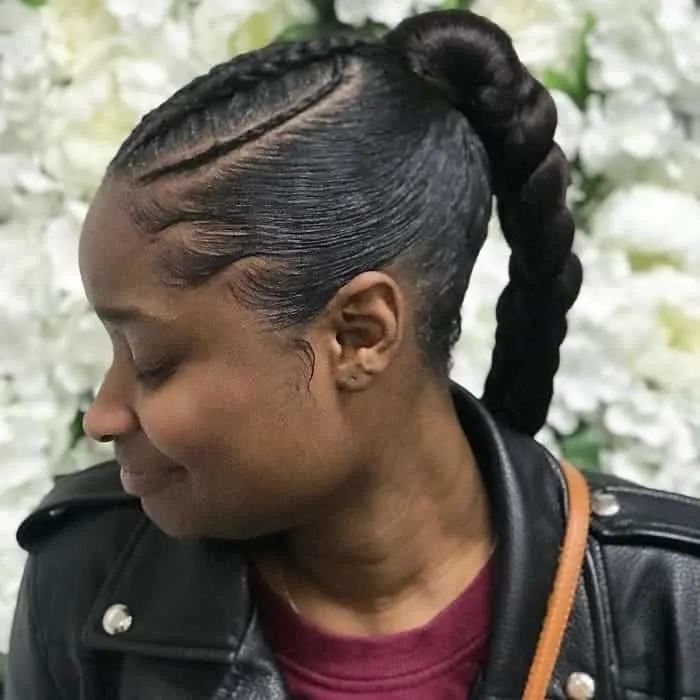 Natural black hair tends to be thick, but it doesn't mean you're out of styling options. A good brush and quality hair styling products can help you make any hairstyle you want. You can also make a sleek and neat ponytail and form a nice, elegant braid.
When high pony comes to mind, we immediately picture a super long style. But, it doesn't always have to be like that. If your hair is medium-length, you can still rock pony with ease. Let's be honest, and this is one of the easiest ponytail hairstyles for black women to rock.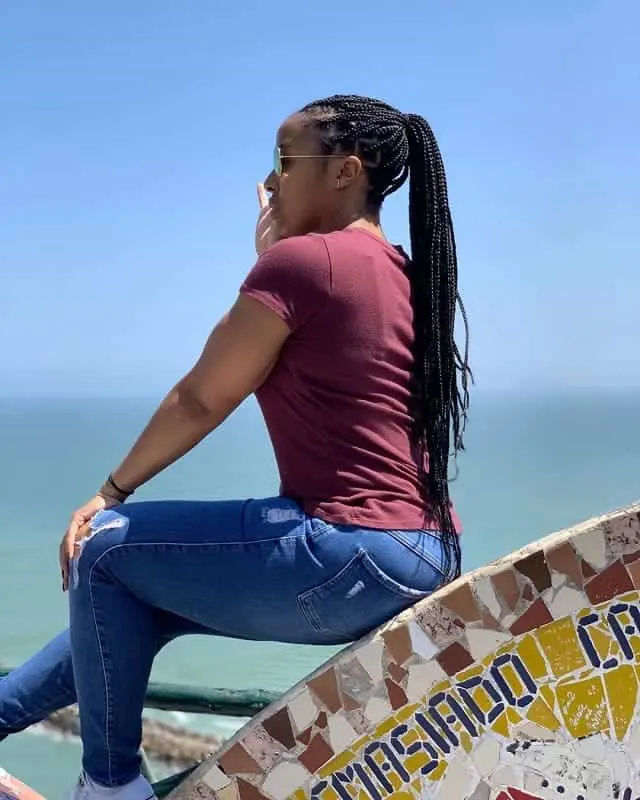 As seen above, braids and ponys are a perfect match. You can make braids and then create a "regular" high ponytail, or you can turn pony into a braid. Yet another style you can try is to pick up your braided hair into a wonderful look.
19. Blonde Pony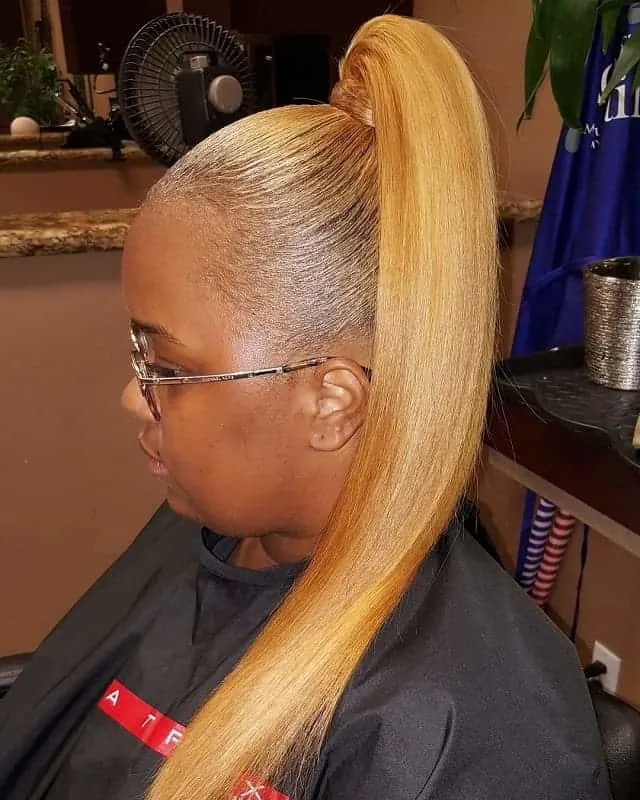 Caramel blonde is such a lovely hair color for black ladies. Bring more attention to your hair with a sophisticated high ponytail. Not only is it easy to create, but this style also gives an amazing vibe to your whole outfit. Try it out.
Want to make your ponytail edgier? Not a problem! This hairstyle allows you to combine straight and curly, demure, and edgy with amazing results.
Create any pattern you want, brush your hair to make it sleek, make a low pony, and use a curling iron to create lovely locks. Easy!
Short hair, don't care! Black girls who would love to rock some amazing ponytail hairstyles should also take this style into consideration. No need to brush your hair to keep it sleek, simply pick up your short or medium-length curly hair into a pony, and your job is done.
22. Burgundy Ponytail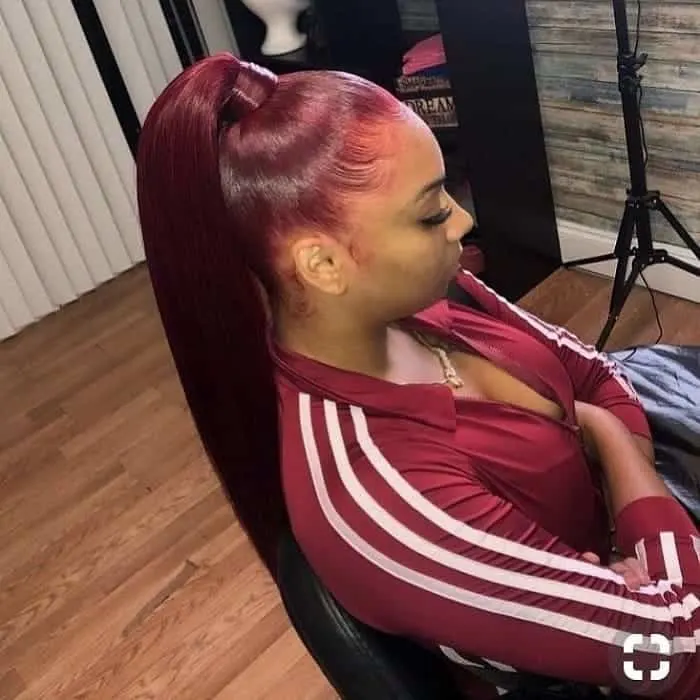 Love red, but you're more into subtle, demure shades? Then, burgundy hair color is the answer for black girls. You can easily rock this super long ponytail on your next night out. You'll get ready in five minutes and be on your way to have the time of your life.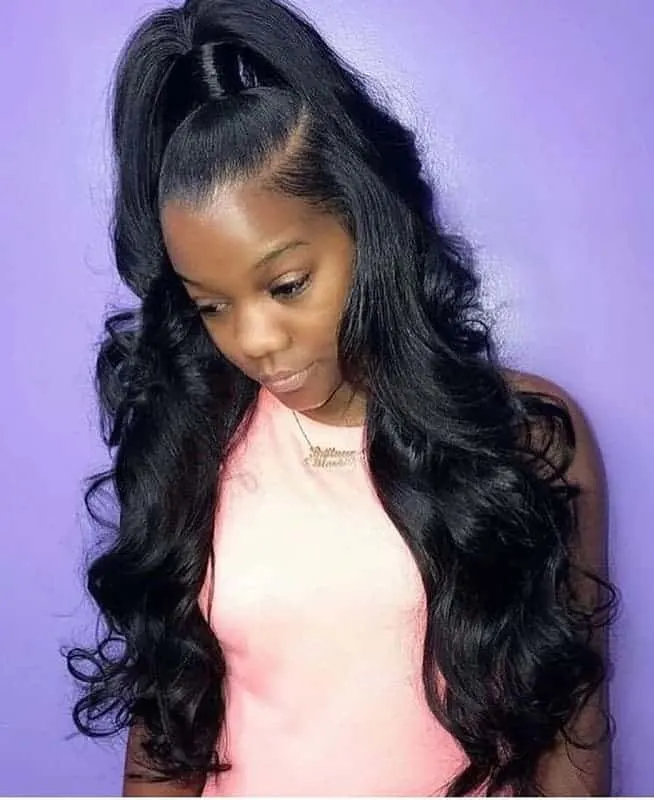 Wavy hair and long locks are incredibly hot. Make a regular ponytail and use a curling iron to create gentle, subtle waves that will flow perfectly down your back or shoulders. This is a cute, sophisticated look every woman can rock.
24. Electric Yellow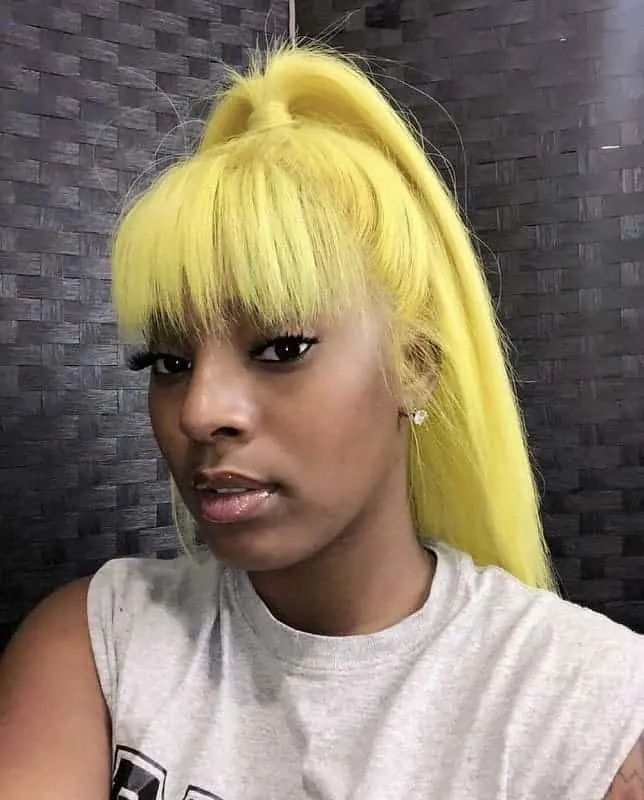 Black women with blonde hair always looks amazing, but if you'd like to rock an edgier style, you may want to opt for proper yellow, and spice things up with electric or vibrant shade.
The pony will accentuate this unique hair color. Complete the look with choppy straight bangs.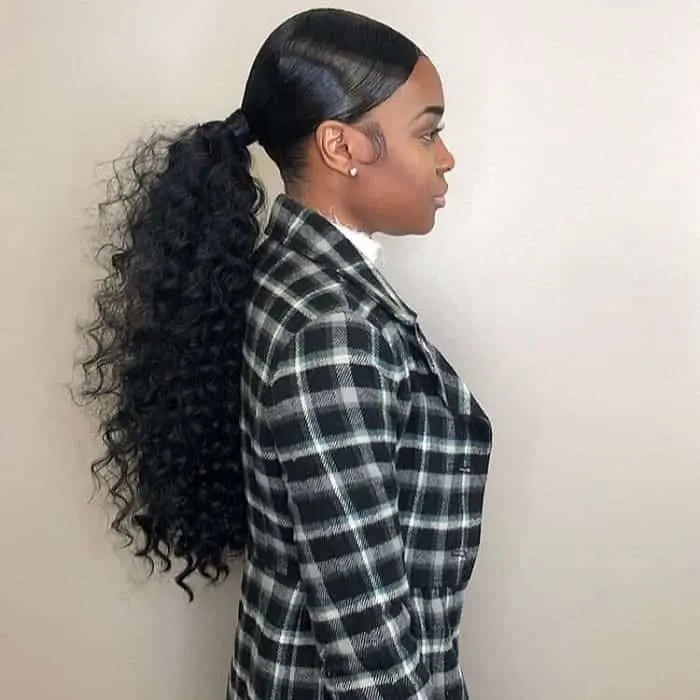 Low ponytails don't have that well-known bounce that their high counterparts do. However, you can make low pony edgier by making it more voluminous. You can style your hair to get more volume by using mousse, a good brush, but you may also want to add extensions for a more dramatic look.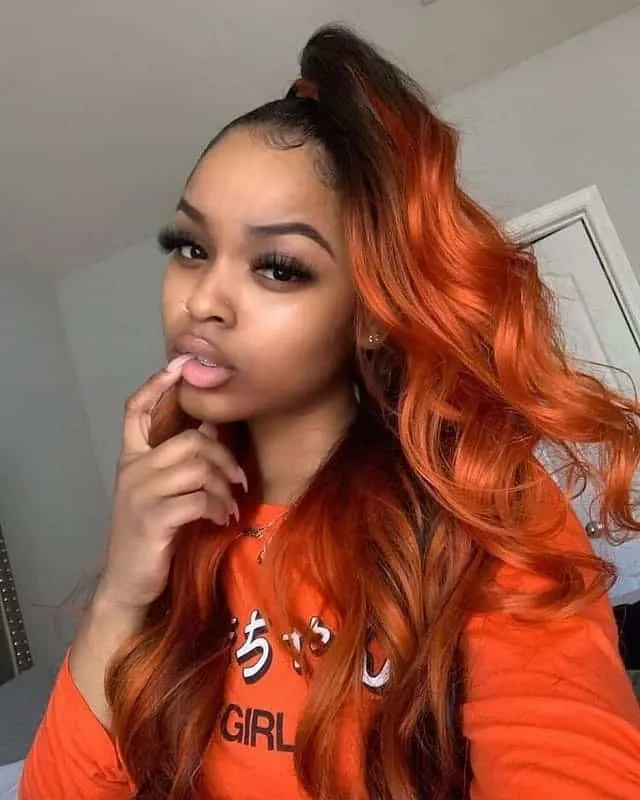 Here's a stylish take on black ponytail hairstyles – fire-red hue and gentle waves. Waves and this hair color complement one another perfectly and give your hairstyle new dimension. You can make this style elegant or edgy, depending on the occasion.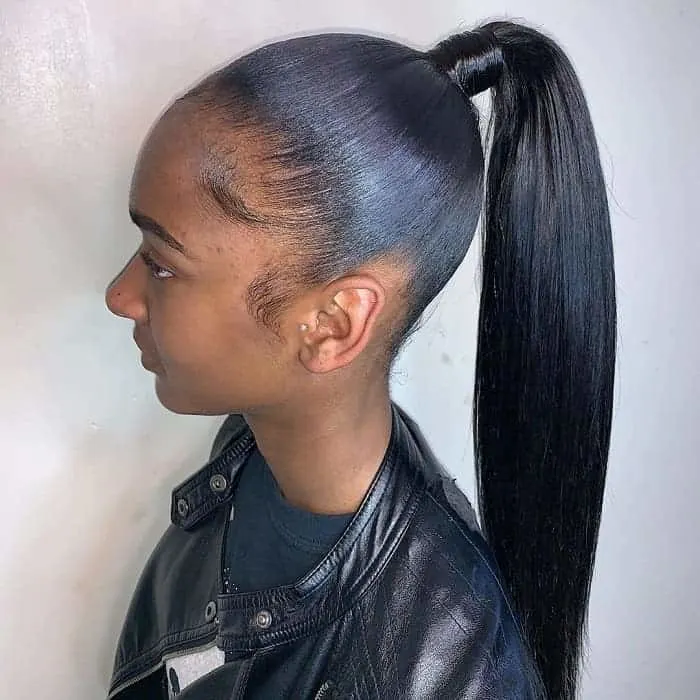 The last thing you want is to spend hours on your hair, especially when you're in a hurry. This simple and easy hairstyle will make it seem like you invested a lot of time, although you can get it done in a few minutes.
28. Shiny and Wavy
Glossy and shiny hair is attractive, appears more voluminous, and it's ever so elegant. While many people assume ponys are just a casual hairstyle, the truth is that they can also look absolutely fabulous in more sophisticated settings. Take this style as an example, it's stylish, and you can rock it anywhere.
Want to do something new with your braids? Combine black and electric blue colors and pick your braids up into a high ponytail. So easy, yet so awesome.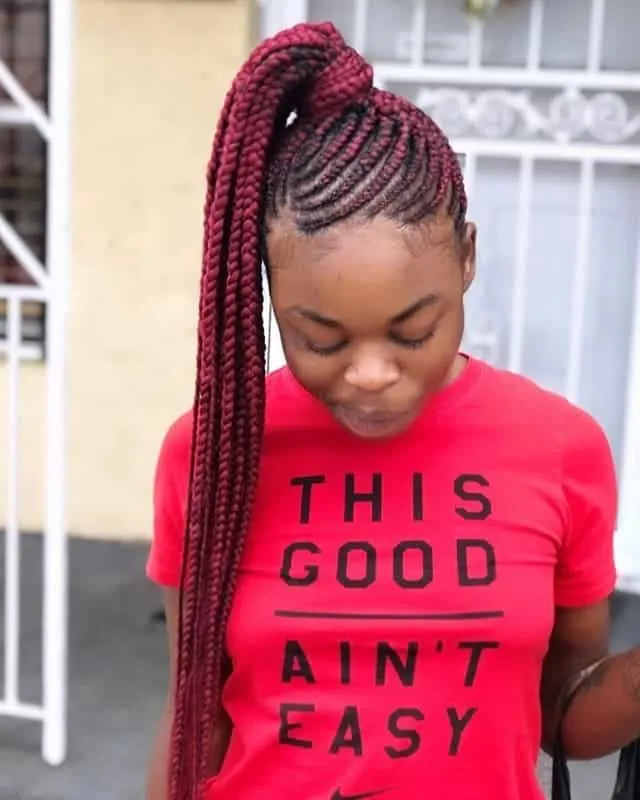 Even though we tend to place our ponytail high or low in the very middle of our head, there are also other options for black women to choose. We can also style pony to the side for a unique look. Make sure you try this look when you're rocking ponytail styles.
You'd prefer a more casual ponytail instead of sleek and sophisticated looks? Not a problem, we've got you covered.
Make a few braids on top and pull your hair up in a pony, but instead of brushing it, you can tousle hair with your fingers for a messy pony look.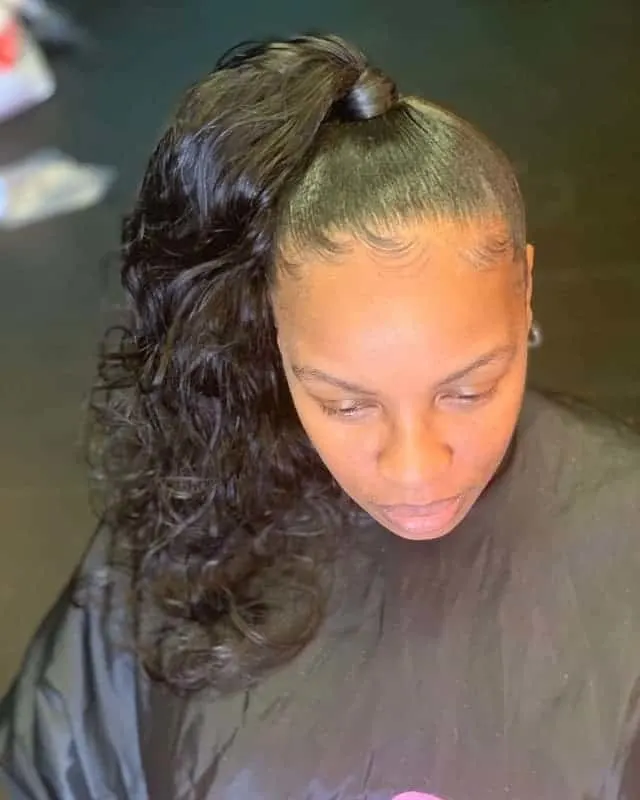 Black girls and women who want to achieve the effortlessly chic look may want to try this style. The best thing about this ponytail style is that it works on every hair length. Sleek top, wavy pony moved to the side – this look has it all.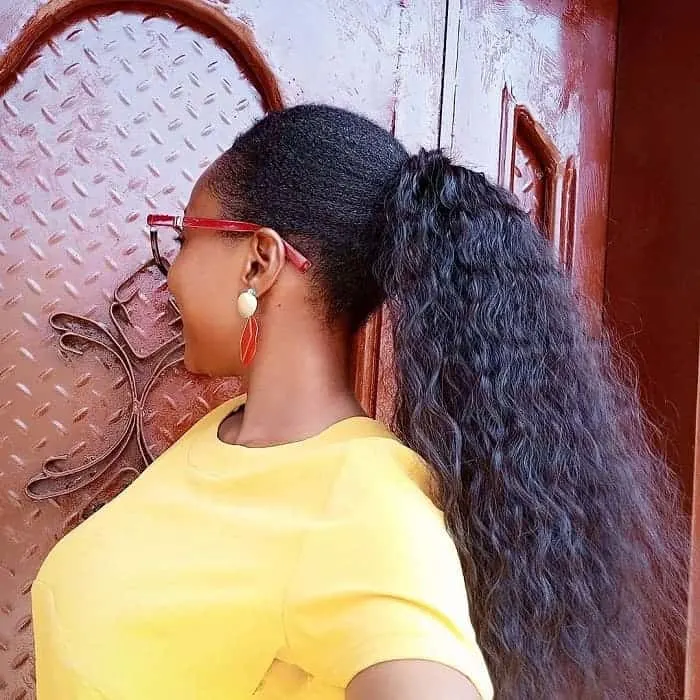 Want to accentuate your amazingly voluminous hair? Then make a super dramatic ponytail. You can also add weave into the mix for even better effect.
Here's one of the coolest ponytail hairstyles that black women can try. Instead of picking up all your hair in a pony, use only an upper portion. Make a high ponytail while the remainder of your hair is gently flowing down your shoulders or back.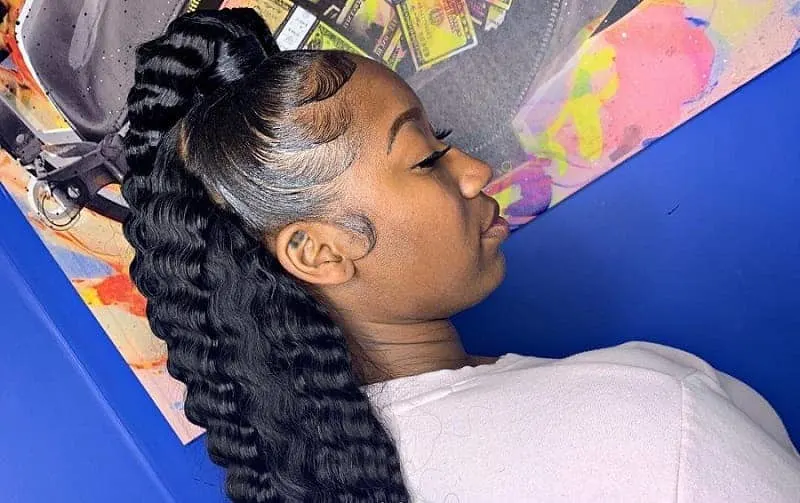 Instead of feeling bad about baby hair when you make a pony, embrace its cuteness. Style your ponytail in subtle locks and waves that boost volume and give you a more natural look.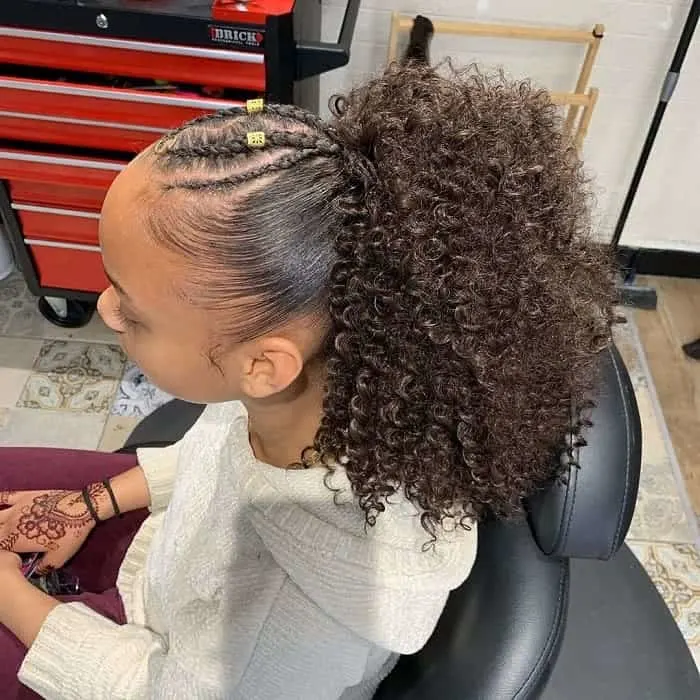 Contrasts in the hair are always a good idea. Instead of the straight ponytail from top to bottom, you can try something different. Make sure the top section of your hair is straight and neat, while pony is super voluminous and curly.
37. Simple Yet Edgy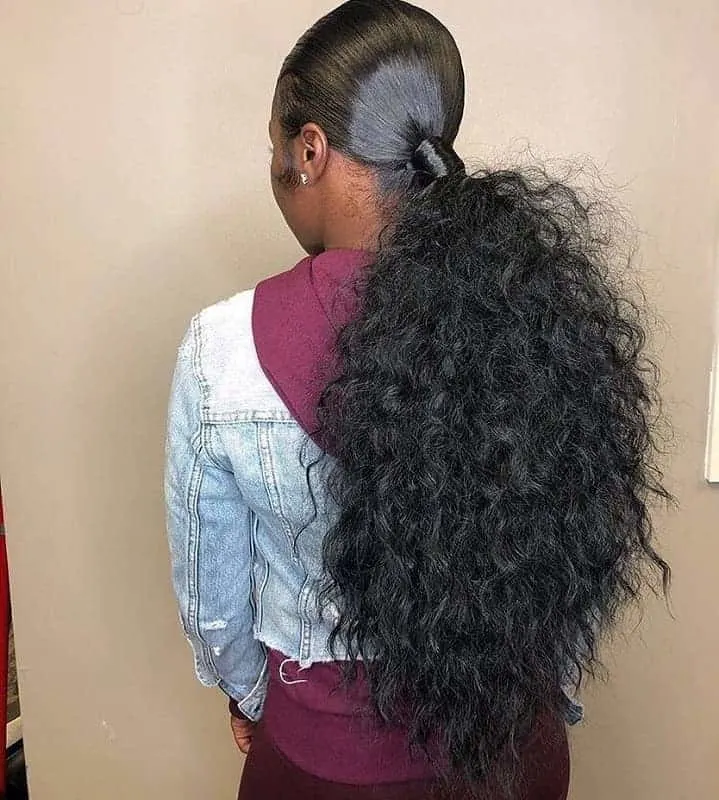 Drama, drama, drama! We love drama in general, and why not transfer it into our hair? Use weave, hair mousse, and good styling equipment to make your black ponytail dramatic and edgy while retaining its simplicity.
Take your love for long hair to a new level with this super-size pony. Opt for dramatic length to make your style even more awesome.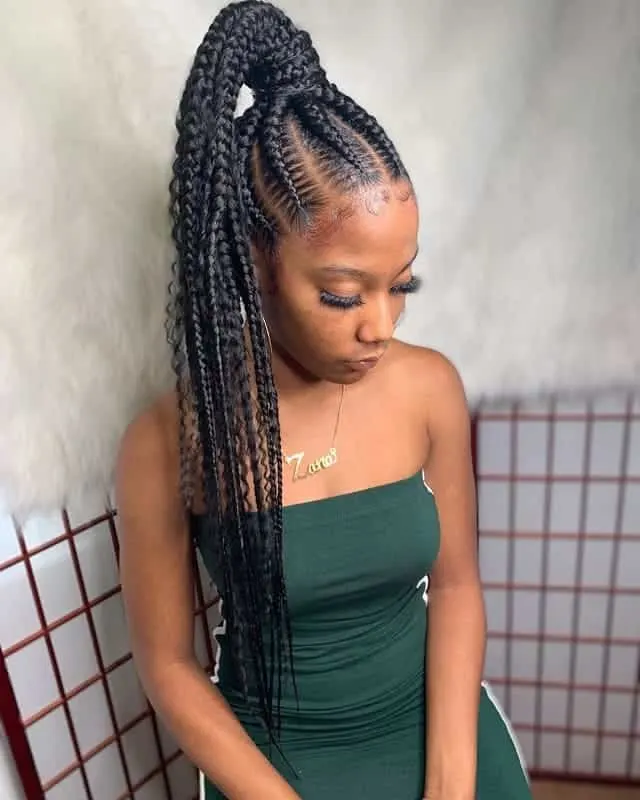 No need to have your braids down all the time. Pick them up in a ponytail to the side, rather than in the middle. This will give you a unique look.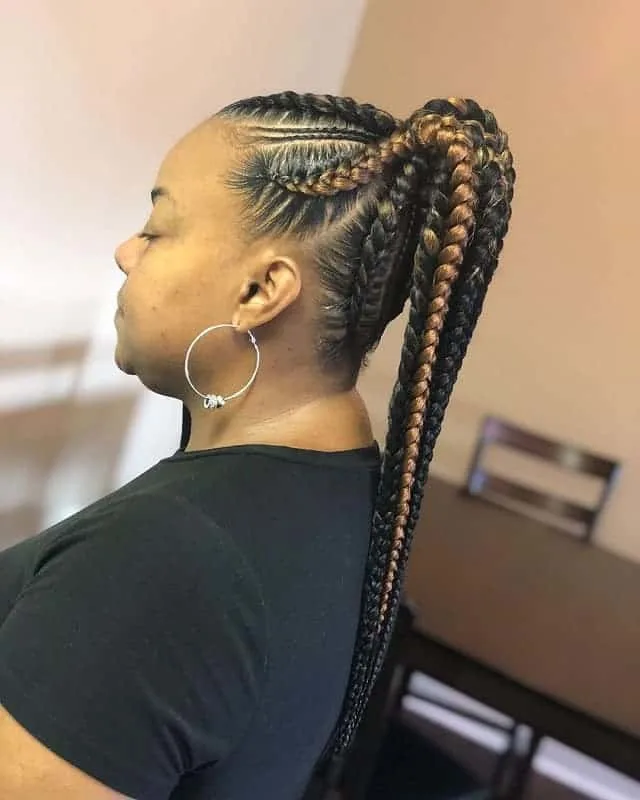 Braids give black girls a wonderful opportunity to create all sorts of styles. One of them is this unique braided ponytail that will make you stand out.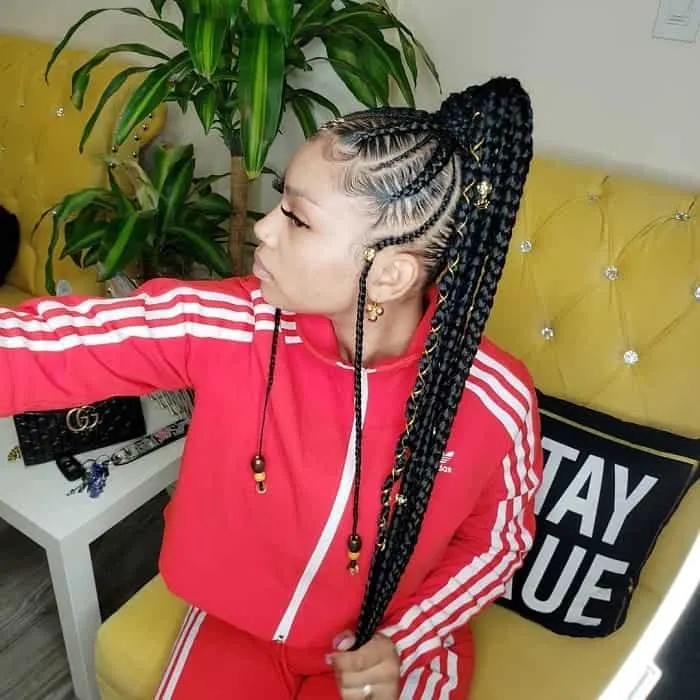 Decorate your braids with any accessory you'd like. Leave two braids on each side and pull the remainder in a pony. What an amazing style, don't you think?
Now that you have some amazing suggestions for ponytail hairstyles for black hair, you're ready to get your next look. Follow our tips, tricks, and instructions to look absolutely fabulous. Good luck.