Layered bob is a great alternative for black women who don't want long locks or super short hair. They are currently bang on trend and a perfect alternative for those black ladies who are bored with boundless braids or fed up with high-maintenance hair.
Layered Bob: Different Lengths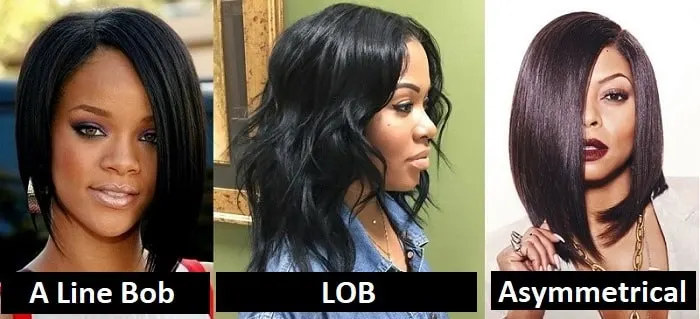 Bobs can come in a variety of lengths and styles so don't think that a layered bob is simply one cut! You can pick and choose what you like and make your own personalized 'do.
Here is a quick rundown of some of your options.
The A-line Bob (Pob): The A-line bob is shorter at the back than it is at the front and usually layered into the nape of the neck.
The Asymmetrical Bob: Similar to an A-line, this bob is shorter at the back and graduates longer towards the front. The difference is that one side is longer than the other.
The Lob (long bob): Generally, a bob skims the jawline but a long bob can be long enough so that it grazes your shoulders. It's a fantastic option if you still intend to tie your hair back.
Possible features you can add:
Thick Bangs: Bangs of any variety always look good with bob but if you are after a very retro, snappish and sharp style then very thick and blunt bangs could be a good option.
Blunt Cut: A blunt cut is a stylish way to add structure to your bob. It can look quite severe but very chic. You have to ensure that all your hair is exactly the same length to be able to pull-it-off. This does also mean that you need to keep up with regular visits to the stylist to maintain the blunt look.
Razor Sharp: If you are looking for a very edgy twist to add to your bob then introducing a shaved panel can achieve that. Think sheared temples or even an undercut.
Soft Blends: By adding subtle layers it can soften the overall look of the bob, which can add an air of femininity and make for a more relaxed style.
Texture: If you have curly or wavy hair then incorporate that in your cut. A tousled bob can look very girlish, supple and elegant.
Ideal Layered Bob Hairstyles for Black Women
If you are a trendy black woman who is in need of a dramatic change, then take a look at our top 15 black layered bob hairstyles and decide whether you are inspired to take on an alluring A-line, a beautiful bob or a luscious lob!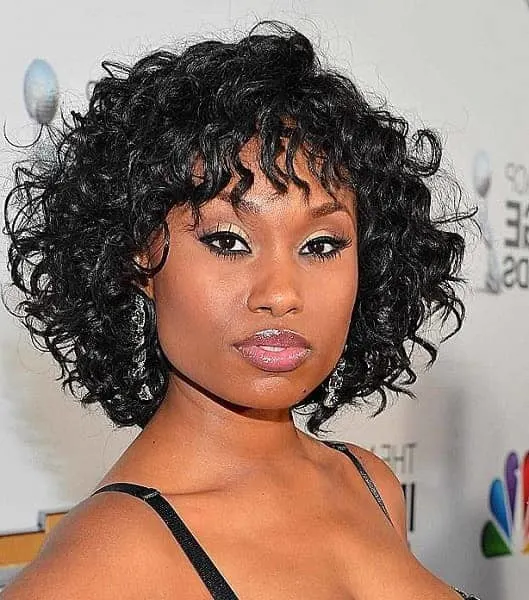 This hairstyle is perfect for square-faced black ladies with well-timed and controllable curls. The beautiful natural kinks are tapered into a longer length around the neck, adding body and structure around the top of the head. Adding a natural curly fringe really helps to frame the face.
2. Long Layered Black Bob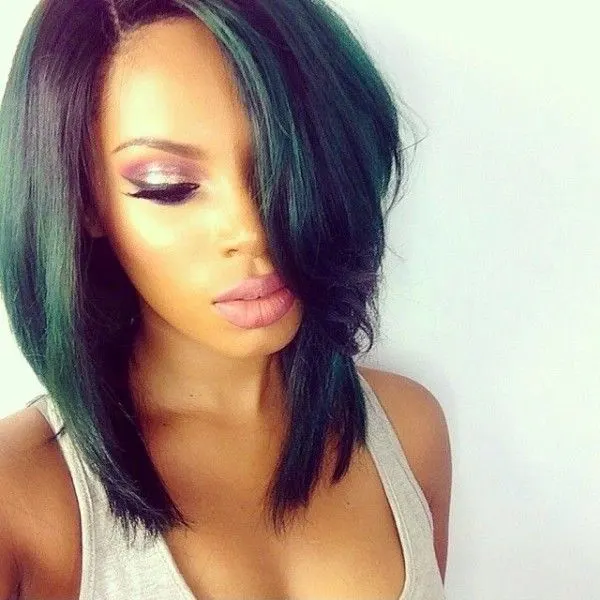 If your hair is in perfect condition, then a glossy and sleek long and layered bob is a great consideration. Chopping the front bangs into a more layered style adds softness and shape to an otherwise straight style.
3. Elegant and Edgy Black Layered Bob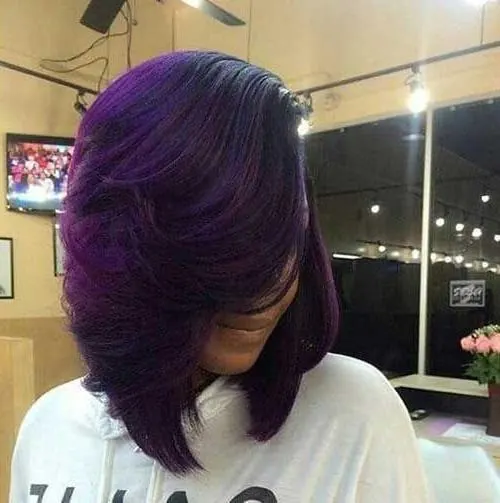 If you want to try an edgy and funky color along with your black layered bob, then a rich and sumptuous color like this will work perfectly. Already toting a very chic long bob with a structured and layered front, the color simply enhances its overall elegance.
4. Soft Fringe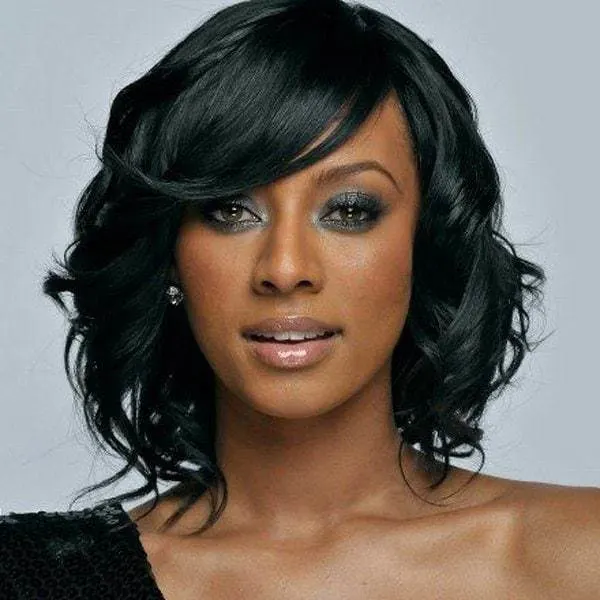 A mid-length layered bob hairstyle is perfect for women of every age, but it particularly flattering for middle-aged ladies! The swooping and straight fringe are softened by the soft and elegant curls. The choppy and layered cut helps the bangs blend effortlessly into the rest of the hair.
5. Au Naturelle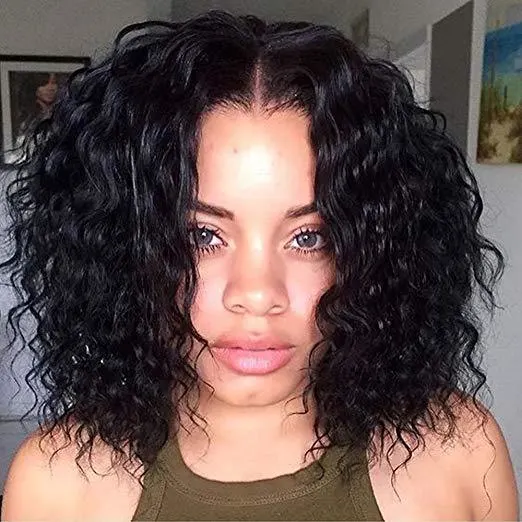 Embrace your natural look by opting for a totally au naturelle style. The shoulder length layered bob and severe center parting are a great way to show off the natural kinks in the hair. By subtly layering the sides and back, it adds some volume but still allows the look to be laid back and natural.
6. Black Short Layered Bob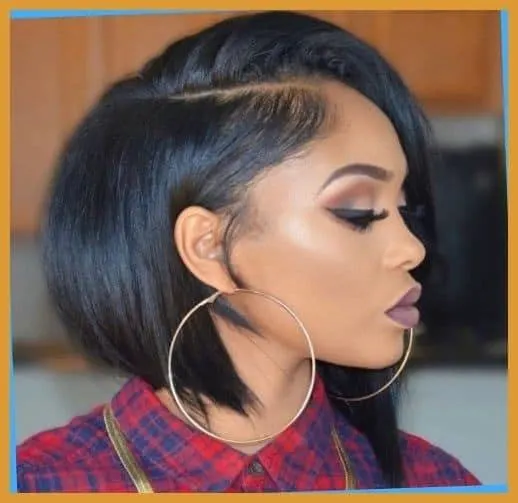 This uneven black layered bob is a different take on an asymmetrical cut. By being styled poker straight it really enhances the quirky and uneven crop which looks bang on trend and very fresh. If you like short hairstyles, you can try these short layered hairstyles too.
7. Tousled Tresses
This tousled layered bob hairstyle is a very flattering look for most face shapes. The side parting adds volume to the hair and the soft and feminine curls make for a very romantic and dreamy style.
8. Bob with Volume Layer for Black Hair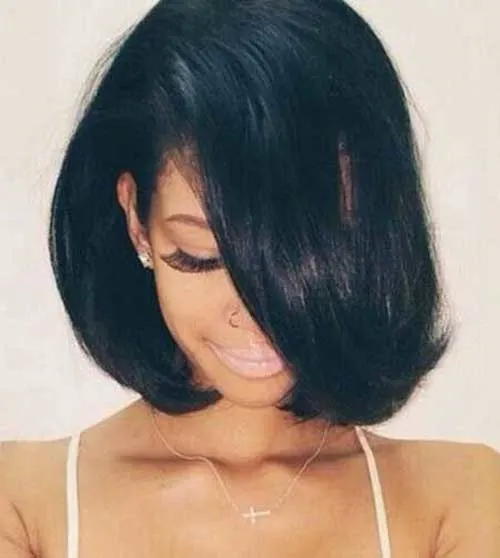 This short bob for black women is ideal for anyone with a round face as the choppy crop helps frame the face. This black layered bob hairstyle is perfectly cut in line with the jawline and a softly structured wave added to the ends to make the cut less blunt. The volume here makes this simple bob absolutely flawless.
9. Asymmetrical Bob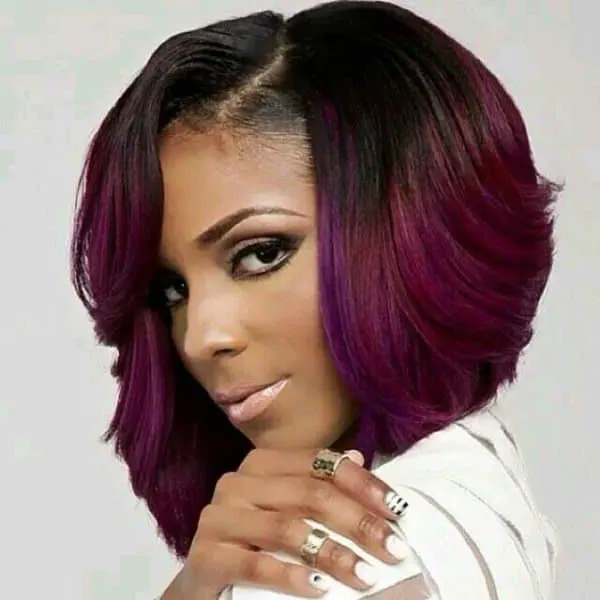 This blunt edge asymmetrical black layered bob looks striking styled in a poker straight fashion. The very clever coloring of the hair ensures that this style looks extra sleek, glossy and stylish.
10. Black Layered Braided Bob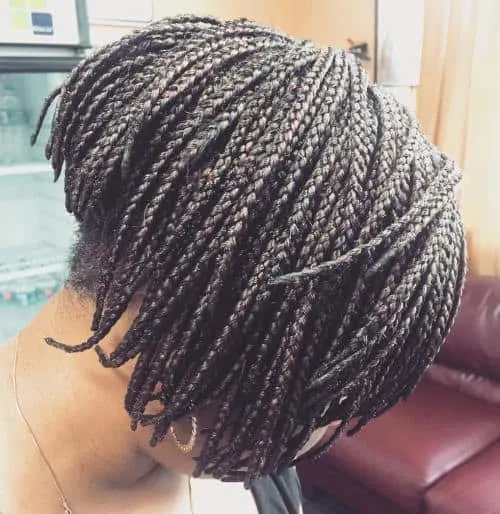 This choppy braided bob is a simply gorgeous and very low maintenance look. By graduating the length of the back of the hair, it adds structure and stunning drama to an otherwise classic style.
To avoid having your hair look like one big poof, ask your stylist for layers. This will give you a more shapely medium bob. Add in braids with beaded ends around the face for beautiful detail.
12. Black Layered Pixie Bob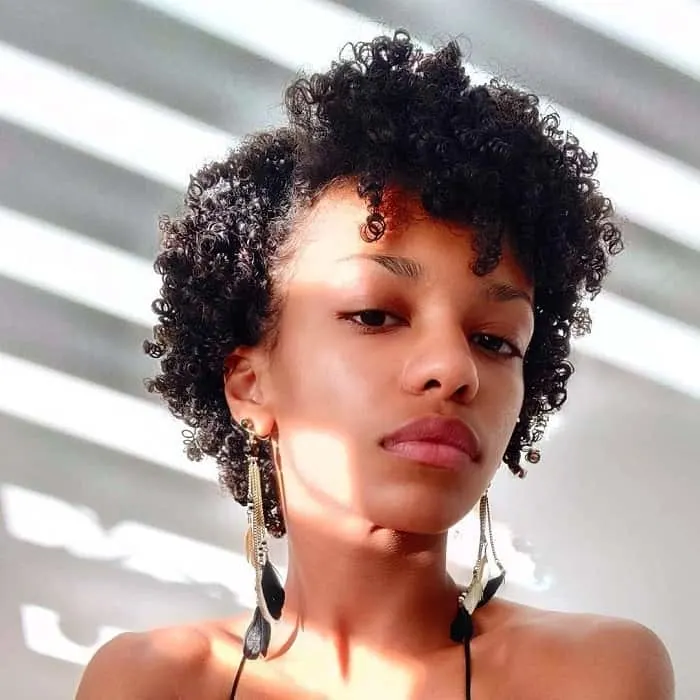 A black pixie bob with short layers helps springy curls come to life. Part hair at the side to create a soft side bang that flatters women with oval faces.
13. Black Layered Bob with Bangs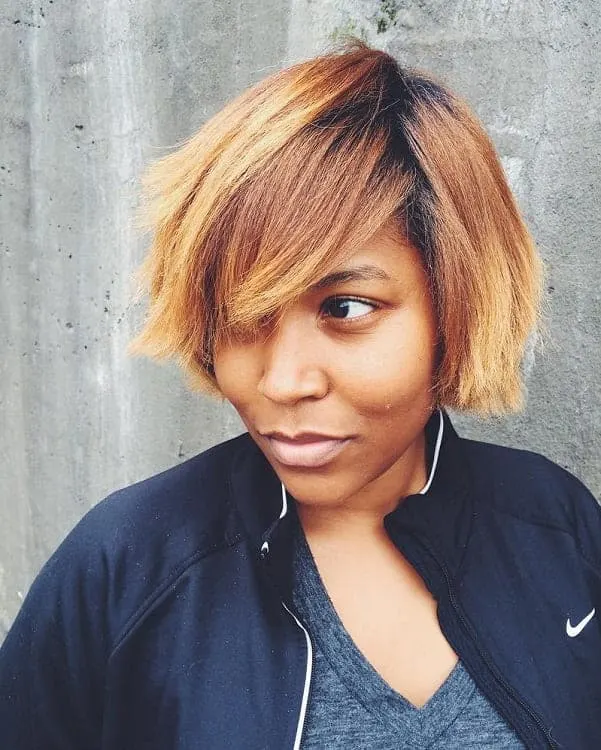 Give a short layered bob blonde color all over or just a few highlights for a beautiful glow. Wear hair straight to show off layers and give the hair more movement.
14. Layered Bob for Thin Black Hair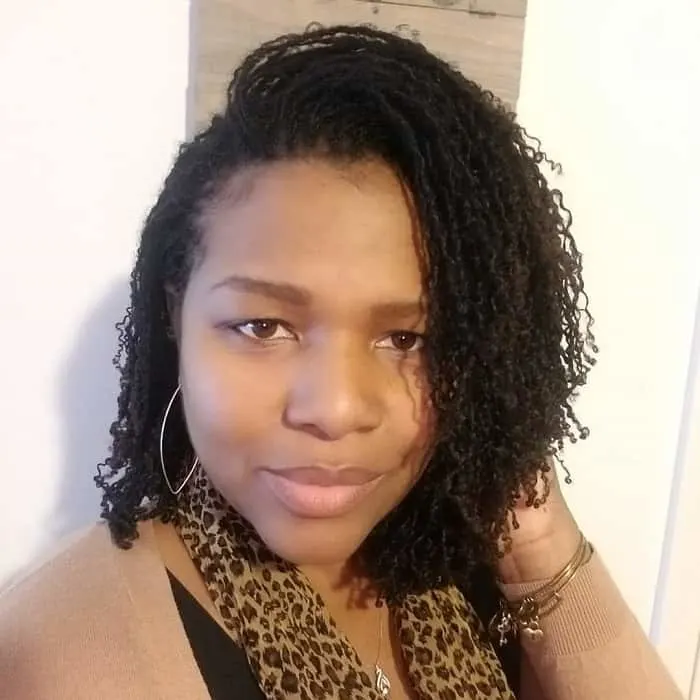 Instead of wearing your thin black hair flat and letting it go limp at either side, cut it into this cute layered bob. A heavy side part will give you extra volume while the layers will add shape.
15. Black Layered Messy Bob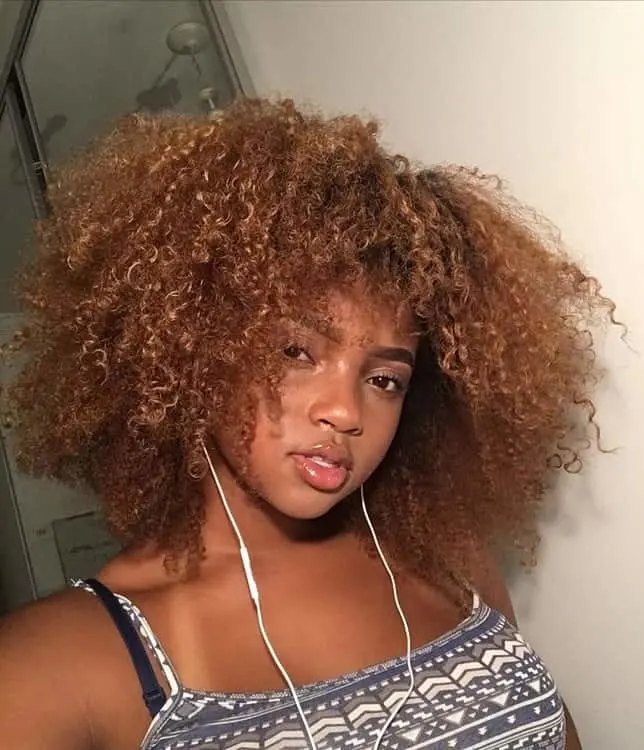 A curly bob with layers gives you sexy bedhead. To really play up the dramatic look, don't be afraid of letting frizz show and ask for several caramel highlights to complement a brunette hair color.