There's no end to the list of beautiful hair colors for dark skin. Women of color can carry off bold, bright hues without a second thought. From warm golden brown to icy blue, nothing is off-limits.
Your hair is the one thing you can play around with because it always grows back, so why not experiment with a variety of colors? Show off your flawless skin to its best advantage. Complement it with a new hue for your hair.
Suitable Hair Color for Dark Skin
You have dark skin and are looking for the perfect hair color that'll suit you. Well, it's not a surprise that not all hair colors suit all the skin tones. People spend a long time evaluating their skin color and matching it with the right hair shade.
You might be dreaming of becoming a platinum blonde, but your dark skin might not make it look as exciting as you wish. To make sure you don't end up stuck with the wrong hair color, you need to know which hair color looks good with dark skin.
Thankfully, this matter has been extensively studied by hairdressers. Here's some advice to help you choose the right shade.
Red Hair Color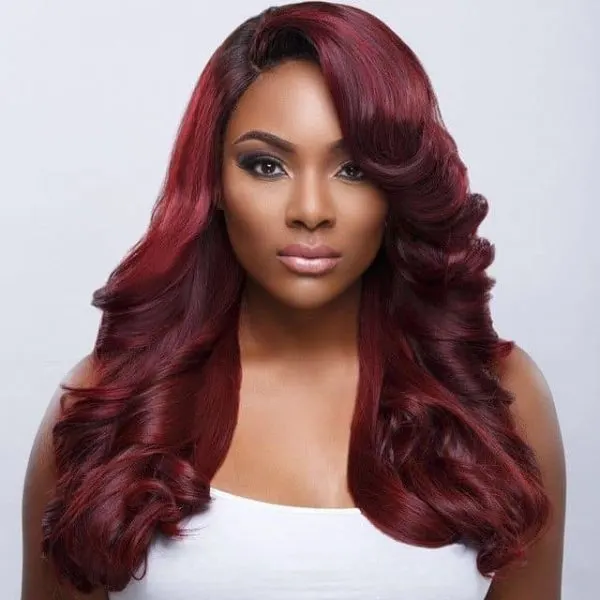 Red hair color looks fantastic with dark skin. It allows your hair to create contrast with your dark skin and give it an extra glow. However, there are several shades of red and not all of them might be perfect.
Dark red – Burgundy, cherry, and dark auburn colors are perfect for gals with dark skin tones. They complement the skin and make you look fantastic.
Highlights – Red highlights look amazing on brown and black hair that usually accompany dark skin tones. The advantage of such dying is low-maintenance. You can give your hair a complete do-over without worrying about the roots.
Ombre – Burgundy and such rich wine red hair shades are an excellent choice for an ombre.
Women with dark skin tones should be careful about dark brown colors. These shades have too much blue pigment in them and your skin can end up looking somewhat green. So red hair color is great for women with medium to dark skin tones.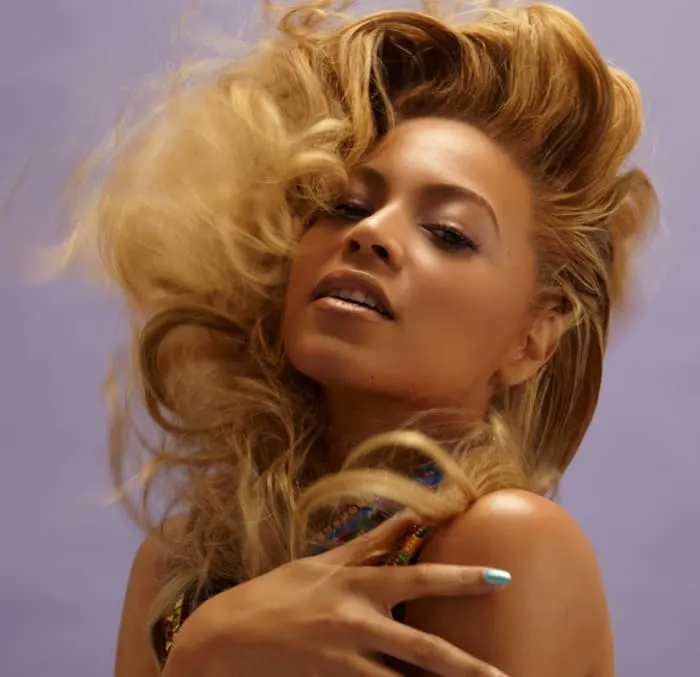 Blonde is a good hair color option for dark skin. Every woman dreams of becoming a blonde at least once in her lifetime.
While singers and actors might look wonderful with blonde hair color, you shouldn't forget that they have the most professional stylists. Meanwhile, you have to think about how much you can really care for your hair.
If the color is orange, like ash, don't even think about it. It may make your hair look like a piece of rag.
Don't go farther than two shades from your natural hair color. Women with dark skin tones may enjoy golden, beige, and light blonde.
The perfect blonde hair color for women with dark skin is dark blonde. You can add golden highlights to make the overall appearance lighter.
Avoid platinum blonde since it looks highly unnatural with dark skin.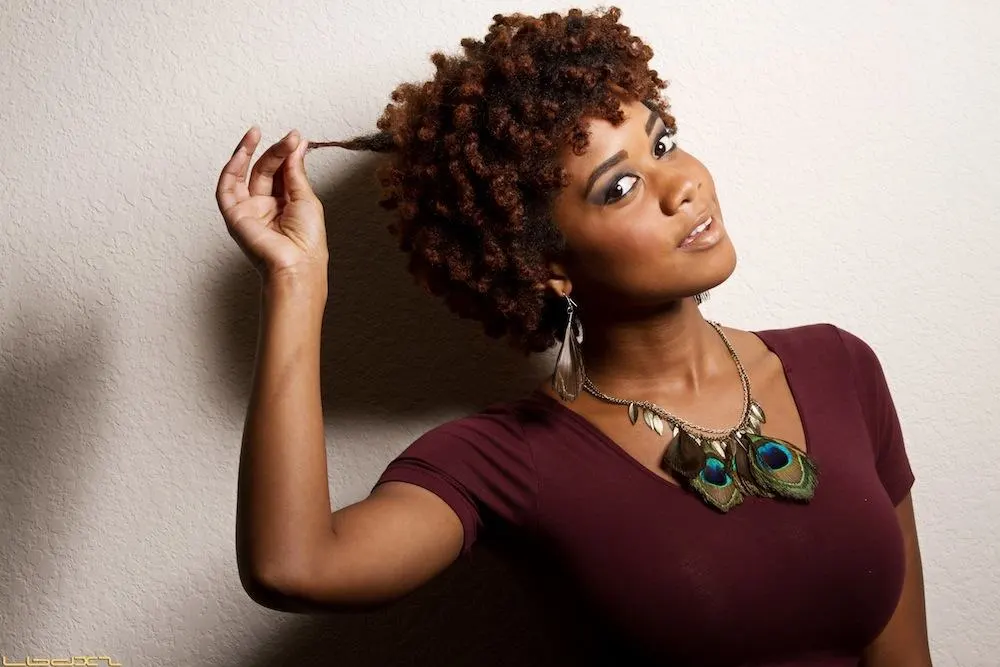 Brown hair dye is one of the best ideas for women with dark skin tones. It looks natural and doesn't require too much maintenance. If you think that brown is boring, you haven't seen all the shades of it.
Honey, golden, ash, reddish brown are the most popular choices for people with dark skin tone. While it brightens up your hair, it doesn't leave you looking unnatural. Caramel brown is the best shade for African Americans.
Darker shades, such as espresso and golden brown can suit your skin tone as well. But you have to think about picking the makeup to match.
If you want your hair to shine, consider bronze brown. It's perfect for bronze skin.
Rich coffee brown is one of the best hair colors for people with dark skin tone.
In any case, don't go farther than two shades from your natural color to keep the maintenance to a minimum.
Highlights or Ombre for Dark Skin Tone
Highlights or ombre can become the best hair color choice for dark skin. You can either create them on your natural hair color or after you've chosen the best dye for your needs.
If you've always dreamed of platinum locks but they seem to look ridiculous, you can create light blonde highlights on dark blonde hair. Brown dyes look wonderful with medium brown highlights. Keep the highlights around your face and the top of your head to create a special appearance.
Always be armed with information before choosing the hair color, which looks good on dark skin. Don't fret if you already made a mistake. Make another appointment with a hairdresser in a few weeks.
Discover the Top Trending Hair Colors for Dark Skin
If you're on the lookout for complimentary hair colors for dark skin, we've got you. The good news is that there's really no color that doesn't look fantastic alongside dark skin.
Even fantasy colors look natural, and that's a gift. Discover a flattering new shade that draws attention to your stunning skin.
1. Yellow-Blonde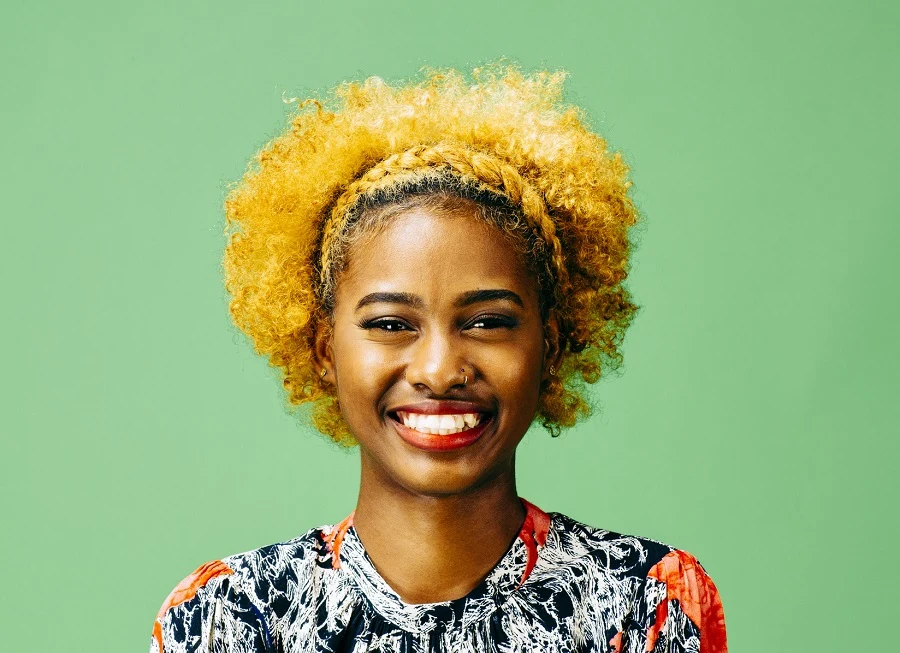 It's not quite blonde, but it's not quite a vivid yellow either. This mixed shade is gorgeous on women of color. It's bright hue beautifully flatters dark skin tones no matter your hairstyle!
2. Dark Pink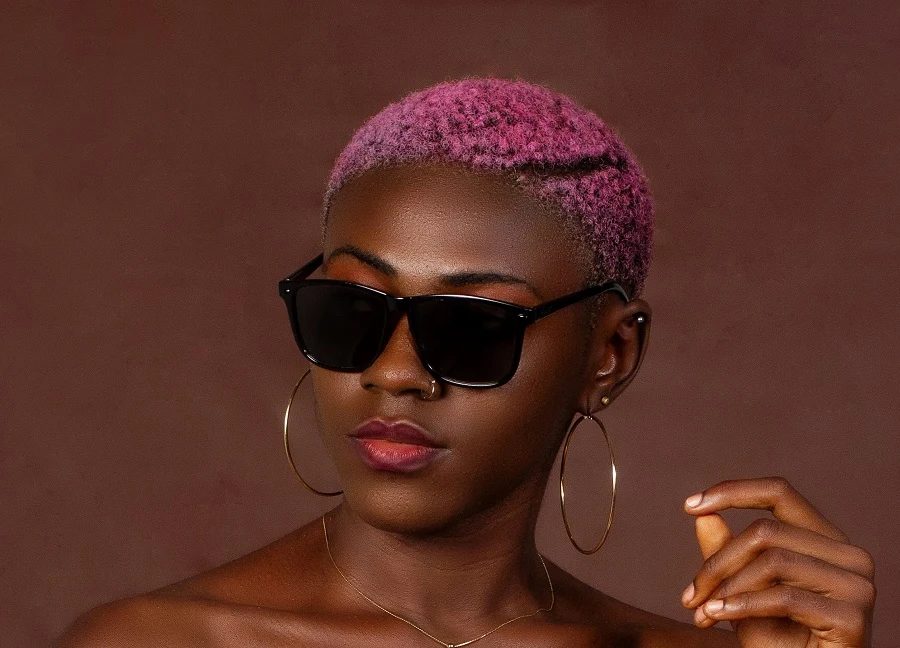 A medium or dark shade of pink is just the thing to make any lady with dark skin feel feminine. Try the color on a cute perky pixie and wear with a classy pair of cat eye sunglasses for instant style.
3. Neutral Medium Brown with Highlights
Whether you add a medium brown hair color on its own to your locks or you throw in a few thin blonde highlights to accent the shade, the results will be stunning. Check out this dark-skinned lady with her beautiful brown shoulder-length curls!
4. Brilliant Red
If you like your natural black hair color but want to use color to give it a little glow-up, just throw in a fiery shade of red! Wear it as an ombre or color just the tips of your hair to bring a feminine edge to your dark skin tone.
5. Medium Blonde
You can't go wrong with a medium blonde hair color, especially if you have dark skin! This shade of blonde flatters anyone. Throw your hair up in a cute high ponytail to flaunt those colorful kinky curls.
6. Burgundy or Maroon
If you'd rather go dark with your hair color, opt for burgundy or maroon. These are two dark colors that look stunning on women with dark skin tones. Straighten hair or wear it wavy and over one shoulder for glam!
7. Purple Edges
On a short pixie, a bright purple gives the style a new level of awesome when it's added to the edges and sides. Shave in details on your fade to make sure all the attention is on your fabulous new do.
8. Colors of the Rainbow
Can't decide on one color to make your dark skin look gorgeous? When you mix in a platinum or very light blonde hair color, you don't have to choose which color of the rainbow you love most. Rock them all on a short curly haircut or a longer hairstyle.
9. Caramel Lights
With a dark base to offset a lighter hue, caramel hair color makes any dark-skinned lady look like an instant bombshell! Try the shade on short curly hair for instant lush and rich vibes.
10. Color Blocks
A multi-colored pixie features dark and bright colors in heavy blocks. This is a super trendy way to wear your favorite colors in a guaranteed style that flatters dark skin.
11. Blue Afro Blast
Try a bright blue hair color for your dark skin to channel your inner rock star. Stay on the darker side, like a midnight blue or indigo, to complement and brighten up the face.
Lighter blue tones like teal and periwinkle will pop against a melanin-rich complexion.
12. Lavender Curls with Dark Roots
Lavender might initially seem an option for fair ladies only. But it is an excellent choice for dark-skinned ones too who wish to rock a frosted hair color that isn't too light.
Couple it with dark roots to give off a 'don't care' vibe with style.
13. Natural-Looking Honeyed Kinks
As mentioned earlier, going for very light blonde hues might not be very suitable in case of deeper skin tones.
Keep it natural with a honey-blonde hair color. Being a warm golden shade, it is perfect for ladies who want to become a blonde for a change.
14. Short Pastel Yellow Ringlets
If you have decided to go light then what's the hesitation for? Show off your chocolaty skin with a pastel yellow mane.
Avoid a pale-looking face by adding a touch of bright yellow on top or near the tips. Take a step ahead and color the brows too!
15. Long Toffee Blonde Tresses
Sun-kissed toffee blonde tresses are all you need this season. Opt for an all-over hair color or use it as a base for your highlights or balayage, adding dimension to your mane.
Nonetheless, this hair shade is risk-free as it goes well with all skin colors.
16. Blue Ombre Braids
Reluctant to let go of your naturally dark locks but wish to sport vibrant hair colors anyway? Try an ombre look without worry.
Spare those black roots and lighten down the hair towards the ends. Experiment with gradient box braids before going for permanent dyes.
17. Auburn Fluff
Another hair color that looks flattering on dark skin. Auburn is a mix of red and brown and is super versatile having tons of shades to choose from.
Make your skin glow with a deep auburn nuance having coppery undertones. Zero regrets involved!
18. Neon Green Bob
Create an eye-popping contrast by sporting neon hair colors against your dark skin complexion.
Make a style statement with a vibrant electric green bob or opt for any other shade, including pink, orange, blue, or purple. How about a combination of all? The choice is all yours!
19. Multi-Tonal Streaks on Layered Lob
Highlights are another option for dark-skinned women who want a pop of color without overpowering their natural tresses.
Instead of going for the usual blonde highlights, opt for streaks of bright red coupled with magenta or fuchsia ones for a rock'n'roll appeal.
20. Electric Purple and Platinum Pixie
Play around with dark and light colors to express your rebellious side. Go for a short pixie with an electric purple top and icy platinum blonde sides. Set the look on fire with matching purple lips and frosted eye makeup.
21. Milky Blonde Bombshell Curls
Black beauties who find platinum blonde too white can give milky blonde a shot. This shade has just the right amount of yellow to add some warmth resulting in a contrast that isn't overly sharp.Protect your natural hair with a professionally-installed weave, and no one's ever going to know!
22. Burnt Caramel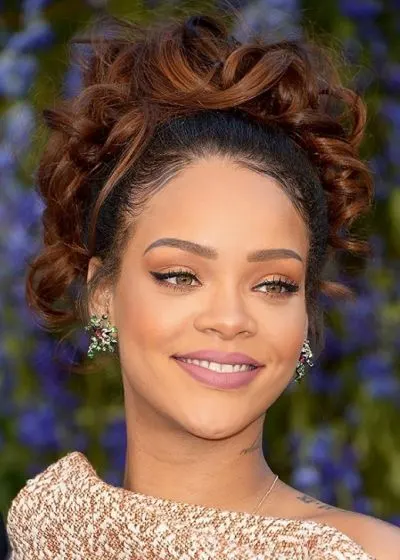 Leave it to Rihanna, right? You don't have to be RiRi to rock this luscious caramel shade, though. With hints of red and gold, it's easily one of the best hair colors for dark skin of all hues.
50 Boldest Short Curly Hairstyles for Black Women
23. Peachy Pink
We are in love with this hair color, particularly the way it complements warmer, darker skin tones. Orange hues, even when they're subtle, were practically created for women of color.
Case in point—how gorgeous does this vibrant orange red shade look against this lovely woman's flawless skin?
The hair is almost a tangerine hue, something we haven't seen a lot, but we definitely hope to see it more. Lovin' the shirt, too, mama.
25. Mauve Pink
Mauve is honestly one of the most flattering hair colors for dark skin that we've ever seen. We had no idea. Frankly, this entire lewk—because it's not merely a look—is to-die-for. Those curls, those lips, that poppin' highlighter!
Blissful Short Natural Hairstyle Ideas for Black Women
26. The Color Purple
Embrace a love of bright colors. Warm, dark skin tones aren't overpowered by vibrant hues. Where bright purple like this can make fair skin look sallow and sickly, this woman is radiant.
27. Pale Platinum
Contrast is queen when you're a woman of color picking out the perfect shade for your hair. A pale, flaxen platinum, as close to white as you can get, will have you looking like a frigging angel. See for yourself.
28. Sea Green
Some of the gorgeous hair colors for dark skin are entirely non-traditional—but they look completely natural. This beautiful woman appears to be a misplaced mermaid with those stunning green 'locs of hers. Get it, girl.
29. Peacock Purple
Purple weaves with royal blue, subdued plum, and a little bit of burgundy in the undertones. The mix is majestic—slay, queen!
30. Candy Coated
Here's a similar combination. There's more purple and a vivid raspberry pink, but they sizzle along with the bright blue, green etc. Her hair resembles a My Little Pony mane and we ain't mad at it.
31. Golden Caramel
Caramel really is an excellent hair color for dark skin. This is brighter, a bit brassy, and that makes it shine. Check out how it blends with her skin. The combination is flawless.
32. Toasted Ombre
The color on the ends of her curls is just everything. It stands out like a sunset against her milk chocolate skin and the pitch dark roots of her hair. This girl is a goddess, and she knows it.
33. Gone Gray
A stunning, silvery shade is ideal for nearly any skin tone, but it sparkles with a particular brilliance against warm skin with golden undertones. The upkeep takes a minute, but gray hair will always be worth it.
Best Sew In Hairstyles for Black Women
34. Blue Violet
Oh, those purple hues. They are unquestionably among the best hair colors for dark skin. Purple is so royal, after all, and this woman indisputably regal.
35. Almost Red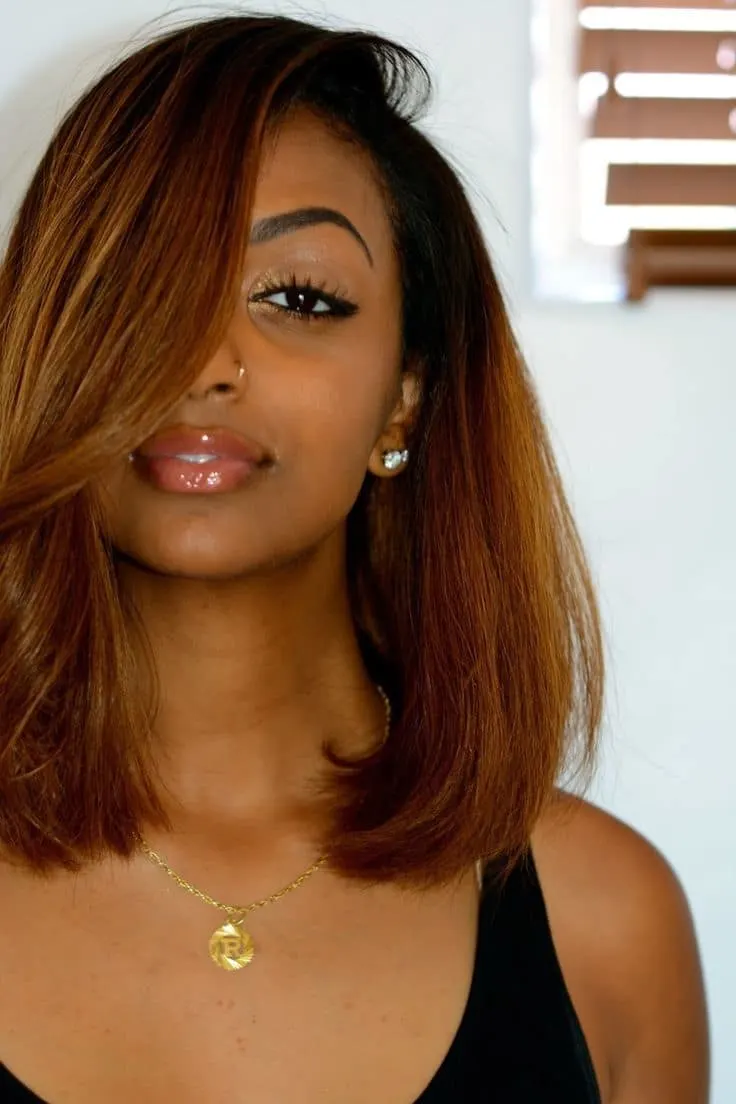 A little auburn, a bit orange, all fabulous—that's the formula for this look. It's not really ombre, but do note the darker roots. That's always a sign of easy maintenance, and we love easy color upkeep.
36. Blonde Bombshell
This half-and-half hair is fantabulous. The curls add to the glam factor (her gorgeous red lips don't hurt, either), but it's really the contrast between blonde and brunette that makes this color combo a stunning one.
37. Deep Green
This shade of green is a beautiful hair color for dark skin, especially when it's interwoven through dark hair. It's ethereal, particularly with all those curls. Sigh … we're in love.
38. Red Profusion
What a rich, dark shade of red! It's a bit brighter than dark cherry or maroon, but definitely not candy apple.
This brings up a point: talk to your stylist and experiment together with different mixes. Find the exact color that suits your skin tone.
39. Ombre Tips
Not every color change has to be extreme or all-over. Do something like this with the tips of your hair. The warm golden hues of brown leading to blonde act as a natural spotlight.
Wedding Hairstyles for Black Brides
40. Too Blue
One look at all these shades of blue is proof enough that they're gorgeous hair colors for dark skin. The icy ombre is absolutely aces. There's even some frosted gray at the roots, which may or may not be intentional but nevertheless works.
41. Shades of Flame
There are so many textures and dimensions that it's hard to pinpoint a single color. From copper to auburn to vivid red, everything comes together to create a natural sheath of red.
Different Types of Braids for Black Hair
Hopefully, this provided some inspiration about the most stunning hair colors for dark skin. How do you highlight your lovely skin tone?
FAQs
Which color hair highlights are best for dark skin tones?
Colors like blonde (from caramel to ashy tones), light golden brown, red, and mahogany make the best highlights for dark skin. For a more dramatic look, consider vibrant shades like purple and blue.
What shades are the best hair color for dark skin?
Warm deep tones of blonde, brown, and red look super flattering with dark skin. Metallic shades like silver and vibrant colors, including pink, also pair well with deep skin complexions.