Braided black hair can have a bad reputation for not being versatile however it is anything but boring! Aside from looking amazing, the braided bun has many benefits.
The Benefits of Braided Bun Hairstyles
Braids can be a very easy and fashionable way to maintain your hair with very little effort.
By keeping the updo in place, sometimes for many months, it's a great way to give your locks a well-earned rest which can help keep it healthy.
The plaited nature of a braid also protects most of the hair from harsh environmental factors which can aid the overall quality of your locks.
There are endless types of hair braids to choose from: cornrows, micro braids, feed-ins, blocky braids, Senegalese twists, twist braids… plus a lot more – so you can be guaranteed a unique and mesmerizing style.
The Benefits of Protective Styles for Black Hair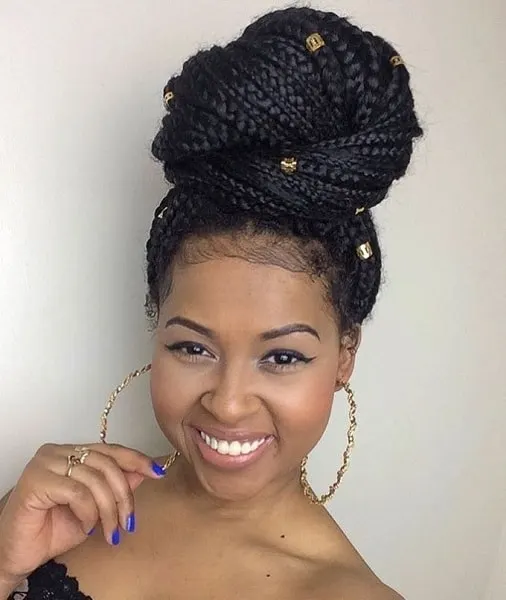 Braided updos are also known as protective styles. So, if you have weaves, twists or braids that are all bundled up into an intricate updo, or half updo, then it will be classed as a protective style. What does this mean? Well, it means your hair is more protected from harsh daily styling and from many environmental factors.
By not tampering with your tresses daily you are giving them a well-earned break which can help any tired locks recover and grow exceptionally strong.
The low effort and low maintenance that comes with a protective style is a huge plus for many. Once the style is set you are usually good-to-go at a moment's notice. This is a perfect hairstyle option for any black women who struggle to get out of bed in the morning! Just make sure you secure your style before bed; a hair scarf is a good option for this.
If you are wanting to grow your hair, then a protective style is a good choice. The less you do to hair, the more it thrives and grows. So, by opting for an up, you can be on the road to your long hair goals.
Aside from aiding the health of your hair, updos and protective styles can also prevent split ends and breakage which is another big bonus if you are trying to grow your tresses.
By wearing an updo you will often find that the hair has locked in natural oils and retained them. So, by toting your tresses in a protective style for a period, you could find that your hair is softer and more supple than before.
Don't be put off by the complexity of some of them, they often look more complicated than they really are!
Braided Bun Hairstyles for Black Women
So, if you are in the mood for a change and fancy dabbling with a braided updo then have a look at our 23 top braided bun ideas for black hair.
1. Regal Crown Up-Do
This is a very royal updo, so be the Queen that you are and stun with this swooping braid that hugs the outside of the head. It will require a professional touch to get it done but it is a sturdy style that will be maintenance free for a long time!
Perfect for any suave and sophisticated businesswomen who need a more conventional 'do – but still likes to turn heads.
2. Cute Side Buns
Cute braided side buns are a great option for black women who like quirky and unique styles. This look is really set off by the haphazard parting which draws the eye. You can mix up your hair accessories with this one, adding color and fun with varying clips. Be aware that this may not be hugely comfortable to sleep on- but your daytime look will be worth it!
3. Half Up-Side Buns
This half updo is really dynamic and set off by the choice of super chunky braids. The addition of contrasting hair clips and accessories can break up an otherwise dark and black hair 'do and add extra character.
Elegant Black Hair Updos for Wedding
4. Ballet Bun
Not only is this style graceful but it is very simple to achieve. The look is further enhanced by using thin braids. It is a stunning decision to make this bun slightly off center as it gives extra definition to an otherwise timeless but conventional hairstyle.
Updos don't always have to be sleek and highly sculpted. Sometimes it is nice to have a more relaxed and laid-back look. By bundling your braids on top of your head in a loose and casual fashion, and framing the face with wisps of loose hair, then you can achieve a very attractive and distinctive summertime beachy look that also delivers the healthy hair benefits of any bun style.
6. Arched Bun Mohawk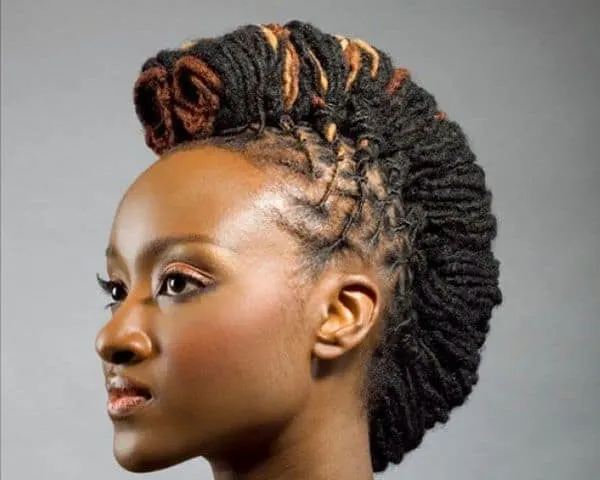 A beautiful and mesmerizing take on the classic mohawk, this style is braided at the sides and then gathered at the parting in two intricate rolls. Adding splashes of color really highlights the unusual bun shape formed at the crown of the head.
Graceful and sophisticated, this is the perfect braided bun style for any black women wanting a more elegant updo. By keeping the bun more flat and close to the scalp, it achieves a more demure and sleek look.
Crochet Braid Hairstyles to Stand out
8. Big Top
Big is always beautiful and this bun certainly hits the spot! The chunky braids give volume to the big top bun, and the eye is drawn away by the swooping fringe section that parts behind the ear. This is a stunningly elaborate look that is very easy to achieve.
9. Angel Halo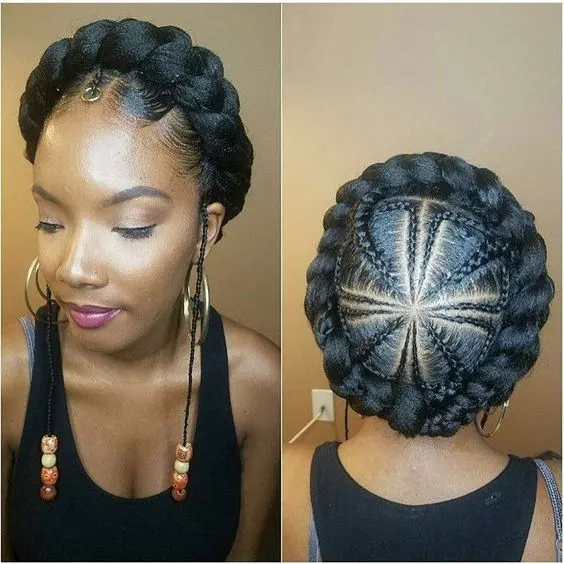 If you are an angelic soul, then this is the braided bun for black women. Created by framing the head with a chunky braid but adding exquisite detailing with cross partings and intricate braiding along the scalp and crown, this is certainly a statement style.
10. Braided Bun with Accessories
Don't think that having the same bun style for an extended period of time means that you don't have the chance to change it up. By adding accessories such as hair wraps, bandanas, clips, and slides, you can alter a look as dramatic as you want – with the beauty of it still being temporary.
11. Utterly Elegant
This is one for the princesses! This classic bundled bun is quite traditional in its shape, but the addition of sparkling pearls adds definition to the form and structure of this beautiful braided bun.
12. The Undercut
This is a style for any strong and powerful black woman that wants to make a statement! From the shaved undercut to the sculpted hairline, it's all topped off with a fierce and fabulous top bun that is styled to droop forward over the forehead.
13. Multiple Bantu Knots
Bantu knots are a simple but eye-catching black bun hairstyle with braids that can be as versatile as you are. Whether you choose to have 3 knots or 30 knots – every head of Bantu buns will look different. This is a fun one to accessorize too.
14. Labyrinth Bun
This is an incredibly intricate style black braided bun, but one that is sure to turn heads. A trip to the stylist will be necessary to have this constructed but the impact will be worth the visit! The clever use of the front braids being haphazard help frame the face and break up would be a quite stark and harsh look.
15. Classy Braided Faux Hawk
By not shaving the sides of the hair into a traditional mohawk, and instead braiding the hair up to the center of the head, it creates a more elegant and classy faux hawk. Great for showing off any fierce personality while still maintaining some decorum!
16. Braided Bun with Plaits
By braiding the hair very close to the scalp and adding a loose top bun, it provides a nice contrast. Plaiting the hair at an angle instead of straight back adds drama and definition and is a great way of adding shape to a more rounded face.
17. Chunky Sweep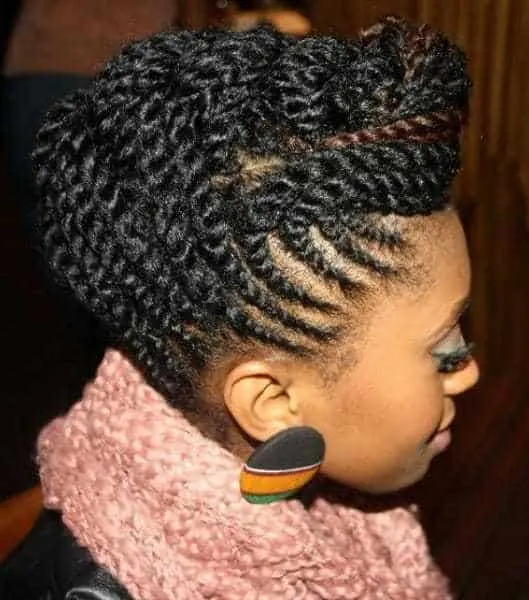 Aside from being easier to undo, thicker braids are a fantastic way to add volume to any style, especially if you are wanting a statement bun on top of the head. This black girl look is both effortlessly chic and comfortable to wear.
18. Half Up Bun
Although not an entire bun 'do, having length at the back really sets off the size and volume of the top bun nestled on the crown of the head. By mixing in smaller braids with more chunky, it adds varying volumes and definition.
19. Splash Of Color
Color is always an easy way to break up an otherwise monotone hairstyle for black hair. By subtly adding definition and flame-colored features into this bun, it enhances the exquisite detail of the hair twists.
20. Bun with A Regal Look
This braided hair bun really speaks for itself! The chunky braids, shaved temple region, and expressive and flattering bold regal purple color is the perfect way to show off individual personality through style and clever color choices.
21. Shaved Sides
This braided bun mohawk is not for everyone, but for black women who can pull it off, they will reap the benefits of being so unique. The shaved sides are a big and brave investment but are softened by the more feminine and elaborate braiding bundled into a top mohawk bun. The dappled color choices also help add drama.
Have a Look at These Half Shaved Hairstyles for Girls
22. Big Bow Bun
This is such a beautiful and unique look for black women that is easier to achieve with more chunky braids. The big braided bow bun statement is softened by the use of a swooping front fringe and adorable girly wisps of hair around the temples.
23. Shape It Like A Shell
The flawless microbraids used here are an awesome way to achieve a very structured and complex look. By fixing the hair into a side parting it is almost like a style of two halves – with one side being demure and the other side is shaped into a sophisticated swooping shell shape. By adding fabric wraps to the front of the style it breaks up the color palette and adds definition to the braided bun for black women.