Half up half down styles are a cool way to get the best of both worlds. You can use a tie to keep most of your hair out of your face whilst still getting the benefits of free-flowing locks. This is why half up half down ponytail hairstyles are so popular with young women.
Accessories for Half Up Half Down Ponytail Hairstyles
The accessories that you choose for your hair can completely transform your mixed hairstyle. A simple elastic hair tie is the best accessory for a low key style.
On the other hand, you could choose a jeweled hair clip to jazz up a wedding hairstyle. Bling hair accessories are ideal for a party look.
Step by Step Guide
Half Up Half Down Ponytail Styles
1. Half Up Half Down Ponytail for Thick Hair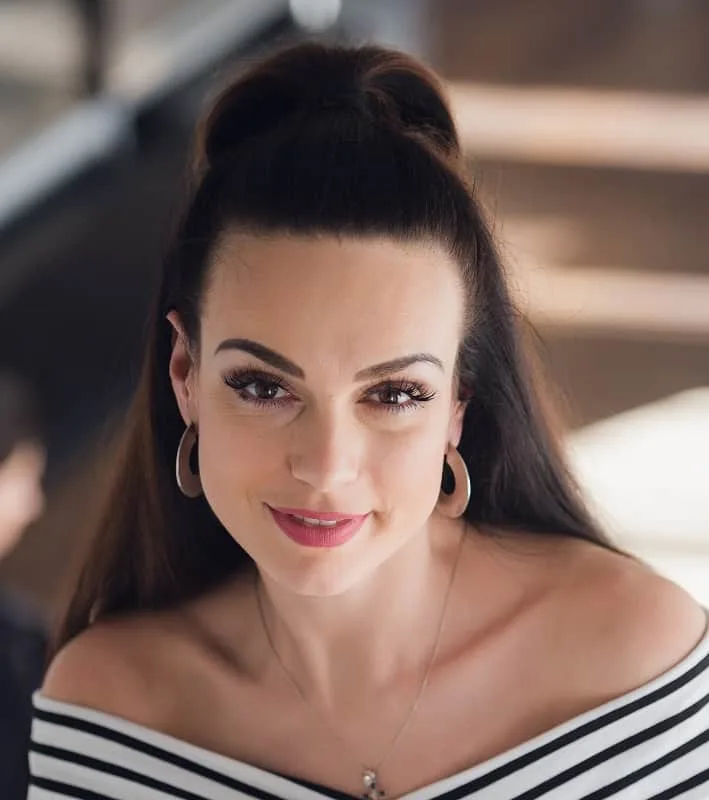 Trouble taming your thick, unruly locks? Brush the bottom straight and gather the top half into a ponytail or bun. The front will be combed or slicked back smooth and you can still show off your long hair.
2. Half Up Half Down Two Ponytails
Have you always wanted to look like Baby Spice? By creating this half up half down style with ponytails at the top half of your hair, now you can! Wrap each ponytail in a section of hair to disguise boring old elastic ties.
3. Half Up Half Down Side Ponytail
A side ponytail is great for when you're out running errands. It shows off your spunky side and can be thrown together at whichever side you prefer. Leave hair curly or straight or a mix of both!
4. Half Up Half Down Ponytail for Thin Hair
To help your thin hair out with some chic style, comb up the top half into a tiny half up half down ponytail. Pull it tight for slightly messy style with bumps or smooth hair and its fly-aways flat for neatness.
5. Half Up Half Down Short Ponytail
Short ponytails are super cute so they're perfect for your short hair. Just finger-comb the hair back at a medium height and secure with a scrunchie or neutral hair tie.
6. Curly Half Up Half Down Ponytail
For the beach or a special occasion where you want to wear your hair curly, try this half up ponytail which sections off the hair with gold, jeweled bands.
7. Half Up Half Down Ponytail for Black Women
You can't possibly get any more dramatic or glam than this half up half down ponytail. While the hair is pin straight and sleek, the top half is gathered in a high, tight ponytail from a couple cornrows at the hairline.
8. Half Up Half Down Ponytail for Straight Hair
Blonde hair is very girl-next-door with it's high half ponytail. Throw your style a nod to the 90s with a colorful scrunchie which will really play up the look.
9. Half Up Half Down Bubble Ponytail Style
The thick sections of this half ponytail are what give it the fun 'bubble' name. You can create this look by using a pull-through technique, then finishing it off with wavy locks.
10. Half Up Half Down Ponytail with Bangs
To get this stunning hairstyle, brush and straighten bangs, then form five or six cornrows from behind the bangs and back halfway. Gather the top hair in a ponytail and tease with hairspray for luscious waves.
11. Half Up Half Down Weave Ponytail
Using extensions, you can get a gorgeous half up half down ponytail like this for your black hair. Criss-cross cornrows with gold beads decorate the scalp before being gathered into a ponytail with a thick section of hair wrapped around it.
12. Half Up Ponytail for Layered Hair
For layered hair, whether it's short or long, a half up ponytail will show off the varying lengths. Pulling it tight from the base will create these cute bumps for a slightly messy look.
13. Top Knot with Free Flowing Waves
Celebrities like Selena Gomez and Demi Lovato have rocked this beautiful wavy half up ponytail. You can either leave it traditional or wind it up in a messy bun with tendrils around the face.
14. Small High Pony and Down Do
For thin and fine hair, try a small half up half down pony. It's a smaller section of hair up top but it still looks adorable and can be sophisticated with a clear or black elastic hair tie.
15. Braid and Flowing Curl Combo
One section of hair from either side of the face is gathered at the back of the head for this half ponytail. It's loosely braided and the rest of the hair is filled with soft, romantic waves.
16. Half Up and Half Down Wedding Hair
For your special day, feel like a princess or even better, a queen, with a half up ponytail. This one has teased the hair for major volume and uses a French braid the cover half of it. The bottom half is filled with curls.
17. Simple Loose Pony in Soft Hair

The loose half ponytail is one of the more popular styles for women. It isn't tight so the resulting look is soft. The hair is secured lower than other ponytails as well.
Unbelievably Edgy Ponytails with a Mohawk
18. Gorgeous Circular Plait with Hair Accessories
It may not be a traditional ponytail, but that's what makes this one so beautiful. A crown of twisted hair circles the hair before being gathered into a low ponytail with lots of curls. Pin a jeweled accessory above it for sparkle.
19. Double Braided Ponytail
For you or your daughter, a half up half down ponytail that starts with three braids at the hairline is great for keeping hair out of the way. Tie a patterned ribbon around it instead of an elastic for color.
20. Platinum Ombre Style with A Braid

A braided mohawk makes this half up half down ponytail pop with beautiful edge. Spice up your new style even more by adding blonde ombre and curling hair for soft waves.
Braided Ponytails for Every Occasion
There are plenty of beautiful choices for a half up half down style with a ponytail twist. Our list is designed to give you plenty of inspiration, but you can always experiment with unique styles of your own.