Are you looking for a haircut perfect for your receding hairline? Having a receding hairline can be a nightmare for a man. However, the cherry on top is finding the best haircut for a receding hairline.
Once that hair loss becomes noticeable, finding a good haircut that can hide the receding hairline and still look good is difficult. Thanks to the plethora of styles, men with bad hairlines need not worry. There are plenty of stylish haircuts for men with a receding hairline.
What is a Receding Hairline?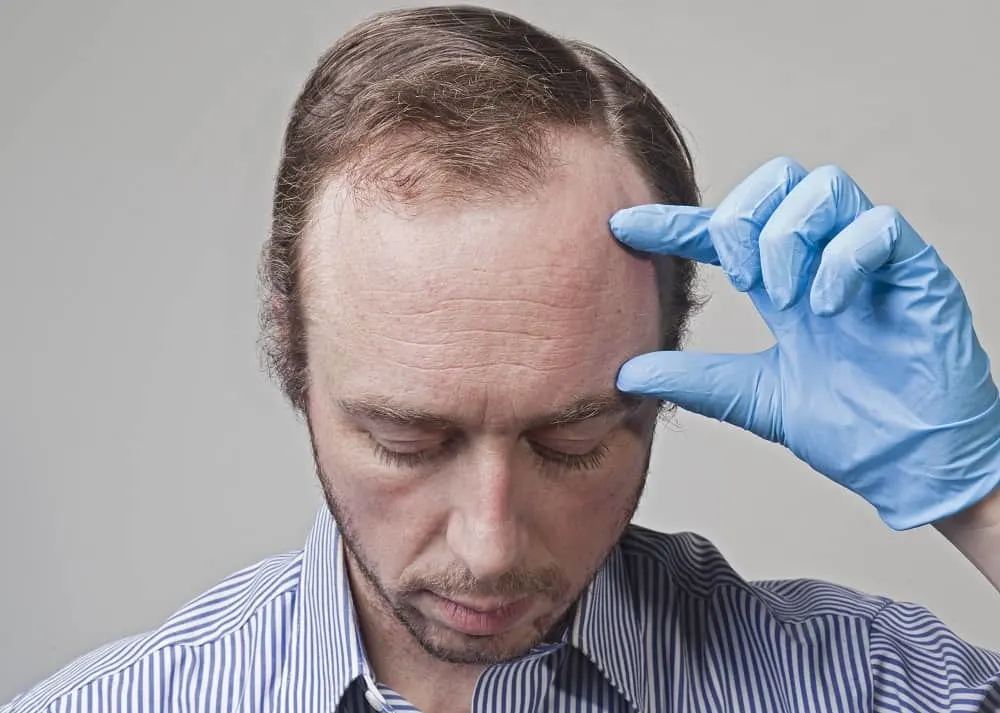 A receding hairline is the loss of hair that usually begins above the temples and the loss progresses across the top of the head. Men typically experience receding hairlines and can start losing their hair right after puberty.
Men experiencing a receding hairline will often have a ring of thinning hair around the scalp, and thin hair may continue to grow on top of the scalp. By the age of 30, most men will be experiencing a receding hairline.
Women can be afflicted with a receding hairline, but they often experience thinning hair. Hair loss is usually caused by a medical condition such as frontal fibrosing and traction alopecia.
Causes of Receding Hairline
Everyone has thousands of hairs that grow from their scalp, and these hairs will fall out and be replaced with new hair. Most people lose about 100 hairs each day. A receding hairline and thinning hair can result if something interrupts this cycle.
Many factors can contribute to hair loss. Age is the most common factor. Some hair loss may be temporary but may become permanent if treatment is needed. Here are factors that may be contributing to your receding hairline:
Stress
Medical condition
Infection
Medication
Genetics
Radiation and chemotherapy
Miscarriage
Surgery
Hormonal changes
Poor diet
Receding hairlines and thinning hair can be caused by one or a combination of these factors. If you are a person that likes to spend a lot of time styling your hair, you could be inadvertently contributing to your receding hairline.
Excessive hairstyling – Repetitive heat from blowers or curling irons and straighteners can damage your hair.
Hairstyles – Certain hairstyles that keep your hair pulled very tight, such as cornrows or dreadlocks, can also cause eventual hair loss.
Hot oil and permanents – Regular use of specific treatments and chemicals can also contribute to hair loss.
Receding Hairline vs. Mature Hairline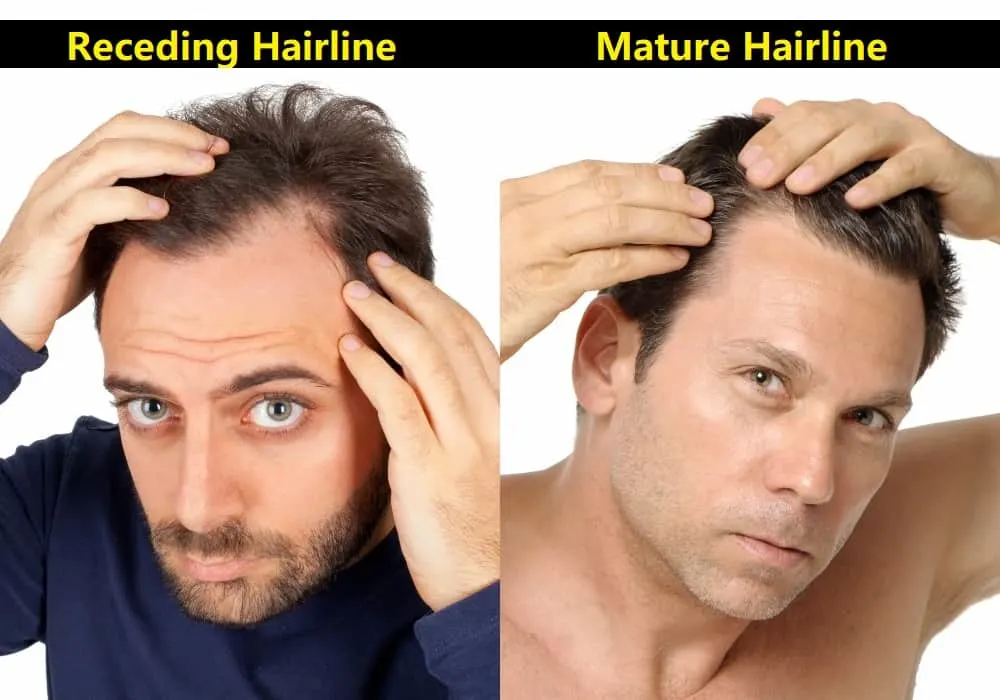 A receding hairline typically begins at the temples and works its way across the scalp, and it is often referred to as the widow's peak because it has an M-shaped pattern. Receding hairlines can happen unevenly and decrease several centimeters, which is quite noticeable.
Receding hairlines can be pretty standard, but they are not a normal part of maturing. A mature hairline is a characteristic that all males will experience as they age, and a mature hairline shows less hair loss than a receding hairline, and it will be a loss of 1 to 2 centimeters for most men.
A mature hairline also retreats much more evenly than a receding hairline. The temple area might be more affected, but the rest of the hairline will be relatively straight.
How to Prevent Receding Hairline
Sadly, if your receding hairline is hereditary, there is nothing you can do to prevent it. However, if it is not genetic, there are several simple lifestyle changes you can make to prevent hair loss. You can also consider medical intervention if needed.
Antioxidants and Vitamins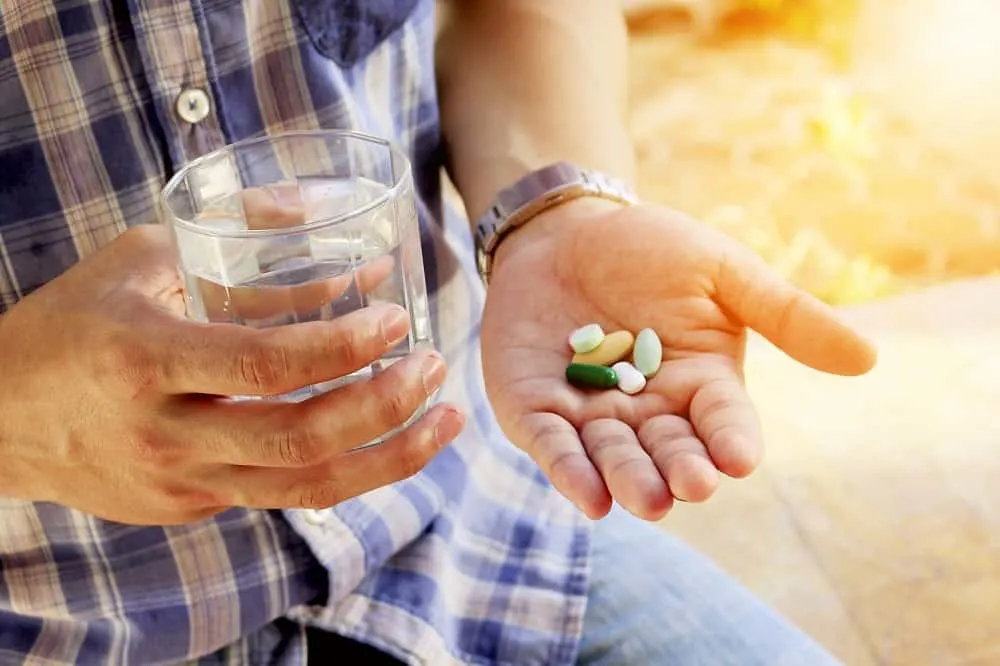 Eating foods with antioxidants can help your hair look thicker and healthier. Adding foods like blueberries, spinach, kidney beans, and walnuts is a simple dietary change that could lead to fuller hair.
Specific vitamins and minerals contribute to hair growth. For example, vitamin A, B12, E, iron, and zinc will help your hair grow naturally. In addition, incorporating vegetables, nuts, and seeds into your daily diet will help make your hair feel fuller and softer.
Herbal Remedies
Several herbal remedies can be applied directly to the scalp to help prevent hair loss. Herbal remedies can help healthier hair growth, and traditional treatments contain Chinese hibiscus, ginseng, Gotu kola, gooseberry, and aloe vera.
Herbal remedies have been shown to slow hair loss and, in some cases, stop it. Treatments are prepared and left on the scalp, much like a conditioner.
Lower Stress and Anxiety
Sometimes, easier said than done. Lowering your stress level can decrease your hair loss. Reducing your stress level can benefit your overall health, so it's a great starting point for preventing your receding hairline.
Haircare
Switch to a gentle shampoo that will stimulate your hair follicles. Check the label on your shampoo to ensure that it doesn't contain harsh chemicals that could damage your hair.
Choose a hairstyle that does not keep your hair pulled tight. Be conscious of the amount of time you spend brushing and styling your hair. Over-styling can lead to hair loss, and it is best to be gentle with your hair.
Mixing rosemary oil, peppermint oil, and lavender oil with a carrier oil create a scented treatment that you can apply directly to the scalp. This treatment can help reduce hair loss.
Scalp Massage
Increased blood flow in the scalp will help stimulate hair follicles. Give yourself a soothing scalp massage each day which will also help reduce your stress level.
Laser Therapy
Low-level light lasers help stimulate hair growth. The light signals your cells to begin the anagen phase of hair growth.
Medications
The most common over-the-counter medication used for promoting new hair growth is Rogaine. This medication is not meant to be used to treat receding hairlines but rather a baldness.
This medication is most successful with people under the age of 40 who begin using it at the first sign of hair loss. Rogaine has been successful in causing new hair growth in both men and women.
A prescription medication, Finasteride, lowers the hormone level that causes hair loss. More commonly known as Propecia, Finasteride has been shown to promote hair growth and stop hair loss.
Hair Transplant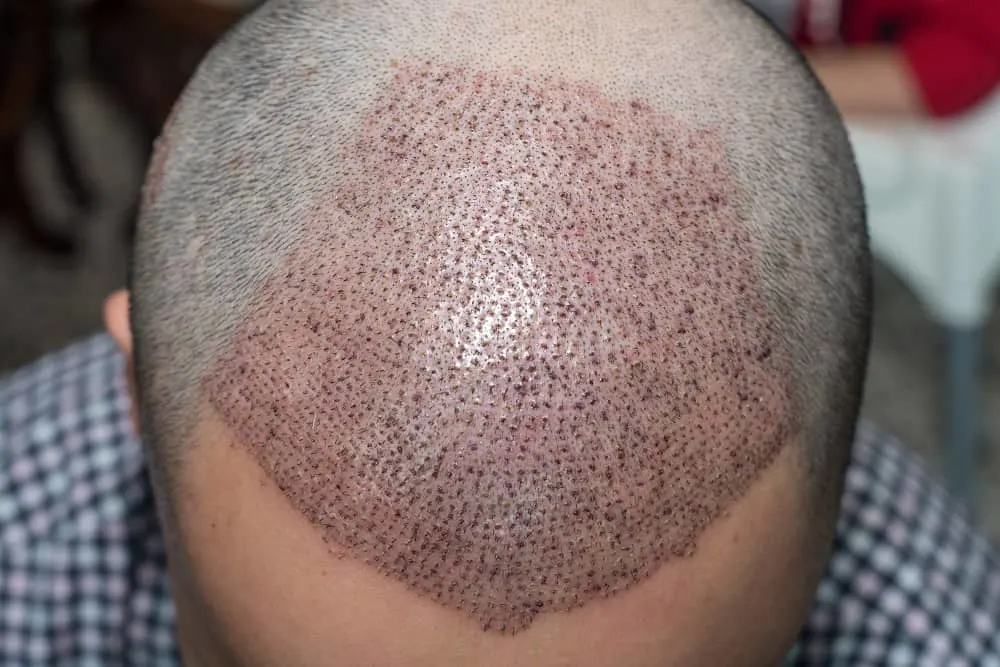 If natural aids aren't working, a hair transplant is another option. This medical procedure involves a doctor taking hair from the back of your head and transplanting it into your hairline.
PRP Treatment
A platelet-rich plasma (PRP) treatment involves taking a small blood sample and removing the platelet-rich plasma, which is injected into the scalp. This plasma stimulates new hair growth.
Haircuts for Men With Receding Hairline
So, to give you an idea of the diverse range of haircuts you can have, here are some stunning receding hairline haircuts that will help you overcome your hairline problems for good!
1. Combed Back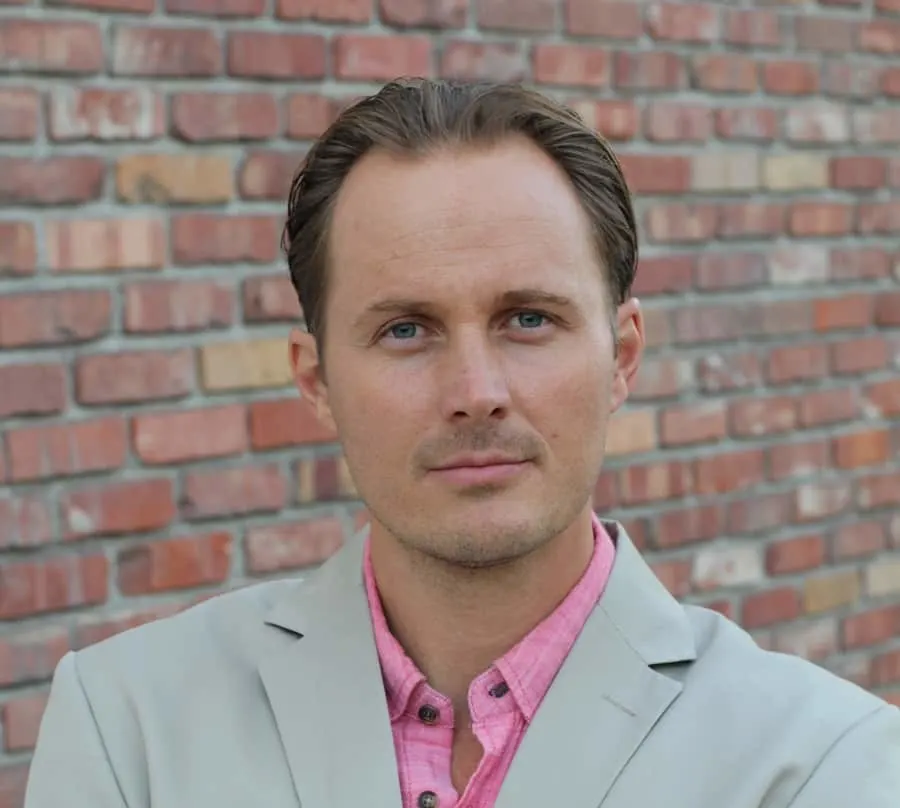 Contrary to what you might think, combing your hair back away from your face isn't a bad look for men with a receding hairline. It may even accentuate your handsome face shape, so give it a try!
2. Brushed to the Side with Fade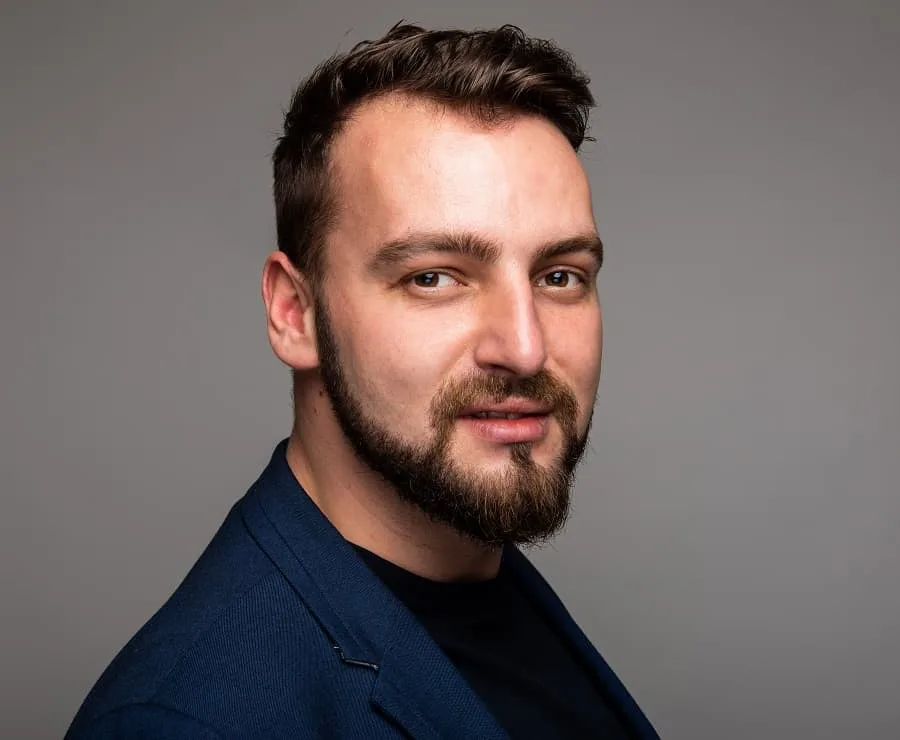 A medium or low fade is easy to maintain at home and looks very hot with a slightly longer top that is brushed to one side. No fancy comb needed; just use your fingers to shape the hair in your preferred direction.
3. Natural Hair Mohawk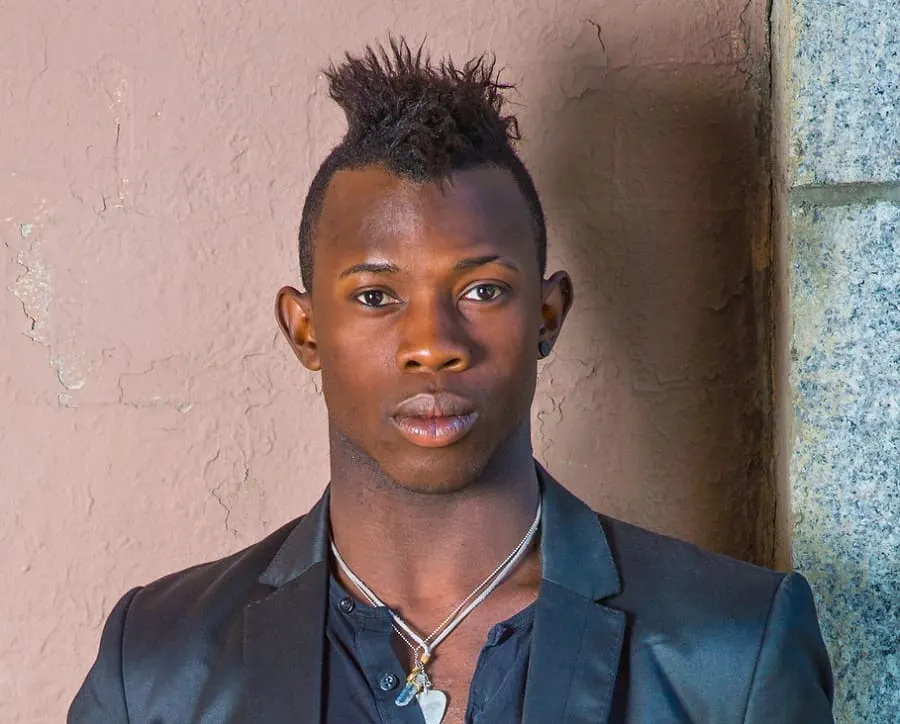 Just like hair combed back, a mohawk is another haircut ideal for men of color with a receding hairline. Your natural hair will easily stay in the punk mohawk shape with little to no product.
4. Bangs for Older Men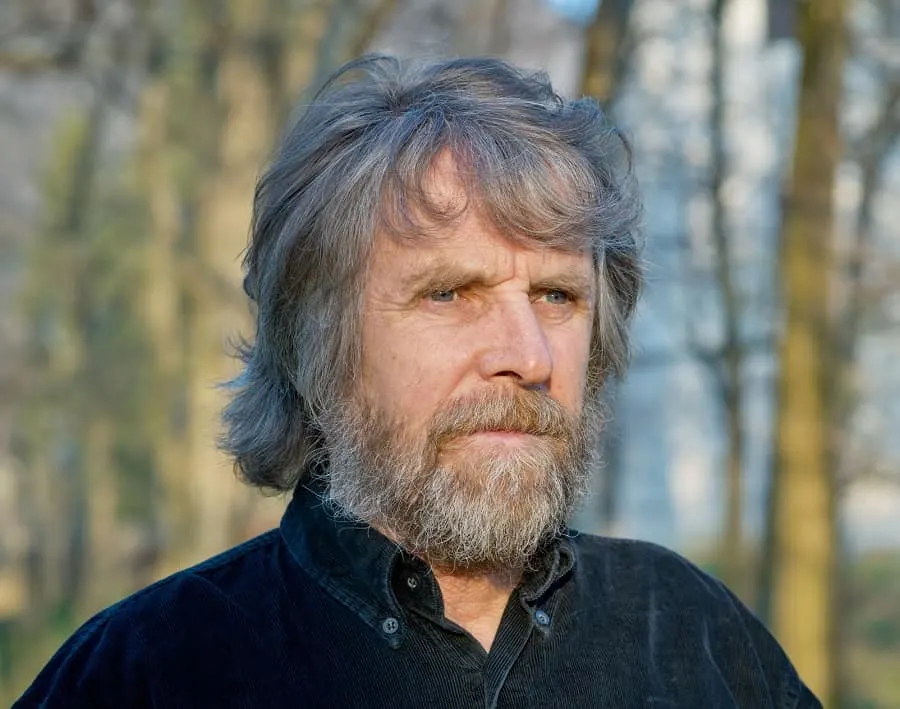 Older men look quite dapper with bangs and cover up a receding hairline nicely. Add layers to accentuate your hair's natural texture and let the hair fall softly across the forehead.
5. Shoulder-Length Hair Side Parted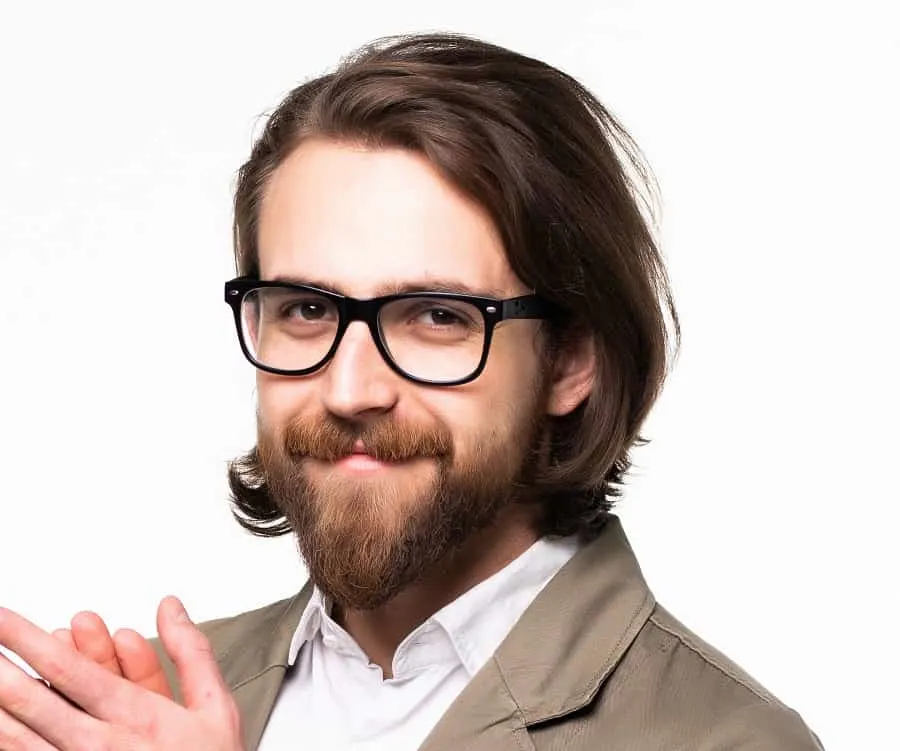 If your hair is mostly straight and shoulder-length, you're in luck! Part your hair off center for easy style, and you're good to go. People will be more focused on your hair's length than your receding hairline.
6. Textured Top, Short Sides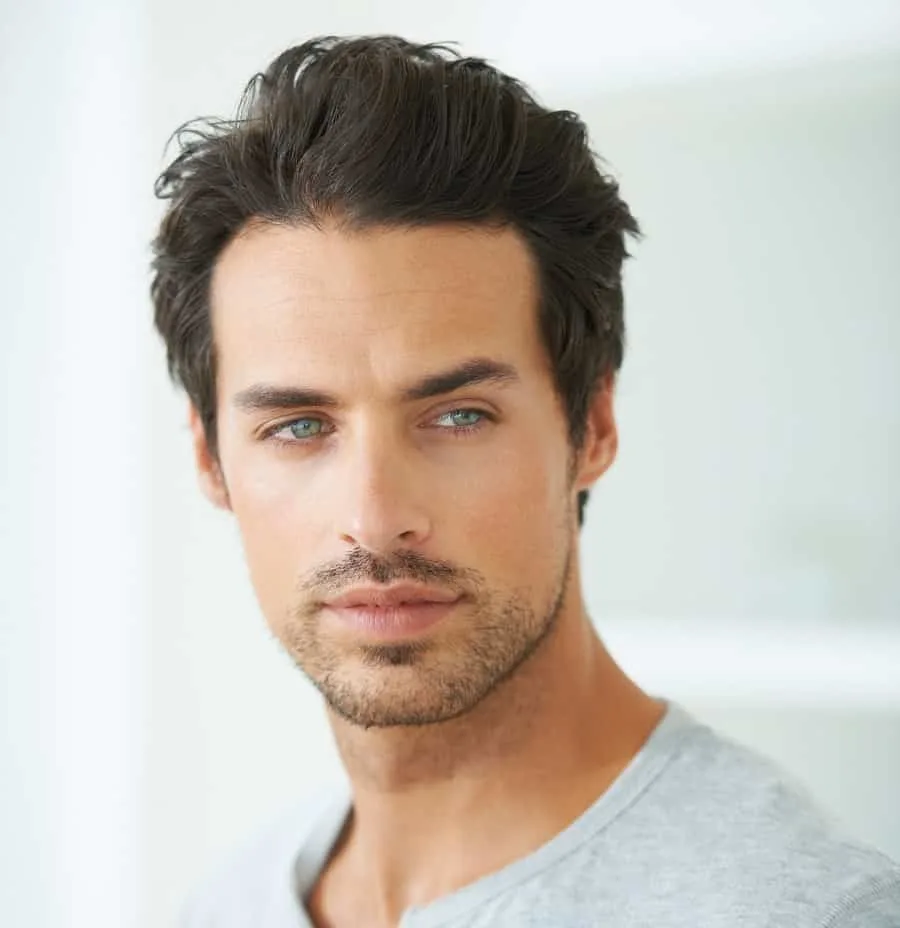 This short men's haircut is great for those with thicker locks. A slightly longer top looks very handsome with short sides. To style, finger comb hair away from the face to keep it from being too slick-looking.
7. Brushed Up Silver Fox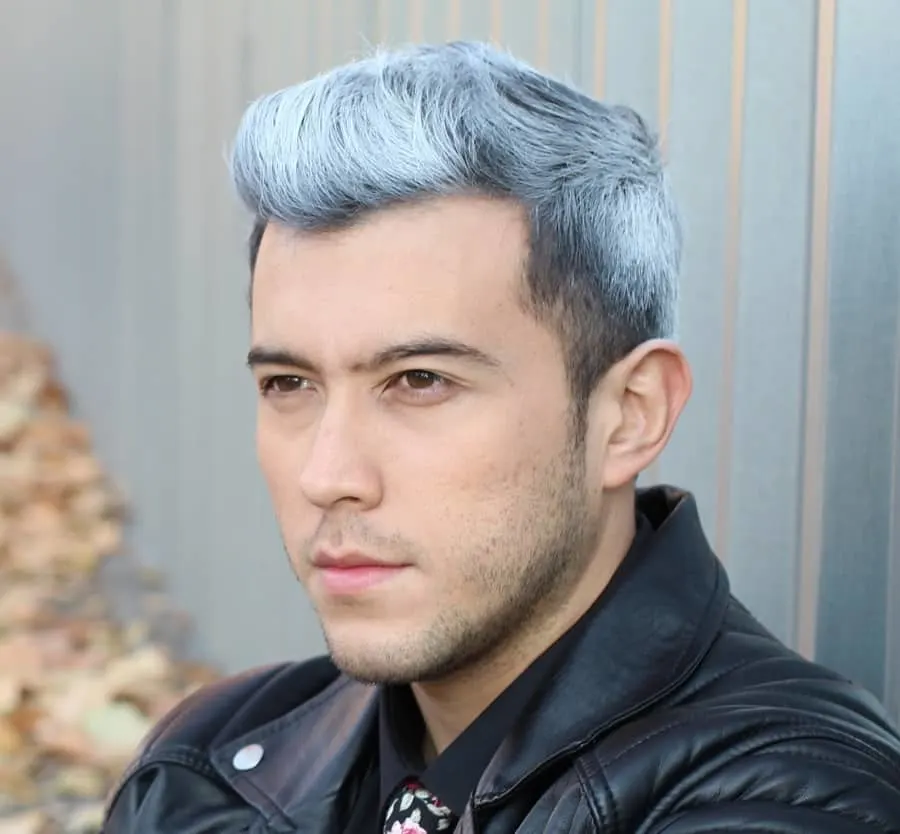 No matter how old you are, a receding hairline will no longer be the focus of your face when you have a hot silver hair color. This style features a flattering brushed up front with a medium fade.
8. Ombre Dreadlocks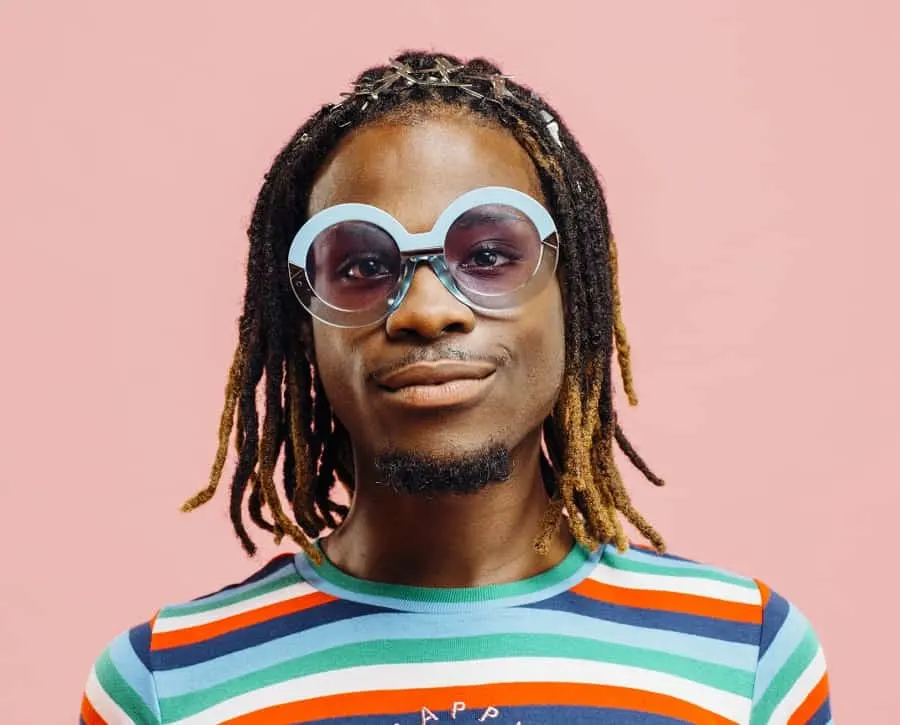 Another great look for men with black natural hair is dreadlocks or thick twists. With a bit of color and a shoulder-length cut, you can emphasize your hair's thickness and color, not a receding hairline.
9. Side Comb with Low Fade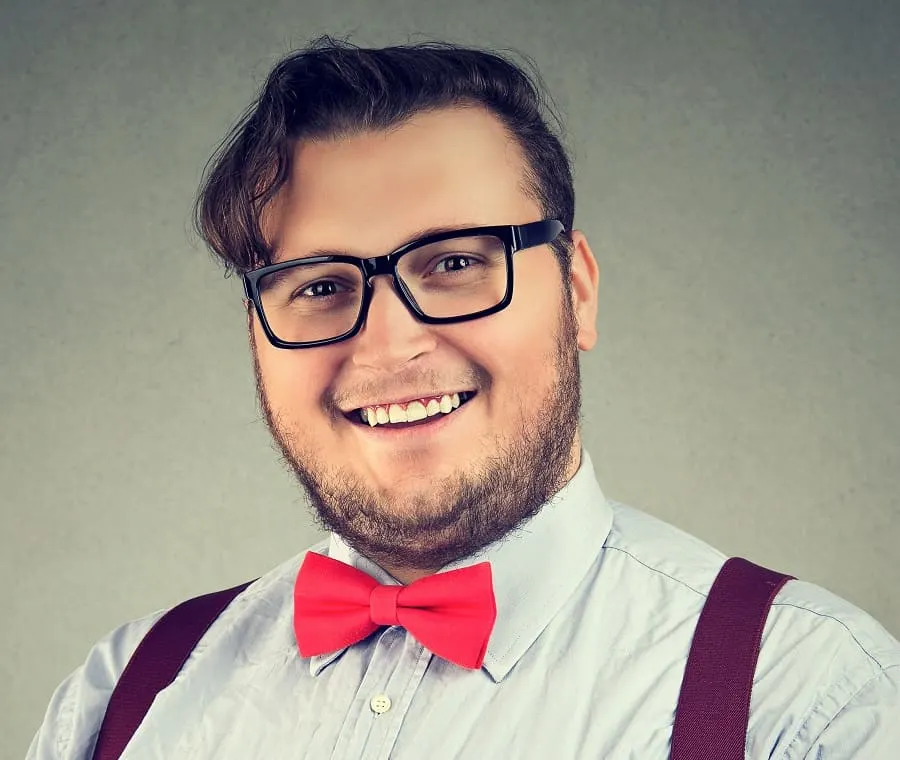 How dapper is this short haircut? We love the low fade paired with a neatly combed side part. If you're rocking glasses and your hair has some wave to it, this style will suit you nicely.
10. Layered and Slicked Back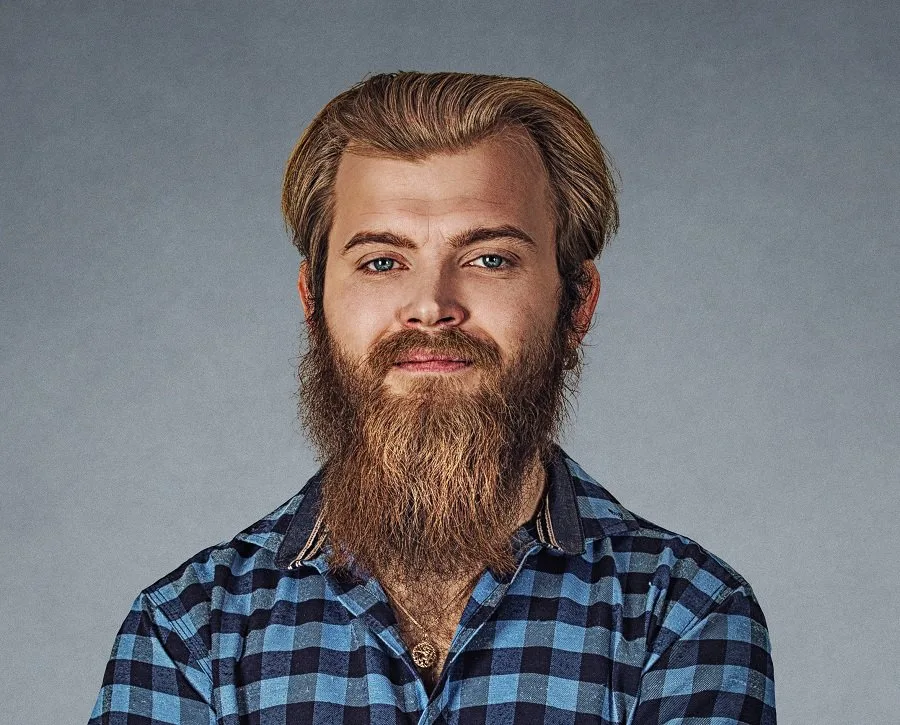 While some men's haircuts don't look great slicked back, this isn't one of them. For thick hair, have your stylist cut in layers. The shape will help a receding hairline look purposeful and your hair will feel less bulky.
11. Short Hair with Thin Bangs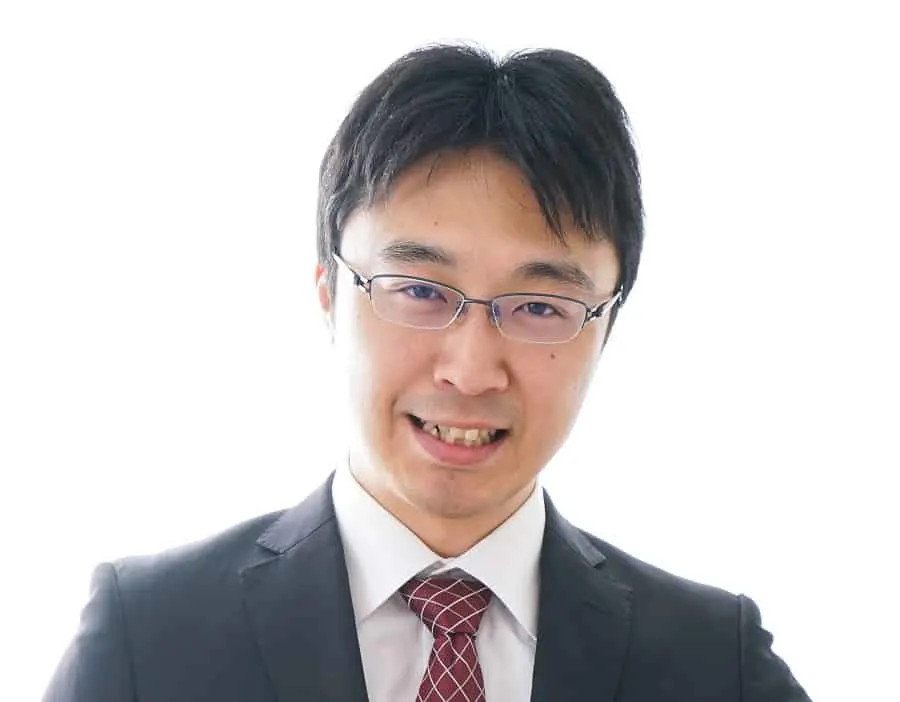 If your hair is fairly thin and short, it'll be a cinch to add in layers or a fade. The front of your hair will appear thicker, making short bangs the perfect fullness for covering your receding hairline.
12. Thin Long Hair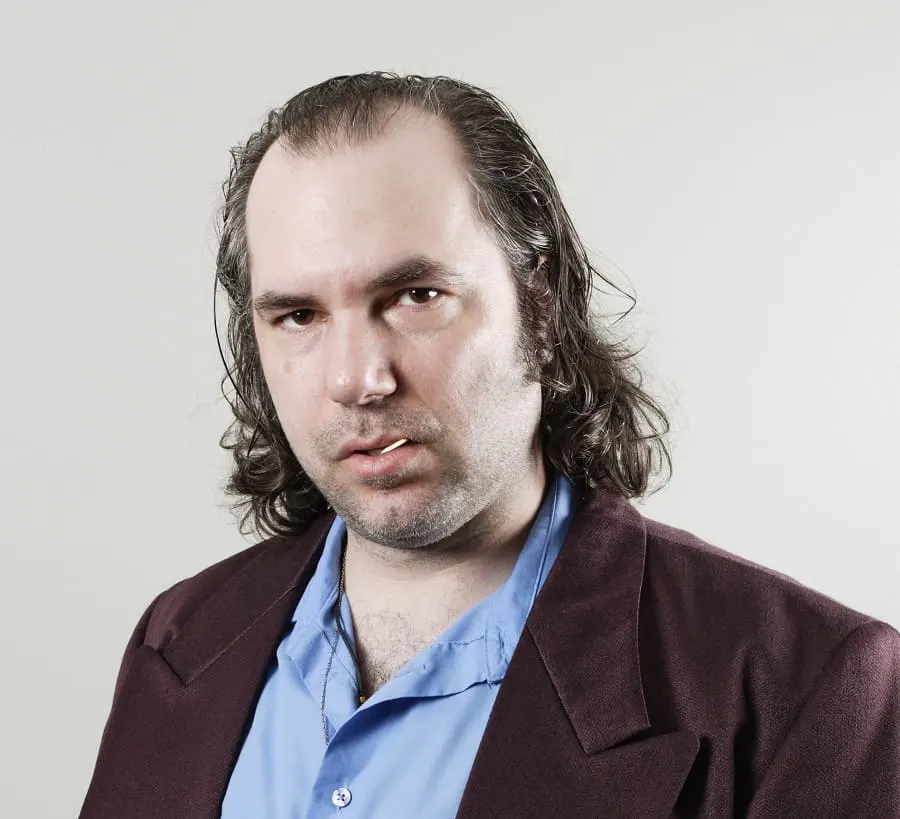 Wavy and curly hair can be a pain to style if you're a man, but it can come in handy when you have a receding hairline. The trick is to work with it, not against it. Comb it back with a little mousse to draw attention to your hair's texture.
13. Short Salt and Pepper Hair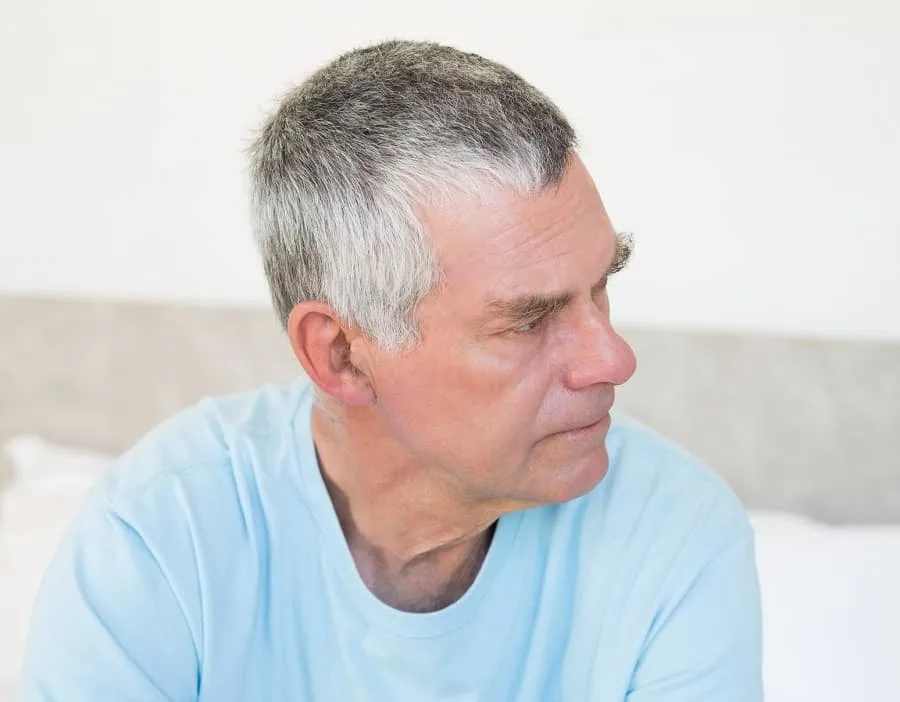 Avoid the urge to color when you're an older man whose short hair is filling in with gray or white hair. Instead, have your stylist shape the front into a layered point so that it outlines your receding hairline.
14. Spiked to the Side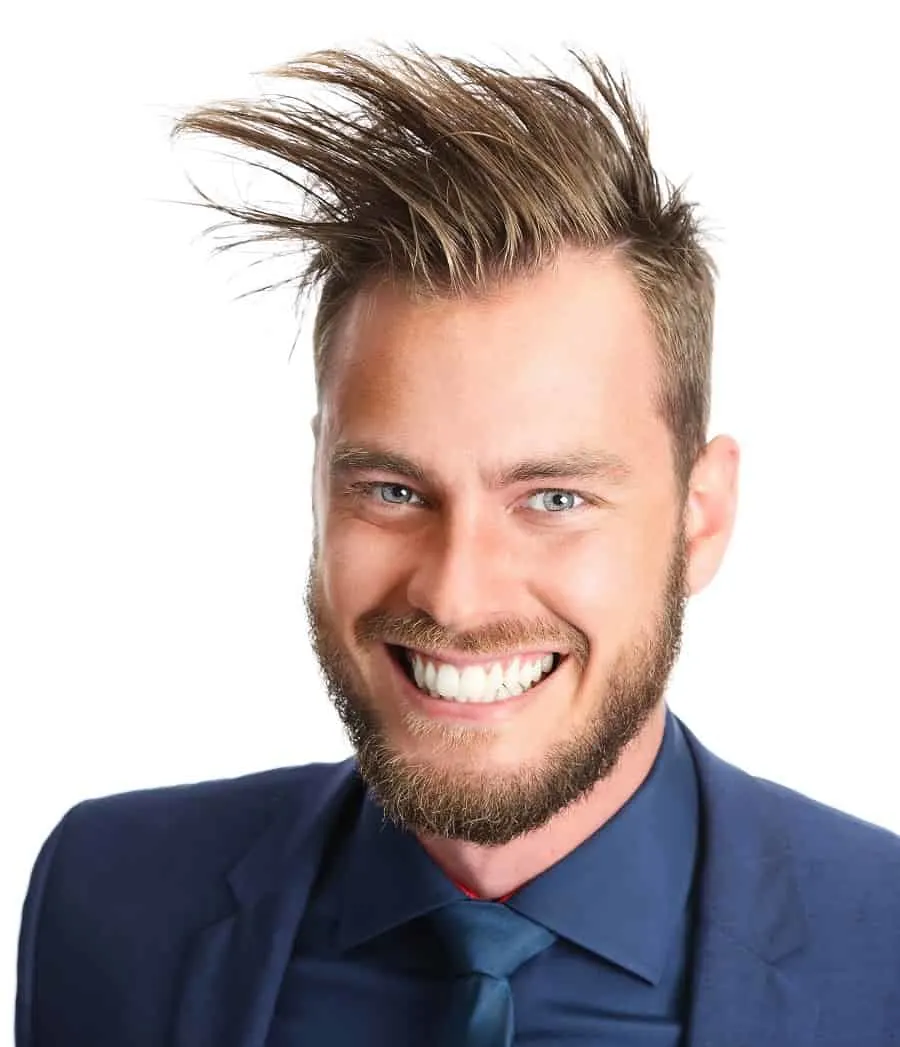 Retain a youthful vibe with a spiked haircut and high fade. This look is super handsome and perfect for men with medium-length hair. Simply spike it to one side and that's it!
15. Faux Hawk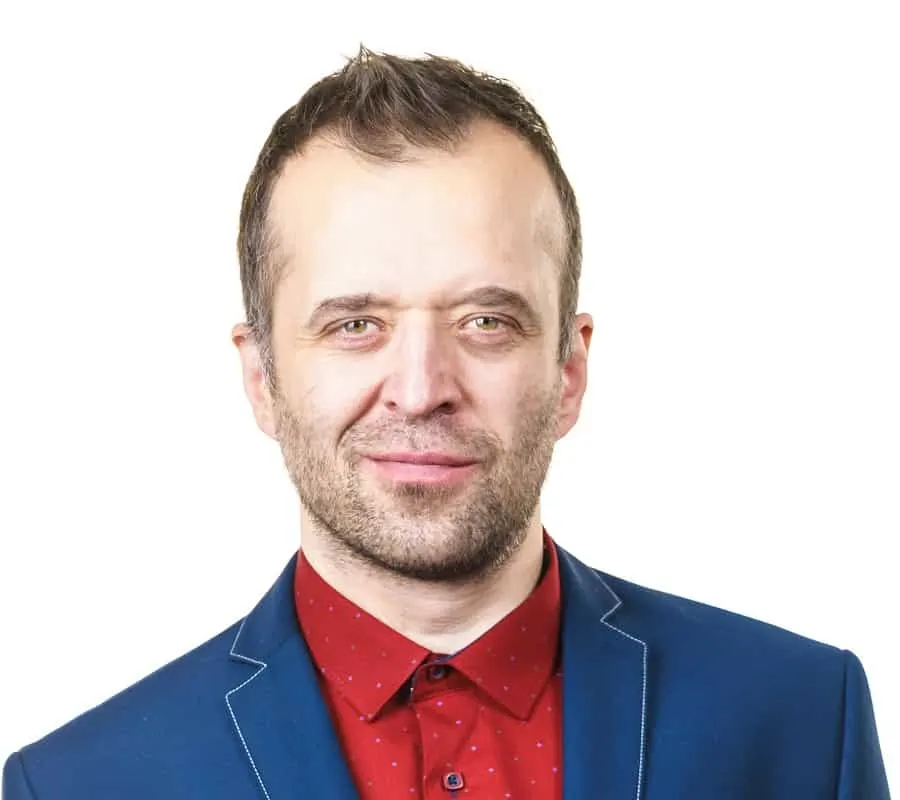 If your hair isn't long enough for a traditional mohawk but you still want some shape, try a faux hawk, whose shape and height will distract from a receding hairline. Use your hands to work in mousse or gel and shape hair into a "mohawk."
16. The Receding Buzz Cut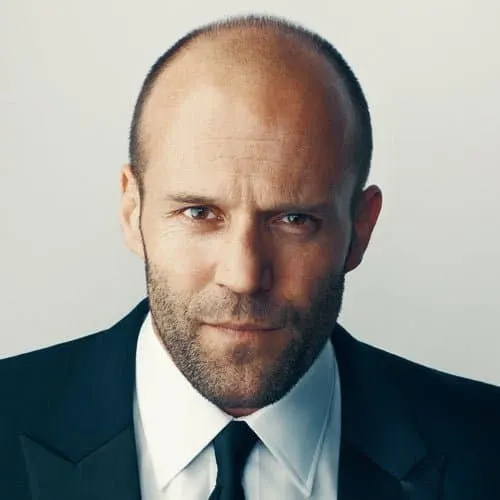 This is the military-inspired haircut where the hair is cut short. The tapered sides also help to contour your hairline. The buzz cut attempts to divert the attention from the hairline to your brow line. Also, as there is less drama at the top, your features get highlighted. If you need to give yourself that chiseled and refined look with that receding hairline, the buzz cut is a great hairstyle.
Trendiest Caesar Haircuts for Men
17. The short, slicked back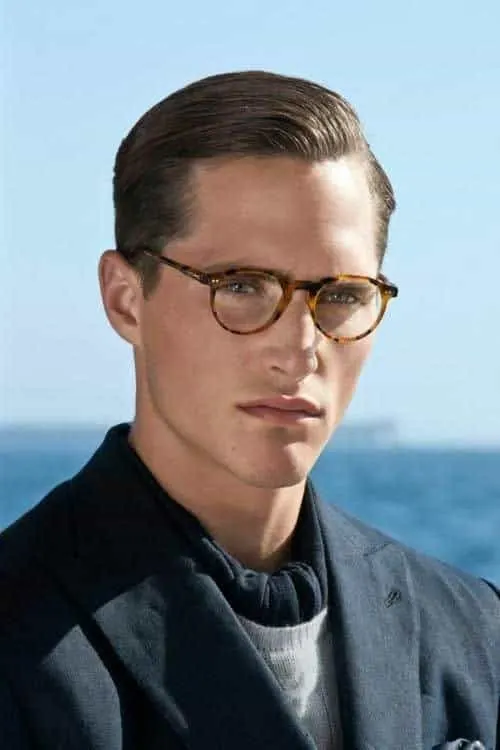 Another great receding hairline haircut. This haircut uses short and backward-styled hair to cover the sides of your hair efficiently. The cut follows the comb over hairstyle, the difference is that this time the hair is combed backward softly. This creates a lift and prevents adding too much weight to effectively cover your hairline while contributing to your style at the same time!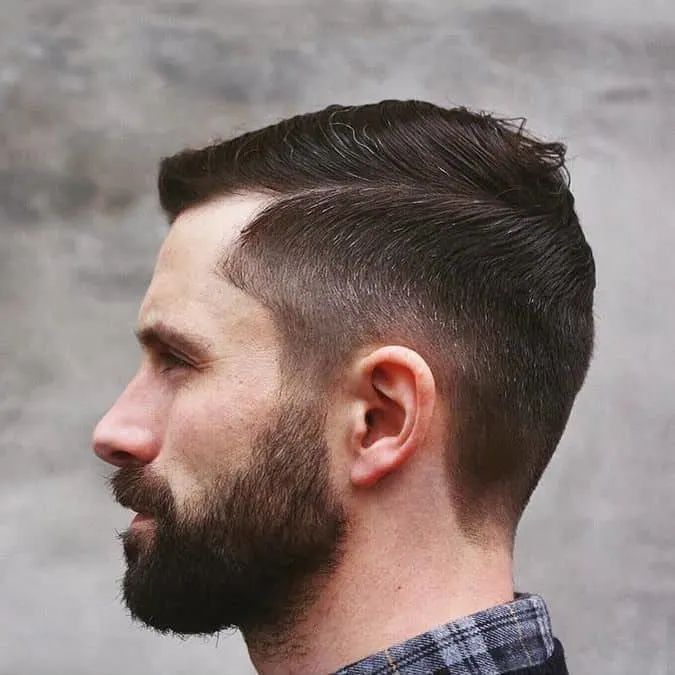 This army hairstyle can be a great haircut for a receding hairline. It's more suited for those men who still have some length in their hair. The cut has long, scissored side parts with a puffy comb over that brings out the vintage look. It's a great hairstyle, especially if you are a fan of the classics.
Taper vs Fade: What's The Difference?
19. The long, lank hair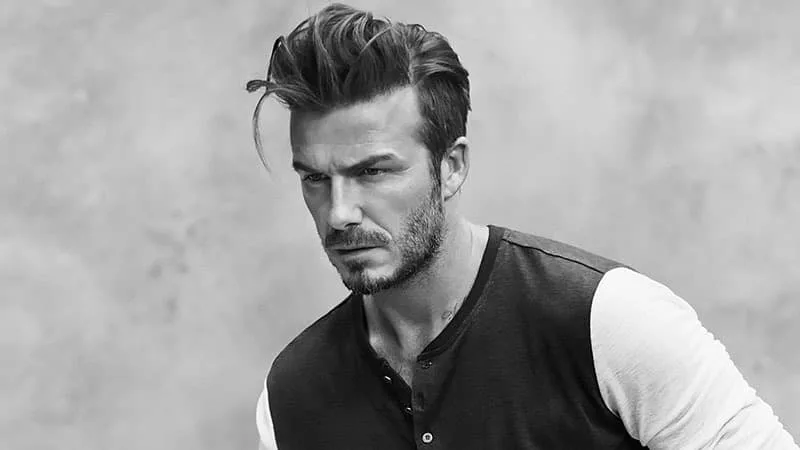 Covering your hairline can be pretty easy if you have a crop of hair. For this receding hairline haircut, you need to have thick hair. Hence this works perfectly for men who have a receding hairline as their only problem. It helps cover the temples stylishly. Although it doesn't suit everyone, when it does, it can become a fashion statement!
20. The messy look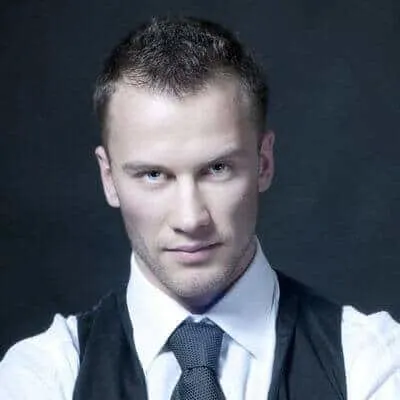 One of the best hairstyles to conceal a hairline is the messy style. The look brings hair over to the front of your head and can be extremely easy to style. It covers your hairline stylishly and is one of Hollywood's favorite receding hairline haircuts. A number of stars have chosen to live by this amazing haircut, and it's sure to inspire your taste too.
Coolest Teen Boys Haircuts and Hairstyles
A simple way to avoid drawing attention to your hairline is to remove it completely—Give yourself a complete shave. Although not many people are willing to try this look, it can make your features pop.
Gone are the days when the bald look was criticized. Nowadays, people prefer the bald look over hair, some your style is likely to be perceived as a fashion choice instead of a cover-up!
22. Receding Hairline Plus Crew Cut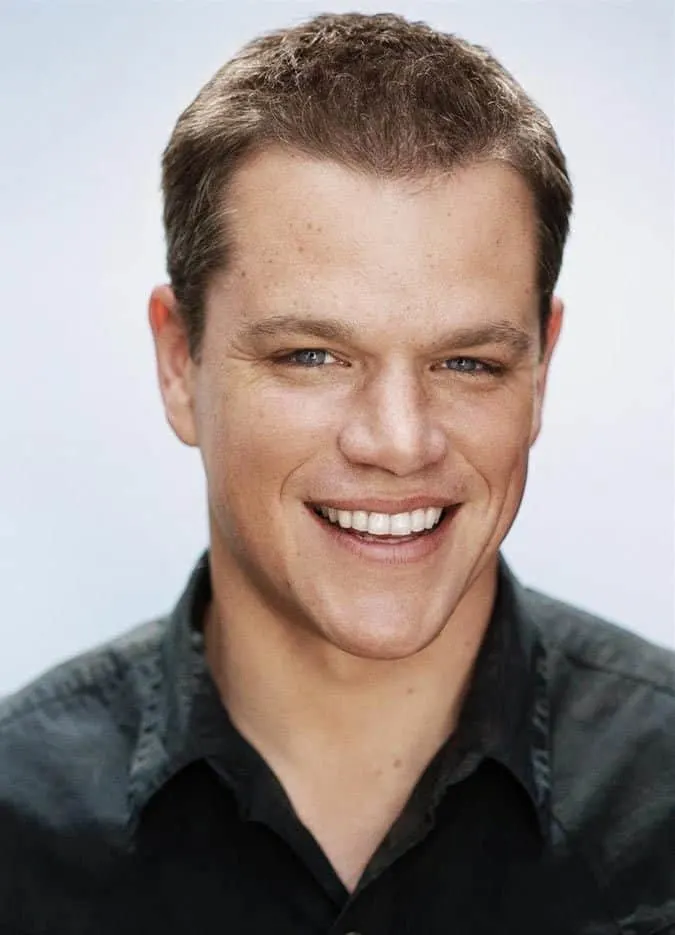 Short hairstyles work best with a receding hairline. This is why cuts like the crew cut make an excellent receding hairline haircut. It's a low-maintenance cut and with a gradient, which helps divert the attention from the hairline so that the other features of the face are made more prominent.
However, there is the question of whether it will suit your face or not, but if it does, it is sure to last a long time!
Rogaine for Receding Hairline – 5 Facts
23. Close haircut for receding hairline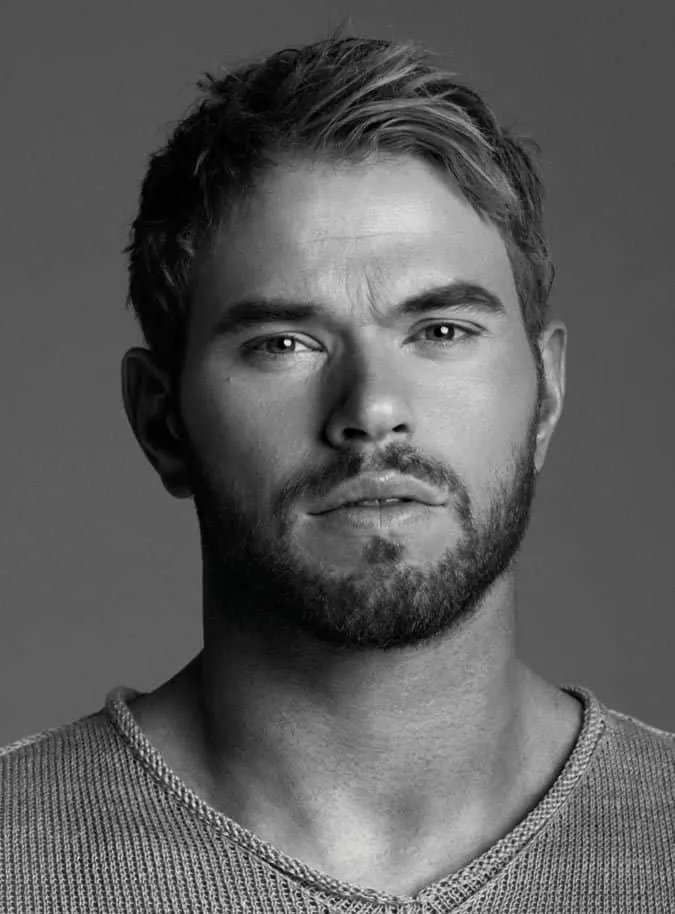 This cut follows the crew cut closely, except that the hair on top is cut longer. The length shouldn't be too long, so you would need to style it, but it should have enough volume to mess it up and make it fall on your hairline. This haircut makes hiding a hairline extremely easy and gives you a stylish haircut at the same time.
24. The mop
The haircut is a mop top and works just like its name. The cut can hide your hairline completely by covering it up and giving you an entirely new one. It's just like short bangs for me! If you have strong hair, try it on; it might answer all your worries.
25. Taper Fade Inspired Receding Hairline Haircut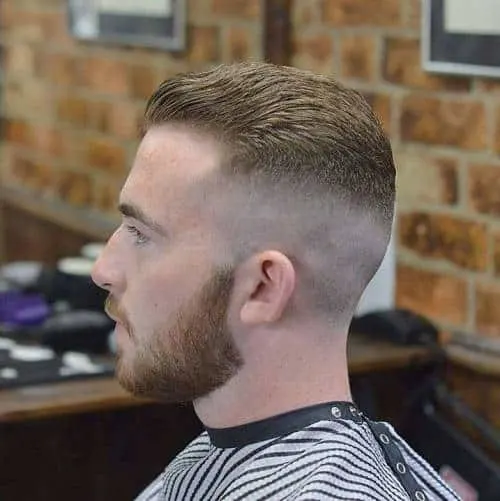 This is the style if you are looking for an easy receding hairline haircut. The basic concept is that the sides are tapered down and the top hair is kept long to style as you please. This gives you the freedom of styling so that you can come up with a number of different styling options and still look great!
This cut is also military-inspired and involves shaving off the head's sides and back to create a smooth tapered look. A short length of hair is left at the top, which can be combed or styled according to your preference. The side and top combination act as a great diversion and can help shift the focus from your hairline easily.
27. Long haircut with fringe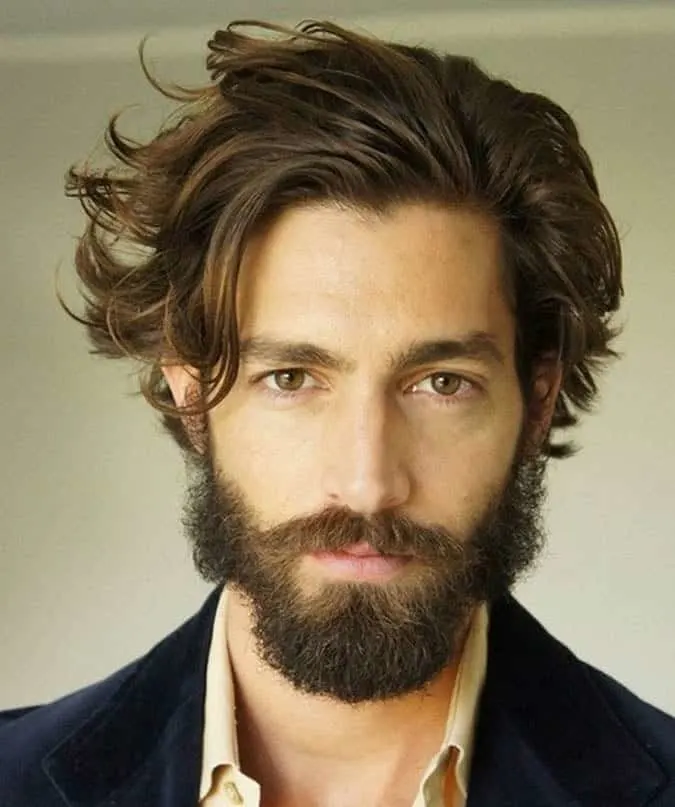 You can imagine how a fringe can help your hairline. This cut can almost conceal their receding hairline for people who still have abundant hair. The long, lank hair dropping over the hairline creates the perfect illusion and the long hair gives the impression of strong and healthy hair, which compensates for the recession easily.
28. Asymmetrical fringe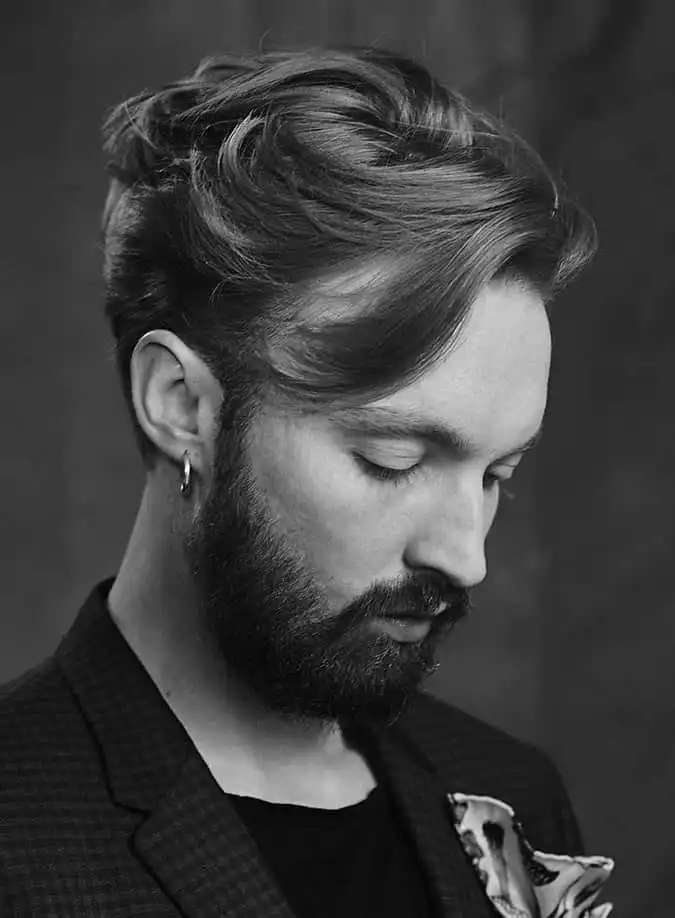 Another long hairstyle for men with abundant hair who have a bad hairline is the asymmetrical fringe. The hair in this cut is kept long and is parted asymmetrically, as the name implies. The falling lank of hair covers the hairline efficiently and the long hair is enough to divert attention away from hair loss.
If you are looking for an iconic haircut that is also perfect for a receding hairline, then the slicked undercut is best for you. It involves the hair clipped very short on the sides, tapered towards the back. The hair at the back is also shortened, but not quite as much. The top hair is left long and styled in a puffy comb-over which covers the hairline and presents as a fashionable haircut.
30. Brush Up Long Haircut for Receding Hairline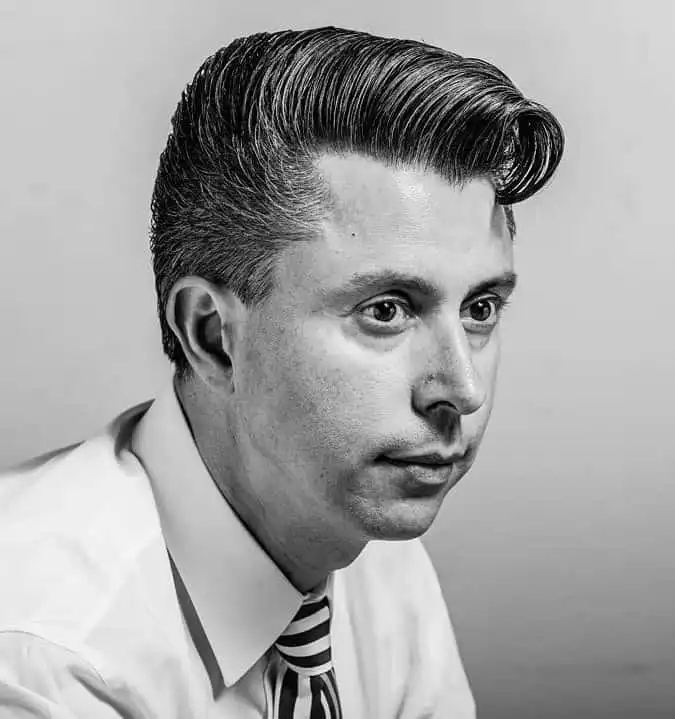 Following the traditional statement, this receding hairline haircut has long sides and an even longer top portion. These are then softly combed backward, for a soft and puffy look that blends in with your hairline.
Perfect for those who do not have a severely receding hairline, this style is formal and elegant.
31. Side Swept Straight Hair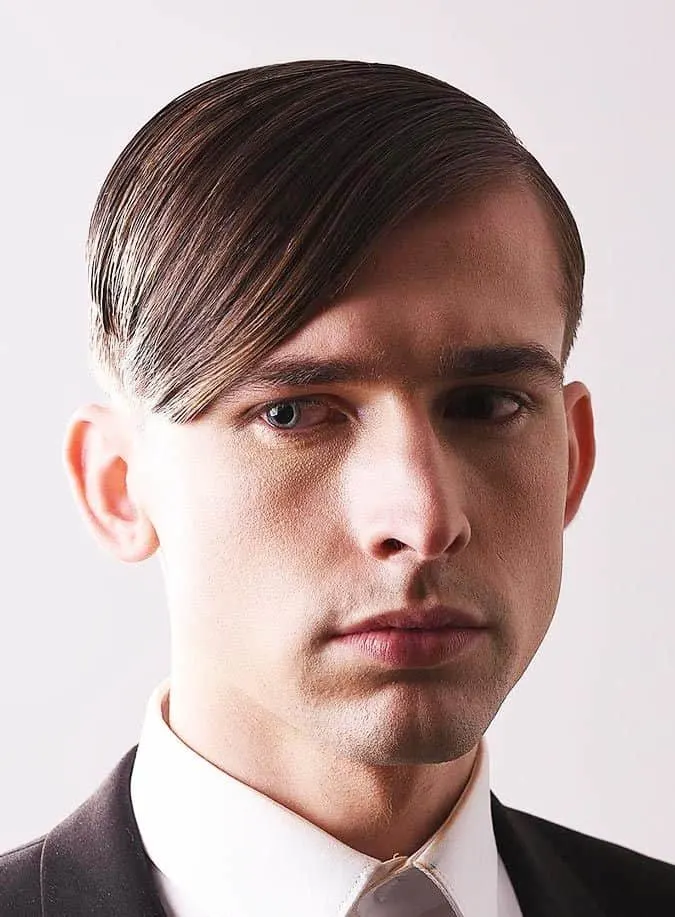 You can take advantage of this unique haircut for receding hairlines if you have straight hair. It involves long hair at the top, long enough to cover the sides when combed to the side, and shorter hair at the sides.
The cut involves a side part, and all the hair is neatly swept to one side, covering up your hairline efficiently.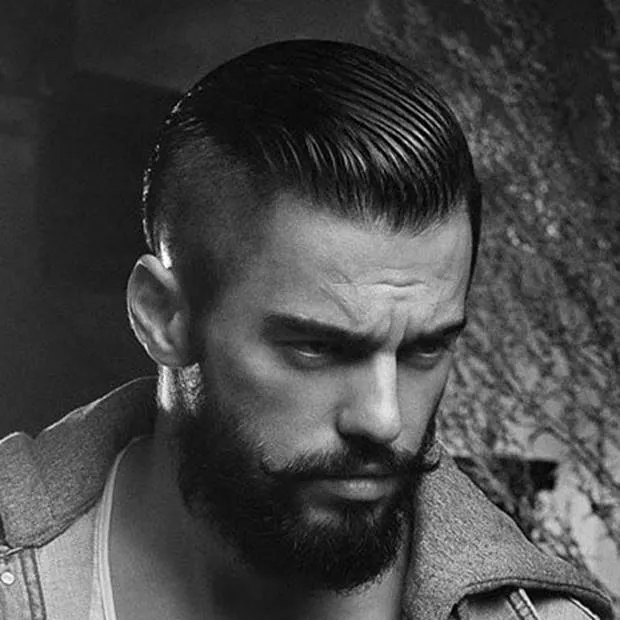 You can also adopt a radical hairstyle. It may be difficult to adapt to, but once it suits you, it's there to stay. The haircut for receding hairline involves a top perk that works brilliantly to disguise your hairline. The sides are shaved clean, keeping all the attention on the perk, and giving you a cool hairstyle simultaneously.
33. Side sweep with bangs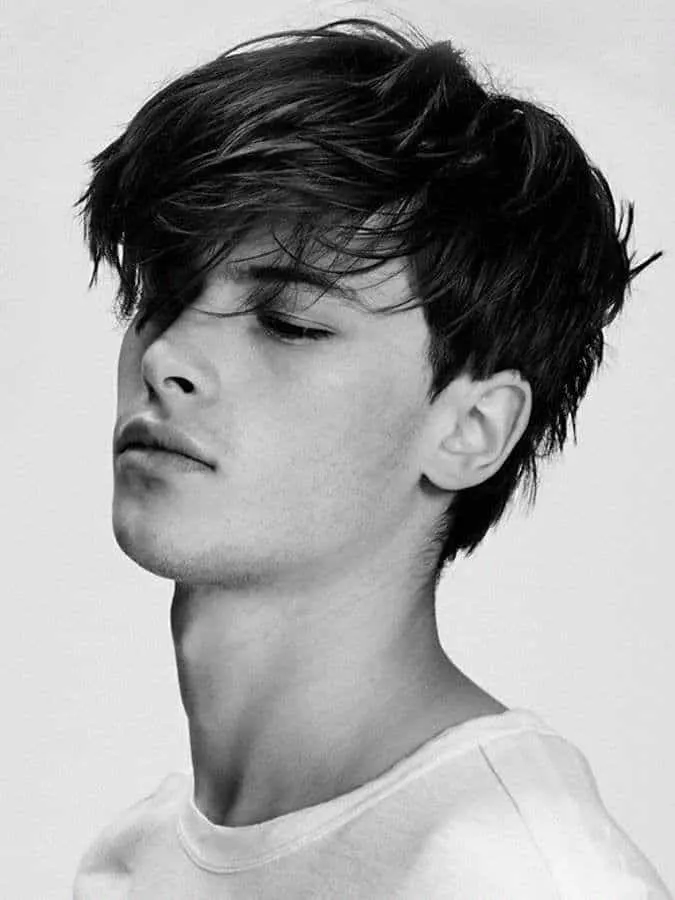 This receding hairline haircut is one of our favorites. Men have always adored the side swept, and adding bangs to the haircut makes it even cooler. Trim off the sides down to an inch. This helps keep the focus on the bangs and on the top hair, which is what you need to divert the attention from your hairline.
34. Rounded top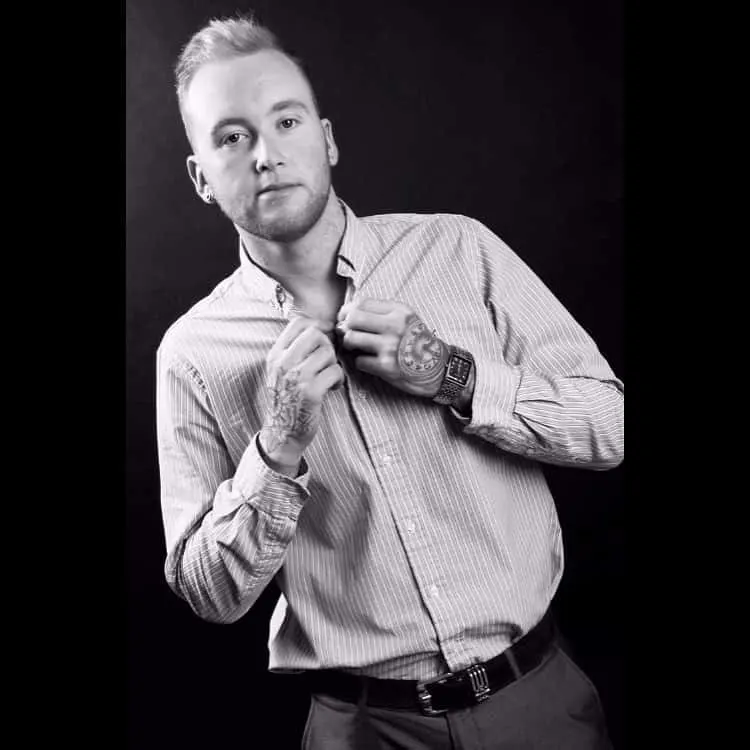 It's a great hairstyle for men with an oval face cut. The hair at the top is rounded off in a smooth Puff that creates the perfect illusion of a healthier hair line. The sides are shortened down, making the top part of your hair the main focus. This is a great haircut for receding hairline indeed.
35. Sharp lagoon curves
Are you looking for a cool haircut for receding hairline? The sharp lagoon is every bit of style that you need. It converts the hairline into sharp edges, which make your hairline into a fashion statement. The hair is shortened at the top and given sharp edges for an exotic look.
Long Top and Short Sides Hairstyles for Men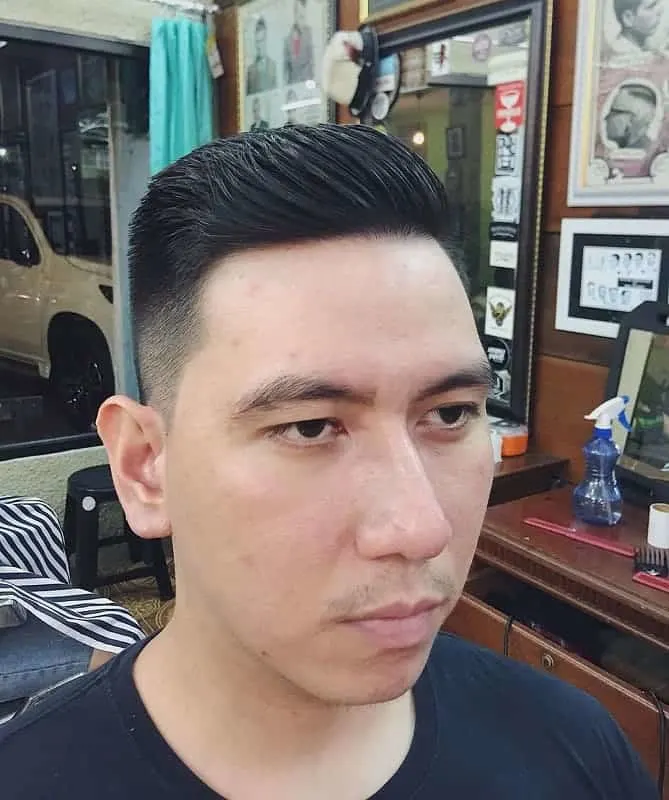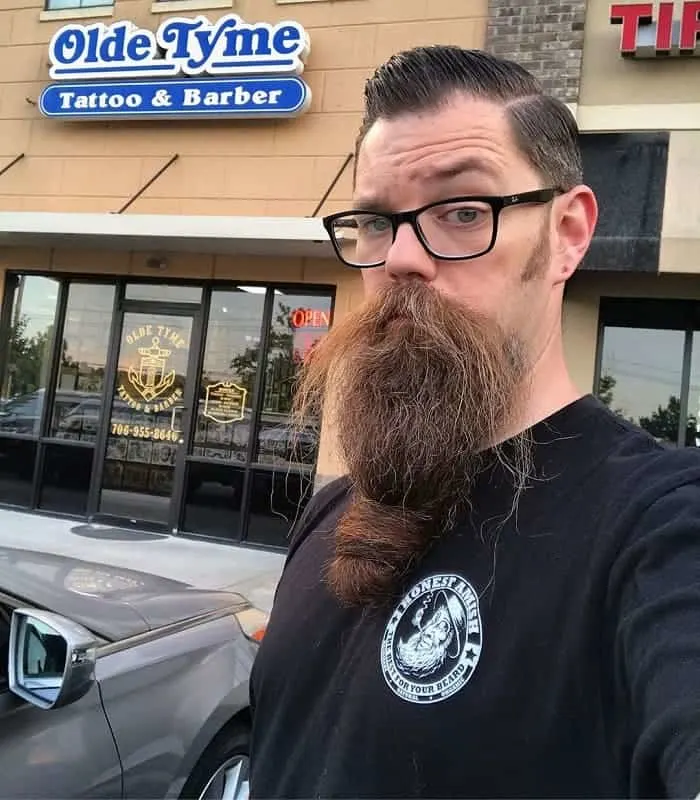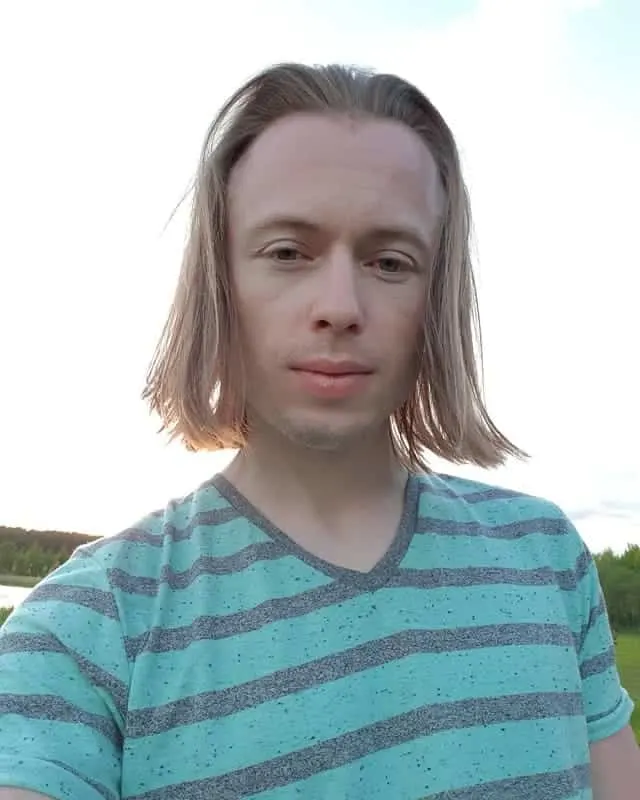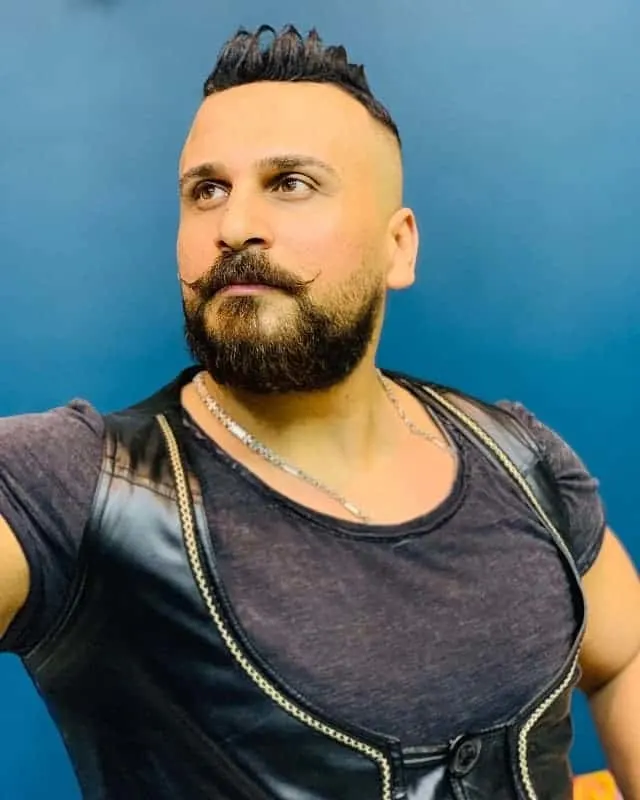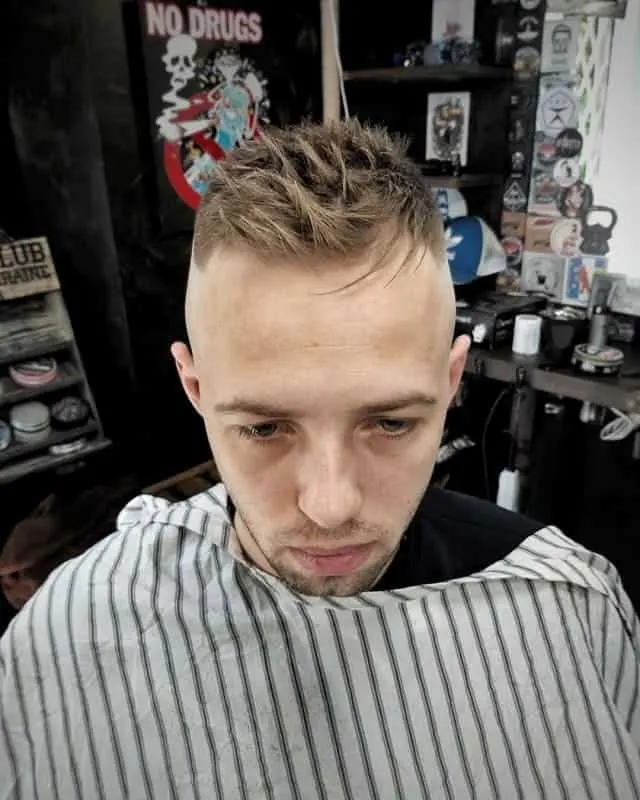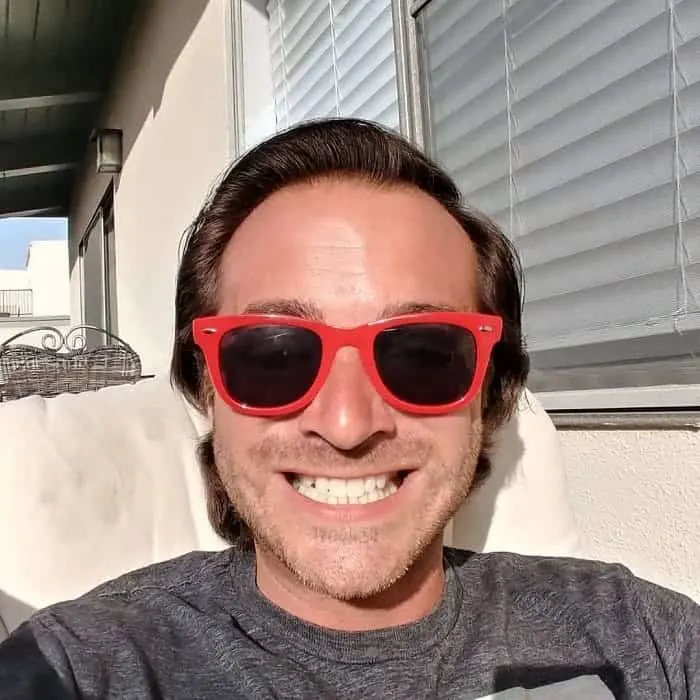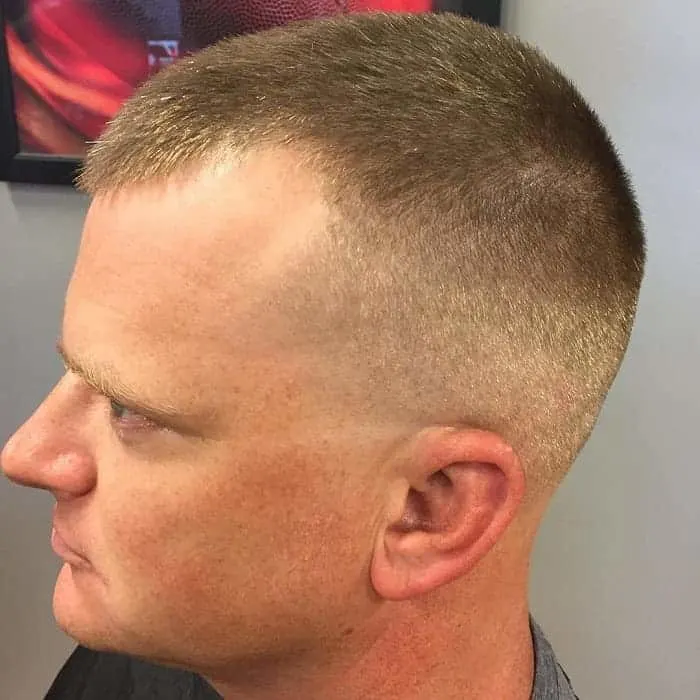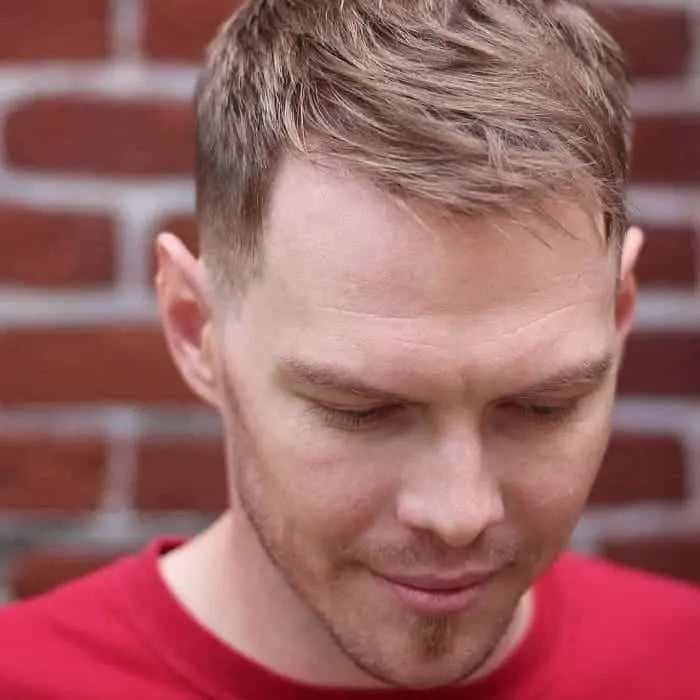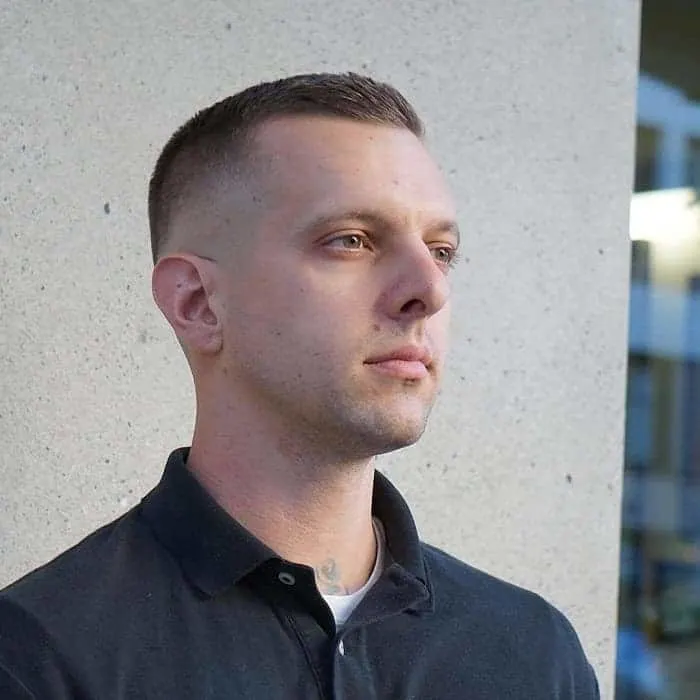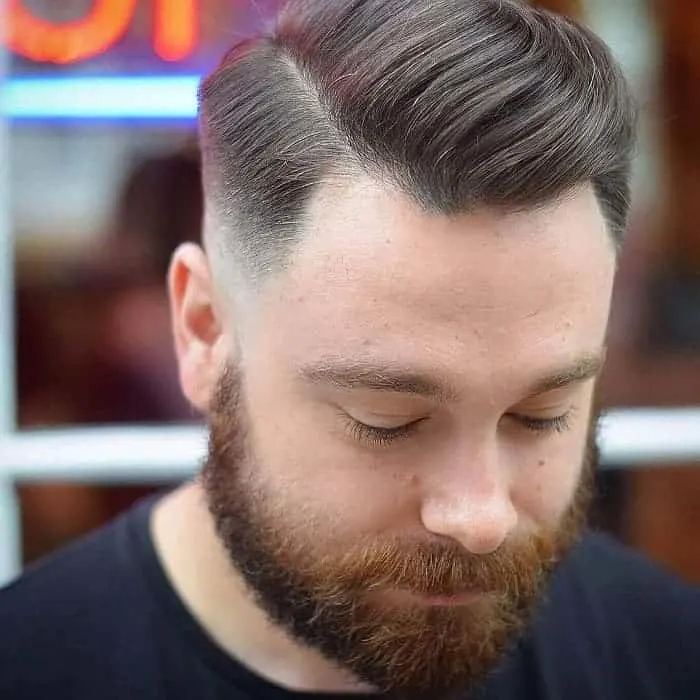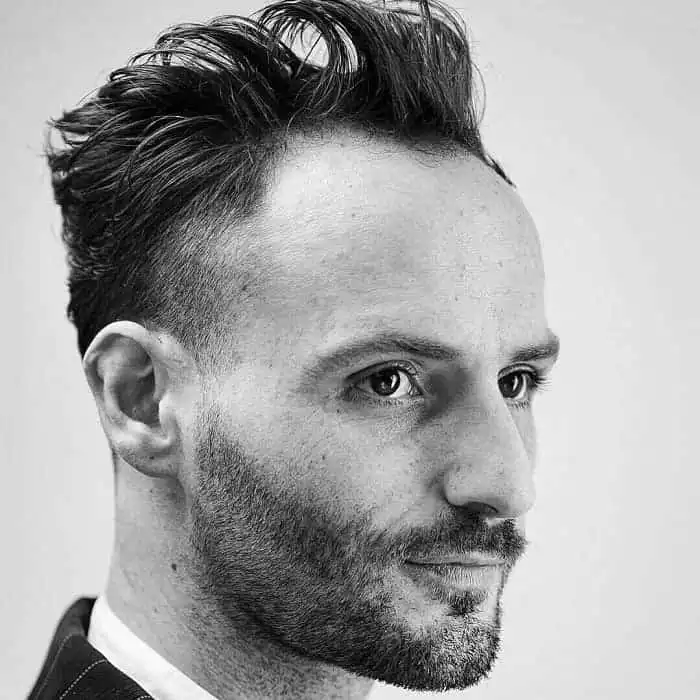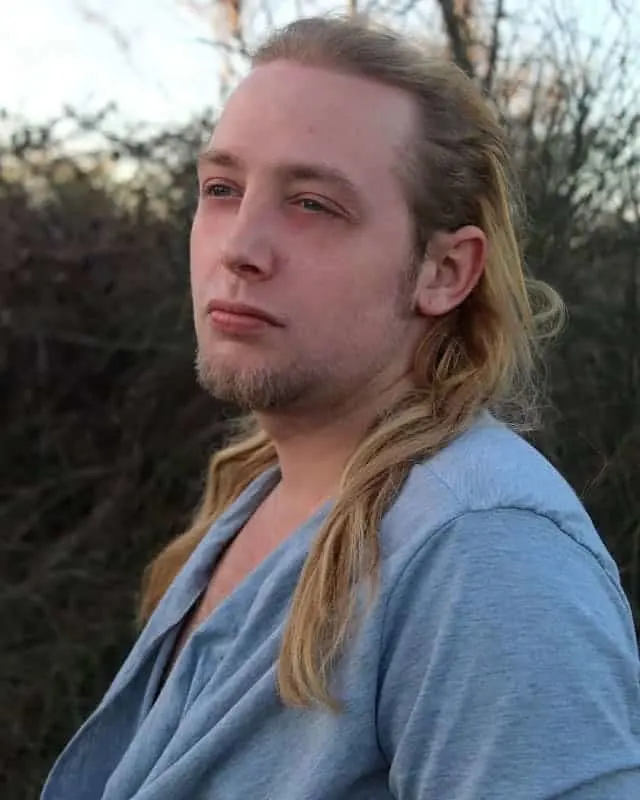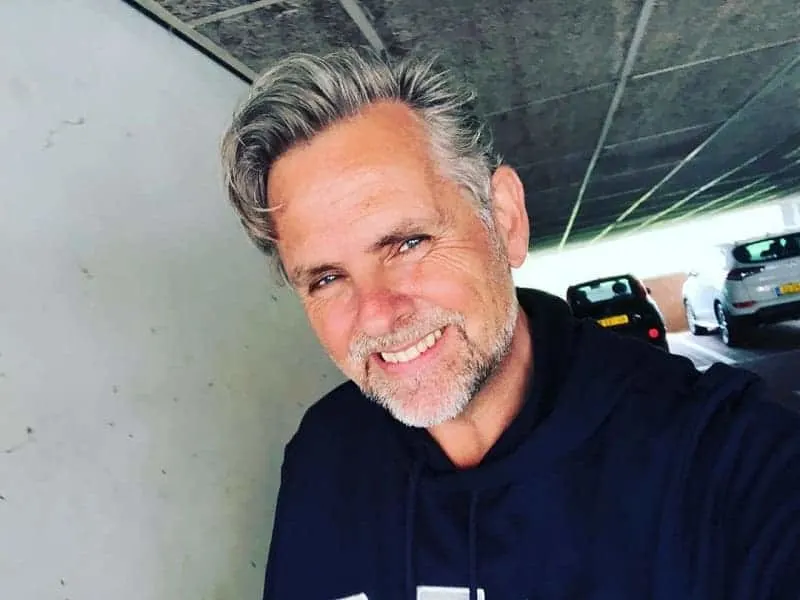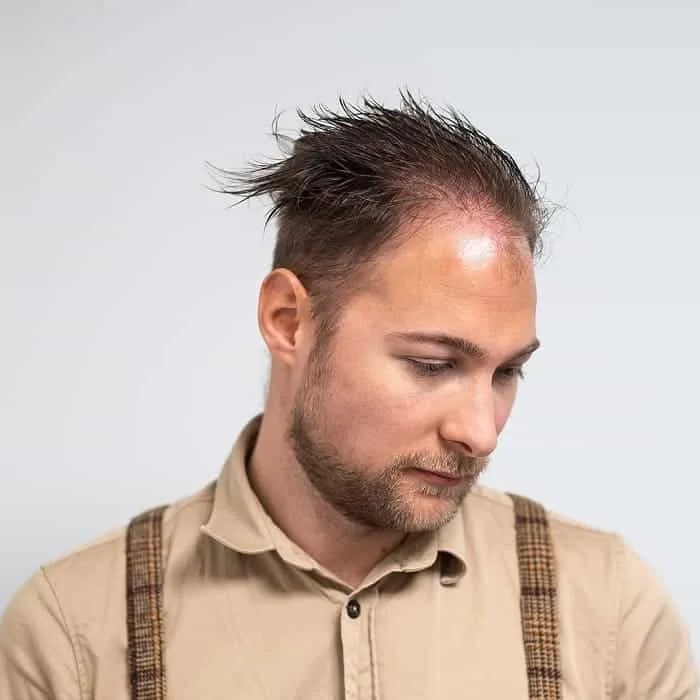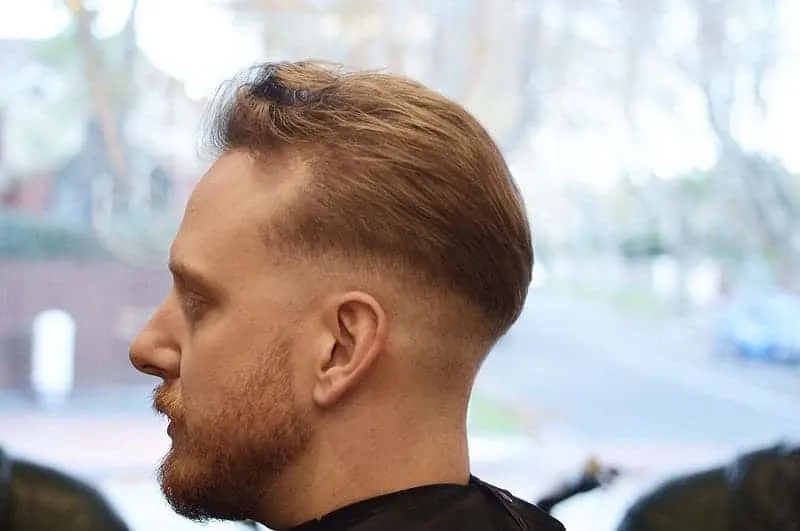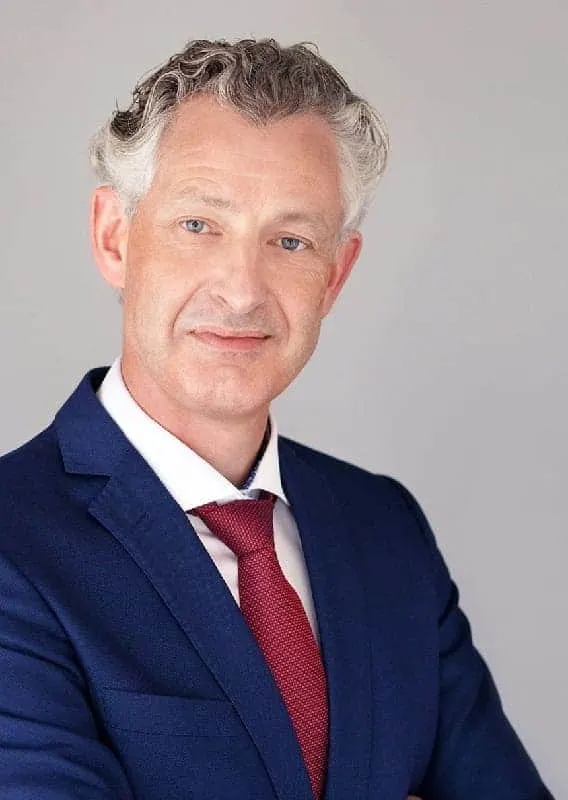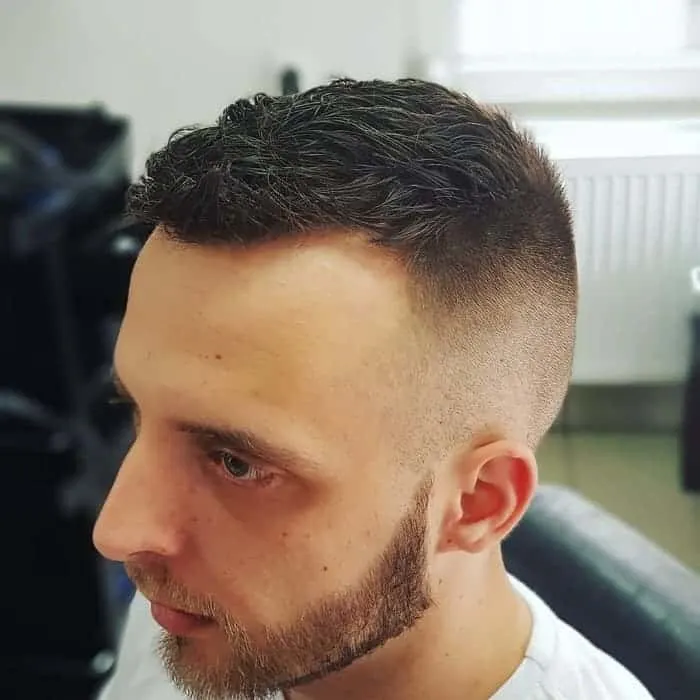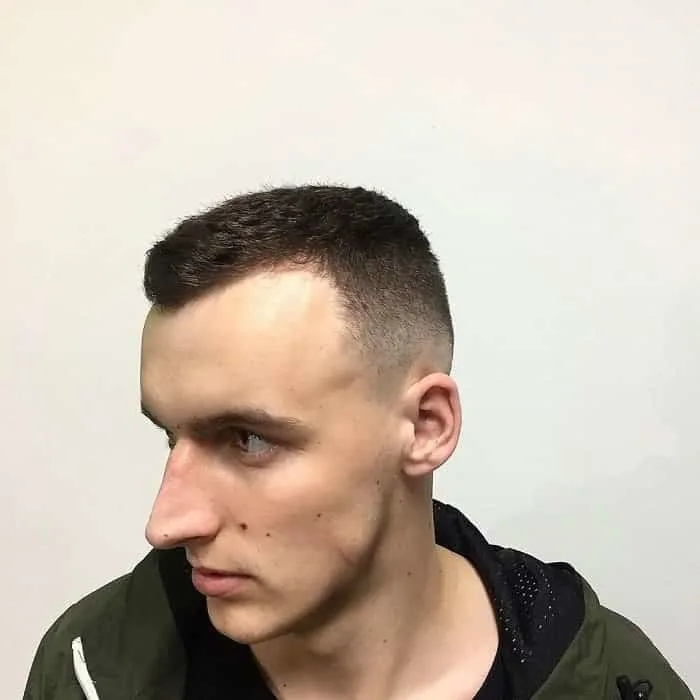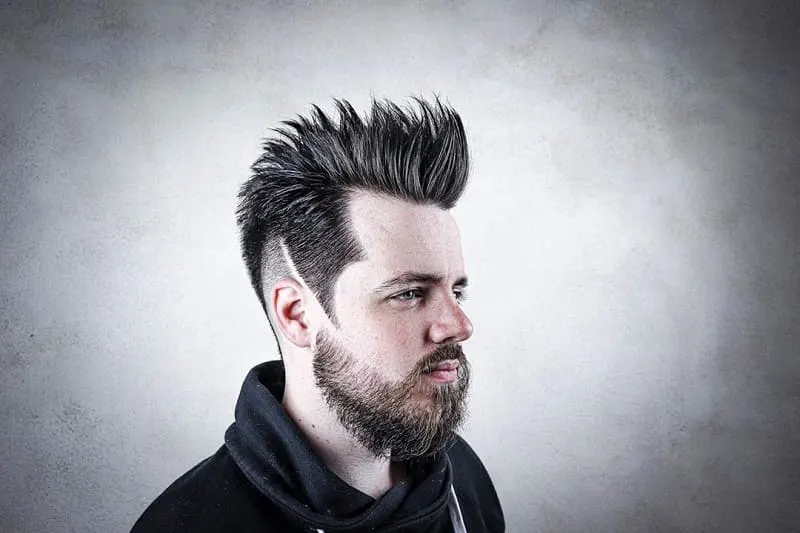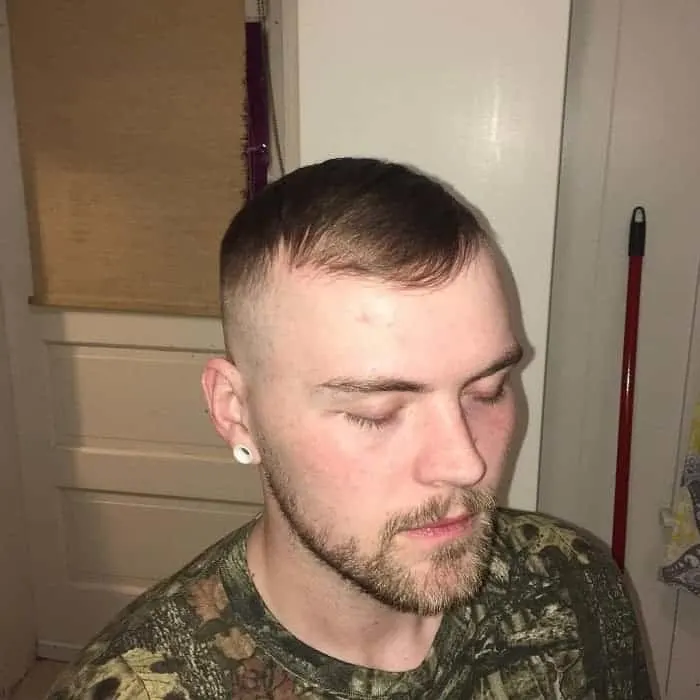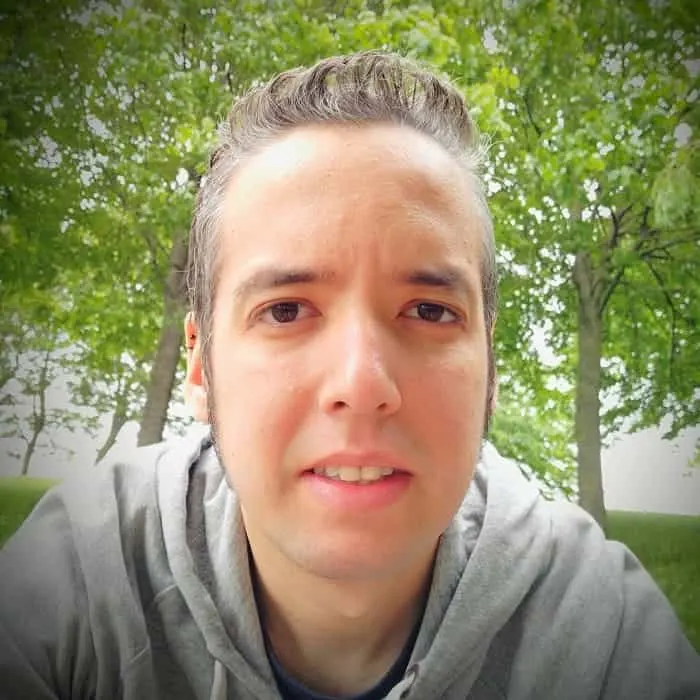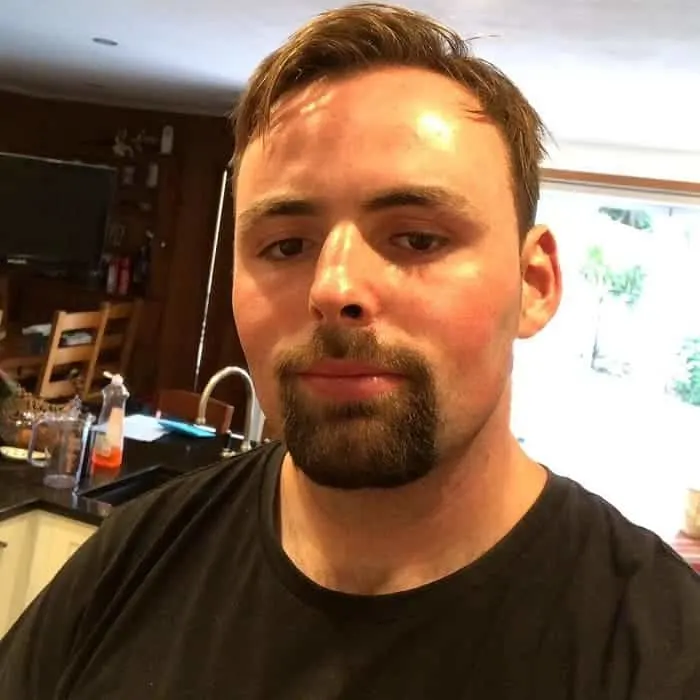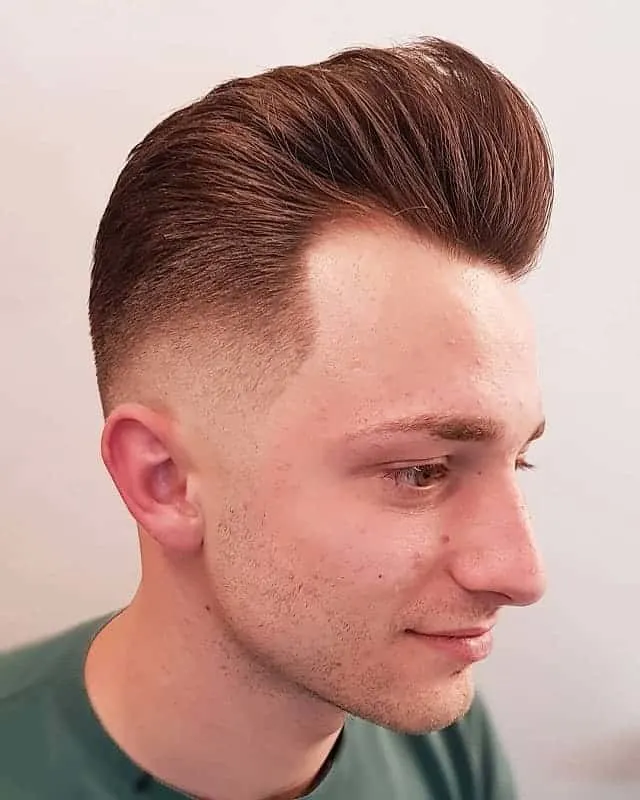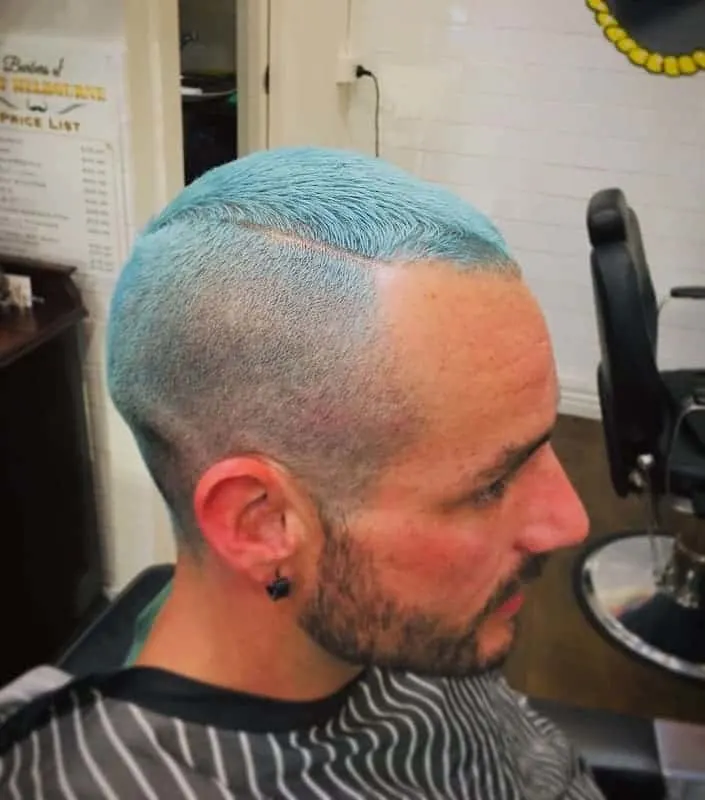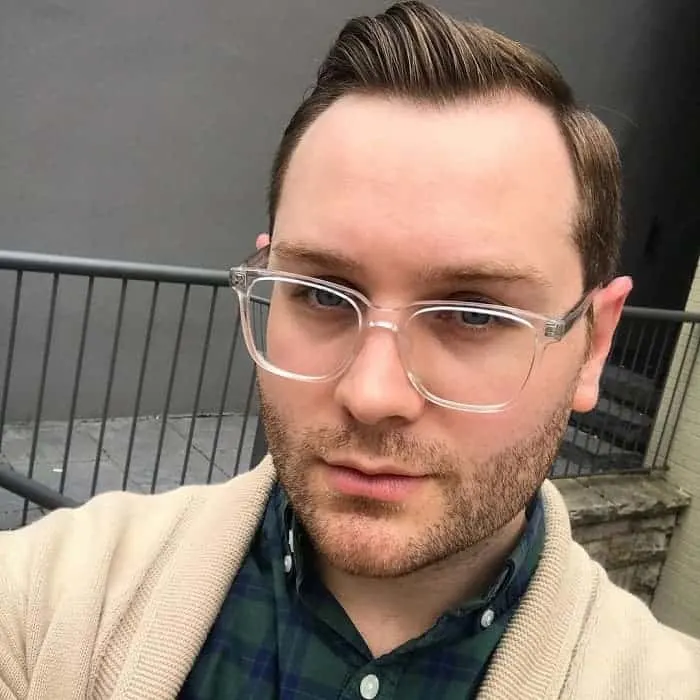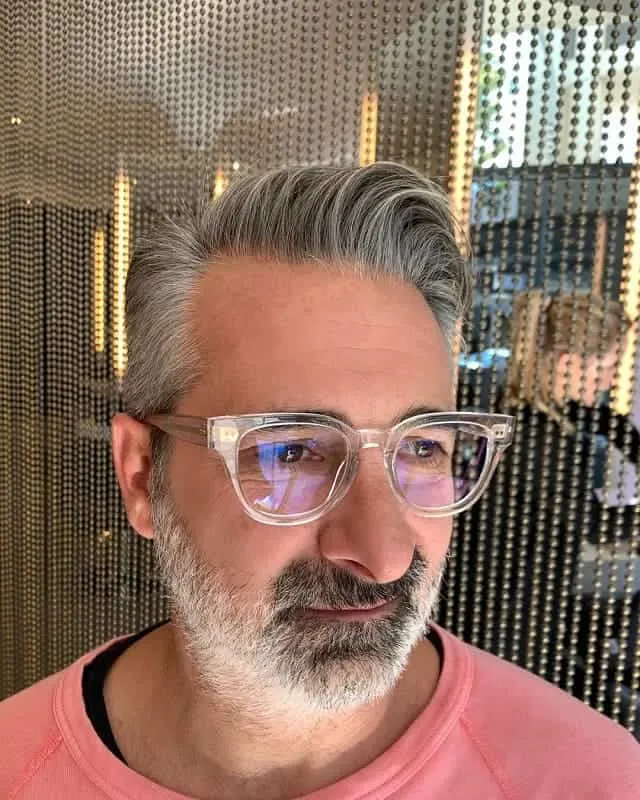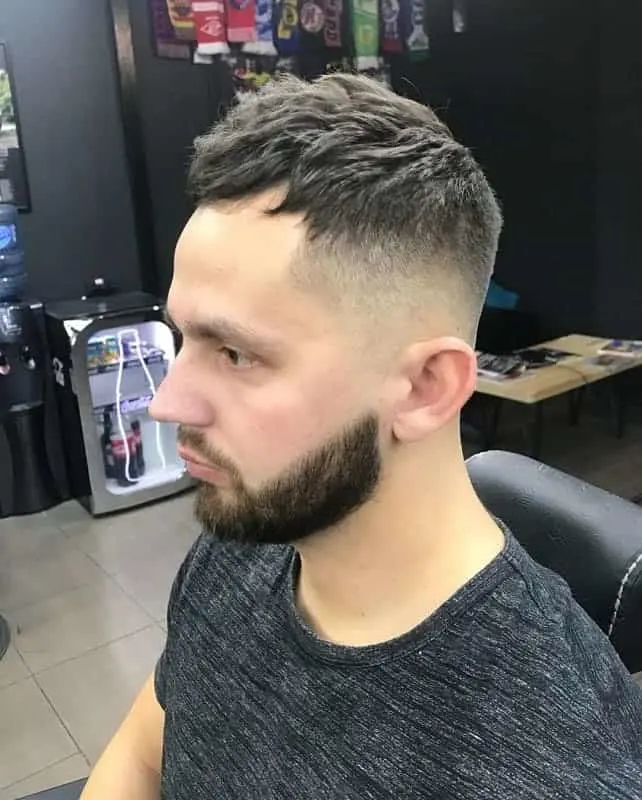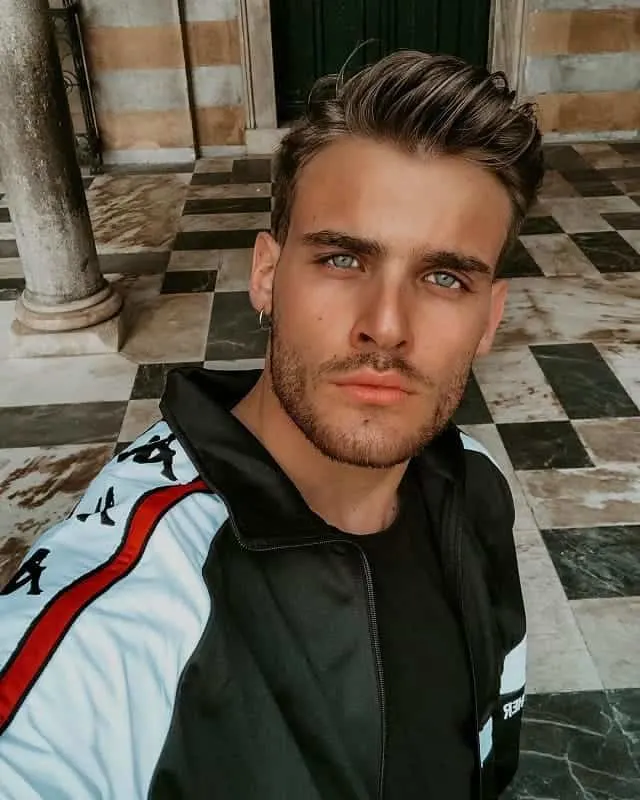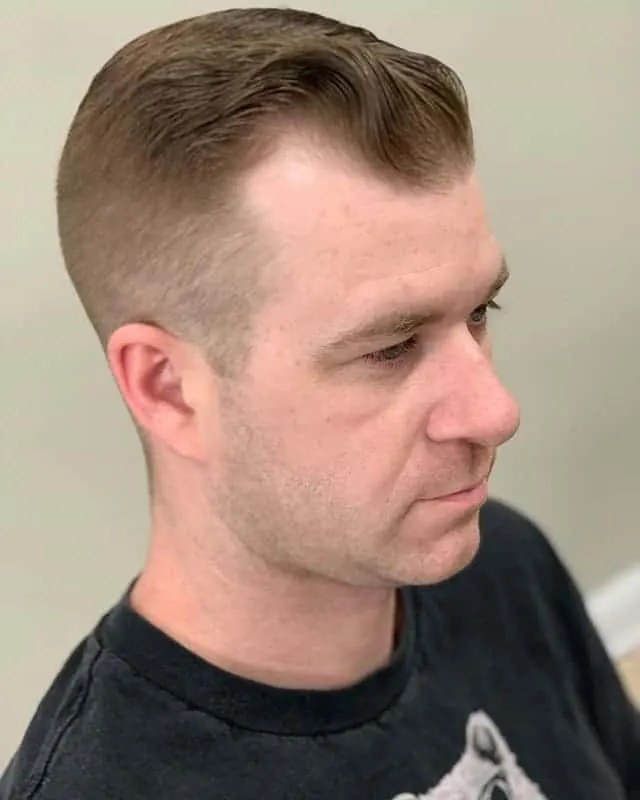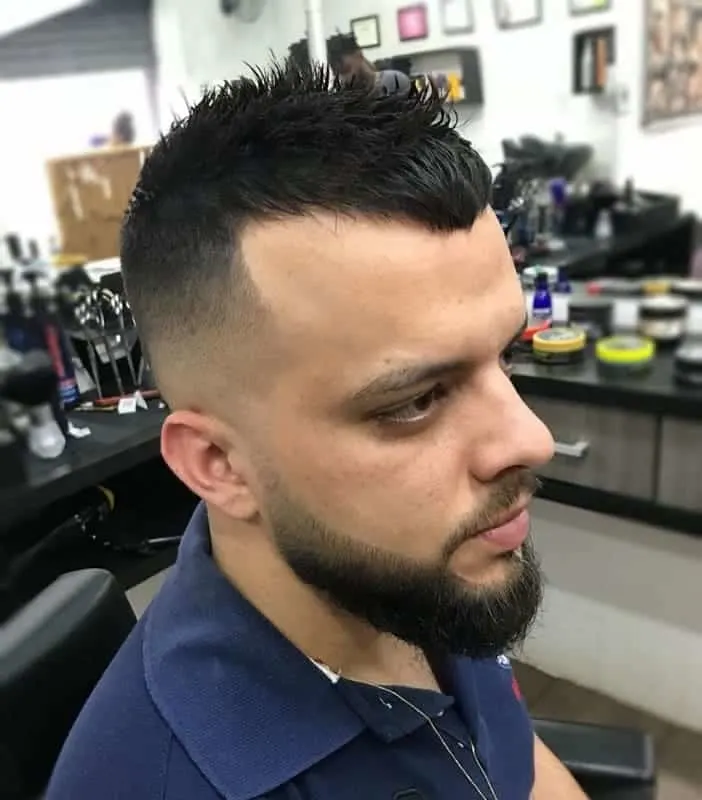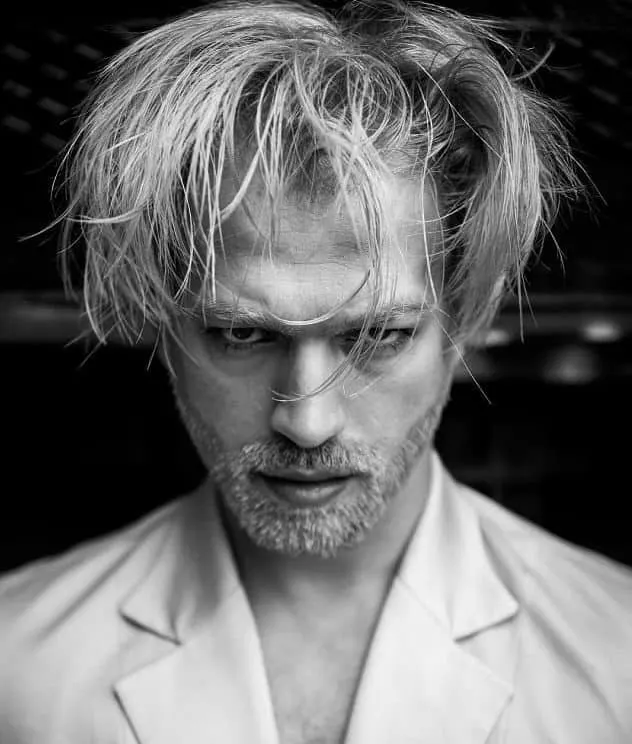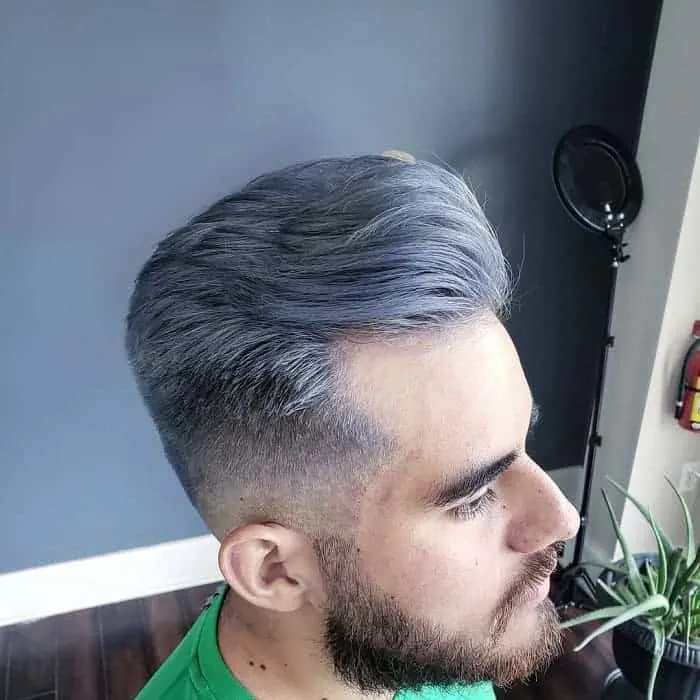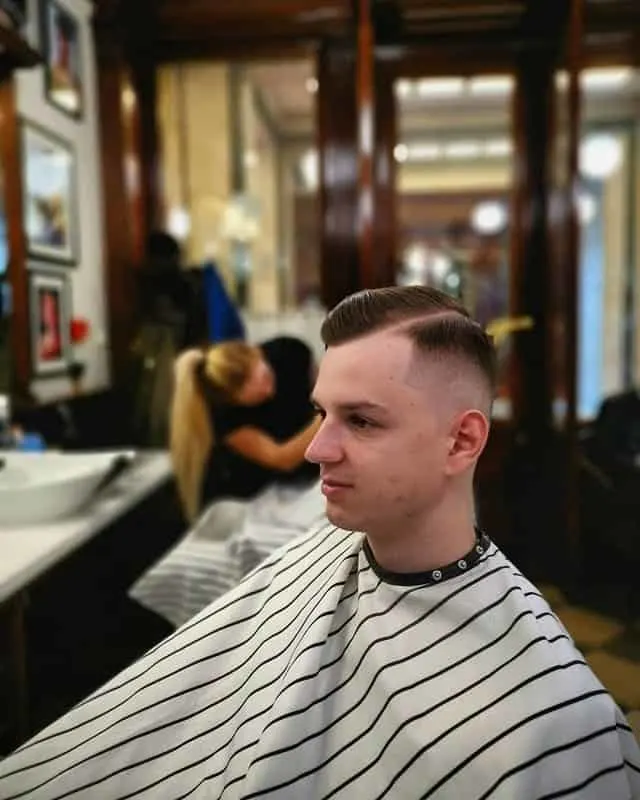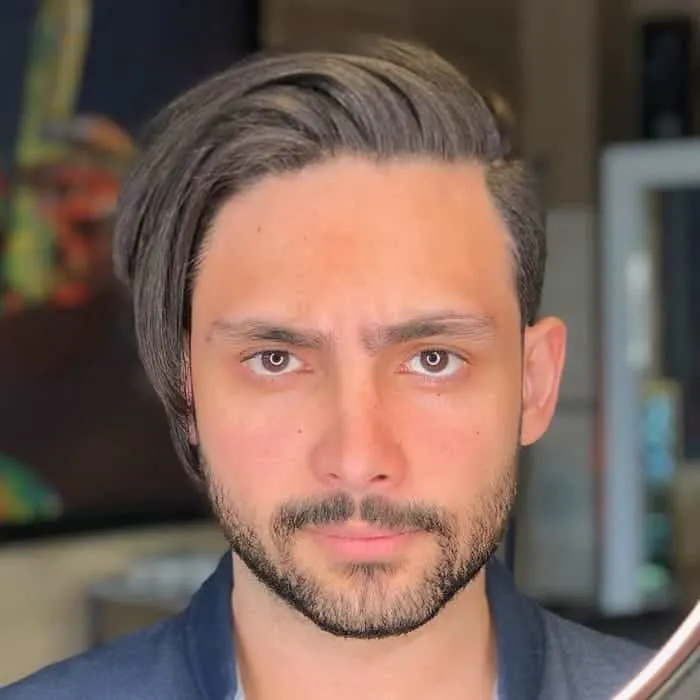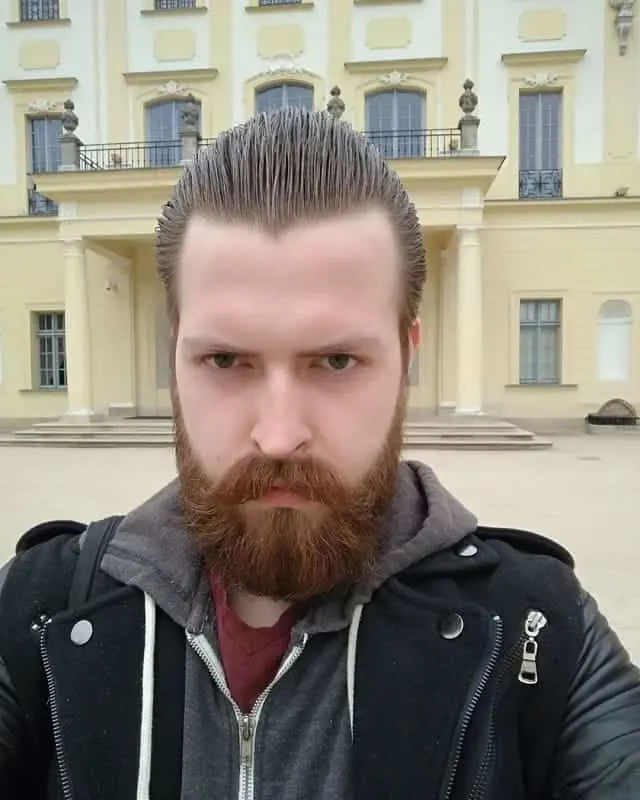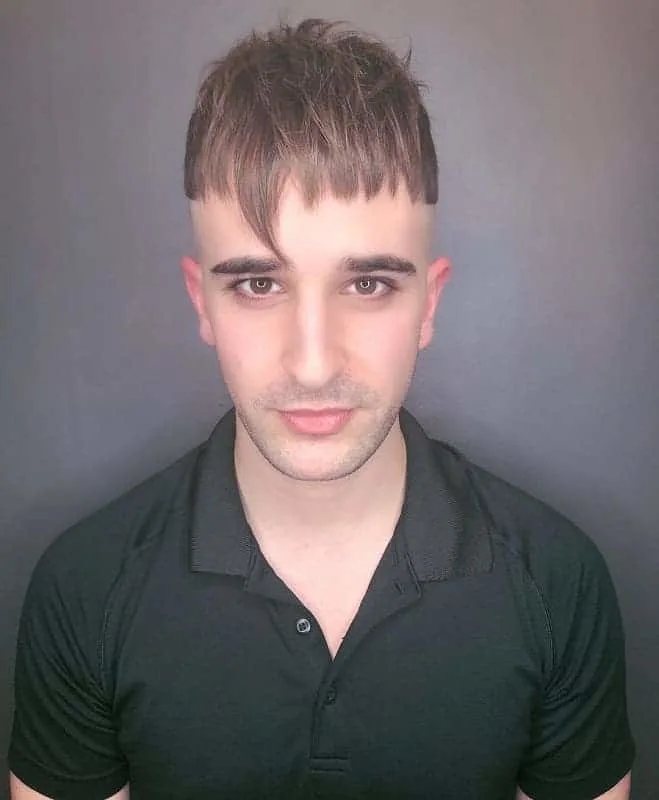 FAQs
Here are some of the most frequently asked questions you might want to know about.
When does a receding hairline usually start?
For males, a receding hairline can start right after they leave puberty. When many men reach their late 30s, they are experiencing a receding hairline.
Is receding hairline genetic?
A receding hairline is a genetic trait, and men who have a family history of hair loss will likely experience it.
Can receding hairline be stopped naturally?
Many natural ways can slow or stop the progression of a receding hairline. You can increase your intake of antioxidants, vitamins, and minerals.

Lifestyle changes that focus on reducing stress and exercise can also help. Using essential oils and herbal remedies has also shown to be effective.
Can a receding hairline be reversed?
Yes, you can reverse a receding hairline, but you will have to find the best treatment.
Does Rogaine work for a receding hairline?
Rogaine is designed to treat hereditary hair loss or thinning hair in women. It was not developed to treat receding hairlines.
Do I have a receding hairline?
To determine if your hairline is receding, check the corners of your hairline and the front of your forehead. Also, look for areas where your hair looks thinner, which may signify a receding hairline.
What is the difference between a receding hairline and a large forehead?
A receding hairline is a loss of hair that causes your hairline to move back across your scalp. A prominent forehead means that your hairline is high, but it is not moving back, and there is no hair loss.
Does receding hairline mean I am going bald?
A receding hairline can be an indication of baldness, but not always. It can also signify that your hair is beginning to thin, and you need to take steps to treat it.
Is a buzz cut good for receding hairline?
A buzz cut is a stylish haircut that will mask a receding hairline. If you're self-conscious about your hair loss, this is a great way to hide it without using the dreaded combover.
Is it possible to grow long hair with a receding hairline?
Growing long hair is another effective way of hiding a receding hairline. Receding hairlines are most noticeable at the temples, so long hair can easily conceal this area.
Choosing a haircut for a receding hairline was not easy in the past, but with so many styles in the fashion industry today, it's not a problem at all.
Men deal with bad hairline all over the world and these haircuts are the best refuge to compensate for it. These hairstyles are some of the receding hairline haircuts in the fashion world today. You are sure to find the one that suits your style best!