The mega-popular juice box fade haircut is officially making a comeback. First introduced by the legendary Tupac Shakur, this mane is still a cult one in the hip-hop culture. What most men these days don't know is that the juice fade was so huge back in the '90s, that every single person wanted to give it a try.
Tupac actually debuted it in 1992, and now 26 years later it is still the chicest way to get noticed. For a lot of men, their hairstyle is their signature feature. So if you've been looking for a very cool juice box fade, make sure to go through the styles below.
Popular Juice Box Haircuts with Fade
Fade hair is currently one of the most popular styles. Here are the trendy fade with juice box styles to ask for next time you're in for a new look.
1. Next Level Artwork
If you are all about unique hairstyles, this one is the ideal for you. So many ways to upgrade a juice box fade. No matter which shape and art you choose, everyone will be looking at it. The best thing about being a man is that the hair grows up so fast, so you can really experiment with different styles.
When you can't decide on a single design, don't despair. Your hair will be all grown up only weeks after getting the art juice box haircut. Next time you visit the barber, simply choose another one.
Try Different Types of Fade Hairstyles for Men
2. Thunder Style
Juice box styles are perfect for adding crazy shapes. One of the trendiest at the moment is the thunder-like line that will really have all eyes on you. It should be sharp and impactful. That's the whole point behind this juice fade.
For all the men who want to be bold all the way, they can extend the thunder into a curved line to the back. Once you style your beard properly, the final look will be super-cool.
3. Add Color
Your whole juice box haircut with fade doesn't have to be in a single color. This is just one of the many ways to elevate a men's short hairdo. The fade mane is so much better when you add a different color to the final look.
It can be any shade that you like. Men mostly opt for a bright blonde hue, orange, brown, and literally any tone that is brighter than your natural hair color.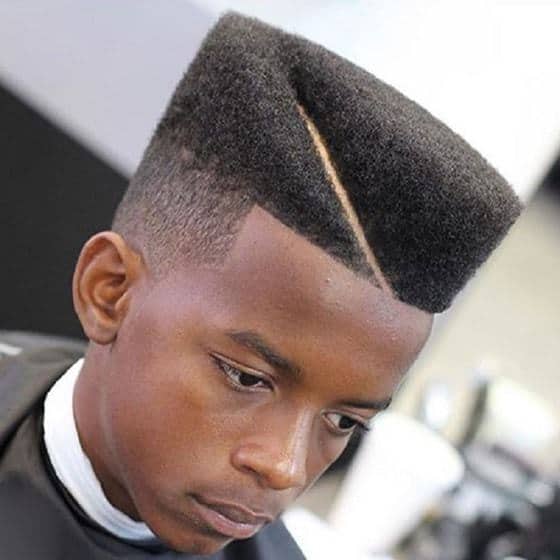 Well, this one is a classic. But there is one thing you have to know. Finding a good barber is the first step to getting the perfect high top fade. Not all hairstylists are trained in recreating this hairdo. You need someone that has done it before and is very attentive. This is a detailed juice box fade, that is a staple among hip-hoppers.
Check Out Low Fade Haircuts for Men Too
5. Dramatic Juice Box Haircut
This one will definitely help you get noticed, especially among ladies. If you are one of those lads who always opt for the boldest hairstyles, why not add some drama to the look.
Have your barber make the two halves of the juice box hairdo at completely different levels. This hairstyle is usually done with only a slight transition part, but you can be fierce until the end.
6. Short Juice Box Fade for White guy
Short haircuts are usually the easiest to style. That is the main reason why most men decide to go short. Unlike women, lads are always in the search for a trendy but short do. We're happy to let you know that the juice box fade also comes in a much shorter version from what you're used to seeing.
Another thing that you'll be excited to hear is that you can get creative with the type of line. One of the coolest ways to pull off this mane is to add a sharp curved short line.
7. Classic Juice Fade
Since not all people are fans of variations, we have to mention the OG of the juice box manes. The classic version is the one you'll see not that often, but it is among the safer ways to get the juice fade. Once you give it a go, you can easily transform it into other styles.
8.
9.
10.
11.
12.
13.
14.
15.
That is the beauty of this do. If you change your mind until the end of the haircut, ask your barber for an upgrade. You can literally do anything including adding colors, lines, art and so much more with this juice box fade style.