Katie Holmes is admired for her beautiful short hair. This beautiful actress looks perfect with absolutely any hairstyle. Be it long tresses or a stylish pixie, you just can't take your eyes off of her.
Katie has several professional hairstylists taking care of her locks. We decided that all this work shouldn't go to waste on just one person, even if she is as gorgeous as Katie Holmes. We think that copying Katie's hairstyle is a wonderful idea for women of all ages and with all types of hair.
Popular Short Hairstyles By Katie Holmes
We bet Katie Holmes wouldn't be upset if she saw you sporting her hairstyle. In fact, she'd be happy to know that she has so many followers. If you are one of those girls who don't have the fortune to spend on professional stylists and designers, you can take advantage of whatever the movie starts are using, Katie Holmes' short hairstyles are the exact great thing to start with.
We have collected 5 stunning short hairstyles for Katie Holmes to help you enjoy your new look with the least expenses. Meanwhile, you might find something new for yourself to try.
1. Katie Holmes Business Hairstyle
This business casual bob is a great choice for women with medium length bob, who wants to make it shorter. You need thick slightly wavy or curly hair to achieve this style. The messy look is priceless!
2. Short bob with a side part
This short bob with a side part is one of the most famous Katie Holmes short hairstyles, which make her a cutie. If you are out for a cute look or wondering what to make with your hair for a special occasion, this style is a great choice.
If you have straight and fine locks this Katie Holmes style is for you. The shorter you make it, the better it will look. It can be a wonderful choice for women with long faces since the style rounds them off.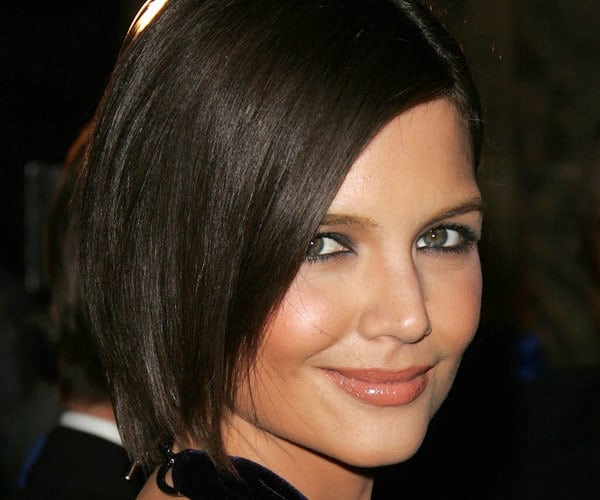 This asymmetrical layered bob is truly appealing to women with all hair types except for very curly ones. You need to be ready for some daily maintenance. This hairstyle is perfect for business ladies since its strict yet soft simultaneously.
5. Pixie with bangs
This beautiful pixie with bangs is a perfect choice for women over 50, who want to look younger and for young gals, who hate too much maintenance. Leaving one long strand behind the ear is a way to give the hairstyle some extra elegance.
Glamourous Medium Shoulder Length Hairstyles
Here are some more you can try:
These 5 short hairstyles by Katie Holmes are so beautiful. However, one thing makes them a part of our list. And it's an impeccable style. If you want to look stunning every day, take advantage of one of these options.