These chic looks guarantee you'll look appropriate for the workplace while maintaining your usual stylish aura. Business hairstyles for women should feel tidy and pulled-together to give you your best professional flair. However, there is no reason you can't have a little fun in the process!
Whether you're looking for an everyday hairstyle or something more eye-catching for a big meeting or important presentation, you've come to the right place. We have 12 different hairstyles to suit long locks, pixie hair, and every length in between. Read on for our very best haircuts and styles you can wear to work.
1. Business Hairstyle for Long Hair
A perfect hairstyle for an interview or office-environment. Long hair can be problematic if you want to get things done and appear pulled together in the workplace. Go for a confident vibe with a slicked-back high bun hairstyle. This baring-it-all look is neat yet very approachable. Side buns are also a great choice for the office environment.
Related: Professional Hairstyles for Long Hair
2. Short Business Hairstyle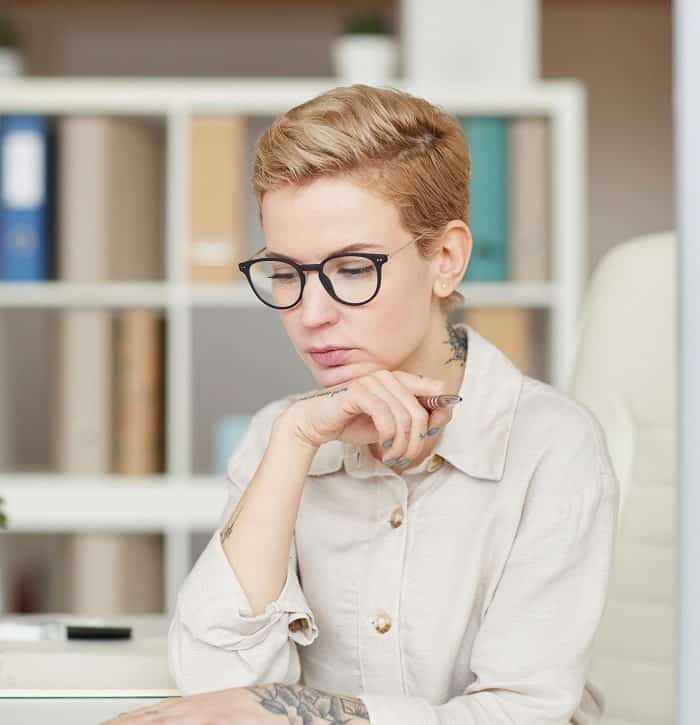 Short hair is always great for a formal look. Hairstyles like pixie cuts and bobs are great for a working environment because they cut down the time you'll spend getting ready each morning. If you're intrigued by a short cut, try a pixie. Push hair back with a bit of mousse or your favorite hairspray.
3. Professional Shoulder Length Hairstyle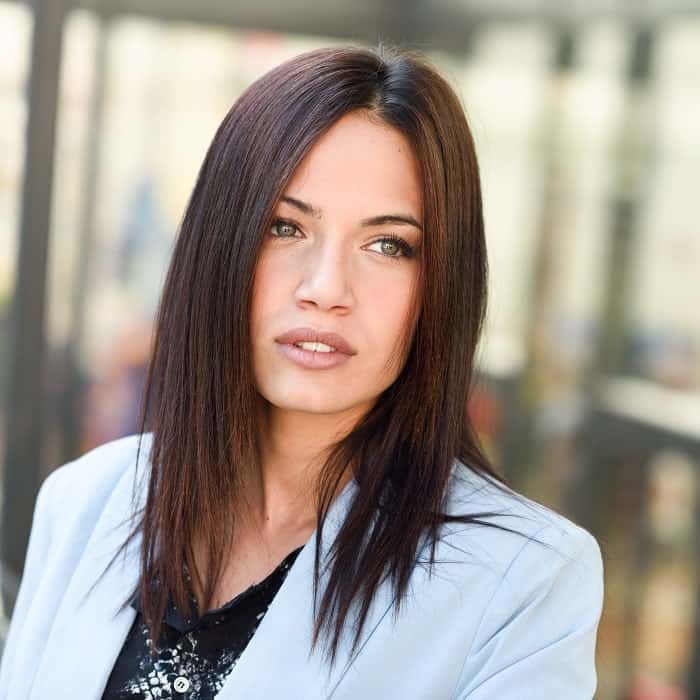 Show off your confidence with a simple a layered hairstyle. Face-framing layers on medium hair are easy to wear and give dull locks necessary flair, especially if your hair is fine. As for getting ready, a quick blow-out is all you need.
4. Professional Braids
This side braided look is creative and romantic, so if you're trying it out at your workplace, make sure it is tidy. The front braid crown frames your face for a classy yet stylish effect that allows you to be taken seriously.
5. Curly Hair
If you weren't sure if loose curls were ideal in the work environment, think again. Cut your curls into layers for a neat style that shows off your personal flair and opens up your face. It's perfect for making confident eye-contact.
6. Business Hairstyle for Women Over 50
Mature women aged over 50 often choose shorter hairstyles, so if you're looking for your next style, use this look as your inspiration. The short length of this cut is professional while the side bangs cut at an angle open up your face for engaging eye-contact.
7. Professional Hairstyle for Black Woman
Show off your natural texture with a chic, side-parted style. Side parts effectively frame the face and open up your look without having to sacrifice gorgeous ringlets. Use your favorite mousse or creme to hold your hair in place.
8. Ponytail
Sometimes, you need a business hairstyle that sets you apart! If your workplace allows leeway with how your hair is styled, try out a high braided ponytail. The look is neat and pulled together, yet it lets you embrace your creative side.
9. Half-Up
Half-up styles are nice for hands-on women. This look takes it to the next level with a lovely twisted braid crown and ponytail. It might be too much for overly curly hair, but on straight or fine locks, it's more than suitable.
10. Business Hairstyle for Thick Hair
Thick hair often needs extra help to control. Swooping hairstyles with layers are fine, but if you're worried about too much hair, try securing it with a chic headband.
11. Bobs
Bobs are ideal because of their minimal nature. Side bangs and a side part add interest, especially if you wear glasses. As for the length, work with your face shape and hair texture to create your ideal look.
12. Wavy
Wavy hair is sexy, but it can be professional, too. Smooth and contain stylish waves for the workplace. Go for a slightly off-center part and create waves on medium-length hair for a casually refined appeal.
Our business hairstyles for women are not only classy and professional. Even if you're interested in an up-do or braid, you can wear fun styles in a way that still feels appropriate for the workplace. When in doubt, go for a simple style like loose waves or a chic bob. Regardless of the hairstyle you, our looks guarantee that you'll feel both pretty and polished.