Medium hair is the most common hair length, so there is a lot of versatility here when it comes to styling. From shag haircuts to updos and half up/half down styles, braids, layers, and curls — it's all here—even the ponytail.
Medium haircuts are almost always feminine and help those with thinning hair make their hair look thicker. Bangs can go with almost all of these styles and they are usually easy to upkeep. Ready to experiment? Let's have a closer look.
What Is Medium Hair?
When short, medium hair can be up to neck length. When longer, it reaches the shoulders. When straight, hair will always be shorter than when it's curled or in a naturally texturized state.
So we'll simply judge that a medium-length hairstyle ranges from the shoulders up to the neck when fully styled, whether the style uses straight or curly hair. When styled in an updo, the same length of hair is used, and it might look shorter. But it's still medium length.
Medium Hairstyle Vs. Face Shapes
You can try styling or cutting your hair and bangs to flatter your face shape. Here are some tips:
Square: Curtain bangs can soften a square face, especially if they are long enough to blend in with a medium-length hairstyle that's straight. Chunky curtain bangs are best for a square face shape, and when layered, they can help camouflage a heavy jaw-line.
Long: A lob can work well for long faces, as long as it has some volume in the form of waves to give more width to the face. Bangs that come down to the eyebrows are appropriate here, to minimize the length of the forehead.
Heart: For this face shape, you need something that's going to pull the attention away from a prominent or pointy chin. Long, side-swept bangs can do that when added to a medium cut. The style can be straight, wavy or even curly. Side-swept bangs put more attention on the upper part of the face.
Round: Long, side-swept bangs are also great to help slim round faces. Long curtain bangs serve the same purpose of slimming the cheeks. Both can be used with medium hairstyles, preferably straight ones, or those that just have a little wave added. If the style is too curly, it could emphasize the width of the face.
Oval: Those with oval faces can pretty much use any hairstyle or haircut. There are no imbalances like a tall or wide forehead, heavy jawline or cheeks or prominent chin to minimize. So if you have an oval face, feel free to experiment with any style and see whether it looks good on you.
How to Cut Layers in Shoulder-Length Hair
If you have a lot of bulk, layers can thin it out a bit to help your hair look more feminine when it's medium-length. Layers also add volume and can emphasize a new hair color. They should be cut on to hair that is straight and wet. Curly and textured haircuts are a different matter entirely, although you can cut the same angles on dry curly hair, clipping each curl individually.
Here's how to create layers with straight hair:
Section your hair into three areas. Do this by parting first from ear to ear, behind the ear. Then make a division down the center. With this, you have two side sections and a large back section.
It's optional here to create a fringe or a bang area by sectioning a triangle from the forelock.
Cut the sides of your hair by parting a quarter of the right front section, vertically. Then hold it at a 45-degree angle to your head and clip it straight across, parallel to the floor. Do the same with the other three quarters on that side of the head, using a small piece of the hair you've already cut to serve as a guide.
Clip the left front section in a similar manner, initially using a small piece of hair from the other side as a guide for where to start cutting.
Because the back of your head is more curved than the sides, there's no need to hold the hair at an angle. Instead, divide the back into the nape and the crown and start cutting the hair of the crown in small sections. Hold the hair straight up and clip it across, parallel to the floor.
There is no need to hold up the nape area while clipping. You can just comb the nape down and clip it straight across according to the length of the medium hairstyle.
For bangs, which are the most popular, start by creating one vertical section in the middle of the triangle. Hold the hair out in front of the face and cut the length between four and six inches depending on the height of the forehead. Then use the scissors to make short diagonal snips at the edges for a more natural look.
Repeat this procedure on the right and left of the center section of the fringe, making them a little longer by using a small piece of hair from the center to show you where exactly to cut.
Best Medium Hairstyles for Women
1. Springy Curls
While your curls look gorgeous no matter their length, sometimes a quick trim can put their spring back. For ladies with super curly hair, a medium hairstyle will give your texture new life!
2. Straight with Side Bangs
A slightly off-center part is very flattering on women with any face shape and hair type, especially if you have side bangs. This shoulder-length cut features a blonde-red ombre with dark roots, an edgy color combination!
Trying for a dramatic date night look? Wear your hair straight but use a little hair product to help you comb it straight back off your face.
4. White Bob
If you're an older woman seeing those gray and white hairs pop up, you can beautifully embrace them on a shoulder-length haircut parted off-center. To get the flipped ends, use a hair straightener.
How cute is this vintage hairstyle with its chic headband? It's a great color against the blonde mane that features short bluntly-cut bangs. Choose this look if you have a small petite face.
6. Choppy Bangs on Straight Hair
Not only does the bright red hair color seen here look beautiful on a multitude of skin tones, but also the choppy bangs also work with the color to give a medium haircut all sorts of edge.
Here's another gorgeous haircut featuring tight, springy medium curls. This time we see a blend of blonde for a balayage that couldn't be more natural-looking. Part hair off-center to give it more shape.
Going out or just want to feel extra beautiful? Style your medium-length hair into two Dutch braids that combine in a low ponytail.
9. Top Knot Bun
This half updo looks like it took forever to style, but it's actually quite simple! Gather the top half of your hair into a high, tight ponytail, then wind the hair tightly around the base to make a top knot. Fill the bottom half of your hair with large waves and you're done!
10. Loose Waves
When you fill your shoulder-length mane with large sultry waves, all that's needed for styling is a simple center part. To take your look up another notch, consider a light blonde ombre or balayage.
11. Light Pink Medium Hair
Flirty and feminine are the vibes we're getting from the gorgeous light pink hair color seen here. The color will accentuate a combination of wavy and straight hair parted off-center.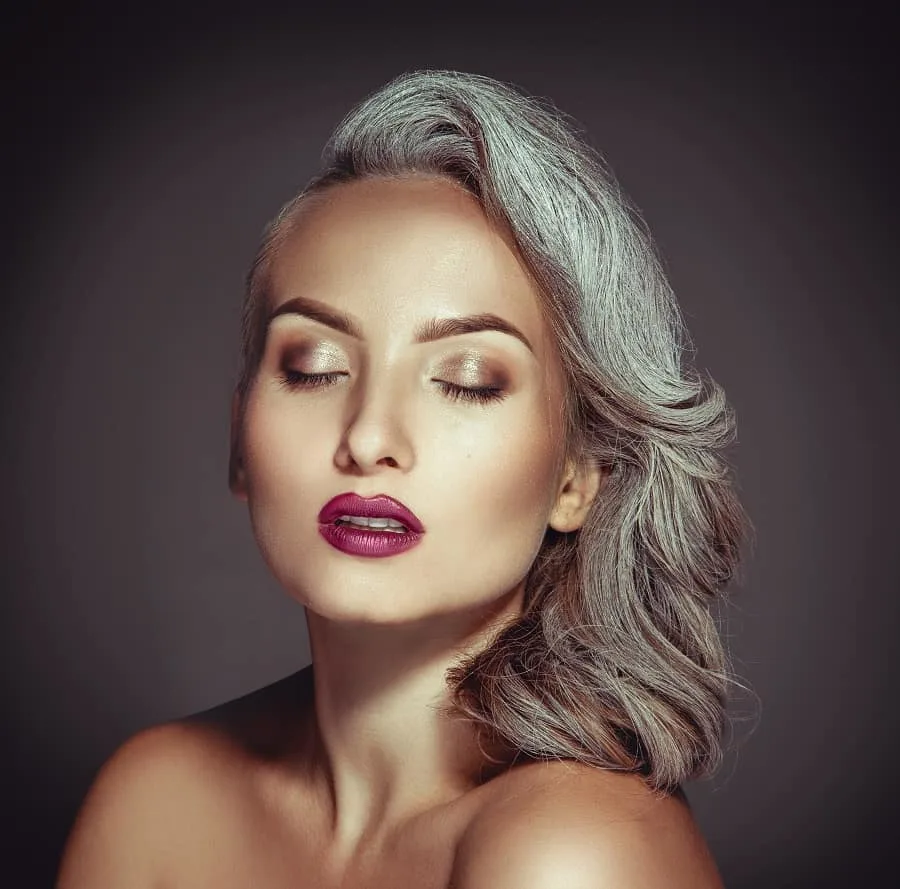 If you're struggling with thin or fine hair, part it heavily off-center and use a curling iron to get waves. Both will give you a gorgeous boost of volume. The class that hair color up with a youthful silver mixed with light brown.
If vintage and classic are your preferred hairstyles, you'll love these smooth victory rolls! They're centered close to the face and lead the way to chin-length waves.
14. Spiked Women's Mullet
If you're ready to be bold and truly try something new, cut your hair into a women's mullet. Here we see a unique display of spiked hair on top and medium straight hair in the back, all pulled together with a fade.
15. Messy Wrapped Bun
For those days when you just want your thick curly hair off your shoulders, gather it up into a messy bun. Wrap it with a colorful or printed bandana to style in a hurry.
Intricate braids don't have to take forever to style. This waterfall braid takes only minutes for just the top half of your hair and is pretty enough in a low ponytail.
If you have long or medium-length hair and you haven't tried space buns, add it to the list! These beauties will instantly bring out your fun, playful side.
Experimenting with hair color is exhilarating. Get your thrill by trying bright rainbow hair colors! Since the color is built in, you can be ready to go with just a simple middle part.
Bangs have no age limit, so if you're an older woman looking for some fringe, try side bangs or curtain bangs to go with your medium hair. Short layers up top will provide pretty volume.
20. Soft Pastel Waves
Adding pastel shades to hair is a classy way of trying hair color without it being too major of a change. We love this pastel pink on soft medium waves.
Be both flirty and edgy with a shaggy medium haircut featuring curtain bangs. The more layers your stylist cuts in, the easier it will be to get the pumped-up texture.
Another beautiful hairstyle for manes that are thin or fine is long layers. These make hair look fuller in a flash. You can even load up the ends with waves or large curls.
White or platinum blonde with a bit of turquoise on top makes for a medium bob that is ready for summer! To help with face-framing, add shorter pieces around your temples.
24. Teased Updo with Side Braid
If you have a flair for the dramatic, a teased updo with major height is the medium hairstyle for you. Tease your mane before pulling it up into a high ponytail. Leave one section of hair out near the ears to braid.
25. Rainbow Ombre
To help bright rainbow colors stand out in your hair, make the top part of your hair a very light or platinum blonde. Whether you go with ombre or peek-a-boo highlights, all eyes will be drawn to your hair.
26. Low Pigtails
Pigtails are an adorable hairstyle no matter your age. Whether you color hair in a vibrant shade or leave it natural, this low-maintenance look is never a bad choice.
27. Straight Hair with Piecey Bangs
While you could leave your hair one length, it would be even cuter with an asymmetrical or A-line cut. Add short piecey bangs to make a perfect face-framing hairstyle.
28. Thick Top, Thin Bottom
A bit of dark purple highlighting in medium brunette hair gives it some mystery. You can give it volume too by focusing short layers in just the top half of your hair.
29. Copper Razor Cut
No one will mistake your hairstyle for anything other than edgy when you opt for a razor cut and a bright color like copper. These shades look especially hot on women with a light skin tone.
30. Bold in Red
Take the weight out of your mane by thinning it out to a shoulder-length haircut in bold red. Choppy layers up top mix perfectly with thin bangs and a wavy body.
31. Voluminous Afro
Women with naturally curly afro hair know the difficulty of finding the right haircut. However, the shoulder length is the most recommended hair length for this type of hair. The beauty of the afro curls is well presented with the shoulder length hairstyles. The hair is usually parted in the middle, and the sides are layered which gives the hair nice form.
This mid-length hairstyle is appropriate for every occasion – both casual and elegant ones. There is always the possibility to add some hair accessories that can complement the entire look. This hairstyle is popular among the younger generation, although many women who love to show off their natural curls go for this look.
The braided bob is a hairstyle that is very interesting and can be done on both curly or straight hair. The box braids are shoulder length as well as the hair too. The entire hair is separated and divided into equal parts. From every part, the hair is braided to the ends.
The hairstyle is separated by the main and middle part which gives direction to the entire look. Braiding can also be done with the addition of colorful hair accessories. This is a typical girly look and is best for casual and every day occasions.
Half buns are always a great choice for spicing up a look and making it more fashionable and cooler. The braided half bun comes from an already braided hair. For the bun to look more beautiful it is better for the braids to be thinner.
Depending on the length of the hair, some braids will be longer, some shorter, but they will provide a nice shoulder-length hairstyle. This look is very popular among IT-girls, fashionistas, and bloggers.
The medium curly hair can be pulled up in a pony. The pony, however, will be short, curly and round. A nice addition to the high up pony is the bandana. Bandanas are popular as hair accessories and although they are fashionable, their practical use is to keep the hair on the front in place.
Bandanas are casual and relaxed styled and can be worn by women of all ages. Their popularity and use are extremely accented during the summer season as a beach accessory.
The half braided updo on shoulder-length hair comes as a combination of two interlocking braids. The hair can be or doesn't have to be parted, it can only be pulled to the back. From both sides, two wide braids come interlocking right in the middle at the back. The ends of the braid are curled in soft locks, as well as the rest of the hair.
The updo can be accented with hairspray that will give it more volume. This romantic hairstyle is perfect for any occasion, especially for weddings and celebrations. It suits all ages.
The low bun can come as a low messy bun or low ballerina bun. Whichever it is, the hairstyle is chic and trendy. Suitable for official and elegant occasions, this hairstyle is appropriate for all women. If the mid-length hair is layered, then the hairstyle is even more beautiful.
Part the hair in the middle, with the short strands falling to the sides. With the addition of some fancy jewelry, the hairstyle will stand out. Women of all ages can try it as a timeless hairstyle.
The medium bob is a length that comes somewhere between the shoulders and the ears. It looks good on straight or wavy hair. The bangs on this hair length can appear as a blunt or curtain bangs.
If the hair is thicker, the look will be more voluminous. The best way to wear this bob with soft or medium beach waves – great for everyone, anywhere.
For those who are bored with the bob, the medium layered hair is another great option. This hairstyle presents a look of a gradual layering of the hair, from top to bottom.
The bangs are styled to the side and are also layered to follow the face line. This hairstyle looks great on those who want to give their face a more elongating effect.
The neck undercut is popular lately among the younger generation of women. It is an edgy and bold look, that comes as a contrast to a medium length hair. For the undercut to show, the hair is usually worn pulled up in a bun, pony, or a top knot.
The shaggy haircut is appropriate for women with thick and dense hair. With proper layering and styling, the shoulder length shag can look very trendy and modern.
The bangs are also layered, with different length in the middle and on the sides. The direction of the shag is led by the middle part.
The accent in this look are the baby bangs. They are straight, short and blunt. They come over the forehead and continue to the sides while blending with the rest of the hair.
The curly hair, in this case, is pulled back in a curly messy pony. The baby bangs are a choice for the younger generation.
The medium-length hair is also a great base for creating dreadlocks. Dreadlocks, as an inspiration from the Afro-American community, have become a trendy hairstyle for women of all ages.
They can be worn just plainly let down. They present a Boho and casual style and they can also come in the faux dreads version too.
Ombre, as one of the most popular hair coloring techniques for the past few years, comes on all hair lengths. The mid-shoulder length is also a perfect hair length for showing off some interesting ombre.
For a better effect, the hair can be cut shorter at the back and longer on the front. With subtle waves and vibrant hair color, the hairstyle will be fabulous.
Another very popular hair coloring technique is the upgraded version of the ombre – the balayage. The gradual change of color with vertical highlights fits the mid-length hairstyles greatly because it visually presents them as long.
The balayage is a perfect hairstyle for women who want to make a trendy and fashionable change. The soft beach waves will accent the balayage evermore.
Adding a big side braid in the hairstyle is a lovely addition for the boring everyday looks. The braid is an accessory that makes every hairstyle more beautiful. On the shoulder-length hair, the side braid comes only from one side and ends hidden under the rest of the hair. Any hair accessories can make the side even more dominant.
Like the neck undercut, the shaved side is also a bold and daring haircut for women. The shaved part starts just above the forehead and opens to the side and continues to the back.
The bald shave is high and then, almost at the top, starts the curly medium hair. This is a look for the women who want to leave an impression of a strong, daring and fierce attitude and personality.
Twists are a combination of braids and dreadlocks. They look like dreads but they are braids done like twists. The entire hair is braided and the hairstyle suits women with curly hair who want to save time in everyday styling.
The twists can be worn just let down, in a half bun or a pony. These type of hairstyles are mostly chosen by younger women.
48. Two-toned Medium Hair
This two-toned hairstyle comes with the vertical separation of color. The border that divides the two colors is the middle part. The more eccentric the colors are, the more dominant the hairstyle is. This current option presents a color combination between blonde and green, but you can easily try any other color.
These kinds of shades tend to fade very quickly and lose their color, so you will need to have in mind that touch-ups are more than required and they must be regular. If the hairstyle features French bangs, they also blend in the entire look – each half comes in a different color.
49. Windblown Simplicity
If you have straight hair, this simple shoulder-length haircut can be very appealing. In order not to make it too simple, consider this messy style. Brush the hair from one side over to another and secure it with hair gel.
Stunning Medium Hairstyles for Women with Round Faces
Tutorial on How to Style Medium Length Hair
Straight eye-reaching bangs are always a wonderful addition to a hairstyle, which is slightly curly on the ends. The only downside of this option is that the bangs need to be styled at least every other day.
51. Low Waves
If you have straight hair but want to add it some volume without spending a long time with the flat iron, you can create low waves. The contrast between the straight top and the low waves looks very stylish.
This medium length haircut is a great choice for women with straight and fine hair. It allows you to sport long locks while adding some volume in the back. Meanwhile, it's hard to use this hair to make a ponytail.
A middle part is simple unless you add some creative waves to make side swept bangs. Unless your hair is very curly, this hairstyle is readily available for you to experiment with. Play around with the color as well.
Try Some New Hairstyles Today:
Long layers are a simple way to add your shoulder length haircut some volume. Meanwhile, they make it hard to create an updo that can ruin your wonderfully womanly look. Use the flat iron to give this haircut some volume.
55. Highlights
If you don't want to bother with some special haircuts and just want to flaunt the length, any simple haircut will do. However, if you still want to stand out, you can go for various highlights. All they need is monthly or bimonthly touchups.
56. Stack'em
This amazing haircut for shoulder length hair is a big favorite among women with thin locks. If you can't make them thicker, why not make them look this way? Ask your hairstylist to add some asymmetry to the layers.
57. Romantic Waves
Anytime you feel you need to add some romance to your image, the waves can do the job. Whether you do them along the full length of your hair or just on the bottom, the result is bound to impress.
58. Become a Redhead
Rich and boisterous red color looks magnificent with any shoulder-length haircut. Redhead women have always been popular due to that special twinkle in their eyes, this color seems to bring.
59. Asymmetrical Bangs
Asymmetry is conquering the planet and it's time you got onto the bandwagon. If your hair is not as impressive as you wish it to be and making it striking and voluminous takes too much effort, settle for making your bangs shine.
60. Smart Dyeing
Shoulder-length hair looks striking if you go the right way about dyeing it. Take a close look at the way the hair is colored in this photo. Sometimes it's enough to just dye the ends to create a voluminous appearance.
Wispy bangs are always a great addition to any hairstyle if you style them the right way. The longer the bangs are, the harder they are to take care of and the more interesting and appealing they look.
62. Pump It Up
Sometimes it's better to spend a couple of minutes with the flat iron at hand than go around all day worrying about the lack of volume. Make a little effort to make your layered medium-length hair more voluminous.
This hairstyle might be hard to achieve at home if you've never tried it before. Ask your hairdresser to complete the look for a special occasion. The key to this image is the volume on top and straight strands on the bottom.
If you have fine and straight hair and decide to go for long bangs, they might frustrate you at times. When you feel like coming up with something special, hide the bangs under the side strands.
65. Round'em Up
This is a great shoulder-length hairstyle for women with long or heart-shaped faces. Rounding up the hair on the sides and bottom allows your face to look closer to oval. Consider crisscrossing the strands on top for extra volume.
66. Eye-covering Bangs
Long eye-covering bangs are exactly what you need to create a romantic and appealing impression. You might not be too comfortable wearing them this way all the time, but sometimes the effort is worth the effect.
Relevant Medium Hairstyles for Women:
67. Teased Waves
The secret to making teased waves look beautiful instead of messy is to keep the top of the hair straight. If you have wavy locks, use a flat iron to straighten them out the top. If your locks are straight curl up the bottom.
68. Outline The Tips
A simple straight bob can gain a beautiful look with just a dash of a hair dye. The best combination is brown and blonde but you can play around with any mix of colors. The best part is the lack of frequent touchups.
69. Asymmetrical Strands
A couple of long strands look fantastic with a medium-length bob. This haircut doesn't need too much maintenance. It looks special no matter how you style it. Sometimes a couple of thin strands can make a huge difference.
70. Smart Subtlety
Subtle layers on your shoulder-length locks don't just give you the volume and the freedom of various hairstyles, they allow you to keep the hair care to a minimum. This is a wonderful hair experiment for women of all hair types.
Hairstyle Ideas for You
71. Low Twist
This low hair twist can look especially stunning if you slightly curl the hair. This way you can add is some volume. When you are done twisting the lower part, make sure to secure it well with bobby pins and hair spray.
72. Medium Pin-up
If you have layered shoulder length hair, neat updos are hard to come up with. This hairdo gets you the best of both worlds by keeping the hair up and some locks down in the process. All you have to do is pin the back strands up.
73. Multiple Buns
This hairdo for shoulder length medium hair looks complicated, however, it's rather easy to achieve. All you have to do is divide the hair into 3 sections and twist each one into a small bun on the bottom. Secure the buns with bobby pins.
Bridal Medium Length hairstyle Tutorial
74. Loose Twisting
This hairdo looks appealing but it might need constant touchups. It's a good choice for people with shorter hair, who can't achieve any stunning updos but still want their hair secured in the back.
75. Style Mix
If you want to make an impression with your hairdo for medium hair, you can take advantage of the style mix. Take a look how dreadlocks are mixed with simple braids. You can achieve this with hair extensions.
Magical Updos Dedicated to Medium Hair
76. Loose Braids
Loose braids are always a wonderful idea when you want to add some volume to your hair. You can make one asymmetrical braid or a couple on each side. The bottom part can be twisted upwards and pinned loosely for extra volume.
77. Large Pin
If you have an a-line bob, it's hard to come up with a hairdo to accommodate it. Don't go too far with your imagination. Collect as much of the front hair on the back as you can and clip it to the stacked mane with a large pin.
78. High Hair
Girls with medium hair can still enjoy some long hair tricks. For example, you can achieve a slight high hair look by pumping up the volume on top and outlining it with curls.
79. Hair Gel
Whatever hairdo for medium hair you are planning, hair gel should become your best friend. This hairstyle is achieved thanks to the right application of the hair gel. The hair is curled, brushed backward and secured with the hair cosmetics.
80. Loose Bun
If you have thick hair, you can create this stunning loose bun. All you need to do is make a low bun and curl the ends around the base. Loosen up as many strands as you can for voluminous curling.
Light & Dark Brown Hair Colors
FAQs
Does medium hair suit round faces?
Yes, medium-length hairstyles suit all shapes of faces. If you have a round face, use a straight or minimally wavy hairstyle with curtain bangs that blend with the lengths of the hair.
Is medium-length hair good for thick hair?
Yes, as long as you're able to add layers so that your hair doesn't look boxy or unfeminine.
What medium-length haircut is best for thin hair?
The bluntness of lobs and bobs creates volume at the ends of the hair that spreads to the mid-lengths, making blunt haircuts perfect for thin hair. The length you choose will depend on your face shape. If you have an oval or round face shape, the bob should end just under chin length.

If you have a long face or a square face, try a lob that is just over shoulder-length. Wherever the blunt haircut ends is the area where you'll have an emphasis on your face or neck.
What is the difference between medium hair and short hair?
Short hair is neck length and anything that's shorter than that. Medium hair is from the neck to shoulder-length hair.
Does shoulder-length hair make me look younger or older?
Shoulder-length hair tends to look more feminine than shorter haircuts, so it can make you look younger. That's as long as it has a decent amount of volume. If it is very thin, it could make you look older.
What size curling iron for medium-length hair?
A one-inch sized barrel is perfect for curling medium-length hair.
Shoulder-length hairstyles are much easier to maintain and to style than long hairstyles. Although the hair is not particularly long, it is just enough for many hairstyle changes and various styling options.
With medium hair, you will always look neat and trendy. These hairstyles offer women a great chance to play around with their locks. You can try any of the above hairstyles to give yourself a chance to appear stunning while keeping the care to a minimum.