The color green is almost always associated with nature and the natural world. However, this isn't true when it comes to hair color.
Dyed lime green hair is considered to be quirky and fun. Our list of lime green hairstyles for women will show you just how quirky and fun this hair color can be.
Lime Green Hair Color
When you dye your hair lime green, you will want to get the most vibrant color possible, because this will make the biggest impact.
Blonde hair will take green dye very well and the color should be vibrant, as long as you use color protect haircare products. Because brown and black hair is naturally darker, it does not show vibrant colors as well.
This means that you may need to pre-treat it before adding lime green color. You may need to get your stylist to carefully treat your hair with bleach before you dye it. Once your natural color has been breached, you should get a vibrant green shade.
1. Vivid Lime Green and Soft Waves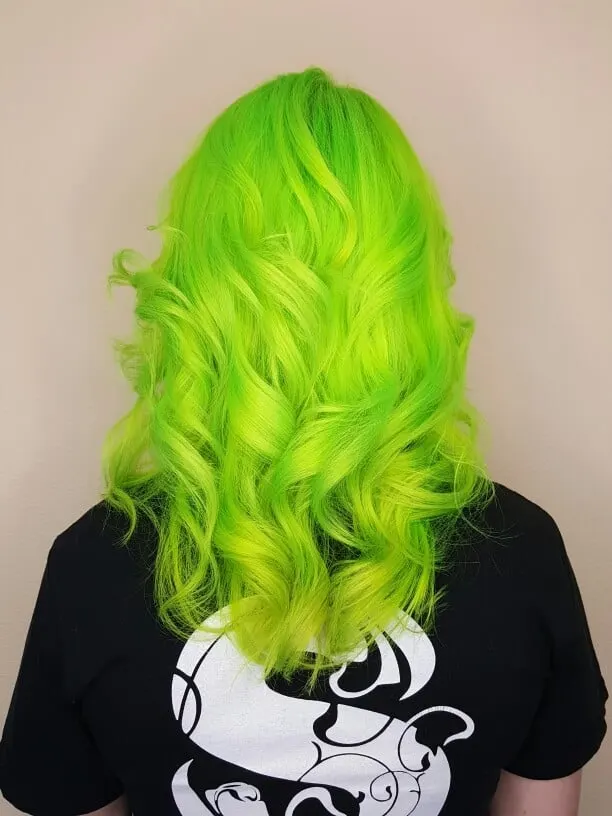 Just ended a long term relationship? You know what they say, a dramatic hair change that suits you can restore your confidence and make you feel good about yourself. In this case, go bold! A lime electric green is exactly what you need after a heartbreak!
Long Hair? Try out Different Hair Colors
Hairstyles are great when it comes to showing off your personality! A lime green hair with highlights and lowlights will tell a lot about yourself, and it is also a great opportunity to impress and draw all eyes on you.
3. Layered Mermaid Hairstyle with Lime Green Streaks
Is the place where you feel more comfortable near the ocean or sea? In this case, a lime mermaid hair color will suit you like a glove! Combine aquamarine hues and green nuances to obtain such a mind-blowing color.
4. Side Parted Style with Heavy Bangs
Billie Eilish will be jealous of your breathtaking look. If you have fair skin and want a color that makes you look eye-popping, a blonde lime green ombre is a great option. You can even go for thick-framed eyeglasses in the same teal green shade.
Best Short Bangs Hairstyles Ideas
5. Green Overcoat with Black Underlayer
Give your black hair a touch of greatness by dyeing your top strands in a green lime color. You can mix it with a neon yellow shade to obtain a more vivid hue that greatly complements the peekaboo black.
6. Androgynous Tousled Long Crop Hairstyle
Pixie haircuts are versatile and can either look very feminine and glamorous or messy and boyish. If you have subtle, feminine face features, you can get both, even with a tousled neon lime hair color.
7. Dusky Green Boho Beach Hair
A pastel lime hair color is a perfect idea for the 2021 summer. Make the color fade towards the tips a tousle your blonde locks before you head to the beach.
8. Wispy Lime Green Cut with Side Part
Nobody will be able to resist your charms when showing off such a sharp dashing look. If you are a natural blonde, you probably won't need to bleach your hair, but if your color is brown or black, make sure you protect your strands when bleaching them.
Dye Your Hair with Pastel Green Color
9. Neon Lime Roots and Black Hair
Billie Eilish is responsible for this lime green and black hair trend, and we owe her a crown. To recreate her look, you have to bleach your roots and dye them in this neon stunning shade.
10. Very Short Lime Green Hair
A very short lime green hair is an ideal pick for women with round-shaped faces. Opt for a pixie haircut, and you'll get ready in just a few minutes every morning. Isn't that wonderful?
11. Lime Green And Yellow Hairstyle
If you want volume, you need an inverted bob with stacked layers in the back. As for the color, depending on how bold and courageous you are, go with lime green and yellow hair. Everyone on the street will turn their heads to admire you.
12. Neon Lime Green hair for Black Girls
Lime green hair makes any black girl stand out. Unfortunately, you will have to bleach your hair if you want to gain this exact shade. Also, use a special shampoo for treated hair to maintain its vibrancy as much as possible.
13. Dark Roots and Lime Green Waves
Lime green hair complements the dark roots and looks so damn nice on long hair. If you want to obtain volume, some loose waves will absolutely do the trick.
14. Twisted Lime Green Hair
Thinking about a memorable appearance for a party? You will definitely shine with this lime green look. Use thin strands of hair to create twisted braids and use a fixing jam while knitting them. A bold makeup with mint green and teal hues will perfectly match the hairdo.
15. Lime Green Hair with Red Bangs
Get a layered hairstyle that will make your beautiful lime green hair strands gorgeously fall one over the other. As for the bangs, if that vivid shade is not enough for you, go for red bangs tossed on one side. Are you ready to stand out?
Choosing a shade like lime green will be sure to get you noticed. Turn heads with a super vibrant lime green hair color.