Bobs never go out of style, since there are so many variations of them. There are many advantages to wearing a bob, but one of the most important ones is that it's easy to maintain yet fashionable.
Most bobs look very neat and fit many different hair types and face shapes. Even the pickiest girl can find a bob to suit her tastes.
Bob is a perfect choice for women of all ages. It will look lovely on a little girl and sophisticated on a middle-aged woman. There are some bobs that can definitely be called amazingly cute. We will give them some special attention.
Cute Bob Haircuts and Hairstyles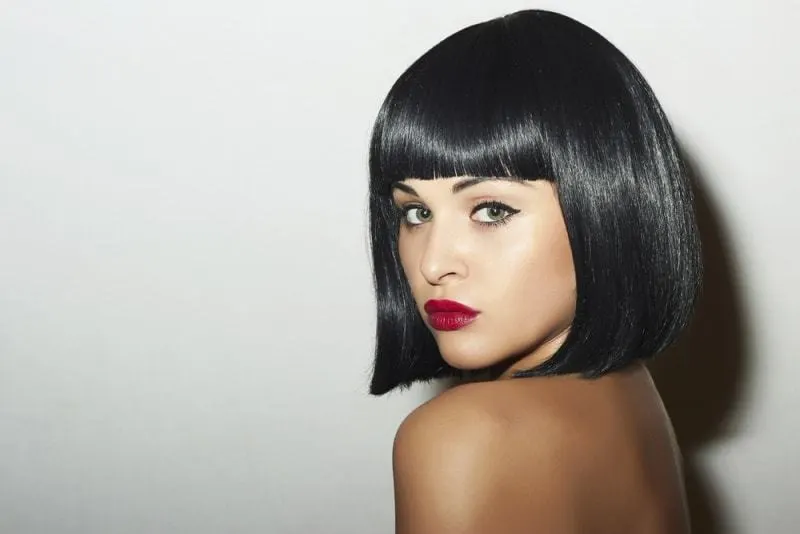 Bobs are everywhere. The reason for their amazing popularity is their unique and neat look. Any woman can allow herself to wear a bob at least once in her life. In fact, it is an absolute must. Whether you are tired of your long mane or want to shape your short locks into something fashionable, the bob is there for you.
There are many bob cut variations out there and you can get lost. So, we handpicked a list of 161 cute bob haircuts for women to choose from.
1. Long Straight Bob
Bob haircuts look fabulous in any color and suit any skin tone or face shape. Choose an inverted shape that keeps hair longer in front. You can let your creativity go wild and style layers, highlights, and ombres.
2. Medium Bob
Whether you go for middle or a side part, straight bob is a perfect way to create framing for your face. The haircut can also be styled with long bangs that you can arrange however you please. As for the color, opt for a jet black or a creamy chestnut.
3. Short Thick Bob
Short thick bobs are so pleasing and give plenty of styling opportunities. Depending on your hair's texture, you can opt for layers or a straight cut. Part the hair in the middle or on one side and use two metallic clips.
4. Short Inverted Bob
A short haircut is perfect for women who want a gorgeous look that is easy to style each morning. Create highlights that will better define your waves. Use a straightening iron to create these stunning loose ringlets.
5. Medium Layered Bob
Whether you choose a layered hairstyle or just a straight cut, bangs are a must these days. They create great framing, can be feathered and spread on the forehead or straight, longer in the corners. Either way, you will look extraordinary, and everybody will complement the drastic look change.
6. Short Curly Bob
When you have short curly hair, if you want to avoid that triangle look, it is imperative to create layers. By keeping your ringlets short, they will be tighter and with more structure and bounce. You can place your part in the middle or on one side. Ass a pomade to make those curls look glamorous and shiny.
7. Thick Pixie Bob
Combining a bob haircut and a pixie can be the perfect tomboy look. However, that doesn't mean you can't adapt this haircut and make it look romantic and elegant. This hairdo is so versatile, and it would be such a shame not to take advantage of its perks.
8. Undercut Bob with Bangs
Undercuts go hand in hand with bob haircuts, especially if you love a more eccentric look. You can extend your bangs to the ear and shave a part of one of your lateral or even fully trim them and keep a short fringe and sideburns.
9. Quick Weave Bob
If you think that dyeing your hair might cause a lot of damage to your Afro-American locks, you can go for a wig. Choose an electric lime green color that you can trim in the shape of a straight bob. Flip your bangs on one side and make sure you tuck all your natural hair under.
10. Stacked Layered Bob
Stacked bobs are perfect for women with fine thin hair that want more volume. By creating these layers in the back, your hair will gain more dimension. Go for a full color with longer tresses in front or create blonde highlights.
11. Black Bob with Middle Part
One of the best ways to make your face look slimmer is to go for a medium bob haircut. The hair should reach the shoulder line and you can use a rotative brush to turn the ends inwards. Straighten the rest of your tresses.
12. Sew In Bob
Sew-in extensions can help you build your bob haircut. Create a parting and sew your weave on cornrows. Spare some tresses to cover the sewing. Use jam to style the baby hairs and create small finger waves.
13. Side Part
If you love natural looking hairstyles that add value to your color, choose a straight bob haircut with a side parting. It doesn't require too much attention. If you want to make it look more glamorous, you can simply curl your tresses and wave them.
14. Wavy A Line Bob
A -ine bobs are so breathtaking! And if you want a medium haircut that can be styled in multiple ways, this is the approach for you. Use a straightening iron or a curler to build those waves and gain more volume.
15. Angled Bob for Thick Hair
When you have thick hair, there's no hairstyle that doesn't suit you. Angled bobs have stacked layers in the back, creating more volume. The tresses are gradually cut longer in the front. Get a natural color and style the tips inwards.
16. Short Blunt Bob
Short blunt bobs make such a great pair with short fine hair. By cutting your hair like this, your mane will look more dense. Go for highlights or a platinum blonde color and do a middle part.
17. Asymmetrical Short Bob
When you have a rounded face, the best haircut for you is one with asymmetric pieces. So flip your bangs to the side and keep them longer. This way, you will cut off the roundness and make those cheeks less prominent.
18. Middle Part Bob
Bob haircuts are also amazing hairstyle ideas for young ladies and women who love childish looks. Adapt the length to your needs and choose a color that compliments your skin tone.
19. Wavy Bob
Searching for a hairstyle that suits any age? A bob is a timeless haircut that you can easily get. Moreover, it's low-maintenance and looks so cute on both wavy and curly or straight hair.
20. Blonde Bob
Wanna switch teams and go to blondes side? If you have a fair skin tone, that should be no problem. Otherwise, consult your colorist and see which nuance of blonde will suit you better. This dramatic transformation will boost your confidence.
21. Choppy Ombre Bob
When you style a straight clean cut and get rid of all those dead ends, your bob will look so healthy and thick. Emphasize that thickness by waving your hair but keeping the ends straight.
22. Shaggy Messy Bob
Messy bobs look fabulous and are a great way to show off your personality and rebel side. Go for layers, a natural or, why not, a crazy color like a faded pink or purple? Opt for bangs and rock that new look!
23. Faux Locs
If you have short hair, you can use dreadlocks to create the hairstyle you so much crave for. Use extensions in variate nuances and blend them to build these wonderful dreads. Attach them as close to the scalp to make it look as natural as possible.
24. Short Fine Hair
Fine hair can be tough to manage. It lacks volume so the best way to make it look thicker is to go for a blunt cut. Tease your roots to create a little bit of height and choose an eyepopping color like a pale pink.
25. Messy Colored Bob
Wanna make your gorgeous ginger hair color stand out? Well, you need the proper haircut to draw all the attention to this amazing nuance! Go for a bob that will also emphasize the hair texture.
26. Bobs for Thick Parted Hair
When you choose to straighten your hair, make sure you always use a protective hairspray for heated devices. This product will prevent damage when using a curler, straightening irons, or blow driers.
27. French Bob
French bobs are so romantic and cute. They are slightly messy, perfect for everyday activities and even fancier events. If you want to gain more dimension, style platinum blonde highlights on a brown base color.
28. Side Bangs
If you want a chic look that shows off your mysterious side, get a bob with layered bangs that you'll swipe on one side. When having fair skin and blue eyes, there are multiple nuances that will suit you. You can choose from various colors, from chestnut brown to ashy blonde.
29. Straight Blonde Bob
Straight bobs are formal and the perfect idea when you want to inspire trust and need a professional look. Opt for a full blonde look or style a warm creamy ombre. Go for chocolate with milk base color.
30. Swing Bob
A swing bob involves getting stacked layers in the back that create more volume. These tresses will beautifully fall one over each other. If you want to make your hairstyle a statement, create a contrast between the natural roots and the tips. You will dye these in a bright blonde.
31. Textured Lob
Textured bobs are probably everyone's favorite. They have volume, amazing shape, look glammy and messy at the same time, and are suitable for any occasion. Also, they look astonishing in any color or length.
32. Very Short Bob with Bangs
Even if you go for a very short bob, that doesn't mean you can't find creative ways for styling. Create texture, go for short bangs, and spice things up with thin yellow highlights.
33. Ombre Bob
Are you tired of dull ombres? Here's something you won't be able to ignore, and neither anyone who sees this fascinating color combination. Style turquoise for the roots and melt it into an eye-popping yellow. Stacked or angled bobs will look perfect with these nuances.
34. Little Girl Bob Haircut
Young ladies and kids need a simple hairstyle that is cute but also low-maintenance and practical. Choose a haircut with bangs just above the eyebrows, so the hair won't stay in your youngster's way.
35. Short Bob for Round Face
Asian girls with a round faces can opt for a very short bob haircut with bangs. Cut the tresses and keep the hair just above the jawline. The length of your bangs is up to your liking, but ensure you're not cutting too short.
36. Crochet Bob
Crochet bobs are quite popular among black women. Style cornrow braids and sew in the hair extensions. Buy pieces that are already waved and curled so you won't need to style them. If they're made of natural virgin hair, you'll also be able to dye them.
37. Thick Bob with Bangs
Natalie's Portman look from Leon movie is back in trend again. It's chic, and suits most face types. You can adapt the length and straighten your bangs. The look is modern, and so low maintenance.
38. Balayage Bob
Mix a balayage with a stunning ombre, especially when you crave for a look that is low maintenance. When your roots start growing, you won't need to rush to a hair salon because the transition is gradual.
39. Thin Bob for Aged Women
Bob haircuts are amazing hairstyling choices for older women. They can make you look years younger, especially if you choose a light nuance or a modern red hair color. So next time you're booking an appointment at a hair salon, consider this mesmerizing straight bob with bangs.
40. Red Bob
Electric red hair is eye-catching and yells confidence and sassiness. So if you're that kind of woman that loves attention and is not afraid to stand out, go for a vivid red color for your bob.
41. Side Shaved Bob
You might be tempted to think that a short bob is not too versatile. But these examples will definitely prove you wrong. Get the trim and do an undercut for one side. Style an ombre or pick a full color that stands out. Use a curling wand if you love waves and giving your tresses more volume.
42. Bob Braids
Box braids don't need to be waist long. In fact, their main purpose is to protect natural hair from external factors. So use them to style a short bob hairstyle. The whole braiding procedure takes less time, resulting in a fabulous new look.
43. Graduated Blonde Bob
Blonde stacked bobs can strip years from your face because they tend to make wrinkles and lines of aging less visible. So if you are a woman over 50, go for a modern haircut that has volume, length and layers.
44. Razor Cut Bob with Waves
Razor bob haircuts are a combination between a medium bob and a shag. And the result is a look that shows more volume and loads of layers. You can opt for a style that suits you in the bangs section. Consider a feathered fringe or short bangs two fingers above the eyebrows.
45. One Length Bob
Sometimes, the best way to add value to your look is to keep a simple hairstyle. This medium straight trim looks sophisticated, especially if going dfor a dark shade. Also, dark color tend to slimmer your face and provide better contour.
46. Pink Bob
Isn't this a magnificent way to make a statement? Use a bright pink, purple color and decide if having bangs or not will make you look cooler. Remember that a fringe is not the best solution for everybody, so ensure the cut will suit you.
47. Asian Balayage Bob
Asian women are deeply in love with bob haircuts. Cut your tresses in medium length, reaching the shoulder line and pull off a blonde ombre. Toss the top hair to capture that elegant vibe.
48. Blue Bob
No matter your skin color, blue is a trendy nuance these days. Play with the intensity of the color and choose the one that suits you. As a woman with fair skin, you can opt for a more pale nuance. If you are a black woman, choose something more vivid.
49. Bob with Blonde Highlights
One of the most popular color combinations is between brown and warm blonde highlights. The hair gains more texture and dimension and encaptures that glam. These highlights will be better defined and eye-popping if you curl your locks.
50. Bob Ponytail
Having coarse hair can be struggling. Go for a bob cut and opt for a half up, half down hairstyle, with a cornrow braid for the top or with a simple ponytail. Flawlessly straighten your hair and use the baby hairs from your forehead to style finger waves.
51. Bob Haircut with Layers
Whenever you need to make a change, you can opt for a medium bob haircut. Create loads of layers a slightly wave your hair. You can also give your hair more texture with red-brown highlights. Keep your bangs long and parted in the middle.
52. Black Bob Hairstyle
Bob hairstyles for black teen girls can astonishingly frame your face. Part your hair in the middle, choose black color for your hair, and get a straight cut. Your hair must have the same length on each strand. Style your baby hair for an even more ravishing effect.
53. Undercut Bob
If you adore rebel looks that help you express your personality, this bob hairstyle with an undercut and bangs is one of the cutest options for you. Create a layered bob haircut and choose two colors, red and black, any evenly part your hair. Dye each section into the colors mentioned before.
54. Bob Cut for Long Face
If you have a long face, a medium bob for curly hair with bangs will help you properly frame your face. Keep your strands slightly longer in front and let your bangs cover your forehead.
55. Bob Haircut for Older Woman
Even if you are an older woman, a short bob hairstyle will suit you like a glove. Keep your hair layered, just under your ears, and create some bangs. Choose a dark blonde color an use bright blonde highlights to texture your locks.
56. Asian Bob Haircut
Asian girls will undoubtedly adore this chin-length bob hairstyle. Opt for a stacked bob that gives you loads of volume. Section your bangs on one side and create some stunning bright brown color highlights.
57. Asymmetrical Swing Bob
Whenever you want a modern look that makes you look trendy and chic, choose a swing bob. Style your hair longer in front and swipe those long bangs on one side. You can also create some blonde highlights to match your natural color.
58. Wedge Bob
Reproduce this stunning haircut by creating layers that build one over each other. You can get a stunning textured hair by creating thin blonde highlights over a brown base color. Your face will be nicely framed if you also style some bangs.
59. Bob Cut for Fat Face
A round face needs proper framing that can make the cheeks look less prominent. Style loads of layers and get bangs that you can turn on one side. To give this hairstyle an even more fascinating look, you can dye some stunning highlights.
60. Razor Bob
Razor bob is extremely popular at this moment, and even if you are a woman over 50, you can choose to make this haircut your signature style. This hairstyle works so well with glasses, and you can opt for a dark purple shade if you want an out of the ordinary look.
61. 70s Bob Haircut
For this 70s inspired bob hairstyle, you need a round cut for the bangs and side strands. Use a rounded brush and a blow dryer to turn your tips inwards. You will get not only tremendous volume but also a stunning shine for your hair.
This is a bob that conquered the hearts of many modern women. The stylish asymmetry is well visible by making one of the sides reach down your neck and the other end near your chin. A wonderful way to deal with your hair!
63. Bob Hairstyle for Fine Hair
Bobs look amazing with bangs. So, if you have fine hair and can't make a voluminous hairstyle, make sure you pay special attention to your fringe. Textured bangs are considered very stylish and can add your image to some real zest.
64. Bob Haircut with Highlights
Bobs look especially well with properly made highlights. There is no reason to go for wild colors since they can easily take the cuteness out of your hairstyle. Ask your stylist to choose the most natural colors and you will love your look.
If your hair is thick and wavy, it is not always possible to create a good bob shape. However, it is no reason to forget about this amazing hairstyle. In order to make it more unique, do some hair color experiments. A reverse ombre will be a great start.
66. Long bob with side part
Side parts look especially well on short straight hair. They allow you to create some volume on top of your head. The rest of the bob will be straight and neat. If you are not scared of some morning hair care, you can also make inverted ends.
67. Shoulder length bob
The longer you make your bob, the more experimenting you can do with it. Take some time to consider the length. However, you must remember that long bobs don't look as neat as short ones and will require more maintenance on your part.
68. Blunt bangs
When you think about blunt bangs, you might not see anything cute about them. You are mistaken. Side swept eye-covering blunt bangs coupled with a short bob make for an amazingly cute hairstyle that can easily be sported by women of any age.
69. Ear tucked bob
Want a sexy look which will also hide your ear tucking habit? Go for the ear tucked bob. The hair is styled shorter on one side and can easily be pulled behind the ears. The other side is longer. The bangs are styled toward the longer side.
70. Very short bob
A very short bob is a sure way to get a cute look. If you have oval, triangular or heart shaped face, you will surely appreciate what such bob can do for you. Consider growing long bangs to make some contrast for the short hairstyle.
71. Textured bob with stray strands
Textured bobs have a tendency to look especially cute on young women. The little wilderness of such a hairstyle will do wonders for your image. It will also be a great idea to add some asymmetry by making one of the front strands longer than the rest.
72. Round bob
Round bobs are considered to be one of the cutest hairstyles out there. They are perfect for elongated faces and suit all hair types. Styling a round bob is no hassle at all if your hair is straight. Wavy hair owners will need some help from a flat iron.
73. Asymmetrical layers
Like asymmetrical haircuts? This amazing bob is for you. The hairstylist will create several layers starting from the top and ending near your shoulders. Don't be shocked at the absence of neatness. It is considered very stylish nowadays.
74. Wavy Bob and Braids
While bobs made on straight hair look very neat, wavy hair shouldn't be forgotten. There are bobs that will look absolutely perfect with wavy hair if cut properly. You can also experiment with different styles such as braided bangs (as shown in the picture).
75. Straight Bob Haircut
Natural bob has all the chances of becoming the cutest hairstyle you've ever gotten. If your hair is straight, make a classical short bob with a simple fringe and you will surely rock somebody's world. The simplicity is what makes it so outstanding.
76. Curly bob
Curly Bob is super attractive. Women with curly hair will appreciate a medium-sized bob that will make them look cute and even sexy. The curls are cut in layers in order to take proper shape. Some hair gel will be required to keep this hairstyle neat on a regular basis.
77. Bob Cut for Square Face
This type of bob is well-liked by middle-aged women with fine hair. A high bob haircut will make a lot of volume on top and reduce it on the sides. This will make a neat hairstyle which is easy to take care of.
78. Messy bob
If you are not a fan of high maintenance cuts, you will appreciate this cute bob haircut for women who are always on the run. A short round bob which ends at a chin level can be left a little messy by not using any hair products and not brushing on a regular basis.
79. Blonde Bob
Blond is truly the most popular hair color for women all over the world. So why not do some experimenting with it. Your bob will look amazing in blond, especially if you keep it very neat. Choose the blond shade you always wanted and go for it!
80. Elegant bob
There is nothing better in the fashion world than a truly elegant hairstyle. A bob can do a great job creating such an image for you. Consider getting elongated sides that will be falling down your chest. Don't forget that elegant styles usually require a lot of maintenance.
81. Consider contrasts
If you like wild options but still want your bob to stay as cute as possible, consider a contrasting cut. One side stays really short, as it would in a pixie, while the other seems like a part of a long bob. This hairstyle will surely make a statement.
82. Side swept bangs
When you are thinking of getting bangs with your bob, you should consider your face type. Elongated faces will look amazing with short bangs. However, if your face is round, then go for long side swept bangs, which will visually make your face longer.
83. Voluminous and messy
If you are a lucky owner of thick hair, you can go for this amazing voluminous and messy bob which will make you forget about maintenance. Ask your hairstylist for volume on top and thin strands on the sides. Give it a try!
84. Tousled waves
If your hair is wavy, there is no reason to forget about the shape. A tousled and wavy bob will make you look really cute while keeping the image respectable. This is a great idea for women over 30, who don't want to say goodbye to cuteness.
85. Highlighted waves
You will love the way your wavy bob will change when you add some special highlights. Make your hairstyle brighter by choosing lighter shades. You will look truly glamorous with golden streaks and neat waves styled in a bob.
86. Cheek length
This wonderful cheek length bob will make you look much younger than you really are and will add your image some cuteness. This is a perfect choice for women over forty who want to stay forever young without any botox.
87. Soft brown bob
Brown is one of the most natural hair colors out there. It is also considered very soft and can contribute to the cuteness of any image. If you want to outline your facial features and make your bob look even more outstanding, choose brown hair dye.
88. Inverted Bob
Inverted ends will take some time and practice but they look especially well with elongated bobs. Learning how to use a flat iron is always a great idea, so why not start now? A stylish bob will make you look absolutely fantastic.
89. Choose the right length
Choosing the right length for your bob is one of the most important factors when it comes to making a haircut. If your face is round, never make the bob which ends near your chin. However, if your face shape is long, such bob will be your best friend.
90. Out of the bed look
Bobs are popular for their amazing quality that can allow you to change your image throughout the day. A simple chin-length bob can look wild if you mess it up a little bit to create an "out of the bed" look. The same bob can be styled to appear neat and sophisticated.
91. Bob with Bangs
Bobs and bangs are best friends. You will rarely find yourself in a situation when you don't need a fringe with your bob. If you have a high forehead, an eye-reaching fringe will save your day. It will also outline your eyes as a bonus.
92. Straight and catchy
If your hair is straight and fine, a bob will be the best hairstyle option you can choose. Simple straight bobs look very stylish and catchy. You will have absolutely no problem making your fine locks look tidy and fashionable.
93. Bob Haircut for Round Face
Girls with thick hair will appreciate this voluminous bob. It will keep all the volume on top where it is easy to brush and keep neat, while the bottom part is thinned out to reduce the maintenance. This is a perfect bob for girls with round faces, who don't want too much length.
94. Managing the waves
Wavy hair can be a hassle. It always tries to look messy and doesn't want to make any good hairstyle shapes. This problem is easily solved by a medium length bob. The hair can easily be arranged into a fashionable hairstyle with the least effort.
95. Long strands
Adding long strands in front, while keeping the hair short in the back is one of the most popular bob options out there. Such hairstyle retains all the advantages of short hair without completely cutting off the long parts.
96. Stacked bob
Stacked bobs are perfect for all hair types. They will make fine hair have the volume it really needs and will help thick hair to stay neat and stylish. When the back part is stacked and taken care of, you can experiment with frontal strands.
97. Short and simple
Most of the cutest bob haircuts for women are very easy to make. Take a look at this short and simple haircut which will take minutes to create and will require little to no hassle depending on your hair type. Give it a chance and you will not regret it.
98. Long graduated bob
Graduated bobs are very popular, however, the transition gets less visible once you grow your hair longer. Be careful with long bobs, since they easily lose their shape. Opt for shorter options if you want the style to be obvious.
99. Permed bob
Bobs give you a lot of room for imagination. If your hair is straight, but you've always loved curls, you can make a partial perm. The top part can be left natural, and the bottom part curled as you wish. This cute and curly hairstyle will surely lift your mood.
100. Pixie Bob
If you are into punk hairstyles, you will love this bob-pixie mix. One side is styled as it would be in a short pixie, while the other ones makes for a short bob. The long side swept bangs bring a lot of style into the picture.
101. Short A-line bob
Take some time to consider this amazing bob hairstyle. The bob is stacked in the back and gradually gets longer in front. This haircut will be perfect for women with thick hair, since they won't need to do anything to keep it voluminous.
102. Blunt Bob
While graduated bobs are more popular, hairstyles with blunt ends also deserve some attention. The advantage of this hairstyle is its longevity. You can skip a couple of stylist appointments while your mane is growing without losing any style.
103. No bangs
Bobs with no bangs have all the rights for existence. Their advantage is less daily maintenance. Their disadvantage is less style. Such bobs can't be considered by girls with high foreheads and very long faces.
104. Thick Bob Hairstyle
Shaggy bob can look amazing on women with thick straight hair. It is very voluminous and creates an impression of a very healthy mane. Such shag will require little maintenance. All you'll need to do is keep it brushed.
105. Side parted blunt bangs
If your hair is not too thick and the bob lacks the much needed volume, you can compensate with making blunt bangs. If your face is round and you still want bluing bangs, then you can make them side parted to open up some of your forehead.
106. Short and textured
Short and textured bobs are perfect for thick hair, since they allow it to keep a stylish shape. The shorter your textured bob is, the less hassle you will have with it. Consider this hairstyle together with long bangs, which are also textured.
107. Rihanna style
This bob is one of the most widely-used ones out there thanks to Rihanna. This graduated bob is asymmetrical. One side is noticeably longer than the other. Rihanna sports no bangs, but you can add some depending on your wishes.
108. Go red
Dyeing your bob is always a lot of fun. If you don't want to just look bright, but also wish to add some zest to your simple haircut, red color is for you. You can start from the shades which are close to your natural color and then go from there.
109. Long and blond
If your face is round, a long and blond bob is a great choice for you. It will not just visually elongate your face, it will also add some girlish appearance to your style. Just be careful choosing the colors. The lighter the shade, the harder it is to achieve and maintain.
110. Messy asymmetry
Not many girls are ready to have a mess on their head. However, a messy asymmetry can be very stylish, if it fits your overall image. Take some time considering this bob. It might be just what you've been looking for.
111. Textured and fluffy
This bob will make girls with fine hair rather pleased. The side swept textured top is created to add a lot of volume to your fine hair. This hairstyle will require daily maintenance, but it is truly worth it. The result is amazing!
112. Blow dried bob
Everyone likes a simple haircut which requires little to no time to make it look perfect. This blow dried bob is one of them. A short cheek length hairstyle will look amazing when simply arranged with a blow drier.
113. Short Bob
If your hair is fine and your bob is short, give a lot of attention to your bangs. A fringe can completely change your image for the best or for the worst, so make sure it helps you instead of hurting. Voluminous and brushed forward bangs is a great way to diversify your hairstyle.
114. Raven black
If you want a dark hair color, consider dyeing your bob raven black. Such shade does wonders for making your facial features stand out. This color is easy to maintain and it stays bright for a long time. Don't be afraid of experiments!
115. Neatly graduated
This neat graduated bob will look amazing on women over 40. It makes fine hair look thick and thick hair look neat. It is easy to make and looks very sophisticated. Add asymmetrical side swept bangs to bring even more zest into this hairstyle.
116. Color changes
When you are thinking about color experimenting with your simple bob, consider dyeing your bangs a different shade. Since a fringe is usually the most important part of a hairstyle, a darker shade will draw some attention to it.
117. Accessories
Regardless of the kind of bob you will choose, a lot of cuteness will be added by using the right accessories. Consider getting bright headbands or large scrunches. You can also experiment with braiding the longer parts of your bob.
118. Pixie
If you like bobs but they are not short enough for you, you can go for a very stylish pixie. Pixies are even easier to take care of than bobs, so you'll be getting a low maintenance cut. Pay special attention to the bangs. They should be long and impressive.
119. Asymmetrical shag
Asymmetrical and shaggy bobs have the most right to be called cute with a hint of wilderness. This mix of styles will surely make you stand out of the crowd. Women who have thick hair can easily sport this bob without any hassle.
120. Windblown bob
Windblown hairstyles often become young girls' favorite. So, if you want to make a wild impression,while staying cute, such long windblown bob is for you. The sides are long and straight and the back can be experimented with. You can even make it stacked.
121. Thinned ends
In order to make your bob take a neat shape, consider thinning out the ends. It is true even for girls whose hair is rather fine. The contrast on the bottom will allow the hair on top to look thick and amazing.
122. Side part with an ear tuck
You don't have to limit yourself to just one simple bob style. You can go further by mixing different details. A well outlined side part coupled with an ear tuck will create a very stylish haircut, which will surely be appreciated by many girls out there.
123. Medium length bob with asymmetrical bangs
Medium length bobs are usually very popular. If you want to look cute, but still hope for a little zest to be added into the picture, create asymmetrical bangs which are short in the middle and longer on the sides. It will definitely turn some heads your way.
124. Boyish look
One of the cutest bob haircuts for women is the one that creates the boyish look. It is a great idea for women of all ages and will really be appreciated by those who hate hair hassles. All you will need to keep neat is the bangs.
125 . Romantic tresses
If your bob is short, it doesn't mean it can't be romantic. Leave some strands hanging in front and don't overdo the neat look. Tousle you hair a little to create a sweet, yet romantic image. Think about dyeing your bob some fresh color.
126 . Blonde-Pink and fabulous
Ready for some experiments? You can look like a princess by adding some pink strands into your bob. Just make sure to dye just some of your hair. Overdoing the pink will turn your image from cute to punky.
127. Wet and wavy
A great way to keep your wavy hair neat is to use a lot of hair gel. Properly styled waves will look truly amazing, if you separate them into different strands and apply some hair gel or spray. A wet and wavy look will really make you feel wonderful.
128 . The classics
If you don't know exactly what you want, go for the classics! The classical bob ends at your chin. The ends are styled inwards and the bangs are side swept. Once you have done the classics, you can go on to other experiments.
129 . Girlish bob
If you are looking for the best and cutest bob haircut for women, you should definitely try the girlish bob. This hairstyle has no levels and is not stacked. It is a simple shoulder length bob with medium-sized side swept bangs.
130. Neck cascade
If you have opted for a bob and pixie mix, try this wonderful option that has hair cascading down your neck in the back. Such cascade will allow you to turn a simple short haircut into something which really stands out of the crowd.
131. Perfect styling
Long bobs are great for giving you an option of different styling. If you want a really cute appearance, make some soft waves on the bottom of your bob and arrange them carefully around your neck. Cuteness is guaranteed!
132. Bob for Thin Hair
Possessing a pretty haircut doesn't necessarily imply more and more layers. Because you can have zero layers and still look as stylish as ever. Then, all you need is straightened thin hair with a sleek edgy angle to do the trick.
133. The Back Blend
If you're looking for a short chocolate bob, then this might be what you are looking for. Because the brown glow and shorter layers help make it more voluminous and keep the cut from looking too heavy.
134. Softer Style
Sometimes all your haircut needs are side swept bangs that give a softer and smooth look to reveal the feminine tender vibes curled up inside of you.
135. Cute Curls
Curling and twisting are definitely a style you'll want to achieve if you're aiming for standing out in the crowd as the cute girl with the curly moist hair. Thus, for this look, you will need more curl enhancing hair products and probably hair mousse.
136. The A – Line Bob
Sometimes, a little meddling with measurement can make up a unique hairstyle. So, all you have to do is tell your stylist to keep your hair shorter on one side to give you the glamorous asymmetrical look.
Tip: This works best with thin fine hair, however girls with textured hair can make rock this style as well with the help of a few hair products.
137. Bangs Everywhere
Who said that bangs are specially designed for foreheads? Nowadays, bangs can be also applied to sides and by combing them with the top bang you'll get something sleek and visually attractive.
How To Style It?
Apply smoothing cream for damp hair.
Comb using a flat brush to evenly distribute your hair on both sides.
Direct your hair towards your face when you are combing the top part.
Use a flat iron to straighten edges with the lowest heat setting or a blow dryer with a round brush for a round shape.
Quick Tip: Diamond face shapes work best with this cut.
138. It's All About The Hair Hue
Sometimes going with normal women bob styles is all you need. However, with every great idea to be effortless and lazy, comes a catch. But, since we know how much little time you have to juggle between job breaks, all you have to do is go for a sophisticated and unusual hair hue to raise your style score even more and you'll be good to go!
139. Just Random
When you are out of ideas or when you are sick and tired of all the other women bob styles out there, you can choose to go with freestyling and randomize your way to the top of the fashion chain.
140. Longer In The Back
While most cute looking bobs tend to have shorter backs and longer fronts, you can choose to be different and fo with longer hair in the back while the front stays short and away from getting into your eyes.
141. Smoothed Edge
A tapered bob is always a sexy choice to go with. Especially if the hair is cut right at the chin and cut out to perfection. But how can we reach this ultimate state?
Create a deep side part and comb through strands before your flat iron your hair.
Go through each section to really smooth things out.
Bevel the tips under the iron to give it a rolled under effect and a cute flick.
Avoid using hair pomade to make your hair look more nourished.
Use a serum to make your hair glow in the spotlight.
142. Square Bob With Bangs
Another one of Rihanna's fabulous hair twists is the square bob with bangs. In addition to that, this cut's greatest advantage is that it practically requires no effort. Because all you have to do is ask your barber for a square bob with a bang and from there you'll just have to flat iron it before heading out.
Tip: You can use a flat iron that can go up to 400 degrees or hotter. Because this way you can go over your hair once instead of several times to get a sleek finish.
143. Simple & Cute Bob Haircut
Some girls hate the extravagant fiascos and want to go simple and easy. And just like the great Coco Channel said: " Simplicity is the keynote to true elegance."
144. Creative With Curls
Let your curls be the main attraction magnet that sets people's focus on you and sheds light on your unique taste. Afterall, curls are the styles with unlimited opportunities these days.
145. The Ultimate Drama
Sometimes some thick bold bangs can make up for the best women bob styles yet. So, all you need to duplicate this style is:
Give your strands an ultra smooth blowout.
Dry bangs forward and flat.
Tip: Sleek straight hairstyles like this one are always endangered with split ends and breakage because of the constant heat use. Therefore, if you choose this design you will need to use more hair products to prevent that from happening.
146. Shattered Bangs With Bob
Here are some wild women's bob styles to suit every drama seeker using some texture short hair layering. So, if you're looking for something fashion forward, this is the right cut for you. Thus, all you have to do is:
Dry bangs in the forward direction and flat iron them.
Scrunch them up with your finger for a more messy texture.
On the other hand, this haircut might require more attention than you thought. But, it's definitely worth the trouble! Therefore, don't forget to keep up with your bang cut appointments.
147. Messy With Side Bangs
Having imperfect hair can be your concept of sending out a message to the world. So, don't hesitate in maintaining a bedhead hairstyle with a bit of combing to help boost the volume until you achieve the effortless effect.
148. Soft Bobs

Soft bobs are the definition of sleekness to the max. Because they go ahead and fall all the way past the chin level and with a subtle rounding and tapered layers along your hair's perimeter.
149. Lacking Bangs
The lack of bangs is what makes this bob haircut a big hit as it maintains it's simple yet gorgeous golden glow. So, here is how styling goes:
Use a comb to part your hair on two sides and detangle.
Use a round brush while blow drying to give that puffy effect.
Go back to flat ironing to make sure it is sleek and straight.
What face shape goes best with it?
Round and square shapes would be most flattered by these women bob styles. And you can add some bangs if you have a pear or heart-shaped face for balance and symmetry.
150. Round Bob Styles
Going perfectly round can be your upcoming trick for the best bob hairstyle you have ever experience. And what makes it even better is that you only need a round brush, blow dryer, and hairspray to get this look on your own!
151. Sophisticated Multi – Dimensional Look
By combining this cut and color together, you'll end up with a sophisticated yet young look with a sleek finish. So while you notice the soft blend of color throughout the multi-dimensions, don't forget to apply finishing hair products to make the look complete.
152. The Rihanna Bob
Being the worldwide diva doesn't come easy. Because along with your fame and fortune, comes the obligation to always look in best shape and dress up well for every occasion. Despite the need to change styles every now and then, the bob hairstyles have been proven to be one of Rihanna's most successful haircuts.
For girls with thin hair, angled cuts are the best choice. Because unlike blend cuts, they provide more volume by creating the illusion of fullness in the back of your head while maintaining clean straight lines that mark your hair's silhouette. Moreover, longer bob fronts will help you frame your face and soften it.
154. The Royal Treatment
In order to end up looking like a member of a royal family, all you have to do is:
Get some highlights for your hair to make them even more eye-grabbing.
Tease your curls with a slight twist using the curling iron.
155. Customised Cut
Make sure you tell your stylist where you usually part your hair for a more accurate look. Because this way, you'll get a custom bob designed just to suit you and fit your needs perfectly!
156. Curly Ends
Create some contrast in your bob hair design by choosing to ditch the full straight look and go with the curly ends as your big dramatic plot twist! Therefore, simply use a curling iron to twist your hair tips as a finishing touch.
157. Choppy Balayage
The choppy layers of this medium length bob seamlessly blend with the long side bangs. So, flaunt the blonde balayage hue to shout out your message to the world by forming a whole using the shattered hair strands.
158. Choppy Bob
Jennifer Laurence is a live proof that girls can look cute in both long and relatively short hair. However, she showed us that a choppy, textured bob can make a girl look more feminine than ever. Moreover, she always goes for fun bobs that we can simply duplicate at home because a simpler look is what she always seeks.
159. Creamy Cut
If you are looking for something more poised and formal, then here's a bob haircut that falls right above the shoulders and swoops down elegantly into a longer front. So, with the help of beveled under layer styling, you can achieve the longer side bangs to provide yourself with a more subtle look.
160. Flipped And Shaggy Bob
If you're looking for featuring both volume and dynamic movement, then this is the one you have been looking for. Thus, you have to use a round brush to achieve the adorable light flips at the ends. Moreover, this cut fits for girls with thick hair who struggle to maintain their tresses and help them take their bulk off.
161. Extremely Short
This looks like the kind of women bob styles for girls who have recently gotten out of a short pixie haircut and trying to get back in the hairstyle world. Because there is no need to go out of style if you are in-between haircuts!
Now you have a good idea of what a perfect bob looks like for you. So, the time has come to take a deep breath and head to the hair salon. Show your choice to the hairstylist, so he or she knows what you really want.