Hopefully, you're not looking for a list of cute and unique hair colors for long hair because such a list is never-ending.
Some hues are more eye-catching than others, however, and some color combinations are more unexpected, thus making them one-of-a-kind. Long hair gives you a roomy canvas with which to experiment.
Your hair is the one thing on your body you can easily change, and if you hate what you do, it grows back in time. What's the harm in trying a unique new color?
Unique Hair Colors for Long Hair
There's a whole wide world of unique hair colors for long hair. What's your idea of unique?
Think about the shades that really stand out to you. Think about color palettes and combos you rarely ever see in the real world. Be bold, get creative.
Don't limit yourself if you're genuinely searching for a splashy, attention-grabbing color. You can go with a traditional hue, such as a rare shade of red, platinum, or caramel. Mermaid colors and unicorn locks work beautifully with lengthy locks, too.
1. Oxblood and Honey
Remember, cute and unique hair colors for long hair come in all hues, styles, and designs. Just because you have long hair, it doesn't mean you have to go for an all-over color.
Eye-catching highlights and streaks change the entire appearance of your coiffure, but they're easy to do, and maintenance isn't as time-consuming or expensive. Look at how the honey highlights brighten the hair, but the burgundy streaks bring the drama.
Dark & Honey Blonde Hair Color Ideas
2. Darkly Dramatic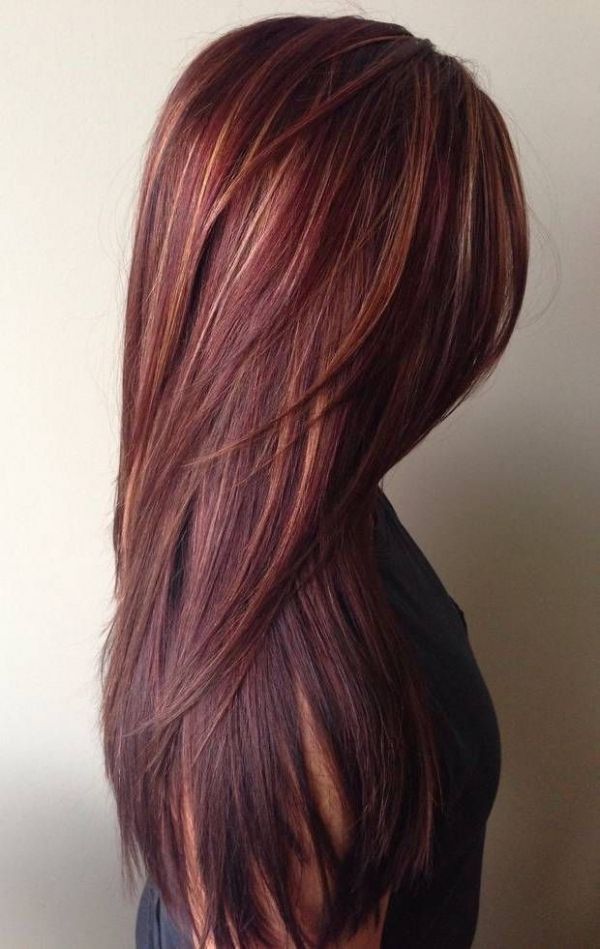 Dark, non-traditional colors look spectacular on dark hair. This shade isn't quite red, nor is it burgundy, precisely. It's a rich mix between the two with a few well-placed highlights in golden tones.
3. Caramel Drizzle
Caramel colors are on the cusp of a trend explosion at the moment. It's because they're so versatile. Caramel is the perfect balance between brown and blonde with so much dimension that it almost always looks natural.
Brown Hairstyles with Caramel Highlights
4. Almost Gray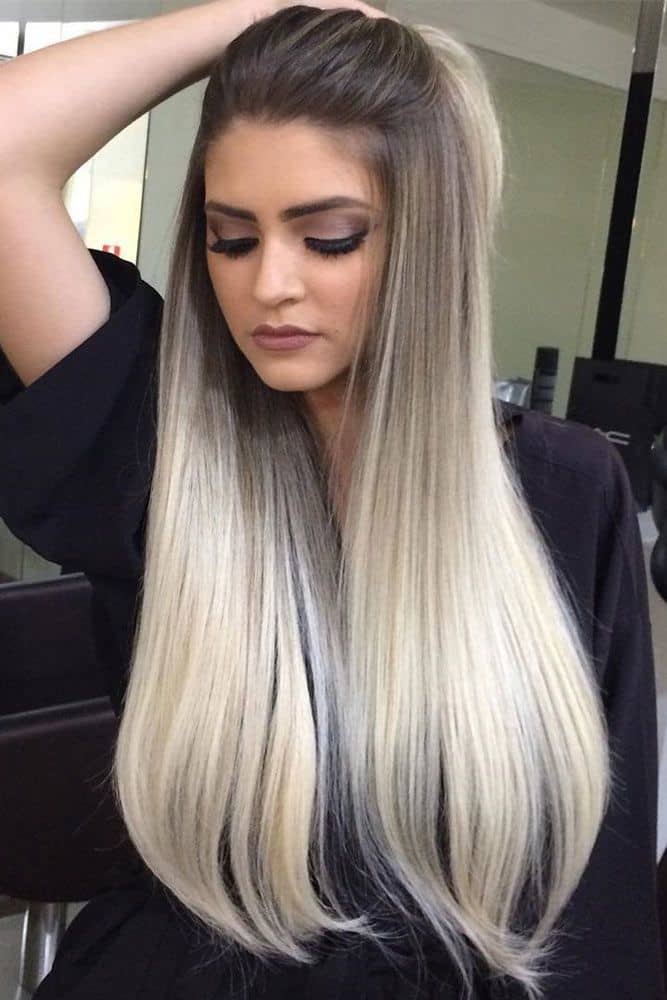 Experimentation is one of the best parts of having lengthy locks. In additional to playing around with the cut and style, you can also try out fun and unique hair colors for long hair.
The platinum blonde half of this beautiful ombre look is so pale that it's almost gray, which allows you to get away with a fantasy color that's still technically acceptable in most professional environment.
Platinum, Copper and Chestnut Blonde Hairstyles
5. Buff Blonde
This color is so gorgeous with her skin tone. Though it's blonde, the ombre keeps it dark at the roots, and some highlights and lowlights throw off flashes of butterscotch and caramel, too. What a sweet treat!
6. Purple Rain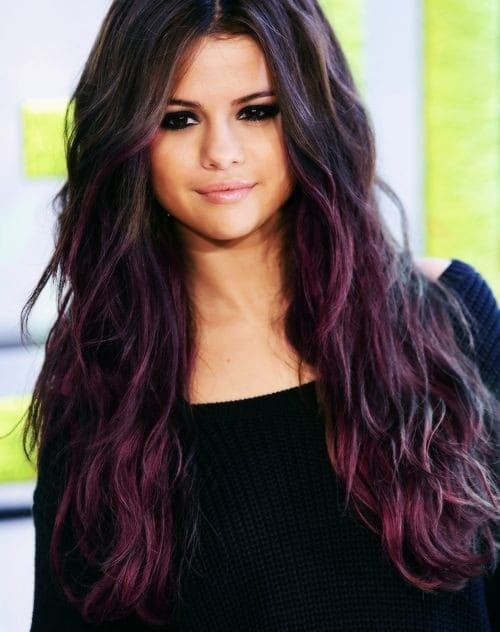 To go purple and keep it looking almost like you were born that way, take a page from Selena Gomez's stylebook. Purple over a dark base is luminous and lovely. It's dramatic, sleek, and toned down, unlike brighter shades of violet, which often seem violently purple.
7. Hints of Pink
This isn't really, truly pink. When you blend unique hair colors for long hair, you end up with magic. Here, streaks of ash and deep burgundy red blend to create a haze of highlights that appears millennial pink under the right lights and from the right angles. Bravo!
8. Molten Streaks
Flaxen blonde, blood red, copper, and mocha streaks turn plain reddish-brown locks into a lustrous coif of molten red and gold. Look at this artistry. Needless to say, only ask a stylist you trust with your life to do this. Flawless blending is a must.
Granted, this cut isn't long, exactly, but what works for medium-length hair works just as well for longer tresses. Besides, can you resist this color?
Kylie Jenner helped make it explode after stealing the look from someone else, but at least now we can all enjoy it.
10. Neon Sunset
Doesn't this look like a perfect sunset at the beach or in the desert? The fade to coral is phenomenal. It's the perfect complement to the brighter pink and the Fuschia near the roots. You can't deny that these are cute and unique hair colors for long hair.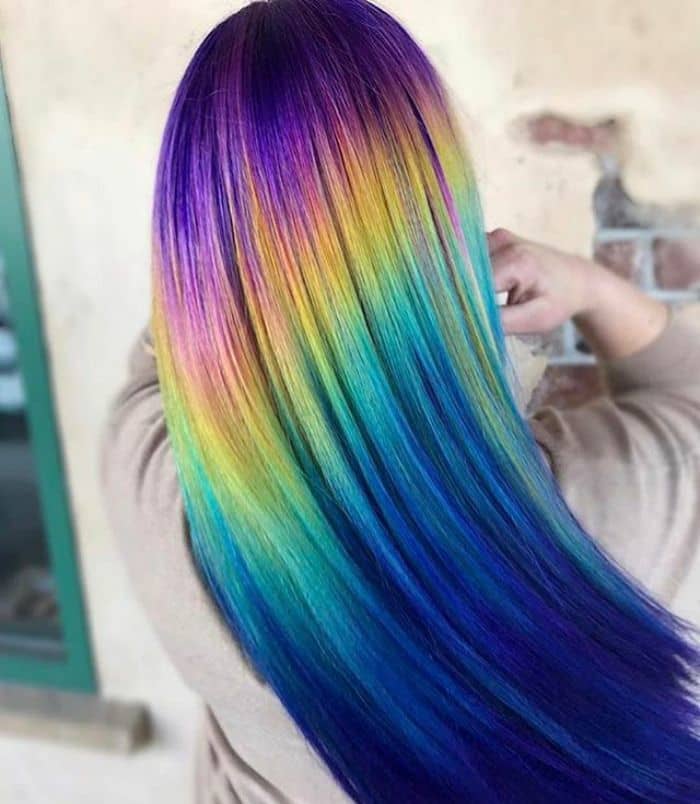 Something about the iridescence resembles the oil slick technique. It's a different way to pull off rainbow hair because the gradient runs up and down, not side to side.
12. Almost Black
A brown the color of unsweetened chocolate, so dark it's nearly black, is a beautiful shade for long locks. It's lush, dramatic, and sensual, somehow. Don't you think so?
13. Burgundy and Peach
Burgundy and peach are two remarkably unique hair colors for long hair. The combination's been around for longer than you might think. These tips are everything. The two shades look particularly natural against a dark backdrop.
14. Too Blue
Again, this haircut isn't long, but the color will work for lengthier tresses. A cobalt or midnight blue at the roots, transitioning down to dark brown or black hair, is always a fabulous choice. Check her eyebrows—they match flawlessly.
15. Teal Tips
We really can't get enough of this color. Here you can see how a teal ombre looks with brown-black roots, rather than fantasy-colored ones.
16. Under the Sea
Mermaid locks are meant for long hair. Turquoise is so bright but, as you can see, a darker aqua ombre at the roots will tone down the cheeriness and turn it into something fantastical and high fashion.
17. Going Gray
Gray is still one of the most trending hair colors for long hair. It might officially be a classic now. It certainly erases the problem of combating the inevitability of stray grays, doesn't it? Go for a silvery tone and embrace your dark roots—they help, not hinder.
18. Candy Coated
It's hard to say what's more precious—the bow or the color of the dip-dyed tips? Either way, it also highlights the seamless mix of coral, pink, and purple hues.
Here are two relatively new but unquestionably cute hair colors for long hair: chocolate brown and mauve pink. Who knew they could complement each other so beautifully?
20. Rose Gold
Rose gold looks gorgeous on any hair length, but it's especially dazzling on long locks. Part blonde, part pink, it glitters on its own. No wonder this is one of the top colors of the season.
21. Long Red Hair
This particular shade of red is an edgy addition to straight layered hair. You can even switch it up by keeping it darker near the roots and fading it to a lighter shade as it nears the ends.
22. Long Balayage Hair
Light and dark brown make up this balayage hairstyle, although it would look just as pretty with blonde and caramel. The color stuns on a long wavy hairstyle with a braided half updo.
23. Long Silver Hair
Silver hair color used to be seen mainly on older women, but the trend nowadays is for young women to rock the color as well. Your long hair will look amazing with this unexpected and fresh gloss of color.
24. Long Brown Hair
If you're a woman who prefers neutral hair colors, you can't go wrong with brown. Whether it's a light or dark shade, on long hair and with any skin tone, it's a great color.
25. Long Copper Hair
You don't need to be born a ginger to rock red or copper hair anymore. Gather your hair into a high ponytail to add a little pep to your step and make sure to keep your bangs straight for chicness.
26. Long Green Hair Color
While green isn't a hair color often seen these days, if you have a job where unusual colors are acceptable, there's no reason you shouldn't try out this lime look on a short, wavy haircut.
27. Long Hair with Highlights
If your natural hair color is brown, opt for caramel or auburn highlights for a special touch of style. These soft waves on long hair prove just how sexy the color combination can be.
28. Long Ombre Hair Color
Want to try blonde hair color but don't want to give up your natural brown? Add blonde in any shade as an ombre. This style features long wavy hair with tight ringlets at the ends.
29. Long Pastel Hair Color
Pastel hair colors are increasingly becoming more and more popular. This soft purple is easy on the eyes and you'll love how it flatters your pale or light skin tone.
30. Long Straight Hair Color
Want to be really daring? Combine light green, pink, and purple for rainbow highlights. Make sure your base color is blonde to get these colors to show up in the best way.
Let your long locks tell a story and reveal secrets about your personality and personal style. Of all the cute and unique hair colors for long hair, which are your favorites?