Layered bangs are beloved because they aren't a one-size-fits-all style. You can customize them to work with your hairstyle, face shape, and maintenance level to enhance your look in the best way possible.
Bangs can be tapered and cut at an angle to feed into long layers or conceal harsh lines on specific face shapes. You can stack them to pad thin hair types or make thick hair more manageable.
What Are Layered Bangs?
Layered bangs are a common and effortless style to wear. These bangs are not blunt cut across the front in a straight line but instead have varying lengths and are meant to be side swept across the forehead. They are meant to add volume and texture to your hairstyle.
How to Cut Front Bangs with Layers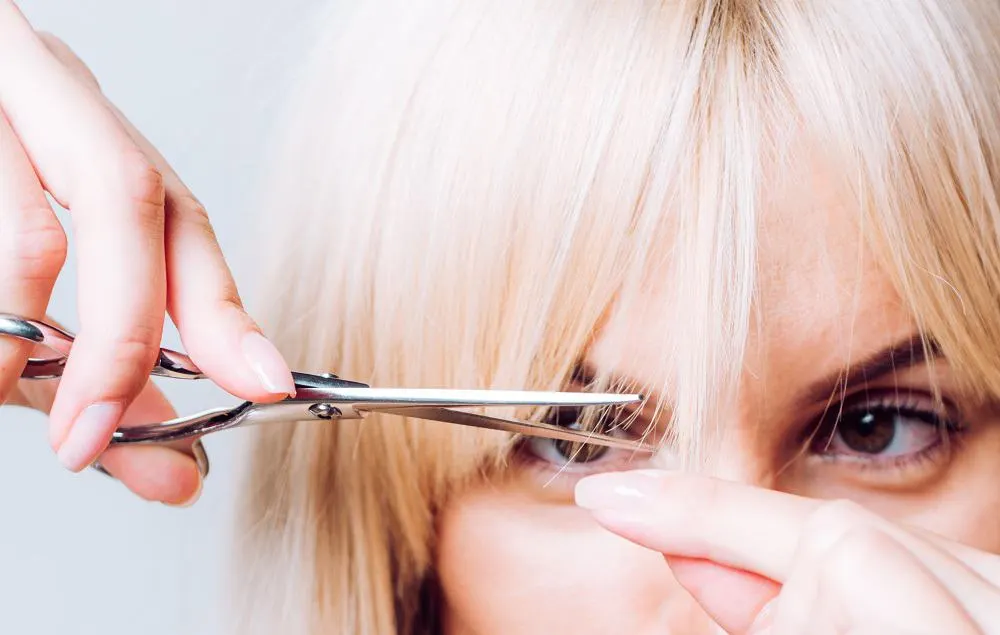 Cutting and layering your bangs at home is risky. It is much better to let someone else cut them for you or for you to cut them on someone else.
Here is how to cut front bangs with layers in a few easy steps:
Part dry hair with your preferred part. Then draw a diagonal line from your part to the side of your forehead. Separate this hair.

Clip back any hair you do not want to cut into the bangs.

Hold the hair taut in between two fingers with your non-dominant hand. Use your dominant hand to cut the bangs. Cut them at the angle that you want them to fall on your face.

Make two or three cuts and always cut a conservative amount off first.

To achieve the layered look cut vertically into your bangs across the bottom. Keep the scissors open while doing this.

Be sure to shake out or brush out your bangs after cutting them to remove any loose hairs.

When styling the bangs,

use a round brush

and a blow dryer to slightly blowing them out, so they retain their volume like when you first cut them.
If you have any doubts about executing this look on your own, your local hairstylist can likely help you achieve the front bangs with layers of your dreams.
Watch Following Video Tutorial to Learn How To Cut Front Fringe with Layers
Fun Ways to Try Layered Bangs
Below are 30 different styles for every hair type to help you find the perfect inspiration you've been looking for.
1. Layered Bob with Bangs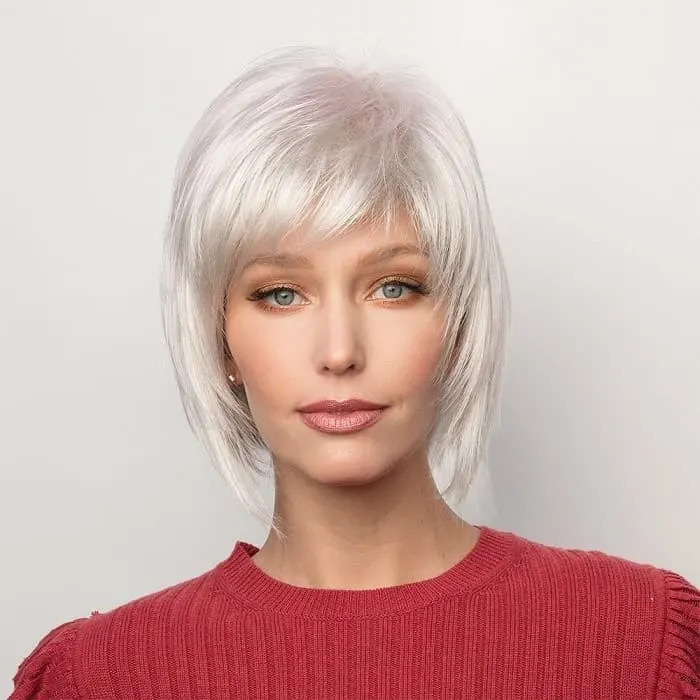 Layered bobs are suitable for everyone, it just depends on how you wear them. A side part structures this look as layers moves seamlessly from the bangs into the rest of the hair. The longest part of this cut should be at the front points of the hair so they frame the chin.
2. Medium Layered Hair with Bangs
Whether straight or wavy, medium-length hair looks great with long side bangs. A slight opening on one side of the forehead beautifully frames the eyes as the length of the cut highlights the shape of the jawline.
3. Short Layers with Bangs
These bangs have a lot of depth and texture. Layers are a key feature of this hairstyle, so adding them to the bangs makes perfect sense. To create this look, hair should grow outwards from an off-center point on one side of the forehead.
4. Choppy Layers with Bangs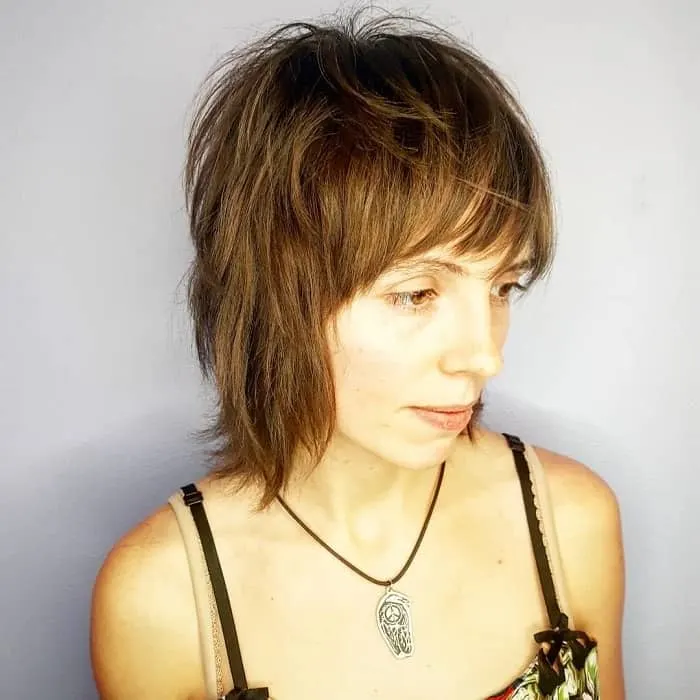 Sleek styles are fine, but this multi-layered, choppy hairstyle is interesting and fun. To create this look, bangs should start far back on the head and be cut in a textured, tousled manner that doesn't feel precise.
5. Layered Bangs for Round Face
Blunt-cut bangs enhance full cheeks, while soft, wispy layers open up your look by revealing the forehead underneath. We love the way these bangs work with the soft layers on this shoulder-length style, but this fringe can work on hair both short and long.
6. Layered Pixie with Bangs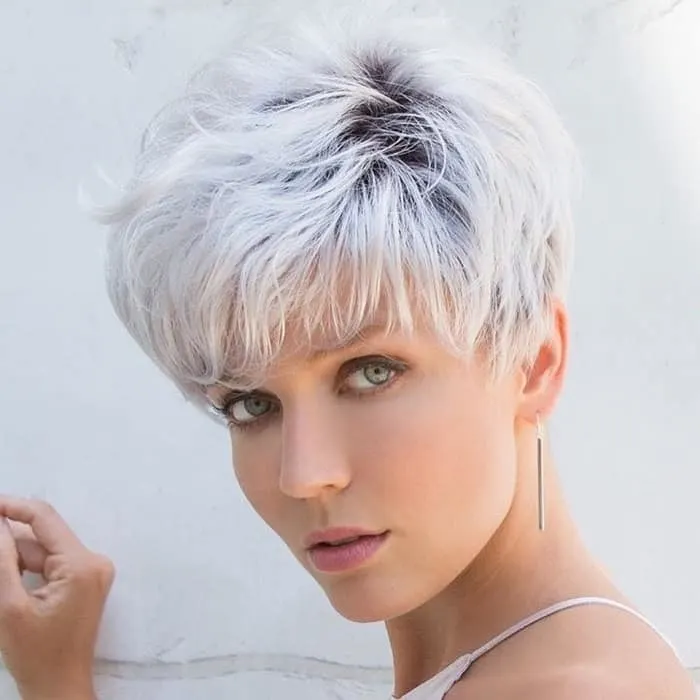 If you want to create fullness on your pixie haircut, layers are the best tool at your disposal. They will add height and help you create a soft, round shape. Layers should be cut throughout the bangs in the same manner as the rest of the hair.
7. Asian Layered Hair with Bangs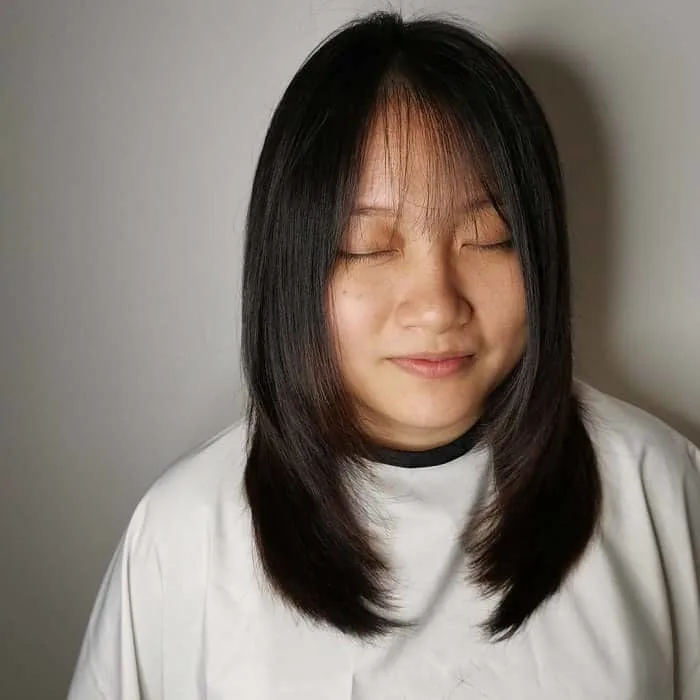 Asian hair is typically straight, so wispy bangs and layers that frame the face create lots of dimension and interest. If your face shape is round, avoid thick bangs that will truncate your face. See-through bangs are ideal and should feed into longer layers cut along the cheekbones.
8. Curtain Bangs with Layers
Open up your gorgeous face with curtain-like bangs. These should be cut long but layered so that the first layer hits just above the eye and the ones below frame the apples of your cheeks.
9. Layered Bangs on Long Hair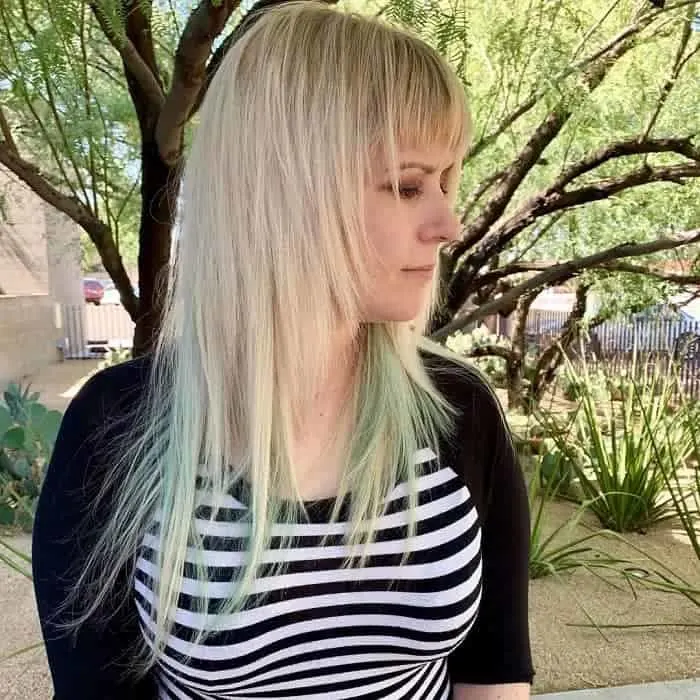 Long hair with bangs isn't a style you see everyday, so it will certainly make you stand out. Utilize layers that help bangs feed into the rest of the layers that frame the face. This will make your hairstyle feel cohesive.
10. Pixie Bob With Layered Bangs
Short and sweet styles deserve perfect bangs to match! Instead of a straight across cut, these bangs are cut at an angle and in several different layers for a natural look. Mimic this effect at the back of the head with slightly feathered layers.
11. Layered Bangs for Thin Hair
Layers act as an optical illusion for creating dimension on fine hair. For this style, there should be little space between the first face-framing layers and the long sides of the layered fringe.
12. Thick Layered Bangs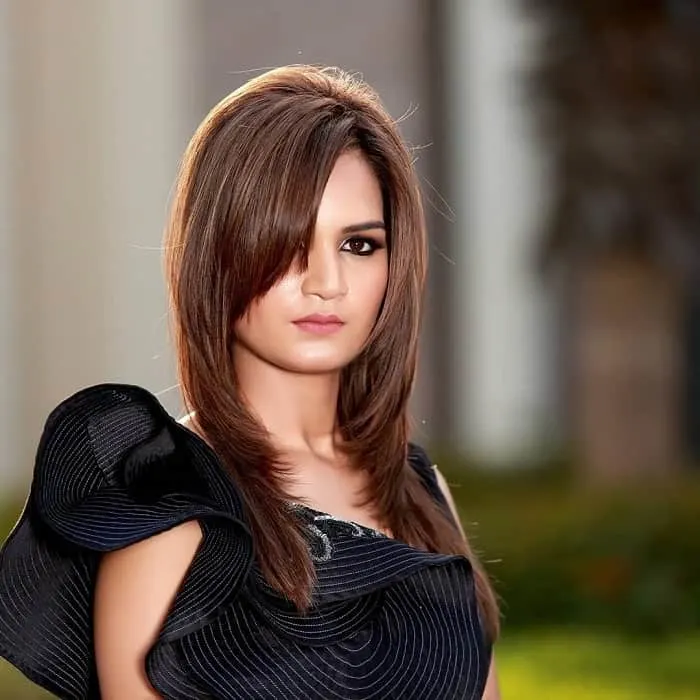 We often see layers work on thin hair, but they can help thick hair just as much. In this style, layers keep hair from feeling bulky and create a beautiful movement that opens up the face. Bangs should be cut at an angle to feed into the layers.
13. Layered Bangs for Women Over 50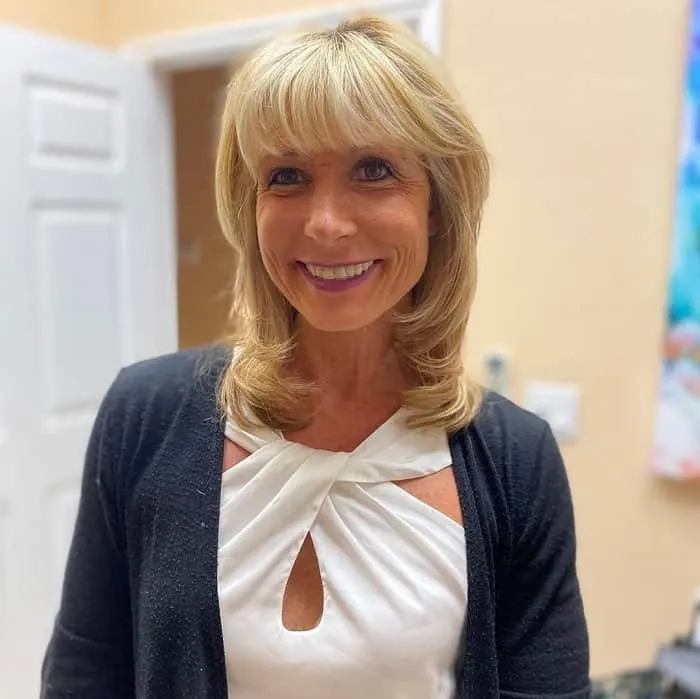 We love layers for bringing a youthful effect to mature women. These bangs are cut rather straight across the forehead but grow into longer layers that frame the face and emphasize any fullness on the apples of the cheeks.
14. Middle Part Layered Bangs
Similar to French bangs, this long-center part style is always sexy. It's a no-go, however, for long face shapes, as the middle part elongates the face. As for the rest of the hair, face-framing layers are ideal but long, sleek styles work just as well.
15. Layered Gray Bob with Bangs
Choppy cuts work wonders on thin and fine hair types. Without the dimension created by these layers and bangs, hair would lack interest and fall flat. Cut your bob on an angle so that the longest pieces frame your face, but don't forget a few short layers around the eyes.
16. Layered Updo with Bangs
A high bun makes the perfect up-do for long hair with bangs. This look is casual, so the slightly messy style works, but more defined styles are great for serious events. This fringe is thick, so the ends should be layered and longer on the sides.
17. Bangs On Medium Hair With Face-Framing Layers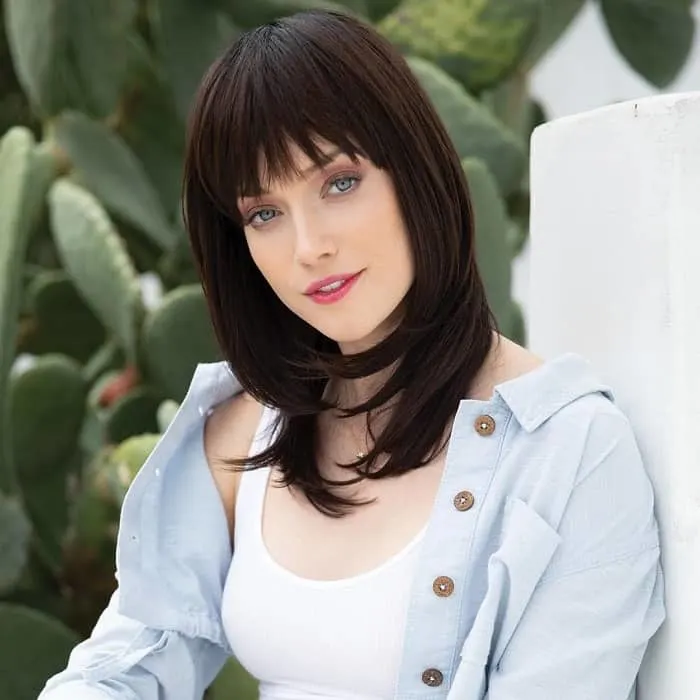 Balance out wispy, feathered bangs with accentuated face-framing layers on medium hair. This cut won't do round face shapes any favors, but they add a lot of substance to long and thin faces. Also, cut bangs choppy so the eyebrows can be seen coming through.
18. Thick Fringe With Layers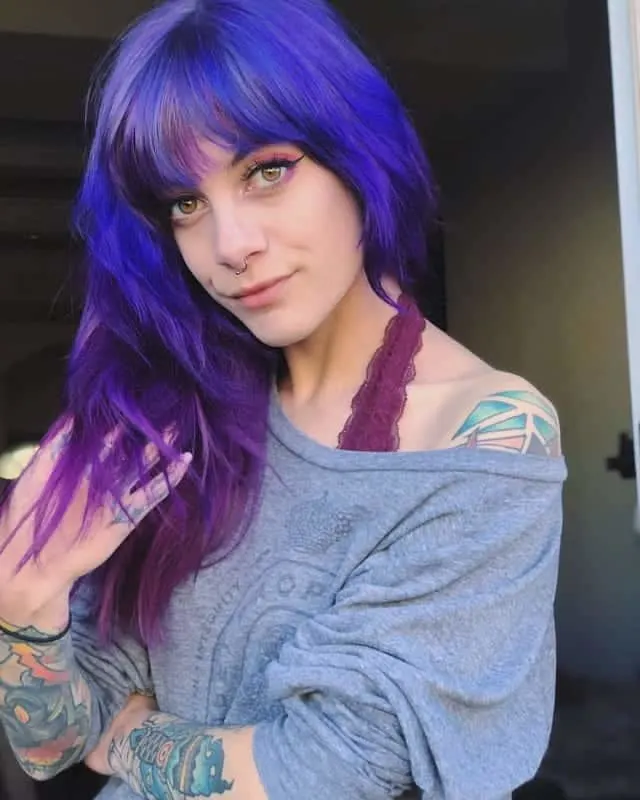 Okay, so you don't have to have electric purple hair for this style to be a winner. Regardless of your hair color, this thick fringe is gorgeous and starts rather far back on the head. To keep it from looking heavy, cut them with a razor on the bottom to open up the face.
19. Loose Curls + Long Layered Bangs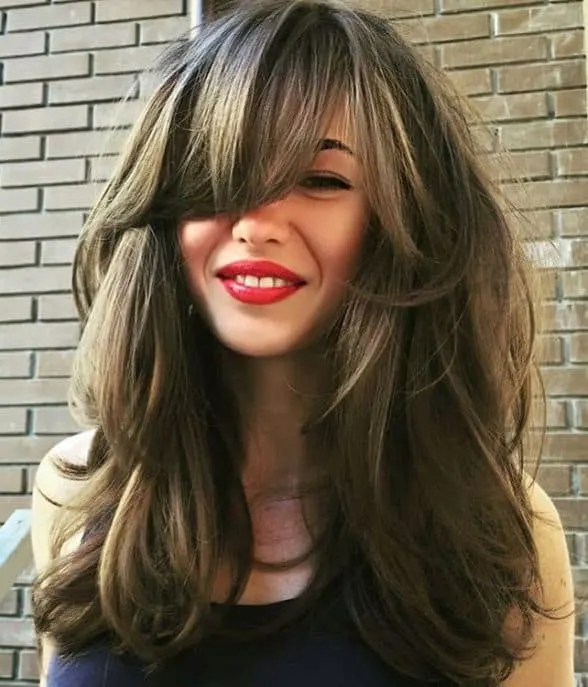 This layered bangs style is perfect for women with bushy, voluminous hair who want to wear bangs without having to alter their current hairstyle. Long bangs are flexible as they can still be pulled up into a ponytail and can be styled for a variety of occasions. You can try this on short loose curls as well.
20. Choppy Layers with Baby Bangs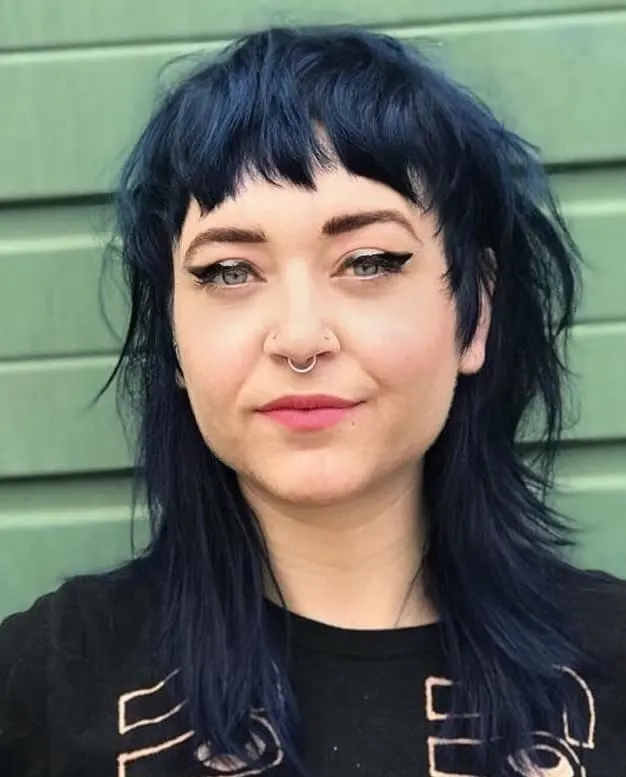 Choppy layers on baby bangs are suitable for any hair length, so long as you're craving an edgy vibe. Other layers cut throughout the hair work best with the rough cut of these bangs. They should be cut slightly longer on each side of the forehead than they are in the middle.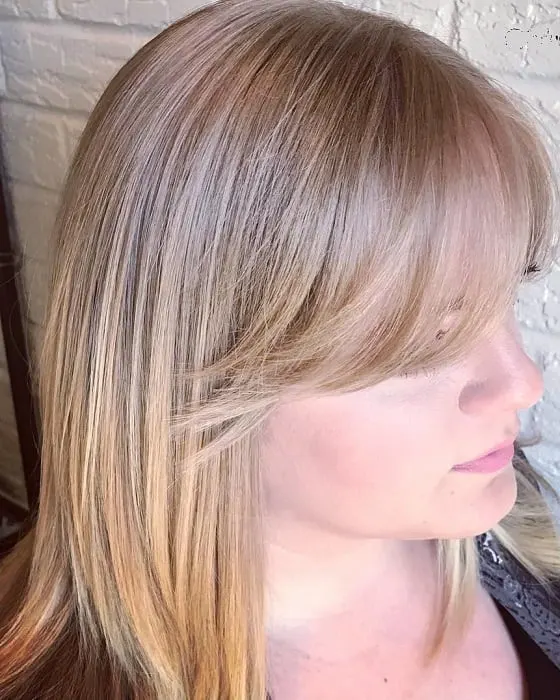 Here, the bangs are layered and styled with more precision to obtain a beautiful side swept look. This is perhaps the most versatile look on the list because it works just as well on thick, curly, or wavy hair types as it does on pin straight locks.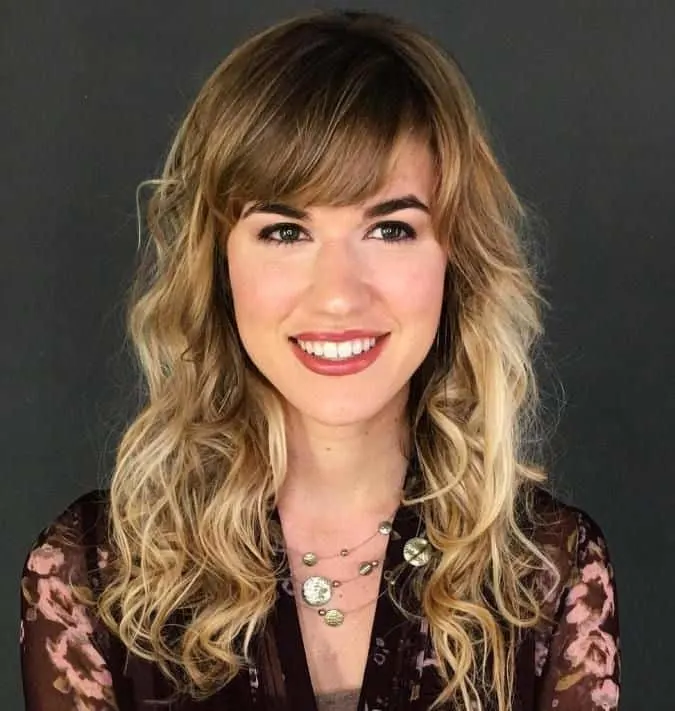 If you have perfectly tousled curls, you can cut layered bangs so that they fall softly on the forehead and accentuate your face. It's amazing how the slight part created by side bangs keeps the face shape beautifully elongated.
23. Layered Wavy Hair with Short Bangs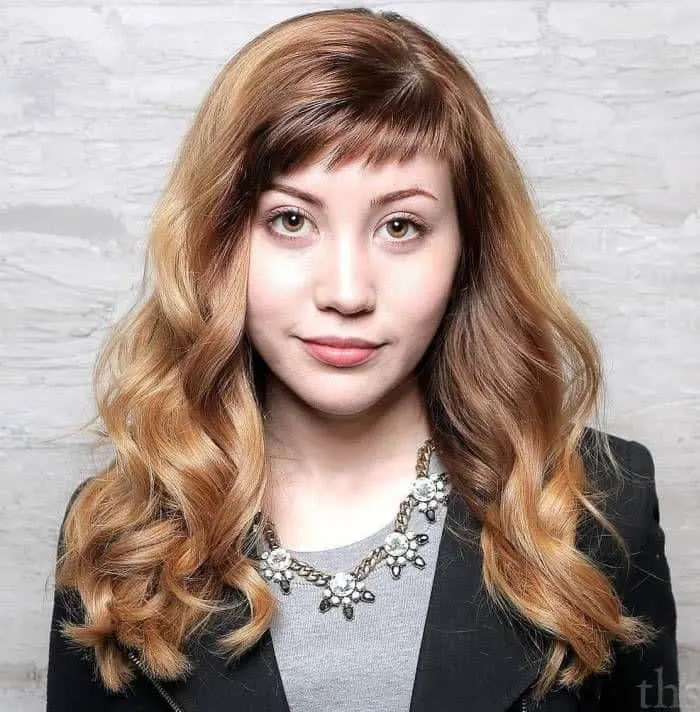 On paper, the contrast between lusciously soft curly locks and short, choppy bangs doesn't make sense, but in reality, the effect works. These bangs need to be cut short and at an angle so they move in one direction. This helps them feed into the curls.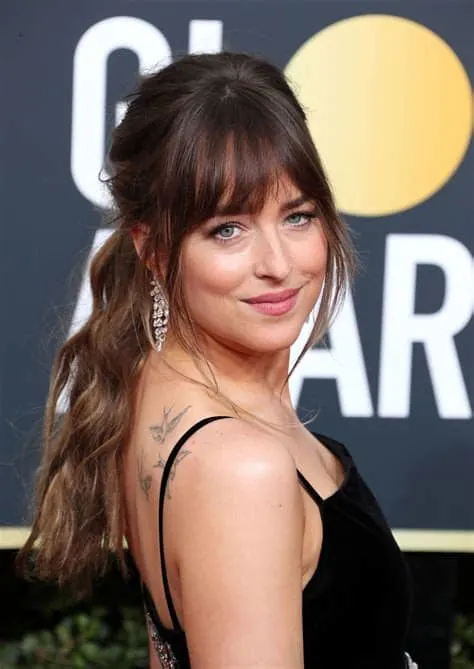 You can sport this long layered hair look every day or to events and dates. It shows off a beautiful face and gives room for your jewelry to shine. The layered bangs are lengthy and drop just above the eyes while a few wispy pieces help to frame the face.
This look is iconic as a punk hairstyle. A deep side part helps long, layered bangs sweep across the forehead. Short, choppy layers counterbalance them on the other side of the head. Wear it pretty in pink or try any color that you desire.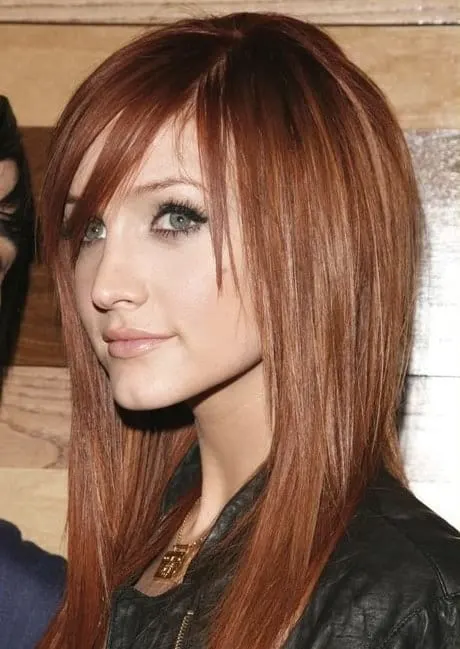 If you want an effortless, simple, yet classy look check out this straight hair and light bangs. The bangs are cut with a slight difference in length and some spread across the eyes, while others fall along the cheekbones. A side part opens the face.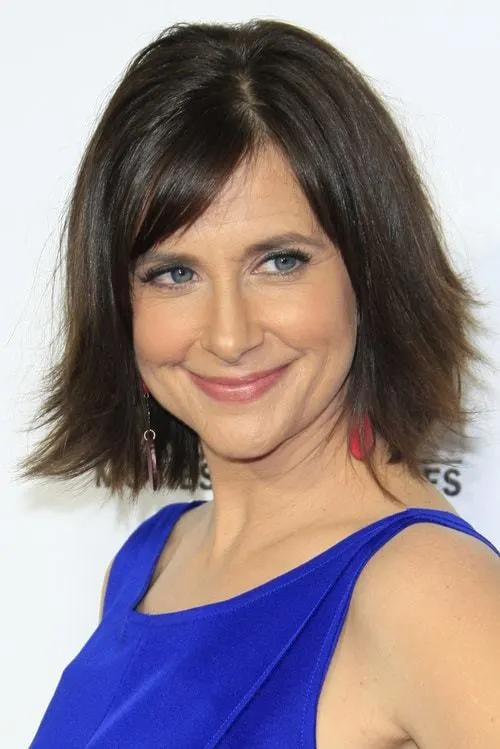 If you're thinking of going short, why not make it a little sassy? This feathered bob concentrates the layers on the lower half of the hair to highlight your jawline, while side bangs maintain the overall balance of your face shape. It works well on women of all ages, but we love it on women 50+.
28. Layered Bangs with High Pony
Creating long, layered bangs while tying the rest of the hair into a ponytail is a great way to switch things up and effectively frame your face. To make long hair with bangs a little more interesting, try a French braid style or a lovely chignon.
This unique style can be your best bet when you want to make a bold statement with both your curls and a layered fringe. Play with colors while sporting full, side-swept bangs, but honestly, this cut looks fabulous on more traditional hair colors.
This style suits short hair with curls. It is easy to style and lasts for a few days with minor touch-ups in between. There is not a hair type or face shape in the world that won't benefit from the beautiful, softening effects of light curls and sweeping side bangs like these.
Feathered Bangs Vs Layered Bangs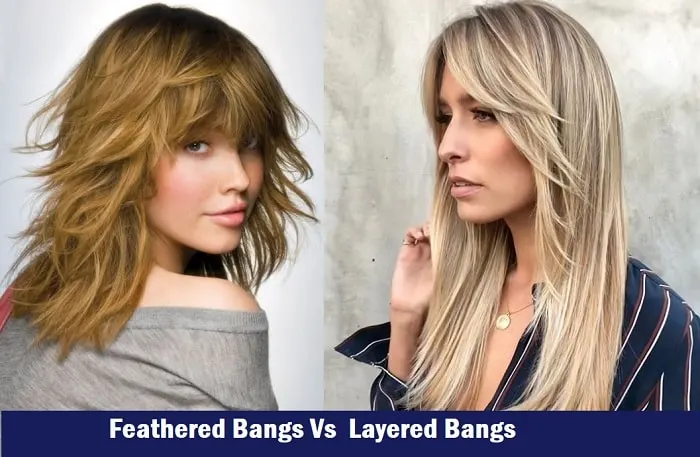 Feathered bangs and layered bangs are pretty similar. They are both stylish for women and look good on everyone. Layered bangs fall in layers that can achieve any number of effects on the overall appearance of your hair. On the other hand, Feathered bangs require more creativity with the scissors and add character to hair.
Some people prefer them because they show that a lot of effort, time, and courage have been given behind a mirror. The procedure to obtain either a feathered or layered bang is the same to some extent. It only differs when you are creating the bangs in the final step.
FAQs
Here are some of the most commonly asked questions regarding layered bangs.
Do bangs look good with layers?
Layered bangs are a great way to change your look, but keep it effortless and soft. The layers soften up the haircut and give it a sense of casualness. The good thing about layered bangs is that they work well at almost any length and on most hair types!

There are many types of bangs. Some styles do not look as good with layers. For the most part, straight-across bangs do not look as good with layers, while longer, more side-parted bangs look great with the layering technique.
Are curtain bangs and layered bangs the same?
Curtain bangs differ from layered bangs in length and style. Curtain bangs are named because they frame your face like curtains would in a home.

Curtain bangs are cut with a middle part and fall equally on either side of your face in a free-flowing fashion. Layered bangs should still be short enough to cover some of your foreheads.
Do layered bangs frame my face?
Yes, layered bangs can frame the face, but generally, a layered bang is not long enough to accurately frame the face. Curtain bangs are much more effective at face-framing.
Which hair length is suitable for layered bangs?
For layered bangs, you want your hair length to be at least to your shoulders. If the hair is longer, the layers in the bangs might not be cohesive with the way you style long hair. If the hair is too short instead of the layered bang look, you might have more of a shag haircut style.
How much do layering bangs cost?
At an average salon, layered bangs are not an expensive change up to your look. As long as you are not receiving another service, bangs should not put you back more than $50 to $100.

There are outliers to these numbers as this is an average estimate, so contact your local salon for their specific pricing.

If you choose to get a full haircut, including adding layered bangs, expect to pay more. If you add on any other treatments or coloring processes, add more money to that price for a more accurate amount you can anticipate paying.
You can create any layered bangs style at home. What you require are the right tools and bravery! Ensure the scissors are sharp and fit your hands. Stop the process, relax, and try again if your hands get shaky. It is essential to cut your hair carefully because you can't replace it once cut!
A wrong cut might force you to change your desired style. If you worry about complicated styles, then you can visit the salon for professional assistance. Remember to choose a layered bangs hairstyle that complements your facial features and represents your unique style. A stylist can help you with that. Other things to consider are your hair texture and length. Finish off these looks with a flattering dress and step out with confidence.