Fun Ways to Try Layered Bangs
1. Layered Bob with Bangs
2. Medium Layered Hair with Bangs
3. Short Layers with Bangs
4. Choppy Layers with Bangs
5. Layered Bangs for Round Face
6. Layered Pixie with Bangs
7. Asian Layered Hair with Bangs
8. Curtain Bangs with Layers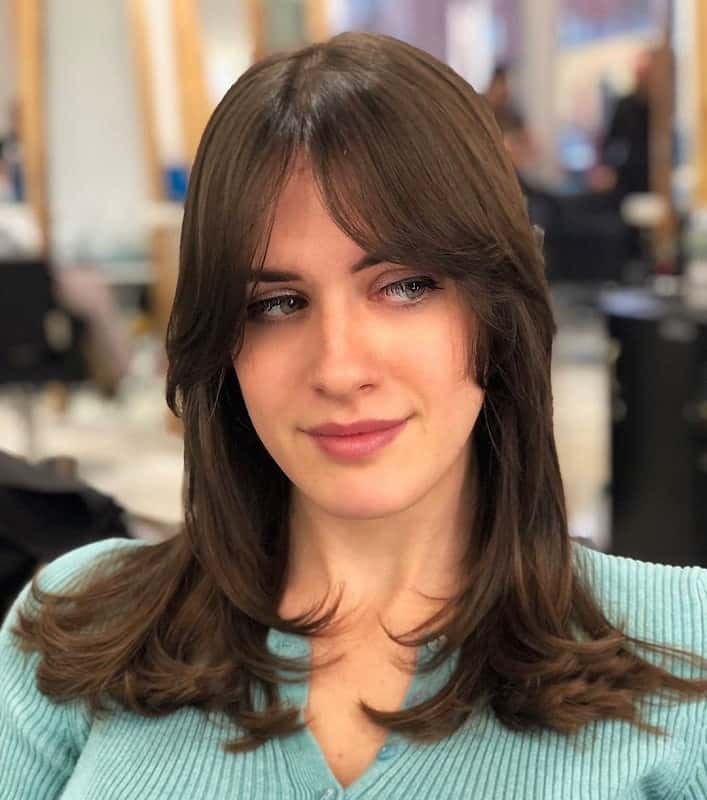 9. Layered Blonde Bangs
10. Black Girl with Layered Bangs
11. Layered Bangs for Thin Hair
12. Thick Layered Bangs
13. Layered Bangs for Over 50
14. Middle Part Layered Bangs
15. Layered Gray Hair with Bangs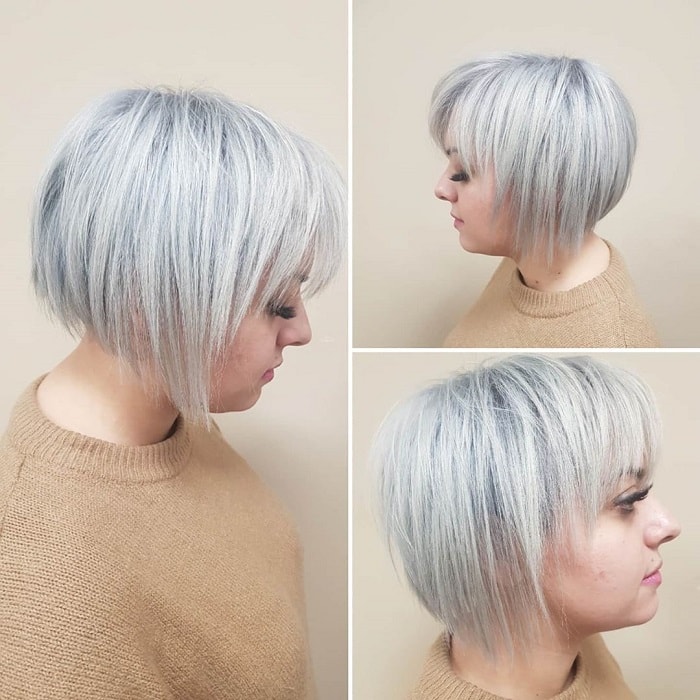 16. Layered Updo with Bangs
17. Layered Bangs with Weave
18. Emo Bangs with Layers
19. Loose Curls + Long Layered Bangs
This layered bangs style is perfect for women with bushy, voluminous hair who want to wear bangs without really altering their hair. It is flexible and the bangs can be styled in other ways. You can try this on short loose curls as well.
20. Rough Layers with Baby Bangs
Rough layers on bangs are suitable for any length of hair. It requires almost no effort to create and maintain. This messy look is unique because it looks fresh and natural.
Here the bangs are layered and styled with more precision to obtain this beautiful side swept look.
Isn't this the princess look? If you have these perfect curls, you can stretch out your layered bangs to fall softly on the forehead and accentuate your face.
23. Layered Wavy Hair with Short Bangs
Everything falls nicely in place with this layered bangs hairstyle. The bangs are cut very short across the forehead to compliment the long wavy hair.
You can sport this long layered hair look every day or to events and dates. It shows off everything about the face and still gives room for your jewelry to shine. The layered bangs are lengthy and drop just above the eyes.
This is a simple but stylish look. The hair is lightly dyed pink and the bangs are layered to frame the face across the forehead.
If you want an effortless, simple, yet classy look check out this straight hair and light bangs. The bangs are cut with a slight difference in length and some spread across the eyes, while others drop by the side.
It is not always a great idea to create an outrageous and unusual haircut. The simple medium length hair with layered side swept bangs does the job for many women. This haircut is outright cute and requires little maintenance.
28. Layered Bangs with High Pony
Straight hair needs experimenting. Making long layered bangs while tying the rest of the hair into a ponytail is a great way to bring some changes to the style. Bangs will just add the ponytail some character. Adding some unusual color will make long hair with bangs look very interesting.
When you want to make a statement with both your curls and layered bangs, this unique style can be your best bet. Play with colors while sporting full, side swept bangs.
This style suits short hair with curls. It is easy to style and keep beautiful for as long as you want. The bangs are almost the same length as the hair. They rest softly on the face and frame your looks in an elegant way.
Feathered Bangs Vs Layered Bangs
Feathered bangs and layered bangs are quite similar. They are both stylish for women and look good on everyone. Layered bangs fall in layers that accentuate your looks. Feathered bangs, on the other hand, require more creativity with the scissors. They give character and a bold look.
Some people prefer them because they show that a lot of effort, time, and courage has been applied behind a mirror. The procedure to obtain either a feathered bang or a layered bang are the same to some extent. It only differs when you are creating the bangs in the final step.
You can create any layered bangs style at home. What you require are the right tools and bravery! Ensure the scissors are sharp and fit your hands. If your hands get shaky, stop the process, relax and try again. It is important to cut your hair carefully because it can't be replaced after that.
A wrong cut might force you to change your desired style. If you worry about complicated styles, then you can visit the salon for professional assistance. Remember to choose a layered bangs hairstyle that complements your facial features and represents your unique style. Other things to consider are your hair texture and length. Finish off these looks with a flattering dress and step out with confidence.