Want to go platinum blonde bob overnight and try to get the ultimate results? Women who love elegant and shorter hairstyles will love this blonde bob variation.
How to Get Platinum Blonde Bob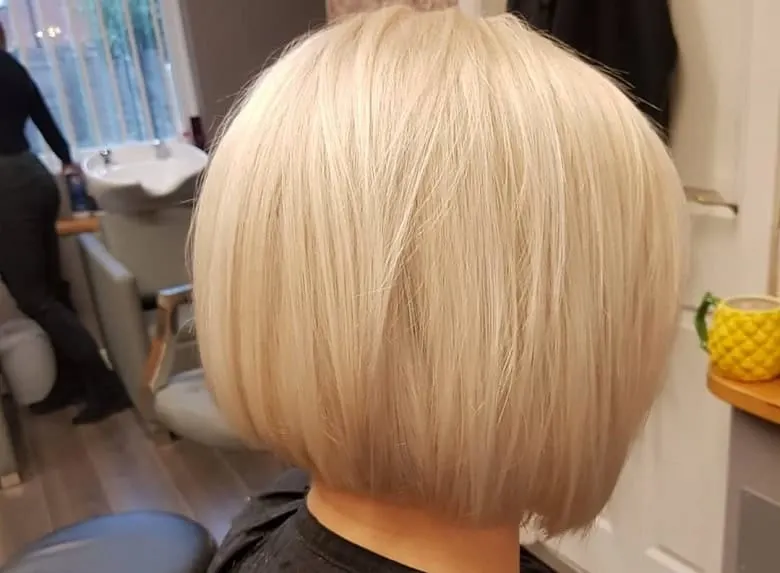 Step 1: In case you already have some hair dye on top you will need to have it stripped before you become a blonde bombshell. Many hair experts recommend using a hair color remover to remove any previously applied dye.
Also, your hair shouldn't be colored or bleached whatsoever in the last 6-month period if you are trying to get the best results.
Step 2: If your hair is currently dark brown or even black know that you will need to have a mind of steel, patience, and will need to redo the process over and over again.
In case your hair is too dark, rather go to the salon and let them take care of you for your first platinum hair experience. However, if it is more on a lighter side, you will successfully do the process on your own with a box of dye.
Step 3: Grab a bottle of bleach and lighten your strands. Work in sections little by little with your proper tools. Also, watch out for your chosen hair-dyes undertone.
If you prefer icy blondes make sure you purchase the right box. If you prefer ashy blondes read the description on your box of dye to know what color you can expect to get once you apply it onto your strands.
Step 4: Use a toner to eliminate any yellow or orange hues from your hair to end up with the ultimate platinum blonde hair color.
After the entire process is over, some parts of your hair may be damaged, which is why you should cut them. This is where this bob cut comes in handy!
Step 5: Cut your hair to a mid-shoulder length and embrace a platinum blonde bob haircut. A bob cut can be messy and not as precise if you want to embrace its curly and frizzy texture, or you can cut it straight and enjoy a defined outcome.
Fabulous Short Platinum Blonde Hairstyles for Women
Watch The Following Video to Learn How to Do Platinum Bob Haircut
Latest Platinum Blonde Bob Hairstyles
The following are the topmost and sassiest platinum blonde bobs for women to explore.
1. Parisian Haircut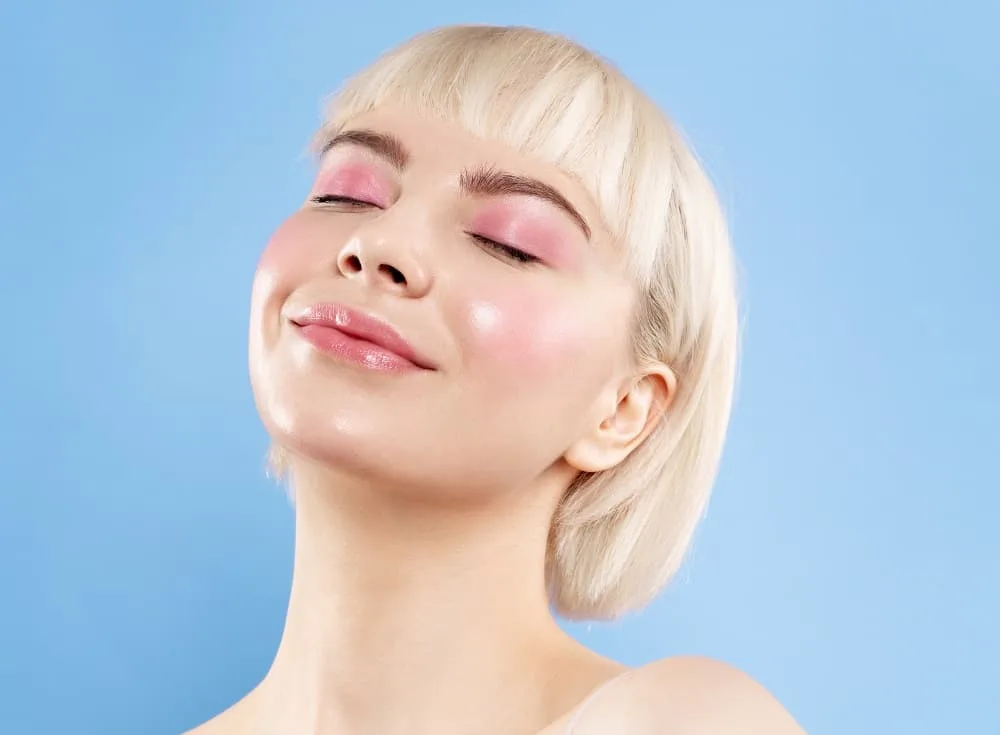 The Parisian women's cut has stood the test of time and looks effortlessly classy. Chop the platinum hair at chin length and couple it with micro bangs falling on the forehead just above the eyebrows. This chic style is ideal for a straight hair texture.
2. Carefree Curls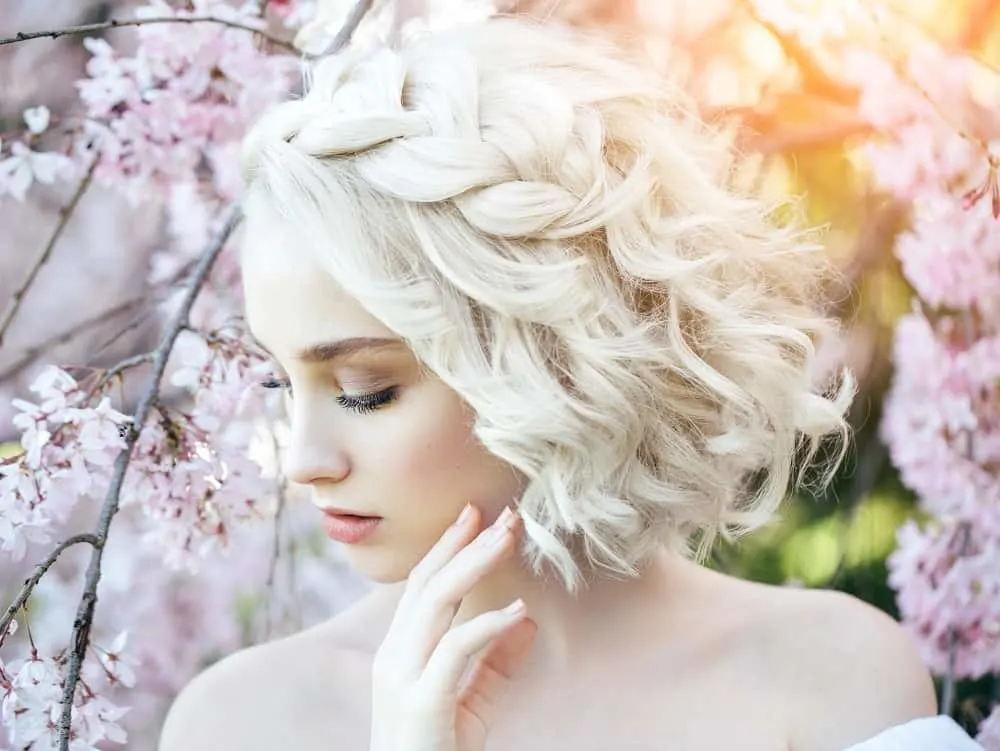 Try out this cute platinum blonde bob look next time by adding curls to the icy strands. Complete the style by side tousling the hair and plaiting the front chunks in a braid resembling a headband. This hairstyle looks perfect with off-shoulder dresses.
3. Sassy Pixie Bob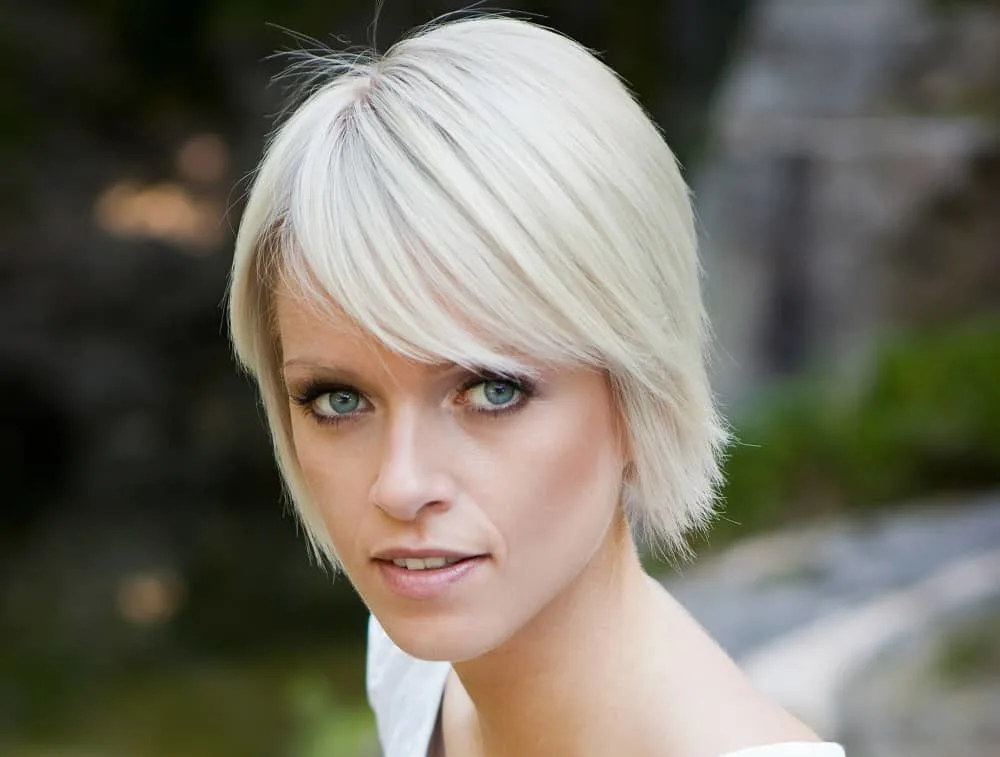 Flaunt your jawline by coupling the lightest shade of blonde with a sleek pixie bob haircut. This cut features a short top and back with longer sides. The eyebrow-skimming bangs swept on one side add up to this sassy style.
4. Slicked Back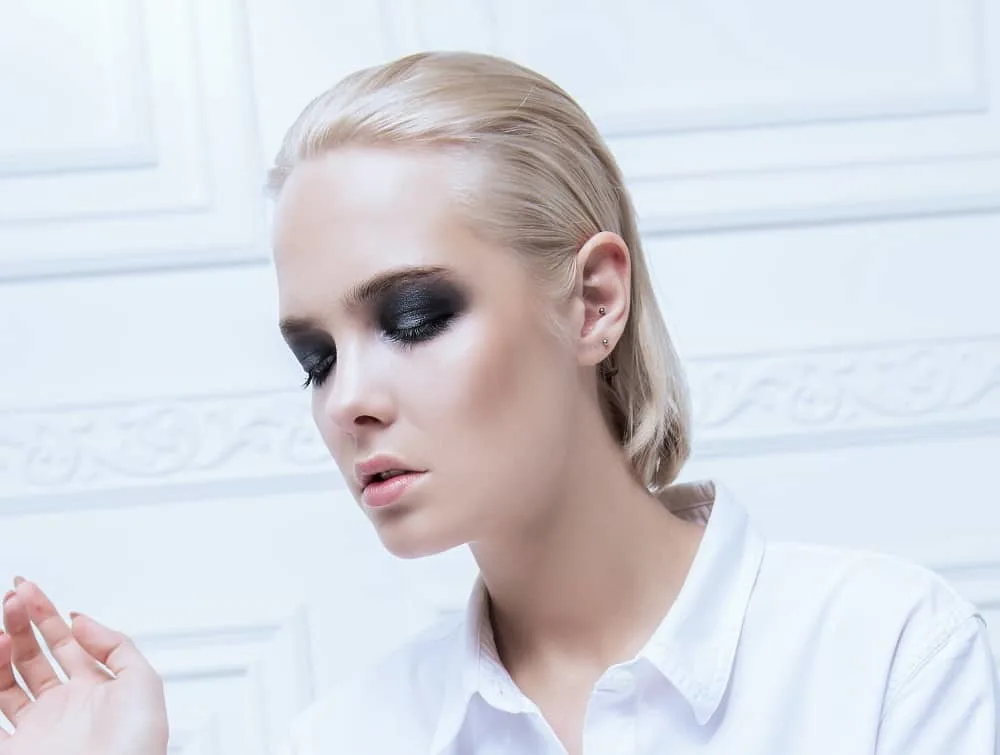 The wet hair look has been trending for some time and looks perfect on a short bob. Use pomade to slick back the platinum blonde strands keeping them in place the entire day. This bold hairstyle is suitable for formal and informal events.
5. A-Line + Blunt Bangs
Go for a drastic hair change by dying the hair in an icy platinum hue and chopping it into an A-Line bob with blunt bangs covering the forehead. Ladies with naturally thick hair can recreate this style exactly.
6. Romantic Vibes
Instead of opting for a cooler tone of platinum blonde consider this warmer tone that adds a subtle glow to the face. The bouncy curls at the ends of the middle-parted hair sit on the shoulders flawlessly while giving off romantic vibes.
7. Side-Tousled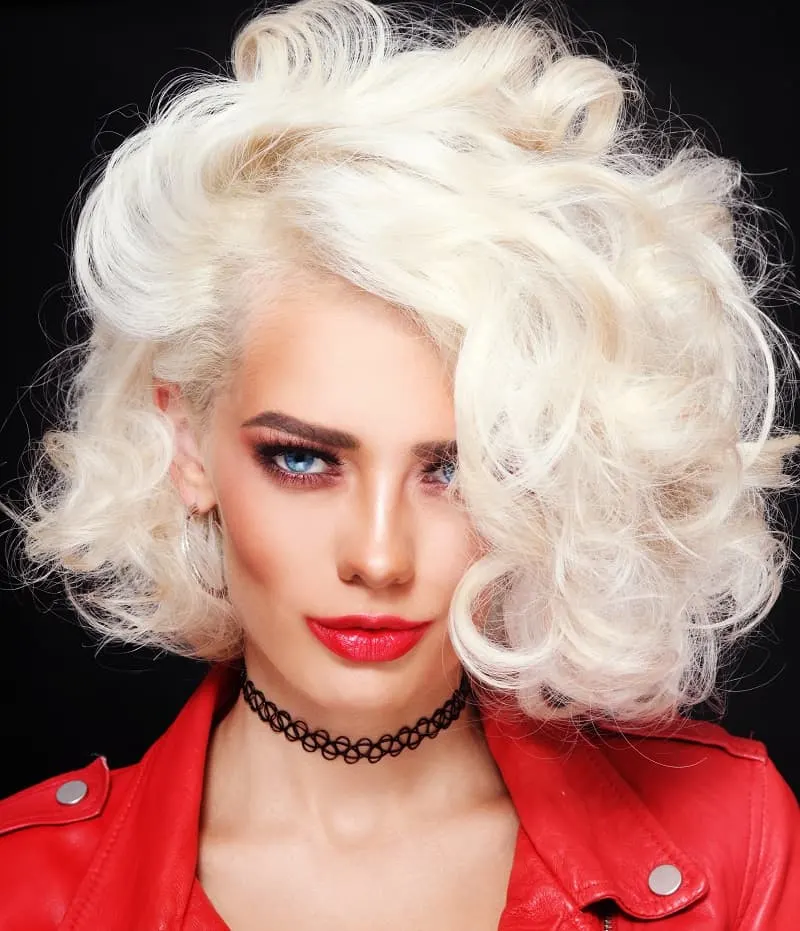 This teased fluffy bob reminds of the 80's hair fashion. The bouncy curls add a lot of volume to the hair which is side-tousled for an undone look. This hairstyle is low-maintenance as the messier it gets the better it looks.
8. Asymmetrical Bob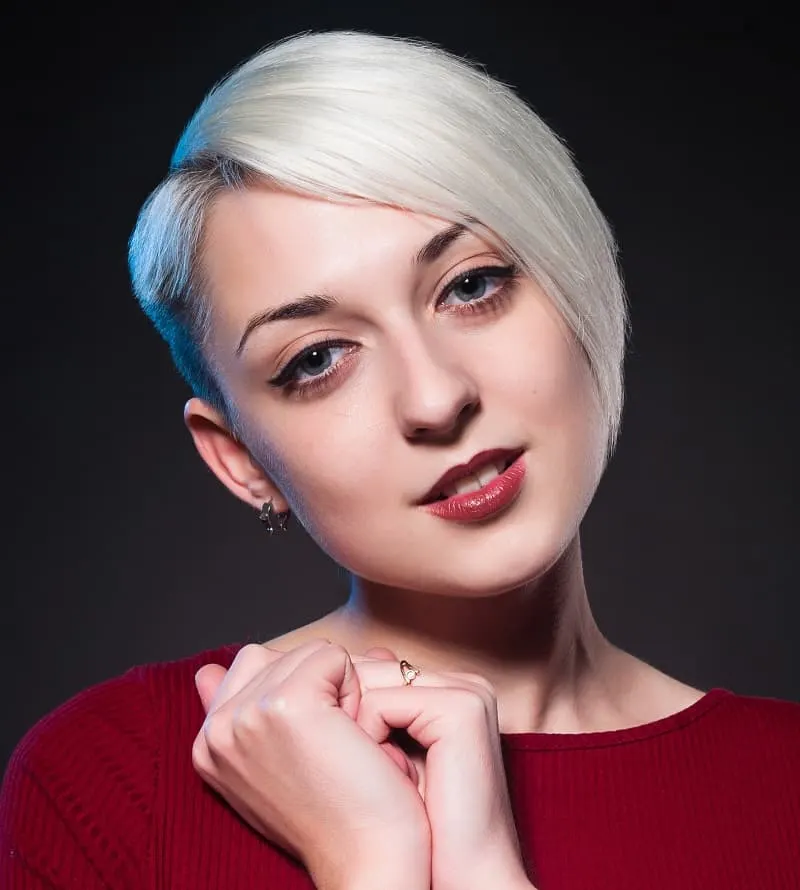 Spice up your look by rocking an asymmetrical haircut. Ask the hairstylist to buzz one side making it stand against the longer side-swept fringe falling on the opposite side of the face. Top off by dying the hair in a cool platinum hue.
9. Ruffled Layers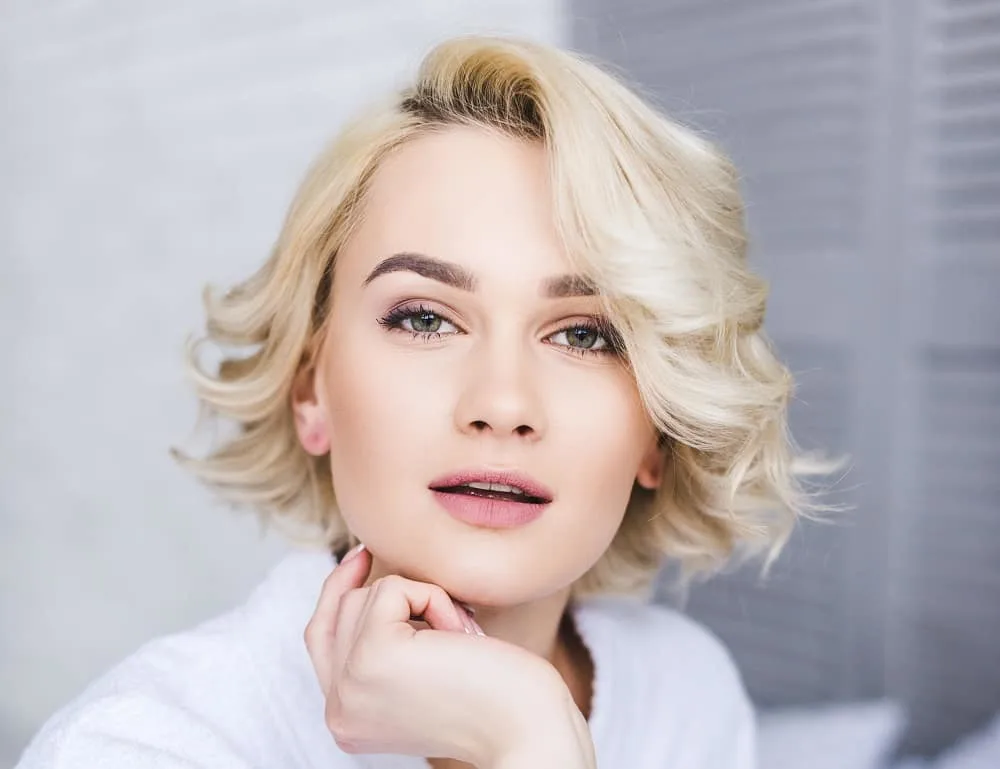 This layered short haircut is among the latest platinum blonde bob hairstyles trending in 2023. The layering starts near the eyebrows and continues along the length. Finish off the look by adding curls to the side-swept mane for a dreamy appeal.
10. Contrasting Appeal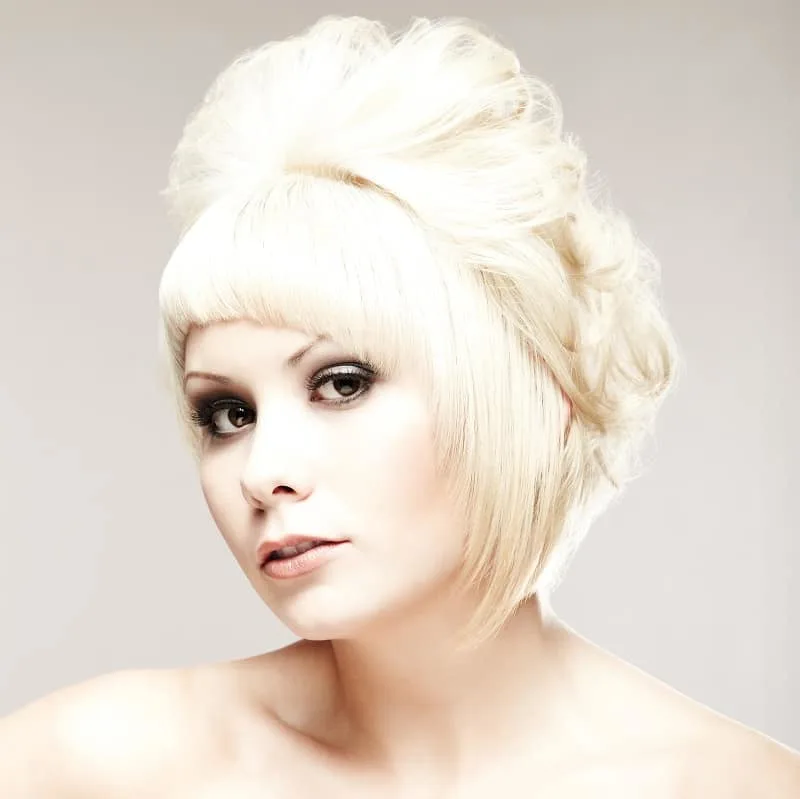 Those who like to experiment with bold hair looks can copy this hairstyle on their blonde bob which features a face-framing fringe that is shortest in the middle and continues to get longer when moving outward. The remaining hair is teased and curled to contrast with the sleek front.
This platinum bob hairstyle is ideal for younger women. It is fun, playful, and an amazing go-to for your everyday situations.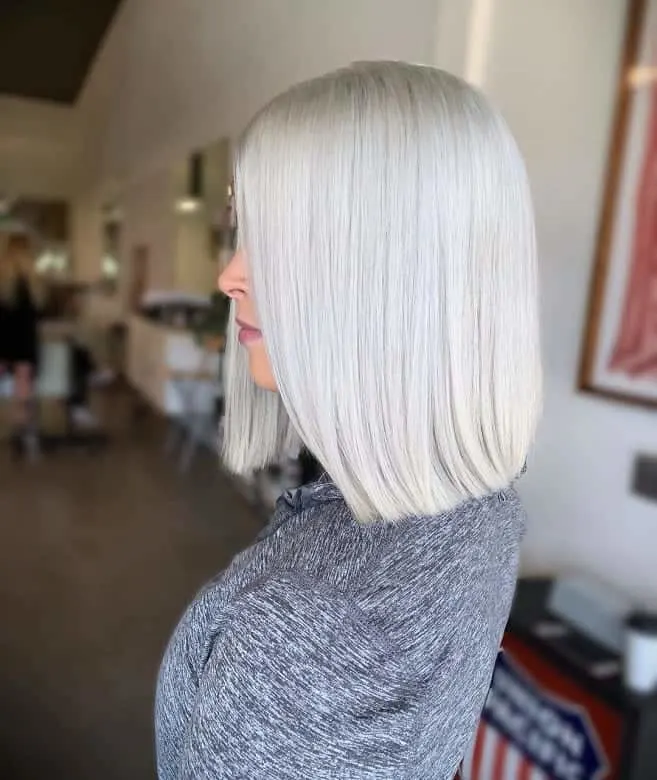 If you don't love to wear a lot of makeup let your platinum lob speak for itself and wear it as your main accessory! This hairstyle can look great with just a bit of mascara, and some lip gloss.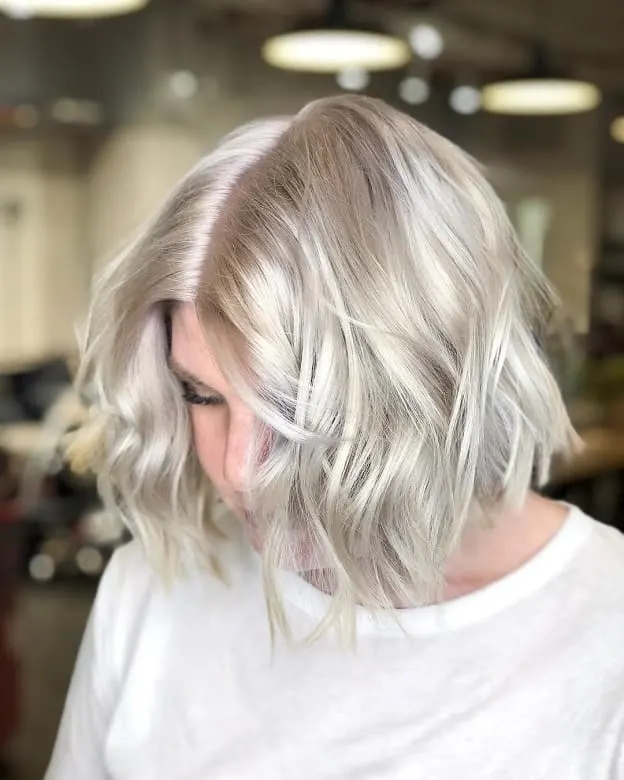 Rita Ora is rocking this feminine & beautiful look for the Red Carpet, which means that you can wear it to your big events, such as proms or weddings. Simply pair this platinum blonde bob up with a bold red lip and you will look like a star!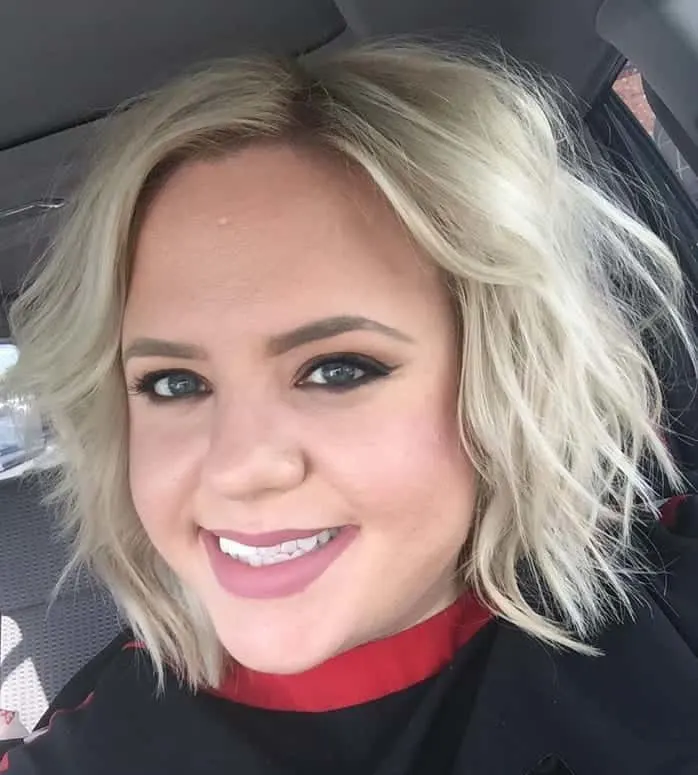 This messy shorter bob on platinum blonde hair is ideal for women who prefer simplicity and who are low-maintenance. Older women and workaholic women will definitely enjoy this look.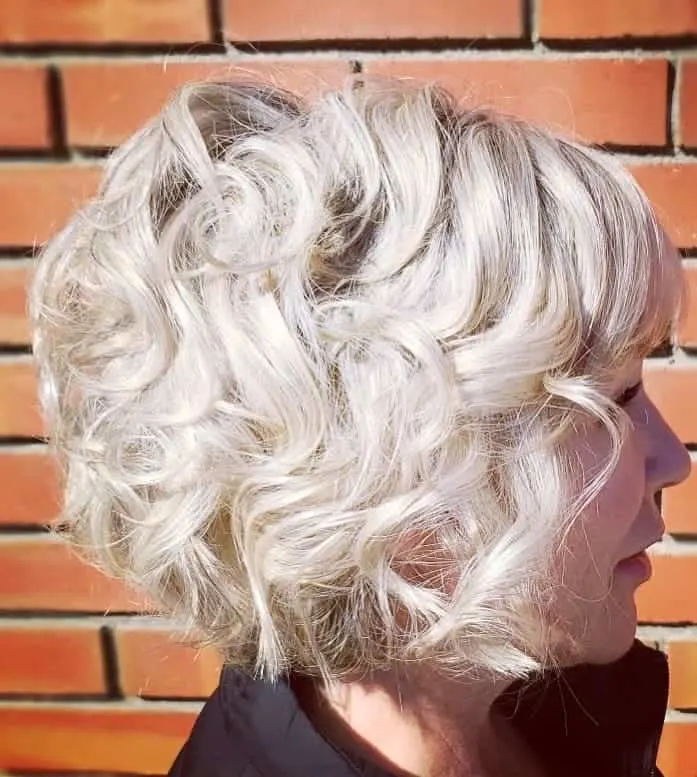 If you have 10-15 minutes which you can spare each morning to get these curls, by all means, do it! You will be left with long-lasting short curls and a beautiful icy platinum blonde bob hairdo.
If you end up wearing your bob on the side you will emphasize your facial features. Women who want to make their eyes, lips & their nose pop will love this platinum bob look.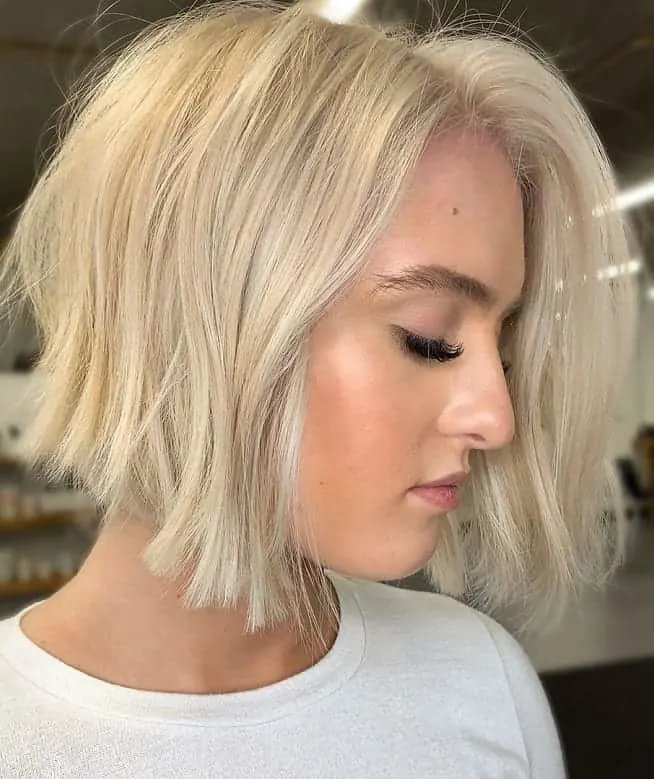 If you prefer fluffy & wavy looks know that a platinum blonde bob will look chic on you. This one is ideal for younger women and those who love shorter hairstyles.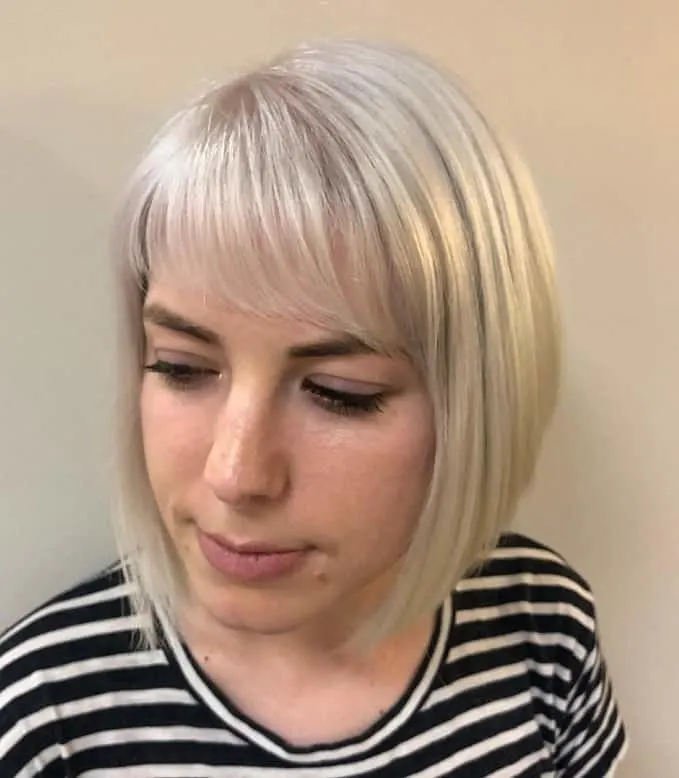 If you want to feel like an Instagram model. make sure you get a pair of bangs to round up your bob with platinum blonde hair look. This one is a bit more maintenance, but it looks great on those who don't mind blow-drying their bangs each morning.
Platinum blonde bob may not be something that every woman can achieve overnight, but it is manageable for most of light-colored or virgin hair types. If you fell in love with any of these hairstyles make sure you embrace one sometimes soon since it is so chic & flawless.