If you have a long or oval face, and you are out of hairstyling ideas, thick bangs are just the thing you need. They are versatile and can vary in length, and they can even be swept on one side, it's up to you. Besides, this thick fringe looks good with any hair color, long or short hair!
Straight, thick bangs tend to make your cheekbones look more prominent, so this gorgeous hairstyle might not be the option for you if you have a rounded face.
Also, if you have curly or wavy hair, you will need to invest time in this hairdo because straightening or taming it is a must. Before getting these thick bangs, make sure they suit you.
Thick Bangs
In the images below, you will find the best ideas for thick bangs, and we encourage you to write to us in the comment section which is your favorite hairstyle.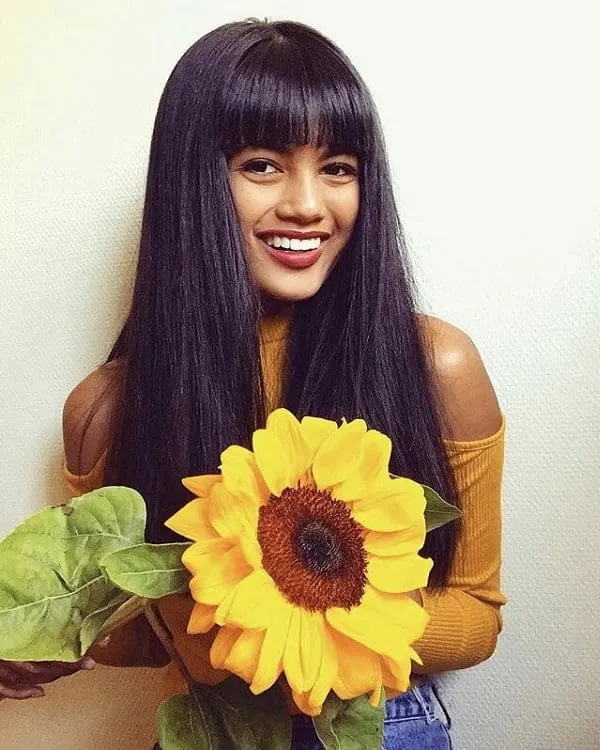 Black hair and thick bangs go hand in hand because they give your face such a nice framing. If you have long hair, go for a straight cut, just above the eyes, and consider getting a hair glaze that will make your hair shiny and glossy.
2. Thick Medium Hair with Bangs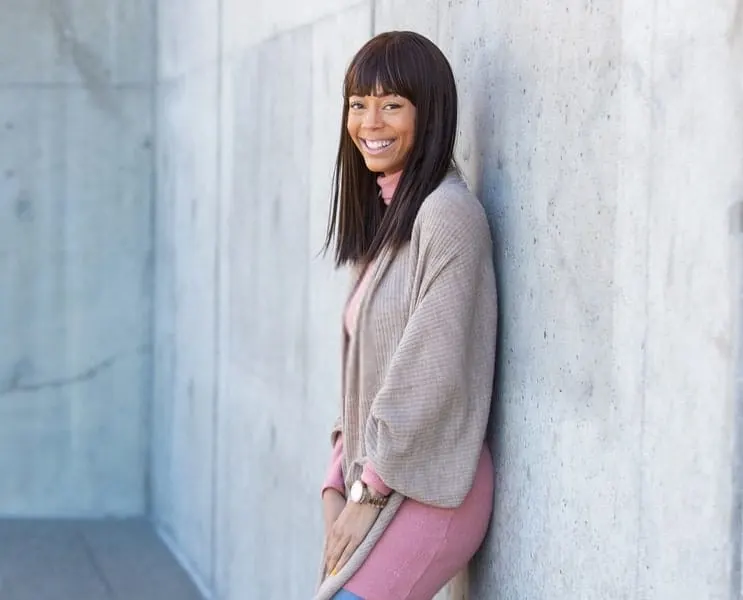 When you have a long face, thick straight bangs that start from the top of your head and cover the eyebrows will work their magic and totally transform your physiognomy. Opt for a beautiful brown color and a cut that goes over the shoulders.
3. Short Thick Hair with Bangs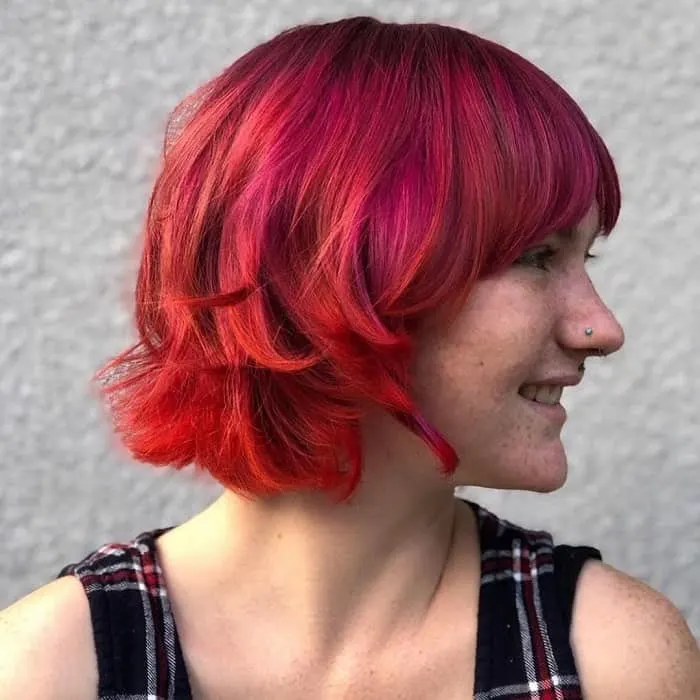 Every time you want a look that is out of the ordinary, get a layered bob with rounded bangs. The color is also very important because a pink-red ombre will make you stand out in any crowd.
4. Thick Side Bangs
A long inverted bob is ideal for thick hair. Get a modern hairstyle by making short thick bangs that go on one side. They will cover only half of the forehead and the outcome will be a fresh and chic new look.
5. Thick Curls with Bangs
If you have naturally curly hair, short choppy bangs that go above the eyebrows will make you look so trendy. But every good thing comes with a downside, so straightening the bangs every day is not optional.
6. Thick Bangs for Round Face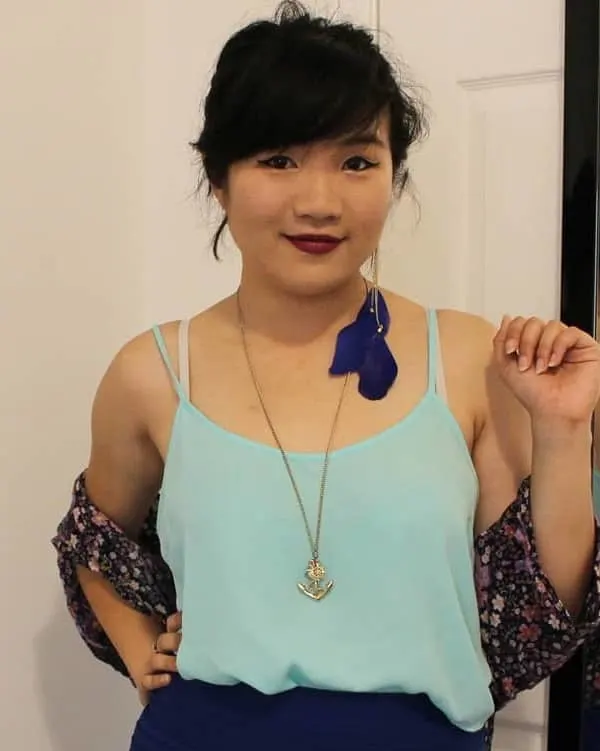 When you have a rounded face, you need to avoid the straight cut for the bangs and go for something more relaxed, layered and swept on one side. This way, you will not highlight the cheekbones, and your face will look thinner.
7. Bob Haircut + Thick Bangs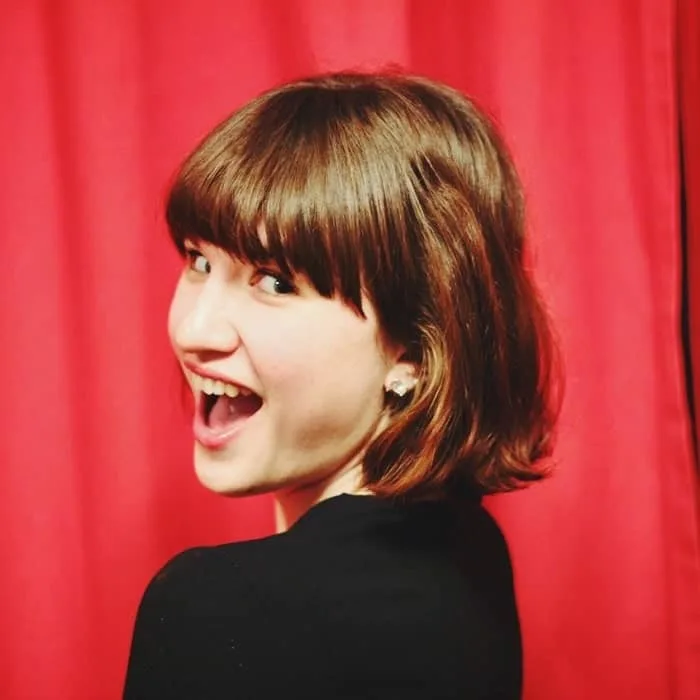 Bob haircuts and thick bangs are best friends and you can observe this in the image above. To recreate this look, cut the bangs longer on sides a get a straight cut for the bob.
8. Thick Pixie Cut with Bangs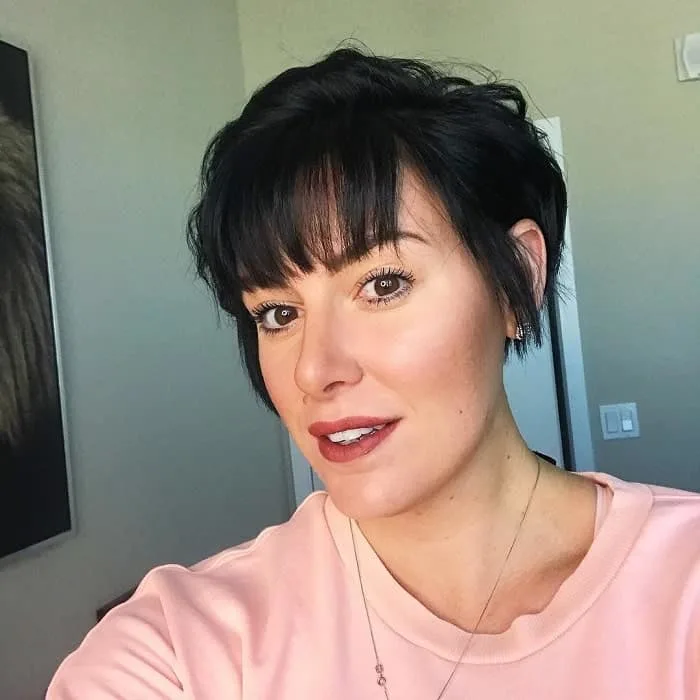 Pixie cuts are modern, chick, and fabulously work with bangs. Even if they are side-swept or straight, covering the forehead, they can totally improve your whole look.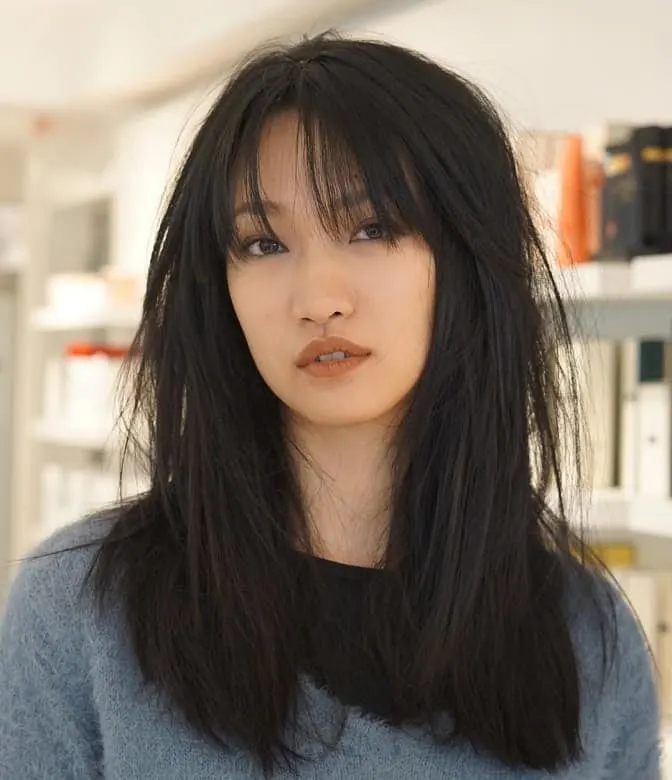 Don't play the victim game with your thick, voluminous hair. Try to lift up your mood and change your hair game with these fashionable, flawless full bangs for thick hair. This long straight hairstyle with bangs is enough to make you feel cool, confident and determined.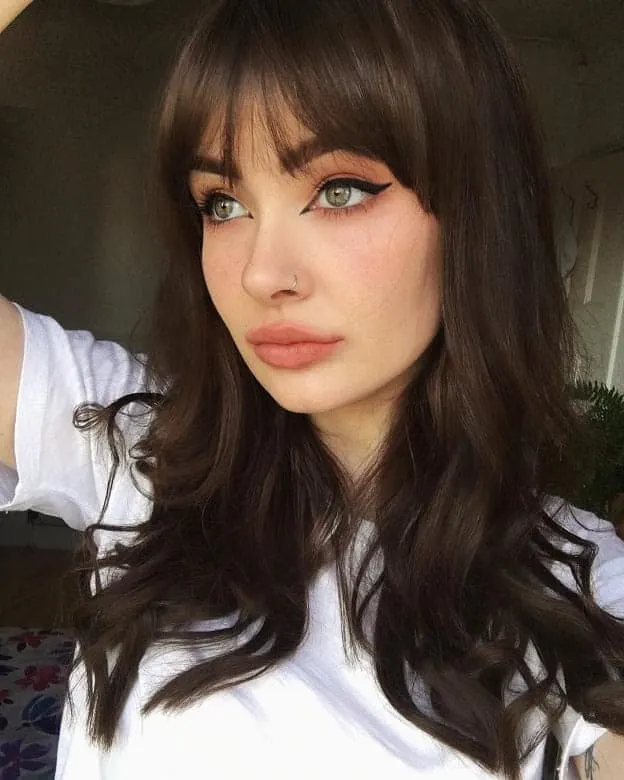 Here's the most popular hairstyle of 2023. The trendy and ever-so-gorgeous curtain Bangs. This thick bangs haircut is ideal for long hair and super easy to maintain as it softens and enhances facial features and is suitable for all face cuts.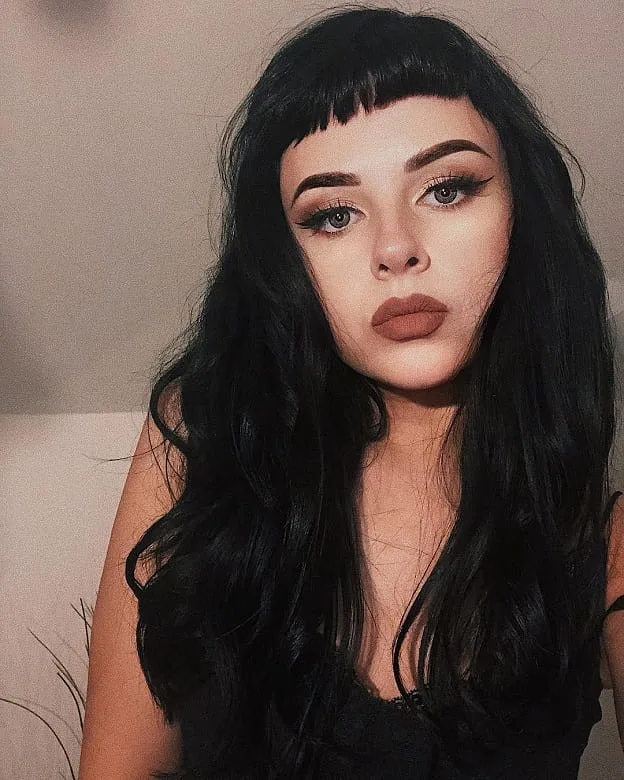 Go a little edgy yet super soft with these vintage-inspired, short and blunt baby bangs. These are super-chic bangs for thick hair with retro vibes to adopt this season. If you're way too scared to pull off the baby bangs, you can fake it with faux bangs to rock the look as it adds a sense of originality and simplicity.
Short loose curls with a sleek and smooth finish combined with wavy bangs are to die for. You can achieve this hairstyle by simply making big curls using a curling iron, for a more intense and dramatic look, keep your fringe above eye level, and folded on the side for the perfect looking thick bangs hairstyle.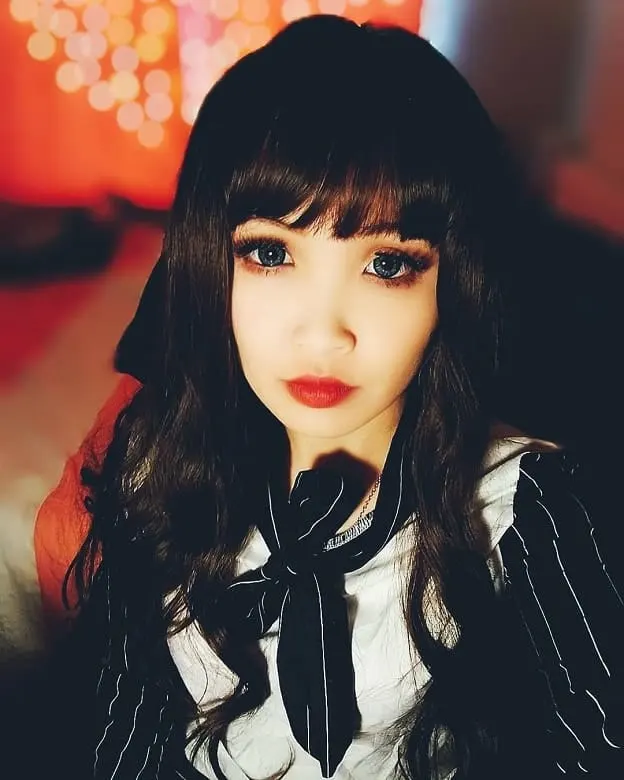 Loose waves give life to your thick bangs with long hair, giving the impression of hard hairstyles with extra volume and thickness. Soft and loose waves are ideal for thick hair as they control the thickness of your locks with blunt bangs framing the face.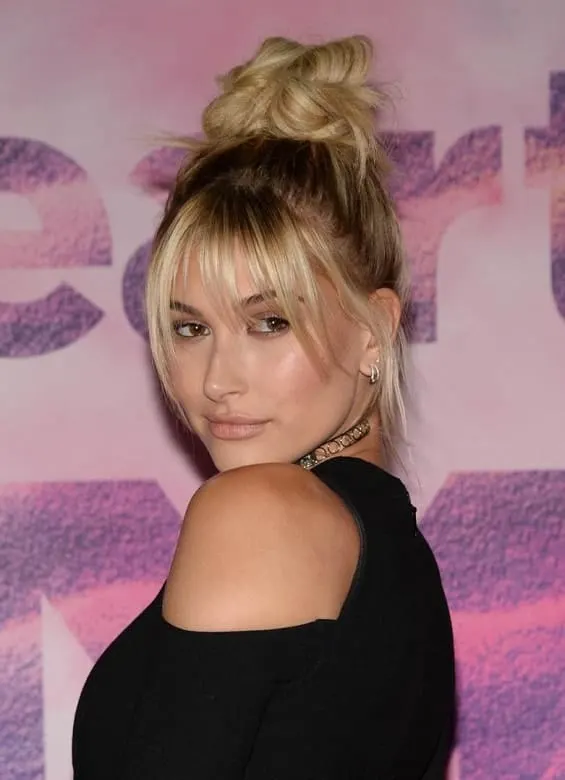 Long bangs hairstyles look super alluring and add grandeur to any look. These bangs with a bun can be the best choice for thick hair. Sided fringed one right with loose strands will enhance your facial features; jawline, eyes, and lips.
You can rock the thick bangs style with bold makeup, soft blush and a popping highlighter for a chic yet elegant look.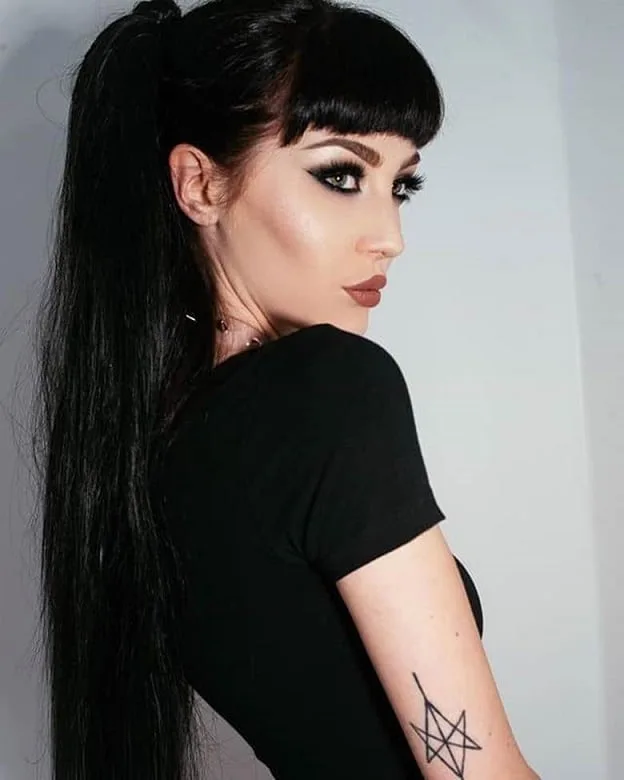 The long ponytail with fringes can serve as the sassiest, coolest, and most impressive hairstyle with bangs for thick hair. This hairstyle makes your jawline pop. Rock it with some bold lips and dramatic eyeliner to add extra glamour and charisma to your personality.
Wispy bangs are face-framing, soft and subtle bangs achieved by a very special styling technique called SHEARING. This technique is done by using the sharp sides of scissors turned vertically upward, slowing clipping off the hair at the ends. This creates a flowing frame of mane around your face and neck. Wispy bangs add definition to your cheekbones and balance the symmetry of your overall face.
If you're planning for a nice, clean haircut, the time is NOW. Bangs have been an impactful part of the glamour world for ages. Bangs with thick hair look super chic and cute when done right.
Just choose a fringe that matches your personality and you're good to go. Do not underestimate the power of a good hairstylist while making the right choice for your hair.
Frequently Asked Questions
What are thick bangs called?
Another term for it is heavy bangs. Many bang styles work as thick bangs, such as side bangs or blunt bangs.
Can I make my thick bangs thinner?
Yes, you can thin out your thick bangs with hair scissors. The easiest way to thin out your bangs is to use thinning shears, scissors designed especially for thinning your hair. If you don't have thinning shears, you can use regular hair scissors to cut upwards into your bangs and remove excess density.
Are curtain bangs good for thick hair?
Yes, curtain bangs are flattering on thick hair. As long as you properly blend the curtain bangs into the rest of your hair length, they can help your hair look voluminous and luxurious. With thick hair, your curtain bangs will flow nicely and have an attractive wave.
Should I go for thick or thin bangs?
Thick and thin bangs both look nice. If you have thin hair, avoid getting too heavy bangs, as this will reduce your overall volume. If you have extremely thick hair and want thinner bangs, ensure you blend the length smoothly into the rest of your hair – otherwise, it could look choppy.
Which bangs type is perfect for thick hair?
Well, that shouldn't be a problem now, as we have got it all sorted out for you. If you have luscious, voluminous, thick hair, blunt bangs are your best friend as they accentuate any face-cut.
What are the differences between wispy and choppy bangs?
No, they are not. Choppy bangs are bold and used to give a voluminous effect, definition, and texture to your hair. This is a modern hairstyle and looks Uber-chic with some time-to-time maintenance.

Choppy bangs do wonders for people with thin, super straight hair by giving your hair a voluminous, luscious, thicker and fuller effect.
Trending Topics