If you're on the hunt for that perfect summer hairstyle, long box braids make for the perfect choice. Not only do they protect the natural hair while it's growing out, they'll also keep you rocking major style for the four to six weeks that they last.
Box Braids for Long Hair
Take a look at these 31 styles of long box braids, any of which will look amazing on you.
1. Long Small Box Braids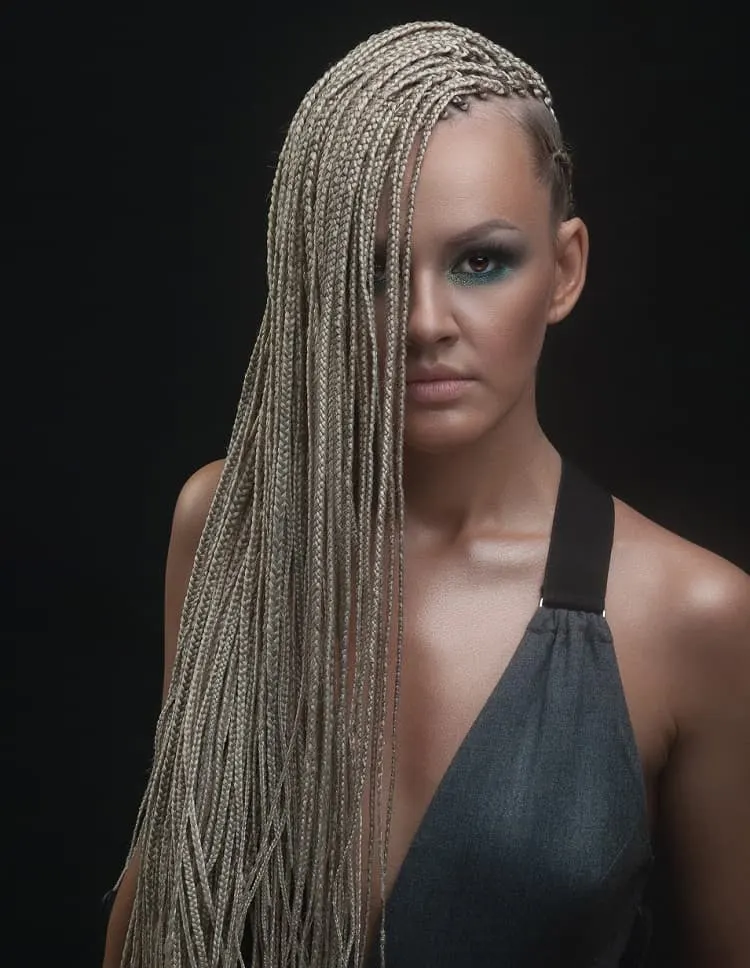 Ask for lots of tiny box braids that come past the shoulders or meet the waist to instantly feel glam. Start them at a heavy part to make a dramatic stye easy to create in the morning with just a flip of the braids.
2. Medium Sized Long Box Braids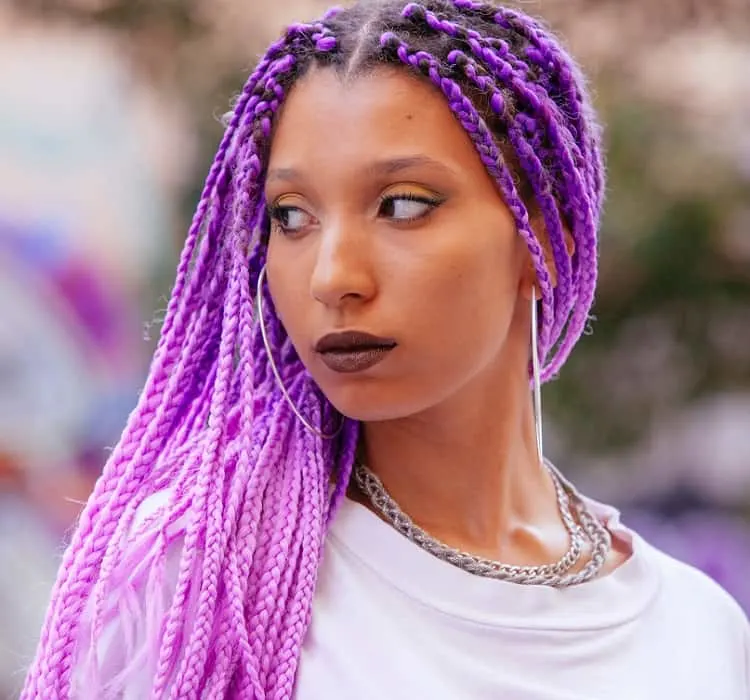 As if long box braids aren't already beautiful on their own, when a lavender is added, the style is instantly more gorgeous. The color also flatters dark skin tones.
3. Long Jumbo Box Braids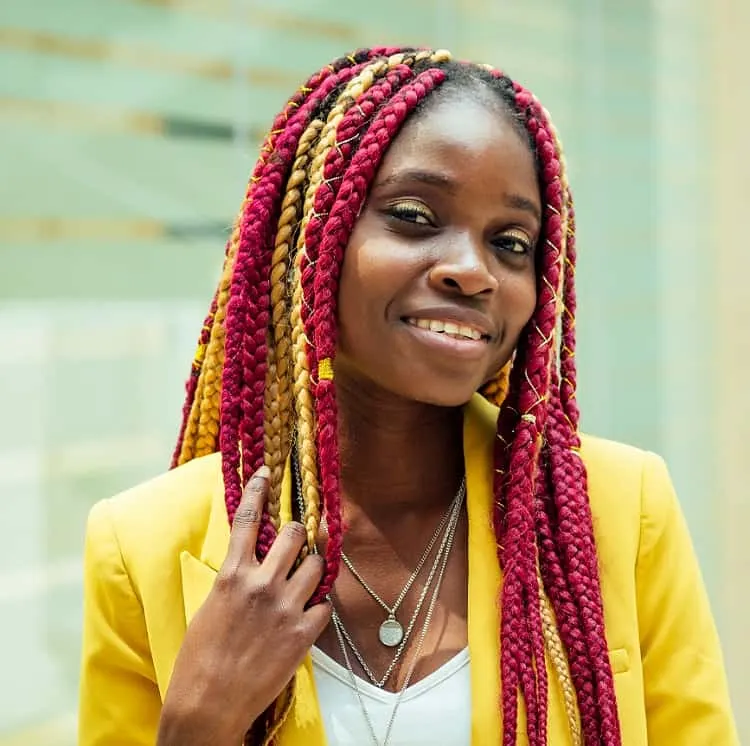 When you're short on time, jumbo box braids will help you get out of the chair quicker. Alternate burgundy and gold on your box braids and wrap a few braids in elastic for extra pizzazz.
4. Long Ombre Box Braids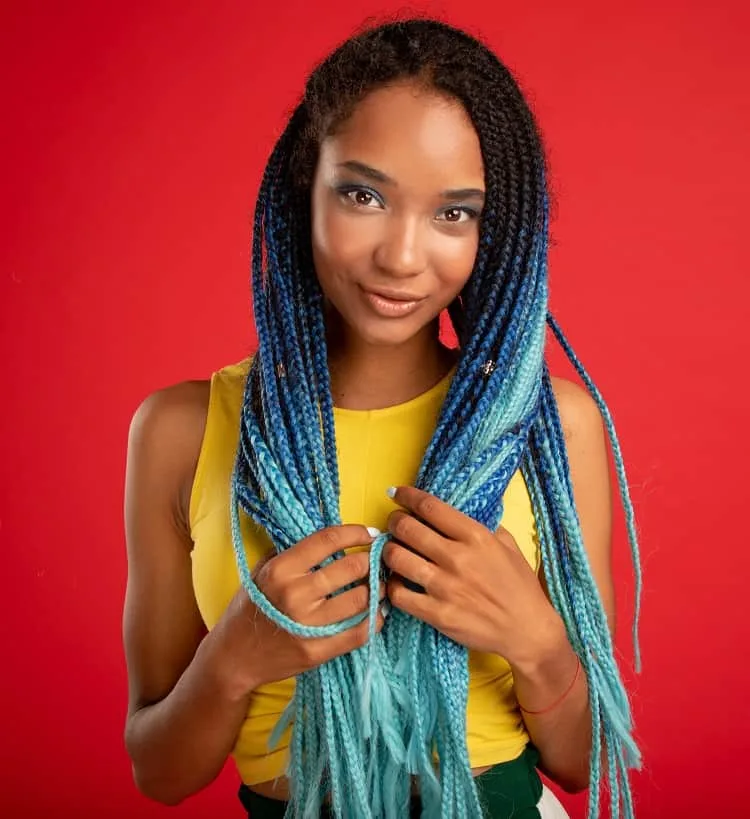 Not ready for full-on color? Keep your roots to the mid-shaft black but dress up the ends with a fun color, like this blend of light and dark blue ombre.
5. Long Brown Box Braids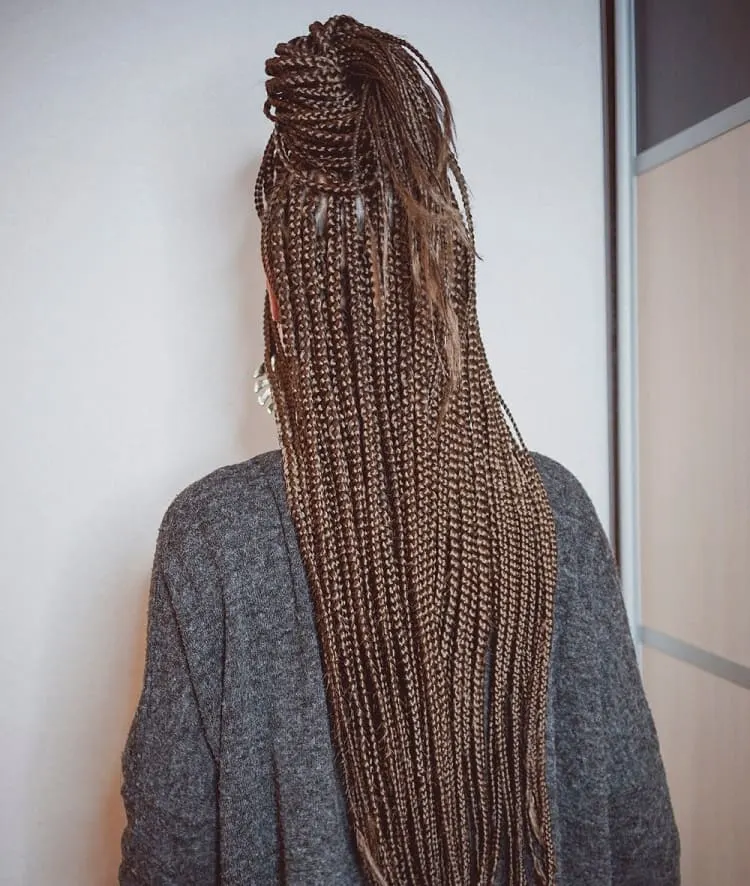 If you like the look of box braids but want a more neutral color, light brown is your best option. Whether they're on micro braids or thick jumbo braids, the color looks great against dark skin.
6. Long Knotless Box Braids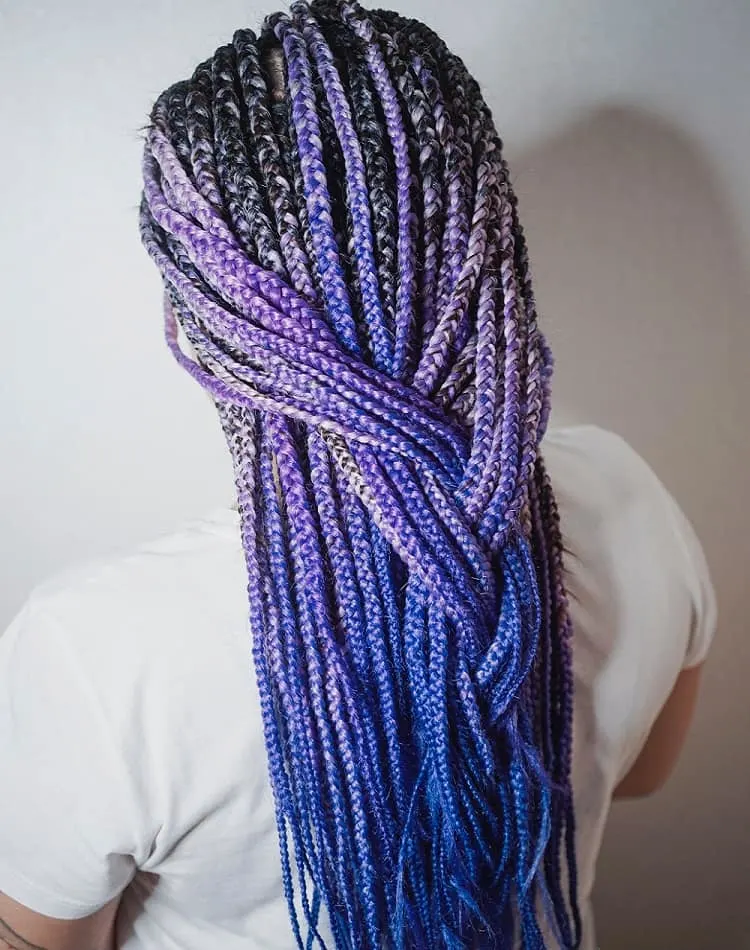 Knotless box braids are different from regular box braids. The braids are seamlessly woven into box braids without any knots at the root. When you go for black braids, accent the darkness with a light purple or dark blue.
7. Long Red Box Braids
This statement style features long waist-length box braids drenched in a fierce red. Wear your braids down and draped over the shoulders to show off the look or pull it up in a high bun.
8. Long Box Braids with Curly Ends
To get a mix of braids and curls, have your stylist braid the hair from the scalp down to only an inch or two from the ends, depending on how much curl you want. You can use product or a curling iron to get these curly cuties.
9. Long Box Braids Updo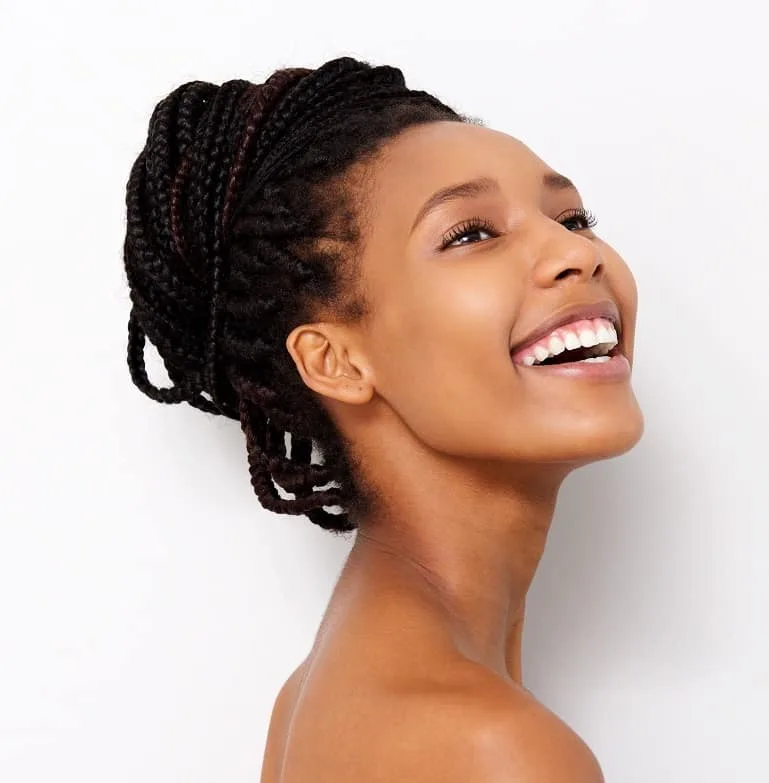 When you're over wearing your long box braids down, gather them up into a high pony or this cute thick bun. Paired with your favorite dangle earrings, it's the perfect evening hairstyle.
10. Long Blonde Box Braids
Why not twist your box braids onto the top of your hair into a loose and messy top knot for a style that is fast, easy, and no-nonsense. This hairstyle is perfect for keeping your hair off the nape of your neck during warmer weather, and it oozes laid back style.
Medium Length Box Braided Hairstyles
11. Box Braids with Extra Long Length
Because you'd don't have to take the time to grow your natural hair to the length you want when you are adding box braids, it's easy to opt for an extra-long length style. This is a dramatic look that offers up huge styling potential, with minimal maintenance.
12. Add Metallic Bead Detailing
Add an extra dimension to your long box braids by adding metallic bead detailing through the front of your style. This looks both eye-catching and chic, and the beads can be applied in just a few seconds. Opt for metallic beads if you want a classic style that will coordinate with every outfit.
13. Long Box Braids With Double Buns
Channel your inner Mickey Mouse with this super-fun style! Simply pull your braids onto the top of your head and tie them into two symmetrical buns for a look that is eye-catching, stylish and fashion-forward.
14. Sleek Box Braid Updo
Whilst long box braids have a cool urban feel, that doesn't mean that they can't also look slick and sophisticated. Pull your front braids around your head to create a Hollywood-style side swept fringe and then pile the rest of your hair high onto your head to create a bun-style Updo to achieve this super-stylish look.
15. Black to Blonde Ombre
If your natural hair is long then that doesn't mean you can't add box braids in a contrasting color, as demonstrated by this beautiful black to blonde ombre style. Ask your hairstylist to work with the length of your natural hair and blend this into your braids in order to create this look.
16. Box Braid Long Ponytail
One of the most simple but effective box braided updos, if you have extra-long box braids then why not pull them up into a sleek and swinging ponytail? This style is great for showing off chiseled cheekbones and defined features.
17. Chunky Long Box Braids
Whilst skinny box braids tend to be more common, why not experiment with chunky long box braids to add an interesting textural dimension to your style? Ask your hairdresser for box braids that are rope thick and blend your extensions into your natural hair to create this style.
18. Bright Blue Long Box Braids
When adding box braid extensions to your hair, why not experiment with bright and bold color? This is a great way to explore unique and eye catching colorways without having to bleach and cause extreme damage to your natural hair. This blue style would look fantastic for a summer on the beach!
19. Box Braids In a Half Updo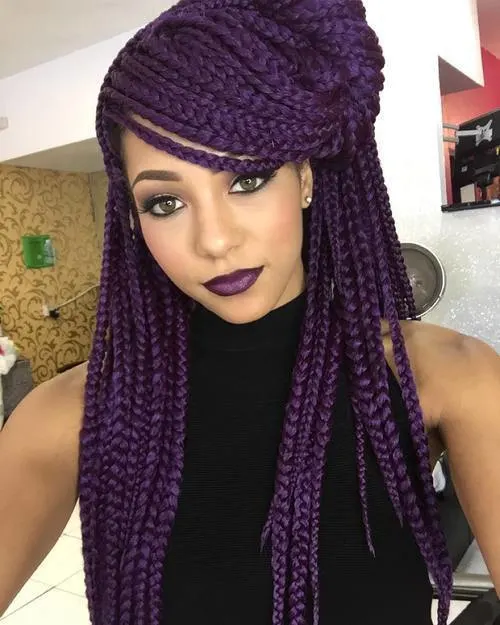 If you love the length of your long box braids but they keep swinging into your face then why not explore a half Updo? This stylish look will allow you to pull your braids away from your face and create an eye-catching updo effect whilst still showing off the full length of your hair.
20. Multicolored Long Box Braids
Why add just one color to your box braid style when you could add them all? Ask your stylist to create this modern rainbow effect using at least three different colored extensions, and blend the colored hair together in different patterns and braid thicknesses to create this unusual but eye-catching style.
21. Twisted Braid Updo
If you want your hair off your face but don't like to lengthen yourself by piling it on your head then why not explore these ultra-feminine twisted braids? These look complicated, but by braiding your braids and then twisting them under, this style is surprisingly easy to achieve. Hair accessories, such as this flower, are easy to wear and will add a touch of femininity to any hair style
Who says braids have to be boring? This is a quick and easy hairstyle with maximum impact, ideal for a special occasion. Simply pull your braids to the side of your head and tie in a low, loose ponytail before adding a headband or crown made from flowers.
23. Pink Box Braids
Why not embrace this season's fashion-forward pink hair trend by adding pink box braids to your look? Candyfloss pink is one of this season's hottest hair colors, and it looks fantastic worn in box braids of all styles and thicknesses.
24. Add Beautiful Beads
If you want to add extra detail to your box braids without adding color then why not consider adding beads instead? This beautifully natural look has been constructed from wooden beads and shells to create an outdoorsy and organic style.
25. Lime Green Box Braids
Want to explore colourful box braids in an understated way? At first glance these lime green box braids look blonde, and they will blend beautifully with natural hair that has been bleached out. This is a subtly unusual look that will keep people looking over and over again.
26. Box Braid Pleated Crown
Why not braid your braid? This show-stopping style pulls skinny box braided hair into a French pleat-style crown across one side of the head before letting the length hang in a natural and understated style.
27. Beaded Box Braid Bangs
You don't have to braid all of your hair to make an impact! Why not wear your natural hair long and loose and then add box braids to your bangs? This is a clever way to keep your bangs in place. For extra impact, why not add beads to your bangs to create an unusual style reminiscent of a modern Cleopatra!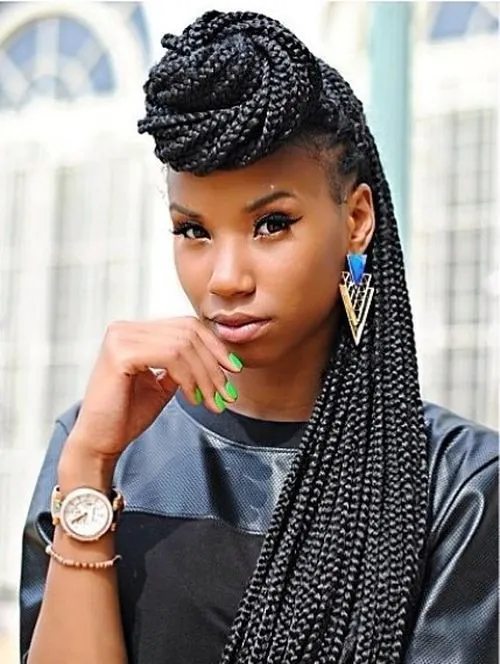 Add a fashion-forward geometric style to your long box braids by pulling half of your hair into a twisted bun worn low across your forward. This is a surprisingly flattering style that is ideal for balancing a high forehead or shortening a longer face.
29. Long Box Braids with Bangs
Bangs are great for adding structure and definition to your hairstyle, and for framing your face. They are the ideal choice if you have a long or oval face, or if you want to shorten an exaggerated forehead. Just because you wear your hair in braids doesn't mean you can't also wear bangs, as this beautiful style shows.
30. Beautiful Box Braid Bun
Inject volume into your braided hair by piling it on the top of your head and adding pleated twists. This will make your long box braids look even fuller, by contrast, make your face look smaller and more slender. This is a great style if you have a round, heart-shaped, or full face.
31. Vibrant Yellow Box Braids
This is a look that isn't for a fainthearted! If your blonde box braids simply aren't bright enough for you then why not inject even more classic color by opting for vibrant yellow box braids. To make this style really pop, bleach your natural hair so that it blends with your newly braided style.