Long side bangs look fantastic, but are they worth the hassle? Bangs are a part of a hairstyle, which always requires plenty of attention. If you are lucky enough to have straight locks, you may have it easy. Brush and add the smallest touch of hair gel and go.
However, if your hair is even slightly wavy, your bangs might look like an explosion in a spaghetti bowl. That's why choosing the right bang styles and sizes is imperative. Side bangs are a great idea since they allow you to spend a minimum amount of time on styling while enjoying a wonderful result.
How to Style Side Swept Bangs
This method works on medium bangs and long bangs. Here is what you'll need:
A styling brush
A hair dryer
A thermal hairspray
Finishing spray
Note that you'll be separating your hair into vertical strands. Thick hair will be divided into more sections while thinner hair will be divided into larger sections.
Visually divide your hair into vertical sections and grab the first strand
Spray the strand with a thermal spray. Keep the spraying bottle at least 5″ away from the hair in order to provide good spray distribution.
Take a styling brush and wrap the end of the first strand around it.
Turn on the blow dryer and direct the heat to the styling brush.
While the dryer is blowing the hot air, roll the hair with the brush-up and down.
Repeat the same with all the sections until your bangs styling is done.
Use your fingers to softly sweep the bangs in the direction you want.
Use a finishing hair spray so the bangs stay in place.
Beautiful Side Bangs on Long Hair
Perfect side bangs on long hair are something out of a fairy tale. You always have to be ready for the bangs to become spiky and unruly.
In humid weather, bangs are ready to go in all the directions except for the right one. That's why gals with long hair prefer long side swept bangs. They are easy to style and even easier to hide in a braid or a ponytail.
We came up with 30 stunning options for you to enjoy. Give one of them a try!
1.
side bangs on long thick hair
2.
long curly hair with side swept bangs
3.
side bangs on long straight hair
4.
Asian woman with long hair and side bangs
5.
long layered hair with side bangs for older women
6.
long side bangs with side part
7.
long hair with choppy side bangs
8. The Right Cut
The right styling of the side bangs on long hair starts with the right cut. If all the fringe hair is the same length, it will be harder to style it. If you ask your hairstylist to create asymmetrical bangs, they'll require less side sweeping.
Best Side Swept Bangs for Fashionable Women
9. Beneath the chin
If you want to have less hassle with your bangs but still want the fringe to look like a fringe, you can go slightly below the chin with the length. The overall appearance will be fantastic will the maintenance will be kept to a minimum.
10. Layered Hair with Side Bangs
Long side bangs on straight hair are a great choice for women, who are used to keeping their straight locks neat. You can sweep the bangs to the sides and back and secure them with some spray so they are kept out of your face.
11. Step asymmetry
Use the asymmetrical cutting approach to achieve a layered appearance of your bangs. Such short bangs on one side and long on the other are a great addition to long tresses. Such bangs require styling at least every other day.
12. Dreamy long bangs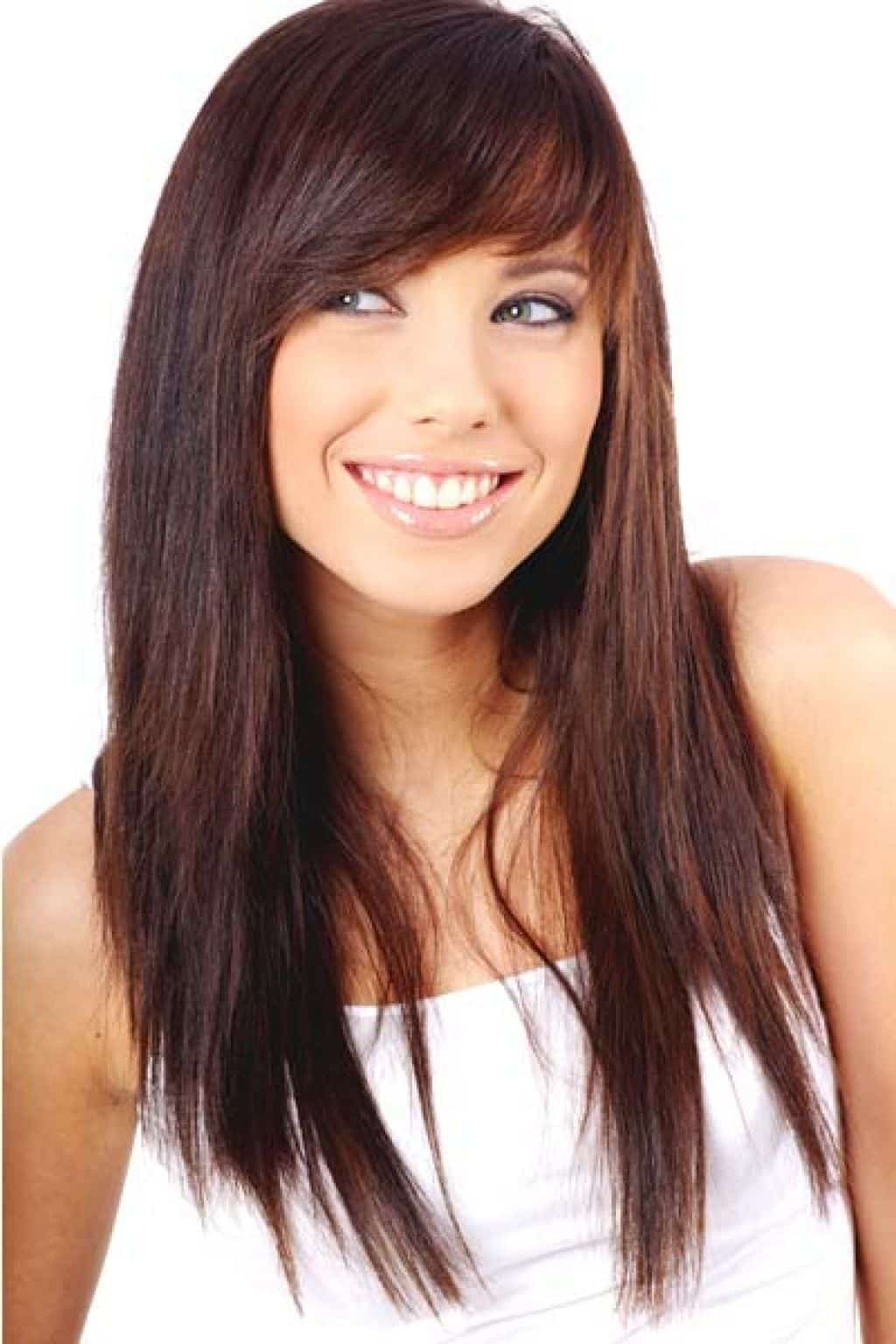 Wispy side bangs on long hair look fantastic when you use some imagination to style them. Such bangs as you see on the picture are very easy to create using the comb and curling iron. You don't even have to keep it too neat.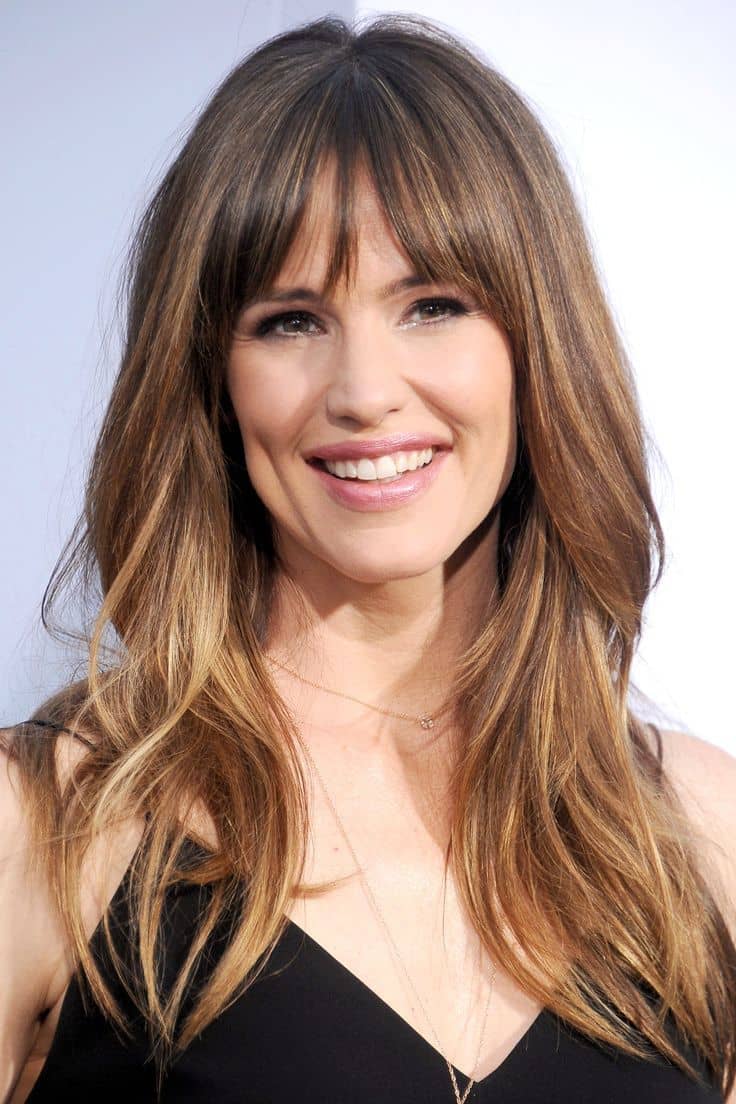 Keeping the bangs to the sides while allowing a side part is a wonderful choice for women, who don't want to deal with blunt fringes but still wish to cover their foreheads. This half-and-half deal looks great with long hair.
Watch the below tutorial:
14. Eye touching
When the bangs get into your eyes, it's annoying. When they slightly touch the corners of your eyes, it's sexy. It takes some willpower to keep yourself from brushing the hair away from the eyes. Practice makes perfect!
Long Layered Hairstyles for Women
15. Cover the eyes
If you want to cover the eyes slightly, you can do it with long bangs. Such bangs don't really need any styling. They look normal with this messy fashion. However, get ready, they will be getting into your eyes.
16. Purple and impressive
If you want to impress your friends with a new hairstyle, this purple option is just the thing. If you want to go further, make long bangs that cover half of your face. They can give you a mysterious look you always wanted to sport.
17. Soft and neat
When you are working with naturally wavy hair, you have to be ready to straighten the bangs out. Don't worry, it will only take a few minutes in the morning. Just don't leave them to curl naturally since they won't look neat.
18. Long Blonde Hair with Side Bangs
To make your blonde hair really stand out, go for long layers that will frame the face, and side bangs to draw attention to your eyes.
19. Top Knot with Side Bangs
High updos for women are always flattering, but adding a side bang with blonde highlights will make a top knot hairstyle even cuter.
20. Long Curly Hair Side Bangs
Your thick curls deserve a statement hairstyle. Long layers on long hair will take out annoying bulk and a side bang will make this style super feminine and flirty.
21. Green Side Parted Hair
Set yourself apart from everyone else with a long layered hairstyle with a thick side bang in dark green. For pale and light skin tones, it's a great contrasting dark color.
22. Long Ringlets and Side Bang
For natural black hair, choose a long weave with tight spiraled ringlets that fill up the body. A side part and smooth, sleek side bang make this one chic hairstyle.
23. Long Natural Black Hair
For a formal hairstyle, dress up long natural black hair with a swooped side bang and side part. A thin delicate braid crown is the soft detail to make it fancy.
24. Side Ponytail with Side Bang
A low soft ponytail is delicate and great for long hair. Part hair at the side to get this swooped side bang. Wear it to work or out to drinks with the girls.
25. Straight Hair and Side Bangs
Do you wear your hair straight most of the time? Switch up the dimension on your daily do by adding a side bang for softness.
26. Long Side Braid
Celebs prove a side bang can work just as well for the red carpet. This thick fishtail braid is paired with a straight side bang that lies flat against the forehead.
27. Braided Side Bang for Long Hair
This long blonde hair takes a different twist on the side bang by braiding it into the wavy body. Braid both of the front sides around the face for a feminine, romantic feel.
28. Rose Gold Space Buns
Space buns are even cuter with a straight side bang. Worn up in a pretty, formal hairstyle or down and over the shoulders, rose gold is just the color to give it a glow.
29. Long Black Hair
Put a vintage touch on long black hair by teasing the crown for volume and adding in a side bang. This bang is heavy and thick so it covers most of the forehead.
30. Side Bangs for Low Updo
On a low updo for thick hair, thick side bangs keep it from being too harsh. Try a platinum blonde or light color to flatter a medium skin tone.
These wonderful long side bangs will help you pick your own hairstyle. Long or short? Asymmetrical or straight? Neat or messy? Give each one of the hairstyles a chance. Perhaps you'll like making such frequent changes.