Long weave hairstyles can transform any dull hair into a rich, fabulous mane. These hair extensions can be straight, waved or curly and come in all lengths. Using them, you'll be able to reproduce any hairstyle for long hair you want and get your favorite hair color without damaging your own locks.
Long Weave Hairstyles
Long weave can be styled in various types of braids, ponytails, or buns, and they will all look stunning thanks to the volume a weave can provide. They can mask any thin hair problems, make your hair longer, or simply just add volume to your mane. Here are 10 inspiring weave hairstyles for long hair.
1. Long Weave Ponytail
Remi hair extensions are 100% natural and can give you all the volume you ever wanted for your ponytail. Pin all your hair up, in a high pony on top of your head, and attach the long curly weave. Style your baby forehead hair and your sideburns for a spectacular appearance.
2. Long Curly Weave
If you already have curly hair and wish for longer locks with more volume, a weave hairstyle can give you all the dimension you ever wanted. Create a slightly layered haircut, and your curls will beautifully arrange by themselves.
3. Long Straight Weave
Thin short hair can quickly transform into a long mane with a lot of volume. Part your hair in the middle and let those ravishing hair strands fall on your chest.
4. Long Weave Hairstyle with Bangs
If you adore long black hair, but you are not blessed with a precious healthy mane, look no further! Get long hair extensions and apply them for a gorgeous look. If you don't want to cut your fringe for this look, you can easily choose a pair of faux bangs that are so easy to attach anytime you want.
5. Side Parted Long Weave Hairstyle
A blonde golden field hair color can fantastically transform your look. Choose a weave that can be dyed and extend your hair. Create a gradual cut in front and use a straightening iron to make your strands look gorgeous.
6. Long Weave + Middle Part
Create a middle part and attach a thick weave that will give your hair a lot of volume and thickness. Create stunning effortless curls if you want to achieve a sophisticated appearance. You'll be ready to turn a lot of heads.
Create outstanding Fulani braids with a design for the top of your hair and gently braid the weave in your knits. You will get a voluminous waved mane that will amazingly fall on your back. Decorate your knits with cuffed beads and wooden jewelry.
8. Long Quick Weave
A red weave hairstyle will undoubtedly grab anyone's attention, whether you go to a party, date, or in a club. Dye your roots in a powerful red color and get a red weave that you can easily attach. You can wear your hair straight with a middle part or easily curled, with bangs flipped on one side.
9. Long Weave for Round Face
If you happen to have a round face, a middle part hairstyle with weave for black women will help you hide your prominent cheeks and make your face look longer. Attach the weave, let it loose, and curl it at the ends.
10. Long Blonde Weave Hairstyle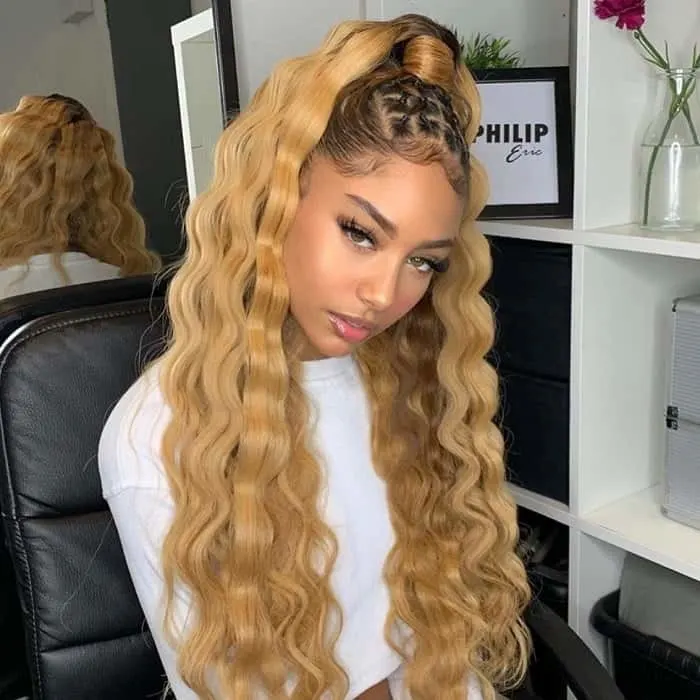 Ready to look stunning and to grab anyone's attention? Create a braided design for the top hair and pin it into a high ponytail with a blonde weave. Let the rest of your hair loose and attach the remaining bundles to your natural locks.
Long weave hairstyles are incredibly suitable for both white and black women, and you can create stunning hairdos by using them. You can get creative and change your hair color and use weaves that are already dyed in electric shades.