High ponytail with weave is one of the loveliest hairstyles that women around the globe are crazy about. And why wouldn't they since it is so stylish, chic and elegant at the same time.
The working ladies of the twenty-first century know that they must have a strong hairstyle game to look professional and stylish all the time to make a better impression on the people that they meet. Therefore, they go for this exquisite style most of the time to stay confident and pretty.
What Is Weave?
The weave is a set of real artificial hair that you use to enhance the volume of your hair. It gives a lovely texture to the hair making it look thicker and more stylish while making sure that the things are kept as natural as they can be.
They come in curls as well as in straight hair in any color and length that you want to you do not have to worry about getting a perfect match for your natural hair.
A weave is easier to put on your hair and it stays put on your head unless you want to remove it. This means that you do not even have to think about the weave coming off when you are out having fun showing off your perfect hairstyle.
How to Style Ponytail with A Weave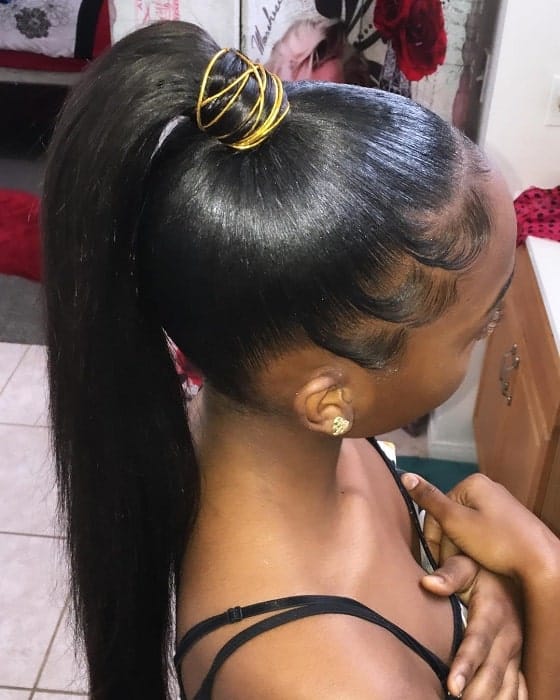 Styling a high ponytail with a weave is quite easy and simple. You just need to make sure that you follow these steps thoroughly and finish off the look with some cool makeup to look amazing. Here is how you can get your hair in a weave ponytail.
Dry your hair properly making sure that there is no moisture left in it and then brush it gently.
After having brushed your hair, use a hair tie to put your hair in a high ponytail.
Then take a weave that you like and insert two bobby pins in it, one at each end of the weave.
Then stick one side of the weave in your ponytail and start covering your ponytail in the weave by moving it in circular motions.
Then secure the other end with a bobby pin too.
In the end, use a hair spray to make sure that your hair stays in the ponytail and no frizzy hair poke out of the ponytail.
Watch The Following Video of DIY High Ponytail with Weave in a Quick and Easy Way
Best High Ponytail Hairstyles with Weave
Weave high ponytails are lovely and you need to try them on, but before that, you need to have an idea of different such styles, don't you? Here are 11 best high ponytail hairstyles with weave that you can choose from.
1. Weave Ponytail with Bubbly Braid
This bubble high ponytail with a weave is a great way of styling your hair as it has fun and chic bubbles running throughout the length of your hair. These ball-like bubbles are a great way of showing your carefree and fun craving side.
2. Ponytail with Natural Curly Hair
If you have some lovely curls then why not flaunt them in an impressive hairstyle? This is a super trendy and attractive style which is going to get you a lot of attention wherever you go.
The gold accessories and the lovely pattern at the front of the head make this curly high ponytail with weave hairstyle even more attractive.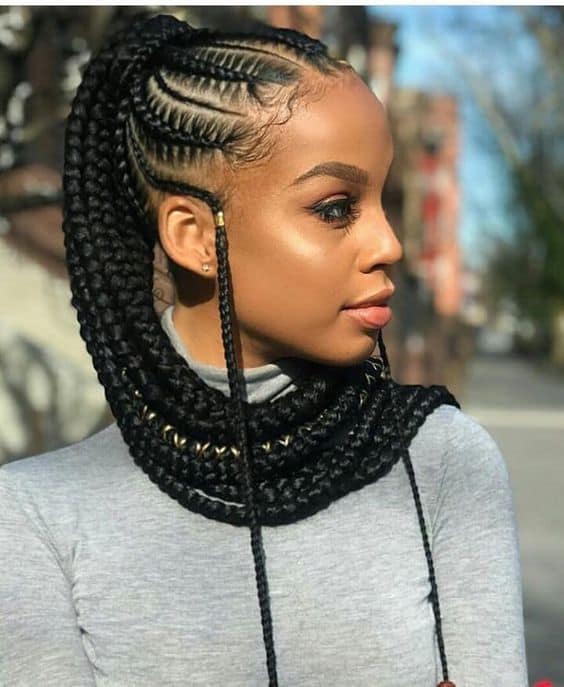 This cornrow braided high weave ponytail is a dream hairstyle of many fashionistas as it gives them an opportunity to play with their hair as much as they want. The braids running down the front of your face look exquisite and the overall look is so modern and stylish that it is hard to resist.
This chic and fashionable weave high half up half down ponytail is a great way to keep hair off your face but still falling around to help you look carefree. It is quite youthful and refreshing and you can go for it whenever you are torn between tying your hair and letting it stay unbound.
5. Shiny Smooth Purple Ponytail
This sexy version of the high ponytail with weave hairstyles is as good as you can aim at. The hair gently cascades down the sides and back of your head making you even more attractive and approachable.
6. Neat Braided Side Ponytail
This side ponytail with a weave braid is sleek and exquisite as it has all the hair neatly arranged in it. The hair is slicked to the surface of your head making you seem modern and highly fashionable.
7. Ponytail with Braided Front
Want to kill the stunner look with perfection? Then go for this attractive and hard to ignore style.
These dyed curls get even more pretty when they are put in a sleek high ponytail with weave like this.
9. Wavy Ponytail
Why always go for a straight ponytail when you can have a weave high ponytail with such impressive curls?
This weave high ponytail is not only stylish but also quite youthful and funky.
11. Braids with Messy Curly Ponytail
The tiny half braids when added to this curly high ponytail with weave make you look fresher and younger.
FAQs
Q. Weave & Sew in are the same?
Ans: No, weave and sew in are not the same thing. A weave is more of a wig which you stick on your hair with bobby pins or glue. However, a sew in is literally sewed in your hair with a needle and thread. A sew-in works best for braids, but a weave goes well with pretty much every hairstyle.
Q. Can You Wash Weave Hair?
Ans: Yes, you can wash weave hair as much as you like. Just make sure that you get it dried completely before storing it.
Q. What Type of Weave Is Best for a Ponytail?
Ans: All kinds of weaves are alright for ponytails but the simple weave wig which does not need to be glued in your hair is the best one.
So, what are you waiting for? Pick and style your hair in one of these lovely high ponytails with weave hairstyles to make it big on fashion statement!