Women choose to wear weave ponytails for a variety of reasons—the only one that matters is that it's a personal choice. Fortunately, the styles are just as abundant, maybe even endless.
A skilled stylist can do just about anything to your weave, which means you can rock a ponytail that's uniquely yours. Just remember to be kind to your edges and to show off your baby hairs.
Who Should Choose a Weave Ponytail?
Weave ponytails can be an option for almost all women, no matter their hair color or texture. The only requirement is a medium hair that allows you to pin your locks and create a base for the weaved ponytail. Otherwise, nothing can stop you from getting a gorgeous ponytail that gloriously falls on your back.
You will need to attach a few things to the weave: combs and jam to flawlessly glue your hair to your scalp, bobby pins, hair elastics, and devices to style the pony. Remember that you can only straighten or curl the pony if it's made of natural hair or special synthetic hair that is heat resistant. Before styling it with a heated device, carefully read the label for instructions.
Once you got the weave, nothing can stay between you and your long hair look. Check out the examples below and recreate the one you love most!
Classy Weave Ponytail Hairstyles
Weave ponytails come in many shapes and sizes: long, medium, or short, straight, wavy, or even curly. Used to create stylish hairstyles, these weaves have volume, are made of natural or synthetic hair, and are so easy to style. You won't even need to attach the ponytail weave in a hair salon if you have the skills!
1. Wavy Ponytail
Weave ponytail hairstyles are great options for women with kinky hair. Such hair is prone to split ends, so a protective hairstyle is ideal if you want to look gorgeous and care for your ends.
2. Blonde Ponytail with Weave
If you love the great contrast provided by your dark skin and blonde hair, you'll adore this hairdo. Dye your hair blonde and build a braid in the center of your head. Tie it in a bun and attach the long curly weave.
3. Middle Part Ponytail
Some girls love to stand out, and others just want natural looks. If you fall in the second category, choose a weave with the same color as your natural hair.
4. Side Part Ponytail with Weave
Get a diagonal part from one side of the forehead and use your jam to create that wet look. Tie the hair in a low bun and attach the wavy pony. Wear it on one side.
5. Genie Ponytail with Weave
Genie ponytails are so cool and fresh. Use a comb with dense bristles to flawlessly pin your natural hair on top of the head. Choose a black straight weave and attach it. Use a strand of hair and tie it around the root to get that height.
6. Straight Ponytail with Weave
Long voluminous ponytails have weight, so make sure you don't tie the hair too tight when building the bun. Otherwise, you might harm your scalp.
7. Long Ponytail
Create a side part and tie all the hair in the nape area. If needed, use bobby pins to secure the hairdo. Attach the weave ponytail and wrap a thick strand at the base.
8. Short Ponytail with Weave
Before attaching this electric red weaved ponytail, create an ombre for your natural hair. This way, the two colors will blend beautifully. Also, style your baby hairs, creating waves with a toothbrush.
9. Ponytail with Bangs
To recreate this hairstyle, you don't need to have thick or long hair. Use a weave ponytail and clip-on faux bangs. Just make sure that these two have the same color as your hair.
10. Weave Ponytail for Black Hair
Get a side part and use a voluminous pony that you will attach in the nape area. Make sure there are no bumps when gathering the hair in your bun. You want it to look flawless, right?
11. Slicked Back Ponytail
To pull off this gorgeous look, choose a straight ponytail. Also, use an iron to straighten your natural hair before braiding the top and attaching the extensions.
12. Side Ponytail with Weave
Side ponytails are fresh and make you look younger. They are also stylish and easy to attach once you straighten the top. Make sure you also use a hair-setting spray or jam to secure the hairdo and prevent hair bumps.
13. Two Ponytails
If you adore childish cute looks, this hairstyle with two ponytails is a match for you. Part your hair in two and get two curly hair weaves. Use the baby hairs to create finger rolls.
14. Half Up Half Down Weave Ponytail
Section your hair and use only the top to attach the ponytail. Add hair extensions on both sides and back, and curl your hair with a straightening iron. This way, your highlights will have better exposure, and your hair will gain more volume.
15. Cornrow Ponytail
Cornrow braids are protective hairstyles for women with kinky hair. When knitting them, feed-in each braid with Jumbo hair. You will gorgeously extent your hair and build stunning ponytails.
16. Braided Ponytail with Weave
One of the advantages of a ponytail made out of braids is its capacity to prevent your hair from external damaging factors. This way, while your locks are braided, there will be no damage, and at the same time, your hair will look gorgeous.
17. Sleek Ponytail
Use a jam with strong fixing properties to brush your hair towards the back. Braid our hair into abun and attach an ombre copper weave ponytail. To hide the attachment, wrap a piece of hair around the base.
18. Curly Weave Ponytail
Weaved ponytails can be straight curly or wavy, and you can opt for either of these when you crave for longer hair.
19. Ponytail for Little Girl
Styling coarse hair for little kids can be a real struggle. They are impatient, and you need to find the proper way to keep their hair tamed. Cornrow braids oriented to one side can be extended with a braided weaved pony, and your little princess will love them.
20. Two Braids with Ponytail
Use curly hair bundles to create two Dutch braids that start from the forehead. Secure them in the nape area and wear the copper ombre extensions on your shoulders. Use a silk cap overnight. This way, you won't get annoying rebel hairs the stick out from your braids.
21. Twist Ponytail
Style cornrow braids and pin them in a bun on top of the head. Get twisted braids and attach them to the base of your bun. Wear them on one side and decorate the plates with golden jewelry. Sleep on a silk pillow to make sure you don't ruin the hairstyle overnight.
22. Bob Ponytail with Weave
If you love elegant hairstyles, section the top and attach hair extensions. Attach tape on hair extensions and trim them to get a bob hairstyle.
23. Low Ponytail
This sleek braid is perfect for black women over 50. Comb your hair back and attach the extensions at the base of the braid. Wrap a thick section of the hair around the curly tresses.
24. High Ponytail with Weave
Craving for a sleek look that is suitable for all kinds of events? This high ponytail with a weave will make you feel comfortable, will protect your natural hair, and make you adore your new look.
25. Ponytail with 27 Piece Weave
27 Piece weaves come in all lengths, and they are used to create quick pixie cuts and even ponytails. Braid your hair on top, wrap some fabric around the knit, and start gluing the extensions from top to base.
26. Infinity Ponytail with Weave
Comb your hair back and build a ponytail at the back. Use your weave extensions and bobby pins to wrap that hair around your pony until you hit the base.
27. Invisible Ponytail
If your hair is already highlighted, style it on one side and attach a dark brown pony at the base. Wear it on one side. Always use a powerful fixing spray to secure the hairstyle.
28. Brazilian Weave Ponytail
Brazilian weaves are 100% Remy hair tresses, and they look so fabulous. If you want your hairstyle to look as natural as possible, we highly recommend using qualitative products when creating your curly weaved ponytail.
29. Ponytail with Sew In Weave
Take little sections of hair and pin them into small ponytails that will eventually come together and build a flawless pony base. While doing this, frequently glue-spray your hair to make sure it stays in one place. Braid the pony and sew in the curly weave.
30. Colored Ponytail
When you love electric colors, there are so many options out there that can make you look incredibly stunning! Dye your bangs green and cut them in a rounded shape. Go for a half-up half-down hairstyle and attach a weave to the top. Complete and extend your hair with straight long tresses.
31. That Swoop
Often, one of the most eye-catching aspects of a weave ponytail, other than the pony itself, is the fringe that goes with it. Bangs add an appealing element to any hairstyle, but with weave, in particular, you have the opportunity to create a LEWK rather than just a look. The part of the bangs is sharp, and those baby hairs are fierce. Check these side ponytails you may like.
32. Braided by Half
Here's a half ponytail for you, but the deliciousness does not stop there, oh no. Peep those braids and the always-in-style wrap of hair around the pony. Let us not neglect to mention the perfection of those edges, either.
33. Long and Lovely Weave Ponytail
Your ponytail doesn't need to be elaborate to be gorgeous. If simplicity and elegance are more your things, stick with a smooth, cascading tail with inches to spare. With shine like that, your girlfriends can use your hair as a makeup mirror.
Weave Hairstyle Ideas for Straight Hair
34. On the Crown like a Queen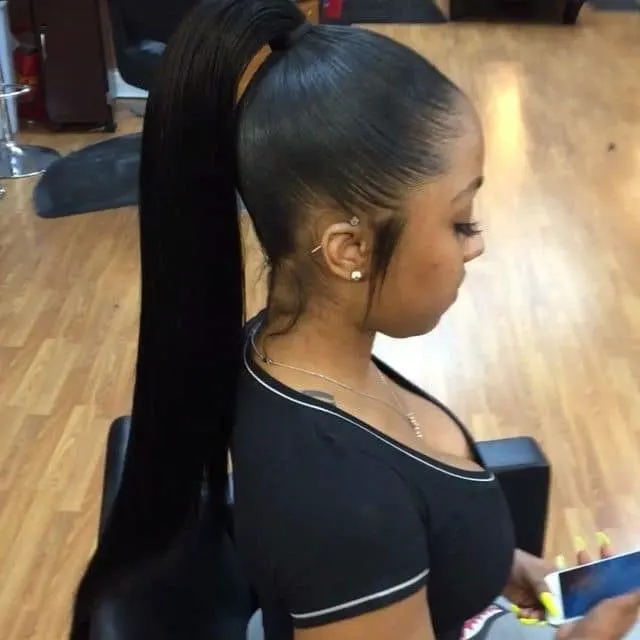 Slay, queen, slay! Seriously, a high weave ponytail that begins at the top of your crown is always gorgeous, full stop. Wear it long and straight for a timeless yet trendy coiffure.
35. Baby Hair
Yes, the ponytail is the main subject. Of course, it is. However, you know damn well that you cannot neglect your baby hairs. These waves are F-L-A-W-flawless. That is art.
With-It Short Hairstyles for Teenage Girls
36. The Waterfall
Look at the way her hair glistens, top to bottom. The ponytail falling over her shoulder puts Rapunzel in her place and those edges are laid to the gawds. Can't stop admiring the arrow through her cartilage, either.
37. Side Braid Slay
You get to see this ponytail from every angle, which allows you to appreciate the single side braid, the (s)lay of the edges, and the length of the weave. If you're looking for something long but not too long, something fierce but still ideal for the day-to-day, then this one has your name written all over it.
38. Middle Part Weave Ponytail
Create balance by keeping a lengthier weave ponytail on the simple side. How? A plain middle part will do it, particularly since it's anything but plain. This part is timeless but gives it can give off a retro, Boho, or funky vibe depending on your outfit, makeup, and jewelry for the day.
39. Weave Ponytail With Curls
A curly side ponytail like this practically begs for a girls' night out. How can you resist throwing on your cutest outfit and heading to that one club that's got the best music and the hottest clientele? Those curls go on for days—you will walk in like a queen no matter where you go.
Brilliant Braided Hairstyles With Curls
40. Like a Bob
This is too chichi. The ponytail is on the shorter side and it falls to resemble a sharply angled bob. The wrap of hair around the base, and the fact that the ponytail begins so high on top of her head, both create a retro vibe. Lastly, the matching hard parts are ev-er-y-thing.
41. Flipped Fringe
You have so many chances to experiment and play around with your weave ponytail, why not try different things? After all, the details make your ponytail stand out and show off your personal style. In addition to the fierce flip of her bangs, which have bleached tips, peep the braid wrapping around the base of her ponytail.
See? Your bangs really can take your tail to the next level. This fall right below the eyebrow and they're framed by longer sections. The bangs start where the ponytail begins, which is a small but attention-grabbing element.
43. Thick and Spiraled
What's not to love about this perky ponytail? It starts up on the crown at a fairly high spot, but the base is quite thick. That's a rather retro-inspired detail—think back to the mod trend of the '60s, as well as the early psychedelic movement. The flippy, spiraled curls are truly doing the damn thing, though.
44. Down to There
No joke, this beauty's weave ponytail reaches down to her derriere. Honestly, Rapunzel ought to just hang it up for good. The subtly curled swoop of her bangs is giving me life, I'm not lying, and did you spot the ribbon pattern of her baby hairs?
45. Thick at the Crown
Here's another ravishing retro ponytail characterized by a thick base. From that base, curls cascade down to her chest, and a line of relaxed and equally ravishing braids keep the edges laid.
46. Curly Side Ponytail
Girl. Everything about this is a little bit extra, and that's why it's so flawlessly fabulous. Her ponytail is layered, so there are curls everywhere, yet the tail falls so it looks like one giant spiral. It goes without saying that the baby hairs are award-worthy.
47. Drop-Dead Red
Yes, yes, 100 times, yes! First of all, yes to all of this, just in case that wasn't clear. Second of all, you can choose a weave ponytail in any color you like. Told you—it's a chance to experiment. Third of all, a hair-wrapped, high-crowned ponytail always slays.
One way to protect your edges is to cornrow your natural hair and incorporate it into your weave. This is a glamorous, gorgeous example, from the braids and their pattern to the fall of tousled curls.
Words can barely describe how audaciously amazing this ponytail is. The side-swept bangs add a little edge, the flipped ends of the pony are preppy and pretty and on-point, and the ponytail hiding underneath adds length and fullness.
50. Cocky Curls
No, listen—well, read. You walk out of the house in a weave ponytail like this one, and you know how cute you look. You just know, and nobody can tell you any different. Who else is living for those baby hairs?
Weaved ponytails are very popular, especially after Hollywood stars like Ariana Grande, Cardi B, or Rihanna styled them on the red carpet. They can transform dull hair into a real work of art in just a few minutes. So if you need a breathtaking hairstyle that is easy to manage, a weave pony is just the right choice.