Women choose to wear weave ponytails for a variety of reasons—the only one that matters is that it's a personal choice. Fortunately, the styles are just as abundant, maybe even endless.
A skilled stylist can do just about anything to your weave, which means you can rock a ponytail that's uniquely yours. Just remember to be kind to your edges and to show off your baby hairs.
Classy Weave Ponytail Hairstyles for Every Occasion
Holiday party? Mandatory work function where you have to talk to a bunch of people you don't even like, so you just want to slay them speechless and peace out early? Going out with bae on Friday night?
It doesn't matter. I got you regardless. Check out the bevy of weave ponytails below and pick something to show your salon saint the next time you want to change up your hairdo.
#1: That Swoop
Often, one of the most eye-catching aspects of a weave ponytail, other than the pony itself, is the fringe that goes with it. Bangs add an appealing element to any hairstyle, but with weave, in particular, you have the opportunity to create a LEWK rather than just a look. The part of the bangs is sharp, and those baby hairs are fierce. Check these side ponytails you may like.
#2: Braided by Half
Here's a half ponytail for you, but the deliciousness does not stop there, oh no. Peep those braids and the always-in-style wrap of hair around the pony. Let us not neglect to mention the perfection of those edges, either.
#3: Long and Lovely Weave Ponytail
Your ponytail doesn't need to be elaborate to be gorgeous. If simplicity and elegance are more your things, stick with a smooth, cascading tail with inches to spare. With shine like that, your girlfriends can use your hair as a makeup mirror.
Weave Hairstyle Ideas for Straight Hair
#4: On the Crown like a Queen
Slay, queen, slay! Seriously, a high weave ponytail that begins at the top of your crown is always gorgeous, full stop. Wear it long and straight for a timeless yet trendy coiffure.
#5: Baby Hair
Yes, the ponytail is the main subject. Of course, it is. However, you know damn well that you cannot neglect your baby hairs. These waves are F-L-A-W-flawless. That is art.
With-It Short Hairstyles for Teenage Girls
#6: The Waterfall
Look at the way her hair glistens, top to bottom. The ponytail falling over her shoulder puts Rapunzel in her place and those edges are laid to the gawds. Can't stop admiring the arrow through her cartilage, either.
#7: Side Braid Slay
You get to see this ponytail from every angle, which allows you to appreciate the single side braid, the (s)lay of the edges, and the length of the weave. If you're looking for something long but not too long, something fierce but still ideal for the day-to-day, then this one has your name written all over it.
#8: Middle Part Weave Ponytail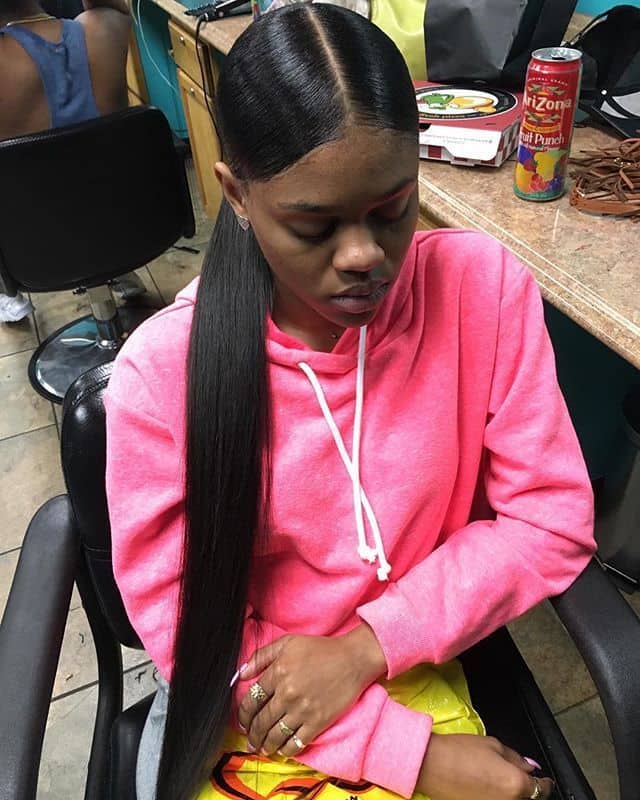 Create balance by keeping a lengthier weave ponytail on the simple side. How? A plain middle part will do it, particularly since it's anything but plain. This part is timeless but gives it can give off a retro, Boho, or funky vibe depending on your outfit, makeup, and jewelry for the day.
#9: Weave Ponytail With Curls
A curly side ponytail like this practically begs for a girls' night out. How can you resist throwing on your cutest outfit and heading to that one club that's got the best music and the hottest clientele? Those curls go on for days—you will walk in like a queen no matter where you go.
Brilliant Braided Hairstyles With Curls
#10: Like a Bob
This is too chichi. The ponytail is on the shorter side and it falls to resemble a sharply angled bob. The wrap of hair around the base, and the fact that the ponytail begins so high on top of her head, both create a retro vibe. Lastly, the matching hard parts are ev-er-y-thing.
#11: Flipped Fringe
You have so many chances to experiment and play around with your weave ponytail, why not try different things? After all, the details make your ponytail stand out and show off your personal style. In addition to the fierce flip of her bangs, which have bleached tips, peep the braid wrapping around the base of her ponytail.
See? Your bangs really can take your tail to the next level. This fall right below the eyebrow and they're framed by longer sections. The bangs start where the ponytail begins, which is a small but attention-grabbing element.
#13: Thick and Spiraled
What's not to love about this perky ponytail? It starts up on the crown at a fairly high spot, but the base is quite thick. That's a rather retro-inspired detail—think back to the mod trend of the '60s, as well as the early psychedelic movement. The flippy, spiraled curls are truly doing the damn thing, though.
#14: Down to There
No joke, this beauty's weave ponytail reaches down to her derriere. Honestly, Rapunzel ought to just hang it up for good. The subtly curled swoop of her bangs is giving me life, I'm not lying, and did you spot the ribbon pattern of her baby hairs?
#15: Thick at the Crown
Here's another ravishing retro ponytail characterized by a thick base. From that base, curls cascade down to her chest, and a line of relaxed and equally ravishing braids keep the edges laid.
#16: Curly Side Ponytail
Girl. Everything about this is a little bit extra, and that's why it's so flawlessly fabulous. Her ponytail is layered, so there are curls everywhere, yet the tail falls so it looks like one giant spiral. It goes without saying that the baby hairs are award-worthy.
#17: Drop-Dead Red
Yes, yes, 100 times, yes! First of all, yes to all of this, just in case that wasn't clear. Second of all, you can choose a weave ponytail in any color you like. Told you—it's a chance to experiment. Third of all, a hair-wrapped, high-crowned ponytail always slays.
One way to protect your edges is to cornrow your natural hair and incorporate it into your weave. This is a glamorous, gorgeous example, from the braids and their pattern to the fall of tousled curls.
Words can barely describe how audaciously amazing this ponytail is. The side-swept bangs add a little edge, the flipped ends of the pony are preppy and pretty and on-point, and the ponytail hiding underneath adds length and fullness.
#20: Cocky Curls
No, listen—well, read. You walk out of the house in a weave ponytail like this one, and you know how cute you look. You just know, and nobody can tell you any different. Who else is living for those baby hairs?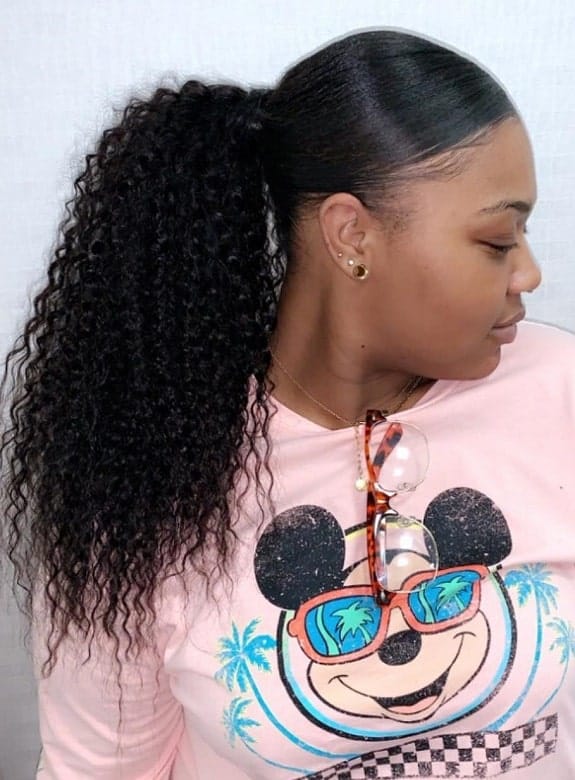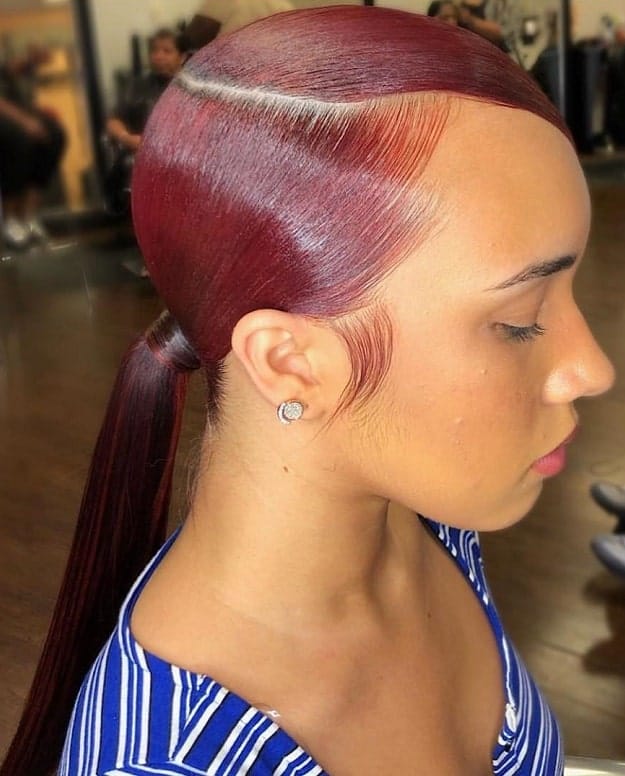 Weave ponytails give you more length, new layers, additional thickness, a fresh style, or a different color. That's versatility times infinity. What's your favorite weave style? What kind of ponytail is your go-to?