It's almost spring, which means it's time to start thinking about highlights for long hair. It will be so hard to make up your mind once you see all the 12 fashionable styles we listed.
Types of Highlights
Highlights got to be such a popular way to decorate your hair, that there are literally over 10 different and equally beautiful styles. We will help you get familiar with the most popular ones through this short guide. If you've been looking for the best highlighting ideas for long hair, you will probably find at least one style that you like in the options.
Babylights- Babylights is the best option for everyone who likes very subtle highlights. The brighter strands are barely noticeable, but give the mane a very fresh look.
Chunky highlights– the name says it all. This coloring technique features larger sections of hair and is clearly visible.
Balayage- Balayage is known as the hand-painting method when hairstylists simply use the movements of their hands to achieve the highlights. It provides a very natural finish, but always go to a very experienced hairdresser.
Foil highlights- These belong to one of the oldest techniques of highlighting that uses foils to achieve that brighter look. All of the strands that are highlighted are wrapped with aluminum foil which produces heat and speeds up the process.
Ribbon- The ribbon technique is best when done on curly or wavy hair because they give the mane a very stunning warmth and depth.
Ombre- ombre is the technique everyone will recognize right away because it's been trending for years now. It includes highlights that are mostly located in the lower parts of the hair, while the roots stay darker.
Sombre –It comes from the words 'soft' and 'ombre'. It is a much subtler version of the ombre trend, with highlights that are less dramatic compared to the dark roots.
Frosted- the frosted method is mostly used on shorter hairstyles, for women who want to achieve a cool blonde, frosted-like finish.
How to Do Highlights on Long Hair
There are two ways to do highlights on long hair. The first one is obviously visiting a professional. It is also the best, and most secure one since some of the techniques are very specific and require special training. The second option is to do it yourself at home. We will give you an insight into what this process looks like, step by step.
Before you start, you will need to decide which hair shade you want, and the type of highlights you'll get. You can first color your natural hair as the base, then opt for one to two tones brighter highlights. Another option is to stick to the natural hair color and only work with highlights.
Protect the clothes you're wearing and the surroundings in the room, because the technique uses chemicals. Put gloves on and you're ready to go. The hairstylist would do the same. Highlighting kits come with all the necessary tools and with instructions. You can check out whether you like the look you'll get on a strand or two. If you do, continue by separating the hair in several sections on both sides.
Grab pieces of foil that you'll cut longer than the hair strands. Release one of the sections, and with a comb, get a horizontal strand of hair. Place a piece of foil under it, and start coloring it with the hair dye. Pack it with the foil, and fold the part where the tips, taking it to the roots.
Continue doing this for the whole hair. It's your choice whether you'll do chunkier of smaller highlights on long hair. Leave the dye on according to instructions, then wash the hair.
Watch The Following Video on How to Do Blonde Highlights on Long Brunette Hair
Lovely Long Hairstyles with Highlights
Have a look below on some fashionable long hair with highlight ideas that look fabulous.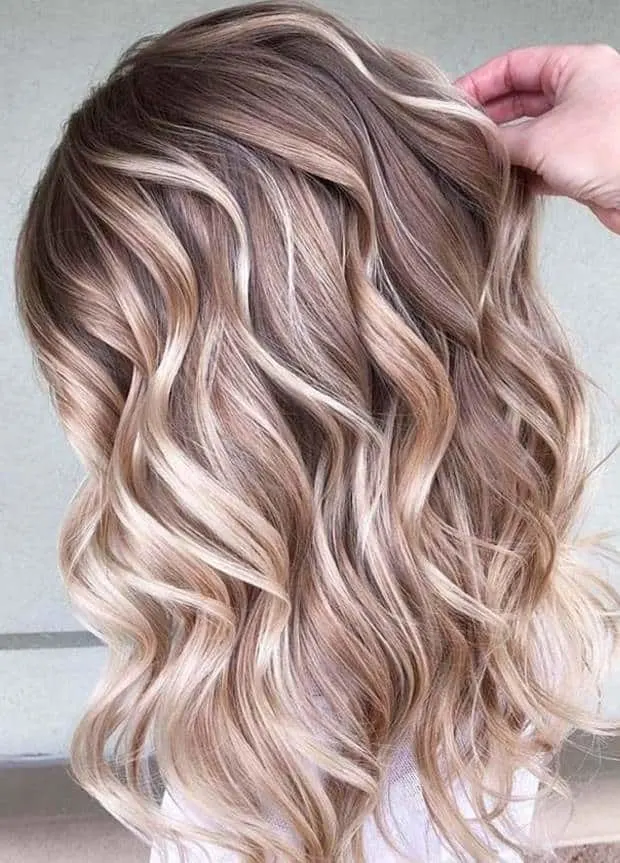 Subtle, soft, barely-there, but so gorgeous. That is the definition of babylights and you'll want to try them right away.
Ideal For: Great highlights for long hair that already features a bright basic tone, to avoid too much damage.
How To Style: Add some messy waves and your mane will be at its best.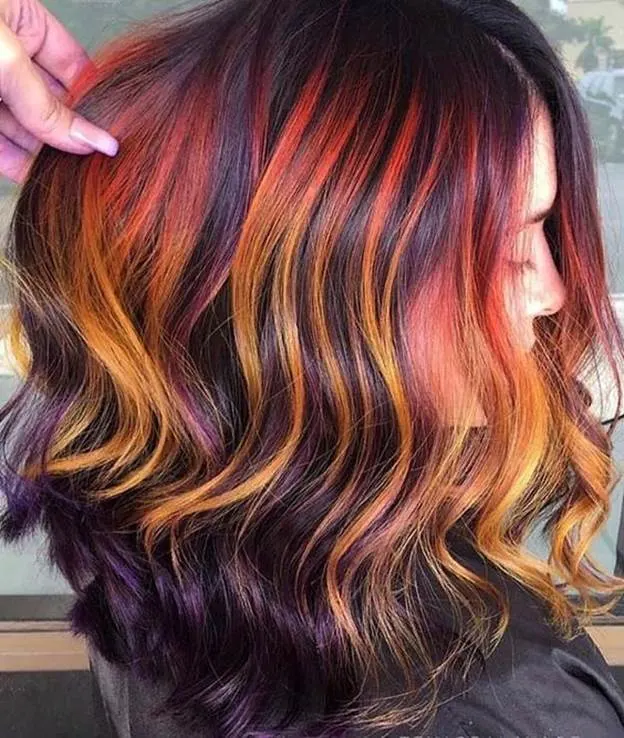 Bolder is better, and this long hair with highlights is here to prove that.
Ideal For: All gals who prefer standout looks are the ones to opt for such a colorful hairdo.
How To Style: Style the hairdo with chic, flatiron waves.
Is there a woman out there who doesn't like pink?
Ideal For: Ideal for women with long blonde hair, the two colors are such a feminine match.
How To Style: To achieve the most impactful pink long hair highlights style, you want to create soft curls.
Caramel hues are really trending in the hair department this season.
Ideal For: All shades of brown hair can be upgraded with caramel hints.
How To Style: Get your curling iron and start making large, bouncy curls.
Deep, rich red can be so flattering on dark brown hair.
Ideal For: This type of highlights for long hair will help you achieve a fresh and interesting look.
How To Style: Blow dry your hair for extra volume. That's pretty much all you need.
So many ladies think that chunky highlights are a part of the past, but after seeing this example they will change their mind.
Ideal For: Perfect for everyone who likes dramatic looks.
How To Style: Wear your long hair super straight or with luscious curls to properly debut the chunky highlights.
Go for a number of different brown tones for the highlights and you'll be in love.
Ideal For: So alluring on long hair, because this highlights gives the canvas to use a rainbow of tones.
How To Style: Do the brighter hues around the face and the darker ones near the roots.
Don't be ashamed of the grey hairs! It's time to make them even better with grey highlights.
Ideal For: Long hair seems to be such a stunning match with all hues of grey.
How To Style: The favorite way of hairdressers to style these grey highlights for long hair is, loose waves.
Green doesn't sound like the first color you'll go for when using the highlighting technique, but it sure is stunning.
Ideal For: It's perfect for darker hair tones, especially black.
How To Style: Whether you love updos, braids, or straight mane, these green finishes will find a way to shine through.
10. Balayage
Balayage is soft, easy to maintain and doesn't require regular touchups. Most trendy hair highlight ideas for long-haired women.
Ideal For: If you are interested in a natural finish, balayage is what you need.
How To Style: You can literally go for any hairstyle once you get the pretty balayage highlights.
Rose gold hair is a true obsession!
Ideal For: Girly girls are welcomed to make their mane even cuter with this hue.
How To Style: Both straight and curly highlighted long hairstyles will do so much justice for this fabulous shade.
12. Purple Highlights for Long Hair
Another absolutely gorgeous long hair with highlights styles, thanks to the vibrant nature of the hair dye.
Ideal For: If you want to try a unique highlighting version with colorful hints, you should opt for lavender purple hair.
How To Style: After dying it, you will need to focus more on keeping the color fresh and more permanent. Avoid styling it with heat tools.
Long hair highlights come in so many stunning forms that there is an option for every woman out there. These 12 pretty looks will help you figure out which one is best for your hair color and how far are you willing to go to achieve that perfectly highlighted long hair.