Some people say that there is nothing better than auburn red hair to rock in autumn and winter. There is no hair complexion better than auburn; it doesn't matter in which season we are.
Auburn Red Hairstyles
The options for auburn red hairstyles are quite wide – dozens of different shades! The first step is to take a look at them and see what fits your taste best. Also, make sure you take into account your skin tone and the color of your eyes, as you might choose different options according to them.
To get started with some inspiration, here we have 25 ideas of auburn red Hair which will help you make the best decision!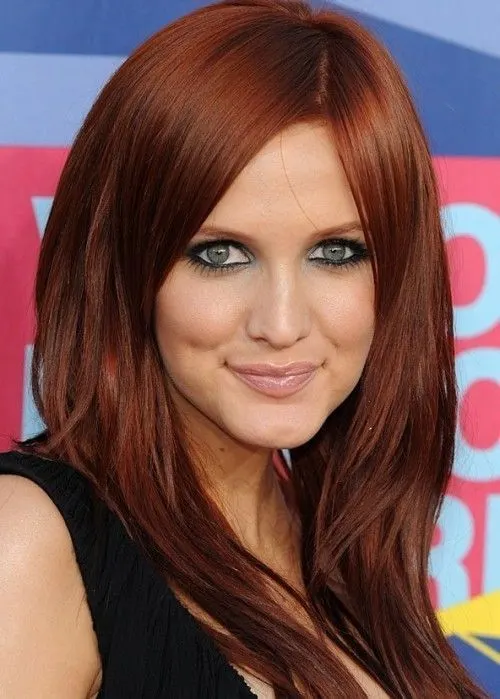 The so-called medium auburn hair color is a mix between golden red and medium brown. It gives a balanced look, as it's elegant and striking at the same time. This hairstyle is a must-go if you have green or medium brown eyes, as the golden shades will highlight them even more.
Red Mahogany is undoubtedly an astonishing color to go for; it is luxurious and extremely sexy. If you feel like going the extra mile, wrapping some voluminous waves will be the perfect final touch for an even more sensual look.
Creative Light & Dark Auburn Hair Colors
3. Bright and Vibrant Red
If you are up for a sexy look, but if you feel like a very dark color is not your type then this vibrant hairstyle might be the perfect pick for you. This color comes with a plus: it is remarkable, powerful and it doesn't require as much treatment and maintenance as other vibrant hair colors do.
4. "Catching Fire" Red
This audacious red is a top pick those who love to leave a mark. There is no way you will feel unnoticed with such a striking look. For this hairstyle, there are no restrictions as it fits any girl with a bold personality.
Burgundy is one of the many shades of auburn red hair and one of the most memorable ones. This hair color is usually seen in dramatic personalities, as it fits perfectly a strong attitude. Burgundy is also a great pick for dark or olive-toned complexions.
6. Bright and Brownish
This bright and brownish color fits all types and is a great choice if you are looking for a more polished and elegant look. Add-up a straight and silky hairstyle for a full sumptuous experience.
7. Classic Red
If you are a fan of natural colors, take a look at this classic red: it is vibrant, cheerful – and of course, gorgeous. Since it is a very specific color, this hairstyle can be a bit restrictive: make sure you have fair skin and green or brown eyes before you decide to change it.
8. Deep & Glamorous
This deep auburn red hairstyle is a top pick for an exquisite appearance. The shades of color highlight any skin tone, and the result is a powerful look. Make sure you are ready for admiration looks wherever you go in case you go for this choice.
Euphoric Light and Dark Red Hair Colors
This blend of red and orange color is a brighter and even more stunning version of the classic red. The red copper style is more flattering when combined with the medium, peach-colored and golden skin tones.
10. Dark and Natural Auburn Red
Here is one more Auburn red hair color option for a sophisticated look: this colorful hairstyle gives a sensation of elegance and it's very easy to keep, as it doesn't require a lot of retouches along the way. It also fits most of the skin types, being one of the most versatile looks within the shades of auburn hair.
Auburn highlights are the perfect type of highlights for your dark hair. Cut your hair short and add light waves in it. Have your hair highlighted in an auburn red shade and you are ready. This hair color is flawless and exemplary at the same time.
12. Strawberry Blonde Auburn Red
If you don't want a deep red, then go for a strawberry blonde highlighted auburn red hairstyle because nothing can be more ideal than that. This hair color makes you stand out from the rest and can be easily styled however you want.
Deciding a color for your long hair isn't a problem anymore. With auburn red shade you can go everywhere with style and it never ever disappoints you in achieving the style icon look you have always wanted.
14. Gorgeous Red Head Ombre
Redheads are everywhere this year. If you feel like going with the flow and get your hair dyed, then dye it a beautiful shade of reddish auburn ombre. Gorgeous red is going to make you shine and is definitely going to add to your style big time!
For a unique look, we suggest you go with this auburn red hair and pink edges. Do not shy away and get this hair color right now. This is to you breaking all the norms and going with what you think is best for you.
16. Classic Reddish Curls
If you have medium length hair and you want to do something amazing yet elegant with it, then try this classic shade of auburn red on your hair to flaunt your stylish look. This color brings out the amazing texture of your hair really well.
For a whole new look that is also super stylish, try this combo of red auburn ribbons with icy blonde hair. This is an extremely exotic look and goes well with any skin shade. You can wear this look anywhere anytime without hesitation.
Natural auburn red is the hair color that everyone wants and envies you on having it. So, if you don't have it already, then ask your stylist to color your hair a pretty natural auburn red. Add a heavy fringe to your hair, to sum up, the style.
Having blonde hair can be great at times because then you can experiment with your hair a lot. The best of the experiments we have witnessed so far is the dark auburn hair with blonde highlights. It is not only a pretty hair color combo but also a significant trend going on these days.
If you are capable of carrying copper color well then, you might as well get copper balayage on your auburn red hair. This hair color idea will make you look super graceful and doesn't dim your shine at all. You won't regret getting this shade.
21. Sleek Auburn Red
For a sleek look, have your hair straightened and then get them dyed a beautiful shade of reddish auburn hair. This new look is going to make a major positive difference for you in all areas. Get ready to make the heads turn.
22. Bold Auburn Style
For a bold new look, try this bold auburn shade with red hue for an exquisite style that is never going out of trend. This hair color not only brings out your personality in the best of ways but has also made a comeback like never before for you to flaunt.
23. Soft Red Haircolor
If you don't like bright and vivid colors, then soft auburn red hair color is made just for you. It neither makes you look extra nor does it fail in making you look elegant. This is the perfect hair color for every occasion.
Your luscious locs have always been craving a color that will make them appear unparalleled and magnificent. So, it is time to grant their wish and color them a beautiful auburn. Not only your luscious locs, but everyone out there is going to love you with this color.
25. Rich Auburn Shade
It is rare to find a shade as rich as this reddish auburn. So, before it gets old, lay your hands on it and get your hair dyed a rich auburn. It gives you a divine look and automatically levels up your hair color game a notch.
You can go for Auburn red hair if you are looking for a vibrant bold look. Moreover, it's trendy and a great way to make sure you feel gorgeous every single day. We hope these tips and ideas will help you make a decision on your next hairstyle!