If you have long brown hair, you must be searching for ways to improve the way they look. If you have long locks and wonder what color will suit you best, brown is one of the most fantastic options. The various shades of brow allow you to choose a hue for virtually any style you wish. If you have long brown tresses, you have many options available for you. If brown is not your natural color, you should be glad you made this choice. Brown hues are the easiest to maintain and they look great with the natural root color.
4 Ways to Make Ombre on Long Brown Hair
If your hair is long and brown, you have plenty of amazing options ahead of you. But what if you want the locks to stay brown but add a little twist to them? An ombre is a great answer. Let's take a look at 4 interesting ways to create ombre on long brown tresses.
1. Sunkissed
Sun-kissed locks are in style. How can you make your brown hair look as if you spent a week at the beach? Use a dye two tones lighter than your brown locks and dip your ends into it. As soon as the color settles in, you'll get an amazing sun-kissed look.
Bring out the blonde on your brown locks. This trick is especially drastic when your hair is dark brown. You'll have to bleach a part of your hair, but the result is truly worth it. Ashy colors stay intact longer and complement brown hues.
3. Silver fun
If you love the new silver hair trend, you can turn your brown locks into a gray ombre. If you have rich brown color as a base, having grayish hues on the ends can make your hair look truly fantastic. Meanwhile, you can always cut the ends off when you get tired of the style.
If you want to have real fun with ombres, go against the rules. You can dye the roots of your hair instead of the ends with blonde, ash, gray or any other color. A reverse ombre always looks fantastic.
Long Brown Hair – 10 Ways to Wear It In Style
The time has come for a change but you don't know which way to go? The worst thing you can do is sit back and do nothing. If you have long brown hair, there is no need to completely change the look. We came up with 10 ways to make long brown tresses look fantastic. If your natural hair is not brown, perhaps these options will help you make a decision about dyeing. Brown is the most versatile hair color. Take advantage of it!
1. Wild Curls
Curly brown hair looks great whether it's long or short, natural or dyed. Whatever option you decide to choose, if you have really fantastic natural curls, it will look good. If not, you could always get a perm.
2. Straight and Rich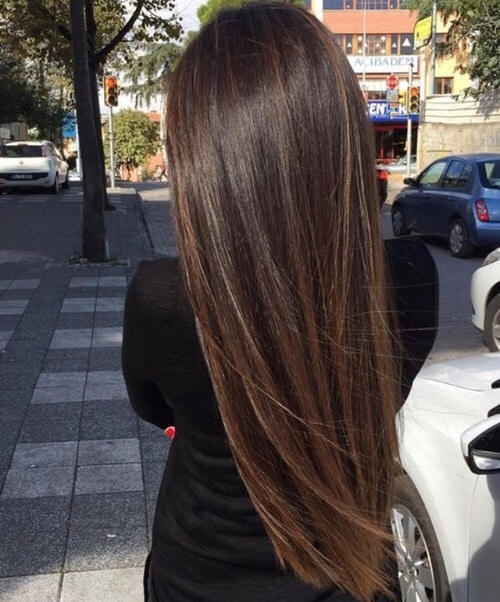 If you have a rich brown hair color, you should show it off by keeping your hair straight and neat. Use hair gel or frizz fighting cosmetics to keep the hair flowing. That's the only way to truly discover the wonder of long brown hair.
Espresso Brown Hair Colors for Women
3. Fiery Highlights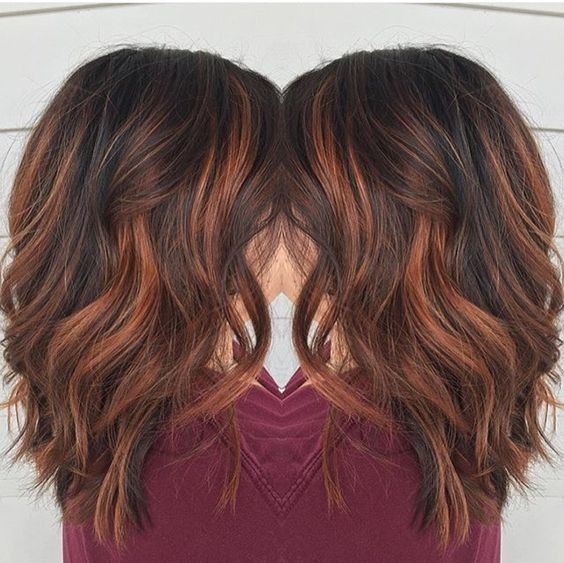 If you have dark brown hair and don't want to change the color completely, consider creating fiery highlights. The color of highlights doesn't have to be red. Brown looks great with blonde, golden, and even burgundy.
4. Permed Ombre
When you play around with brown locks, allow yourself to have as much fun as possible. Dark brown on top and light blonde on the bottom is a wonderful combination for an ombre. It looks even better on permed hair.
Girls with long brown hair often think about going red. You don't have to make any drastic changes. Consider auburn highlights or partial highlights to start your road to your favorite red hair color.
Light and Dark Red Hair Colors
6. Blonde and Shining
Another way to brighten up your boring brown locks is to add some blonde. Brown and blonde are a perfect mix no matter how you put them together. An ombre or highlights, the choice is yours.
7. Soft Features
Soft brown hair color is great for fine locks. If you can't master thick tresses, don't try to go for rich colors, especially if your hair is wavy. Soft brown mix with a touch of blonde is great for any hairstyle.
8. Chocolate Brown
If you have really long brown hair, you can experiment with darker colors. Bring some deep chocolate hues into your light brown hair and top them off with some black dye on the ends. What a wonderful combination!
Chocolate or Medium Brown Hairs
9. Stay natural
Sometimes it's better to ignore all advice and inner voices and just stay natural. Many girls look so amazing with their natural hair color, that they rarely like what they end up with after dyeing. If you like your natural hue, stick with it. Go for a hairstyle change instead.
10. Wavy and Striking
If you are going for the reddish brown hues, you can choose the hairstyle depending on your wishes. This means you don't have to stick to something neat and traditional. Messy wavy tresses are just the thing.
Now that you know what to do with long brown hair, what are you waiting for? Don't waste another minute on long and fruitless searches. Choose one of the above options and go for it!