Balayage hair coloring technique is gaining popularity every year and usually, involves blonde dyeing. However, hairstyles with brown balayage color are just as appealing and much more unusual than the regular blonde balayage.
If you've made a decision to change your color but don't know how to go about it, a brown balayage comes highly recommended. This color is very natural. Sometimes it's very hard to tell a brown balayage from a natural brown color with several sun-bleached strands. If you are not sure how this color will look on your hair, you can check out what other women did.
How to Get A Balayage Brown Hair
Balayage at home is possible if you have the right instructions. We recommend you to consult a professional hairstylist before performing the balayage hair coloring technique at home.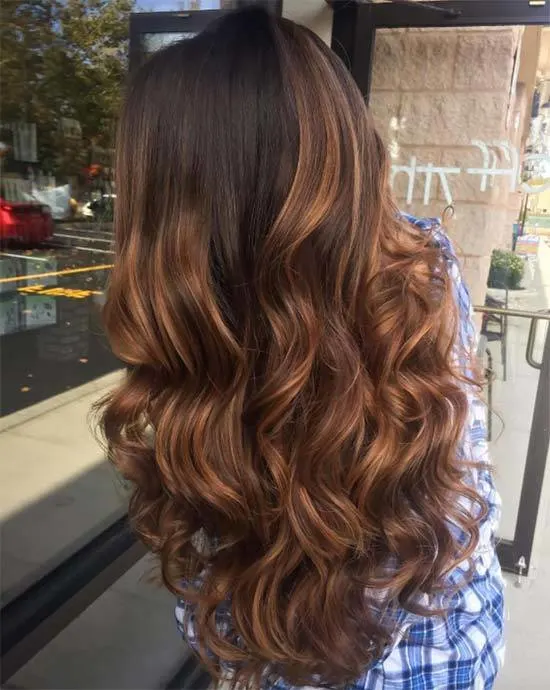 The greatest advantage of the balayage technique is that it's hard to go wrong. There is no one special standard for the way the color should be applied. Below are the basic steps to help you get started:
Divide your hair into 4 equal sections. Start by combing down the center of your head and across from one ear to another. It's easier to work with hair section by section.
Apply vaseline or another greasy cream to your hairline. This way you'll avoid staining your skin when you dye your hair.
Start applying the dye to the length of your hair wherever you feel you need to brighten the hair up the most. Avoid touching the roots.
If you don't have too much experience with dyeing, divide each of the four major sections into 2-4 more. This way you'll achieve more precise dyeing.
Don't rub the dye into your roots or your skin. Slightly brush the hair with your fingers to naturally blend in the color. Don't forget to wear gloves.
How to Get a Balayage Tutorial
Best Hairstyles With Brown Balayage Hair Color Ideas
In order to make your choice of brown balayage hair a little easier, we came up with the most stunning examples. Take advantage of these samples to understand whether or not this coloring technique is right for you.
If your hair is or brown, this balayage can be a wonderful option. If you are tired of your blonde locks and want something darker, a brown balayage can become your hairstyle of choice. Don't stop at the most popular balayage hairstyles with brown shade.
1. Caramel brown balayage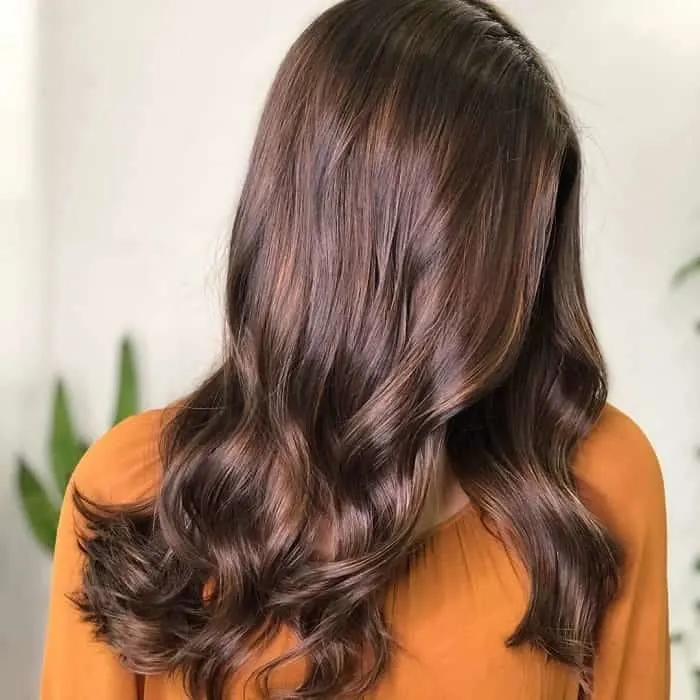 For a beautiful hair color that will match your personality, go with brown caramel balayage. This hair color will not only bring out your personality more beautiful but also give you the type of confidence you have always wanted.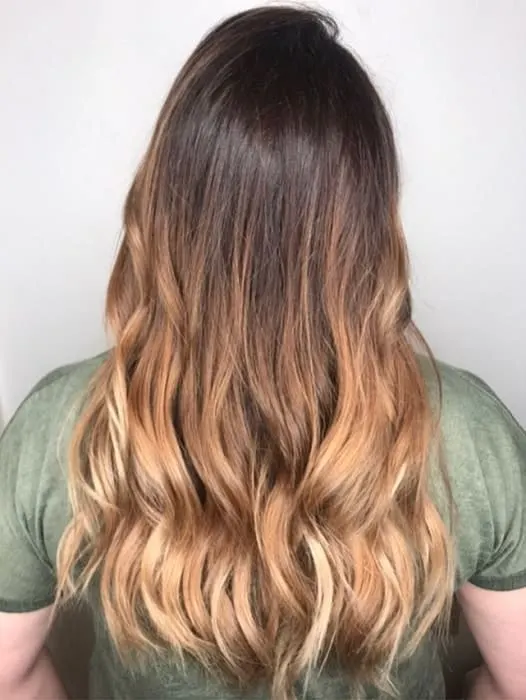 If you are more blend type than mix and match type, then brown balayage is the best thing ever that you can do for your hair. The upper portion of the hair is darker while the lower portion of the hair melts down into brown shade to light blonde.
3. Chocolate maple brown
Not everyone loves chocolate, but maple chocolate brown hair is everyone's favorite. Ask your stylist to put beautiful beach waves to your hair and then dye them a pretty shade of chocolate maple brown.
4. Drizzled brown hair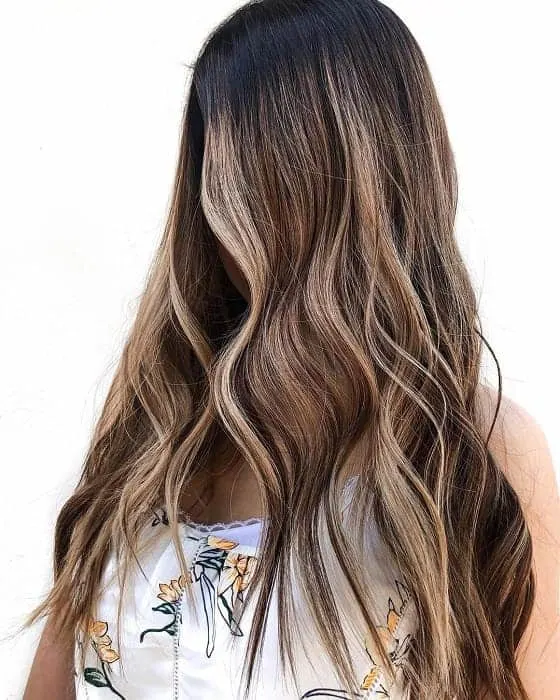 A little drizzling is always good. So, drizzled balayage brown hair can be your go-to look the next time you are thinking of going to a party or a regular stroll on the street.
With darker roots and drizzled brown shade on your lower hair,you are going to make everyone fall in love with your hair color.
5. Honey blonde brown
Honey is a beautiful color, but then blonde is also a classic color.So, it is best if you combine both the colors and give your hair a majestic look. Honey brown balayage hair will complete your look in an instant.
6. Dark ash roots with cold brown ends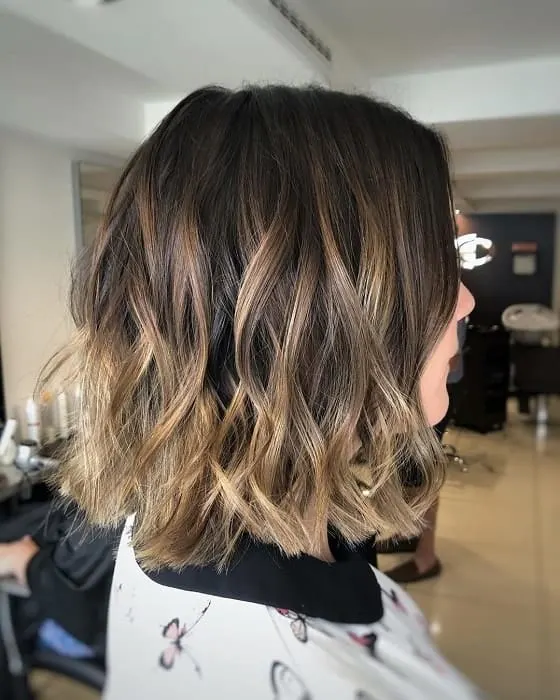 If you are more of a gothic type and you are into a gothic subculture, you will like the sound of dark ash roots with cold brown ends. But if you decide to get this shade for your hair, it is guaranteed that you will fall in love with your hair.
7. Classic balayage
For a classic look, we suggest that you opt for classic brown balayage hairdos. Take the top section of your hair and tie them into a knot while leaving the lower hair flowing on your back. This classic hairdo will make you look elegant with the blink of an eye.
8. Subtle brown shade
If you want a subtle shade of brown to your hair, ask your stylist to put a lighter hue of brown to your blonde hair.
This is a pretty hair color that is trendy and is guaranteed to make you look stylish. You won't ever regret getting this hair color.
With bronde hair, you no longer have to go through the struggle of choosing between blonde and brunette shades.
You can easily get your hair dyed by mixing both blonde and brunette shades to get the perfect bronde hair color.
10. Black and brown
If you have got naturally black hair and you want a pop of color to them, but also, you don't want to go too wild, then black and brown hair is the best hair that you can ask for.
Ask your stylist to give your natural black hair a pretty brown balayage to satisfy your hair color cravings.
11. Violet strands
There are many shades of brown you can play around with when you plan your balayage. Don't stop at the most natural choices. A touch of violet can create an image you'll truly love without too much dyeing.
Mahogany Brown Hair Color Ideas
12. Black and brown
Black hair is perfect for a balayage. You leave the top part naturally black and go on to dye the strands brown. The black and brown mix looks very interesting and appealing. You can add some blonde strands as well.
13. Raven black beauty
A brown balayage can easily start with the raven black hair. In fact, the contrast dark black and light brown create is priceless. You can achieve a blonde appearance without actually using any blonde dyes.
14. Dark chocolate brown
Use your dark chocolate brown locks to become a base for a striking balayage. Chocolate brown appears wonderful when combined with light brown. The transition looks natural and inviting.
Creative Light & Dark Auburn Hair Colors
15. Add some honey
Honey blonde or golden brown colors are all-purpose. They look amazing when coupled with dark brown or black hair. Use the golden or honey hues to brighten up your balayage and you can avoid blonde shades.
16. Auburn highlights
Use auburn highlights to prepare your locks for amazing brown balayage hair. You can darken your light mane with auburn shades in order to bring it closer to brown. This is a piece of advice for girls with dark blonde hair.
17. Three color mix
Use a mix of three shades of brown to create your amazing balayage. Using several colors on your own is complicated so you might want to consider professional assistance. Choose the colors and go for it!
Chestnut Brown Hair Colors You Want to Plagiarize
18. Light golden brown
If your natural hair is not too dark, you can enjoy a light golden brown balayage. Mousy brown hair is not exactly what all the girls wish for. Meanwhile, light golden brown is a rich color you'll never regret taking advantage of.
19. Good transition
When you create a balayage at home, make sure to pay special attention to the soft color transition. Otherwise, you'll get something closer to highlights rather than a classic balayage.
20. Wavy balayage
Balayage is harder to make on wavy hair, so you need to pay close attention to the color transition patterns. Don't forget that wavy hair is straight when wet. Once it dries, the color effect will differ.
Some love auburn, while others love brown.But if you are a fan of both the shades, then auburn brown is the hair color you have been looking for. So, on your next visit to the salon, don't forget to ask your stylist to do balayage on your hair with an auburn brown shade.
22. Dark brown and light brown match
If mixing and matching is your style, then the dark brown and light brown match has got to be the perfect match you have gotten so far. It doesn't require a lot of mess but gives you a super exquisite look.With upper hair a dark brown shade and lowerhair a light brown shade, you are going to rock your look.
23. Dark brown hair with babylights
If you want to do something unique with your hair, cut your hair into a short bob and put beautiful waves in it.Now, get your hair dyed a dark brown balayage which eventually melts into medium beige babylights. You are going to love this hair color so much!
24. Glossy balayage
Light brown hair is everyone's favourite but adding a glossy brown color balayage to your hair will level up your game a notch. This hair colour is suitable if you have short hair or medium hair or even if you have got long hair.
25. Bronze hair
If you are tired up of your boring mono-tone hair, then dye your darker hair and put bronze balayage to get a pretty two-tone shade. This hair colour will successfully eliminate the element of boredom and dullness from your hair.
26. Majestic brown hair
For a brown balayage look, go with copper brown hair color. This hair color will perfectly suit your medium length straight hair and give them the illusion of beautiful texture and volume.This hair colour is going to add more perfection to your already perfect look.
27. Bleached brown balayage
If experimenting is your favourite thing, then it is time that you experiment with brown. Ask your stylist to colour your hair a beautiful brown shade which also gives the impression of bleached brown hair.Put subtle waves in your hair to bring out the colour even more.
If you're looking for hair color for your short hair, then this elegant balayage is the best color. Your short hair will look perfect while being trendy and classy. This balayage brown hairstyle will never disappoint you and will always come up to your expectations.
29. Brown and yellow balayage
For a funky yet classic look, go to your stylist and ask him to dye hair into two shades, which are brown and yellow. This brown and yellow balayage will not only make you look funky but will also add to your classic style.
With this hair colour, you can rest assured that everyone is going to turn their heads your way right after you step out on the street.
Long hair can be a little difficult to handle. When combined with hair color, you can sometimes expect a mess. But if you go with brown balayage hair look, there is nothing that can go wrong. You are absolutely going to fall in love with your balayage hair color. Don't forget to get this hair color on your next visit to the salon.
A brown balayage is a great idea for girls who don't want to go for the classic blonde dyeing. Various shades of brown can give your image the extra oomph you can't live without.