Wavy hair is hard to deal with and women who are looking for a simple way to deal with it should go for medium wavy hair.
Medium length hair is the most popular among women of all ages. This length is the easiest to take care of while not being too short. Wavy hair tends to be unruly and needs plenty of effort to be kept neat. So if you are looking for ways to kill two birds with one stone, take a look at some of the hottest shoulder-length wavy haircuts.
Classy Shoulder Length Wavy Haircuts and Styles
If you've decided to find a new look for your shoulder-length wavy hair, you must be ready to spend some time on making your mane truly shine. Get ready to use a curling iron, a curling wand, some clips, and other hair accessories and styling tools.
You can make an amazing hairdo with your wavy hair without too much effort. At the same time, there are few complicated options you might want to consider, including a perm and even dreadlocks.
Below are some of the shoulder-length wavy hairstyles we recommend.
1. Wavy Ombre Bob
A medium length bob that just grazes the shoulders becomes mesmerizingly beautiful with blonde and brown ombre. Leave about an inch of hair around the roots to be straight, then fill the rest of your hair with those large waves.
2. Wavy Bun Updo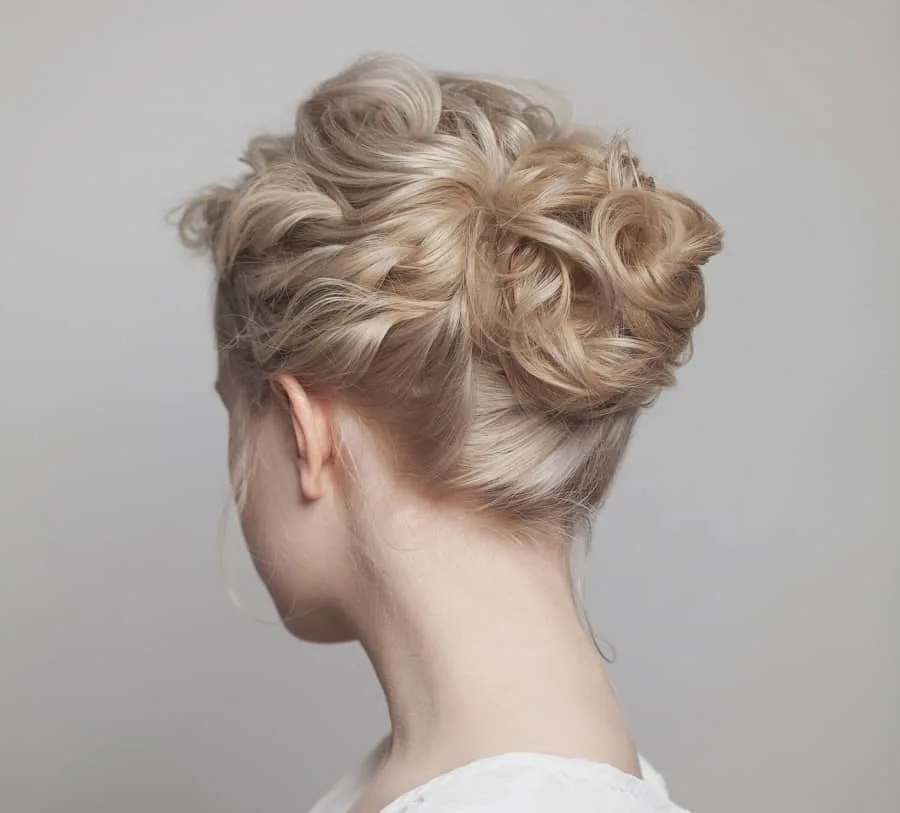 The soft waves in medium length hair make an updo soft instead of harsh. You can use your fingers to comb the hair up into a ponytail, then wrap it into a bun and secure with bobby pins.
3. Bright Purple with Side Part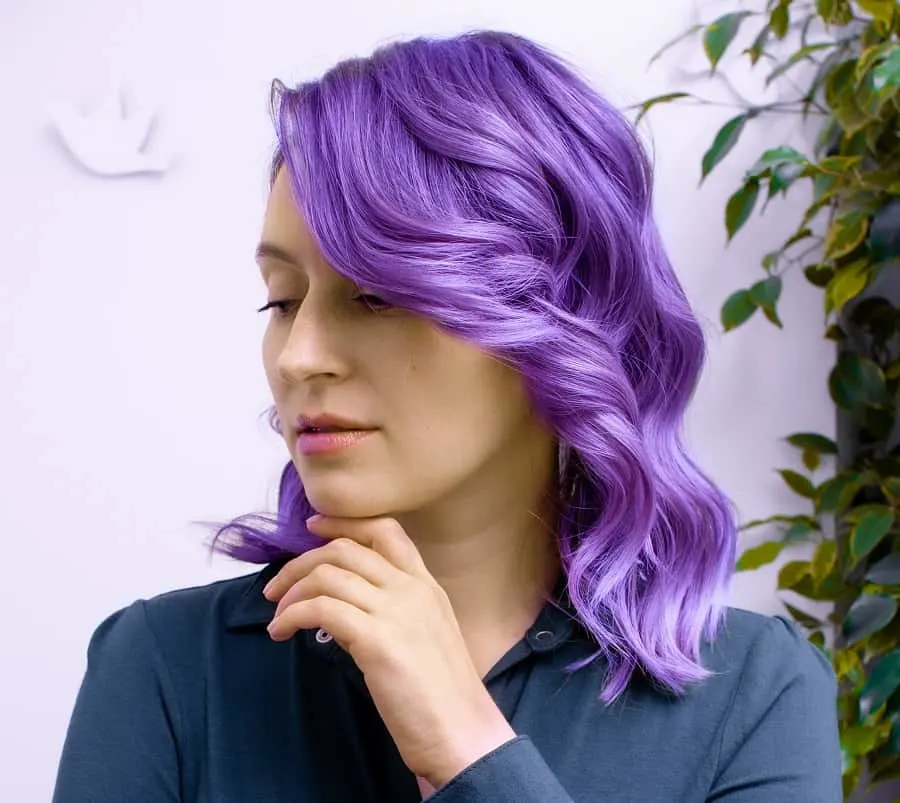 If you aren't afraid to play with hair color, consider rocking a hairstyle with a vibrant color to give your wavy locks the attention it deserves. This shoulder length style is parted off center and features slightly lighter purple ends.
4. Shaggy Hair with Curtain Bangs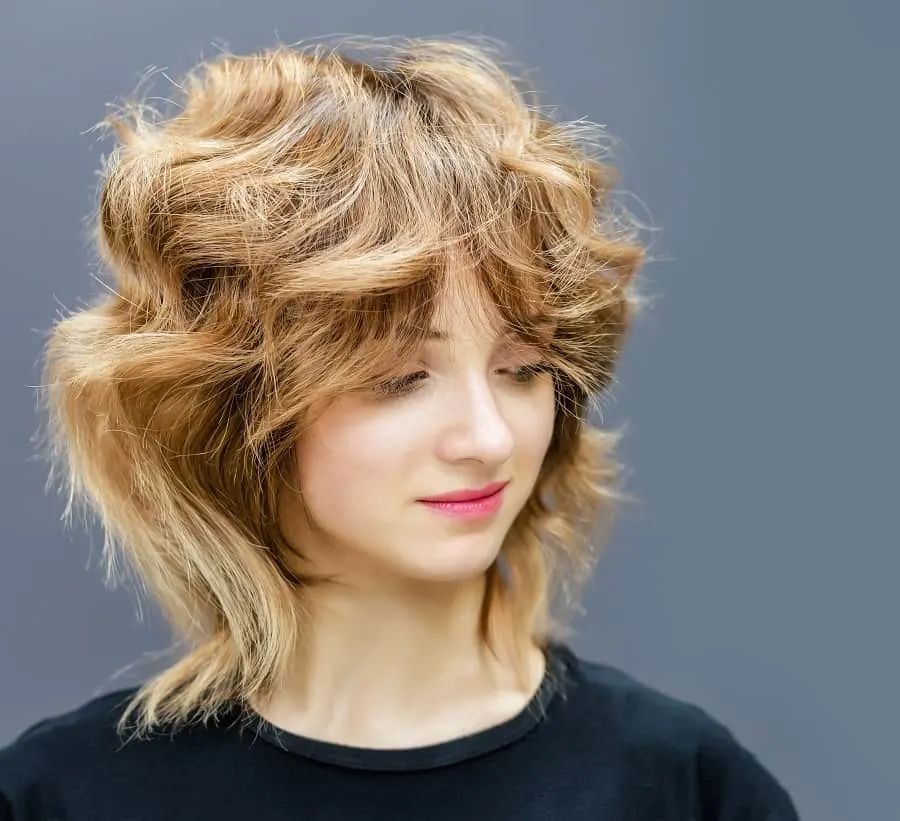 Are you frustrated with really thick wavy hair? You may want to try a medium hairstyle with a thinned out bottom and a top that is heavy in short layers. Adding extra long curtain bangs completes the look.
5. Smooth Hollywood Waves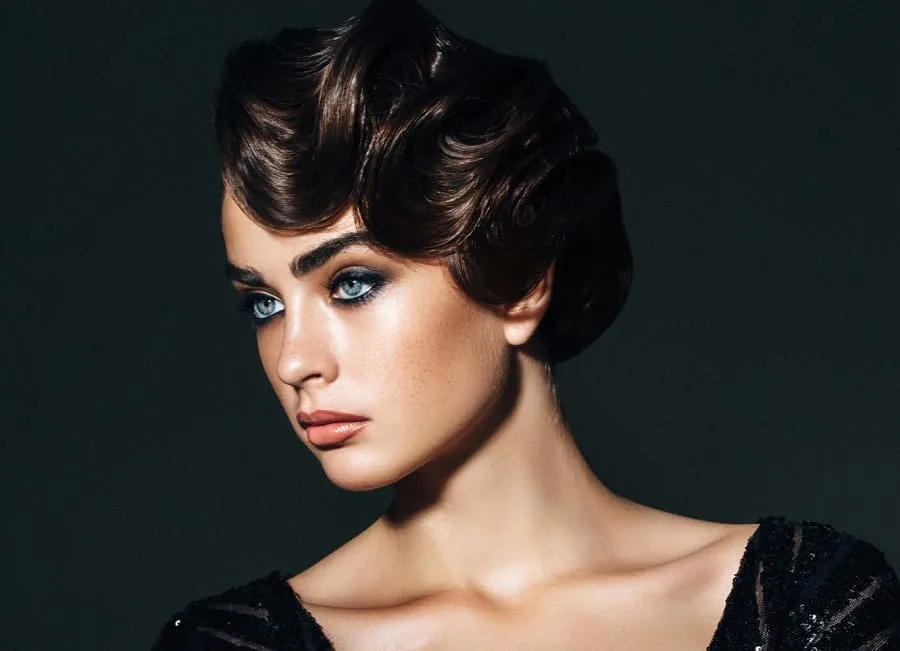 When your evening calls for glitz and glamour, smooth Hollywood waves won't let you down! They take a little longer to style, but the finished look will make you fall in love with your wavy hair all over again.
6. Side Braid with Highlights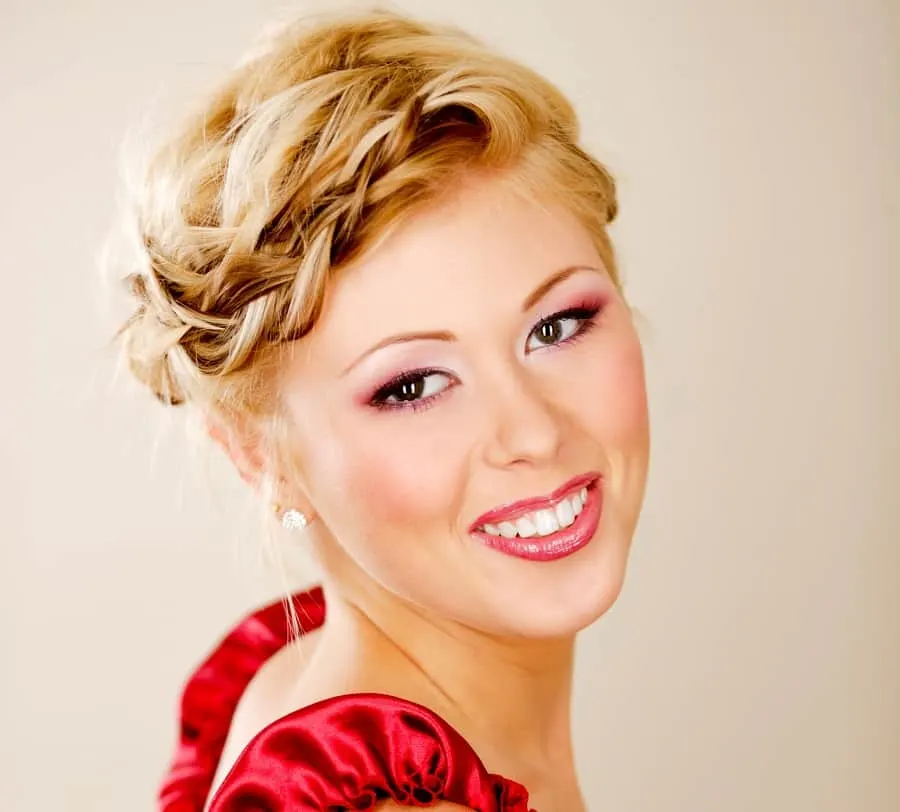 To dress up any updo on wavy medium hair, a side braid is easy enough to do! This loose blonde updo boats a loose, soft side braid right at the hairline and draws attention to your gorgeous textured locks.
7. Classic Off Center Part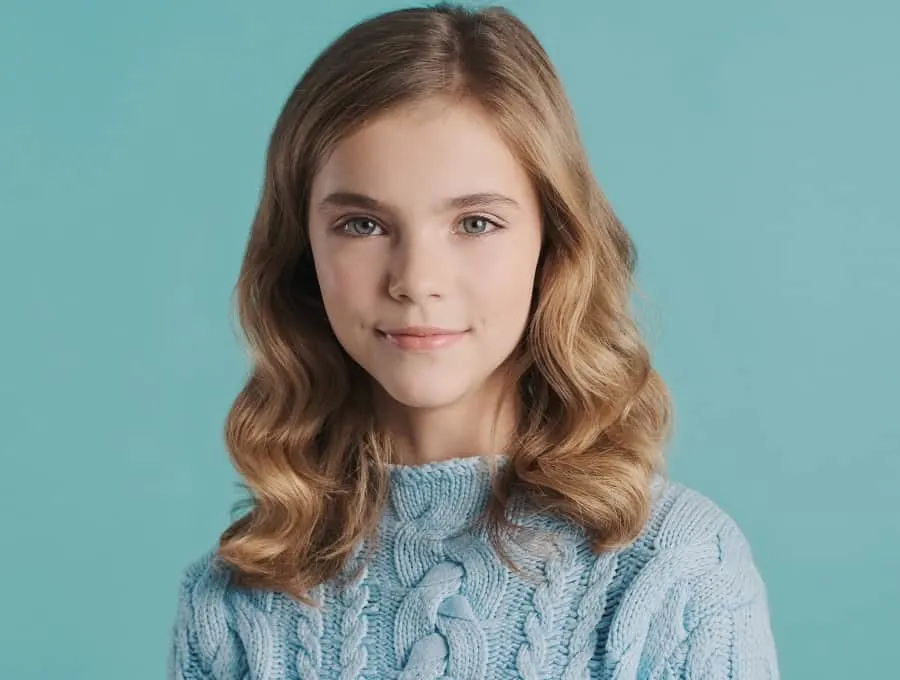 For women looking for a low maintenance medium hairstyle, don't underestimate what a simple off center part can do! The soft waves seen here don't need any special styling to make them look their best.
8. Wrapped Wavy Ponytail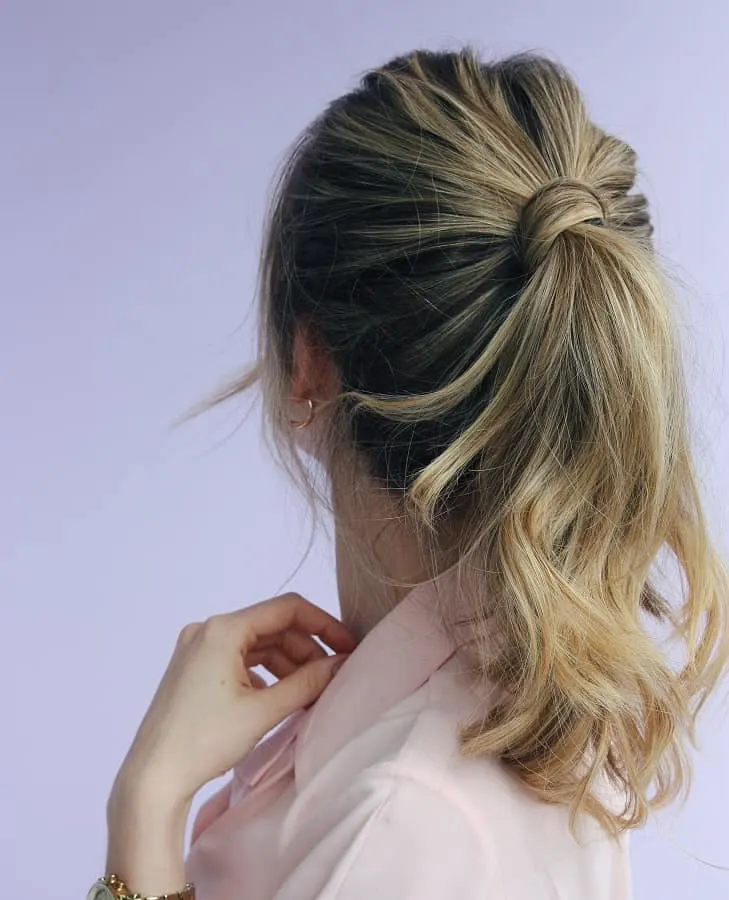 Vintage and flirty is exactly how we would describe this wavy ponytail! The key to this look is avoiding a perfectly smoothed ponytail, so we can see that beautiful texture. Hide a plain hair tie by wrapping a section of hair over it.
9. Bright Pink Layered Bob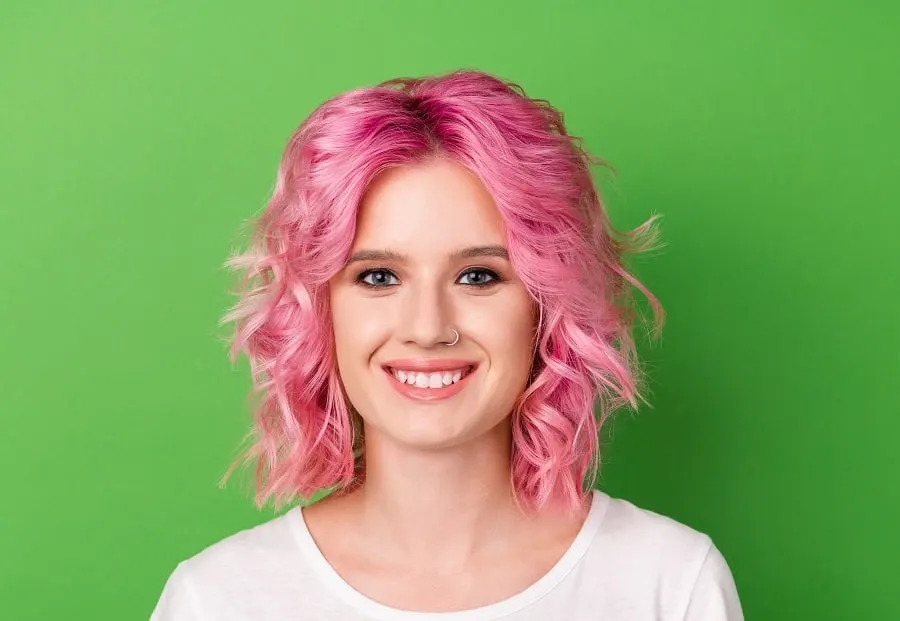 There's no shortage of brilliant detail in this bright pink wavy medium bob! Get the touchable body by going heavy with layers. A choppy cut to ends ensures you have built-in style no matter how you wear your hair.
10. The Soft Part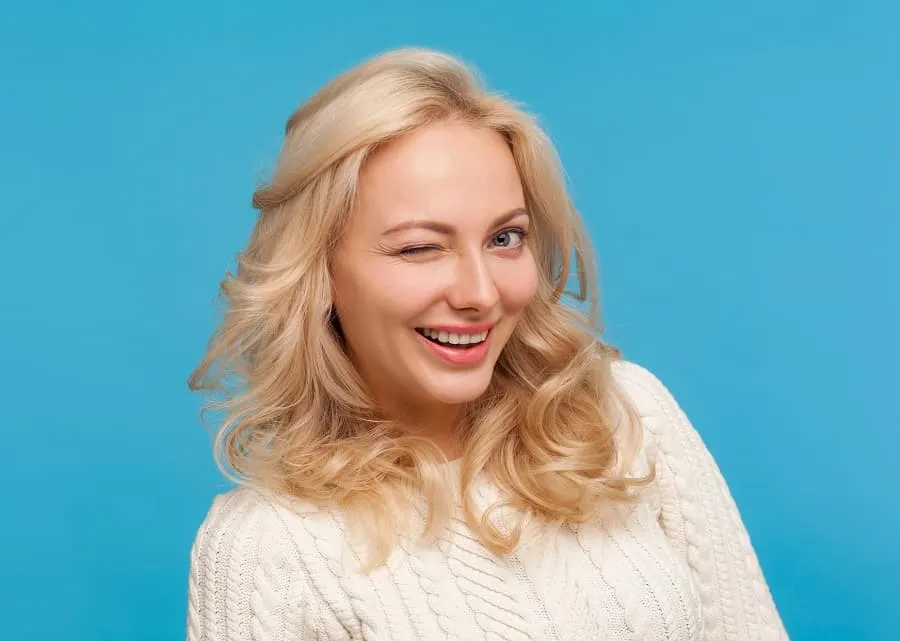 Before perfecting your wavy locks, use your fingers to comb in a short, soft part. This will help your medium wavy hair look fuller and is a little less straight forward and harsh than a blunt center part.
11. Wear it Down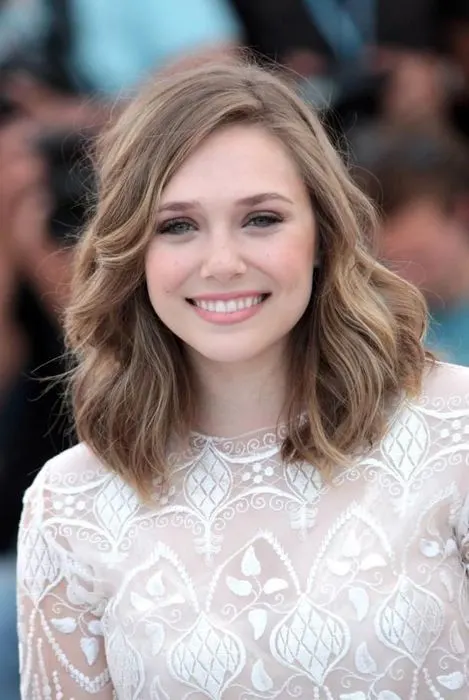 Wearing your wavy hair down is a bold move. It usually tends to stick out in all directions and look frizzy as a bonus. Use your curling iron to make at least some of the strands neat and the overall impression will change.
Magical Updos Dedicated to Medium Length Hair
12. Curly Ends
Consider straightening the top part of your wavy bob and using the curling iron to make some curls on the bottom. This great hairstyle will look even better if you make a low side part.
Best Medium Hairstyles for Women with Round Faces
Want to forget about hair hassle for a long time, consider getting a perm. This awesome hairstyle for shoulder length wavy hair takes no effort and lasts long enough to enjoy the low-maintenance days.
How To: Wavy Hairstyle Tutorial for Shoulder Length Hair
Box Braids for Medium Length Hair
14. Neat Waves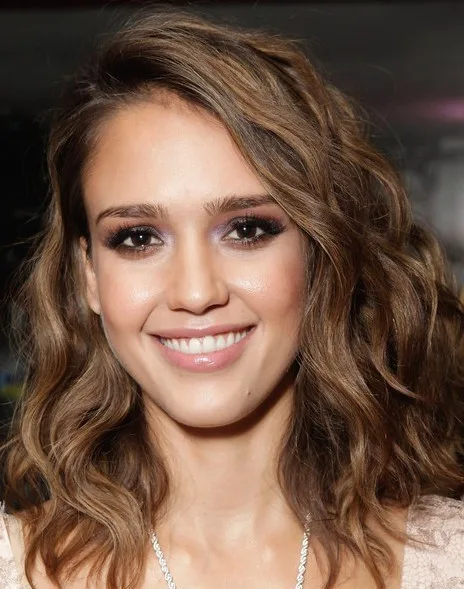 Neat waves can only be achieved with a curling iron and some hairspray. Make sure to style all your strands to create a soft and neat appearance. A low side part is a great addition to any shoulder length wavy hairstyle.
15. Add Some Volume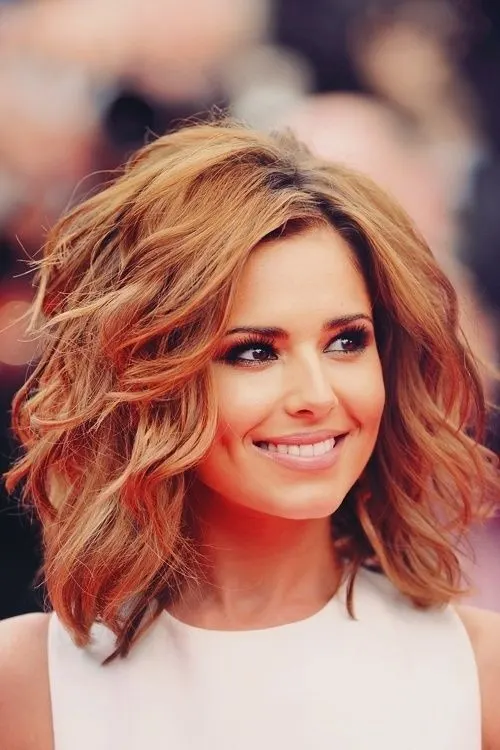 If you have slight waves that lack volume, consider getting a medium length layered haircut. It will pump up your hairstyle and make waves easier to deal with. You can use a curling iron to increase the volume at the roots.
16. Large Coils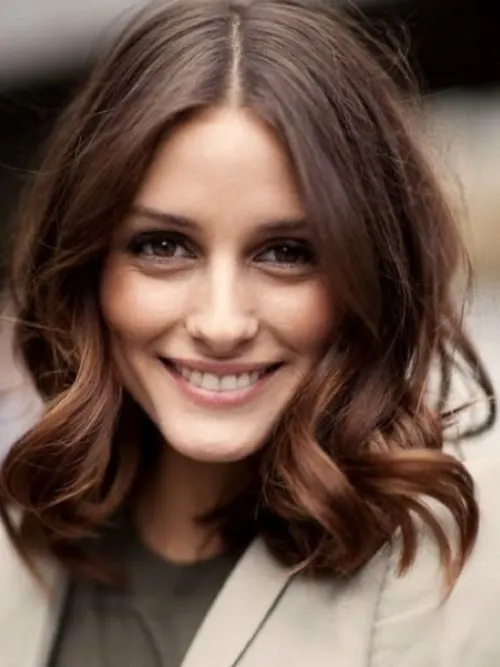 If your hair is slightly wavy, you can easily straighten the top part and create large coils on the ends as contrast. This hairstyle looks great even when it's messy. But you can make it neat with some hair gel.
17. Partial Highlights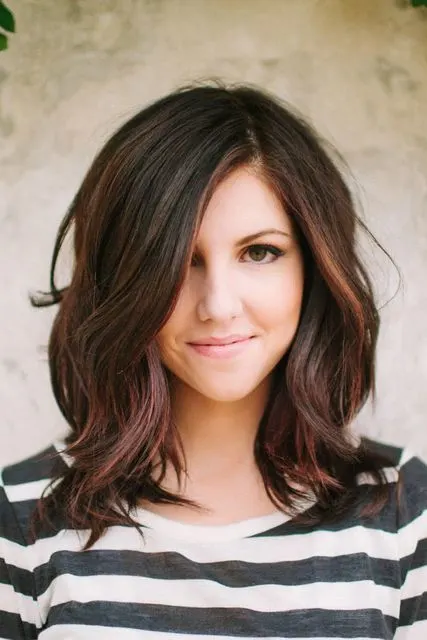 Diversify any hairstyle for medium shoulder length wavy hair with a few different partial highlights. Make the colored strands sneak out from underneath your mane to create a unique impression.
Formal Hairstyles for Women to Try With Medium Hair
18. Become a Redhead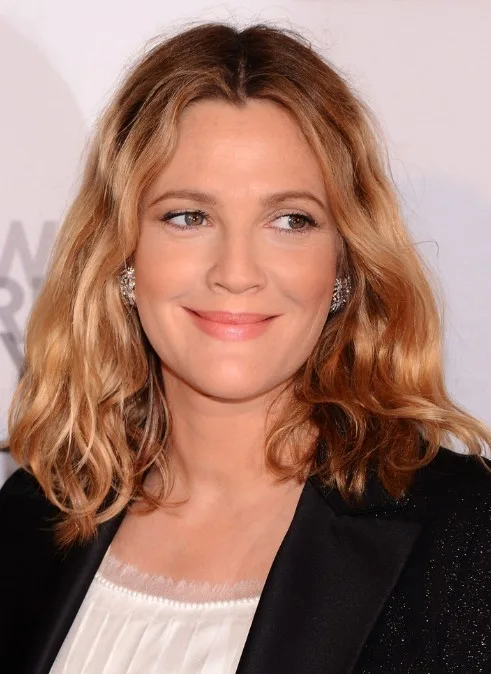 Women with wavy hair look amazing as redheads. Consider different shades of red to make your mane look impressive. If your hair is naturally dark, look for copper shades. If not, then consider fiery red.
19. Soft Waves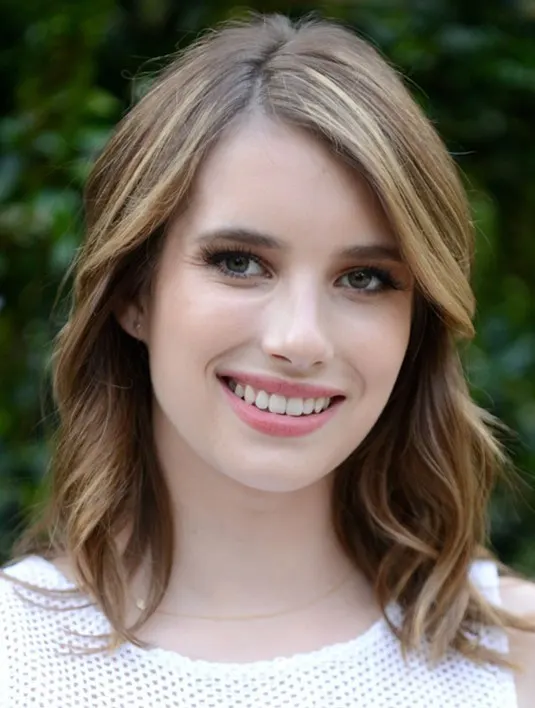 If your waves are slight and you are not after the volume, consider just keeping them neat without using a curling iron. You will need to brush your locks throughout the day and use some hairspray.
Bangs are the hardest part of the hairstyle for girls with shoulder length wavy hair. It always sticks out in the wrong direction, so you have two options. Either straighten it or curl with a curling iron.
21. Overnight Waves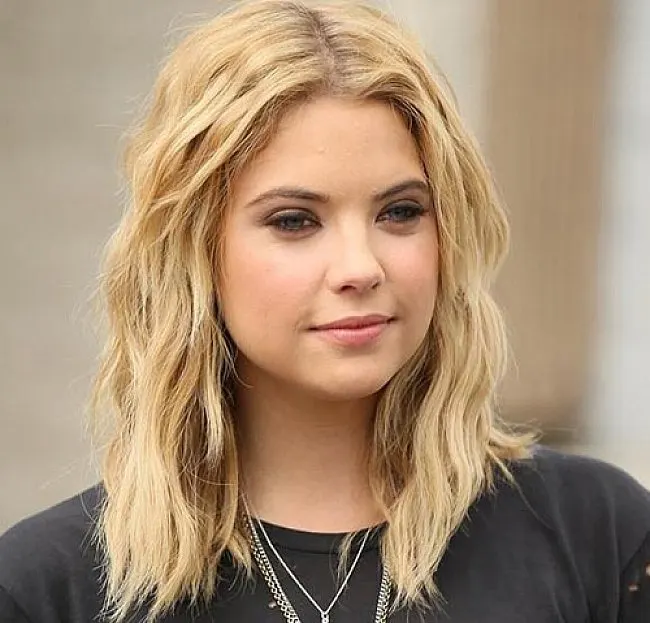 This wavy hairstyle can easily be created by braiding your hair and leaving it overnight. You'll need to make many small braids all over your head and then unbraid them in the morning.
22. Straighten Them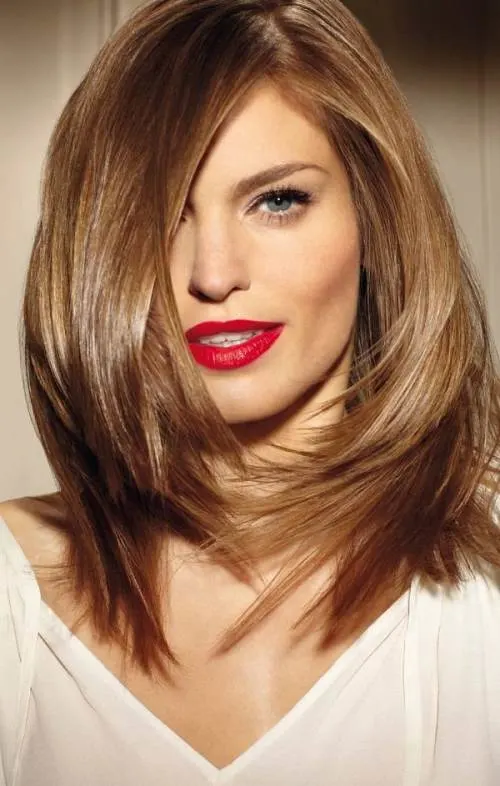 If you are tired of your medium wavy hairstyle, you'll appreciate this approach. Straighten out your locks and arrange them, just the way you always wished. Enjoy this hairstyle throughout the day.
23. Teased Waves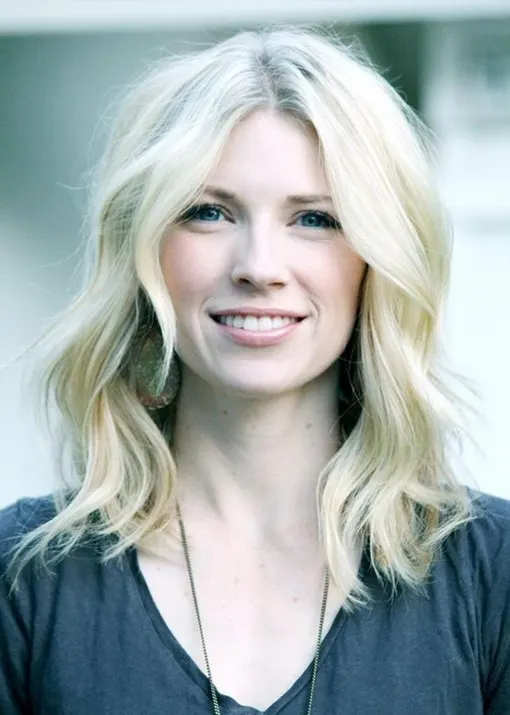 If you are not after a very neat wavy hairstyle, you might want to consider getting teased waves. Enjoy the way they frame your face. Such hairstyle doesn't need too much maintenance, just some hair spray.
24. Get a Weave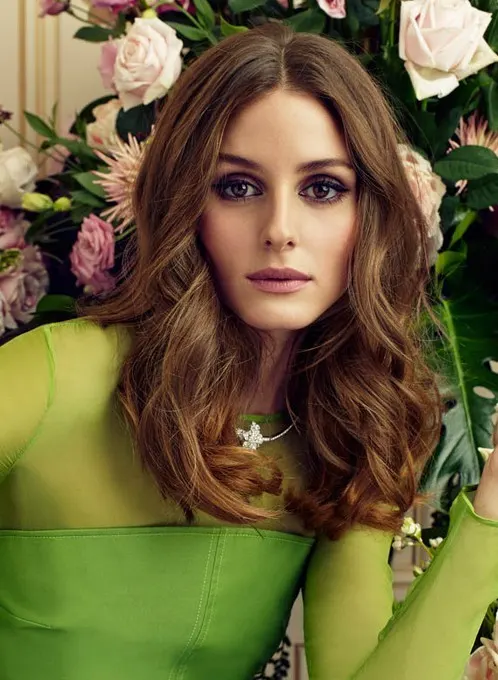 If you think your hairstyle is lacking some curls, consider adding a wavy weave. You can enjoy a long mane and all the benefits that come with it. But don't forget that it needs extra hair care as well.
The contrast between the soft hair on top and teased waves on the bottom looks really impressive. This hairstyle takes just a few minutes to create and the effect can last all day. Give it a try!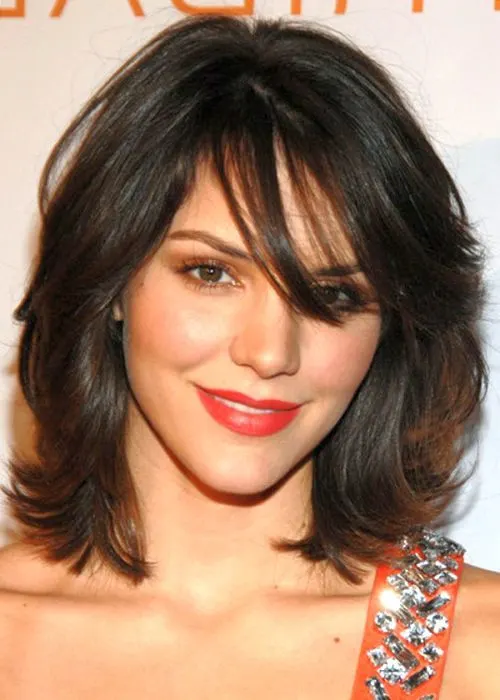 Since you need to take extra care of your bangs anyway, why not try all kinds of styles? You can enjoy long wispy bangs. They are a great way to get a romantic and sexy look.
27. Messy Waves
Since your wavy hair is hard to deal with, why not enjoy the way it looks naturally? Messy waves are great but still require a little care. Use your curling iron and hair gel to get rid of the frizzy effect.
28. Curly Comb Over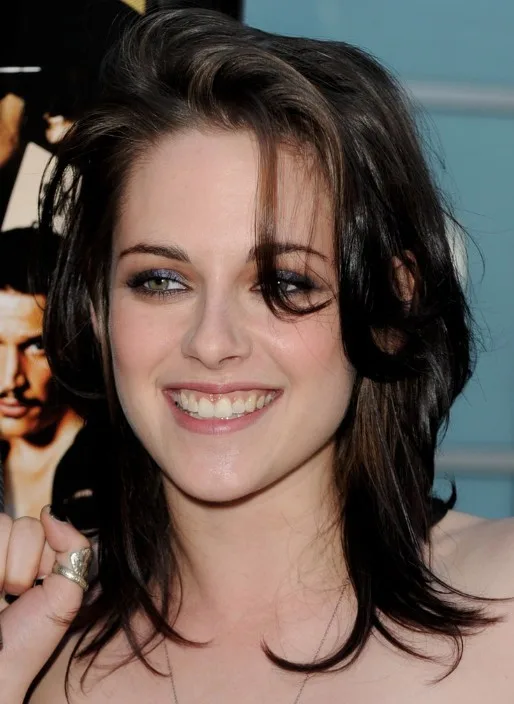 This hairstyle for shoulder length wavy hair is easy to achieve. You need to work just with your bangs. Curl them and brush backward to create a messy yet stylish appearance.
29. Loose Waves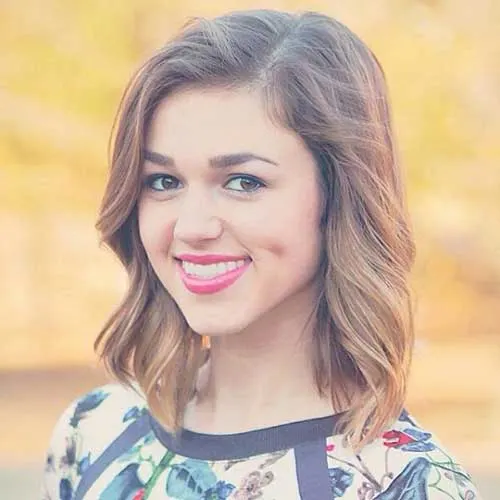 Waves look great when they are loose. So there is no need to spend too much time styling them. Consider creating two or three loops to make your hairstyle appear neat and appealing.
Best Hairstyles for Teenage Girls
30. Special Waves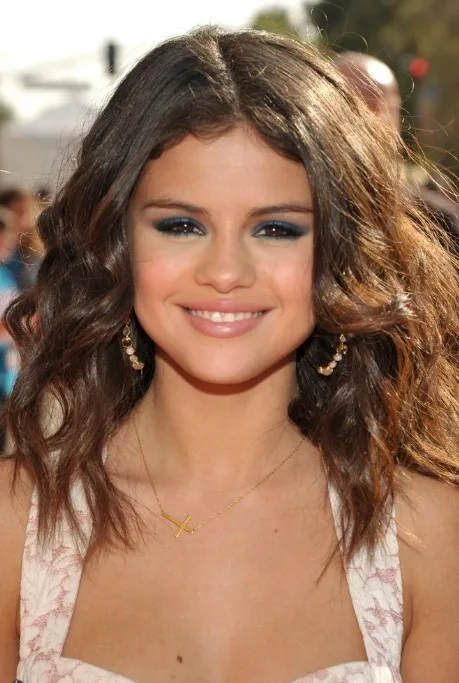 Your wavy hair can be turned into a voluminous extravaganza with a mix of wild waves and a few curls. Ask your hairstylist to create this style for your next special occasion. You'll love it!
31. Be Natural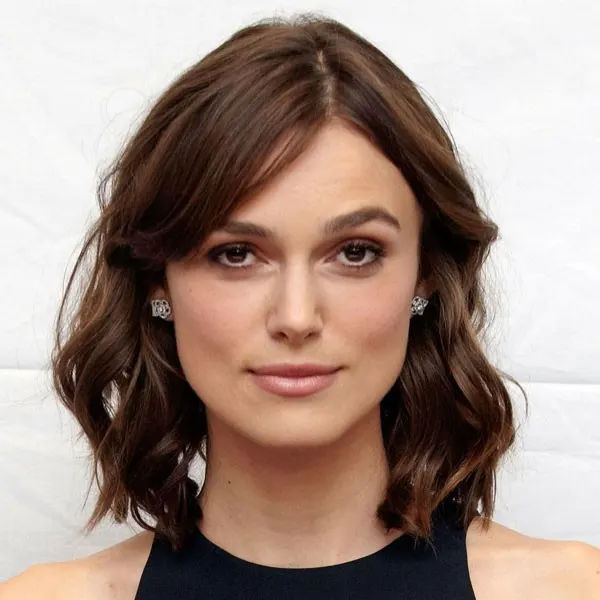 If you have natural loose waves, there is no need to do anything with them. Apply a few drops of hair gel to your fingers and style your loose waves so they take shape. Voila, you did it!
32. Tight Waves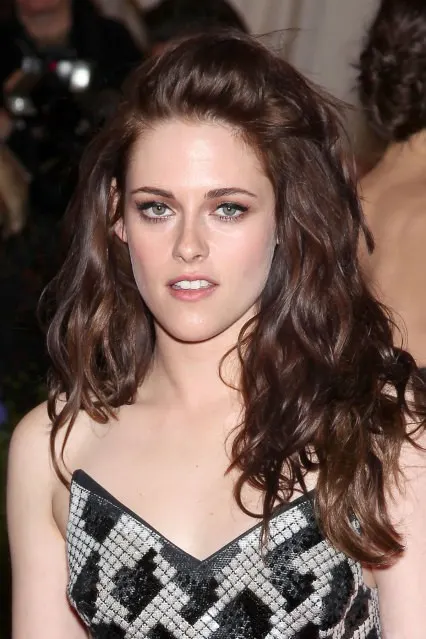 If you want to increase the volume of your mane, you can opt for curling your hair into tight waves. Such hairstyles are usually great for special occasions but are not recommended for everyday use.
33. Ombre Waves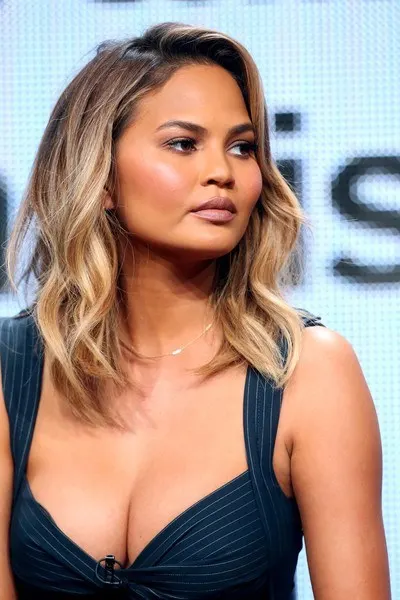 If you have an ombre, consider creating the waves according to the color. Straighten the top part and emphasize the waves on the bottom.
34. Wild Waves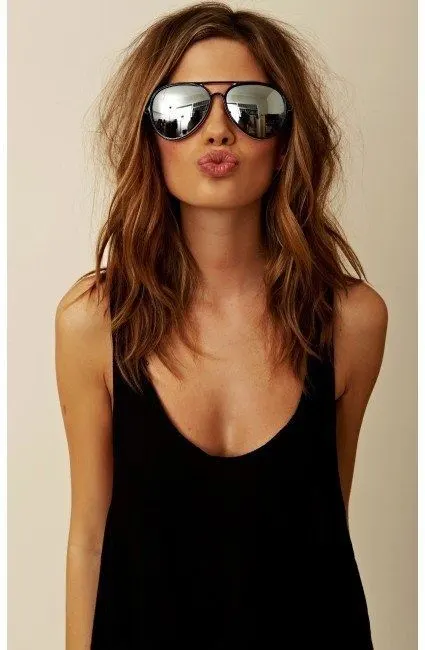 Use hair gel to make the hair on the bottom neat and mess up the top. This hairstyle for shoulder length wavy hair is perfect for girls who hate high-maintenance and want to look wild and sexy.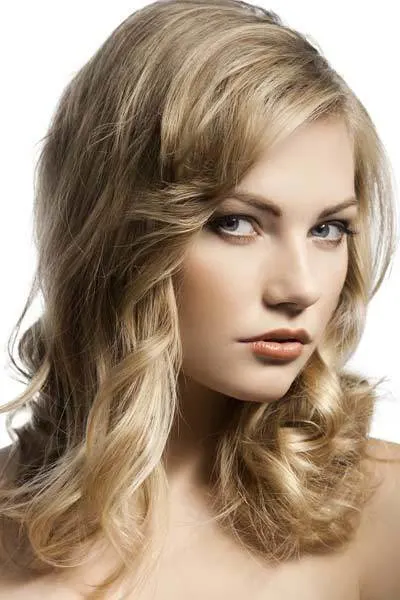 If you are a blond, consider creating soft and princess-like waves on the bottom while keeping the top straight. Pump up the roots a little with the curling iron and the beautiful image is ready.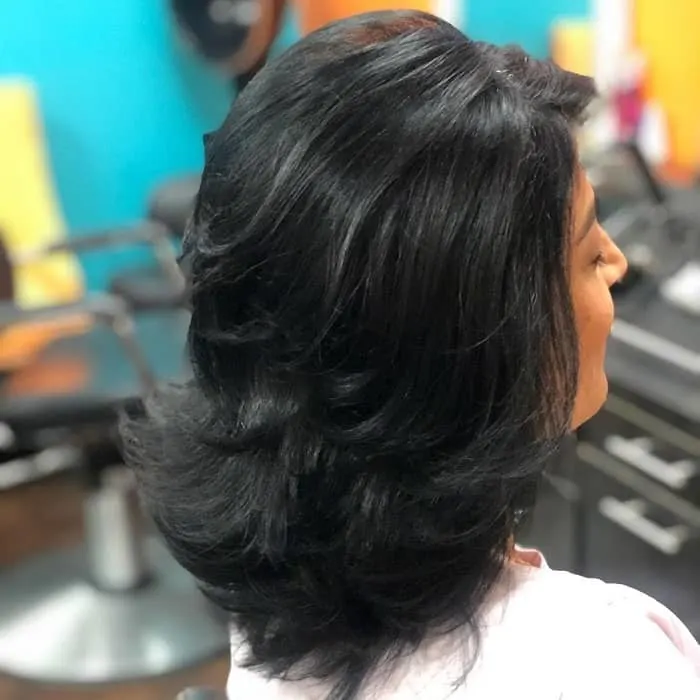 This hairstyle is perfect for women with a classy style and sense for fashion. It is appropriate for workwear, casual as well as after-work parties. Feather curls are best achieved with a wide brush. You can ask your hairdresser to layer your medium length wavy hair and style it with this type of curls.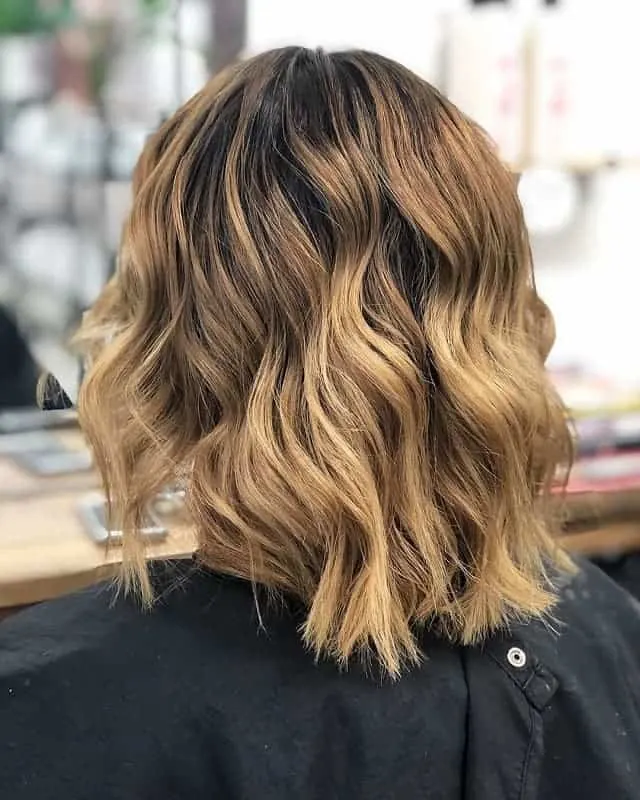 This might be one of the most popular hairstyles among women, but that doesn't surprise us. Lob hairstyle is very practical for maintaining, and it suits all women.
Wavy hair can be achieved with a curling wand or even better with a brush. You can wear waves like these for the whole year – beach waves are not reserved for the beach only.
Voluminous hair is something that we all dream to have. You can cut your wavy hair at a shoulder length, curl it, and then comb your fringes at one side. They will give you that voluminous look that is more than great for both everyday and special wear.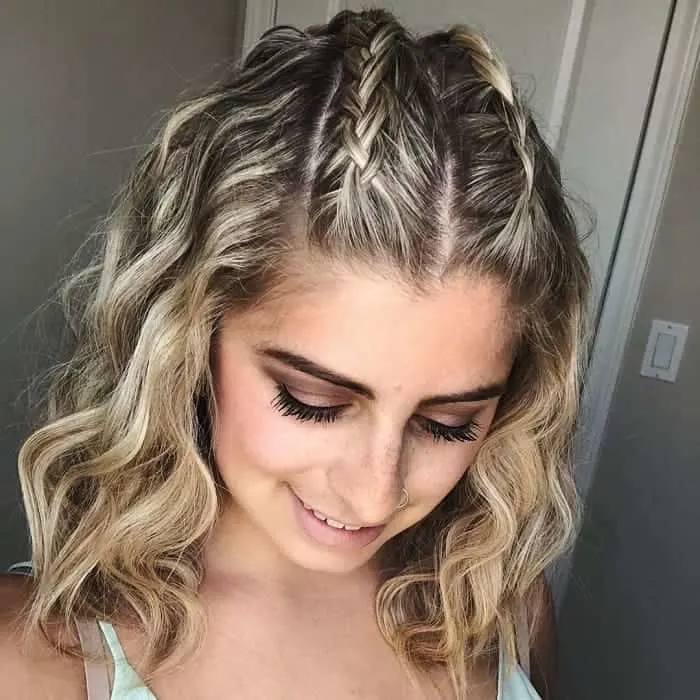 Along with waves, there are braids, as one of the most beautiful ways to style your hair. Fishtail braids from the top of your head look amazing in combination with mid-length wavy hairstyle. You can wear this hairstyle whether you are heading to lunch with friends or some black-tie event.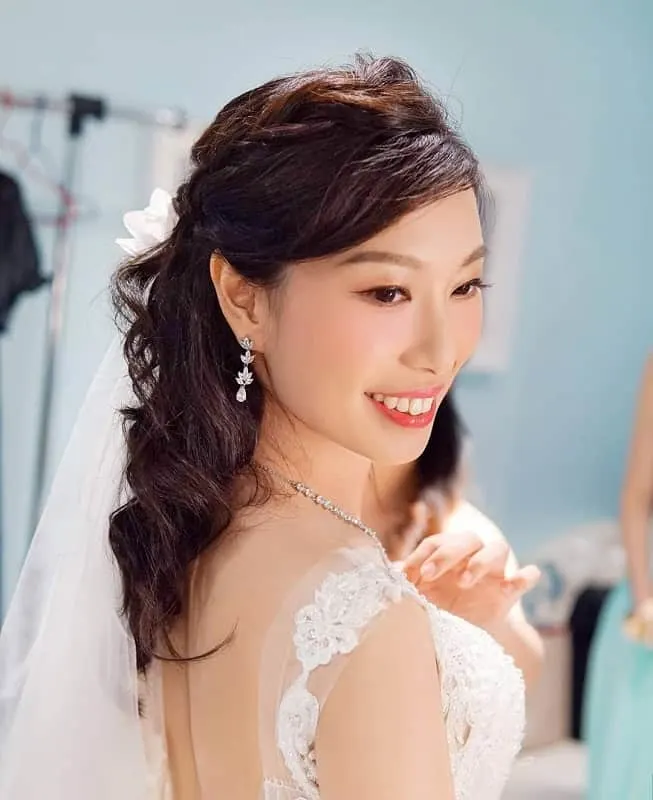 Romantic and retro curls make your shoulder length hair look great. These curls are perfect for weddings or other elegant events, where you need to look stunning. Whether you have thick or thin hair, these curls can add some volume and style to your outfits.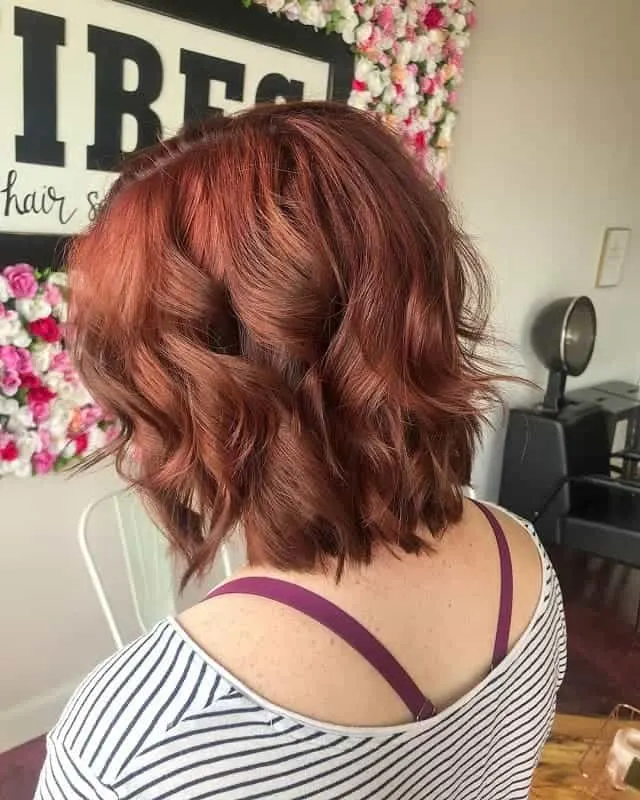 Whether you have naturally wavy hair or you make them a curling wand, they can look gorgeous like these ones on your medium hair. Copper hair dye will only enhance their beauty while you can look fantastic wherever you plan to go. The crown of your head will look super voluminous even after sleeping in.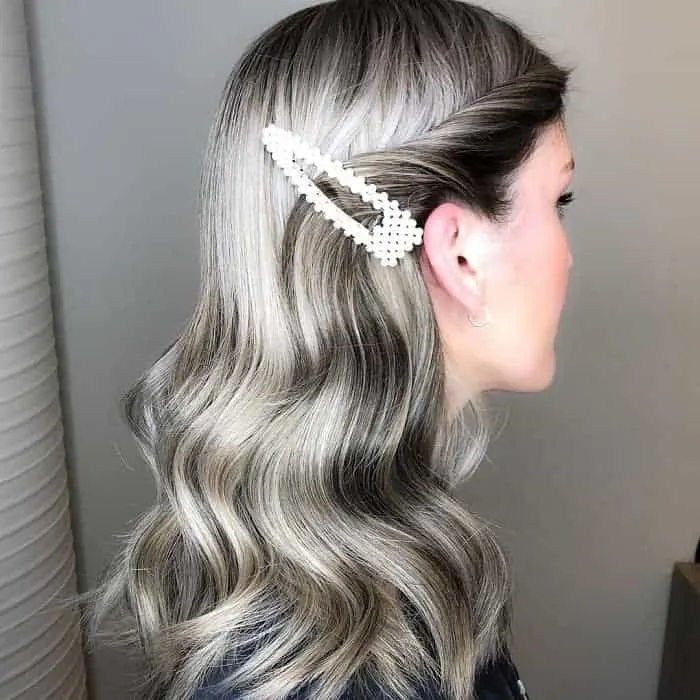 If you want to look sophisticated and elegant, then dye your hair in platinum blonde and curl it! Also, don't hesitate to add some hairpins. They are one of the biggest trends in the hair industry at the moment. Pick the ones with small pearls like the one at the photo above.
Blonde hair with pink highlights might not be your first choice, but you can absolutely give it a try! This is great for all girls with thick hair. Use hairspray to style your curls and try to add a bit of volume in the upper part of your hair as well as at the roots.
44. Appropriate Hairstyle
Women with classy style always seek to have a hairstyle that is equally classic as their style. This is definitely one of those hairstyles. Curly hair ends, as well as blonde highlights on dark hair, will provide you with maximum style. This hairstyle is appropriate for every possible occasion you want to go to.
45. Medium Red Hairstyle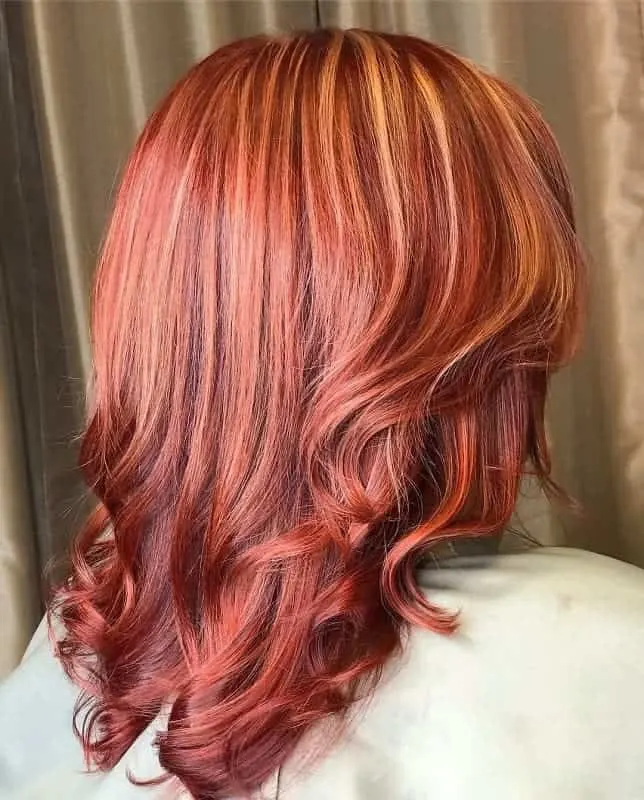 Auburn red hair dyes are perfect for all girls with bold style. This shade is a bit hard to maintain since it washes out easily, but it looks great while it lasts. You can simply make waves with a brush and secure them with a hair spray. You can even opt for blonde highlights to make this medium length wavy hair look more attractive.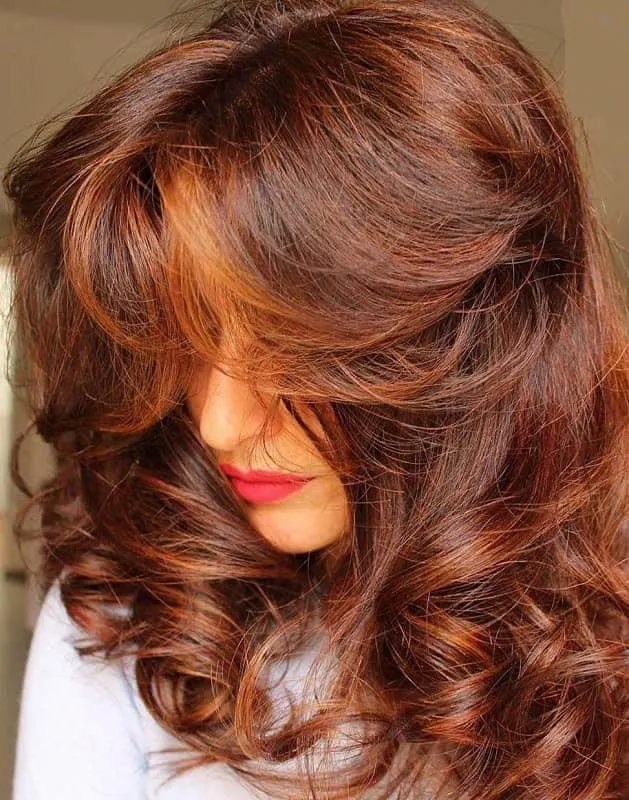 The copper dye will make you look gorgeous, but you can do even better. Make these glamorous waves and don't worry about being eye-catching at all. This wavy hairstyle can look great on women with thick shoulder-length hair, so the volume can be on point.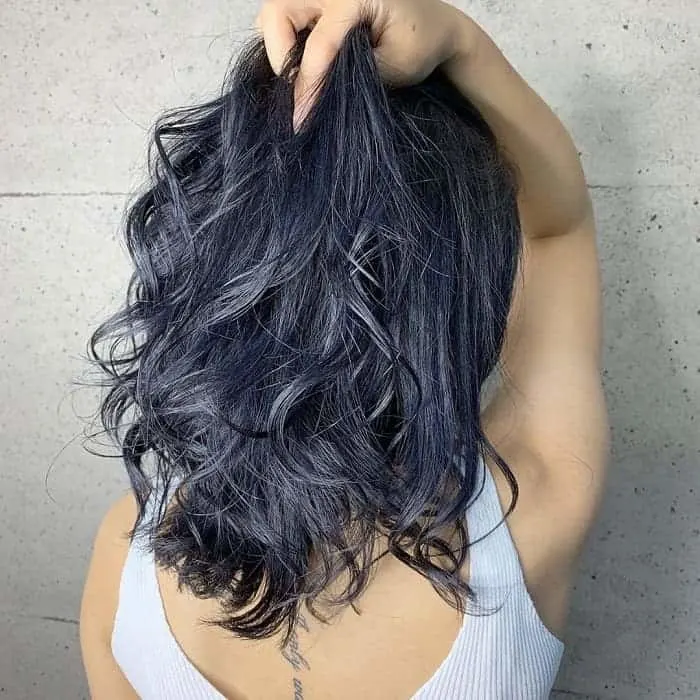 Midnight blue is such a fascinating hair color. You can absolutely be the main star at every even if you make your hairstyle look like this. Wavy hair, in combination with a wet look (which means a lot of hair spray), will provide you with the excellent beach style. Your hair will look like you have just gone out of the sea.
48. Honey Blonde Highlights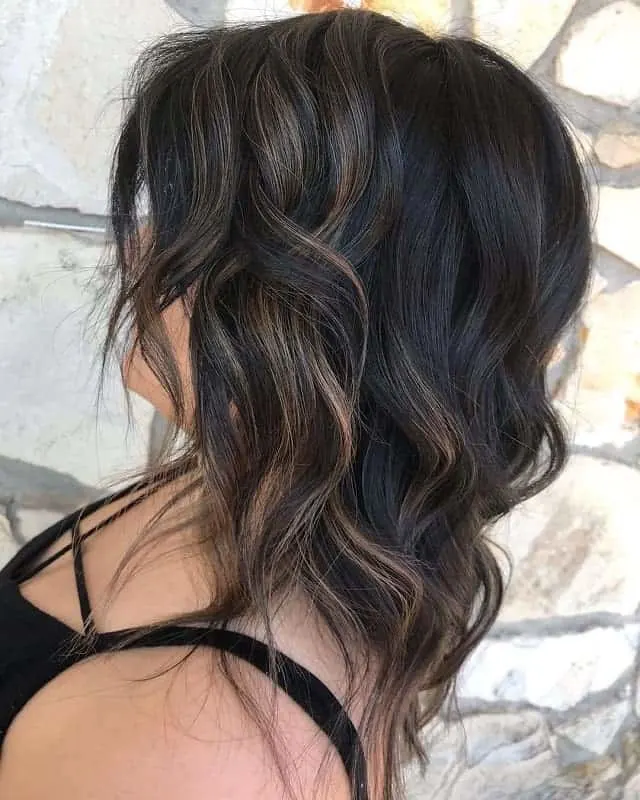 If you thought honey blonde highlights won't look good on dark hair, you were wrong. As you can see, they can make your medium wavy hairstyle look absolutely amazing! You can choose the place where your highlights will be. We suggest at the front, and just a bit at the back, mostly on the hair ends.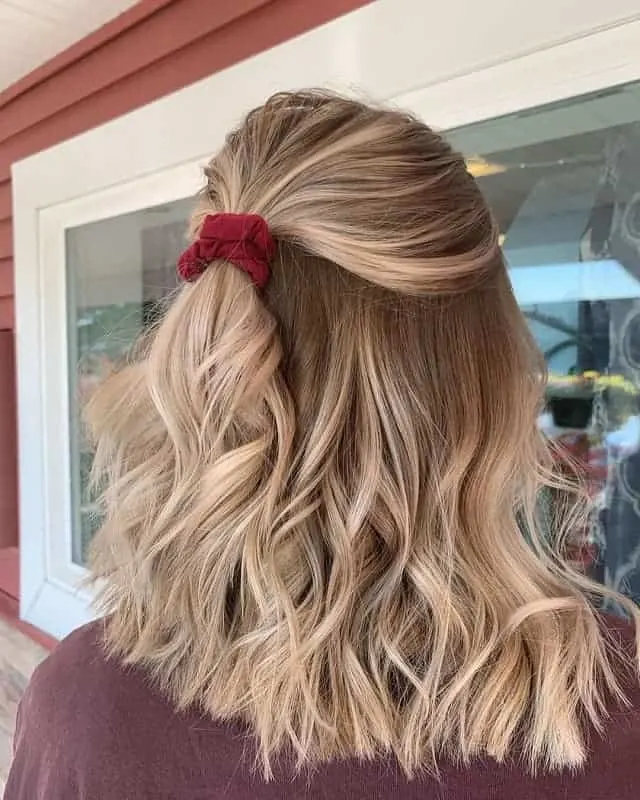 Scrunchies are back in style, and you should use them to style your hair like this! If you don't want to do your whole hair, then just make a half up half down with a scrunchie. Curl the rest of your hair and make it look casual and bit messy.
Grey hair became popular among younger girls. It is not only reserved for your old age. Now you can have this great combination of dark roots and grey mid-length waves in no time. You should ask your hairdresser to leave the roots in your natural hair color, so you don't need to dye it every now and then.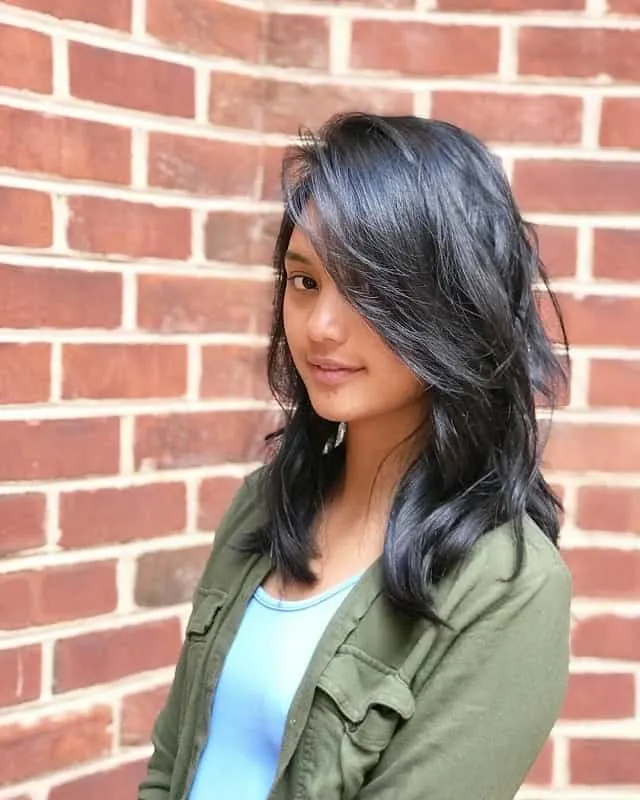 Shaggy haircuts are timeless. They fit every face shape, as well as every hair length. Your fringes should be combed at one side, for some extra volume. You can wear medium hair like this for everyday occasions.
52. Natural-looking Waves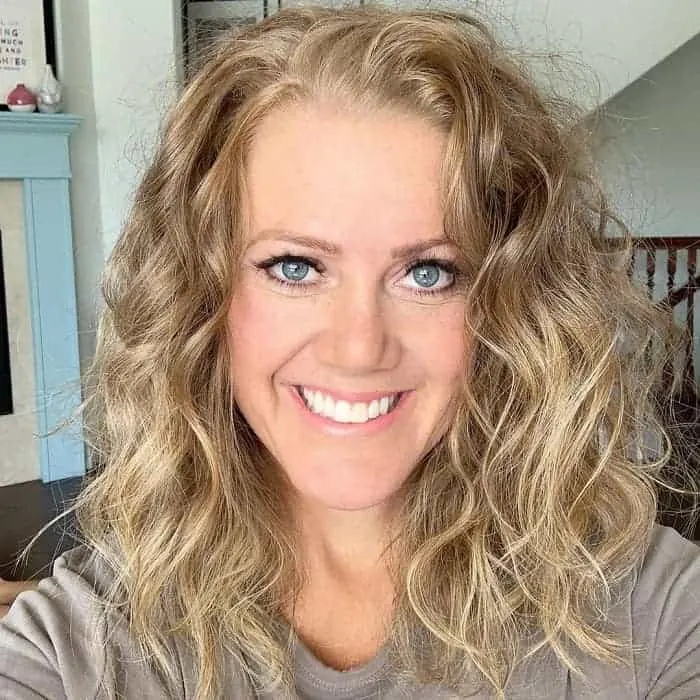 Some girls tend to make their hair look as natural as possible. This is achievable, but with certain products and techniques. Try to find a hair tutorial to learn how to make your waves look like they are naturally part of your hair. You can also wear this hairstyle during your seaside vacation.
53. Black and voluminous hair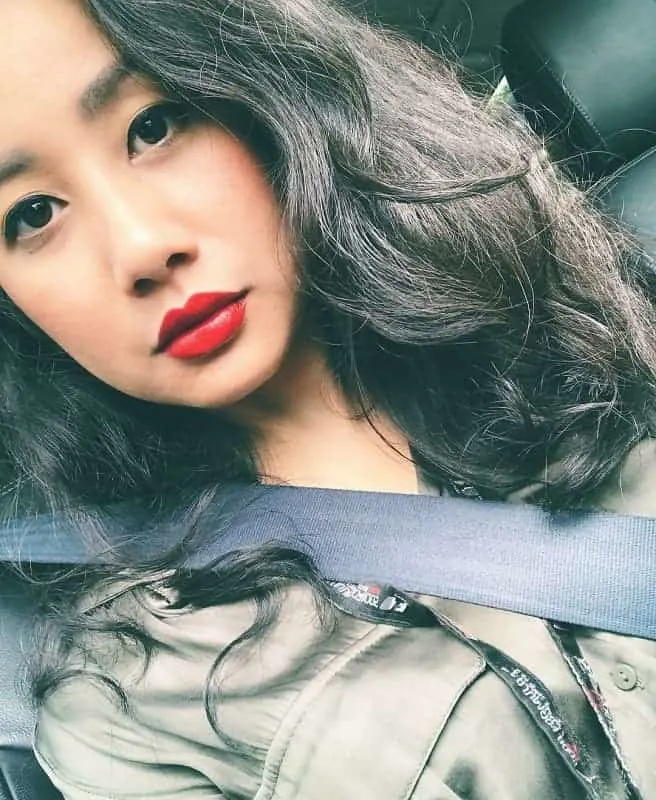 Black hair is equally attractive as a blonde. It suits girls with darker skin tone, but those with fair skin can wear black as well. If your hair is naturally wavy, cut it in shoulder-length and enjoy in results. Your curls will look even more defined, and your hairstyle ready for everyday wear.
There is nothing more eye-catching than natural curls. Afro curls like these will certainly make you look gorgeous and so unique. You can cut your hair at a medium length, and dye it in the honey blonde shade. Everyone will enjoy seeing you with this hair!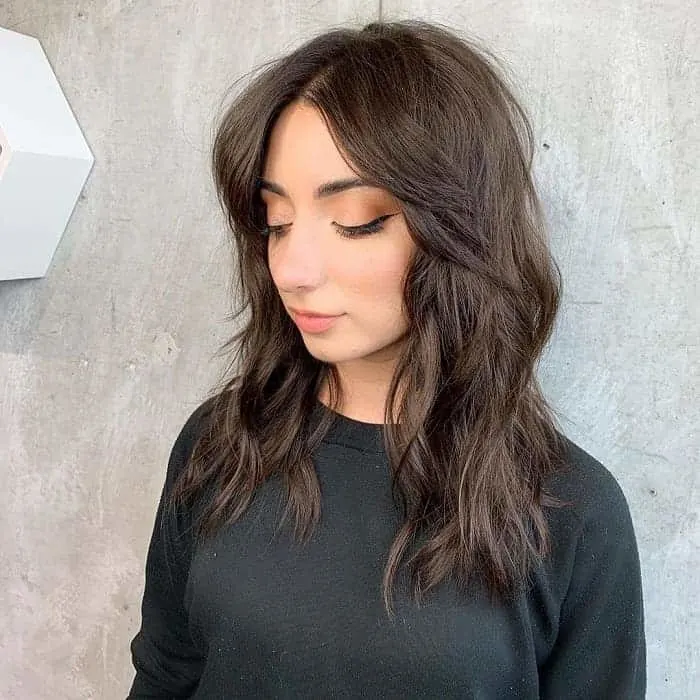 Fringes present a great way to frame your face and to add a bit of style to your shoulder length wavy hair. You can wear bangs, but we suggest opting for something more practical – medium side bangs. They won't cover your forehead, but you don't need to spend too much time styling them in the morning.
56. Curled Hair Ends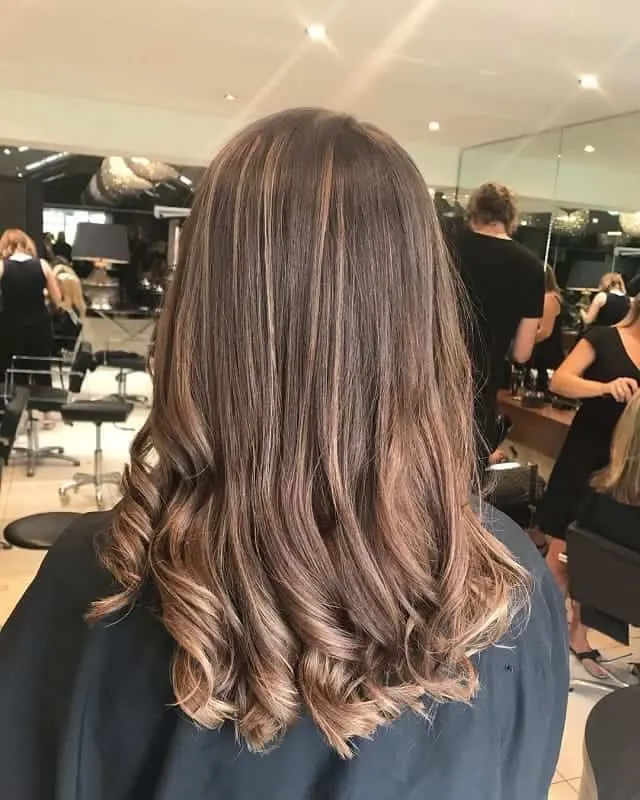 Sometimes, it is best to leave most of your hair straight, and to style your hair ends only. That is how you can get a perfect and easy hairstyle that can last for days. Your curls will look even more enhanced if you decide to dye them in some lovely blonde shade, while the rest of your hair is a bit darker.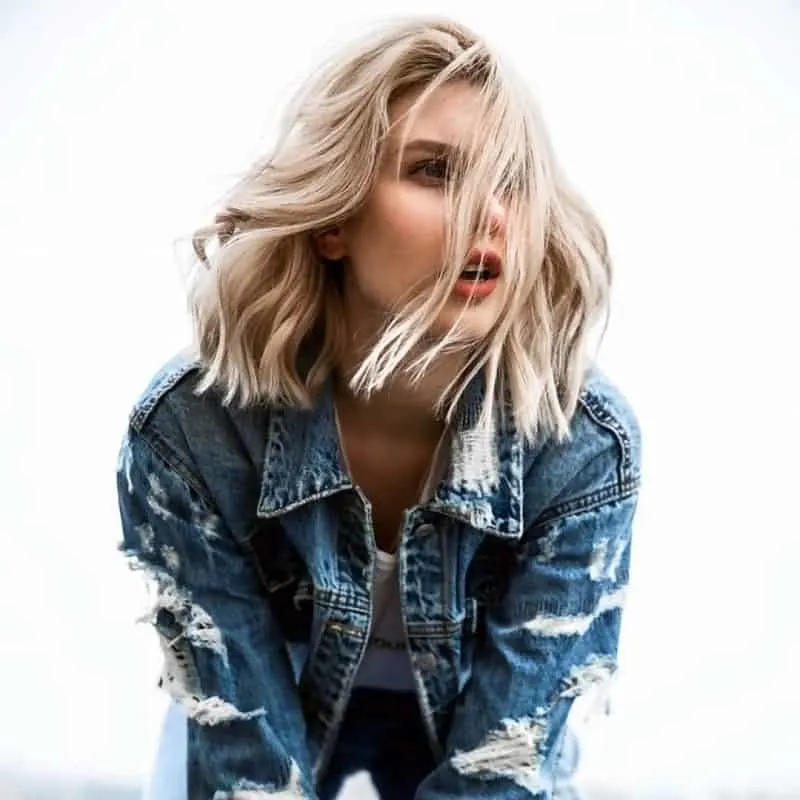 You should know how practical these hairstyles are. When your hair is cut straight in medium length, you can style it in no time. Making wavy hairstyles were never easier. For more volume, add some hair spray.
58. Vintage Hairstyle
The vintage look is always welcome. For all girls with a minimal and classy style, this hairstyle can be the right choice. It is layered, with delicate waves and combed at the back, which is why it is inspired by the '90s.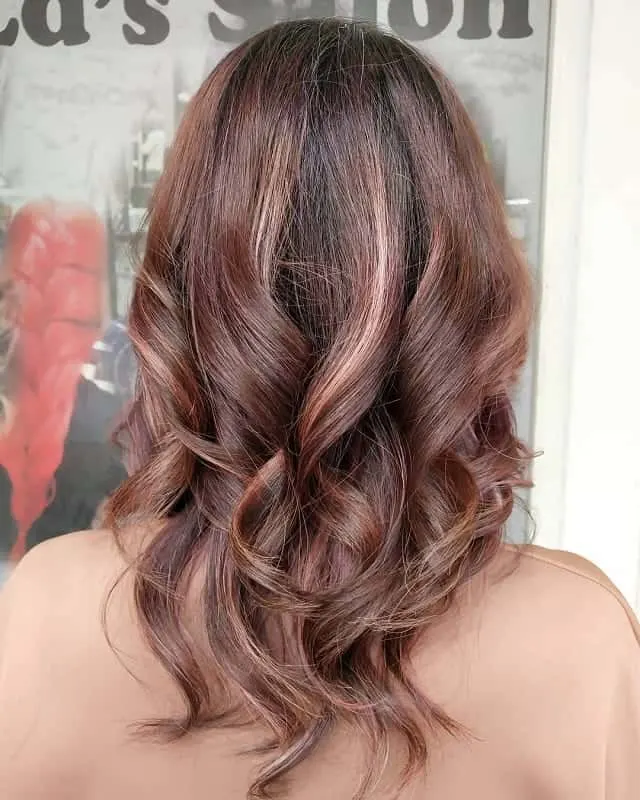 Balayage is a technique of dyeing your hair that is quite great and very practical. It is super easy for girls who don't want their hair to be dyed every two or three weeks. This length, loose curls, as well as lovely highlights, will make your shoulder length wavy hair looks gorgeous.
Strawberry blonde is one of the trendiest dyes at the moment. It looks cute and so sweet. If your hair is medium length, then you can opt for waves and bit of layers to spice it up. This is one of those great everyday hairstyles.
When you run out of ideas of how to approach your shoulder length wavy hair, you can take a few tips from the above options. Wavy hair is a dream for many girls because there are so many ways you can experiment with them.