Ivy League haircuts are always a go-to choice for men of all ages, thanks to their timeless style and versatility. With options for various face shapes and hair types, they're popular among college students and office workers alike.
These cuts are easy to manage, which is another reason for their popularity. Most of the time they don't need any hair cosmetics or special brushing.
If you're looking for a classic look that has enough length to part your hair on the top, then it's time to consider the ivy league haircut. It's a good idea to show your barber the style that you want and ask for more length on the top with a little additional length on the sides and back.
Have it tapered gradually towards your crown and make sure that your barber adds some texture. This ensures that your hair is easy to style and helps add a little personality to this cut.
what is An Ivy league haircut?
The Ivy League haircut features a tapered, closely cropped back and sides with a longer top that is usually styled with a side part. The length on top varies from 1 to 3 inches. This gives hair the volume and texture at the top. An ivy league haircut is suitable for straight, wavy, and moderately curly hair.
What Does An Ivy League Haircut Look Like?
Neatly trimmed short sides and back, often tapered or faded
A slightly longer top, offering styling options
A defined side part for a classic, polished appearance
Gradual transition from longer to shorter hair, blending the top and sides seamlessly
Combed, brushed, or styled top using hair products for sleek or textured looks
A clean, professional, and timeless overall style
Why is it called the Ivy League haircut?
It's quite similar to a crew cut, but with a little twist – there's just enough length on top for a stylish side part. Now, if you're wondering where it got its name, it comes straight from those prestigious Ivy League universities!
This haircut is called 'Ivy League haircut' because of its association with the prestigious Ivy League universities in the United States. These universities—Harvard, Yale, Princeton, Columbia, Brown, Dartmouth, University of Pennsylvania, and Cornell—are known for their high academic standards, long-standing traditions, and elite status.
During the mid-20th century, the Ivy League haircut gained popularity among the students attending these institutions. The haircut is characterized by short, neatly-trimmed hair on the sides and back, with a slightly longer top that can be parted or styled. Ivy League haircut's clean look was seen as a reflection of the discipline, professionalism, and academic excellence associated with these universities.
The name "Ivy League haircut" has stuck over the years. It's still popular for its clean low-maintenance look. You can use these haircuts on both professional and casual occasions.
How to Ask for An Ivy League Haircut?
When you visit your barber or stylist and want to get an Ivy League haircut, it's essential to communicate your preferences clearly. Here are some tips on how to ask for this particular style:
Mention clearly that you want an Ivy League haircut. They might also recognize it as a Princeton or Harvard clip.
Photo: To ensure you're on the same page, it's always a good idea to bring a reference photo of the Ivy League haircut you want. This helps your barber get a clear visual understanding of your desired style and can eliminate any potential miscommunication.
Specify the hair length: Discuss the preferred length for the sides and back, as well as the top. For the sides and back, you may want a tapered look using a clipper guard size of #3 or #4. For the top, lengths typically range from 1 to 3 inches, depending on how much volume and texture you'd like.
Side part: Let your barber know if you want a defined side part or a more casual, less noticeable parting. Also, mention which side you'd like the part to be on, if you have a preference.
Styling preferences: Every man want to create his own look. So, if you want to customize the ivy league to your personal preference or want to use any specific hair products, talk to your barber.
How to Style Ivy League Haircut?
Styling an Ivy League haircut is pretty easy and straightforward. Here's a simple step-by-step guide to help you style it:
Begin by washing and conditioning the client's hair to ensure it is clean and manageable.
Comb the hair to remove any tangles or knots.
Using clippers with an appropriate guard size (usually a #3 or #4), begin tapering the hair on the sides and back. The hair should be shorter at the bottom and gradually increase in length as you move upwards.
Carefully blend the hair between the top and sides to create a seamless transition.
For the top, trim the hair to the desired length using scissors, ensuring that it is long enough to be styled with a side part.
Find your natural parting line, which is usually on one side of your head. Use a comb to define the part, separating the hair on either side of the parting line.
Use a small amount of styling product, such as pomade or hair cream, to provide hold and control while maintaining a natural, matte finish.
Finish by combing the hair into place, making sure the part is maintained and the hair lies flat and smooth.
If you want a bit more volume on top, use your fingers or a comb to lift the hair at the roots, creating a slight lift or quiff.
To finish up and ensure your style stays in place throughout the day, you can use a lightweight hairspray. Just remember to hold the spray at least 12 inches away from your head and apply it evenly.
And that's it! Your Ivy League haircut is now ready to impress! The great thing about this haircut is that it's low-maintenance and works well in both casual and formal settings.
ivy league haircut lengths
To achieve an Ivy League haircut, you should consider the following hair lengths:
Sides and back: Hair should be short, generally between 1/8 inch (3mm) to 1/2 inch (13mm). A taper or fade can be added for a more gradual transition.
Top: The length on top should be longer than the sides and back, typically around 1 to 3 inches (25mm to 75mm). This allows for various styling options, including a side part or a brushed-up look.
ivy League haircut vs. crew cut
Both haircuts are short, low-maintenance styles with subtle differences in length and styling. The Ivy League haircut offers more versatility, while the crew cut is simpler and more uniform.
| Feature | Ivy League Haircut | Crew Cut |
| --- | --- | --- |
| Sides and back length | Short (1/8 to 1/2 inch) | Very short (1/8 inch or shorter) |
| Top length | Longer (1 to 3 inches) | Short (1/4 to 1 inch) |
| Side part | Often present | Usually absent |
| Styling options | More versatile | Limited |
| Transition | Tapered or blended | Uniform or slightly tapered |
| Overall appearance | Classic, polished | Military, sporty |
Most Popular Ivy League Haircuts
Classic Ivy League Haircut
If you're a fan of timeless and polished looks, this one's for you! With its short sides, neat back, and slightly longer top, it suits all kinds of face shapes and hair types. Go ahead, rock a side part or brush it up for a versatile vibe.
Long Ivy League Haircut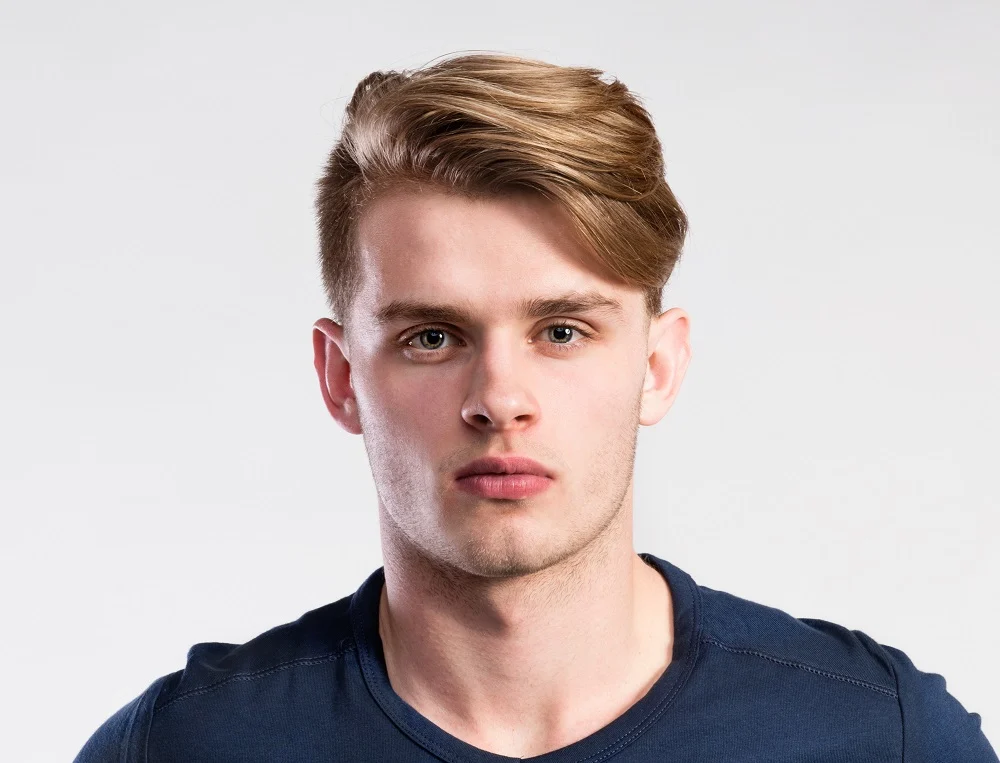 Want a modern spin on the classic Ivy League? Keep the top longer for some extra styling options like a cool pompadour or a textured quiff. Perfect for guys who want to make a statement while still looking sharp.
Medium Length Ivy League Haircut
Can't decide between classic and contemporary? No problem! This version has a moderately longer top, so you can play with light waves or messy textures. It's all about versatility and fun with this one.
ivy league haircut for curly hair
Curly-haired guys, this one's for you! Show off your natural curls with this take on the traditional Ivy League. The slightly longer top keeps things tidy and well-groomed, letting your curls shine in style.
ivy league haircut for military
Get the best of both worlds with this military-inspired Ivy League haircut. Tighter fades or shorter sides make for a disciplined look that's easy to style. Perfect for no-nonsense guys who want to look sharp without fuss.
Ivy League Haircut With Beard
Looking to amp up your style game? Pair the classic Ivy League haircut with a well-groomed beard for a distinguished and masculine look. Trust us, you'll make a strong impression.
ivy league haircut + widow's peak
Got a natural widow's peak? Embrace it with this tailored Ivy League style. It works with your hair's growth pattern for a balanced look that highlights your unique features. Flaunt it with confidence!
ivy league haircut for receding hairline
No worries if you have a receding hairline! This Ivy League variation has got you covered. Keep the top slightly longer and go for a strategic side part or brush-up. You'll look refined and stylish in no time.
daniel craig's ivy league Cut
Channel your inner James Bond with this Hollywood-inspired style. With textured, longer hair on top, you'll be exuding confidence and sophistication like Daniel Craig himself.
Low-Maintenance Ivy League Haircuts for Men
The classical Ivy League haircut is a variation of crew cuts. The accent of this style is on the top hair, which is long enough to make a side part. This hairstyle can be created with bangs of different lengths. It is also sometimes called a Harvard clip or a Princeton cut. All the names clearly point to a clean-cut style, which is perfect for just any occasion.
We have prepared a list of the different Ivy League haircuts to check out. Consider your face type and the amount of time you are ready to spend on styling. Once these parameters are set you, can easily choose the style to suit you best.
1. Textured Ivy League Hairstyle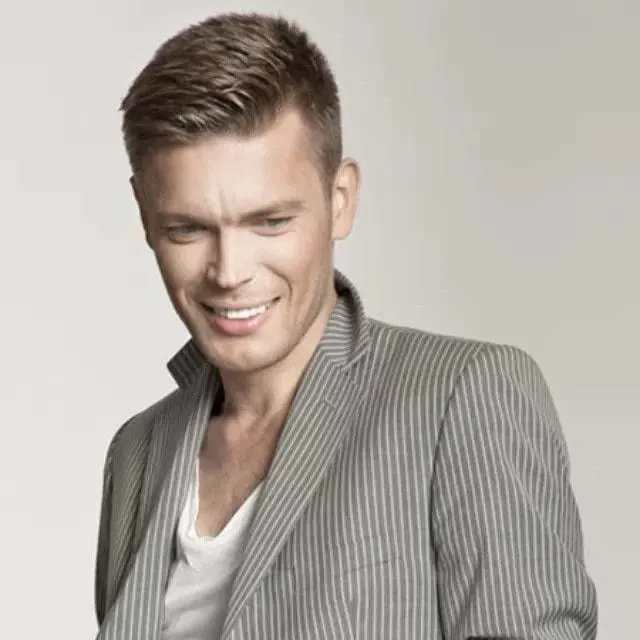 This textured cut is great for men with dark blond thick hair. There is no variation from the classics, so the sleek look is guaranteed. All that needs to be done is adding some texture to the top part and brushing it to the side. No gel is needed.
2. Ivy League Waves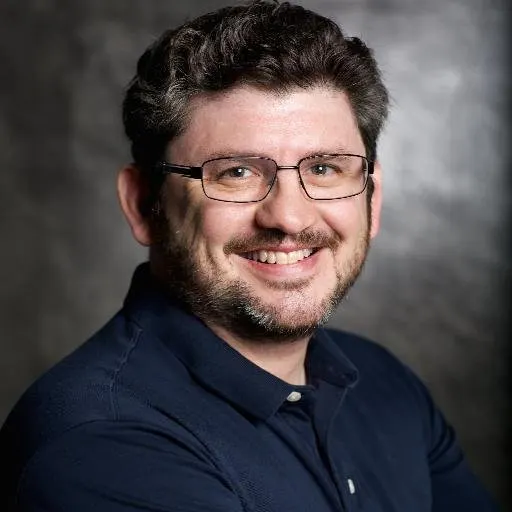 What do you do if your hair is wavy? Forget about Ivy League? No way. Wavy hair looks great if the haircut is properly made. Leave some hair on top to make the side part and cut it short on the sides. This will create a great Ivy League look. Wavy hair will need some hair gel to stay neat.
3. Blonde Ivy League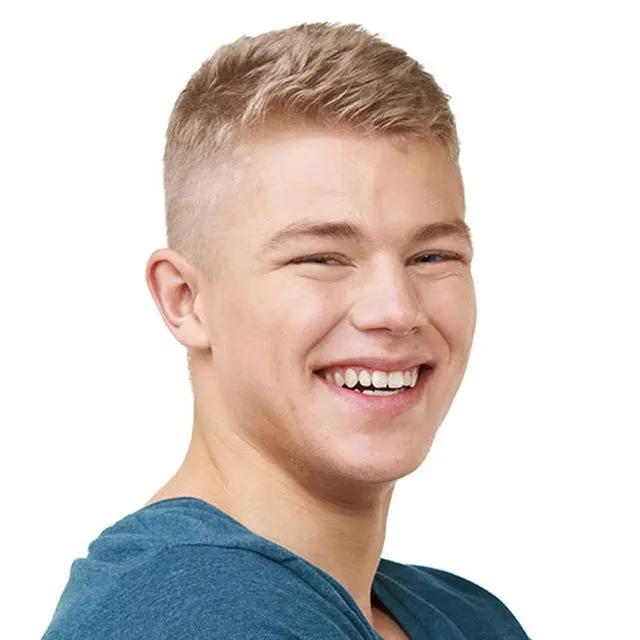 Men with blond hair can go for this stylish blond Ivy League hairstyle, which requires almost no maintenance. The shortly trimmed sides look shaved due to their light color and the top textured part creates a great neat look. You can also check these handsome short haircuts & hairstyles for boys here.
If you are ready to deal with some hair gel, go for short spikes. This variation of Ivy League haircut is a little outrageous. However, it still looks fantastic. Instead of making an obvious part, spike the hair a little with your fingers.
Combing over your hair is allowed for any Ivy League haircut. Just don't forget to make a clear part. These haircuts most popular can be styled with your fingers. So, take some hair gel and go for it. Longer comb-overs might require some brushing.
6. Long Ivy Haircut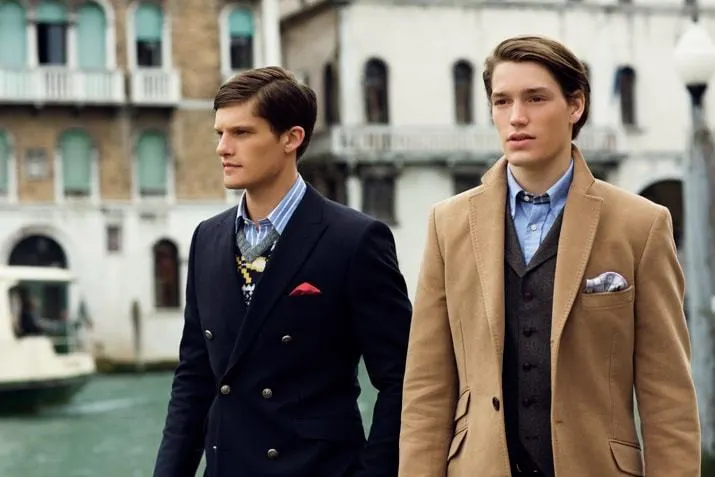 If your hair is straight, long Ivy League haircut will look fantastic. Leave the hair up top long enough to make straight side swept bangs. Keeping them neat might require some hair cosmetics, but the result is really worth it.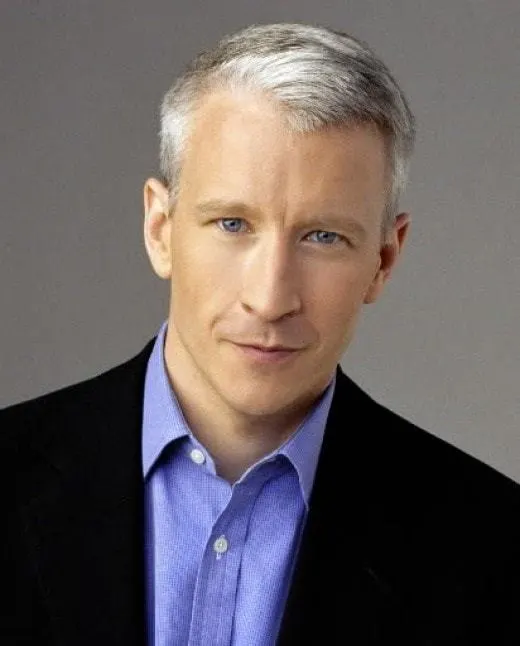 Ivy League haircut might seem a little strange for men with widow's peaks. However, the problem area can be easily covered with correctly shaped bangs. Allow some of the bangs to cover the peak and then style it sideways.
8. The Classics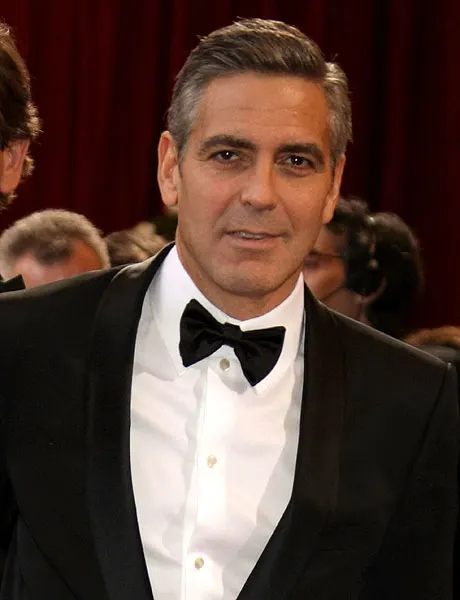 Classical Ivy League cuts are often worn by older movie stars. The classical Princeton cut means tapered sides, outlined side part and side swept hair on top. Take a good look at this photo. The classics are always in style.
Cool & easy to do undercut hairstyles to try
9. Short Bangs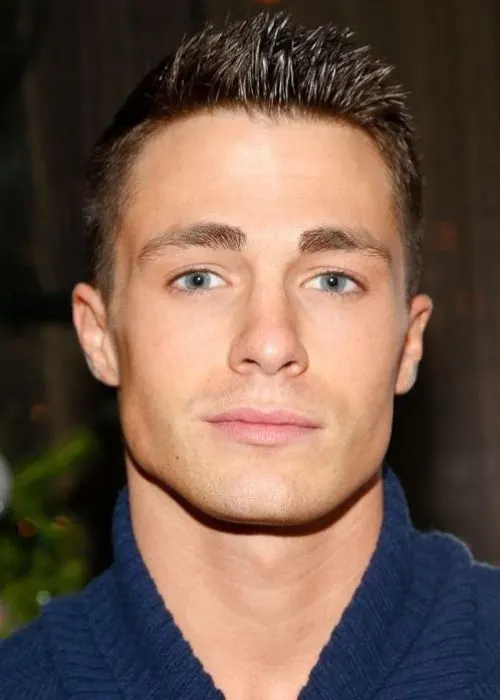 If you'd like to reduce time spent in front of the mirror in the morning, go for the Ivy League cut with short bangs. These bangs are too short to sweep them on one side, which means they will be left standing up, creating an interesting style.
If your hair is curly, it doesn't mean that you should give up on the Ivy League haircut. In fact, it is a great way to keep it managed. Just make sure to cut it short enough to get rid of most of the curls. Leave some hair on top and sweep it to one side as much as possible.
11. Long and Messy
Don't like the classics? Go for the long and messy look. Achieving this style is pretty easy. All you need to do is grow the hair long enough to make a cute mess on top. Styling it will be quite simple with the help of hair gel, fingers and imagination.
Making an outlined side part can be a little complicated for men with widow's peaks. No problem. Make a windblown comb over and the job is done. Make sure that the sides are cut properly in order to hold up the Ivy League look.
Teenage guy hairstyles setting the trend in 2023
If not for the comb-over look, this short Ivy League haircut could have been considered classical. This is one of the most popular variations of the Harvard clip style for men with wavy hair. Give it a try!
14. Long spikes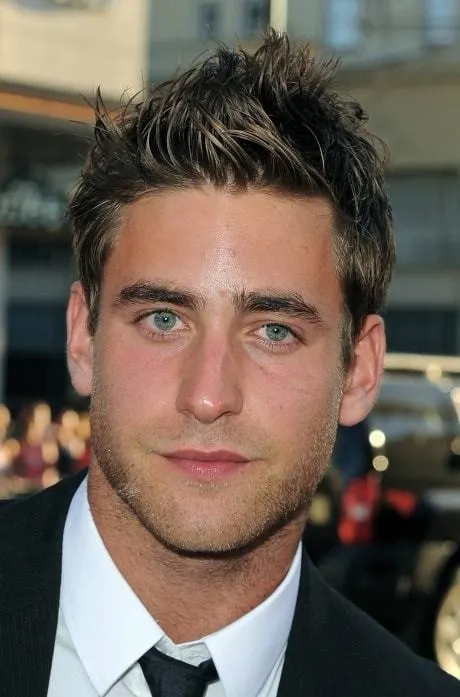 The clean cut look of the Ivy haircut might become a little boring over time. No reason to forget about experiments. Make the haircut suitable for Ivy League and experiment with the top part to create long spikes.
15. Good Texture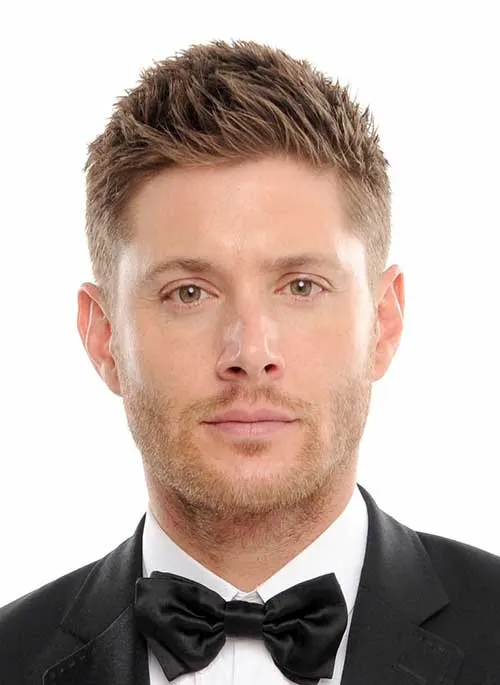 Men with thick hair will appreciate good textured Ivy League cut. Make sure your stylist understands what you want. Otherwise, the style will not look neat. Unfortunately, this haircut will require frequent salon visits.
16. Ivy League variation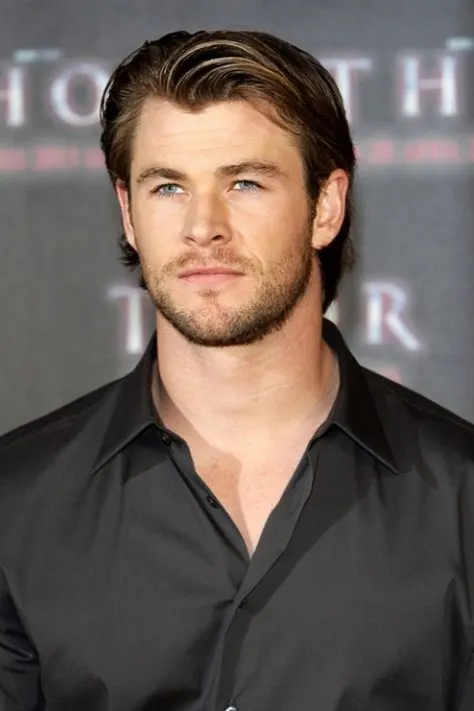 This cut can be considered a good Ivy League hairstyle even though it is far from the classics. The hair is styled to have an outlined part. The long bangs are side swept and kept in place by hair gel. The back part of the hair is a little too long, but it is allowed.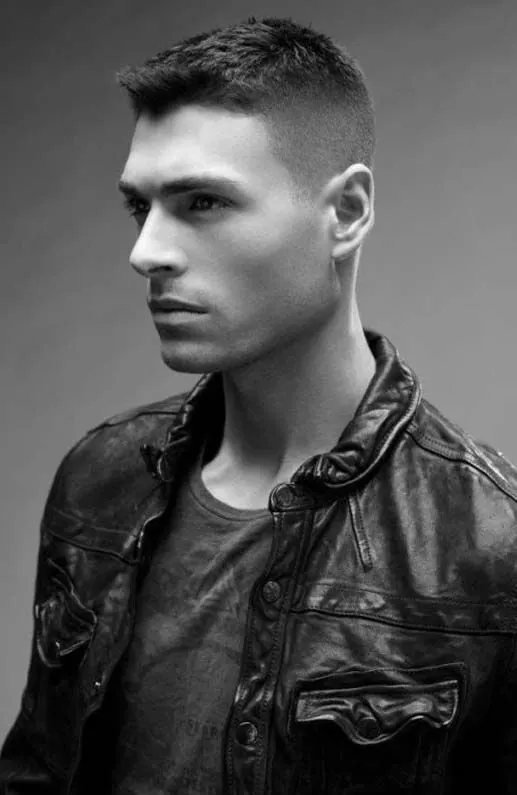 Bordering on a military cut, this style can still be accepted in colleges and offices. The main advantage is low-maintenance. The clean-cut look is achieved by leaving the top part neat and outlined.
18. No Bangs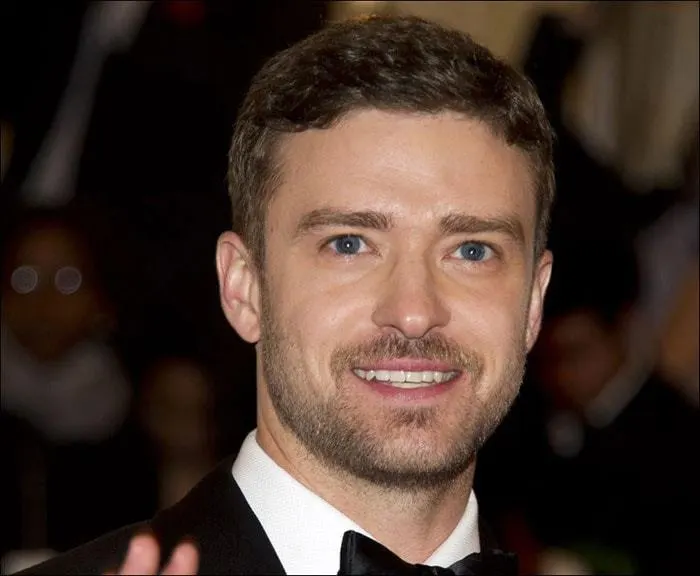 Ivy League hairstyle without bangs is great for men with curly and unmanageable hair. You will get rid of the annoying curls, which are hard to style while looking amazingly clean cut. Don't forget to sweep the hair sideways as much as you can.
This variation of the Ivy League haircut is popular among college boys. Sweep the hair laterally and make the spike with the use of some hair gel. Once you are tired of your spike, a little brushing will bring back the classics.
20. Matt Damon Ivy League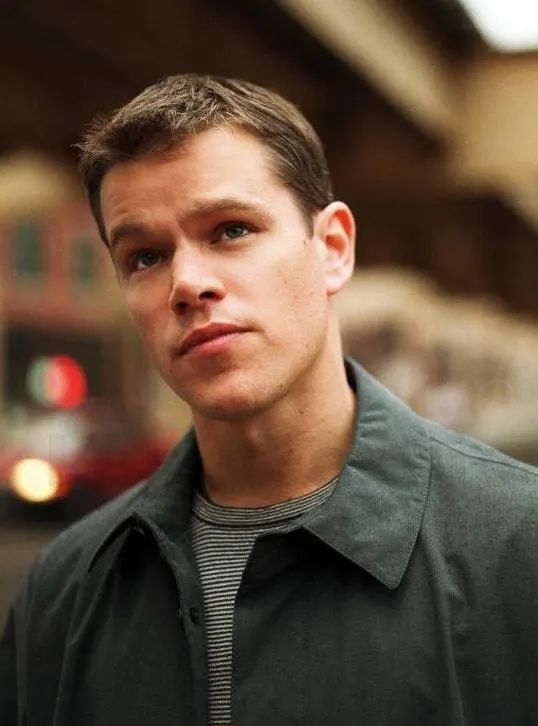 Want to look like Matt Damon? No problem. His Ivy League haircut is quite easy to make. This is a very short variation with a little spiking in front. If your hair is thick enough, the spikes will be natural. If not, go for some hair gel.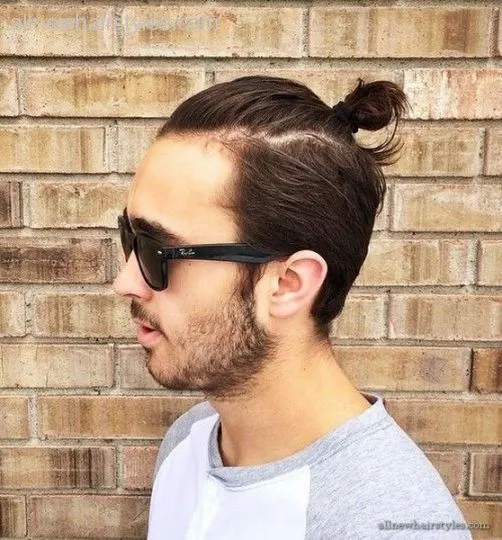 Getting creative with Ivy League haircuts is quite popular. This style requires you to tie your bangs with an elastic in the back. Looks great if you are tired of the neat clean cut look. However, don't grow your hair too long, or the style will be lost completely.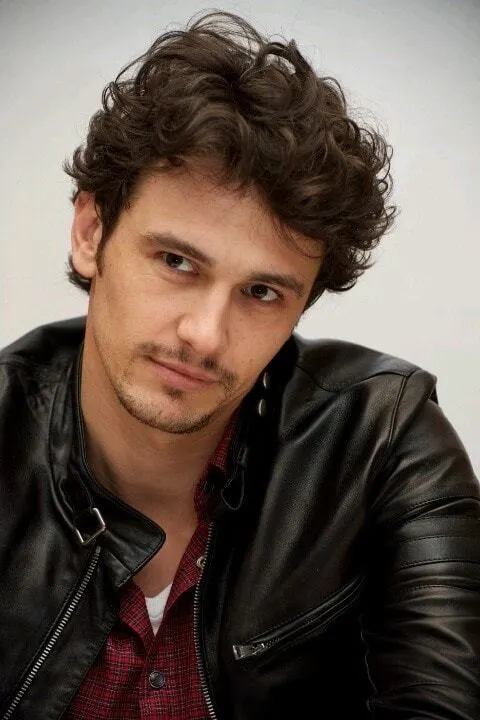 Long curls are not an obstacle to an Ivy League style if you keep the hair neat. Make an outlined part and sweep the bangs to the side. But remember, the longer the hair, the farther away you are from the neat and sleek look.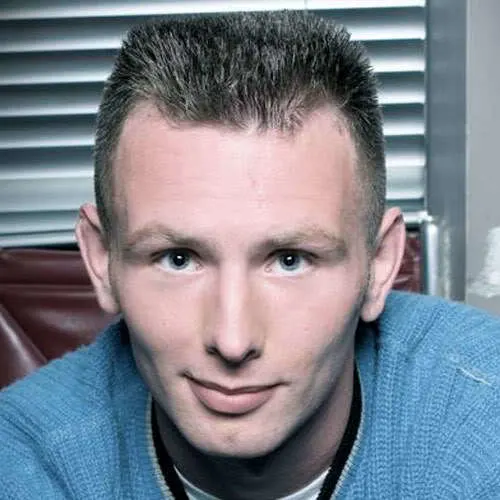 This is another great style for lucky owners of widow's peak. Wide widow's peak solves the problem with making a part. There are actually two outlined parts ready for your use. Cut the hair short to make the peak visible and the neat style is ready.
If you are friends with hair gel, you can go for the sleek Ivy League look. Brush your bangs sideways to create the Ivy League cut and use the gel to keep it in place. This style is great for any hair type, including unmanageable curls.
25. Add a beard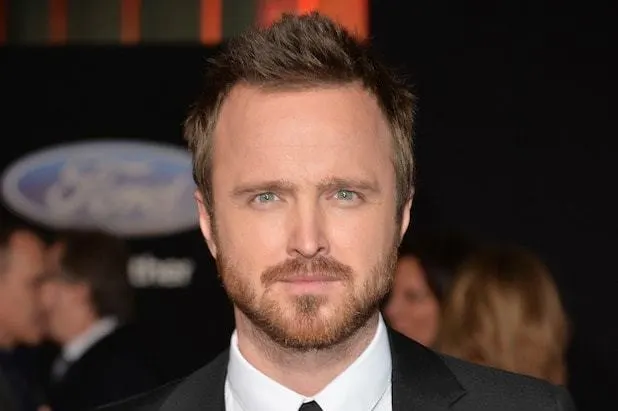 While the classical Ivy League cut means that the face is cleanly shaved, the variation, such as this one, looks great with a beard. Just make sure to keep the beard neat, otherwise, the style will become null and void.
Different Types of Fade Haircuts
Short hair is the easiest to manage, style, and maintain. This short side swept Ivy League haircut is the same. The length in front balances out the taper fade at the sides. If you prefer your hair parted one way this hairstyle is something you should go for. It's preppy and sexy and totally in trend.
Quiffs have been around for the longest time. They aren't going to go anywhere anytime soon. If you like having medium length hair and don't mind styling it, this haircut is right up your alley. The sleek quiff gives a groomed feel, making you look sophisticated and chic.
28. Channing Tatum Hairstyle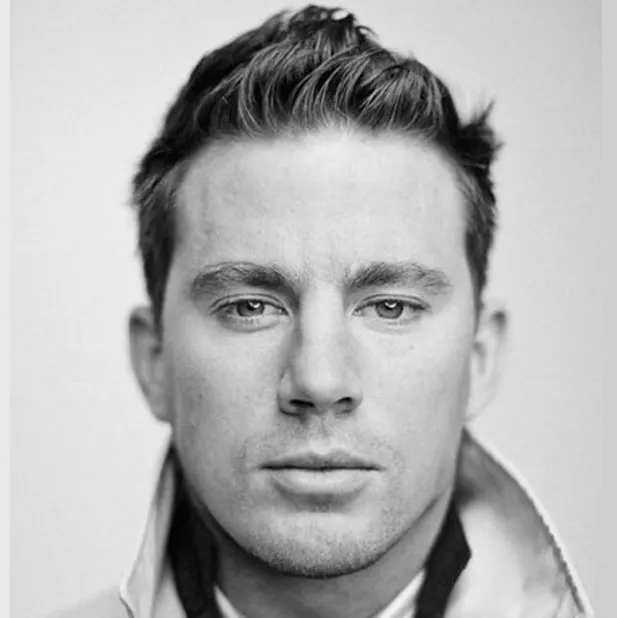 Actors on red carpets and fashion events have consistently sported the 'I just got out of bed' look. This haircut has this brooding sexiness that follows with it. This short messy textured look is ideal for someone who is constantly on the go. All you are required to do is scrunch your hair and head out of the door.
29. Casual Crop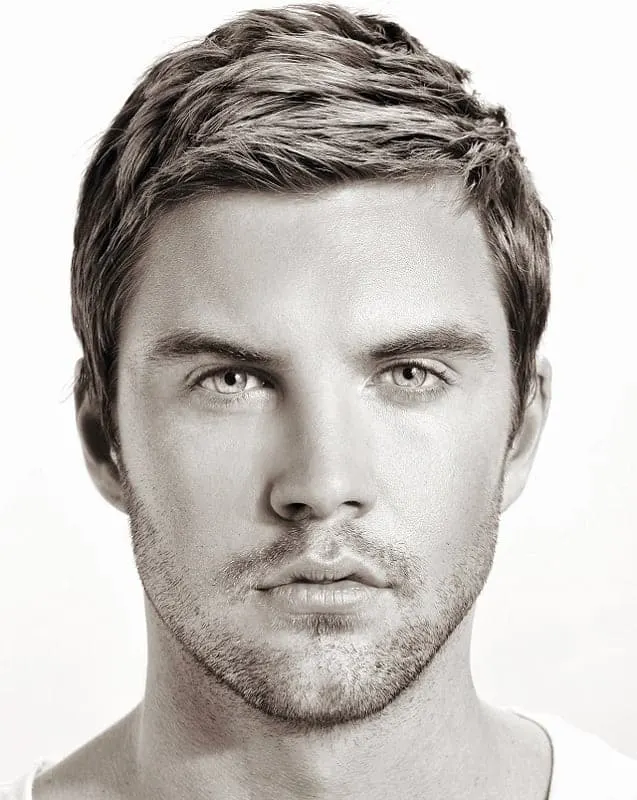 If you indulge in convenient and versatile haircuts, this one's the right style. You could sport this haircut anywhere and fit right in with any crowd. This Ivy League haircut is perfect for casual and day-to-day wear as well. The advantage of this short crop is that you are assured nothing can go wrong.
30. Wavy Front Cut
If you are blessed with wavy hair, this look can be very appealing on you. Cutting your hair, as represented in the picture, will allow you to embrace your ways subtly. The wavy texture in the front adds dimension to the taper fades at the side. This clean, chic, and attractive look will suit you and look good at any event.
31. Smooth Hair with A Side Part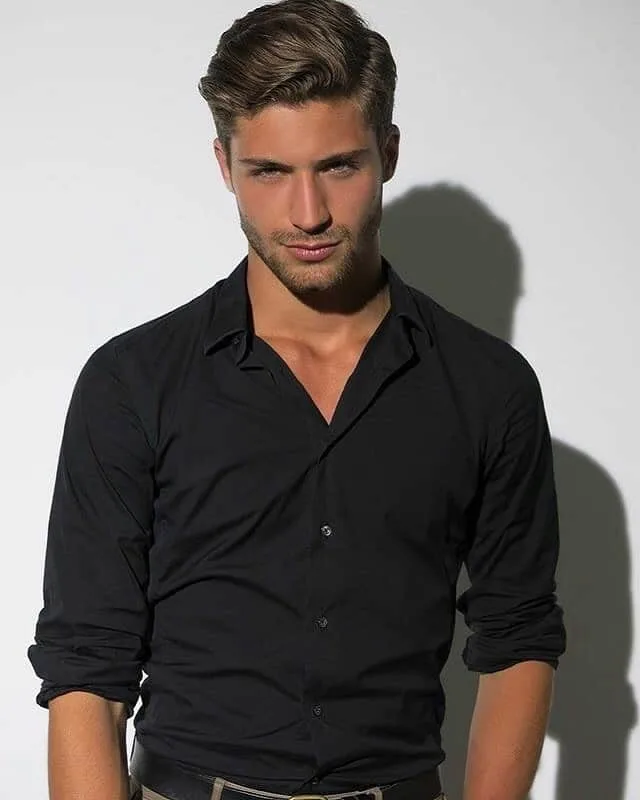 Having a part adds texture to your hair; it adds dimension and looks chic as well. Medium length hair can be challenging to style, which is why this smooth comb-over haircut is apt. You have the opportunity to keep your length and at the same time, don't have to spend too much time styling it. The complete look is extravagant and sexy.
32. Tousled Ivy League Hair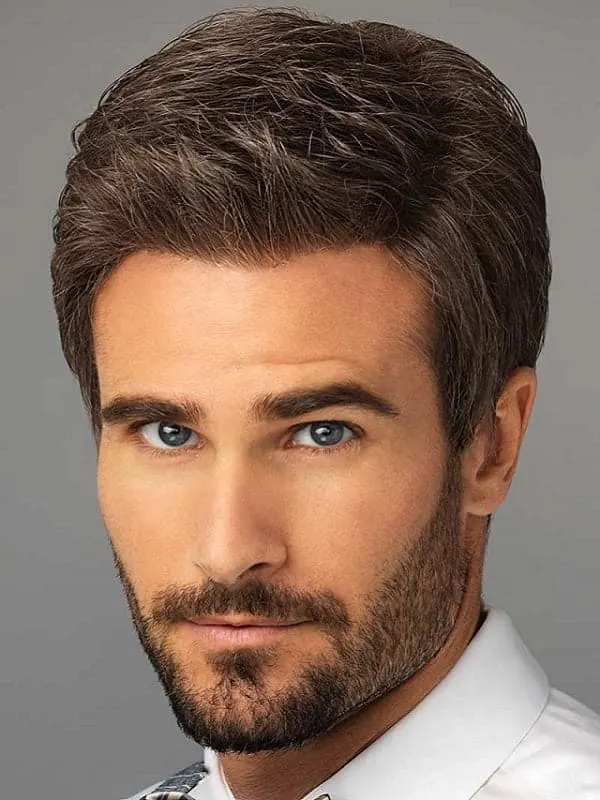 Contrast to the completely sleek hairstyle, yet equally sexy. This Ivy League haircut is right in between extreme messy and extreme sleek, which is what makes it appealing. If you are into something in between, this is perfect. You can sport this style irrespective of your hair texture.
33. Pushed Back Highlights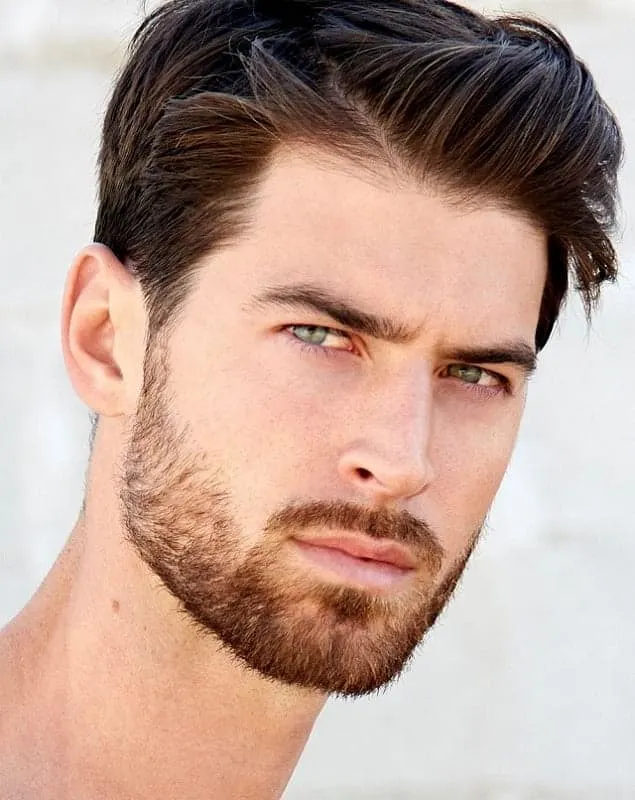 A subtle brown highlight, which is lighter than your natural hair color, can make a lot of difference to your appearance. Pair that with this unkept sweet back style and look amazing and sexy. This haircut with a stubble beard is perfect for any social setting and will compliment any face structure.
34. Pushed to The Side Cut
If you are not so much into taper fades and wish to try something different, this haircut is perfect for you. It allows you to keep a decent amount of length all over. The pushed back hair towards the crow makes the look complete and chic. This hairstyle is ideal for a formal event but can be worn casually as well.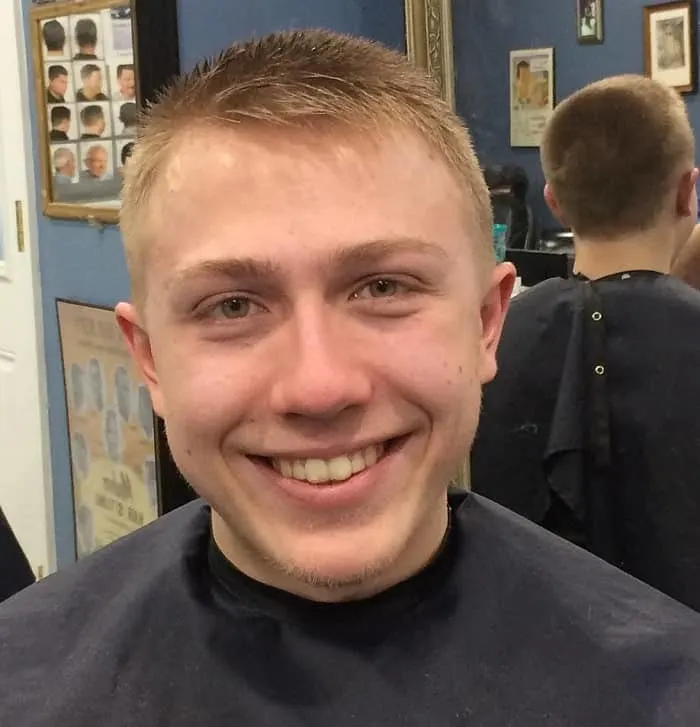 Perfect and ideal for someone who isn't into hair maintenance and styling, this Ivy League cut is ideal. This cut requires absolutely no work and even so looks amazing. You could put absolutely no effort and still fool people into thinking that you did. Perfect for all occasions and all hair textures, this crew cut hairstyle has everything going for it.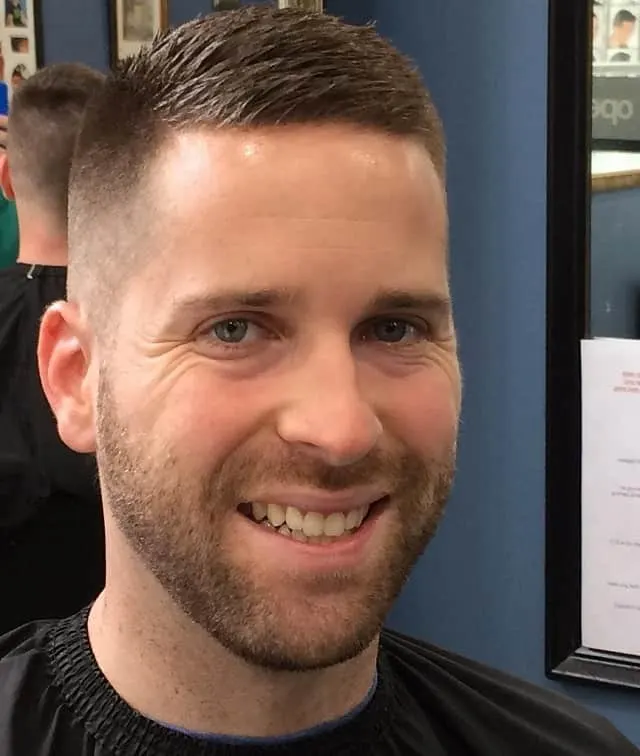 You must have come across countless high fade haircuts. The advantage of a high fade is that it shapes the structure of your face. Additionally, it looks fresh and clean. Pair it with a gelled spikey front, and you have a sexy appealing haircut.
37. Grey Locks
You can opt for coloring your hair grey for countless reasons. Our top two picks for going grey is, hiding actual greys and looking trendy. Pair your grey hair with a pushed back to look and short sides. Looking in the mirror after this Ivy League haircut, you'll see someone handsome, hot and up-to-date with fashion!
If you are an old soul, or for instance, dig retro looks and styles, we have this haircut that will fit you perfectly. Even though the look is retro, this haircut could never be outdated. This cut is perfect for all events. If you do opt for it, be prepared for all the heads you are about to turn your way.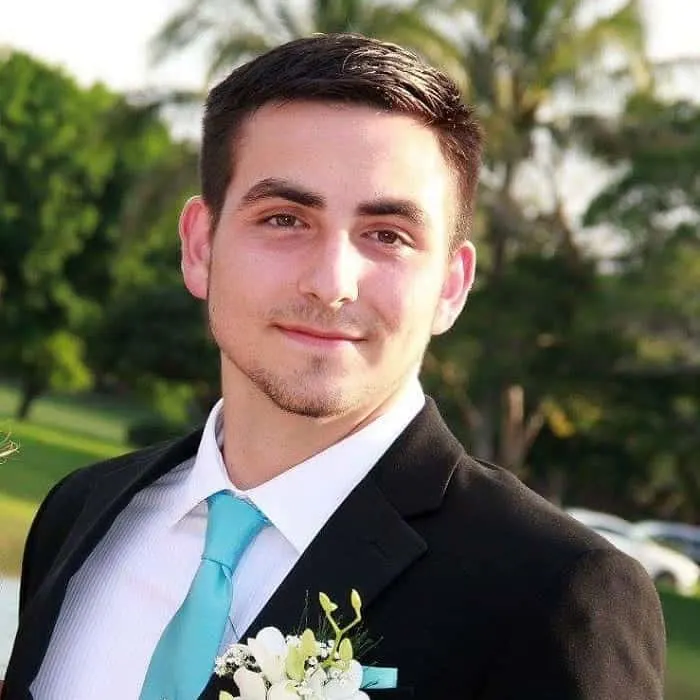 This Princeton haircut has the perfect look of a gentleman and appeals to it. Nothing could be more apt for a formal occasion than this hairstyle. The best part is that you could sport this irrespective of your hair texture. If you have thin hair, this haircut is more suited for you.
40. Messy Haircut with A Skin Fade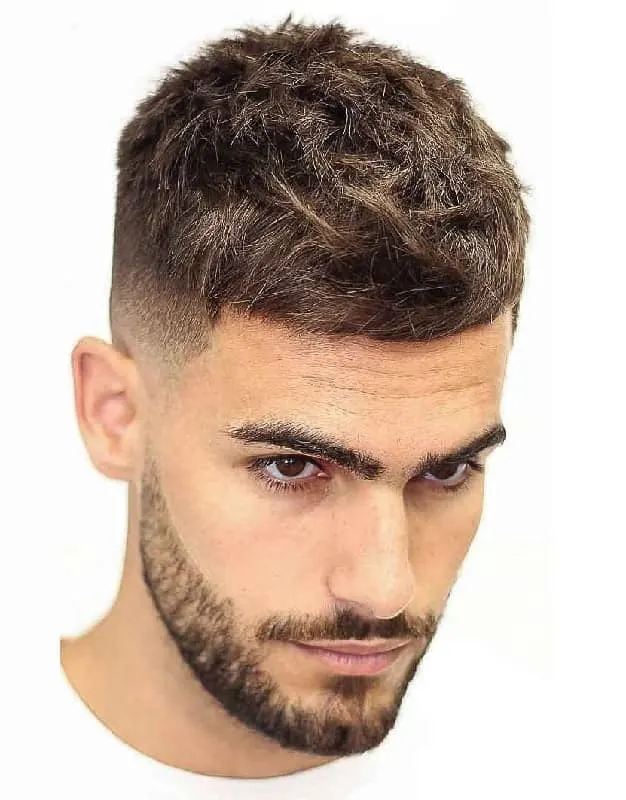 This haircut is another style that falls under the bed head look. The tousled, messy hair on top compliments the side skin fade accurately. This haircut is perfect for a chic fashion statement. You could wear this haircut anywhere and look hot and sexy.
41. Parted and Pushed back
This Ivy haircut is perfect for you if you are older in age but wish to remain young in style. It's the perfect mix of old and new, which is why it is a standout. This haircut is perfect for wavy hair, as it would add natural texture to the style. It's perfect for formal occasions or to wear to the office. If you do cut your hair this way, we assure you that you are to look presently sexy and undeniably handsome.
42. Curly Top with A High Fade
Just because you have curly hair doesn't mean that you can't be a part of the top fade trend! Contrary, you might even be able to pull it off in a much sexier way. The curls at the crown add more oomph and uniqueness to the cut. While the high fade cuts look preppy and chic. This versatile haircut can be work everywhere.
As mentioned before, texture on the crown adds significantly more dimension. If you have wavy hair, this Ivy League cut is the right one for you. Pair your mid-length hair with a taper fade to look chic and hot.
44. Extravagant Quiff
If you are someone who likes making fashion statements, here's one for you. This extravagant quiff is perfect for any occasion. It will be sure to grab people attention. For those of you who prefer the classic urban look, this cut is the best fit!
45. Short Fringe Style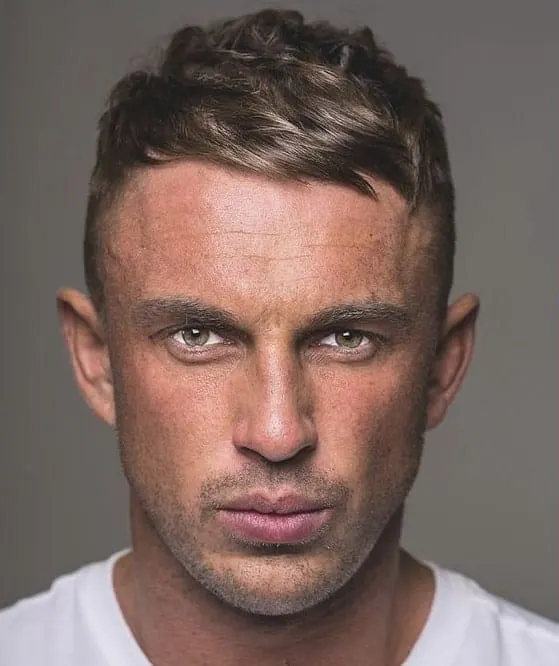 If you don't mind hair on your forehead, this short side fringe hairstyle is a great option. This cut is preppy, chic and sexy all at the same time. You could sport it at any occasion and look hot as well as elegant.
46. Tousled and Combed Down Ivy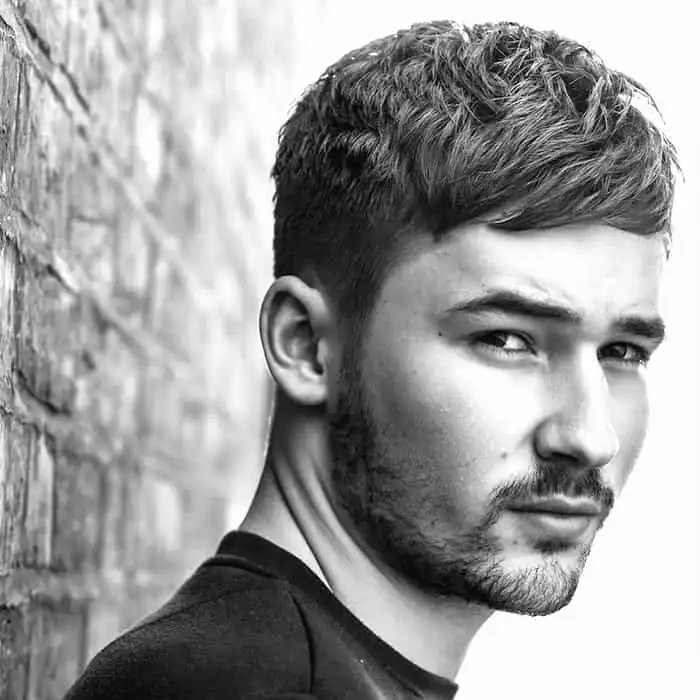 This tousled look has an aura of sexiness about it, the flicker of the side fringe adds to that sexiness. If you prefer not spending too much time on your hair yet want to look sexy, this Ivy League haircut is the right pick. Here's a haircut that can 'not' look hot.
Not all Ivy League hairstyles have the same silhouette. In this modern era, you can do messy and clean all in one look. This haircut is a complete definition of the same. Easy to sport and sexy to look at, this is a great pick for anyone.
48. Side Swept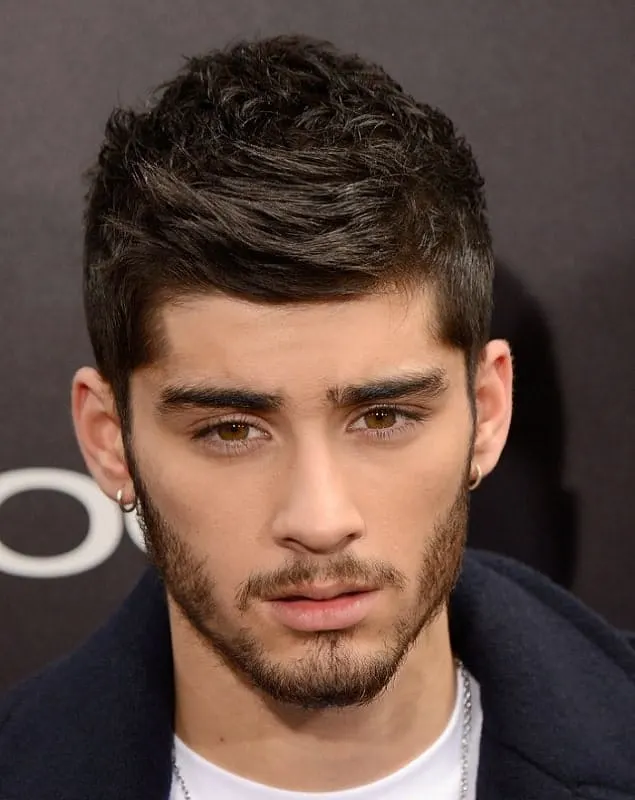 This haircut is another variation in the side sweep category. It is perfect for all occasions, and the best part is that you could never go wrong with it. This haircut has dimension and character, making it look sexy and chic.
49. Spiky Crown Cut
If you have thick, straight hair that tends to point straight up no matter what you do, this haircut is apt. It will allow you to embrace that characteristic and look good while you do it as well. This cut is more suited for professionals.
50. Short and Smooth Locks
This haircut is perfect for men who have smooth hair and a receding hairline. If you want to embrace both these characteristics and look hot, this cut is what you should get next. You could sport it anywhere and look hot and fashionable.
Top Ivy League Haircut
51. Textured Quiff
Both mature men and young boys can wear this Ivy haircut. Its versatility is extremely attractive and hence can be worn on any occasion. You don't have to have any particular hair texture to sport this, and anything will work perfectly for this ivy league haircut.
52. Longer and Pushed From the Front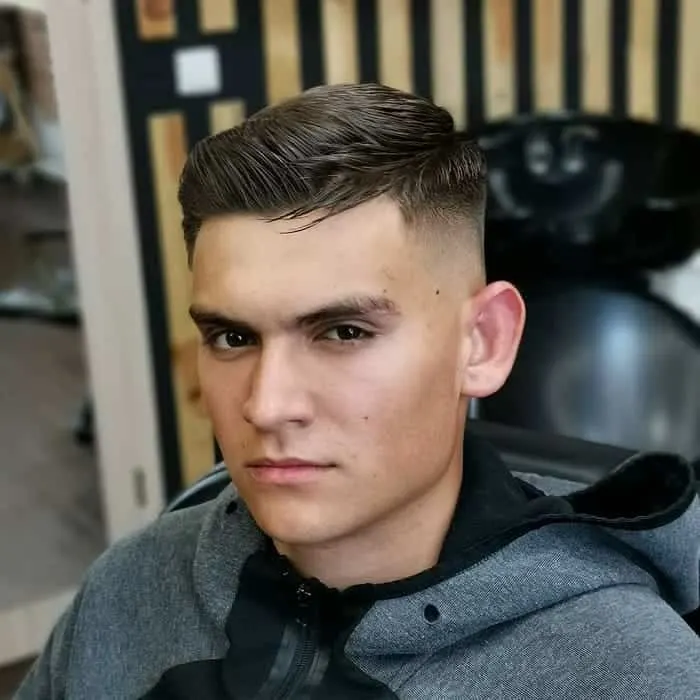 For a fresh take on this side swept undercut, try wearing the bangs just a little bit longer and then pushing them off to the side. Keeping the sides of the hair really short, almost to the scalp, adds interest to the hair on the top of your head and prevents this style from becoming boring or commonplace.
53. Softly Textured Fohawk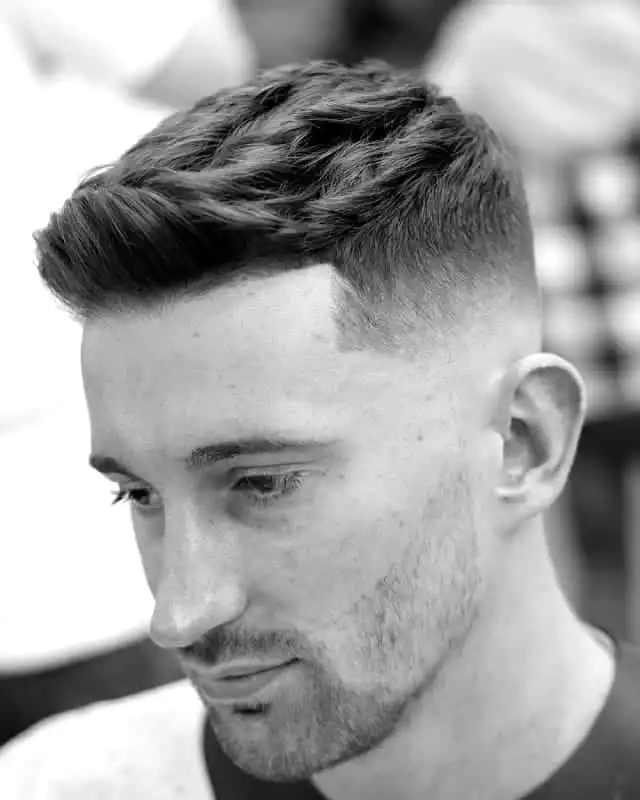 A softly textured haircut is a great look on most men and prevents this look from being too harsh. Hard lines around the face are tempered by softer hair on top and a very gentle fade from the sides. This looks great on most any man and is very easy to style and to keep looking great.
54. Messier and Fresh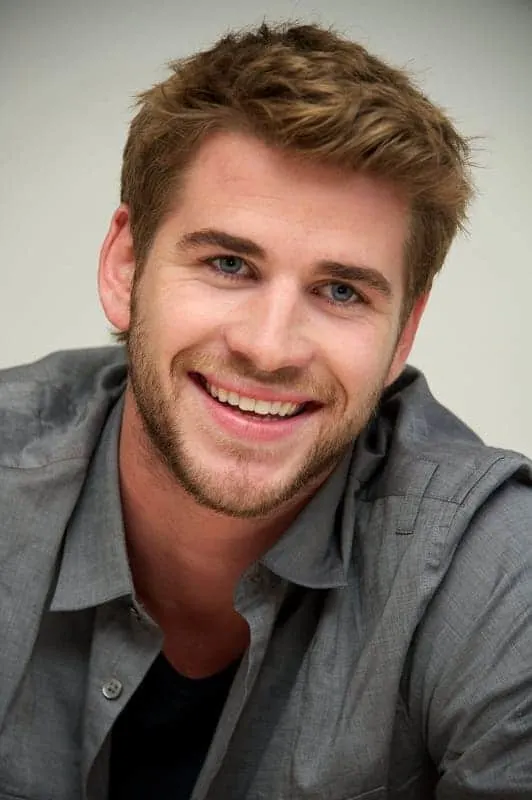 Allowing your haircut to look a little messy is a fun way to bring some personality to the style without it looking like you don't care. Keeping both the sides and the top longer is great for men who have thicker hair and can easily pull off this Princeton hair look without it coming across like they don't care.
For a little more mystery and style in your look, consider making the front and top incredibly sleek and slicking it over the side. A hard part adds interest to this hairstyle and prevents it from being boring. This is a great look for the confident man who isn't afraid to speak his mind.
56. Tight Sides with Longer Hair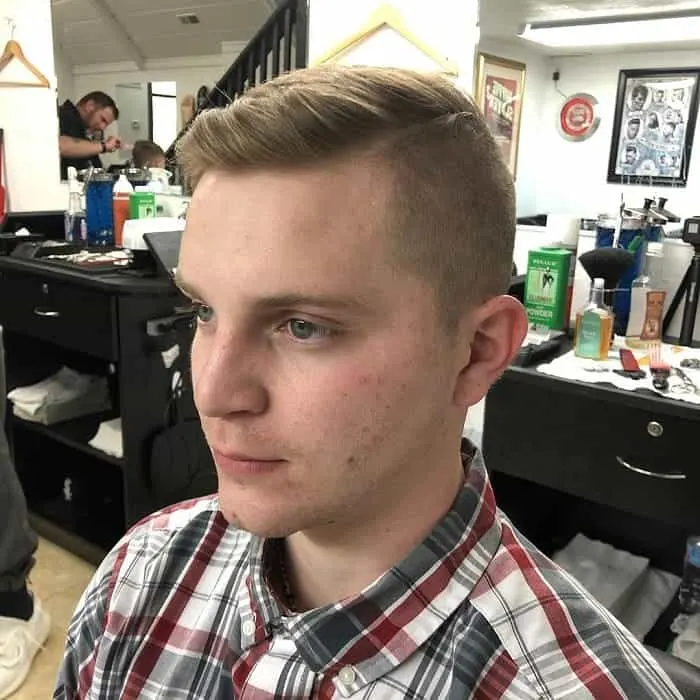 Keeping the sides tight, but not so short that you can see skin, and allowing the top to get a little longer really softens up this look and prevents it from being too harsh or overbearing. This is a great look for men of all ages and is a wonderful first ivy league hairstyle for younger men who want to try it out.
57. Shorter and Curly to the Head
Keeping very curly hair shorter on the top and closer to the head defines this style, as does the hard part. It's a great look for any man who has very curly hair and wants to embrace that without having to deal with a lot of lengths. This look is easy to maintain and even looks great as it grows out some.
58. Natural on Top
Keeping curly hair a bit natural on the top and allowing for some extra volume and height is a fresh and fun take on the ivy league haircut. This is a great style for any black man who loves the natural movement and appearance of his curls and wants to embrace that.
For something a little fresh and fun, consider an asymmetrical shape on top, which adds both volume and whimsy to the cut. This style is confident and bold and is just different enough to attract attention without being too crazy or making a man feel unhappy with the way that his hair looks.
Very hard lines around the hair, as well as longer curls on top of the head, are a great look on many black men. The short hair around the sides and the back lead into a longer fade that is broken up by a hard edge. This contrast looks great and is sure to attract a lot of attention from people.
61. Topped with a Bit of Color
Topping black hair with a bit of red helps take this style to the next level. The strong beard also greatly improves the way that this style looks and helps it stand out. Allowing the curls to be free and soft helps keep the look from appearing too harsh.
Spiked Ivy League Haircut
62. Plenty of Volume and Style
Adding a lot of volume to your spiked Ivy haircut with fade for Asian men will help it look messy on top, but still contained. Make sure that the sides are nice and tight and close to the head so that the spikey top will shine. This prevents the style from looking like it is grown out and simply unkempt.
Keep a spiky Ivy League cut looking really fresh by spiking the hair straight up from the head. Hair that is two-toned looks great and adds fun color to the style. By using a softer product, this cut won't have individually separated spikes, which can make the style look harsh.
64. Softer and a Bit Fluffy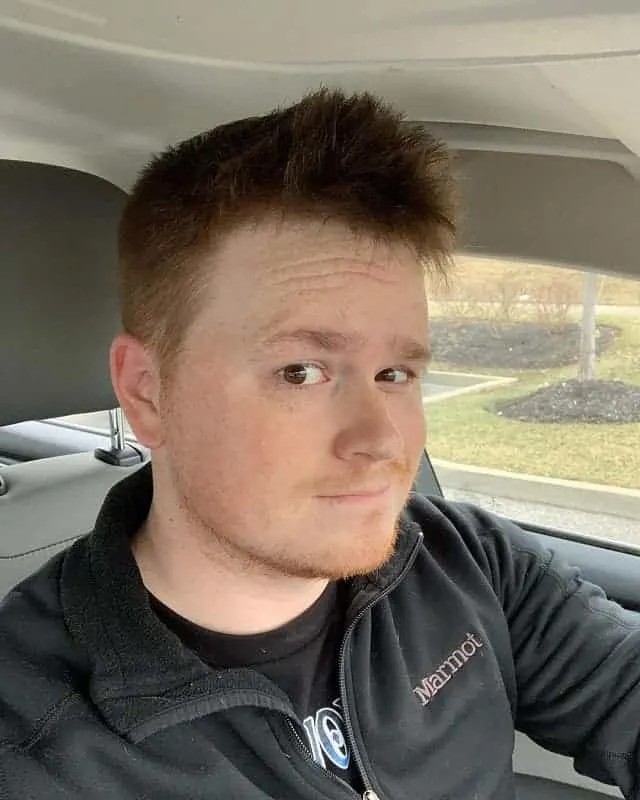 There's no reason why a spiked cut has to be really harsh and defined. This softer look is great for men who want a spiky look without all of the efforts. The soft way that the hair rests and moves is very natural and attractive and will help any man look great.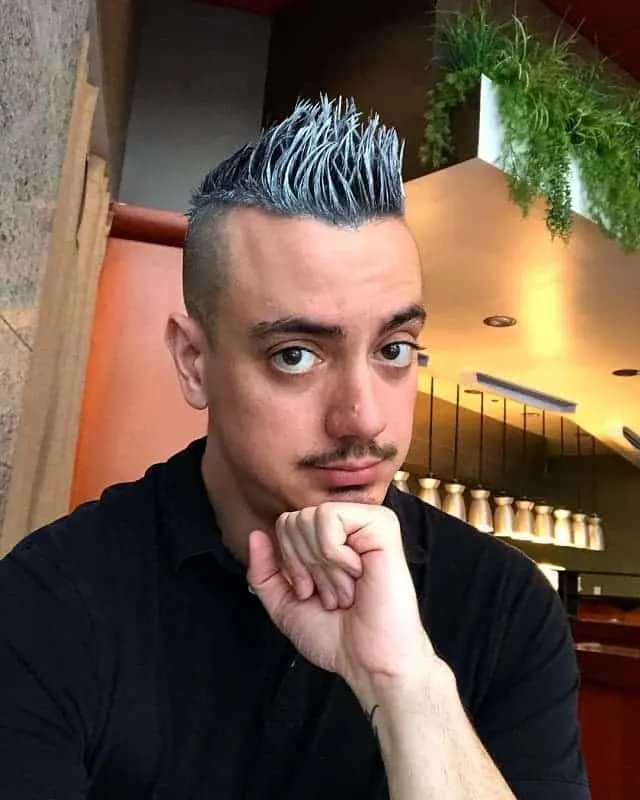 Men who aren't afraid of color and harsh lines will love tipping their spikes with an unnatural color and forming them into sharp and defined shapes. This adds a lot of interest to the Ivy League hairstyle, although it doesn't allow for a lot of movement of the hair.
66. Pushed to the Front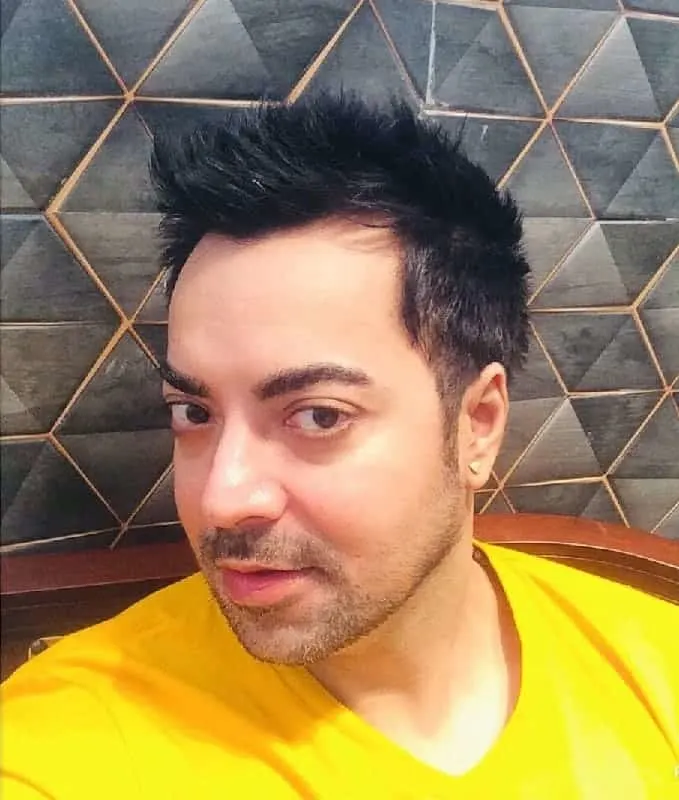 Pushing slightly spiky hair to the front of the face instead of spiking the hair straight up is a lot of fun and a great way to style this look a little differently. The hair is softer and doesn't have as much product in it, which means that it won't easily be weighed down.
Ivy League Haircuts for Military
67. Kept Shorter and Sweet
A shorter cut that is well maintained and features plenty of fading has the appearance of a high and tight haircut without being as harsh around the face. This is a great option for men in the military who want to look professional and keep their hair out of the way, but prefer a little more length and movement.
You can embrace the clean sides of a high and tight and still enjoy longer hair on top with this adaptation of the Ivy League haircut. The hard lines on the side allow men to easily style this look in a hurry and to embrace the juxtaposition of short and long hair.
69. No-Nonsense Look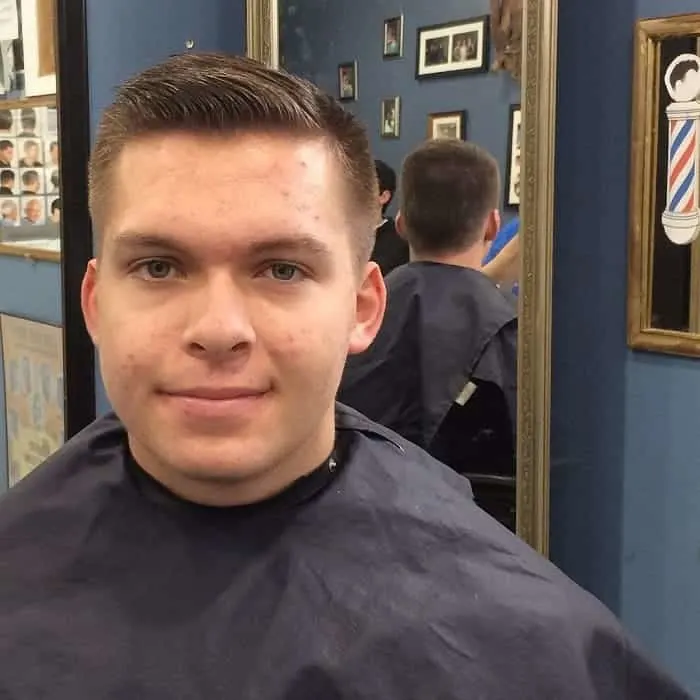 A no-nonsense cut is great for any man in the military and allows them to quickly get out the door in the morning. The soft and gentle fade on the sides of the head will grow out and still look great, which means that this cut doesn't need to be trimmed quite as much as some other cuts do.
70. Swept to The Side
Sweeping some longer hair to the side allows men to show their personality, even with a shorter military cut. Keeping the sides tighter to the head and using a little bit of product on the top allows the hair to be manipulated in a way that looks great and prevents the hair from looking unkempt.
71. Longer on Top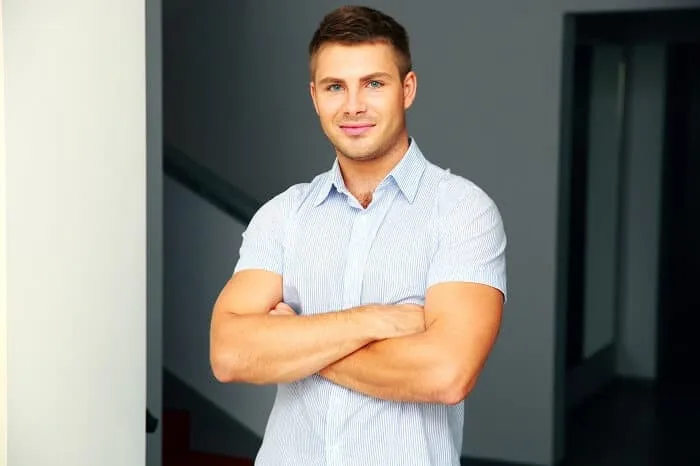 There's no reason why a military-style Ivy League cut has to be really short, as this cut proves. The longer hair on top of the head adds volume to the style. While this cut needs to be trimmed on a regular basis to ensure that it doesn't look too long, it's an easy cut for most barbers to handle.
Messy Ivy League Haircut
72. Allowed Some Height
Letting your cut have a little additional height is a fun way to add some muss and mess without it getting out of control. Using a bit of product to keep the hair pushed up and back helps keep the hair controlled and prevents the cut from looking crazy.
A shock of unnatural blonde hair looks great when it is allowed to stay a little messy during the day. This hair has some product in it to control a forward movement, but it is not so styled that the hair looks slick and completely controlled at all times.
74. Let it Be Free
Longer hair on the top of the head automatically looks a little messier, but this look can easily be embraced by adding some texturizing cream to the look. This separates the longer top from the shorter sides and allows for the texture and various colors of the cut to be seen.
75. Natural and Full
A natural and full style looks great when used on thicker hair. Thick hair doesn't require nearly as much product to look great, which is why men who have naturally thick hair will want to consider this Ivy League haircut. It looks fresh and cared for without requiring too much effort.
Ivy League Haircuts for Curly Hair
76. Curly and Full of Movement
Curly hair can still look messy with the use of a little product. Make sure not to add too much, as this will control the hair to the point that it looks neat and refined. Instead, embrace the imperfections that curls have to offer and allow the little product used to help define their shape.
77. Natural Dark Curls
Natural and dark curls look amazing when defined with a little product and offset with slightly shorter sides. Keeping the sides short enough to prevent more curls from showing here allows the curls on the top of the head to really stand out and ensures a fresh and updated look that isn't messy.
Keep curls in shape with plenty of gel for this fresh look. The curls are all defined and look wet, which is a bold statement. A strong part adds to the look of this Princeton hairstyle and helps it to really stand out from other similar cuts.
79. Kept Close to the Head
Keeping curls closer to the head prevents them from appearing too long or out of control. This is a great choice for any man who has very tight curls and doesn't want them to have a lot of length. Opt for very short sides on the head to help really tie this look together.
80. Left with Natural Volume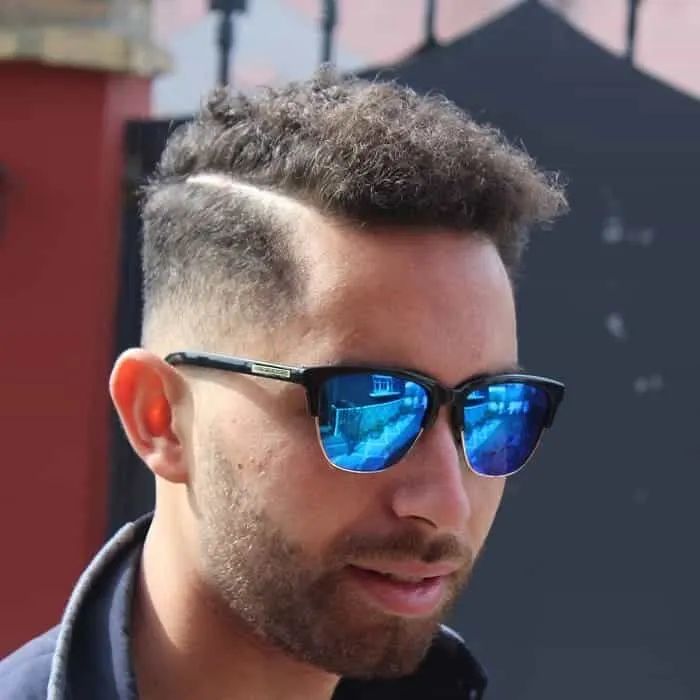 Natural volume that isn't controlled by product looks great on any man who has thick and full curls. These curls are left to their own devices and generally end up looking natural and healthy rather than styled and contained. This is a great look for a busy man on the go.
81. Longer and Slick
Longer curls can be slicked into place on the head, which adds both volume and movement to the style, but doesn't allow the curls to look out of control. The shorter sides and hard edges separate the short from the long, making it easy to style and impressive.
82. Shorter and Pushed Back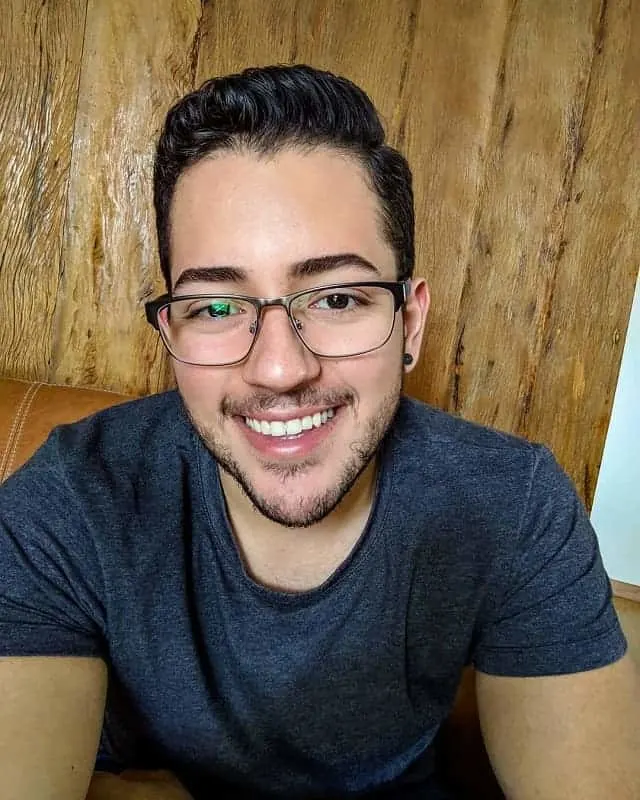 Receding hairlines don't have to be an issue with an Ivy League cut. This style shows how longer hair pushed back from the face can look amazing. Keeping the sides a bit longer makes it look like the man has more hair overall and results in a thicker and nicer haircut.
83. Kept to a Point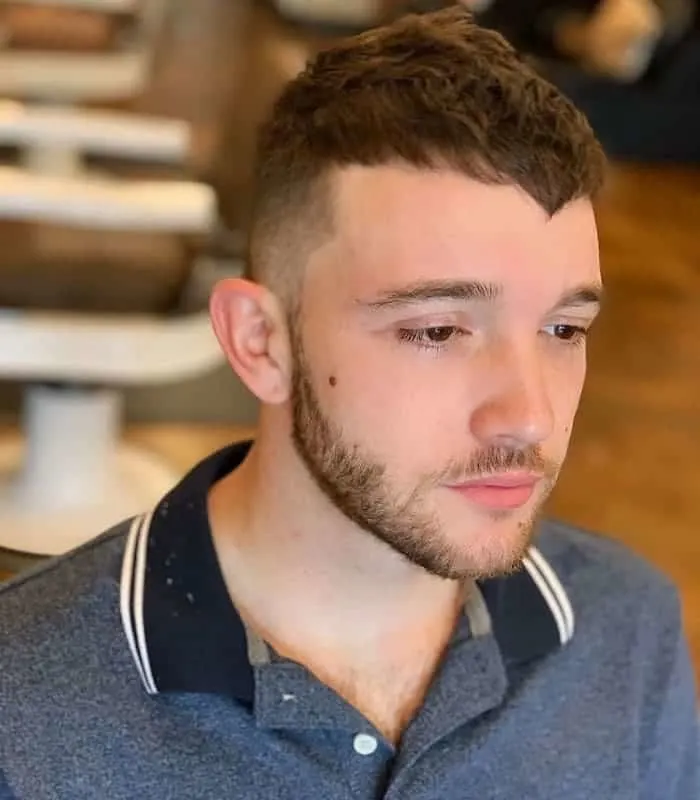 Bringing shorter bangs forward in a point helps detract from a receding hairline without being obvious. This is a great look for any man who has very short sides and a little more length on top, and looks especially great on younger men.
84. Off to the Side
Pushing hair up and off to the side can combat a receding hairline easily without drawing too much attention to the loss of hair. This softer look is accomplished by skipping a lot of heavy hair products that will weigh down the hair and opt for a lighter look that is more natural.
Sweeping hair up and away from the face with product results in a slick look that is fresh and updated. This clean style looks great when the bangs are left a little bit longer so that there is plenty of hair to move away from the face. It looks really great on dark hair.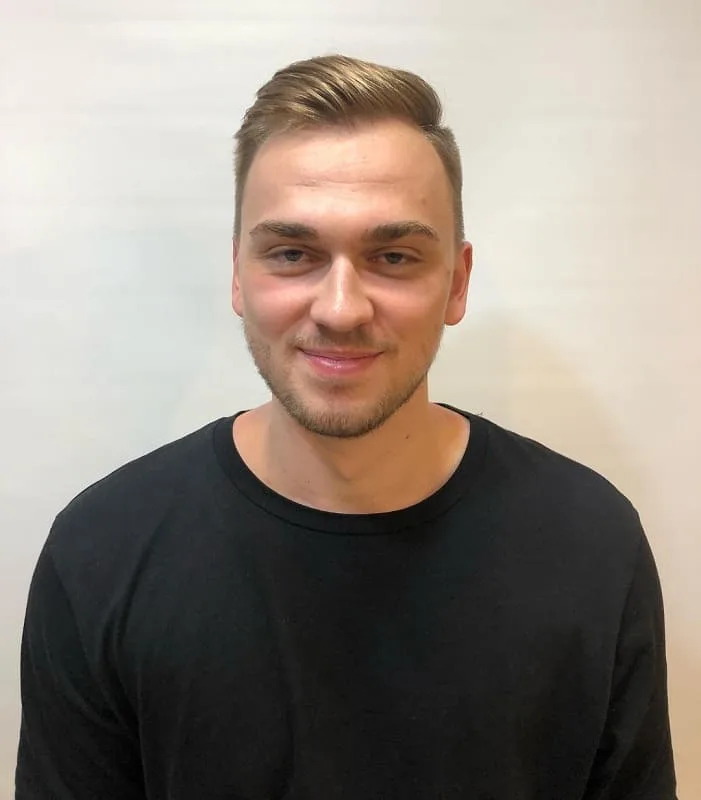 Pushing back hair from the face is a great way to show off an attractive face and reduce the appearance of a receding hairline. This look is very natural and can make a man look fresh and clean, making it a wonderful choice for men of all ages who want a new look.
Ivy League Haircuts with Glasses
87. Short Ivy League Haircut
An Ivy League haircut doesn't have to have very long hair on the top to look great, like this fresh and simple style shows. The shorter hair on top of the head is held in place to the side with a little product, resulting in a clean and updated look that is refreshing and really allows glasses to pop.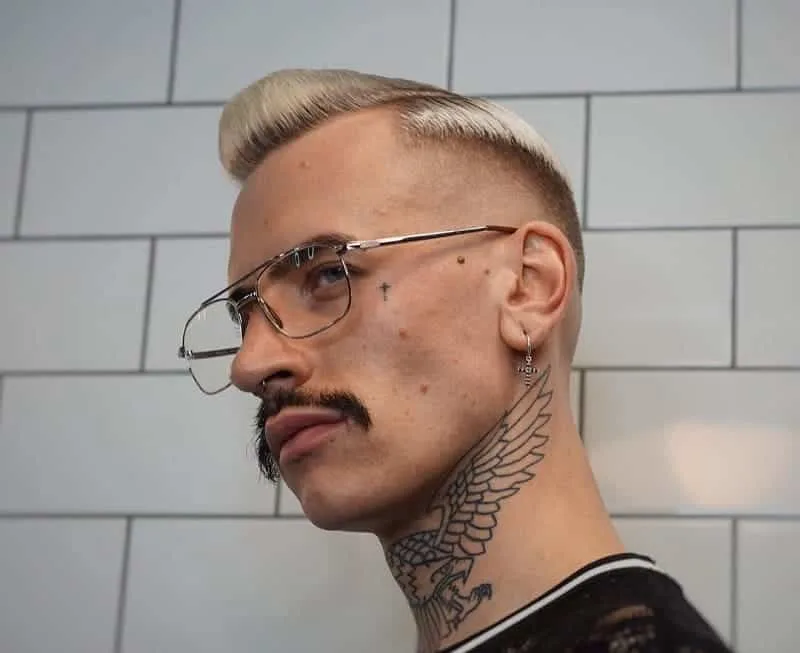 Men who want their hair to be the star of their appearance and have the glasses simply top off the look will love this blonde, bold, and over the top style. A large swoop on the forehead looks impressive already, but dying the hair blonde helps this style to really pop and is sure to be an attention-grabber when worn.
89. Sleek Front
Keeping the front really sleek and allowing for longer bangs to be pushed up and off to the side results in a fun style that lets the glasses really shine as an integral part of the look. The structure of the Ivy League hairstyle is a great complement to bold frames and looks great on men who aren't afraid to go short on the back and sides.
90. Messy Side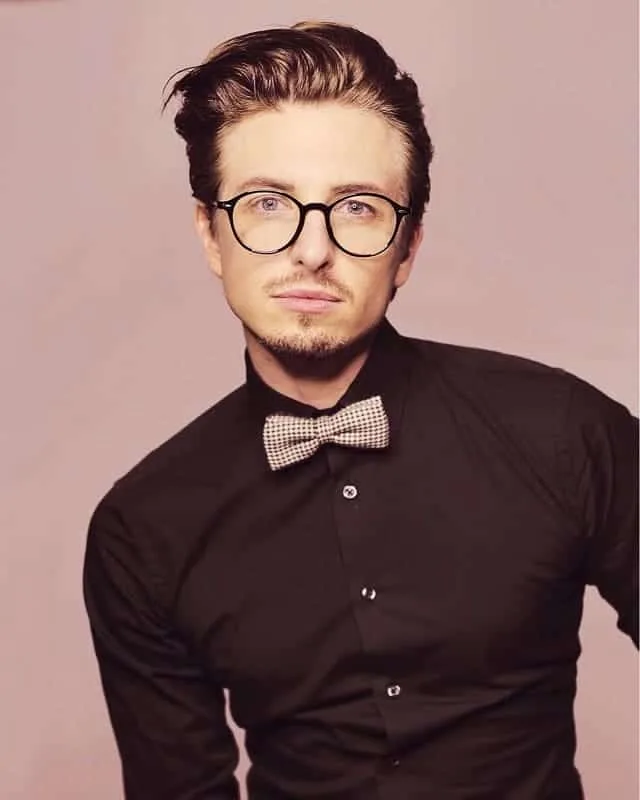 Keeping the hair longer on the top and allowing it to fall messily and naturally to one side is an attractive look. This hairstyle looks great on men who have a little more natural volume in their hair, as they will rely on this volume to prevent the style from falling flat or looking boring.
A very short Ivy League cut looks great when worn up and away from the face so that the glasses and a happy smile take center stage. This cut looks fresh and clean, especially when paired with very short sides. The length of the hair on top of the head can vary widely, allowing men to choose a length that they are comfortable with and that makes them look their best.
No matter what type of hair you have, if you have glasses, or if you need a shorter military cut, you can easily find an ivy league that will work for you. There are many reasons why an ivy league haircut is so popular, and one is that it looks great on most men daring enough to pull it off.
Now that you know what the most popular Ivy League haircuts look like, you are ready to make the right choice. Most of them are great for any hair type. However, some need careful consideration. In any case, all of them are very stylish and each can become a great choice of style for any man.
Related Topics