Dreadlocks are popular among African-American men and women. We often see black celebrities making a strong impression with dreads.
Among plenty of hairstyles, dreads stand out as particularly symbolic for black celebrities. This hairstyle represents a rich history and cultural pride, much like braids.
So, if you're looking to give your dreads a fresh new look, check out these cool dread hairstyles of African-American celebrities.
Popular Black Celebrities With Stylish Dreadlocks
Wearing dreadlocks is like a culture for both black men and women. This is probably the reason why African-American celebrities rock dreads with perfection.
Here are some black celebrities with dreads to inspire your next hairstyle with dreads.
1. Ava DuVernay – Braided Dreadlocks and Thick Glasses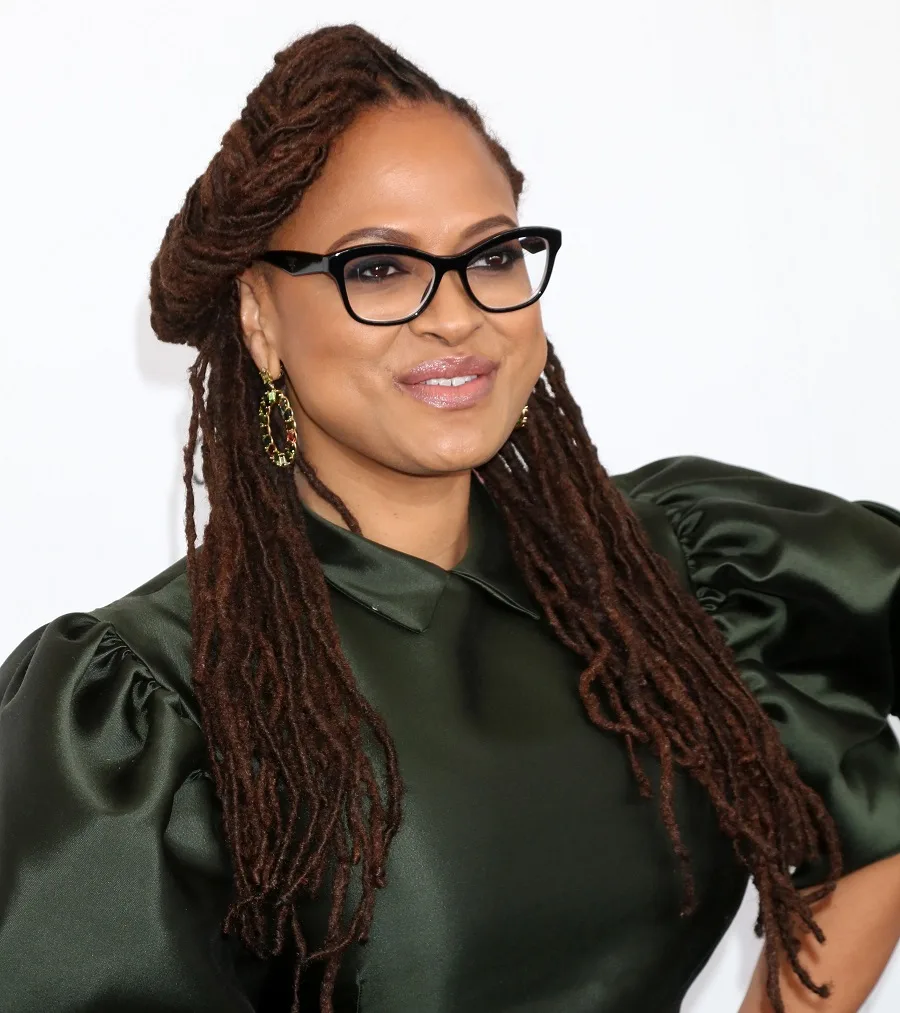 Ava DuVernay, the celebrity filmmaker gives her dreads a creative twist by styling them in a chunky braid on the side of her hair.
She leaves half of her twisted dreads flowing down and styles them with a pair of rectangular, wide-rimmed glasses.
2. Eva Marcille – Side Part Dreads and Gold Hair Cuffs
Eva Marcille wears her traditional dreadlocks with a side part to frame her face. She leaves the ends of her dreads loose to add some natural texture to the style and puts gold cuffs on the dreads.
3. Kelela Mizanekristos – Sidecut with Palm Rolled Dreadlocks
For Kelela, simple dreads don't cut it, so she shaved one side of her head, creating an undercut for this hairstyle.
Her palm-rolled dreadlocks fall to one side of her face for a side-swept look and are twisted at the root to show the hairline.
4. Lalah Hathaway – Side Swept Dreadlocks with Blue Ends
Lala Hathaway's side-swept dreads fall below her shoulders and have bright blue ends that complement her outfit.
Her layered dreads add some extra volume and are palm-rolled down to tips so that they have well-defined ends.
5. Lauren Hill – Shoulder Length Twisted Dreads and Middle Part
Grammy-award winner Lauren Hill prefers to wear her dreads in simple, traditional locs. Her neat palm-rolled locs have different lengths for a layered look and almost reach her shoulders.
6. Ledisi Anibade Young – Double Bun Dread Petal with Brown Highlights
This African-American celebrity actress aged over 50 creatively styled her dreadlocks petals for an asymmetrical look. Her double bun dread petals are styled in twists to cover the sides of her head.
The brown color of her dread creates a cool contrast with her natural black hair, which gives her a stunning look.
7. Lisa Bonet – Partial Freeform Dreads with Updo
Actress Lisa Bonet, of African-American descent, prefers a more natural look with her dreads as opposed to an elaborate style.
She has partial dreads that are loosely rolled at the ends, but the roots of her hair don't have twists. Some dreads slip out of her loose updo for a relaxed look.
8. Little Sims – Thick Dread Twists with Messy Topknot Hairstyle
Celebrity rapper Little Sims has thick dreads, which she wears in loose, two-strand twists. They are styled in a messy topknot, so some twists fall out of the topknot and around both sides of her head.
She has added some coils and cuffs to her dreads for extra beautification.
9. Meagan Good – Sideswept Twist Dreads with Blonde Extensions
Meagan Good prefers a side-swept look for her long dreads. They're tightly rolled from roots but loose on ends for added texture.
One side of her head is shaved, and her dreads have blonde extensions for a two-toned appearance.
10. Rihanna – Traditional Dreadlocks with Retwists
One of the most popular black celebrities with dreads, musician Rihanna, prefers traditional dreadlocks with retwists at roots. She has relaxed dreads with a few loose strands around her face and head.
11. Shanola Hampton – Half Up-Half Down Dreadlocks
This half-up, half-down hairstyle by Shamona Hampton has tightly rolled dreads at the ends for a similar appearance to natural hair.
The top half of her dreads are twisted to form a knot at the crown and the rest of her hair falls below her shoulders.
12. Tasha Smith – Twist Dreadlocks with Brown and Blonde Highlights
These dreads are thicker at the top, where they meet the scalp, and gradually become thinner as they reach the ends.
So, the dreads along her scalp are much thicker and show fewer signs of tension, and the bottoms have brown and blonde highlights.
13. Whoopi Goldberg – Traditional Dreadlocks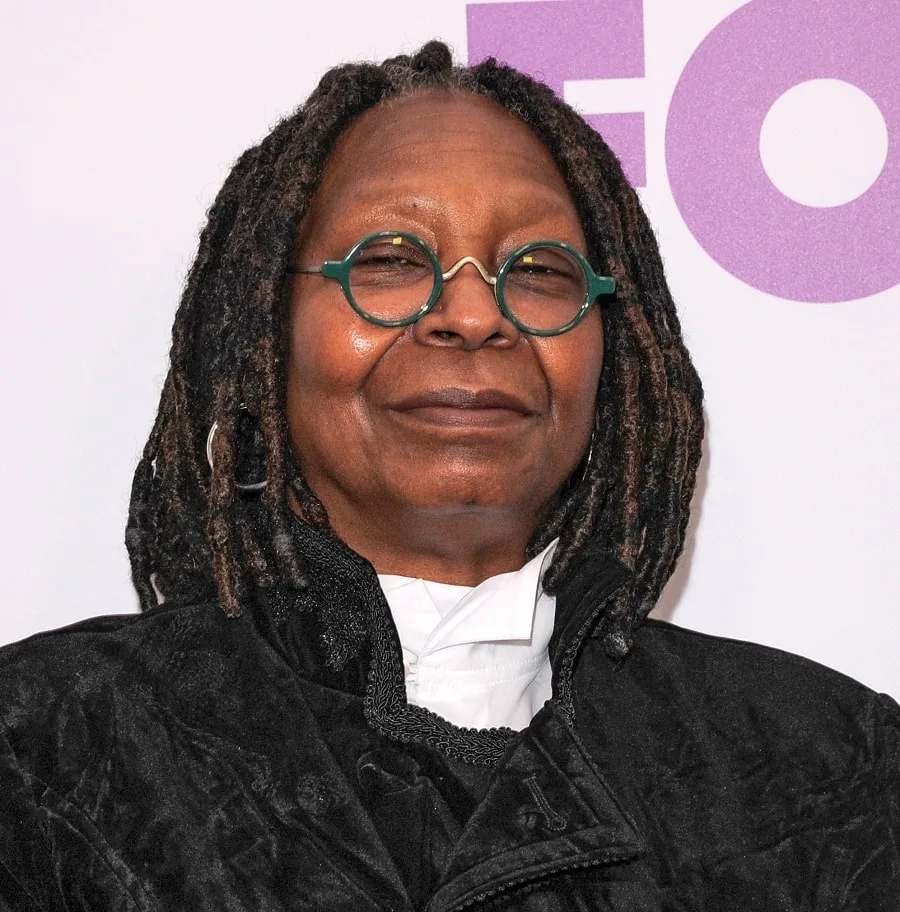 Whoopi Goldberg wears her traditional dreads with a mix of grey, black, and brown strands. They are rolled neatly from the roots to the ends, giving her a mature look. She styles them at shoulder length, parted in the middle.
14. Willow Smith – Dreadlocks in Half Ponytail with Jewelry
These dreadlocks are thinner to mimic the movement of natural hair. There is no retwisting at the roots, so the hairline isn't visible.
The lengths of the dreads are tightly rolled without any loose strands. Willow Smith also adds some gold cuffs to her dreads.
15. Yvette Nicole Brown – Twist Dreadlocks with Half-Up Topknot
These dreads show hints of multiple shades, including brown, black, and blonde. While the dreads are rolled tightly, the ends are untied for added length.
The black celebrity sports blonde dreads with vibrant highlights, featuring a topknot that includes a few brown strands.
16. Zoë Kravitz – Platinum Blonde Braided Micro Dreads
These micro braids are made of fine strands of hair braided together, and they're combined with a side cut to make the dreads more prominent.
Zoe Kravitz also dyed her hair platinum blonde to show the knots in her micro dreads.
17. Benji Webbe – Ginger Dreadlocks with Glasses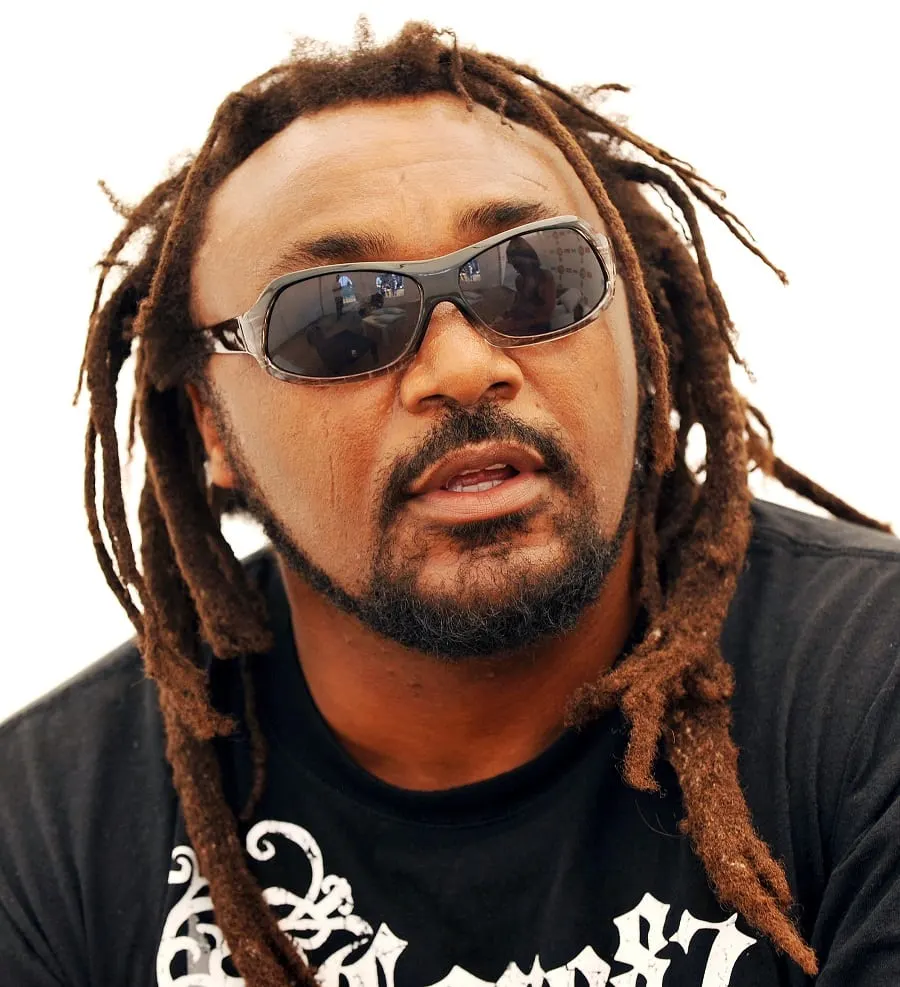 The bearded celebrity singer rocks freeform dreads that have an uneven length and inconsistent thickness.
His chin strap beard extends to his sideburns, complementing his ginger dreads nicely. Together with his glasses, this combination creates a stylish look.
18. Busta Rhymes – Wavy Cornrow Dreads with Temple Fade and Line Up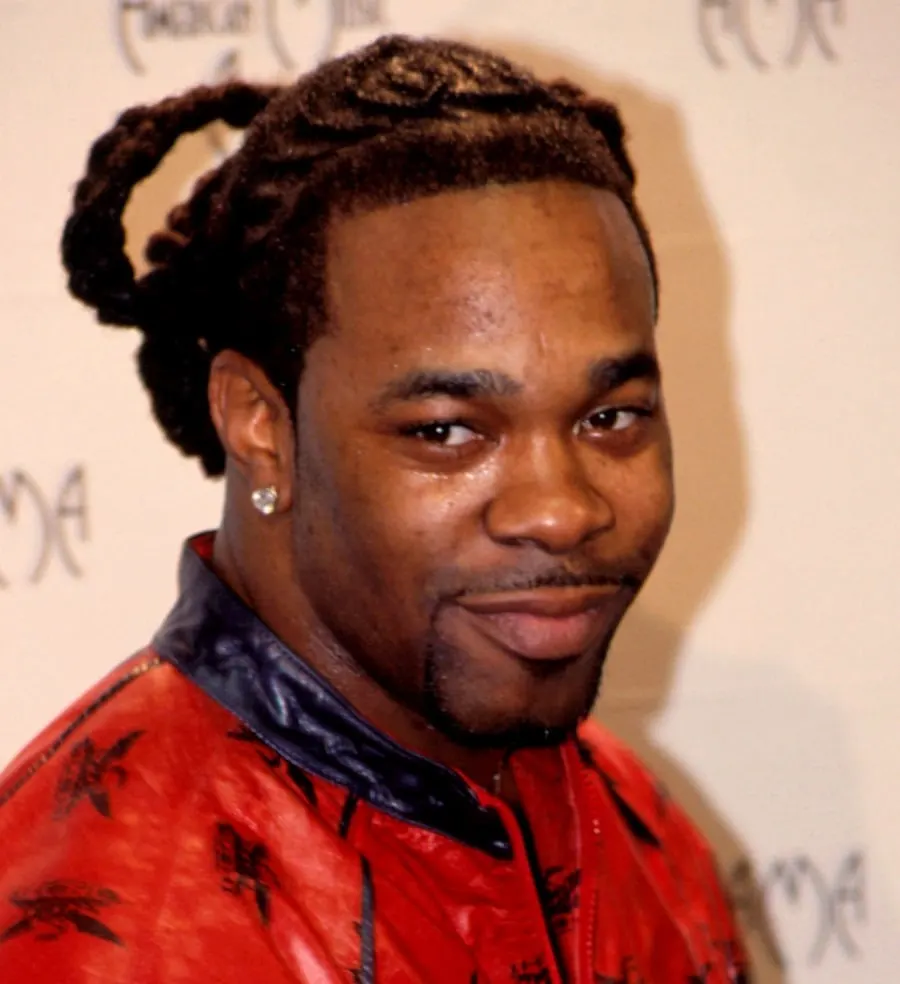 Busta Rhymes has always chosen unique styles involving dreads and combines them with wavy cornrow patterns.
He has a temple fade that lines up for a distinct shape, and he has a pencil mustache with a thin goatee beard.
19. Jaden Smith – Sideswept Dreads with Undercut
Jaden Smith shaved the side of his head to get an undercut and wears his micro dreads to one side. He has traditional palm-rolled dreads. The roots have a thicker appearance as hair grows outside the dreads.
20. Lenny Kravitz – Messy Afro Dreads
These afro dreads make a good pairing with a stubble beard. Lenny Kravitz has thick messy semi-freeform dreads with uneven length.
21. Lil' Diddy – Braided Dreads with Round Frame Glasses
Lil Diddy shows off his well-maintained braided dreads. His scalp shows box-like sections of hair that are rolled and matted until the ends.
He wears his dreads in a half-ponytail hairstyle and adds a pair of round frames glasses.
22. Lil Jon – Micro Dreads with Gray Hair and Goatee Beard
Lil John's micro dreads are palm-rolled to give a thinner appearance. His gray hair covers the scalp to add more volume and grows outside the dreads, and his scruffy goatee shows specs of gray, too.
23. Lil Wayne – Tied Back Dreads
Lil Wayne ties his dreads into a knot at the back to create a messy ponytail with some dreads loose on the sides.
There's no pattern on the scalp that shows each section of hair, so they're similar to afro dreads. He also keeps his natural hairline.
24. Nile Rodgers – Long Dreads with Loc Bangs
The loc bangs in this hairstyle are made from micro dreads, with some dreads hanging loosely on the sides of the face.
Nile Rodgers prefers longer dreads, ties half of them into a chunky knot at the back, and leaves the rest on the shoulders.
25. Snoop Dogg – Braids with Patchy Beard
Snoop Dogg's dreads are two-strand twists that are white at the roots, with some stray hairs growing away from the dreads. His beard shows some patchiness on the sides of his face.
26. T-Pain – Loc Petal Bun with Hair Cuffs and Coils
Who says men can't try a loc petal bun with their dreads? T-Pain's dreads are tied on the back of his crown in a loc petal bun.
The dreads look like flower petals by looping them and tying them, and there are added ornaments like a silver cuff and gold coil.
27. Waka Flocka Flame – Long Dreads
Waka Flocka Flame's dreads are long, and each section is palm-rolled. His hair is parted into smaller sections to create micro-thin dreads, and they're rolled to give a coil-like appearance.
28. Wale – Layered Micro Dreads with Goatee Beard
His goatee beard extends along the sides of his chin to make a scruffy chinstrap. Wale's dreads are layered to have varying lengths for a high-volume look.
His dreads are thinner and tightly rolled from the edges to prevent loose ends.
29. Wiz Khalifa – Curly Dreads with Brown Tips
His combination of natural curly hair and dreads is a unique mix, considering that he added brown extensions as well.
Wiz Khalifa's afro dreads hairstyle shows hair growing outside the dreads, which have different lengths and levels of thickness.
30. Wyclef Jean – Freeform Dreads with Chin Puff
He contrasted his freeform dreads with a neat chin puff beard that extended to the sides. His dreads end just above the shoulders and are rolled slightly to give them a consistent finish.
The dreads are shorter on the sides of his face and longer in the back.
So, these are our top picks for African-American celebrities with dreads. Choose your favorite dread hairstyle and rock it with confidence.