Guys with purple hair look incredible, so if you're thinking of making the change, here are 20 amazing purple hair color ideas for men that you should definitely consider!
Popular Men Purple Hair Color Ideas
Guys are following the trend of trying out unusual hair color like purple. Check out these top picked purple hairstyles for men trending this year.
1. Short Dark Purple Hair
If your skin color is darker, and you have thick bushy black eyebrows, short purple hair is your thing. It is ideal for men who love looking fashionable and want to get out of their comfort zone.
2. Purple Hair and Beard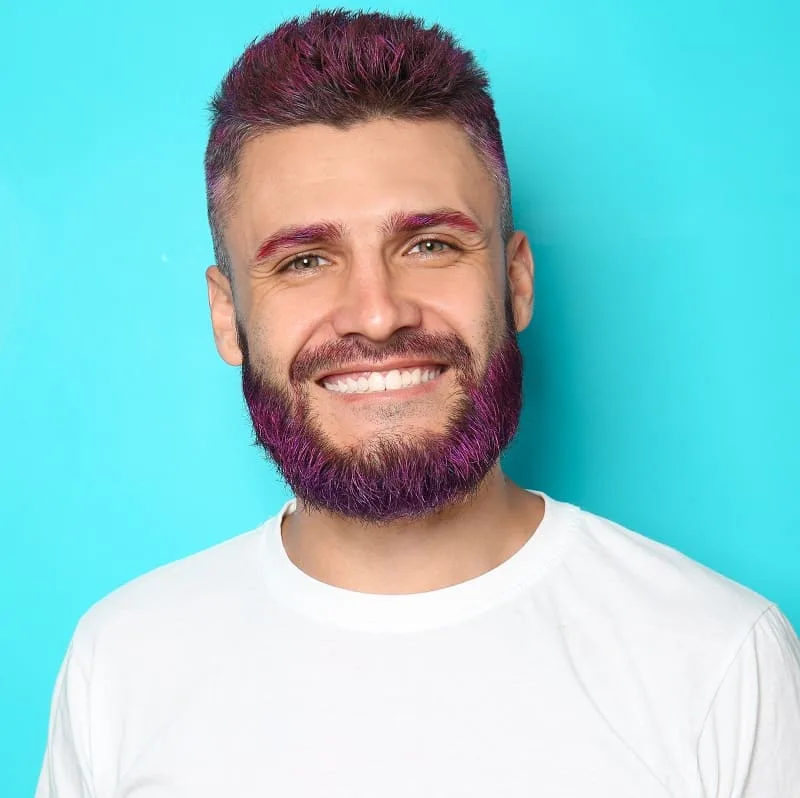 If you are not ready to make a permanent commitment to this dark purple hair, a colored hair spray is the way to get your hair glowing. Apply it not only on your hair but also on the beard, eyebrows, and mustache for a full transformation.
3. Lavander Hair
A bright stunning mix of blue and purple hair color is the right approach for men who want a vibrant, bold, look. When dyeing, you might want to use foils to bleach the longer parts of hair evenly.
4. Metallic Purple Bangs
Obtaining that marvelous silver purple hair requires some heavy skills, and we recommend you not to get this at home. Such DIY projects can dramatically fail, and a colorist will certainly obtain that nuance and asymmetric trim for the bangs.
5. High Purple Tinted Quiff
If you have a job where a professional look is compulsory, but you crave a pastel purple hair, you should know that colored hair sprays make such a fine job. A few puffs on the quiff, and nothing can stay between you and your most wanted look.
6. Short Messy Hair
If you're looking to add a little edge to your look, try a short messy style. To get the look, start by applying a light purple color to your locks. Then, use a gel or pomade to make your hair messy all over your head. Finally, set the style with a bit of hairspray to keep everything in place.
7. Lavender Mohawk
If you want to enhance a pop of hue to your hair, consider a lavender color with a mohawk style. Start by mohawk-ing your hair up in the traditional way. Then apply a generous amount of hairspray on it to hold your style in place.
8. Purple+Blue Dreads
People with dreadlocks can style their hair in many different ways, but creating a two-tone effect is surely out of the box. This can be achieved by adding purple and blue colors to your dreads to embrace your inner hippie. You can add beads to look funkier.
9. Vivid Side Swept
This fun and flirty style is perfect for any occasion, whether you're dressing up for a night out or just looking to add a little extra glamour to your everyday look. It can be achieved by sweeping your hair to one side and adding pinkish purple color for a touch of personality.
10. Twisted Braids
This playful and unique style is relatively easy to do. Simply take two small sections of hair and twist them around each other, then secure with a rubber band or burn the hairtail. You can experiment with different braid patterns and thicknesses to find what works best for you.
11. Multicolored Highlights
Purple hair has become so requested and loved, that even guys want to pull it off. As a man with long hair, you might consider getting a color combination between green, pink and purple highlights and you don't necessarily need to use permanent hair dye.
12. Purple Dreadlocks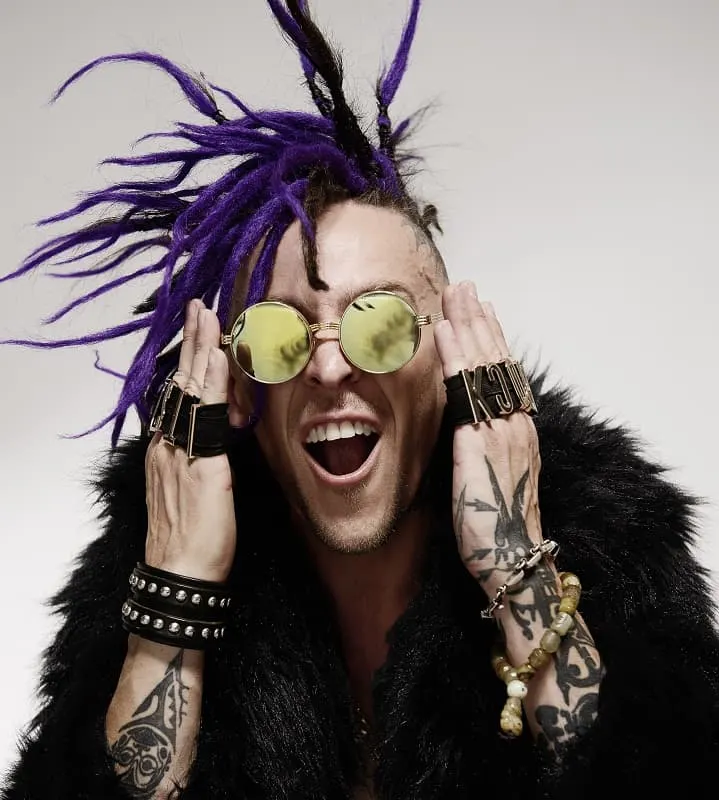 Are you in love with drastic changes, vibrant colors and unusual hairstyles? You are in the right place, man, because you'll adore this mohawk made of purple dreads. If you have head tattoos, even better, it's such a striking way to reveal them.
13. Lavander Block Cut
Korean bands not only brought back to light the two-block cuts, but they made it look so modern by dyeing the hair in bright, unusual colors. Light purple hair is just the right color pick for men who want to be trendy all the time.
14. Purple Hair Dye
When men decide to go for a drastic change of style, the first option is to go all in. So, that's why the first purple hair color idea on our list is the full dye! For this look, you can choose any violet hue you'd like, from the more pastel choices to the really bright ones.
Rich violets or purple work for anyone with fair to medium skin tone, so keep that in mind while becoming the guys with purple hair.
Hottest Hair Color Trends for Men
15. Purple Dip Dye Hair
If a full dye is not an option for you, you can only dye the tips of your hair and still make a statement. Dip dye hair is not the same as ombre hair; when you dip dye your hair, you will have a consistent color only on the tips of your hair, while ombre hair goes from darker to lighter hues, creating a great contrast.
If your hair is long, consider dyeing up to three inches of your hair so you can let that purple show. If you have shorter hair, you can play with how much purple you want. Dip dyeing your hair is a good compromise because you can always trim off the purple tips when you're ready to move on.
16. Shadow Roots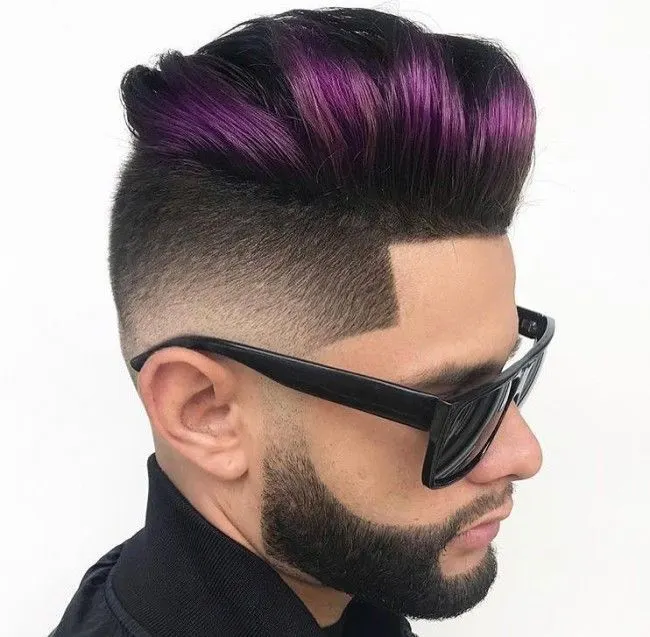 Getting shadow roots is a great way to get that purple look you're looking for while still rocking your natural hair color. All you have to do is leave a couple of inches of natural hair and dye the rest in the purple hue of your choice.
This way you can grow out your hair and you can just touch up the purple whenever you need to enrich the color.
17. Purple Merman Hair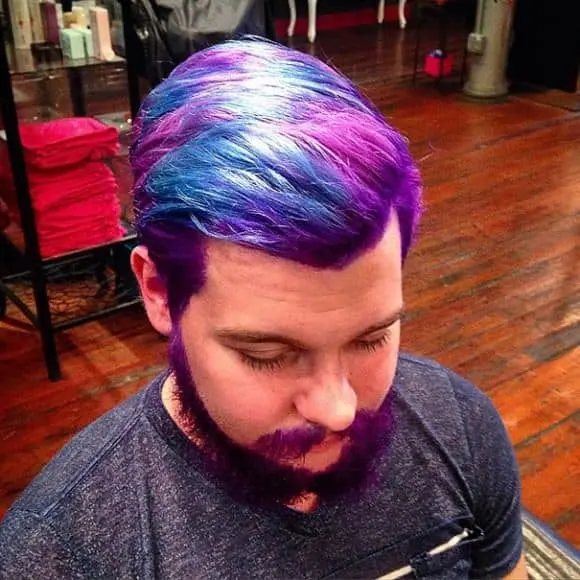 Merman color is a very popular choice and it's more drastic a change than just getting a full purple dye because you'll be able to combine different colors. Some guys with purple hair also get their beards dyed to get the complete merman look.
As you can see in the picture, purple is well complemented by hues of blue and pink, but other guys also play with green and yellow; it's all up to you.
Purple highlights for guys are yet another way to get some purple in your hair without committing all the way. What's more, purple highlights look great and you can decide just how much purple you want in your hair.
19. Purple Contrast Hair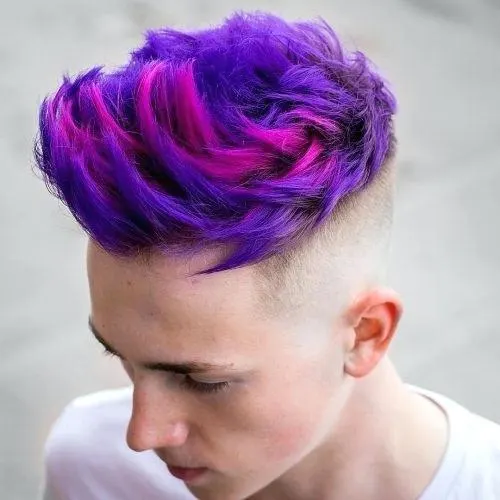 If you can't decide between purple and other colors or if you can't decide between hues of purple, you can always mix the colors you want together and get contrast hair. Contrast hair will look incredible on a purple haired guy and it allows you to explore different colors.
If you can't grow your hair out, you can simply get short purple hairstyles for men like buzz cut! All you have to do is get a full purple hair dye and maintain your buzz cut the way you like it.