Guys with purple hair look incredible, so if you're thinking of making the change, here are 7 amazing purple hair color ideas for men that you should definitely consider!
Popular Men Purple Hair Color Ideas
Guys are following the trend of trying out unusual hair color like purple. Check out these top picked purple hairstyles for men trending this year.
1.
short purple hair for men
2.
men's dark purple hair
3.
blue and purple hair color for men
4.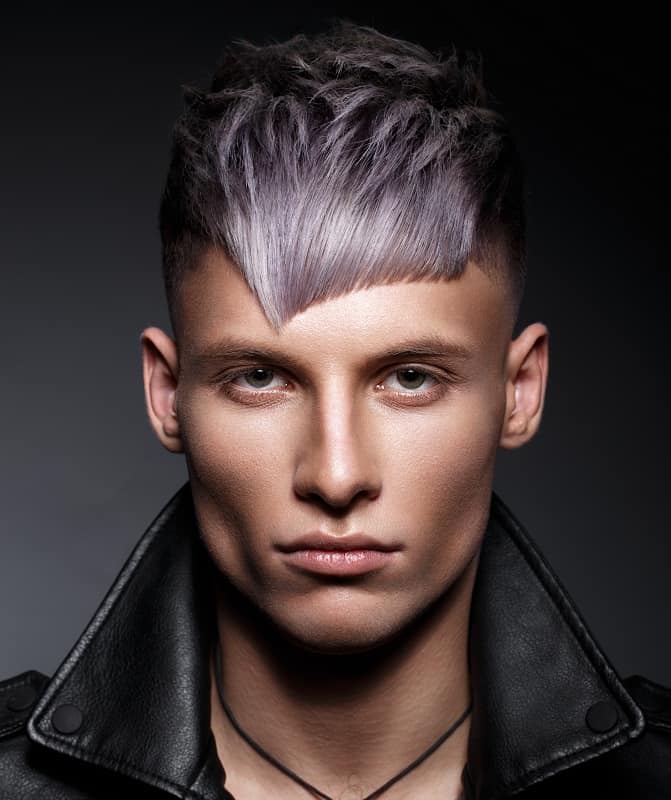 men's silver purple hair
5.
pastel purple hair for guys
6.
men's long hair with purple highlights
7.
man with purple dreads
8.
light purple hair color for men
9. Purple Hair Dye
When men decide to go for a drastic change of style, the first option is to go all in. So, that's why the first purple hair color idea on our list is the full dye! For this look, you can choose any violet hue you'd like, from the more pastel choices to the really bright ones.
Rich violets or purple work for anyone with fair to medium skin tone, so keep that in mind while becoming the guys with purple hair.
Hottest Hair Color Trends for Men
10. Purple Dip Dye Hair
If a full dye is not an option for you, you can only dye the tips of your hair and still make a statement. Dip dye hair is not the same as ombre hair; when you dip dye your hair, you will have a consistent color only on the tips of your hair, while ombre hair goes from darker to lighter hues, creating a great contrast.
If your hair is long, consider dyeing up to three inches of your hair so you can let that purple show. If you have shorter hair, you can play with how much purple you want. Dip dyeing your hair is a good compromise because you can always trim off the purple tips when you're ready to move on.
11. Shadow Roots
Getting shadow roots is a great way to get that purple look you're looking for while still rocking your natural hair color. All you have to do is leave a couple of inches of natural hair and dye the rest in the purple hue of your choice.
This way you can grow out your hair and you can just touch up the purple whenever you need to enrich the color.
12. Purple Merman Hair
Merman color is a very popular choice and it's more drastic a change than just getting a full purple dye because you'll be able to combine different colors. Some guys with purple hair also get their beards dyed to get the complete merman look.
As you can see in the picture, purple is well complemented by hues of blue and pink, but other guys also play with green and yellow; it's all up to you.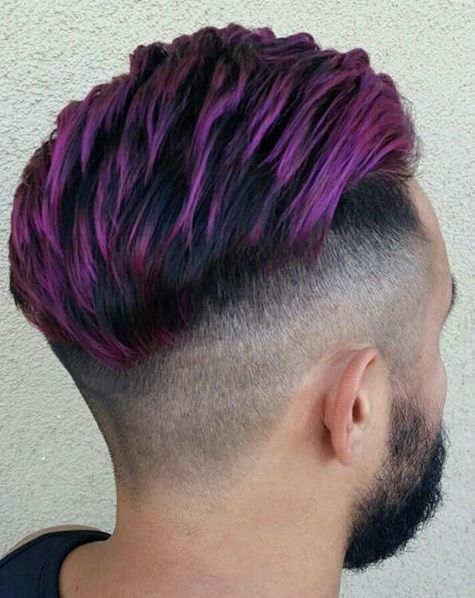 Purple highlights for guys are yet another way to get some purple in your hair without committing all the way. What's more, purple highlights look great and you can decide just how much purple you want in your hair.
14. Purple Contrast Hair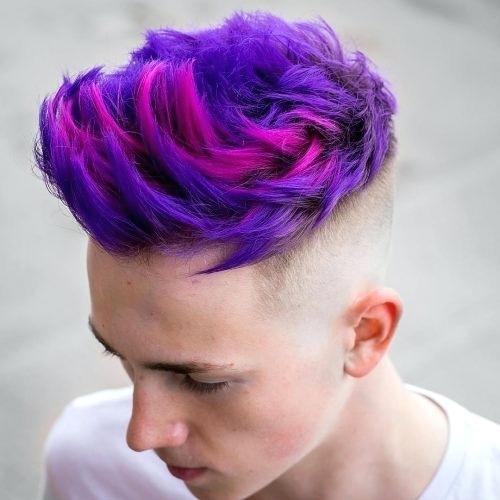 If you can't decide between purple and other colors or if you can't decide between hues of purple, you can always mix the colors you want together and get contrast hair. Contrast hair will look incredible on a purple haired guy and it allows you to explore different colors.
If you can't grow your hair out, you can simply get short purple hairstyles for men like buzz cut! All you have to do is get a full purple hair dye and maintain your buzz cut the way you like it.