Mexican women are famous for having the hottest hairstyles. Their hair is thick, long and dark, and they use this advantage to create some of the most amazing haircuts in the world.
No matter whether you are Mexican or not, if your hair is long and thick, you can easily go for the sexiest and the most incredible hairstyles. Browse some options to understand which Mexican haircut and hairstyle will fit you best.
Awesome Mexican Haircuts for Women
Women with long and thick hair often have trouble managing it. Mexican women know everything about this problem, but are still producing the most amazing hairstyles.
If your hair has the same qualities, then you are ready for some time in front of the mirror. Tired of dull ponytails and braids? Choose a Mexican hairstyle that will make you look amazing! Here are some options for you to consider.
1. Highlighted perm

Highlights will look great on any dark hair. If your hair is not naturally curly, this Mexican haircut will require a perm. The result will be amazing since the curly hair will instantly become easy to manage. Give this one a try and experiment with colors!
2. Romantic highlighted waves
Tired of your dark hair? Go for highlights. A great way to highlight your hair is to dye just the top part. Choose the right color and go for it. The rest of the hair can be styled to have long romantic waves. This is sure to be a hit!
3. Waves and side swept bangs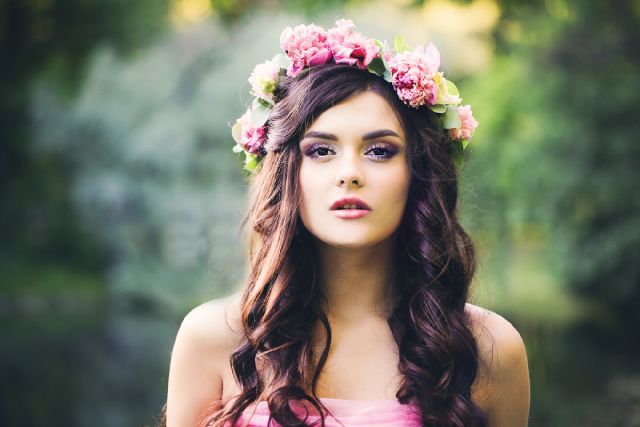 If your hair is long, there is no reason to forget about bangs. Side swept long bangs look very sexy, especially if the rest of the hair is neatly styled into waves. This Mexican hairstyle will fit any woman with long hair.
4. Go straight
Even if your hair is naturally wavy, try this Mexican hairstyle and you won't regret it. Straighten your hair, so it freely flows down your shoulders. This is a very sexy look. Just make sure to keep it neat, otherwise, it will turn into a disaster.
5. Thick curls
This is a classical Mexican haircut for girls with thick hair. Make neat and thick curls and you are sure to keep some heads turning your way. Take some time to consider highlights. Thin light strands look great on a dark hairstyle.
6. Mexican Short Hairstyle
Every time you crave for a modern hairstyle, a silver ombre can save the day! Opt for a layered bob haircut with bangs swept on one side and make a few easy waves to complete the look. Such a hot mamacita!
7. Long Hairstyle
Mexican girls love hairstyles that add value to their hair and this beautiful hairdo is one of the best examples. Split the crown hair into three sections that follow the hairline and make three twisted braids. Secure them all in a low ponytail and gorgeously curl the ends of the hairdo.
8. Braided Hair
If you adore relaxed looks that show your romantic side and at the same time want a stylish appearance, a halo loose braid that forms a twisted hair crown is a perfect idea for you. Spare your bangs and some longer strands to make the look seem messy.
9. Mexican Hairstyle with Flower
Mexican girls love flowers, so ladies wear them in their hair all the time, even at weddings. If you want to be the queen of the night, build a halo braid and attach your favorite blooms on it.
10. Bun Style
That gorgeous olive skin perfectly suits a stunning brown ombre that has beautiful blonde hair tips. To recreate this mesmerizing hairdo which you can wear at a wedding or anniversary, knit a braid from the top of your hair a build a stylish low big bun.
11. Mexican Hairstyle for Little Girl
If you little girl has a school themed party that celebrates Mexico, this halo braid made of scarfs will win everybody's heart. Use the three colors that compose the Mexican flag, green, white and red, and she will be so proud to show off her look.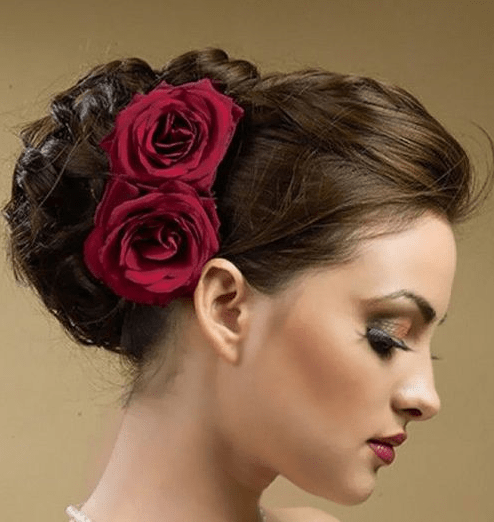 All we can recommend you is experiment, experiment and experiment. Long and thick hair will look great whatever you decide to do with it. Try the options we showed here to create an amazing and sexy look you always wanted.