Contrary to what you might think, Mexican women don't always have dark hair. In fact, many of them can be born with blonde hair or simply just prefer a blonde hairstyle. Thanks to the many Mexican celebrity actresses and singers with stylish blonde haircuts and hairstyles, blonde is an increasingly popular color choice.
Long or short, thick or thin, there's a Mexican blonde hairstyle that would look amazing on you. Style your new look with waves, curls, or a mix of both – there's no bad here! Just take a look at our favorite Mexican blonde hairstyles.
Blonde Hairstyles for Mexican Women
Below are 20 easy and effortless looks for Mexican women with lovely blonde hairstyles.
1. Demi Lovato
Everyone swooned when singer Demi Lovato wore her long blonde hair in beautiful waves. She combed in a heavy side part so that all the volume could help her mane shine over one shoulder.
2. Nicole Richie
We've seen Nicole Richie try many hairstyles over the years, but when she rocked choppy blonde straight hair, she hit it out of the park. Her thin bangs hit just above her beautiful brown eyes.
3. Sara Paxton
Latina actress Sara Paxton knows that long voluminous blonde hair is a no-brainer for a bomb hairstyle. One way to encourage volume in your own hair is by copying her half-up hairdo seen here with side bangs.
4. Vanna White
Many people are not aware that TV game show host Vanna White is Mexican. While she typically wears her blonde hair up when on TV, we love seeing it down, parted in the middle with soft waves.
5. Fergie Duhamel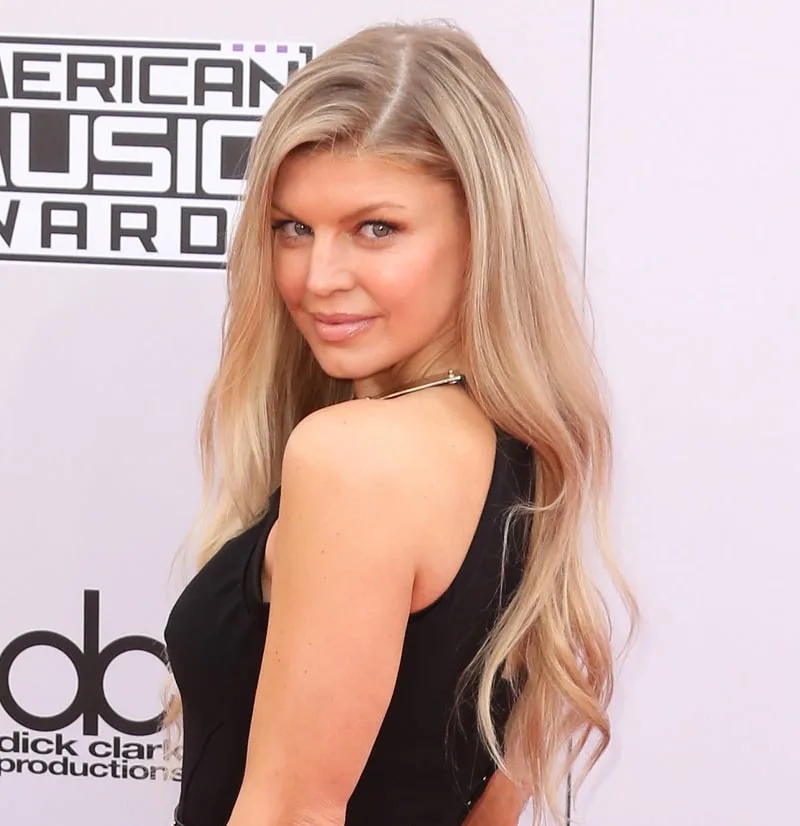 An extra long blonde mane is a 'fergalicious' hairstyle for Mexican women. Keep your look soft by combing in an off center part and ensure the light shade pops by wearing your favorite LBD.
6. Sabrina Bryan
If you're a 90s girl, you probably remember actress/singer Sabrina Bryan from her role in the Disney movie Cheetah Girls. This gorgeous Mexican lady displays 'growl power' everywhere with the way her long blonde wavy hair is styled with face-framing layers.
7. Joanna Kerns
Who would've guessed over 50 actress Joanna Kerns came from Mexican heritage? Her very light skin tone is complemented with a long blonde pixie. With or without the long bangs, you can also look this gorgeous!
8. Paulino Rubio
Give your hair a little spicy Mexican flair with an ultra wavy or curly blonde hairstyle. Paulino Rubio's thick mane, which features shorter pieces close to her face, is styled simply with a middle part.
9. Carmen Electra
When you want to do something different with your hair, consider highlights like Carmen Electra wore. Your Mexican blonde hair can truly shine with highlights in a lighter or darker blonde for dimension.
10. Angelique Boyer
There's something about a shoulder-length haircut that just says 'girl next door.' Mexican actress Angelique Boyer is effortlessly cool in her mix of wavy and straight blonde hair parted in the middle.
11. Fresh Blonde Ombre
If your natural blonde hair is rather dirty, you may want to lighten things up without creating too much growth at the root. A subtle ombre style lets you keep your natural color while lightening the lower half of hair to brighten your face.
A great way for a Mexican girl with blonde hair to style her hair is in trendy double braids. They not only keep hair neat and tidy, but protect locks during extended hours outside and in the sun.
13. Long Curls
If you've got natural curls, embrace them! This gorgeous texture isn't always easy to come by, so we recommend a curl-defining styling creme to rock your curls, whether they are somewhat short or super long.
14. Straight Hair With Body
Let a stunning Mexican actress with blonde hair be your style inspiration. This natural look has a total beach vibe that is undeniably sexy. With this look, less is more, so make sure hair is good and hydrated and leave styling to a minimum.
15. Medium Straight Hair
Perhaps your hair is fine and straight in texture. If this is the case, going too long will make hair appear stringy. Medium hair will give you the length that you crave while a side part will give hair a little extra shape.
16. Long, Sexy Waves
Working with a square shaped face? A gorgeous style for Mexican women with blonde hair is long, sexy waves and a swooping side part. The deep part softens a harsh jawline and loose waves are attractive and soft.
17. Medium Natural Curls
Lots of curly texture is handled best in a shorter, medium-length style. Long curls are great, but this much hair can get heavy, especially if you need to put your hair in a ponytail. Add subtle layers to remove bulk and add dimension.
Recommended:
18. Extra Long And Straight
Many women, especially young ones, crave super long hairstyles. We have to admit, it looks great on straight hair that isn't lacking in volume. Add lighter highlights around face-framing layers to brighten your overall look.
19. Straight Layers
Even if you have plenty of hair, if your blonde hair is straight, it can be prone to falling flat. Create face-framing layers and slightly layer hair at the ends to make it appear thicker and to conceal any breakage.
20. Dirty Blonde With Deep Side Part
A great way to elevate your style without some complicated up-do is a super deep side part with hair that is feathered across the opposite eye. This style also highlights the dimension of gorgeous dirty blonde locks.
Just because blonde hair isn't as expected on Mexican women, doesn't mean you can't sport your gorgeous hair in a way that represents you. Add subtle layers, dimensional highlights, or use your part to define your look.