Are you looking for an edgy hairstyle that expresses your sassy side but still looks gorgeous? Chola hairstyles are packed with attitude and make a baddie statement upon the first look.
The term 'chola' refers to people who are of Chicano or Latin descent. These hairstyles typically consist of sleek updos, blunt bangs, teased quiffs or pompadours, and long curls. Styling the hair with a bandana is also common.
Chola hairstyles are bold, and they're perfect for any woman wanting to feel both confident and gorgeous.
History of Chola Hairstyles
Ready for a trip down memory lane? Let's explore the bold Chola hairstyles. Born on the streets, these fierce hairdos took the world by storm. They symbolize strength and identity. The rich history of Chola styles is worth a look.
It began with the Chicanas, Mexican-American women, in the '60s and '70s. They paired dark makeup with sky-high hair. The Chola style stood for power and resistance. It made a statement no one could ignore.
From bandanas to baby hairs, the Chola hairstyle evolved. Today, it inspires modern rebels. They want to break free from norms. Let's celebrate the legacy of Chola hairstyles. A tribute to the fearless and fabulous!
Fashionable Chola Hairstyles
The below chola hairstyles are a trendy mix of beauty and edge, two qualities that make a guaranteed hot look.
1. Bangs and Short Hair
Short hair with bangs that hit slightly above the eyebrows draws everyone's attention to your eyes and opens your face up. We love these short bangs with a soft curl at their ends. A large flower accessory can be tucked in at one side for color.
2. Bun Updo with Bandana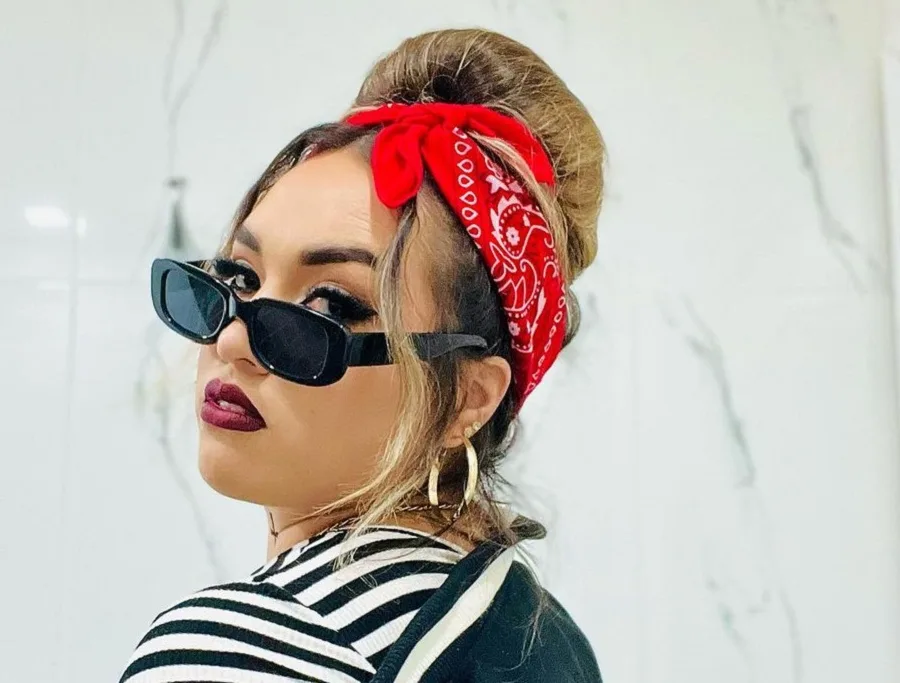 What better way to get chola girl hairstyle than with a bright red bandana wrapped around a high bun? After slicking your hair back into the updo, loosen a few face-framing tendrils for the perfect blend of softness and edge.
3. Voluminous Quiff
Glam and punk come together in this voluminous chola quiff, which features teased hair resulting in major height. Pair it with dramatic black eye makeup and lipstick, and rock your favorite leather jacket for the full package.
4. Black Bob with Highlight
This black bob is another edgy hairstyle for the books. Get a razor cut to give the ends some shape, and keep your bangs short and straight. If you have natural black hair, a thick blonde highlight up front is an unexpectedly hip pop of color.
5. Half Updo with Bandana
Chola hairstyles are frequently all about the bandana. So pick one in your favorite color and add it to your hairstyle for instant sass. We love this half updo featuring long straight hair and a black bandana with red accents.
6. Chola Frohawk
Do you have thick afro-textured hair? Tame it into three ponytails – one high, one at mid height, and one low. Be sure the top ponytail has a lot of volume to accentuate your natural curls. The final detail is huge gold hoop earrings.
7. Medium Shag
Shag and layers take a plain medium length hairstyle from blah to babe. With or without curtain bangs, this style is great for women who want a chola style hairstyle that flatters their face shape and is easy to maintain.
8. Half Puffed Updo
If you have long thin hair and you're trying to thicken it up, spritz some hairspray into the top half of your hair and tease it into a pompadour shape. Then gather it up in a ponytail and brush the bottom half over your shoulders.
9. 90s-inspired Chola Hairstyle
Going somewhere fancy and need a knockout hairstyle? This 90s-inspired chola updo features a unique swirl up front and center. The swirls of hair locks combined with bold, colorful eye makeup and a leather jacket will turn everyone's head.
10. Red Cola Hair
Chola women have the perfect skin tone for pulling off an edgy red hair color. Go bright and bold, like this long wavy hairstyle flaunts. Thin, straightened bangs are the final face-framing detail to make a gorgeous look.
11. Curly Braids + Edges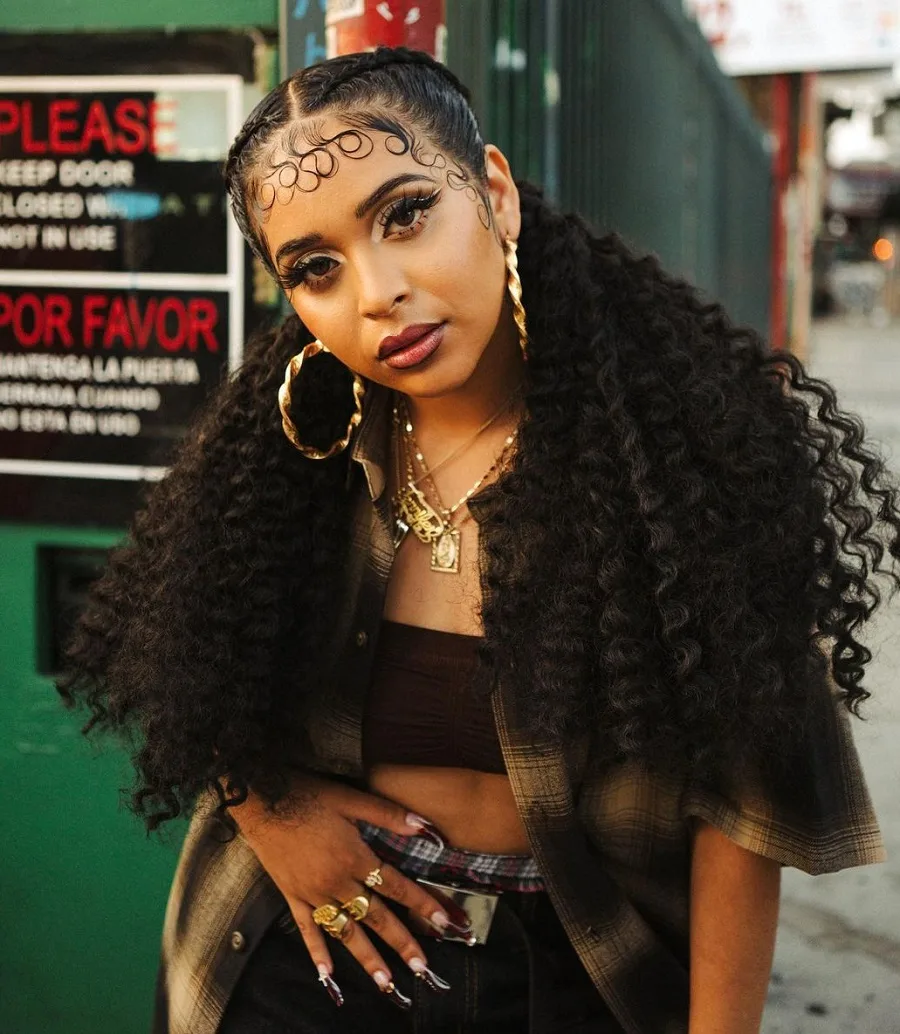 Display perfect spiral curls in a low fanned out ponytail or in two low ponytails. Dress them up a bit by braiding the top half, starting at your hairline. Be sure to smooth those baby hairs in delicate swirls for added detail.
12. Swirled Tendrils and Low Bun
When you wear your hair in a low bun, instead of letting long tendrils hang limply along the sides of your face, give them more definition and shape. Use a little hair gel and a hair pick to create swirls for artistic chola flair.
13. Shaved Sides + Two-toned Bangs
The shaved sides of this women's hairstyle, the split hair colors that balance light and dark, and the super short and bluntly cut bangs combine to make one dramatic chola hairstyle. You can be certain no one else will have this look.
14. Boho Dreads
It's increasingly common to see women sporting dreadlocks for their mane. The eclectic hairstyle can be easily dressed up with caramel highlights, colorful hair string, and chunky beads.
15. Vintage Waves
Give your chola hairstyle a vintage vibe by copying actress Farrah Fawcett's long wavy hair. Her mane was feathered and layered, creating beautiful face-framing pieces with soft texture.
16. Green Hair with Black Underneath
If bright, vivid color is your thing, you'll want to try adding a pop of electric green in small streaks at the front of your face. Against dark hair, the brightness really shines and grabs attention. Just tease your hair for added thickness and wear it loose.
17. Black and White Braids
Braids are a popular choice for a chola hairstyle, and it's easy to see why. Women with dark hair can easily create thick braids that pack a punch and attitude with white string or hair extensions are woven in.
18. Two Tone Hair
To give your mane a more feminine feel, consider adding light pink at the ends to create a two-toneed chola hairstyle. These golden blonde roots fade to a flirty pink and feature a fun black and white printed headband.
What are you waiting for? Style up your edges, sweep the hair off your face into feathered layers or teased volume, and add a bandana to get your own chola hairstyle.