As protective styles dominate the natural hair trends, new versions seem to sprout daily. Lately, babes can't seem to get enough of passion twists. This bohemian style was born at the cross between Senegalese twists and goddess locs. Locs are what inspired Miami-based hairstylist Kailyn Rogers to create the twisted, curly look.
What is a Passion Twist?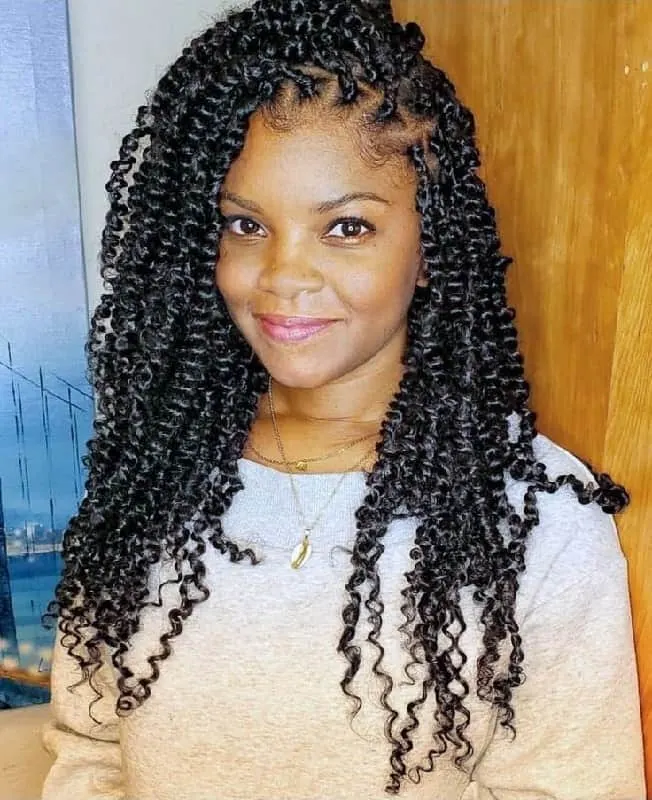 Passion twists are two-strand twists done in a curly, bohemian fashion (think of Lisa Bonet and her carefree hairstyle and vibe). Each portion of the hair is neatly twisted and curled due to the silky type of hair used. Passion twist braids come in varying lengths and iterations like crochet, knotless and jumbo.
With the more uniform-looking Marley and Senegal twists, every hair twist looks the same, but the way this new style is done ensures that every strand of hair is unique. We love the look because these twists mimic the look and feel of natural ringlets.
Best Hair For Passion Twists
The best hair type for passion twists is the curly, silky-textured hair that is typically only used for crochet hair. The pros recommend Freetress Waterwave Braiding Hair, available on Amazon.
However, some women have complained of slippage due to the silky nature of the hair. If you find this to be the case, sites like Jorie have created twists with slightly more texture, making it easier to grip when braiding hair.
How To Do Passion Twists
Whether you're doing your own passion twist style at home or heading to the salon, the process is the same. First, create a knotless root for the best look. Part out a section of hair and split it in two. Place the extensions in the middle of the split hair and twist the extension with the natural hair on one side, then do the same on the other.
Once the hair feels secure, begin twisting the hair down as you would with a regular two-strand twist. At the bottom, use gel to define the curl at the end of the twist. This will give each twist a sharp, tidy effect. Finally, use a setting foam to keep the twists free of frizz and flyaways.
Maintenance
When done right, passion twist hairstyles are protective by nature. A common question, how long do the passion twists last? The answer comes down to proper maintenance. To keep the hair underneath the extensions well moisturized, gently massage a leave-in conditioner at the roots.
Cleanliness is key to keeping your scalp free from buildup. A dab of witch hazel or oil applied to a cotton ball will remove sweat, dirt, and dandruff.
For a flake-free, hydrated scalp, apply oil daily. Sleep with a bonnet at night to keep flyaways under control and your hairstyle intact.
How Long Do Passion Twist Hairstyles Last?
When adequately maintained, they can last up to eight weeks. If you don't mind a bit of frizz, you can stretch the time a little longer.
How Much Do Passion Twists Cost?
The overall cost varies depending on whether you'll be installing them yourself or getting it done at a salon. Hair can be purchased on Amazon for as low as $35 for a 6-pack, while the price for a stylist will run anywhere from $95 to $200 and up for the hair and several hours of installation (tip not included!).
Passion twist braids aren't a difficult style to create, so if you're on a budget and trust your abilities, it's worth it to do the style at home. Use our tips or follow along with a Youtube video.
How Many Packs of Hair For Passion Twists?
Typically, you'll need 8-12 packs of hair for passion twists, depending on your desired fullness. A lot of women buy an extra pack or two more than what they plan to use, just to be safe.
Passion Twist Hairstyle Ideas
Now that we've covered the key basics of passion twist hairstyles, we are ready to explore the different looks they offer. From short or long to jumbo and small, you're sure to find your favorite look below.
1. Jumbo Passion Twist
Jumbo twists are perfect for filling out naturally thick hair. To avoid a bulky look, jumbo styles look best on long hair. Because you're dealing with a lot of hair, the rubber band method is helpful to secure each section of hair.
Top bloggers recommend using a short and long piece in each section of hair to thicken each twist and give ends a natural appeal. For the jumbo look, use 7 packs for average density, or 10 if you're going for an all-out style.
2. Small Passion Twist
Just as jumbo styles need length for filling out, small curls make sense on short passion twists. However, it's very common for them on long hair as well. Keep in mind that you'll likely have to use more packs of hair if you want full, tiny braids, which means more tension to bear on the scalp.
3. Medium Size Passion Twist
It's easy to see why medium bohemian twist styles are a popular go-to. They are neither small nor jumbo, but rather somewhere in-between. This width is flexible and will use less hair than jumbo styles. Medium-sized twists look great in different colors and work well on short, medium, or long styles.
4. Crochet Passion Twist
This method of creating passion twist braids involves the use of a crochet hook, making this style easier to do on your own at home. There are a variety of methods for installation, including setting a strong foundation of braids. We recommend watching several different Youtube videos to get a sense of what will work for you.
5. Short Passion Twist
Passion twists may be a beloved bohemian style, but you can still create short, sassy hair with flair.
First, cut the hair extensions in half before applying if you desire a passion twist bob. Use the same two-strand method of application for short passion twists as you would for longer versions. Short styles like bobs and lobs frame the face beautifully.
6. Caramel Ombre
What better way to lighten up your look than with a little color? We recommend a rich caramel or blonde as an ombre for your passion twists. The color will give you a glow!
7. Half Updo
If you're rocking extra long twists, emphasize their length in a half updo. This one takes only a minute to gather the top half into a high bun. Leave tendrils loose along the face for framing.
8. Knotless Braids
Are you fan of the little details in a hairstyle? You'll definitely want to try adding a small section of knotless braids that begin at the hairline, criss-cross, and transition to long passion twists.
Passion Twists vs. Spring Twists: The Differences
9. Dark Highlights
If you're not feeling blonde or caramel highlights, consider a darker color like burgundy or red. Even a few small well-placed highlights can accentuate your beautiful twists.
10. Rope Twist Ponytail
For women who are fans of sleek hairstyles, an extra high ponytail full of attitude is just the look. This one features caramel and brown highlights, in addition to two smaller ponytails right at the front.
11. Blonde Half Ponytail
A high half ponytail is a great style for Black women who want to show off beautiful texture and color. The style also allows for emphasis on soft baby hairs swirled along the hairline.
12. Two Color Highlights
On black hair, consider rocking more than one color. Burgundy and a light blonde, for example, contrast and stand out nicely on the dark base. Give your long passion twists a heavy part to create an easy statement look.
13. Long Passion Twist
This look seems to be at its best in long passion twist styles. What better way to emulate the true boho vibe than with styles that plunge below the chest?
If these gorgeous twists start to get in your way, a high ponytail look with prominent edges will serve you well! Topknots are another favored style.
14. Red Bohemian Passion Twist
Don't think that you have to stick to your natural root color. Choosing another hue that works with your skin's undertones is a great option if you want to switch it up. Red twists are rather common. We love the way this dark burgundy color feeds into raspberry ombre ends.
15. Blonde Passion Twist
Perhaps you need a lighter hair color in your life. Platinum locks are the perfect way to brighten your appearance, so long as the hue, you choose works with your skin tone.
Rather than sunny tones, these blonde tresses run cool, which works if your skin has yellow undertones. Skin that flushes pink and warm works well with deeper, brighter blondes. Either way, the look is cool with dark roots.
16. Passion Twist Updo
This newly beloved look may have that flower child vibe, but creating a top-knot is not only easy but practical. This look serves for formal events, active days, or if the time to change out your braids is near. Pull it all up, or use the front two twists to frame the face for a look that is popular today.
17. Ombre Passion Twist
Give your hair the gorgeous two-toned effect from passion twist ombre styles. The look lets you play with lighter colors on the bottom half of the hair while maintaining your natural color at the root. You'll find that hair grows out beautifully this way.
To achieve this, look for ombre hair packs when purchasing. The honey brunette seems to be the most common style these days.
How Long Do Passion Twists Last?
The passion twists can last eight weeks and even a little longer.
Also, remember that not only your passion twists need maintenance, but also the scalp. If you want to avoid getting dandruff, use oils to moisturize the scalp and roots, and remove impurities with a makeup pad or cotton ball.
Key Takeaways
Passion twists are two-strand twists neatly done in the bohemian style.
Curly, silky texture will give you the best results.
To create, part hair section, split in two, and twist down on each side.
Finish ends with a touch of gel to keep it neat.
Passion twist braids typically last up to 8 weeks.
You can head to the salon, but they are easy to create at home.
Find them for as low as $35 per 6-pack on Amazon.
It's clear that passion twist hairstyles are not only trendy but here to stay. For a style that lasts a while and mimics the effects of natural ringlets, put this look at the top of your list.